There's something so delicious about this simple recipes of roasted potatoes, made only with 5 ingredients and some time in a hot oven.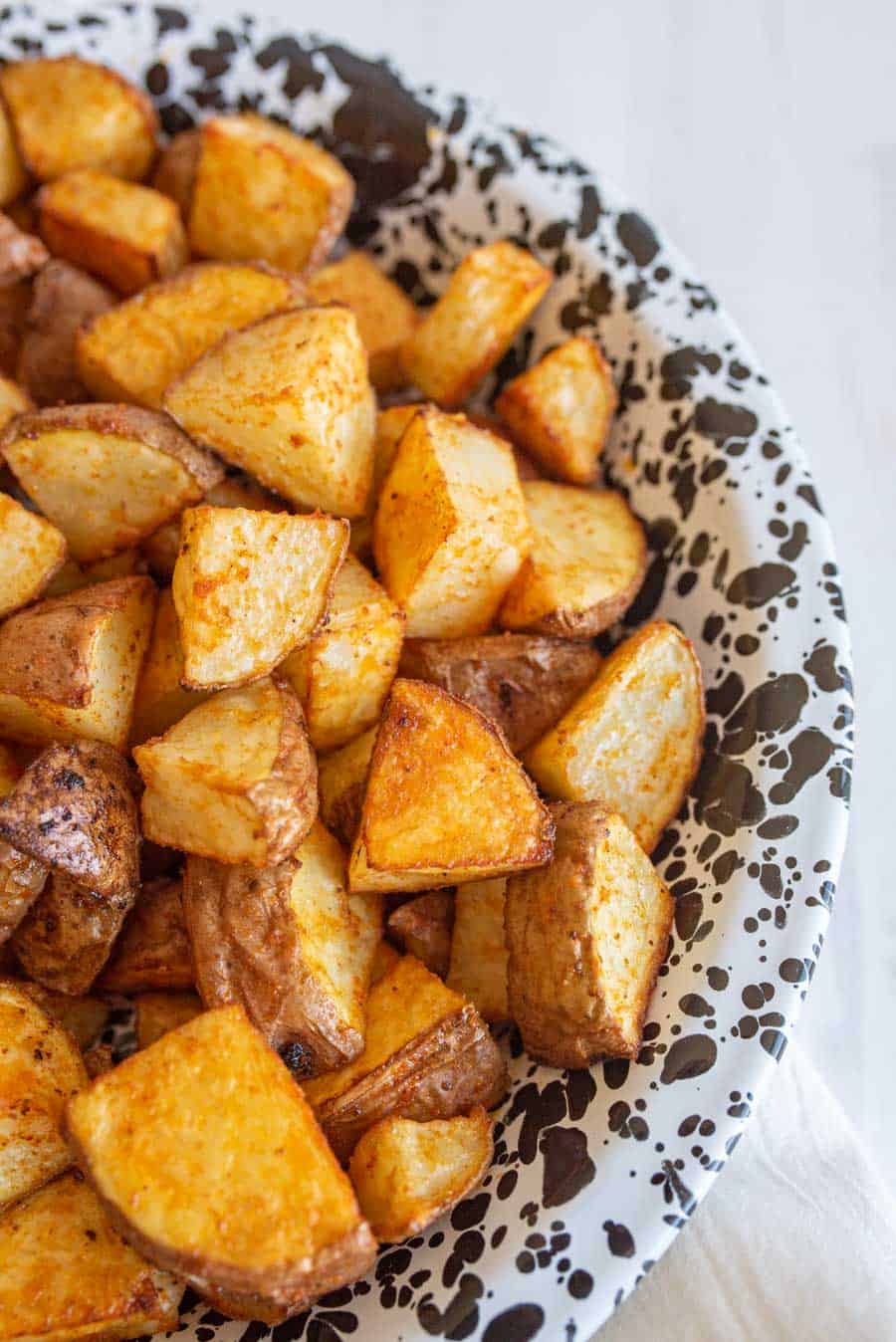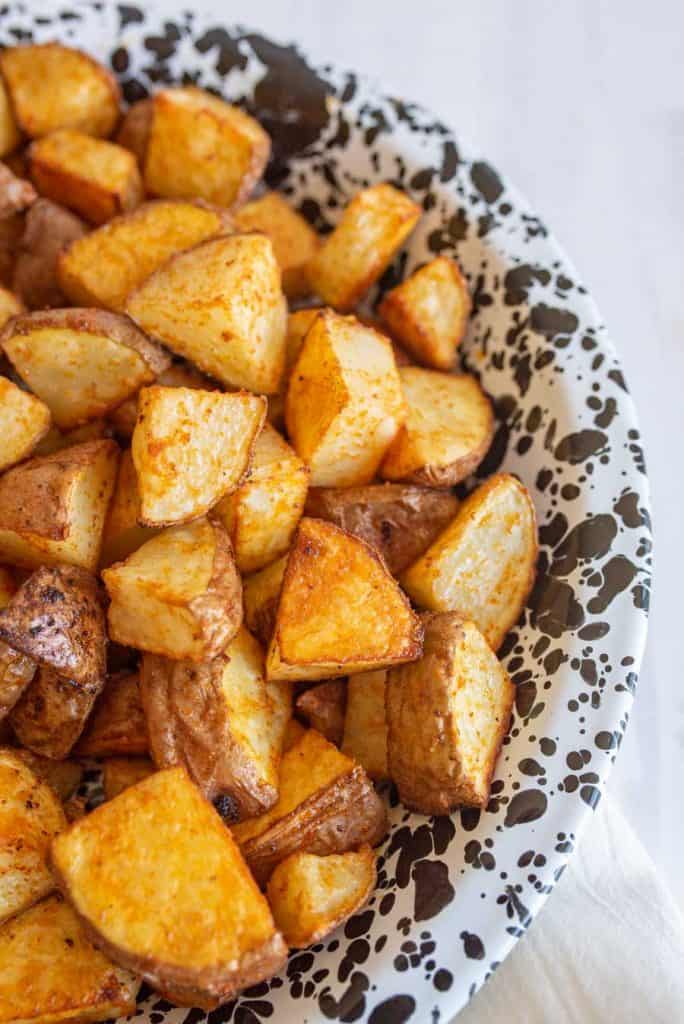 Roasted Red Potatoes
Roasted red potatoes make the perfect side dish. Simply roast them with a few ingredients and they create an easy side to accompany any meal.
A bag of potatoes is a pantry staple. Potatoes last for a long time and are inexpensive to buy. Roasting potatoes is my favorite way to prepare them. It's quick and they make a great addition to any meal.
Sometimes figuring out what to serve with your meal is tricky. When in doubt, roast potatoes. Roasted red potatoes will complete any meal.
This recipe calls for oil, salt, garlic powder, and smoked paprika. The taste and texture is so good. You will love the way that they crisp up in the oven.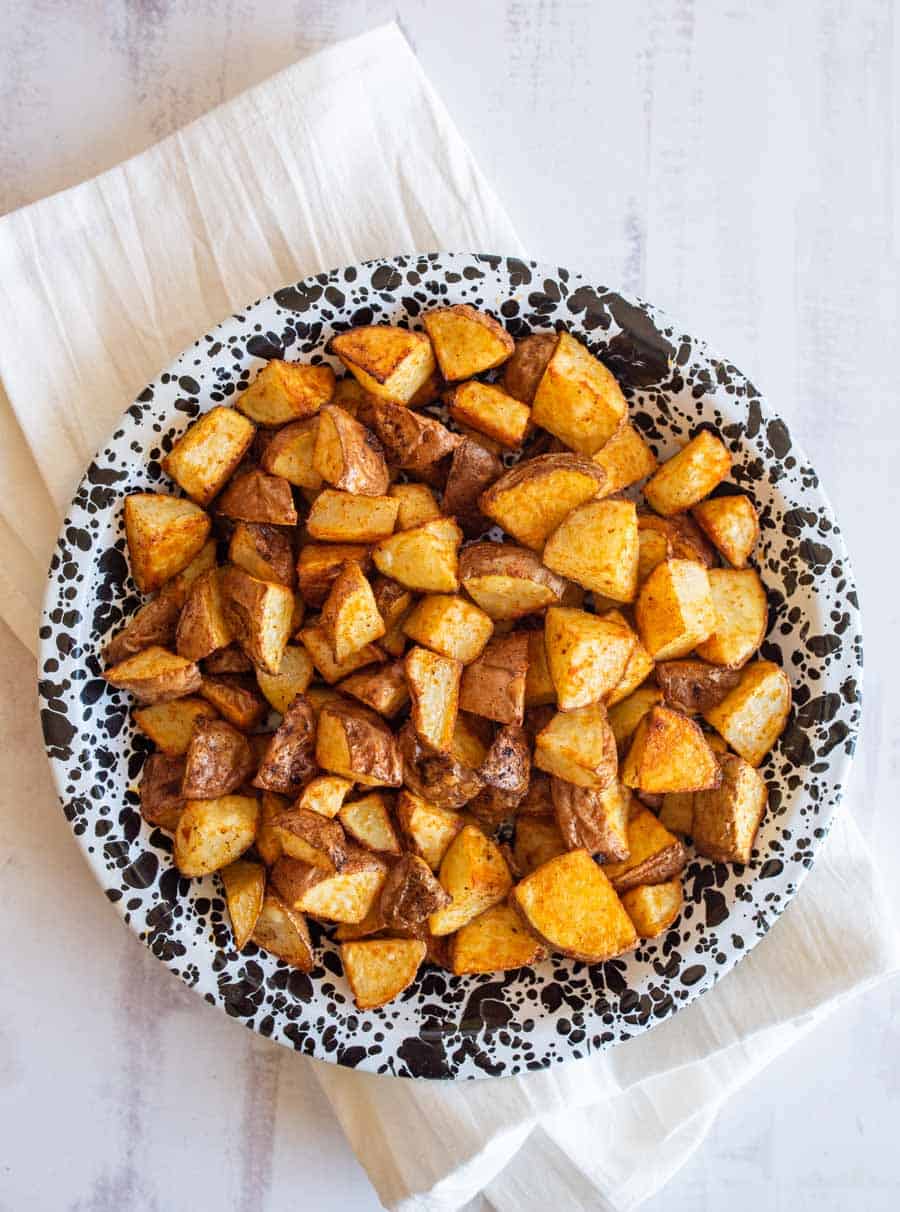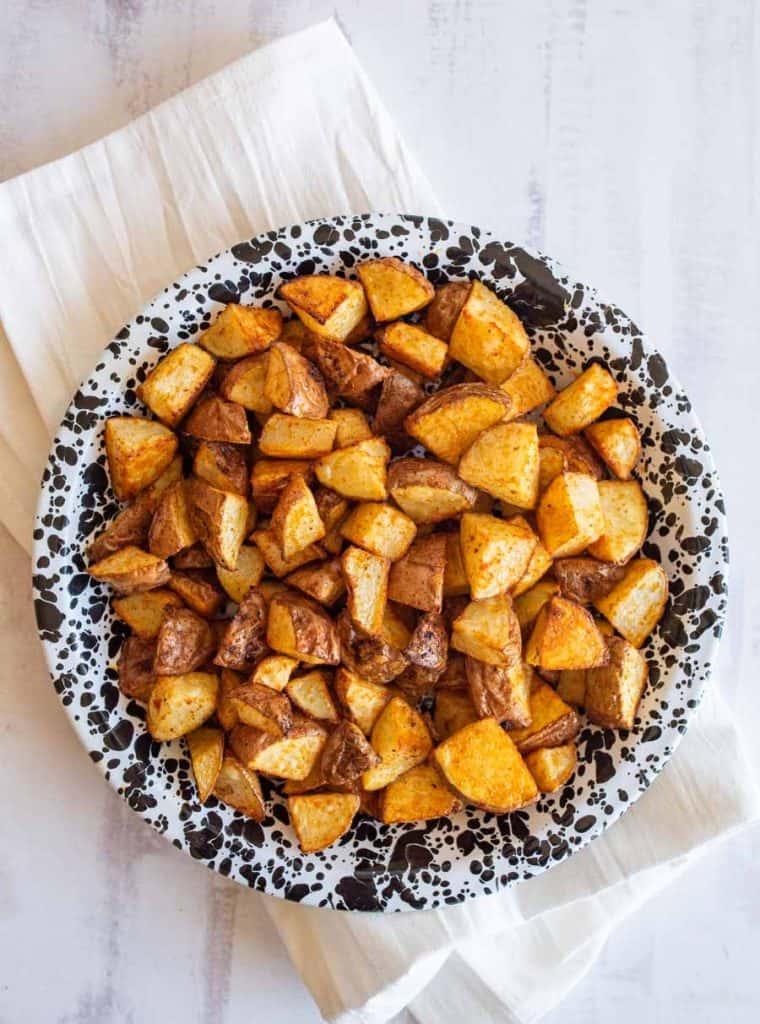 Are red potatoes healthy?
Red potatoes have great health benefits. They have more potassium than a banana, the skin provides a good amount of fiber, and they contain vitamin C.
Should you peel red potatoes before roasting?
Don't peel the potatoes! Most of the nutritional values is found in the peel so you want to leave it on to get those health benefits.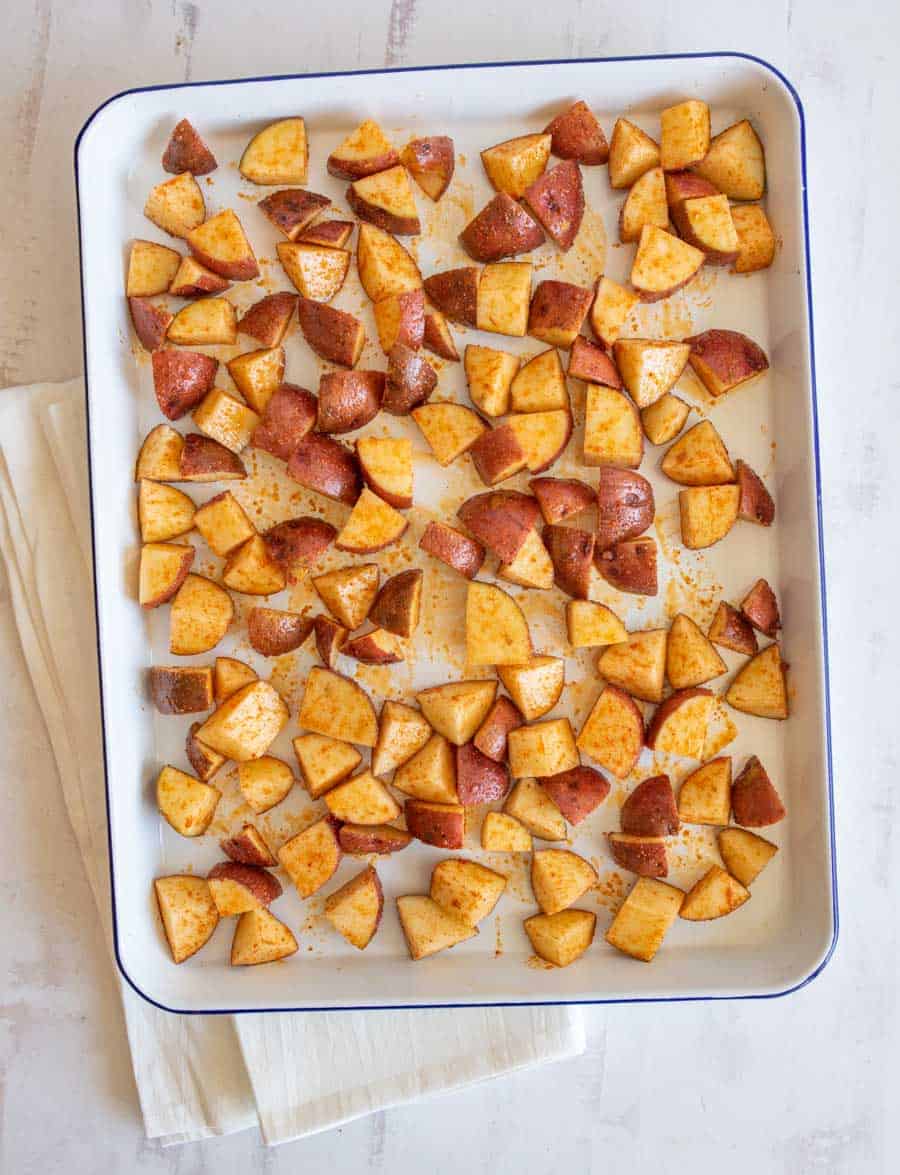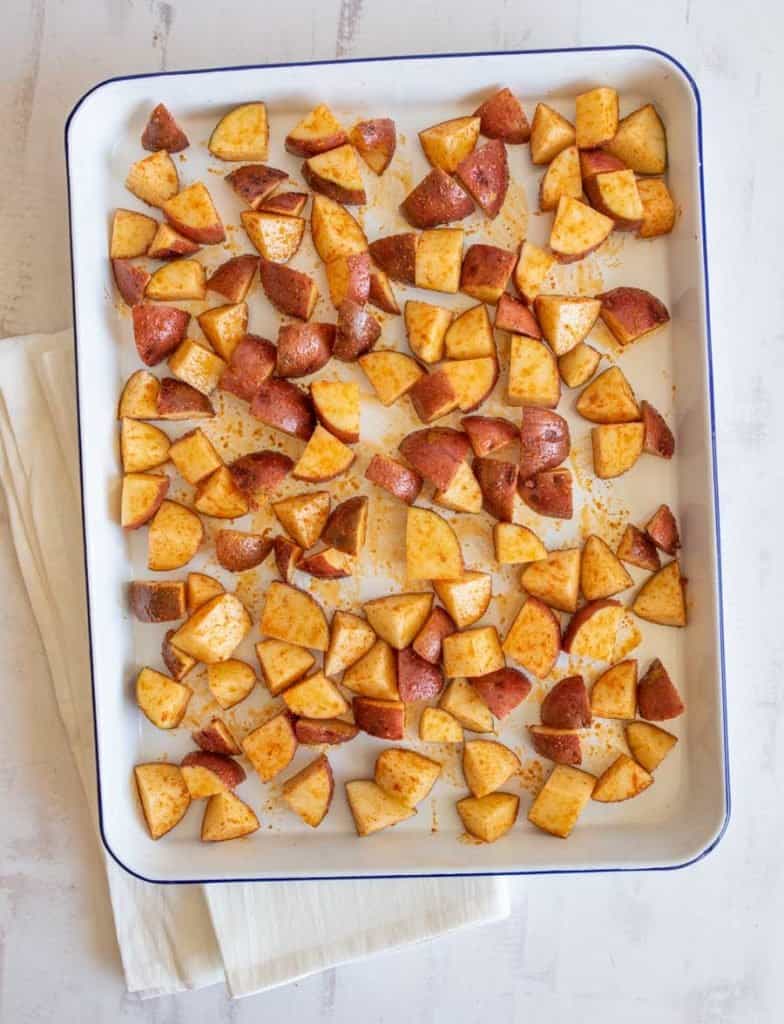 Do I wash potatoes before roasting them?
Yes. Get in the habit of washing your fruits and vegetables before cooking or eating them. I give them a nice scrub and rinse. Then dry them.
What temperature should I roast potatoes at?
To get the crispy outer layer that you want, you will need to roast at a high temperature. Preheat your oven to 400-425 degrees and you'll be set.
Roasted Red Potatoes
Potatoes (I like to use red potatoes but you can use any!)
Light oil, such as canola, avocado, or vegetable oil (makes them crispy without adding flavor)
Spices: salt, garlic powder, and smoker paprika (super short list but these are SO perfect with potatoes)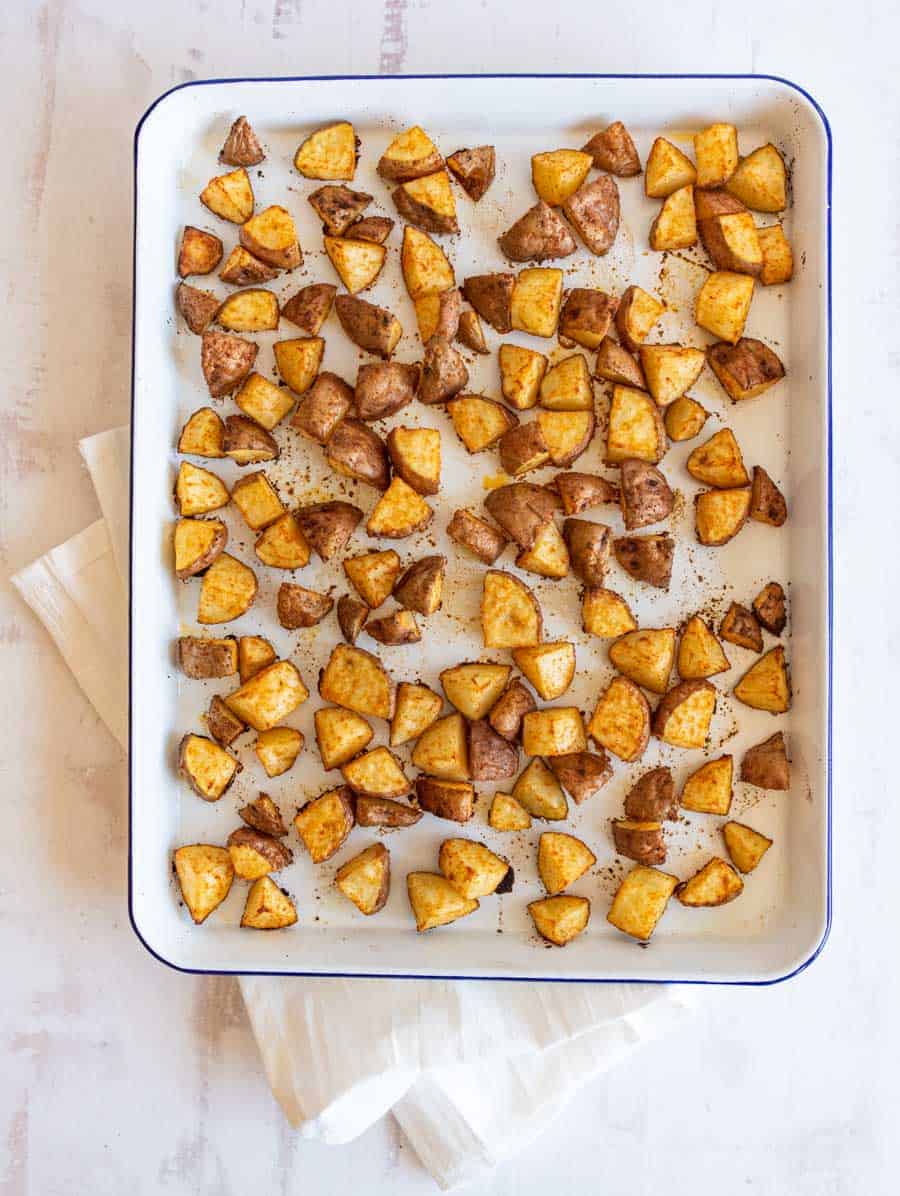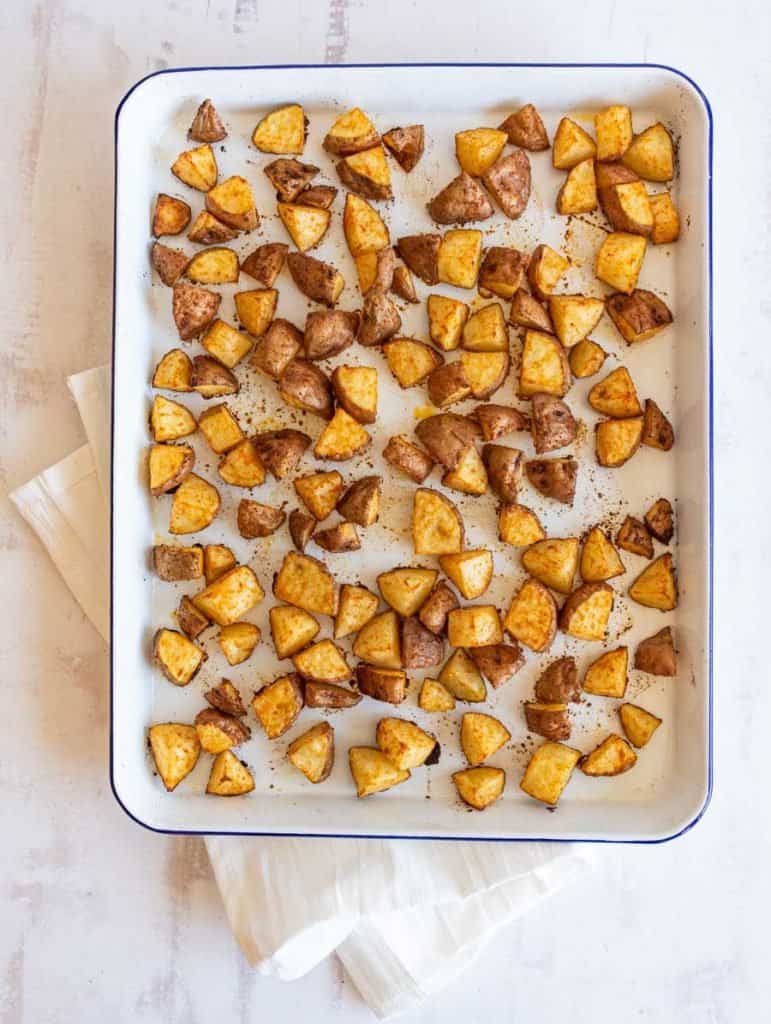 More roasted vegetable recipes for you:
Serve roasted potatoes with:
Print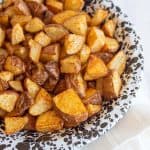 5 ingredient Oven Roasted Potatoes
---
Author:

Total Time:

1 hour

Yield:

Serves

4

-6

1

x

Diet:

Halal
Description
Simple oven roasted red potatoes are one of life's simple pleasures. When basics like potatoes are cooked well they can really be a star side dish you can add to any meal!
---
2

pounds potatoes (I like to use red potatoes)

3 tablespoons

light oil, such as canola, avocado, or vegetable oil

1 teaspoon

garlic powder

1 teaspoon

salt

½ teaspoon

smoked paprika
---
Instructions
Preheat the oven to 425 degrees.
Scrub the potatoes clean and then cut them into 1 to 1.5 inch pieces.
Add the potatoes to a large bowl and drizzle with the oil. Toss to combine.
Sprinkle the garlic powder, salt, and paprika over the oily potatoes and toss to combine well. Feel free to use your hands if that's easier.
Spread the potatoes out on a large rimmed baking sheet that is NOT lined with parchment or a baking mat. It's a bit more to clean up but you get a crispier potato if you don't line the pan.
Spread them out in an even layer and take care to keep them from touching too much. If the potatoes are are too close together they'll steam instead of roast.
Place the baking pan in the hot oven and bake until the potatoes are cooked through and crisp, about 35 to 45 minutes. I tend to bake them the longer amount because I like mine crisp. Check them out at 35 minutes and keep an eye on them.
Remove from the oven and let them cool 1 minute on the tray. Use a thin spatula to remove them to a serving dish and serve with additional salt and pepper to taste.
Notes
If you have a time you can prepare and cut your potatoes and then soak them in warm water for 30 minutes before you cook them. Before baking, drain and then pat dry (don't skip the drying!) and then add to a bowl and add the oil and spices. Soaking potatoes removed some of the starch and helps them to cook up crisp on the outside and fluffy on the inside. It's options but a fun little trick if you have the time!
I've tried this with white, yellow, and red potatoes, they all worked great.
You can leave the skin on or peel your potatoes. It's really just a personal preference thing, so do what you like and what you have time for.
Prep Time:

15 min

Cook Time:

45 min

Category:

side dish

Method:

bake

Cuisine:

American
Keywords: how to roast potatoes, oven roasted potatoes, roasted potatoes, roasted red potatoes, roasted potato recipe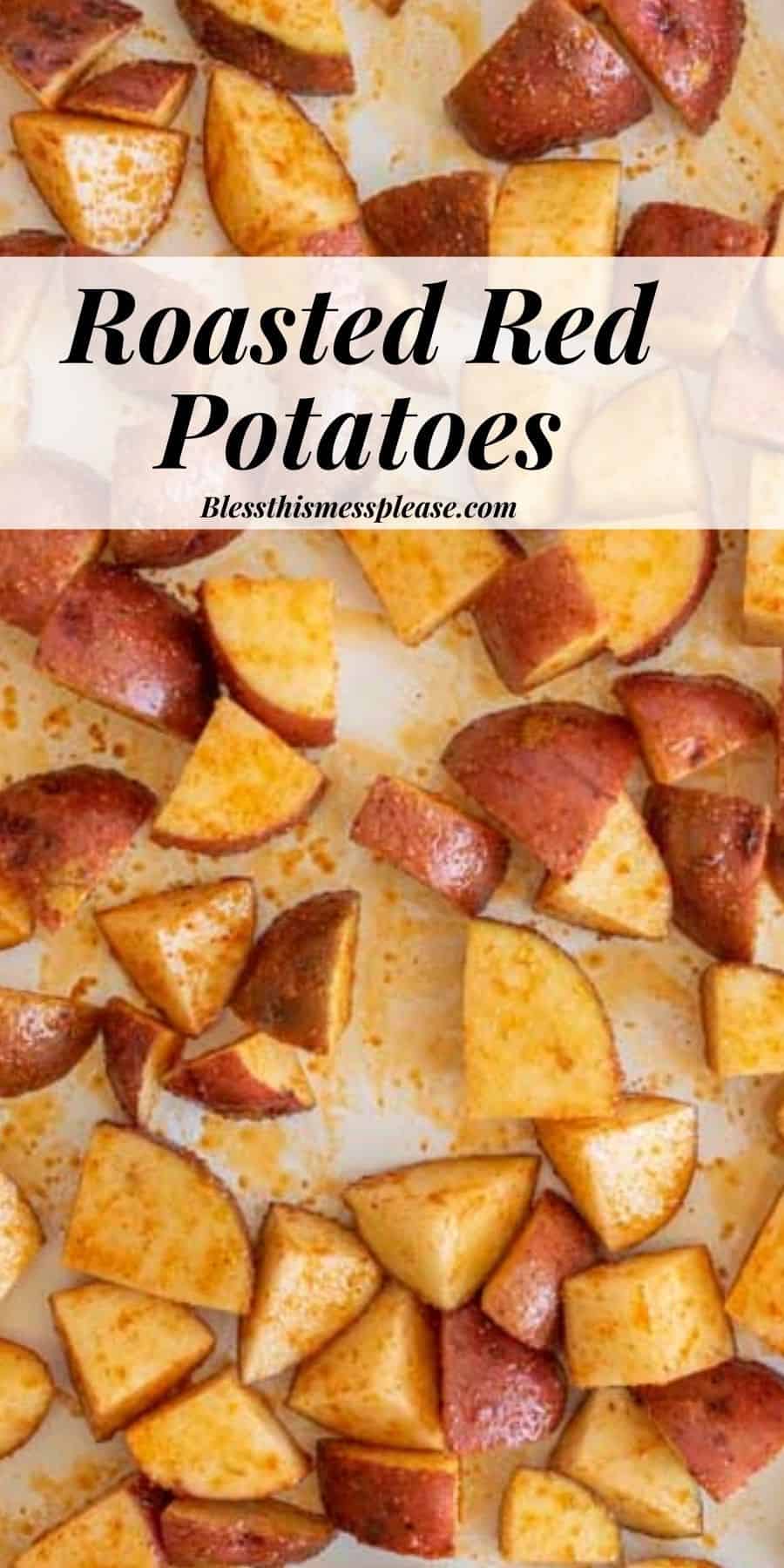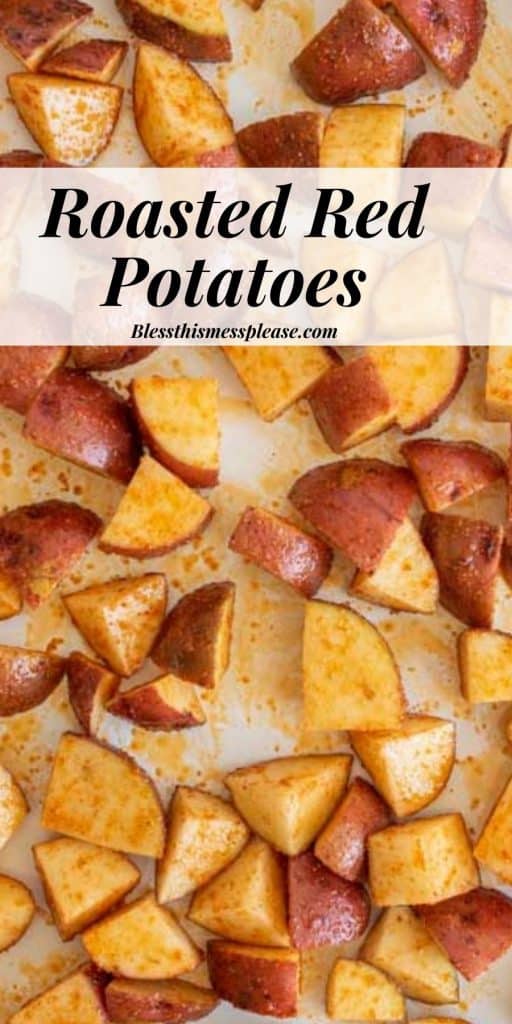 Roasted red potatoes is really simple. Begin by washing and drying your potatoes. Now cut them in half. In a large bowl toss the potatoes with oil, salt, garlic powder, and smoke paprika. Spread the potatoes on a foil lined baking sheet in a single layer.
Next time you are searching for a side dish, consider roasted red potatoes. They are easy, inexpensive, and so tasty!