Oh this house of ours... if you need a refresher or are new to the blog take a minute to find the "Our Biggest Mess" tab at the top of the page. A few weeks ago my little brother told me that what I had on that page wasn't very clear or user friendly. That was just the motivation I needed to get that page whipped into shape. It now has a lot of progress pictures and not just links. So take a minute to see where we are coming from, it'll make you appreciate this all the more!
Guys, there is a light at the end of the tunnel. We. Are. Almost. DONE!
Here's our life plan for this year: finish the house, move to Thomas' home town about 2 hours from us now (can't wait to live next to Grandma, hello babysitter!), put the house on the market (and sell it empty via our Realtor), move into a rental my father-in-law owns, Thomas and his dad are going to build a hardware store this summer, open hardware store, have a garden and more chickens at the Shanty, plan my dream house to be built when the hardware store is up and going.
Fun huh!
We've been living here for a little over 18 months and have worked our tails off and it is about to end. I went to the grocery store yesterday asking for boxes so that I can start packing. We are really going to move. I get really torn up when I think I'll never even move into that master bedroom or use that master bathroom, but this was a step in our journey and I've had to think of it as such. This house was never really mine... I've always been getting it ready for the next person to love and oh, I hope they love it! I'm just crossing my fingers that we'll be able to look back at all this work, washing dishes in a bucket for 9 months, living like squatters, and sacrificing so much to not even enjoy the fruits of our labors, as a good thing in the end. Perspective is powerful and I'm just keeping the faith that in the end, this will have all been worth it.
Man, that got long! Thanks for letting me spill. This is such a big part of our lives and it is so nice to be able to share it with you.
Here is the progress we've made over the last few weeks. Paint, and lots of it!
The hall looking nice and finished, and yes, that is an air compressor being used as a baby gate 🙂 The new master bedroom is the light room at the end of the hall: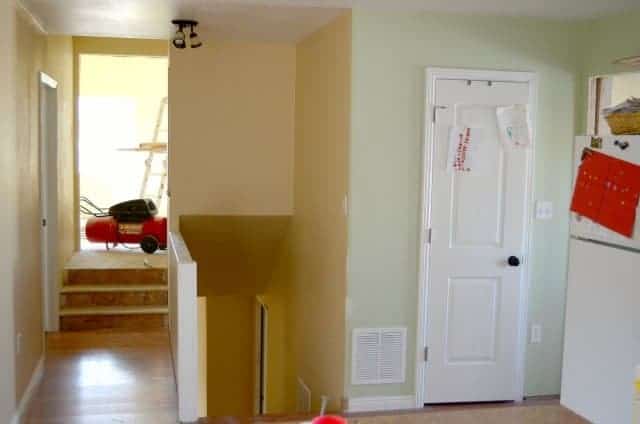 Bonus room (the room we all lived in last winter) turned master bedroom. I'm still obsessed with the newly vaulted ceiling. It has completely transformed the space!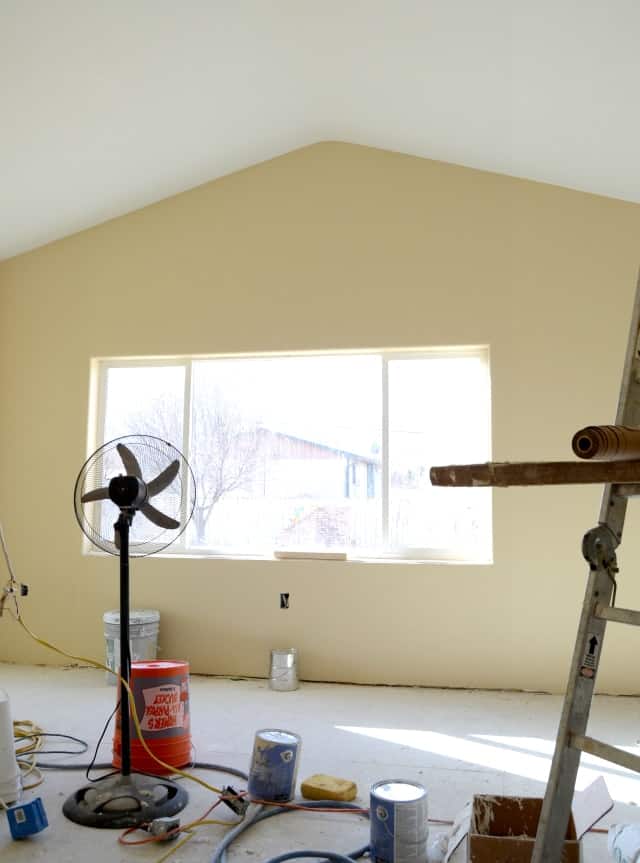 Fireplace that I just got a coat of primer on this morning. You'll have to keep up with the blog if you want to see this little beauty transformed 🙂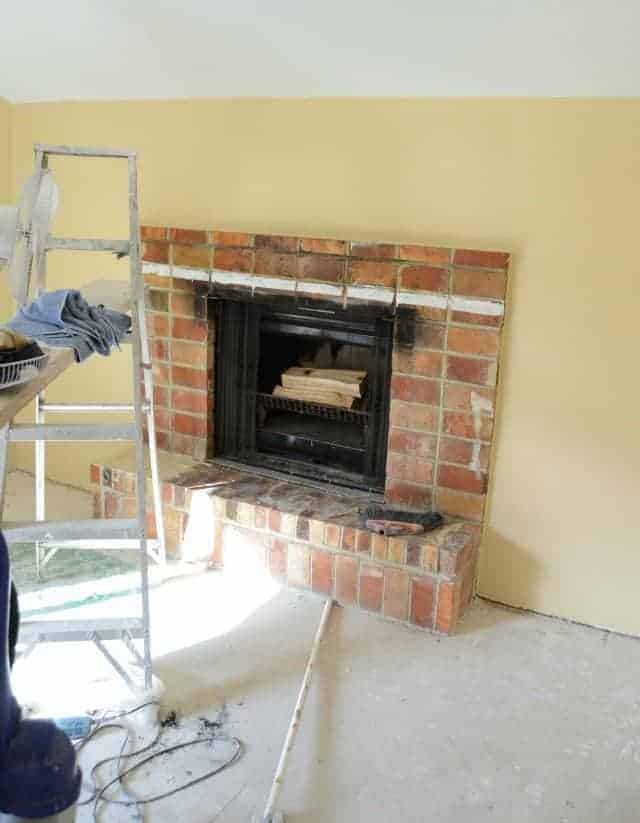 Master bathroom (opposite end of the room from the fireplace). I'm standing in the tub, looking at the closet. The hole in the wall will be a medicine cabinet over a pedestal sink.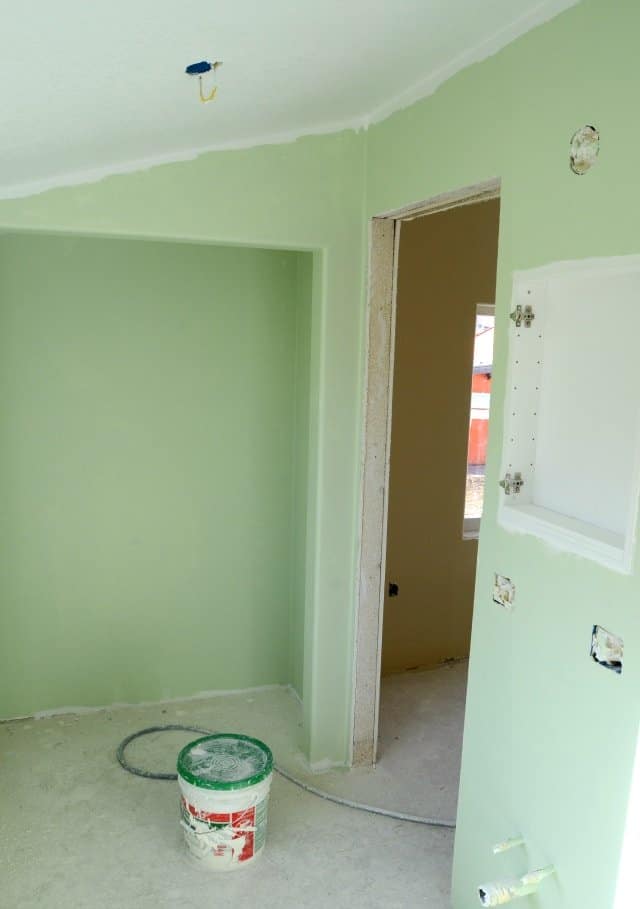 And then one of the bedrooms downstairs, which still needs some work on the closet but is so close to being done.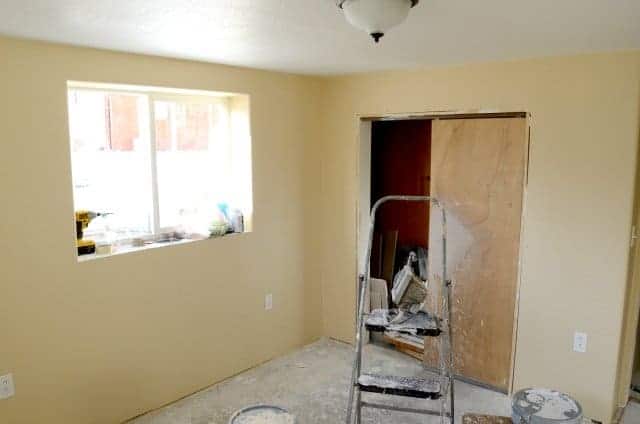 And here's the mudroom/laundry room! The closet to the left is new and the washer and dryer will have cabinets next to and above them one day. It's looking so good. This used to be a nasty little bathroom complete with black widow spiders. The window to the right is the one that is above the toilet in these pictures.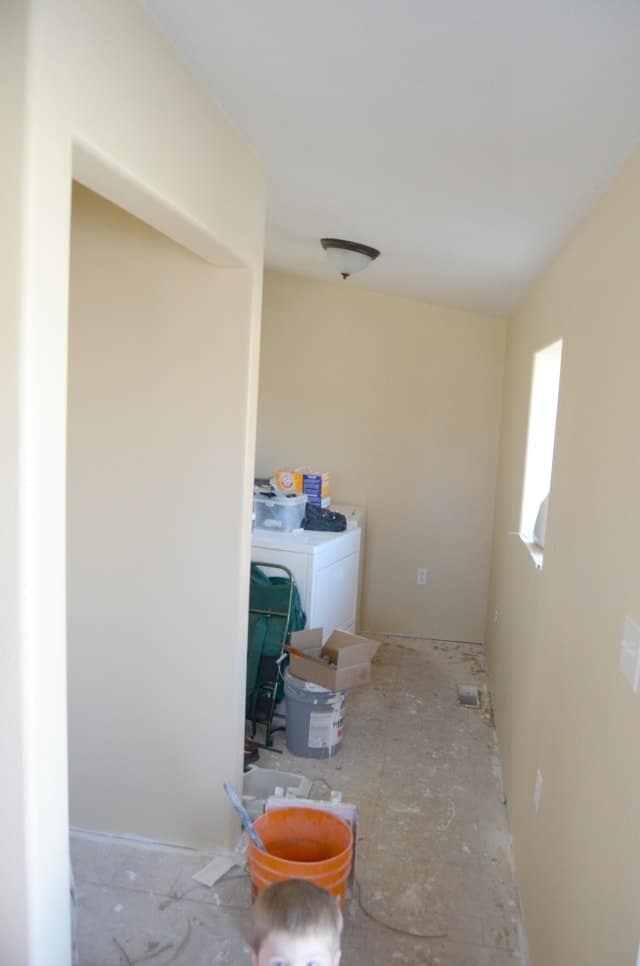 Carpet is going to be installed a week from tomorrow, so that is a very motivating deadline. Thomas hopes to have all of the electrical plugs wired with covers on, light fixtures on, doors on (and hopefully painted), and the fireplace done before they come! That means after the carpet is in, all we'll have to do is the flooring in the laundry room and master bathroom, cabinets in the laundry room, and installing the sink and toilet in the master bathroom. Plus we have a list of outside things. All in all, it's wrapping up and looking WONDERFUL. Can you even believe that it all started here?
Thanks so much for letting me share. Will you be sad when I don't have more progress pictures to post!?