There's a magical room in the back of the house that we call "the big room". For years I think it was used as a bonus room of sorts. It has wonderfully large windows and a fireplace, but no closets (which means you can't call it a bedroom). It also includes the most wonderfully ugly mural of a lake. Now, I'm sure that mural meant something to someone, but for me, with no sentimental value attached, that mural was an eyesore. An eyesore that I looked at every morning when I woke up for over a year.
You see, this big room was the room that we all lived in last winter while we were working on the side of the house with the kitchen and living room. That room was my bedroom (without a closet or a door for that matter), our living room, dining room, kitchen, and anything-else-that-we-needed-to-do-besides-bathroom-room. I have a love-hate relationship with this room. It was our home for so many months and wonderful memories were made. It was also the only room I had, all winter long, with three small children and no kitchen sink! Washing dishes in a bucket for almost nine months was not a walk in the park and all those memories are tied up in that room too.
Here's the room before we moved in. Isn't that mural somethin'!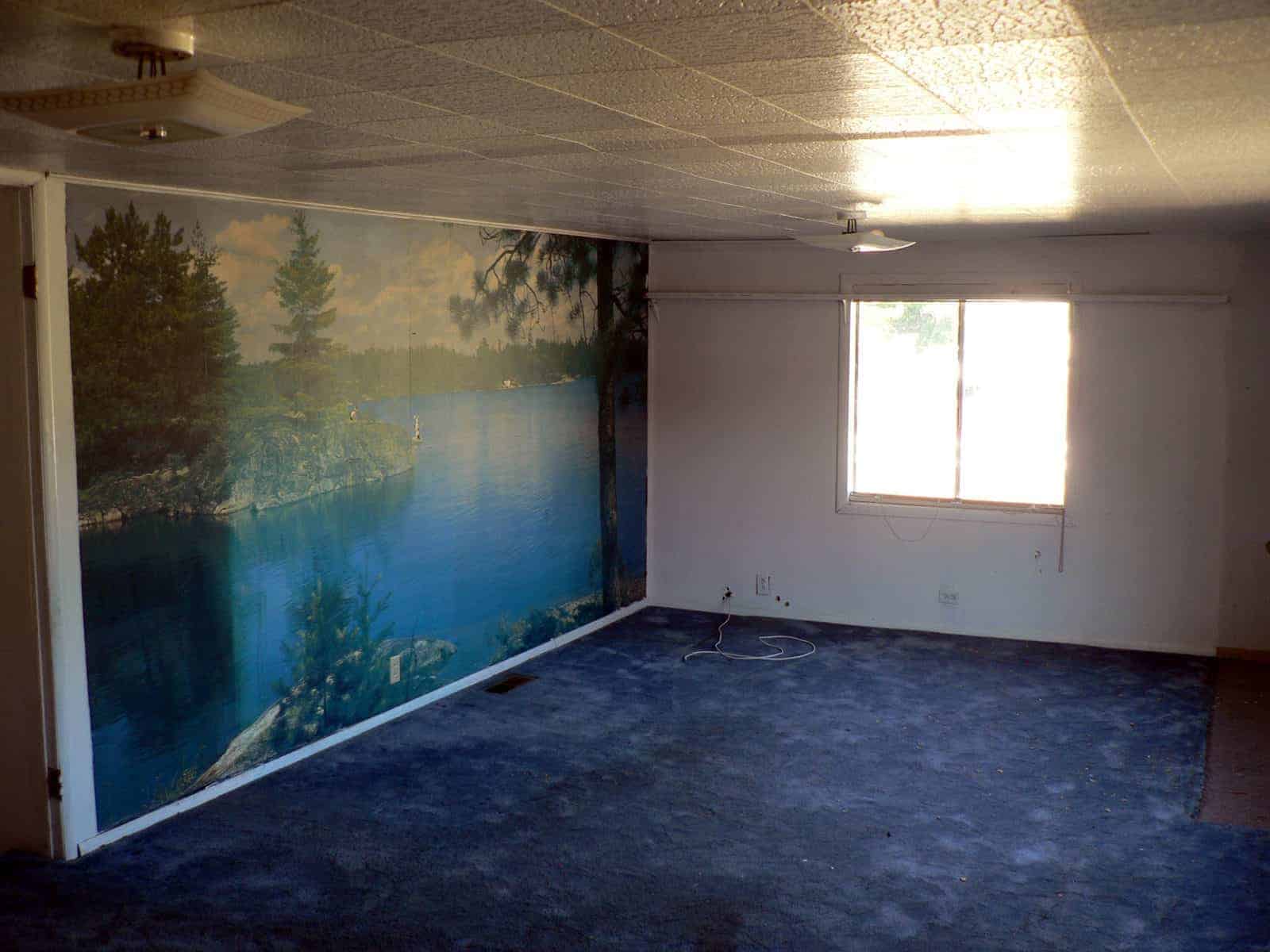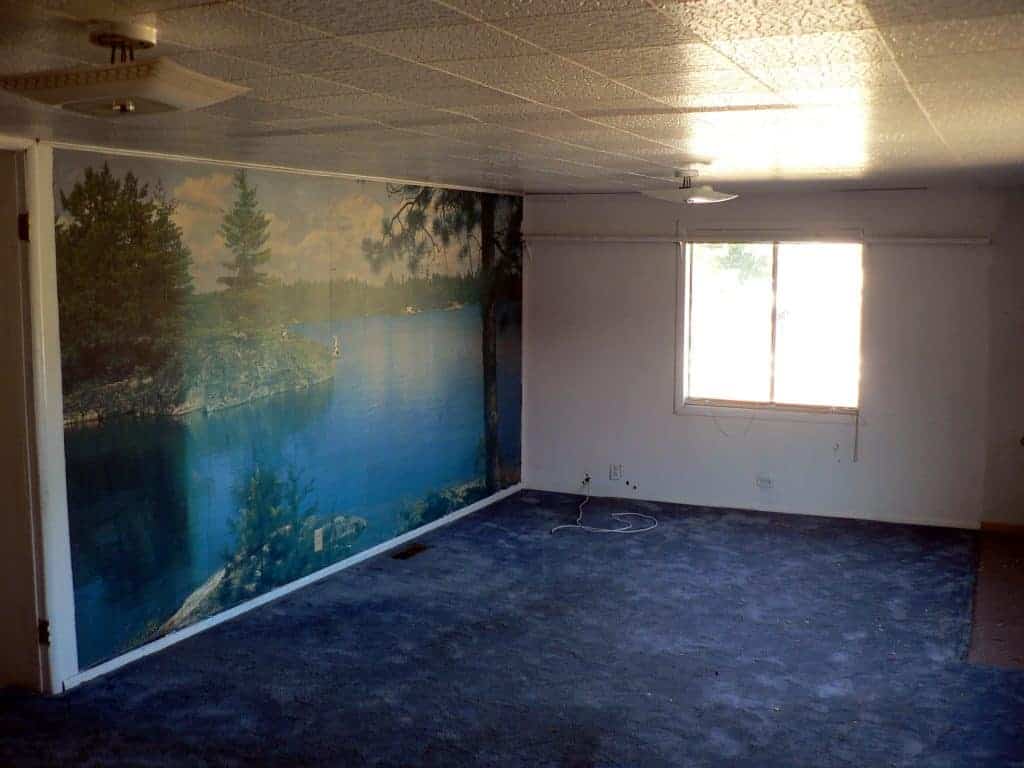 And here is the end with the fireplace: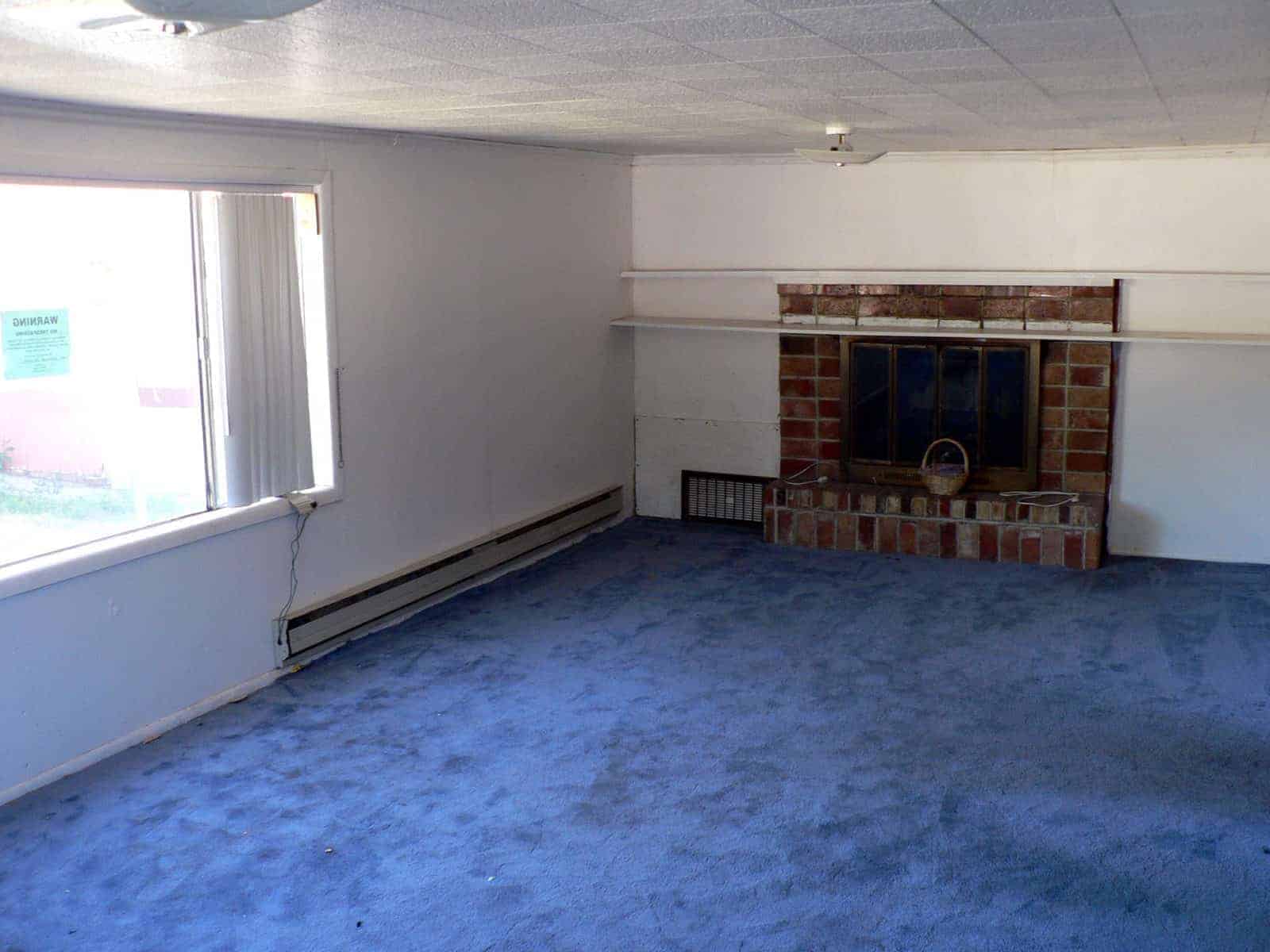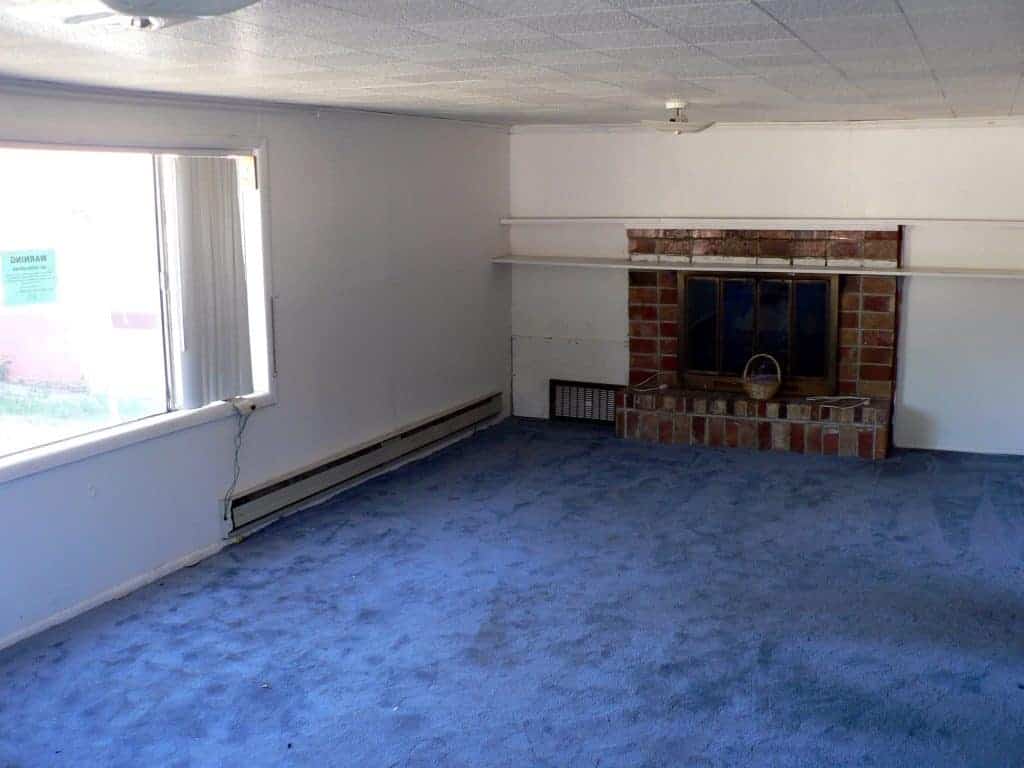 The room is about 25 feet long and 12 feet wide. The kicker is the ceiling is only 6.5 feet tall. You heard me right, six and a half feet! I'm a super tall woman, at six-feet tall myself, this room is short! Thomas and I could both hit our heads on the light fixtures as we walked under.
And lest we forget what living in this room looked like, here's some pictures: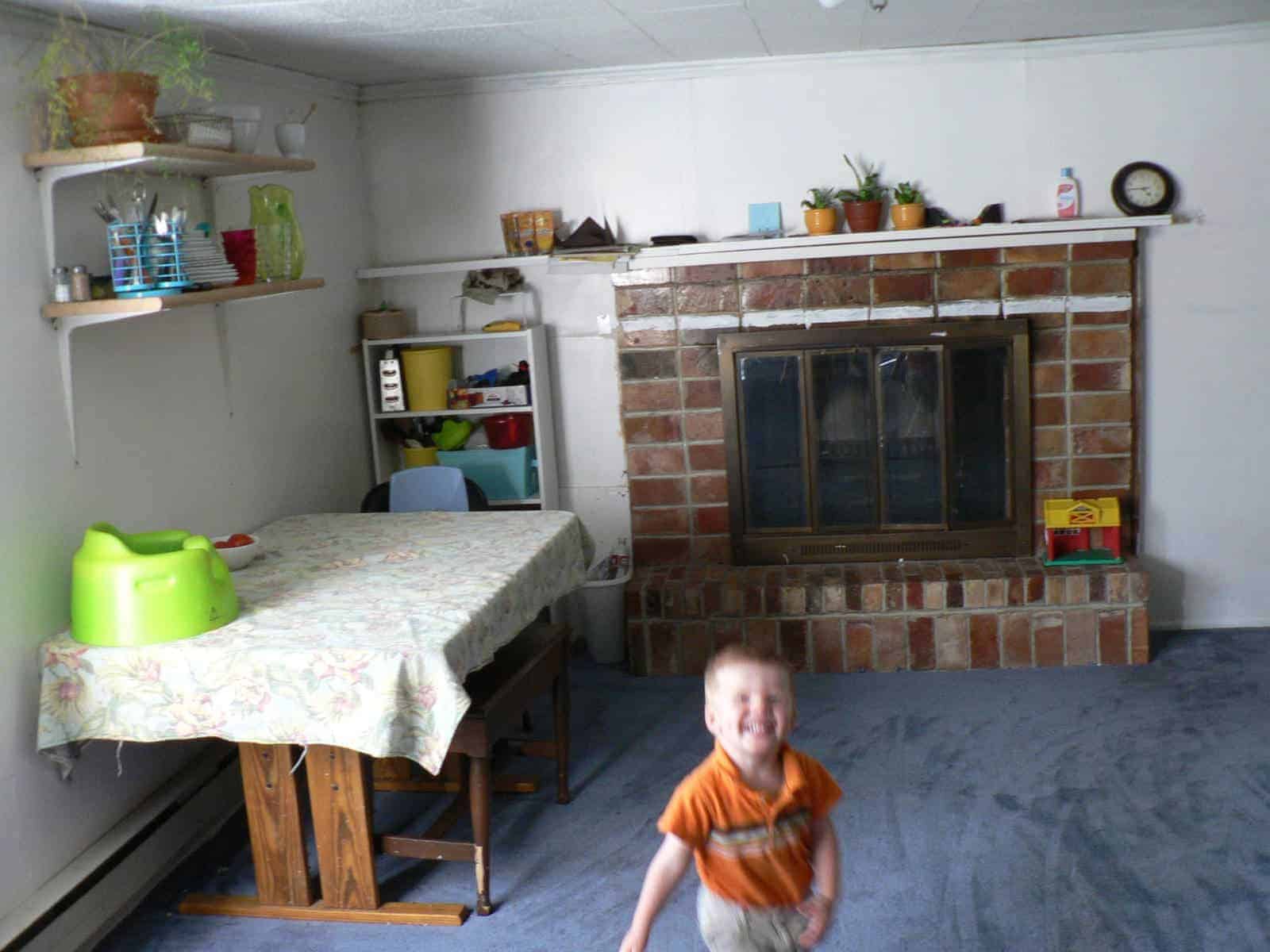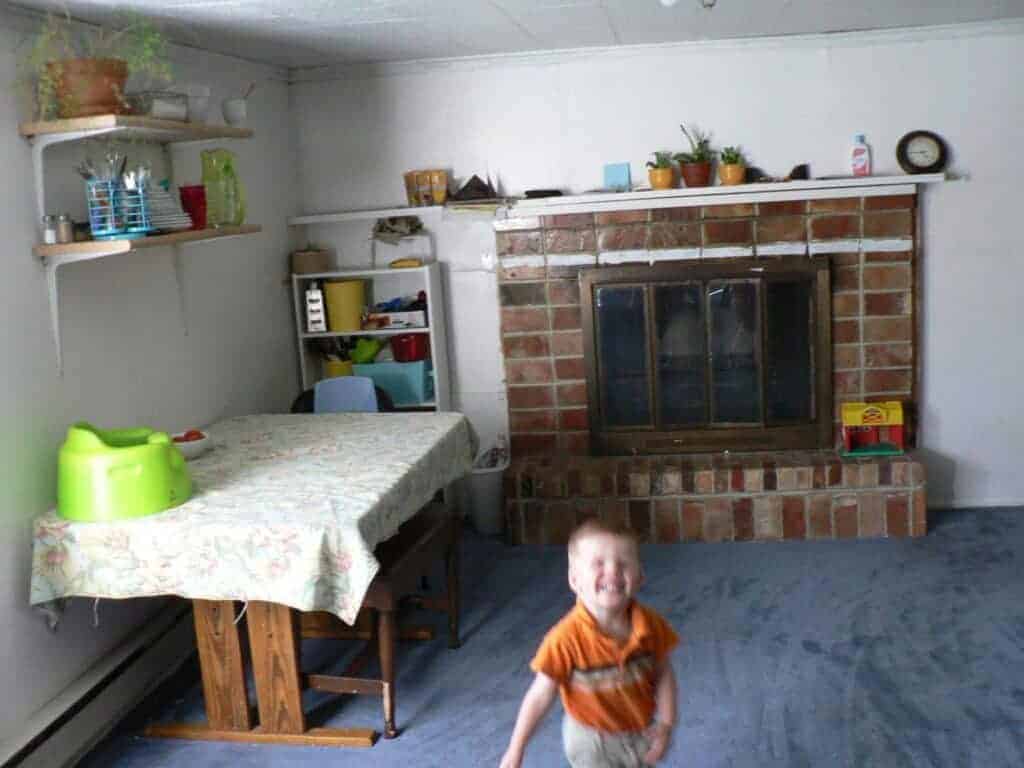 Could you fit your whole life in one room?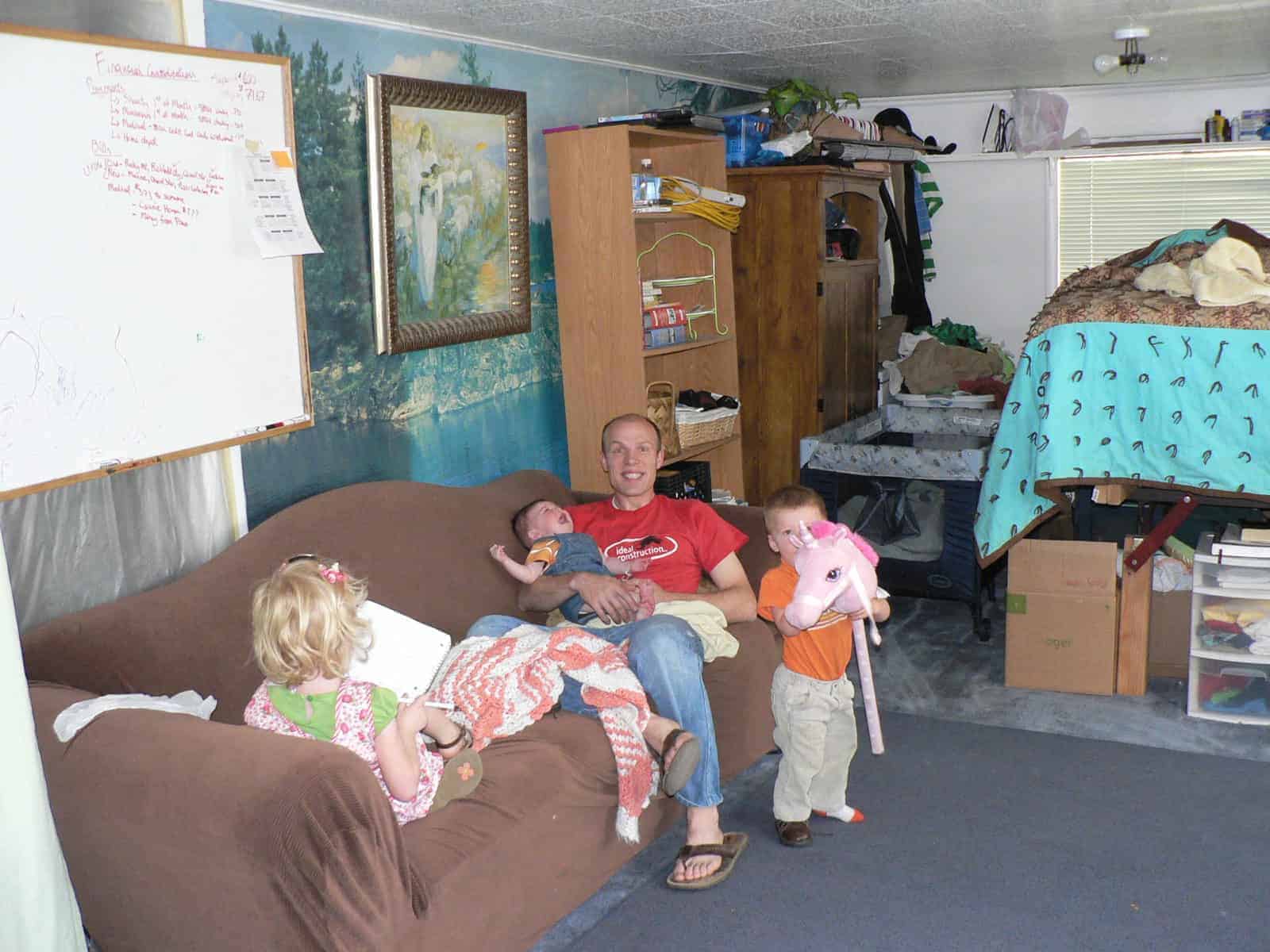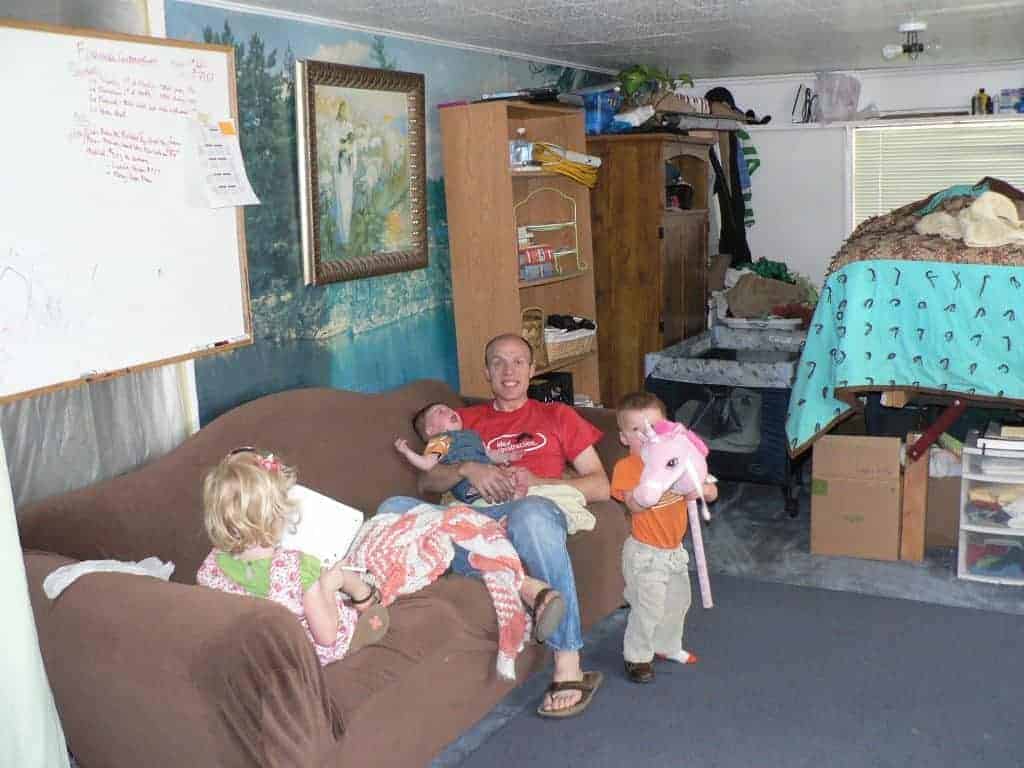 These pictures were of course taken when things were all clean and put away, but let me assure you, it got messy quick!
And now we've been working on making some big changes! Thomas, me, and all three kids started sleeping in the one bedroom upstairs that is done while the other bedrooms were worked on. A week or so ago we moved the two oldest kids down to a bedroom in the basement (which is 80% done! pictures of that next) and the baby still sleeps with us. After almost 15 months of living with out a closet or a door to my bedroom I now have one! (You can see the finished bedroom in this post, before we all moved in).
Here's what the bonus room looked like 2 weeks ago (Thomas, Dad, and our BFF Shaun replacing the window):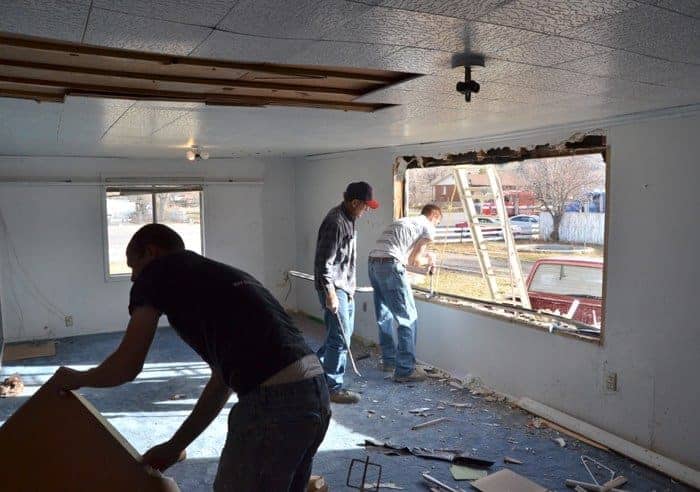 And here is what it looks like now. SURPRISE! We are vaulting the ceiling!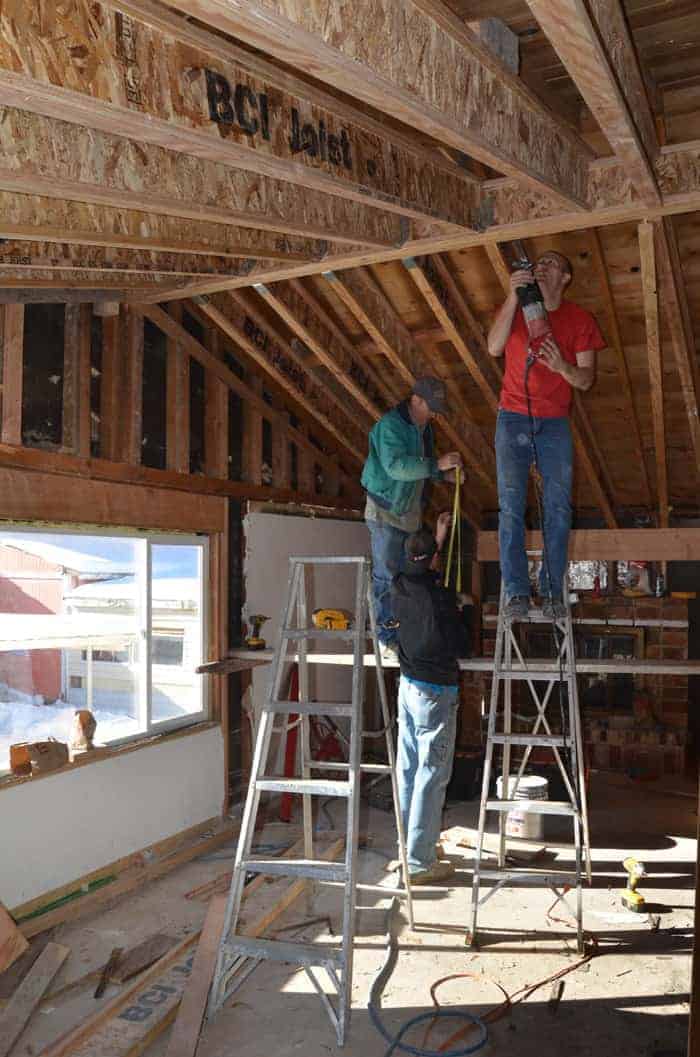 Thomas shot the idea of vaulting the ceiling at me a few months ago and I was sold. This is going to be a master bedroom (we are adding a bathroom and closet) with a vaulted ceiling and fireplace. Won't that be so beautiful and marketable?! My only regret is that I'll never live in this room. That is the hardest part about this remodel - knowing that it isn't really mine. As soon as it is done we'll move and have our Realtor sell it empty for us. *Sigh* but this will be a pretty sweet master bedroom for someone else... lucky!
There you have it, a little peak into the remodeling of our house while living in it.
Do you think you could remodel a house just to turn around and sell it?!
I'm doing it this time but I don't think I could do it a second time. Thanks for dropping in, you guys are the best.