These Italian Meatballs are juicy, tender, herby, and savory. Made with just four simple ingredients, these homemade meatballs can be served as an impressive appetizer or quick and easy dinner.
This recipe makes tender and crispy restaurant-quality Italian meatballs in just over 30 minutes! All you'll need to get started is some ground beef, breadcrumbs, eggs, and a few spices. This easy one bowl recipe will have you wondering why you ever bought frozen meatballs! You can pair these juicy and flavorful Italian-seasoned meatballs with your favorite pasta dish or serve them on their own as a hearty appetizer. Just be sure to garnish them with lots of cheese and have plenty of sauce on hand for dipping!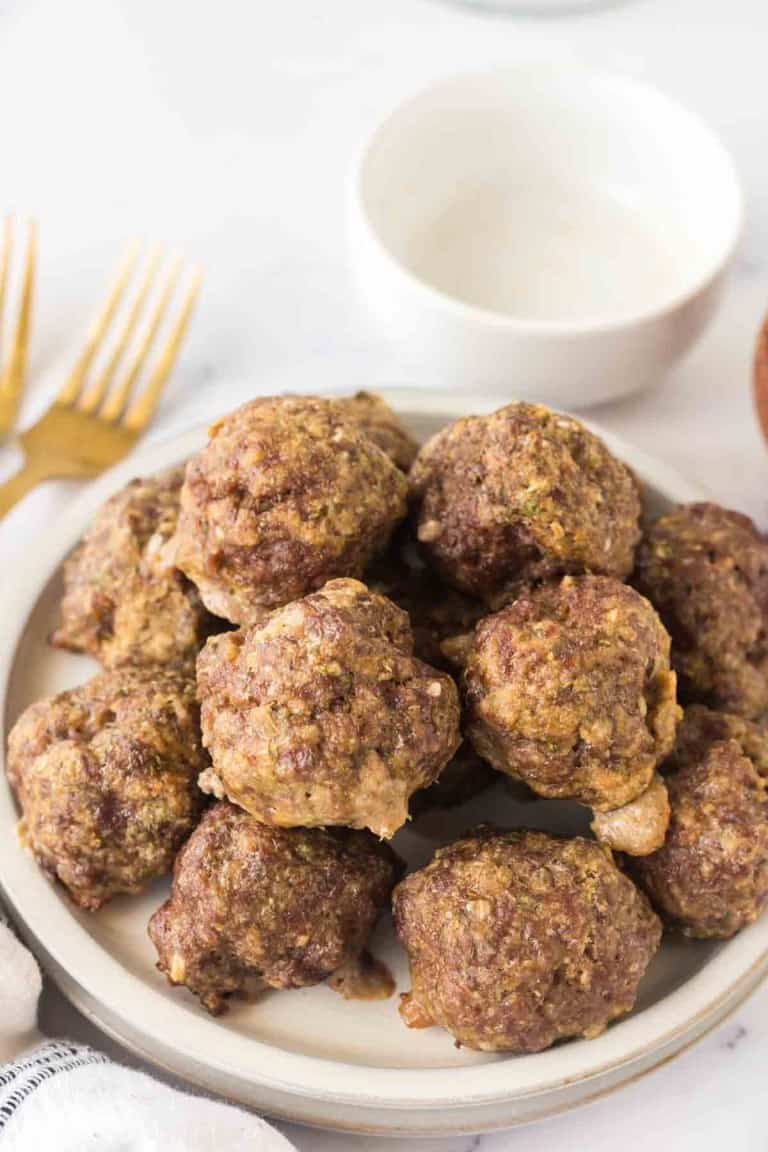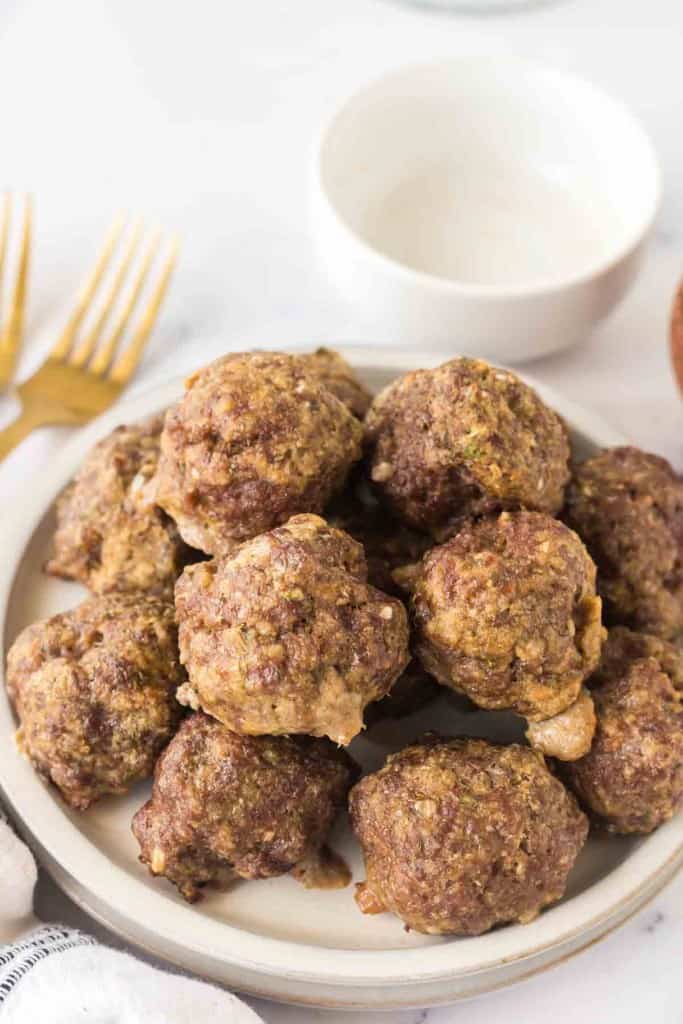 Italian Meatballs
We Love This Recipe Because It…
Is a one bowl, 30-minute dinner or appetizer.
Can be used as the protein in your favorite pasta dishes or on sandwiches or pizzas.
Is bursting with classic Italian herbs and spices.
Can be made ahead of time and stored in the freezer.
Ingredient Notes
Ground Beef—Acts as the hearty, savory base of these Italian-seasoned meatballs.
Italian Breadcrumbs—Or regular breadcrumbs mixed with an Italian seasoning blend.
Eggs—Helps the meatballs stick together and keep their spherical shape.
Spices—An aromatic and flavorful blend of dried minced onion, garlic powder, Italian seasoning, and salt.
How to Make Classic Italian Meatballs
Use your hands to gently mix together the ground beef, breadcrumbs, eggs, minced onion, garlic powder, Italian seasoning, and salt until well combined.
Shape the meat mixture into balls.
Place the meatballs over the surface of a baking sheet.
Bake until the meatballs are evenly browned and crispy.
Serve over your favorite pasta with plenty of sauce. Enjoy!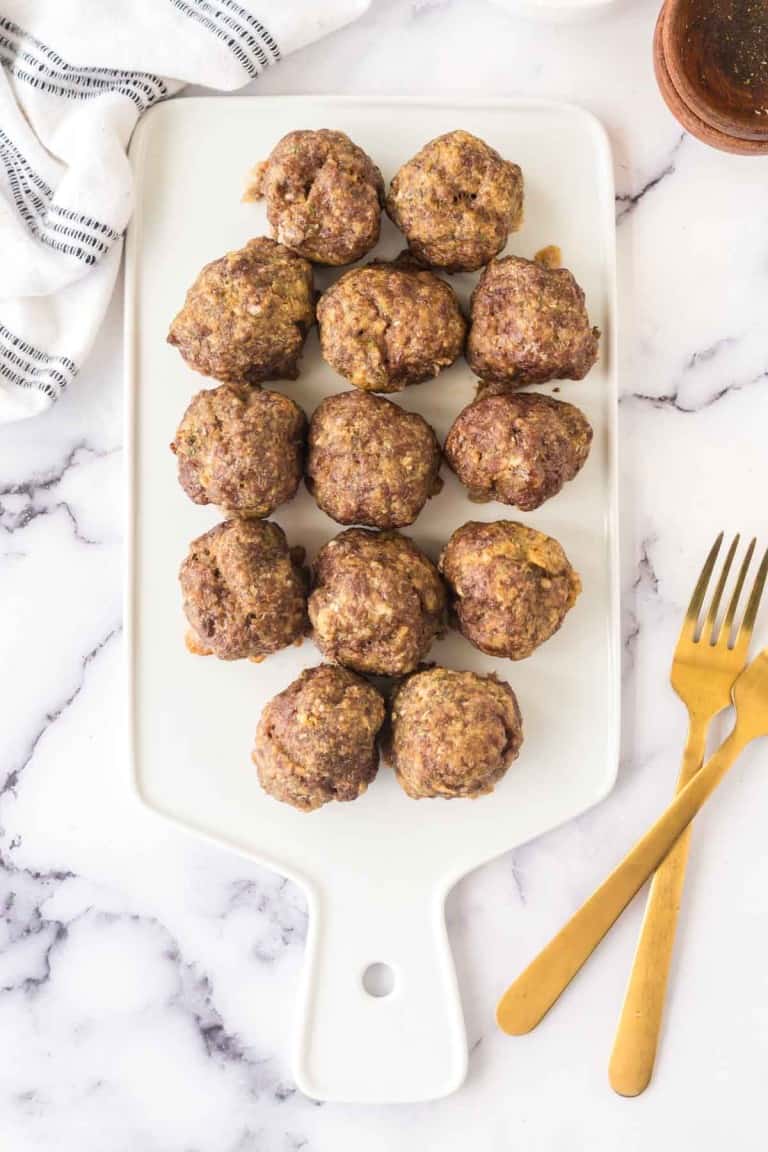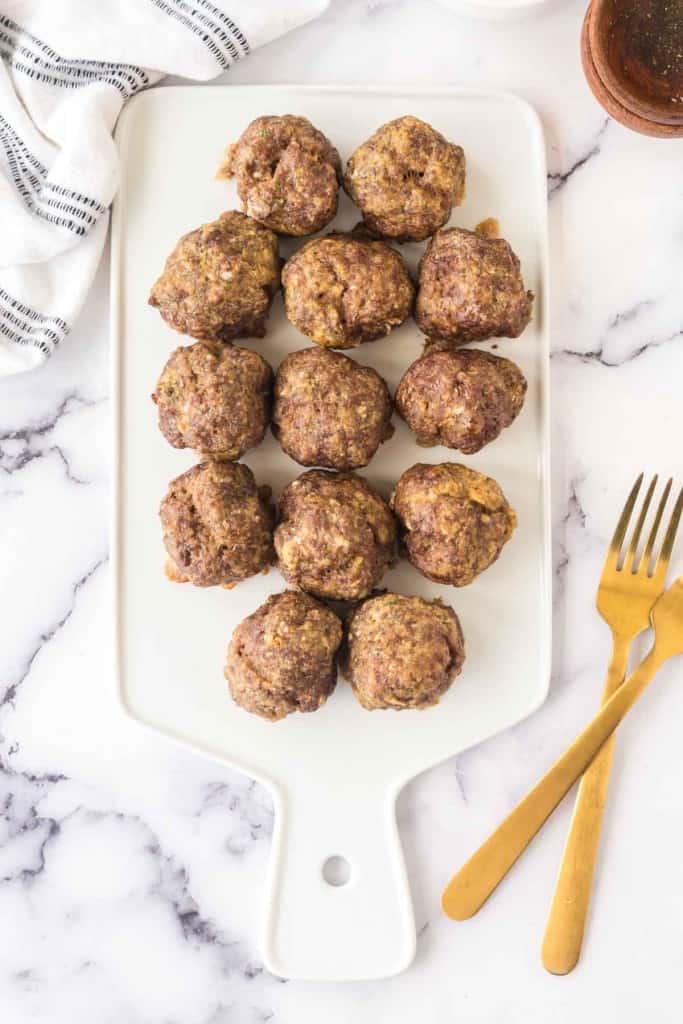 Frequently Asked Questions
What makes Italian meatballs different?
Unlike Swedish or American meatballs, these Italian meatballs are seasoned with classic Italian spices. Each bite of these juicy meatballs is bursting with flavors of basil, oregano, rosemary, and thyme—not to mention garlic and onion! You can even add a bit of grated parmesan cheese to these meatballs for some extra Italian flavor.
Do you cook meatballs in sauce or separately?
This recipe calls for you to bake the meatballs separate from any sauce. However, if you'd like to cook these Italian meatballs in some marinara sauce, you absolutely can! To do this, simply brown the outside of your meatballs in a large skillet. Once a bit crispy, add the marinara sauce, cover, and bake in a 350°F oven for 1 hour.
Is it better to fry or bake Italian meatballs?
I like baking these Italian meatballs because it's easy, quick, and less messy than pan frying. Although fried meatballs might be slightly juicier than their oven-baked counterparts, these Italian meatballs are still super tender and flavorful. They're the perfect crispy and chewy addition to sandwiches and pasta dishes!
How to Serve Italian Meatballs
My favorite way to serve these classic Italian meatballs is as an appetizer! Skewer each meatball with a toothpick for easy snacking and be sure to have plenty of marinara, alfredo, and pesto available for dipping. You can also dress up this comfort dish with a garnish of parsley or freshly shredded parmesan cheese. These easy meatballs also make for a delicious addition to classic Italian entrées such as spaghetti, pizza, and sub sandwiches.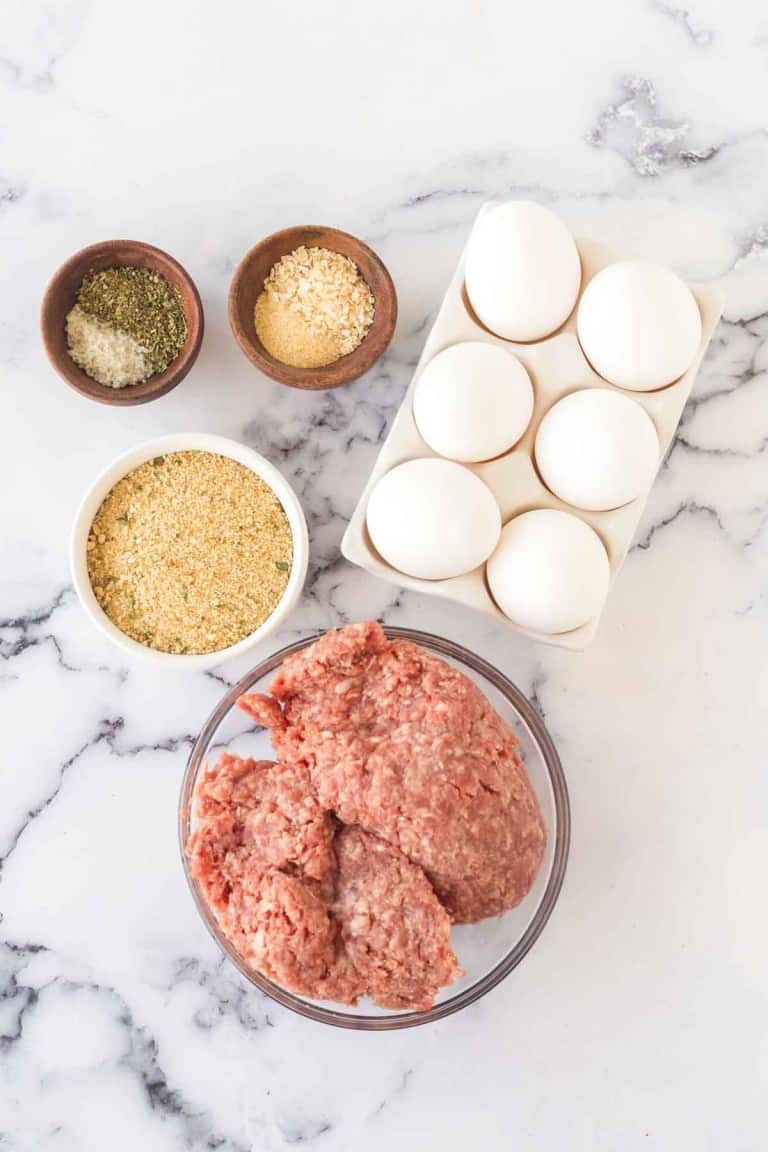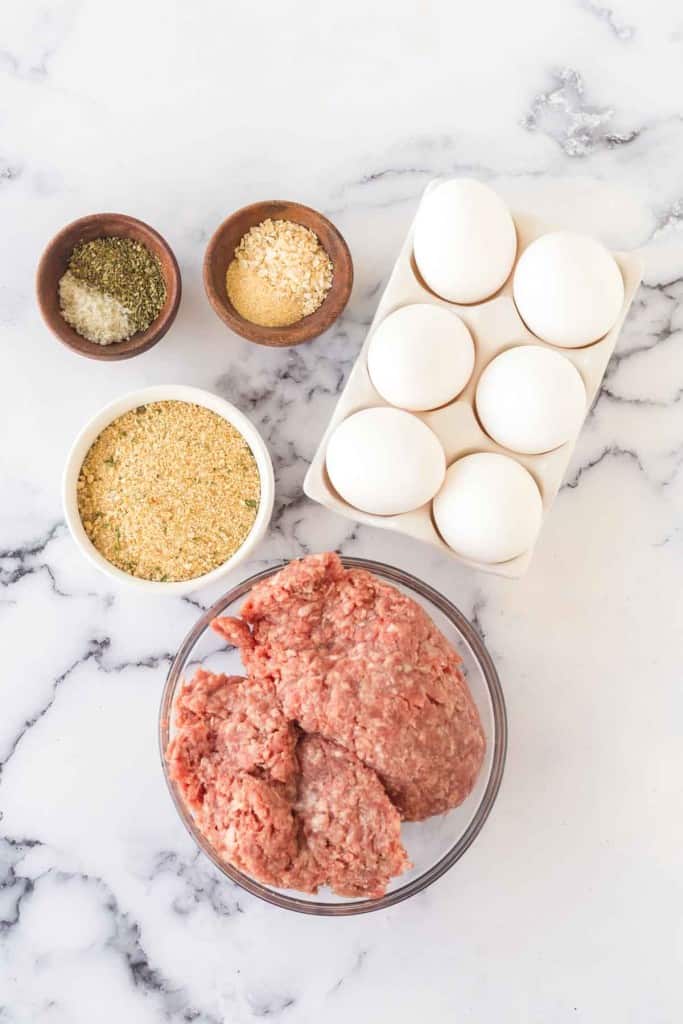 Storage and Reheating
To Refrigerate: place any leftover Italian meatballs in an airtight container and store in the fridge for up to 5 days.
To Freeze: Allow the meatballs to cool before transferring them to a Ziplock bag. Store in the freezer for up to 4 months. Allow any frozen meatballs to thaw completely before reheating.
To Make Ahead of Time: Prepare and form the meatballs as normal before placing them on a cookie sheet. Freeze the meatballs for 15-20 minutes or until they're firm to the touch and can hold their shape. Transfer the meatballs to a Ziplock bag and freeze for up to 2 months. When you're ready to enjoy some fresh meatballs, pop them back onto a cookie sheet and bake in a 350°F oven for 20-30 minutes or until no longer pink.
To Reheat: Place any chilled meatballs into the basket of an air fryer and cook at 350°F for 5 minutes or until warmed to your liking. Alternatively, you can reheat these Italian meatballs in the microwave for about 45 seconds.
Expert Tips and Tricks
You'll know your meatballs are done baking when a thermometer inserted into the thickest one reads 160°F.
Make these Italian-style meatballs even juicier and more flavorful by swapping out half of the ground beef for ground pork or ground Italian sausage.
Don't have an Italian seasoning mix? You can make your own by combining basil, oregano, rosemary, marjoram, and thyme.
Give these Italian meatballs a sense of freshness by using fresh minced onion and garlic instead of the dried versions.
I recommend using 85/15 or 90/10 ground beef in these meatballs.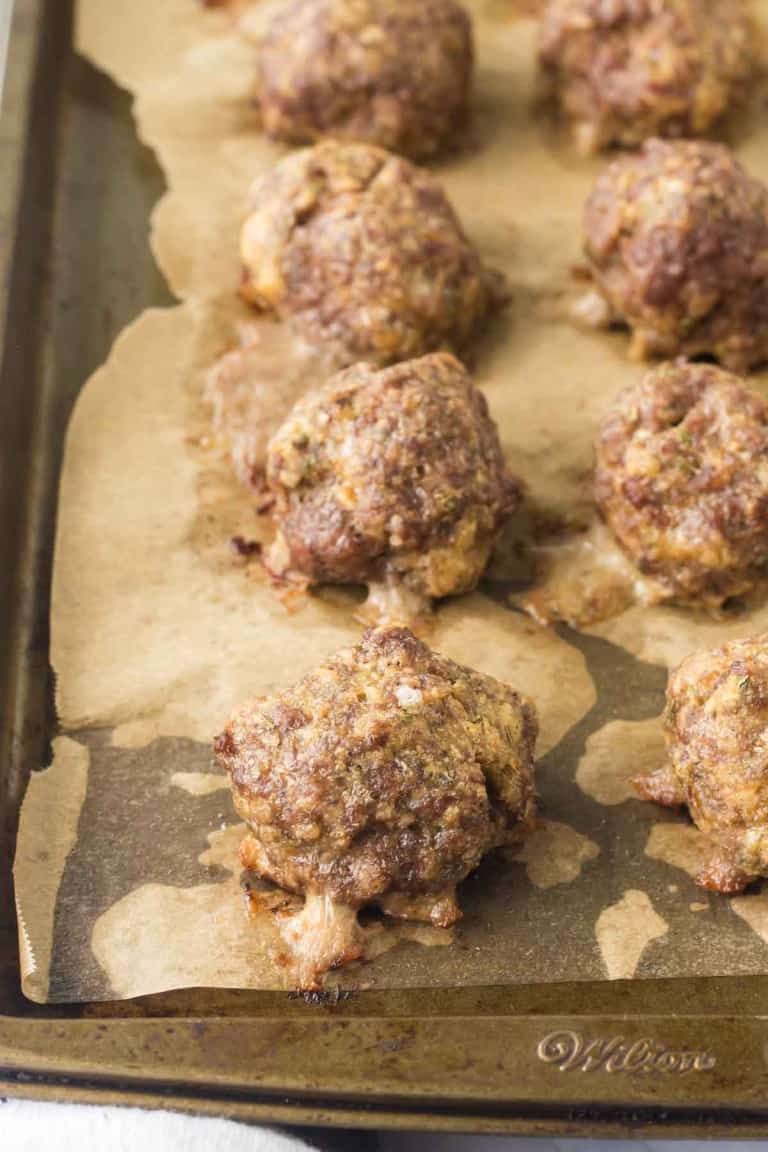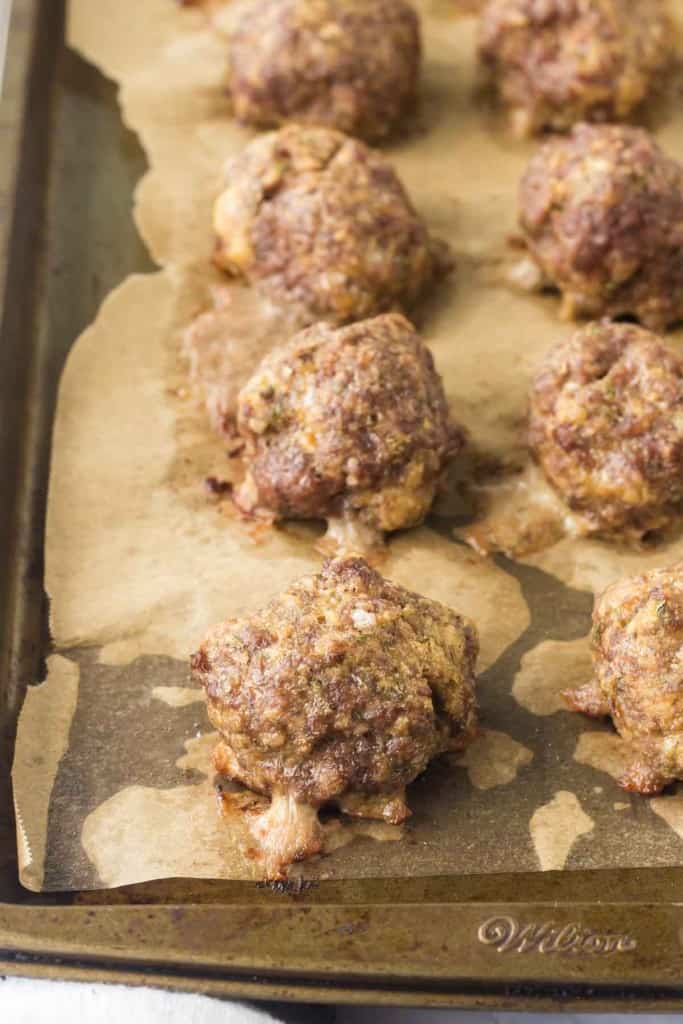 More Recipes
If you've tried this Italian Meatballs recipe or any other recipe on Bless This Mess, then don't forget to rate the recipe and leave me a comment below! I would love to hear about your experience making it. And if you snapped some pictures of it, share it with me on Instagram so I can repost on my stories.
📖 Recipe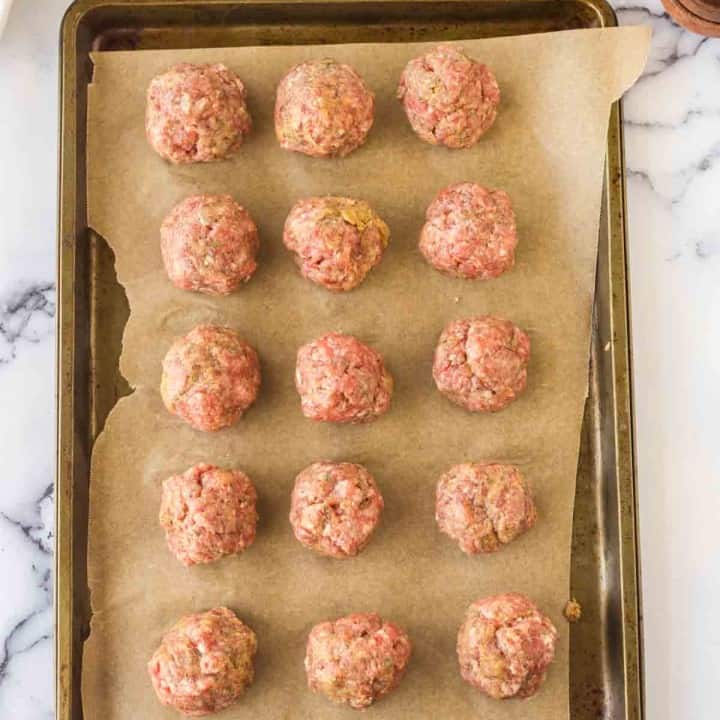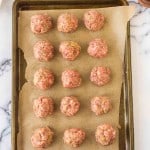 Print Recipe
Italian Meatballs
Italian Meatballs that are juicy, tender, herby, and savory. Made with just four simple ingredients, they can be served as an impressive appetizer or quick and easy dinner.
Ingredients
1

pound

ground beef

2

large eggs

1

cup

Italian breadcrumbs

2

teaspoons

minced onion

1

teaspoon

garlic powder

1 ½

teaspoons

Italian seasoning

1

teaspoon

salt
Instructions
Preheat the oven to 400°F.

In a large bowl, combine all of the ingredients. Use your hands or a large wooden spoon to combine the ingredients until everything is evenly distributed. Make sure there are no pockets heavy in breadcrumbs or seasoning.

Once the ingredients are evenly distributed and homogenous, use your hands or a cookie scoop to divide the meat into balls about 2 tablespoons in size.

Place the meatballs on a baking sheet lined with parchment paper. Place the baking sheet in the oven and bake the meatballs for 20 minutes, or until they reach an internal temperature of 160°F.

Serve and enjoy!
Notes
Makes 15-18 meatballs
These meatballs make a great side dish, but they can also be added to spaghetti or potatoes to add some protein.
I found that a little extra Italian seasoning was needed to amplify the flavor of the breadcrumbs.
If you have fresh garlic, you can replace the garlic powder with 2 cloves of freshly minced garlic.
I prefer to use 85/15 or 90/10 ground beef for meatballs, but any fat percentage will work. If you use 80/20 orr 85/15, you will see more shrinkage than in meatballs using 90/10 or 93/7 ground beef.
You can also buy a meatball blend of meat if you can find it, it's beef and pork and sometimes veal. You can also use half ground pork and half ground beef in this recipe.
Store your leftover meatballs in the fridge for up to 5 days in an airtight container. They reheat quickly in the microwave (about 45 seconds).
Nutrition
Calories:
351
kcal
|
Carbohydrates:
17
g
|
Protein:
21
g
|
Fat:
21
g
|
Saturated Fat:
8
g
|
Polyunsaturated Fat:
1
g
|
Monounsaturated Fat:
9
g
|
Trans Fat:
1
g
|
Cholesterol:
130
mg
|
Sodium:
872
mg
|
Potassium:
341
mg
|
Fiber:
1
g
|
Sugar:
2
g
|
Vitamin A:
152
IU
|
Vitamin C:
1
mg
|
Calcium:
80
mg
|
Iron:
4
mg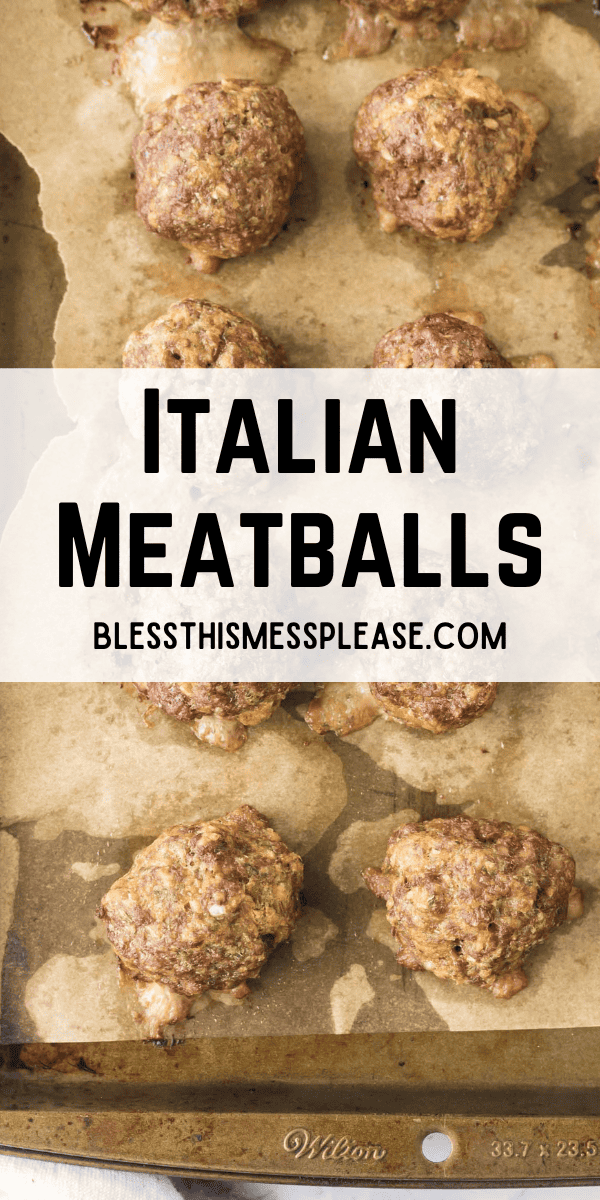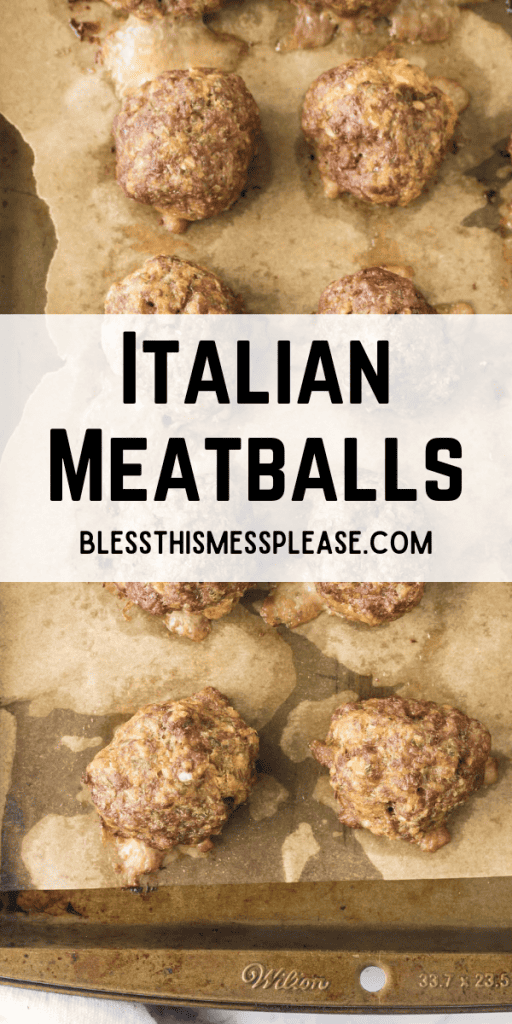 I can't wait for you to try these Italian Meatballs. They are simple, easy and make for a great dinner or side dish. Happy cooking!