We're in the middle of asparagus season and it's a great time to enjoy this summer vegetable. Here is the Best Way to Store Fresh Asparagus and keep it from drying out.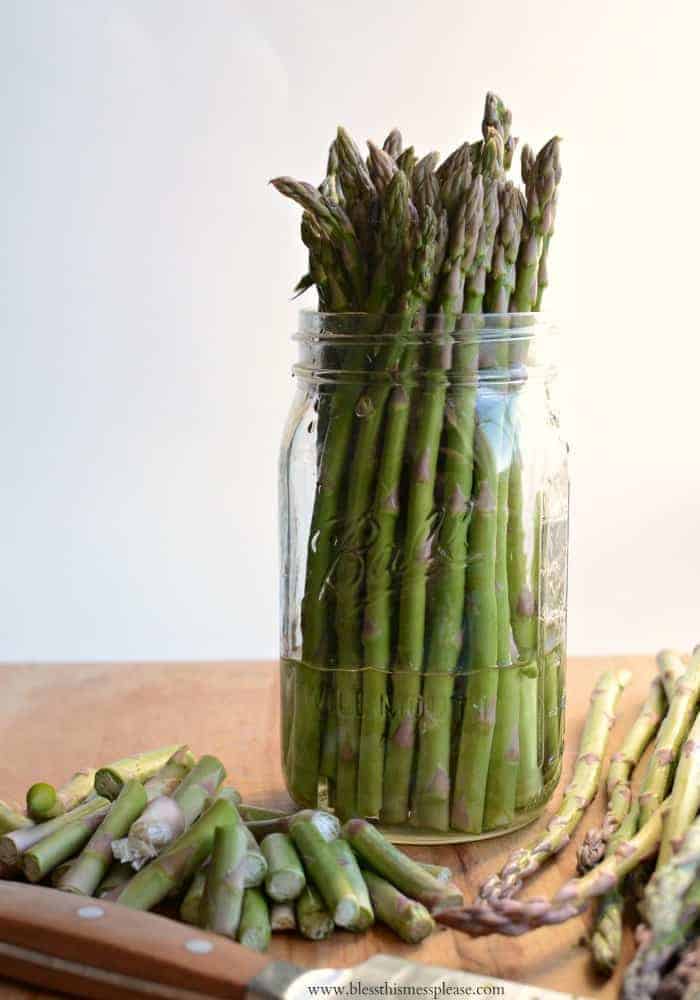 How to Store Fresh Asparagus
Asparagus is in season in California right now which means I can get it pretty cheap since we aren't all that far from the Sunshine State. I have been loving having a seasonal vegetable to cook with! It's been so very long. Welcome spring.
I bought a 3 pound bag at Costco for $3.99 last week and it was beautiful tender asparagus. The only problem? I had 3 whole pounds of it. So I did some research to figure out how to store fresh asparagus the best. I bought the asparagus on Thursday, stored it properly on Friday, and just finished using it for Sunday dinner. So it lasted 10 whole days in the fridge and showed no signs of getting old. I bet it would have stayed good another few days too. It worked so well that I wanted to share the method with you.
This method was quick and easy and it worked great! If you are going to buy in bulk it's important to know how to store things so that you don't end up throwing out things that go to waste in the fridge. I hope it helps you to keep your fresh produce a bit longer, saves you a bit of money, and gets you excited for this delicious spring vegetable.
What do I look for when buying asparagus?
When purchasing asparagus, look for bright green or violet-tinged spears. You want the stems to be firm and not limp. Don't worry about the thickness because that doesn't determine the taste.

When should I buy asparagus?
Buying fresh is always the best option. The best months are between February to June, with April being the peak time.
How long can you keep asparagus in the fridge?
If properly stored, asparagus will typically keep well for about 3 to 5 days in the refrigerator.

How can you tell if white asparagus is bad?
If your asparagus is going bad the tips will begin to turn a very dark green and will be mushy to the touch.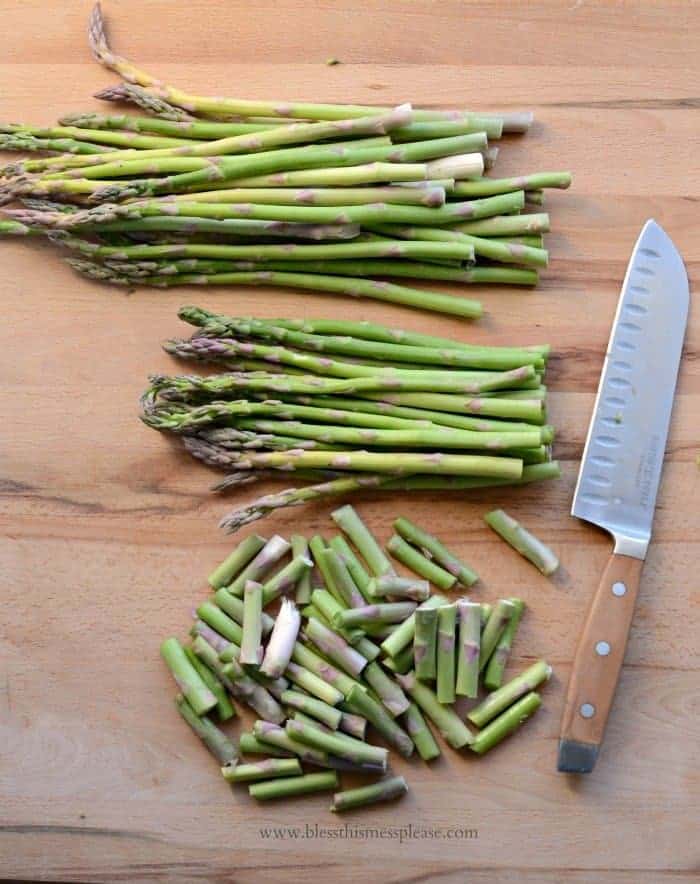 Print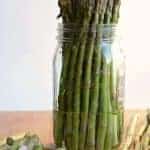 How to Store Fresh Asparagus
---
Author:

Total Time:

5 minutes
Description
Quick and easy method to store fresh asparagus.
---
Asparagus
Canning Jar
Water
Plastic baggie
---
Instructions
Wash asparagus and trim the ends about an inch. Place the spears in a glass jar, cut ends down. Fill the jar with about 1 inch of water. Loosely cover tips of the asparagus with a plastic bag. Store in the front of the fridge for up to 10 days.
Notes
You want to avoid having the asparagus freeze. The glass jar really helps with this but take a little care to keep the jar to the front of the fridge. If it gets pushed to the very back it might freeze, if your fridge is weird like mine, and that will compromise how long they will stay fresh and their texture.
Prep Time:

5 minutes

Category:

Side

Cuisine:

American
Keywords: Vegetables, Store Fresh, Quick and Easy
Some of my favorite uses for asparagus, all found on my site:
And there you have a fun little tip for The Best Way to Store Fresh Asparagus. Have a great week friends and thanks for stopping in.