You will love this trick for how to cook spaghetti squash in the Instant Pot for the fastest (and easiest) spaghetti squash recipe ever.
No time to roast a spaghetti squash? No worries if you got a late start to dinner, your Instant Pot can come to the rescue! This is super fast too because you don't even have to cut the squash or remove the seeds before cooking, just cook it whole! And with a 15 minute cook time, you'll have squash ready in no time.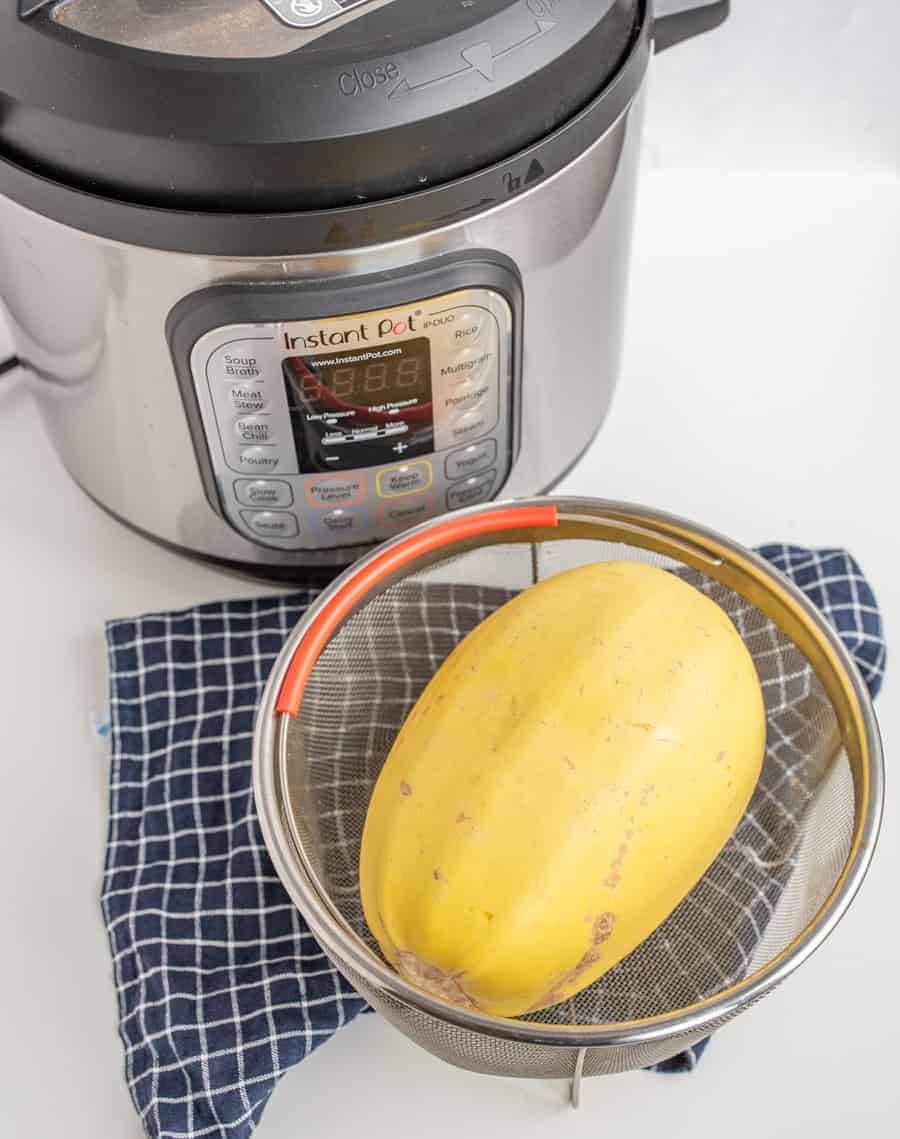 How to Cook Spaghetti Squash in the Instant Pot
Think it takes upwards of an hour (or more) to get your spaghetti squash perfectly prepped and cooked for serving? Think again! If you're an Instant Pot person, get ready for the easiest and quickest way to cook spaghetti squash. Like ever. Seriously. It's pretty incredible, and these quick cookers never cease to amaze me!
By using an Instant Pot, your spaghetti squash will be ready to go in just longer than a half-hour, and that includes cutting and shredding time. If you haven't jumped on the IP bandwagon yet, no worries. I also posted a recipe for a simple way to cook spaghetti squash in a slow cooker just a few days ago, as well as the simplest roasting method ever a couple days before that.
So, whether you love using the Instant Pot or are more of an oven or Crock-Pot fan, I've got you covered for preparing your spaghetti squash the easiest ways possible! Get it ready to go with your method of choice, and then top the healthy and adaptable "noodles" with your favorite pasta toppings!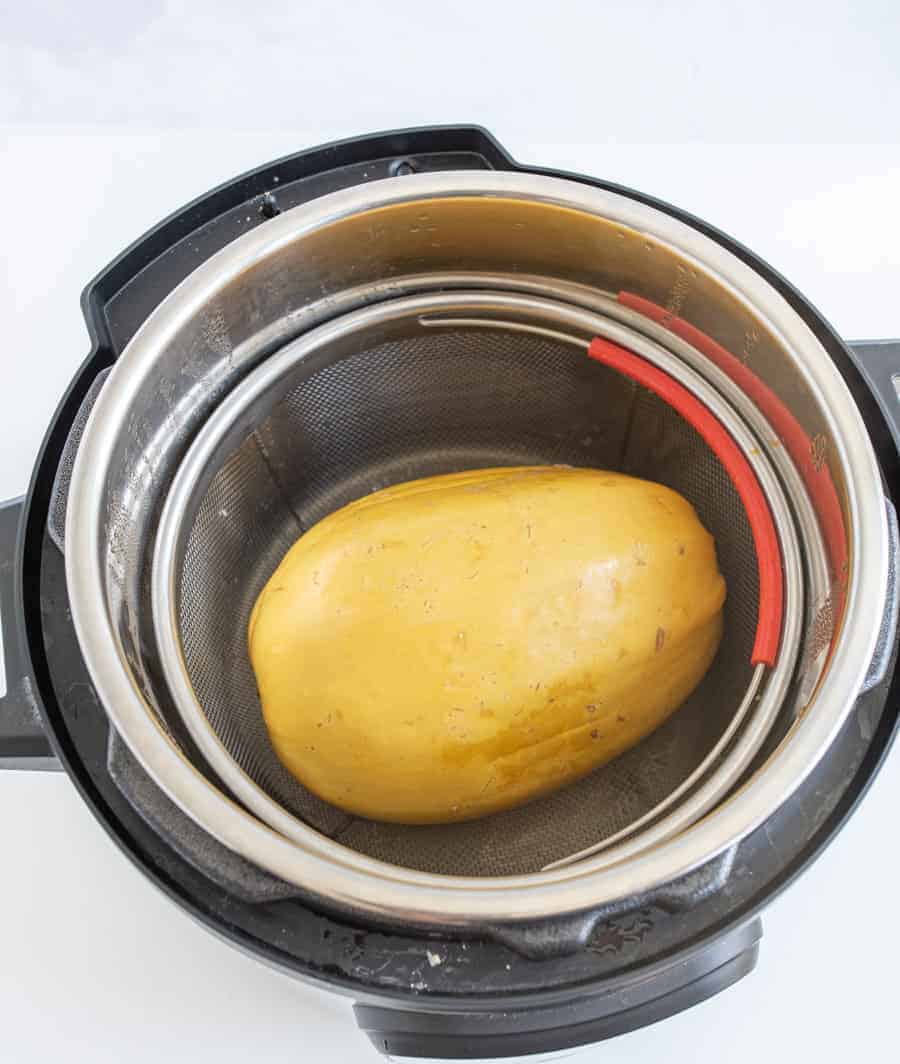 How do you make spaghetti squash in the Instant Pot?
It's so simple! Start by washing off the spaghetti squash and pricking it with a fork a few times. Set it in the steamer basket or trivet, and add a cup of water. Close the lid and change it to "sealing" before selecting "pressure cook" for 15 minutes on high pressure.
After the time's up, do a manual release and then carefully remove the lid once it is done releasing pressure. Remove the squash carefully (it's hot), and cut it lengthwise from top to bottom. Scoop out seeds with a spoon and discard, and shred the good stuff with a fork to serve!
What goes well with spaghetti squash?
You can put so many delicious things in and on and beside spaghetti squash that you really can't go wrong. We love eating it with marinara sauce and meatballs, or with butter, parmesan cheese, and salt and pepper! Any favorite pasta toppings will taste amazing with spaghetti squash.
How do you know when spaghetti squash are ripe?
Ripe spaghetti squash are a golden or dark yellow color with a very thick and firm exterior. Your fingernail should not be able to penetrate the surface of an uncooked spaghetti squash, and it shouldn't have any spots, brown marks, or bruises.
How long does spaghetti squash last?
Uncooked spaghetti squash can keep for up to 1 to 2 months if stored in a cool, dry pantry. Cooked spaghetti squash should be kept in an airtight container in the fridge and enjoyed within 3 to 4 days.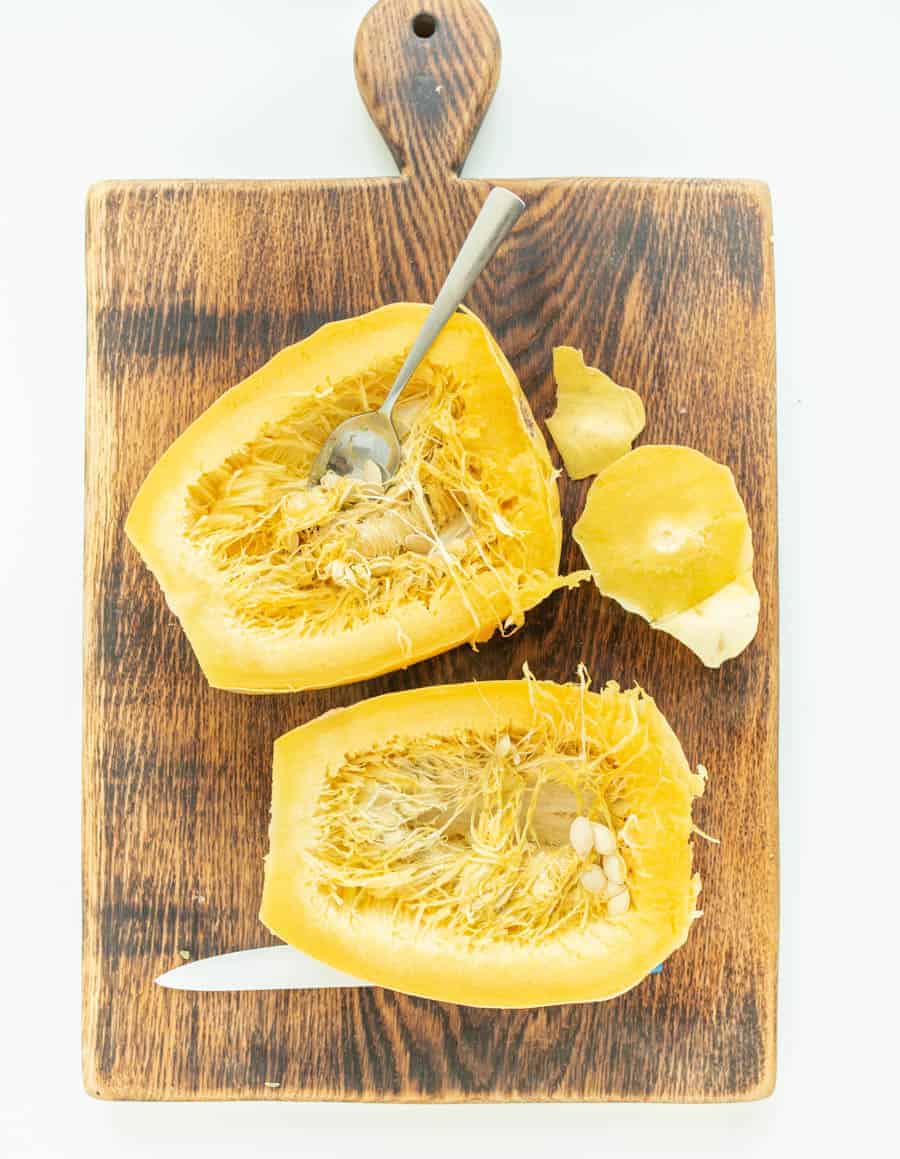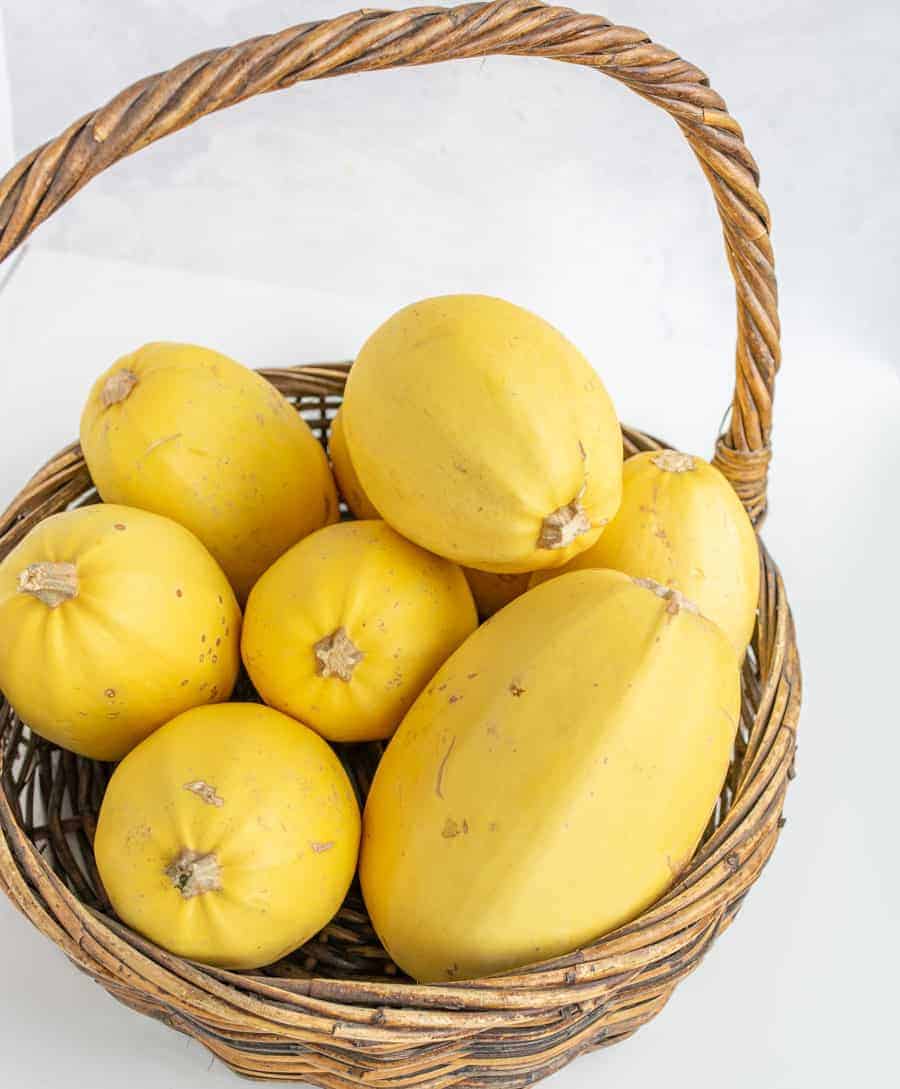 Print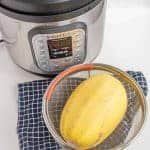 How to Cook Spaghetti Squash in the Instant Pot
---
Author:

Total Time:

40 min

Yield:

serves

4

-6

1

x
Description
You will love this trick for how to cook spaghetti squash in the Instant Pot for the fastest (and easiest) spaghetti squash recipe ever.
---
1

medium spaghetti squash (

2

to

2.5

pounds)

1 cup

water
---
Instructions
Wash off the outside of your spaghetti squash, and prick it a few times with a fork so that the steam can penetrate the skin.
Place the squash in a steamer basket that fits your pressure cooker or on the trivet, and then add 1 cup of water to the bottom of the pot.
Close the lid, move the gasket to "sealing" and press "pressure cook." Set the cook time to 15 minutes (high pressure), and let the machine do its thing.
When the 15 minutes has passed, do a manual pressure release.
When the pressure comes down and you can remove the lid, do so carefully.
Carefully remove the squash from the Instant Pot, and cut it from top to bottom (stem to blossom end). Use a spoon to scrape the seeds from the squash.
Use a fork to scrape the flesh to shred it into spaghetti. Use as you like.
Notes
To decrease the cook time - cut the squash in half (through the middle, not top to bottom, so that you have two "bowls"). Scrape out the seeds and discard. Place the two halves in the Instant Pot with the water on a trivet, and cook for 7 minutes, quick pressure release. Use as you like.
Prep Time:

5 min

Cook Time:

15 min

Category:

side

Method:

Instant Pot, pressure cooker

Cuisine:

American
Keywords: spaghetti squash, spaghetti squash recipe, instant pot, side, vegetable, low carb, healthy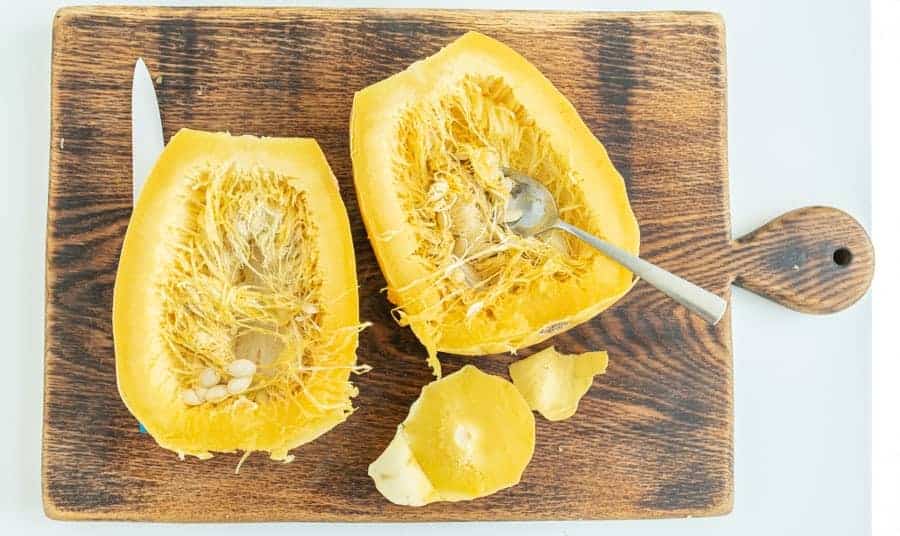 Other winter squash recipes:
This simple and fast guide for how to cook a spaghetti squash in an Instant Pot will be your new go-to for a low-maintenance weeknight meal!