The best method for how to bake a sweet potato to get soft and sweet insides and a skin that's easy to remove.
I use this method all of the time! Use it if you want to eat a baked sweet potato, if you want to prep them for mashed sweet potatoes, or if you are going to use them in a recipe like sweet potato casserole or sweet potato topped shepherd's pie!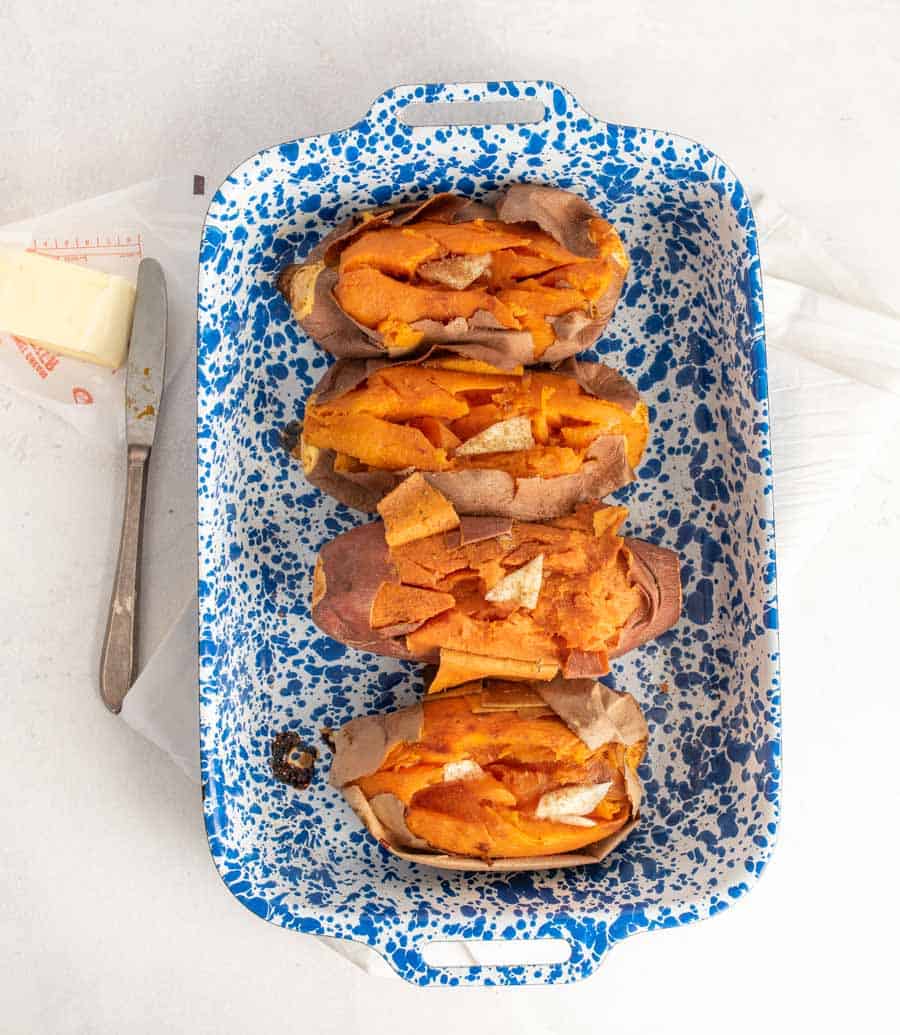 Easy Baked Sweet Potato
I am such a huge fan of using sweet potatoes in everyday cooking. They are such a versatile veggie -- use them in casseroles, soups, dessert, and more, and they add a subtle sweet factor to any dish, plus they're packed with nutrients! They are just so, so good, and they're easy to bake if you know the right method.
Just like regular baked potatoes, there are about a hundred schools of thought around how to bake sweet potatoes. My personal approach is to keep it real simple (as per usual!). This method (see below) creates a soft, lush inside texture.
You can just cut it open and load it with your favorite toppings, or simply peel off the skin to mash the orange insides into a simple mashed sweet potato side. Add a little butter, salt, and garlic powder, and you will be in HEAVEN. It's so good, so easy, and so healthy!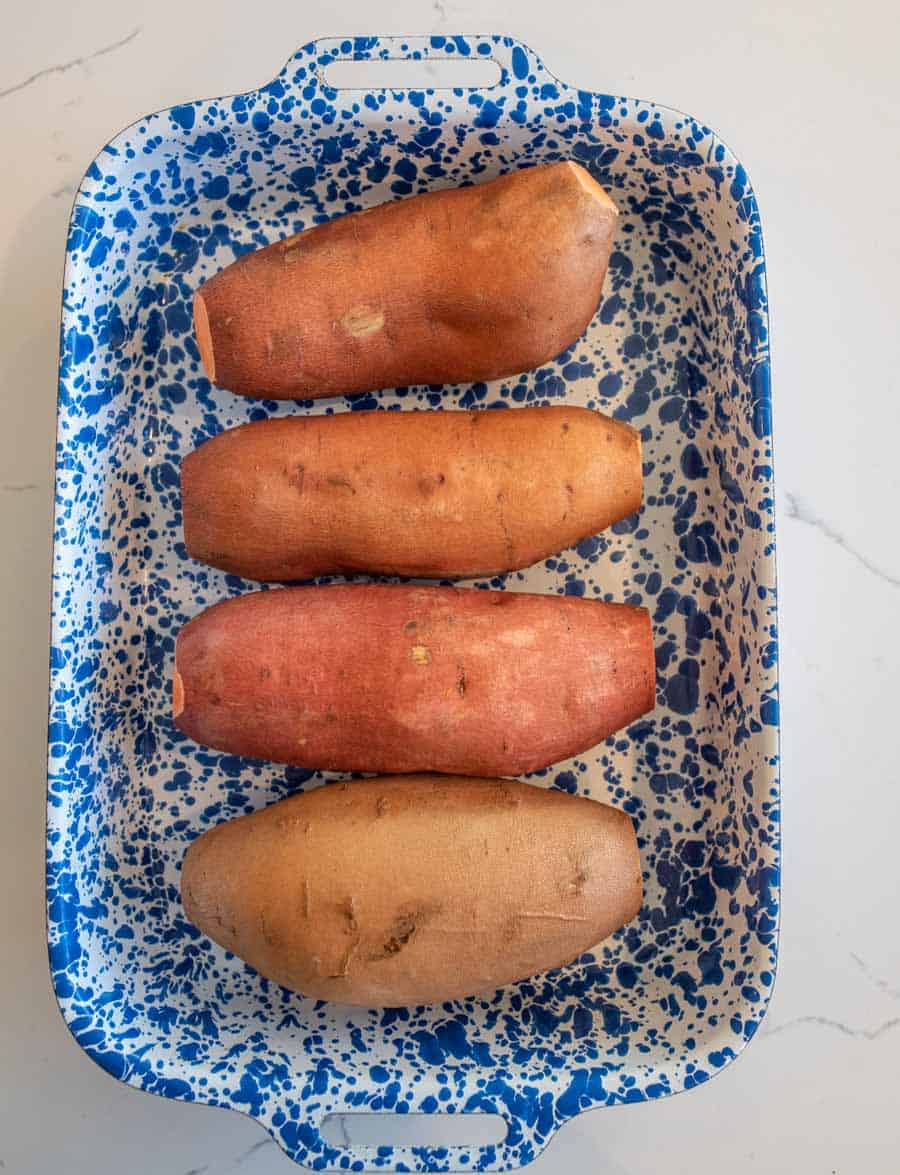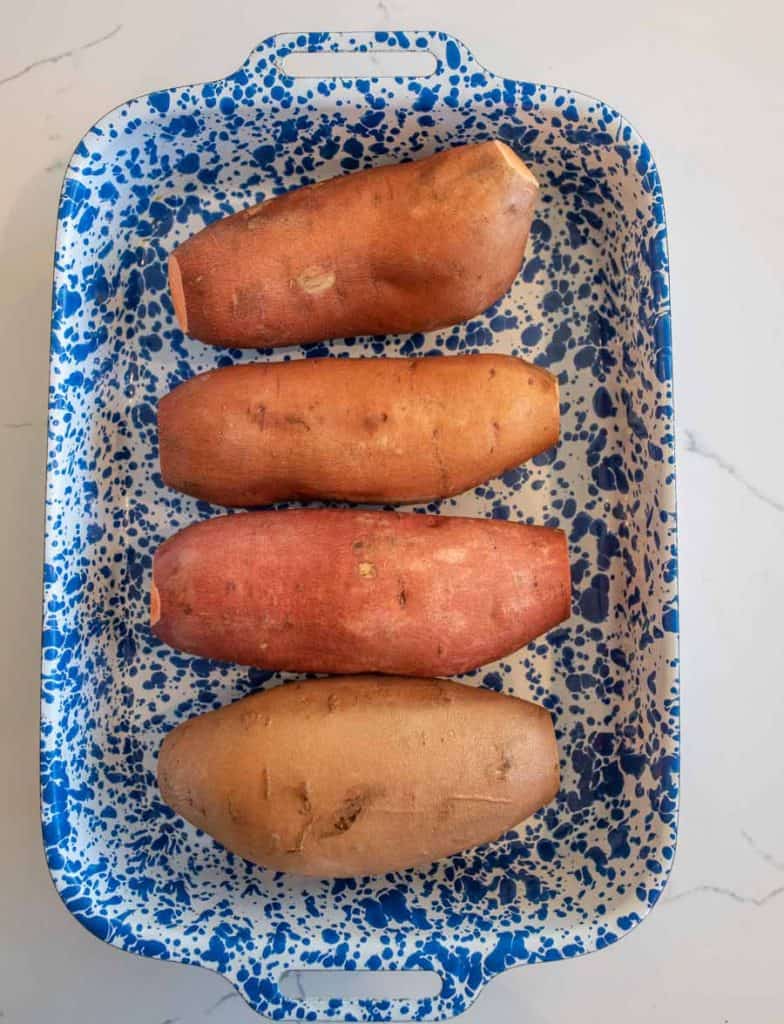 How long do you bake sweet potatoes?
I typically bake sweet potatoes between 45 to 55 minutes in a 400 degree F. oven. You can check the internal temperature of your sweet potatoes with an instant-read thermometer -- you'll want them to be between 205 to 212 degrees F. in the thickest part of the potato when they're done. How long you cook them will depend on the size, so just pay attention to them toward the end of the bake time!
Can you eat the skin of a baked sweet potato?
Absolutely! Though some people don't like the texture or taste of sweet potato skin, it's packed with fiber and potassium. It adds to the nutrients on your plate, so if the flavor doesn't bother you, I say chow down! Just be warned, it's pretty chewy!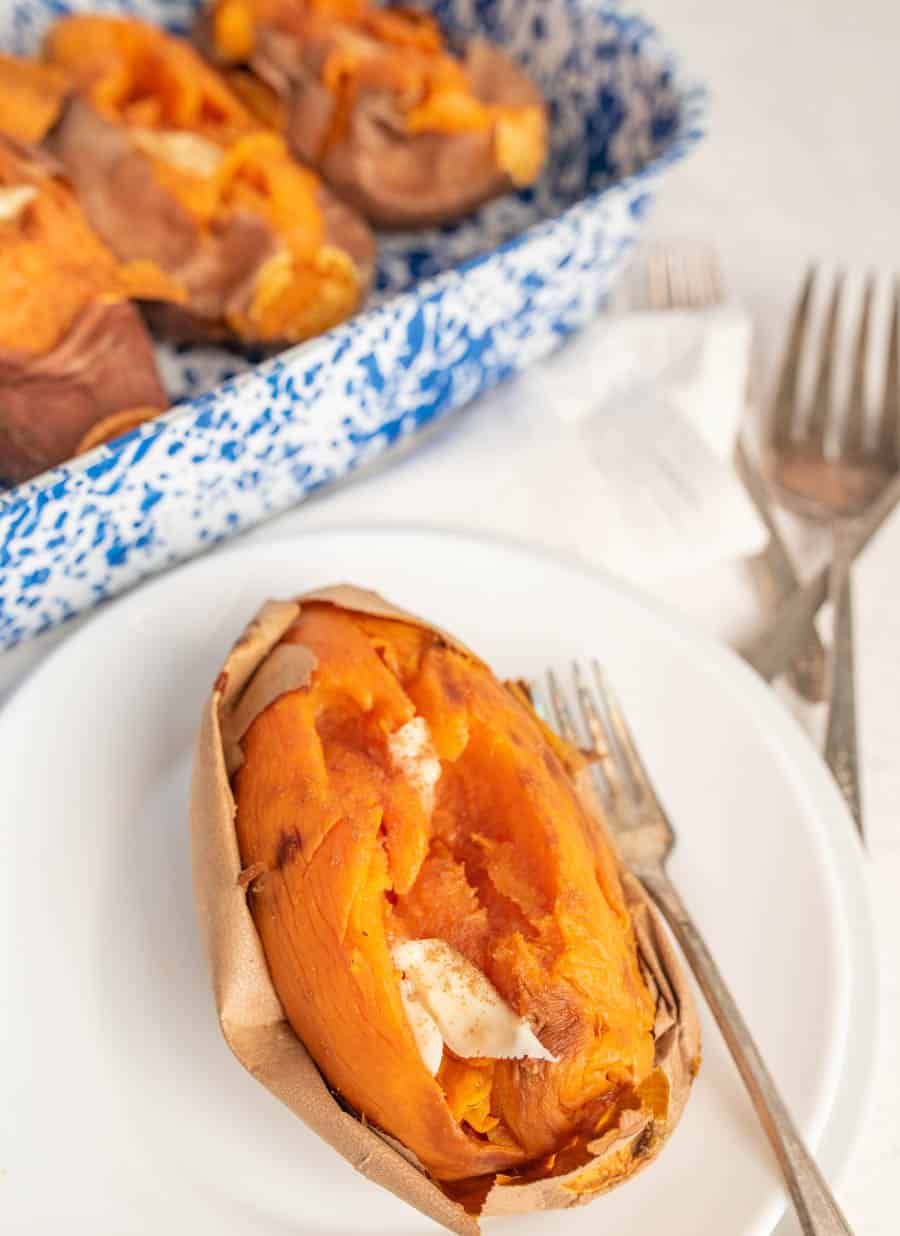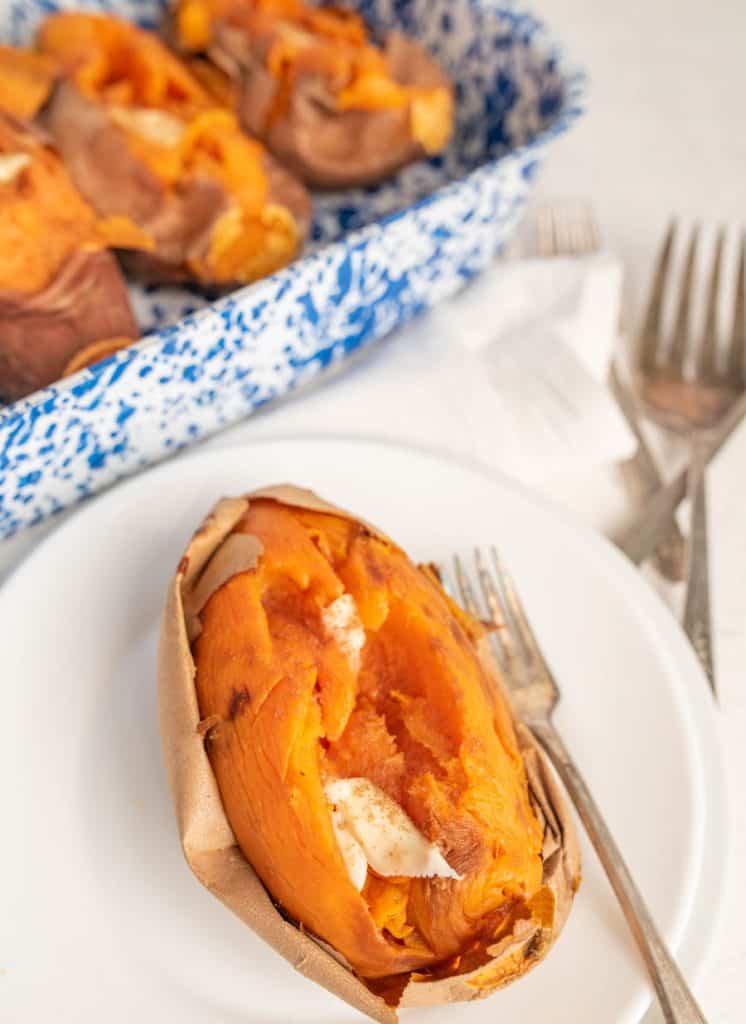 What is the difference between yams and sweet potatoes?
To tell the difference between sweet potatoes and yams at the store or farmers' market, yams' skin is tough, brown, and bumpy and looks a bit like tree bark, but sweet potatoes have a more red-brown skin. However, a lot of stores don't even know the difference and call yams and sweet potatoes one and the same! But yams are a different root vegetable than sweet potatoes; they're similar in flavor and texture to russet potatoes or yucca.
To make it more confusing, there are orange, white, AND purple sweet potatoes. To get the classic orange version, look for the signature brownish-red skin, and if it has any nicks, the interior should be orange in color.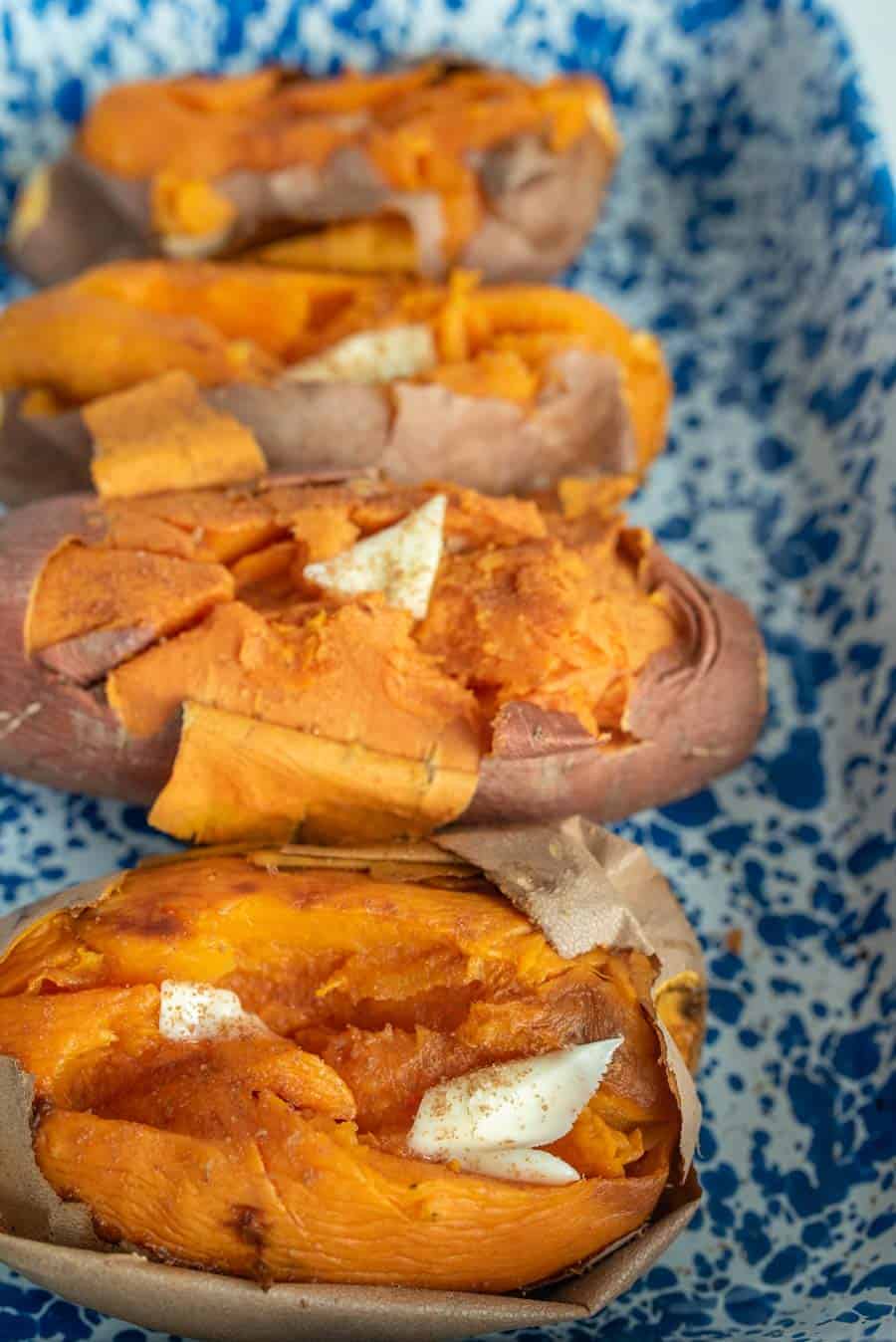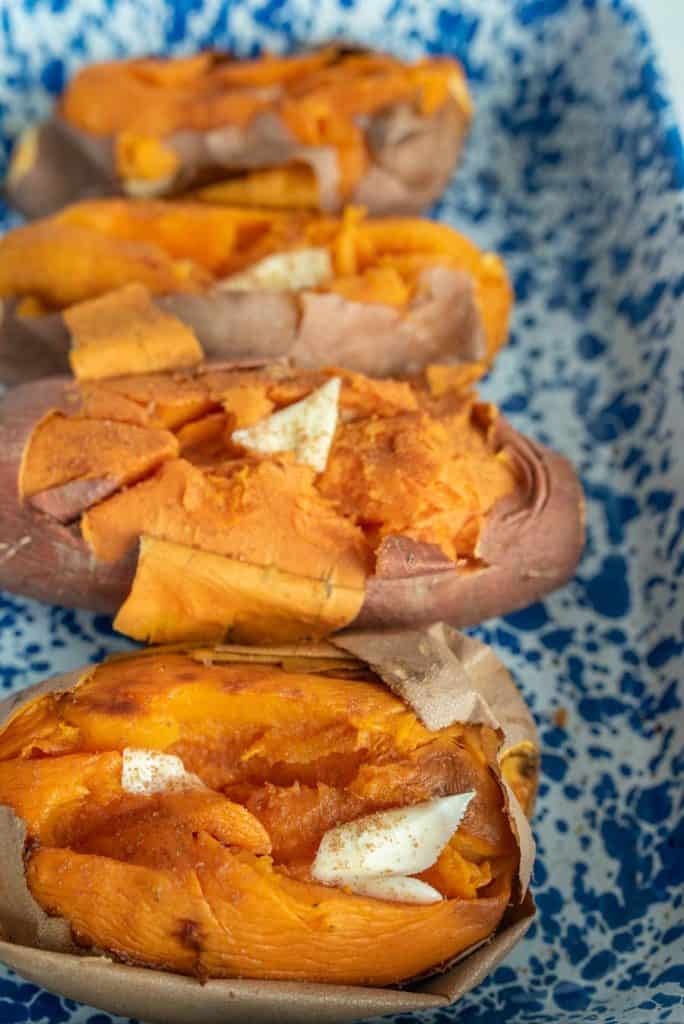 More sweet potato recipes:
Print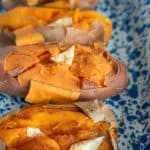 How to Bake a Sweet Potato
---
Author:

Total Time:

50 minutes

Yield:

1

-

5

potatoes

1

x
Description
The best method for how to bake a sweet potato to get soft and sweet insides and a skin that's easy to remove.
---
1

to

5

large or medium sweet potatoes
---
Instructions
Preheat the oven to 400 degrees F. Wash and scrub your potatoes clean.
Cut the pointy end off of each potato with a sharp knife, removing about ½ inch on each end.
Place potatoes directly on a baking rack set inside a baking sheet, and place it in the oven.
Bake until the center of the potato reaches between 205 and 212 degrees F. This will be roughly 45 to 55 minutes, depending on the size of the potatoes.
Remove from the oven, and let the potatoes cool a few minutes so that you can handle them.
Cut slit along the top, and serve with your favorite toppings. Or remove the skin from the sweet potatoes (they will slide off very easily), and mash the potatoes before serving.
Notes
If I need sweet potatoes for another recipe, this is my favorite way to cook them. It makes them ultra sweet and the skin comes over very easily.
Prep Time:

5 min

Cook Time:

45 min

Category:

side

Method:

bake

Cuisine:

American
Keywords: sweet potato, how to bake a potato, roasted vegetable, vegetable, side, bake, roast, baked sweet potato, how long to bake a sweet potato
How to bake a sweet potato:
Wash them up and cut off both ends, poke them well with a fork 12 times.
Place them in a baking pan and bake.
Bake in a hot oven until the middle is soft, about 45 minutes.
Remove from the oven and cut a slit in the skin and serve hot.
OR remove the skin (it comes over very easily) and use the cooked sweet potatoes in other recipes.
How to cook other vegetables:
This simple guide for how to bake sweet potatoes will get you a perfectly roasted potato ready for your favorite toppings or primed to mash as a tasty and healthy side!