When it comes to comfort food that hits the sweet spot between delicious and satisfying, Honey Garlic Chicken undoubtedly takes center stage. This culinary masterpiece is a perfect blend of succulent chicken, rich honey, and garlic, creating a harmonious symphony of flavors.
One of the primary reasons behind the popularity of honey garlic chicken is the balance between contrasting flavors. The natural sweetness of honey pairs so good with the taste of chicken. The addition of garlic infuses the dish adding complexity and an aromatic element.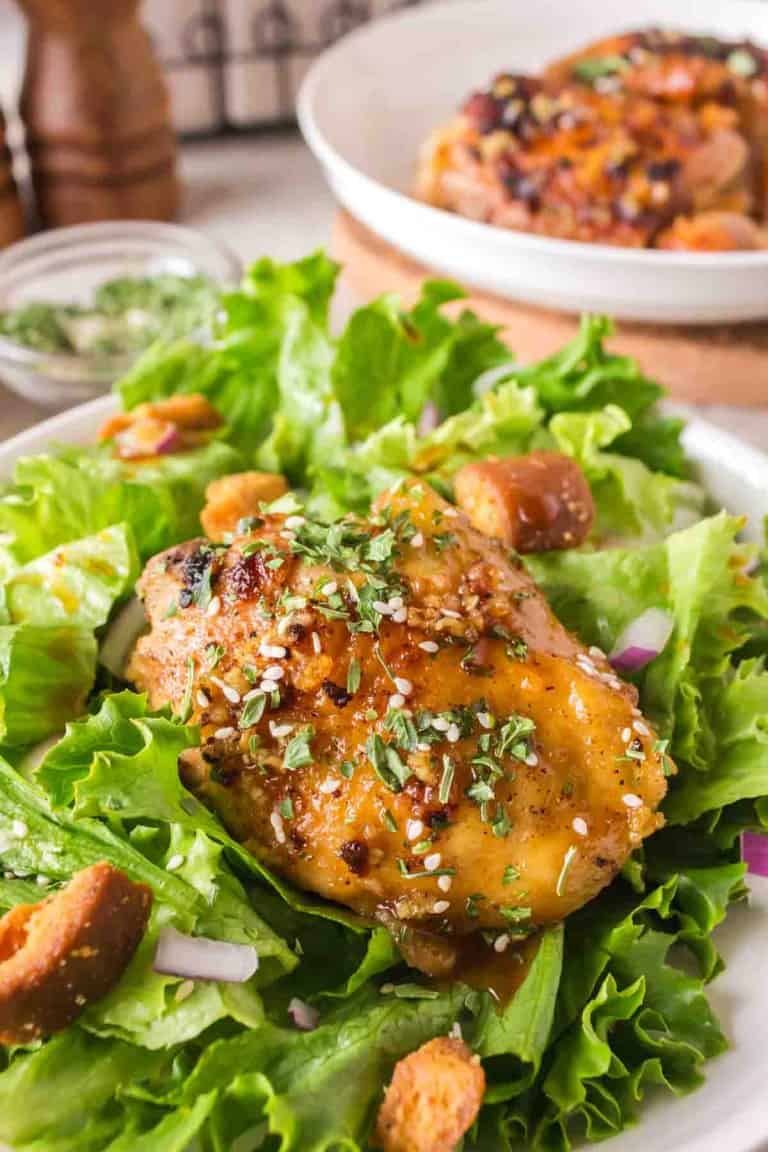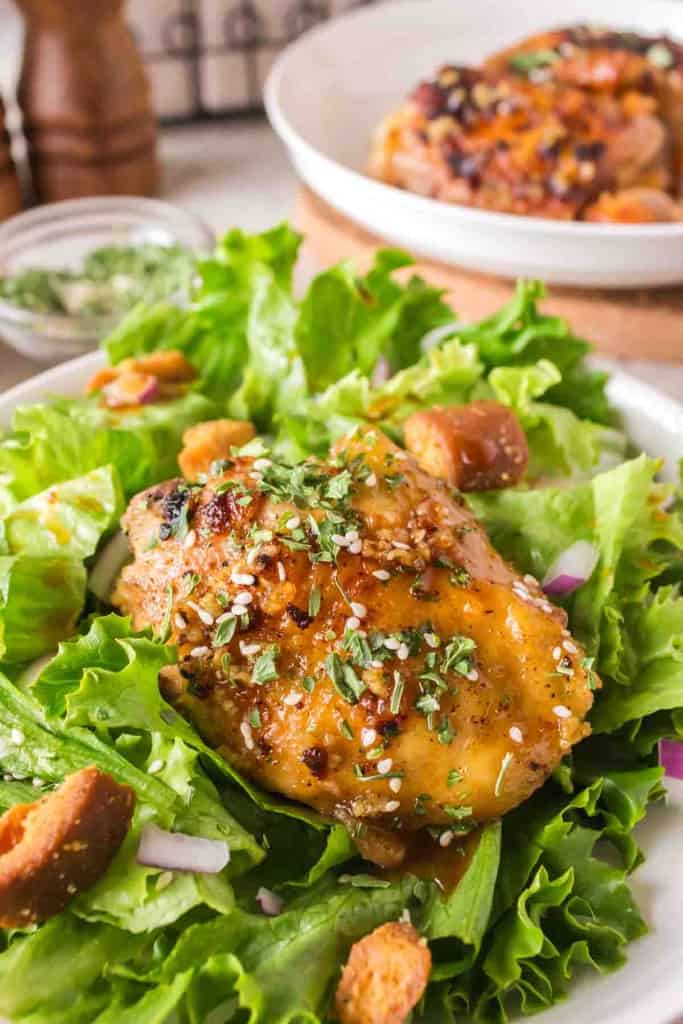 Honey Garlic Chicken
Honey garlic chicken is a relatively easy dish to recreate at home. With just a few simple ingredients like chicken, honey, garlic, soy sauce, and a touch of seasoning, anyone can whip up this delectable dish without spending hours in the kitchen. This accessibility has turned honey garlic chicken into a go-to recipe for busy weeknight dinners and casual gatherings with friends and family.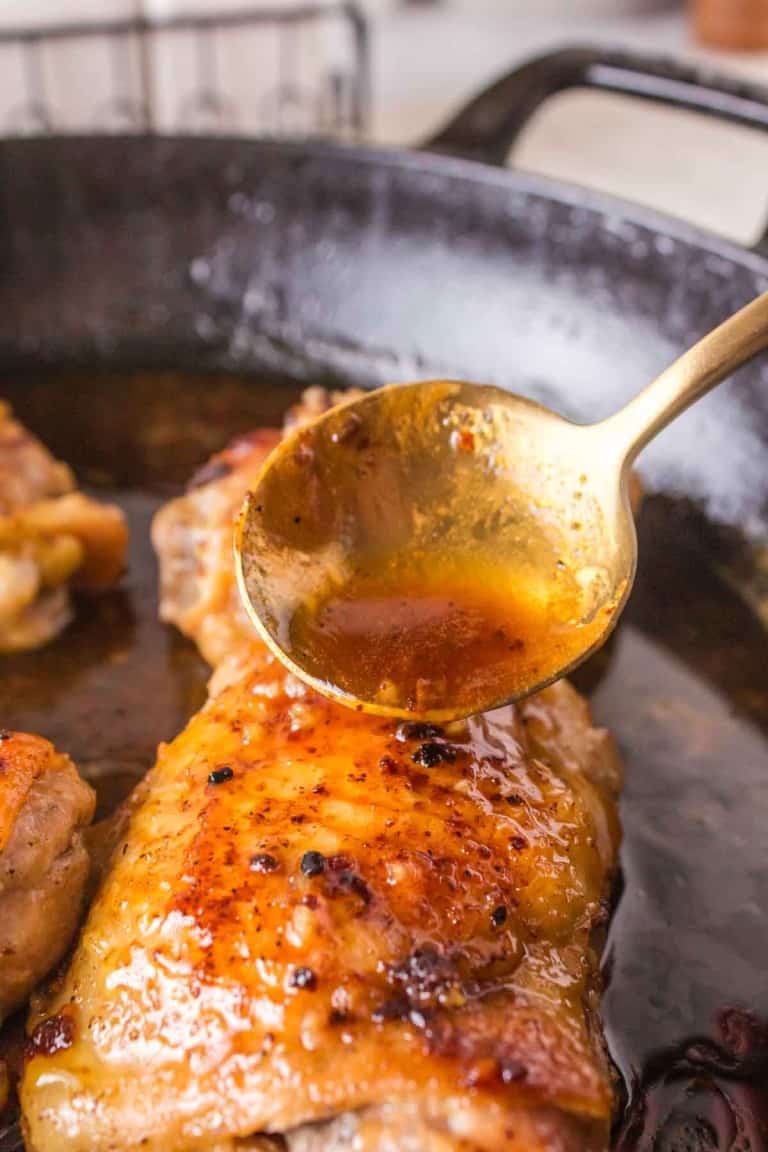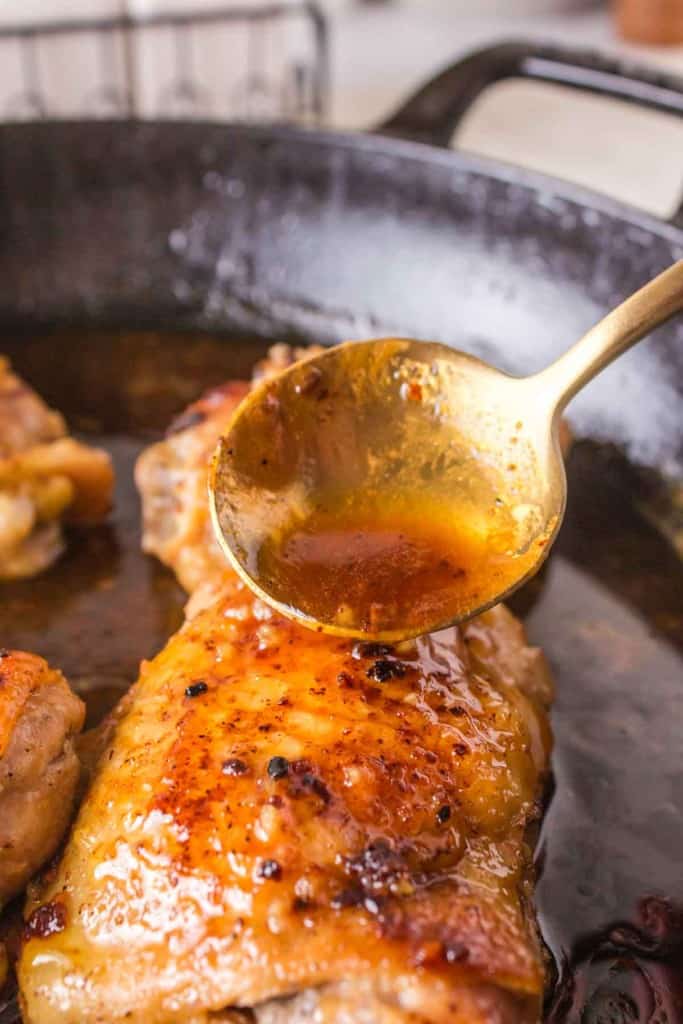 What to Serve with Honey Garlic Chicken
Steamed Vegetables: A colorful medley of steamed vegetables such as broccoli, carrots, and green beans not only adds a healthy touch but also provides a refreshing contrast to the richness of the honey garlic chicken.
Rice: Whether it's fluffy white rice, fragrant jasmine rice, or nutty brown rice, a bed of rice serves as an excellent base to soak up the flavorful honey garlic sauce. You can also consider making fried rice with mixed vegetables for an extra burst of flavors.
Mashed Potatoes: Creamy mashed potatoes provide a comforting and indulgent side to balance the sweetness of the chicken. The contrast in textures works beautifully together.
Salad: A crisp and vibrant salad with a light vinaigrette can cut through the richness of the chicken. Opt for a mix of greens, cherry tomatoes, cucumber, and maybe some feta cheese or nuts for added texture.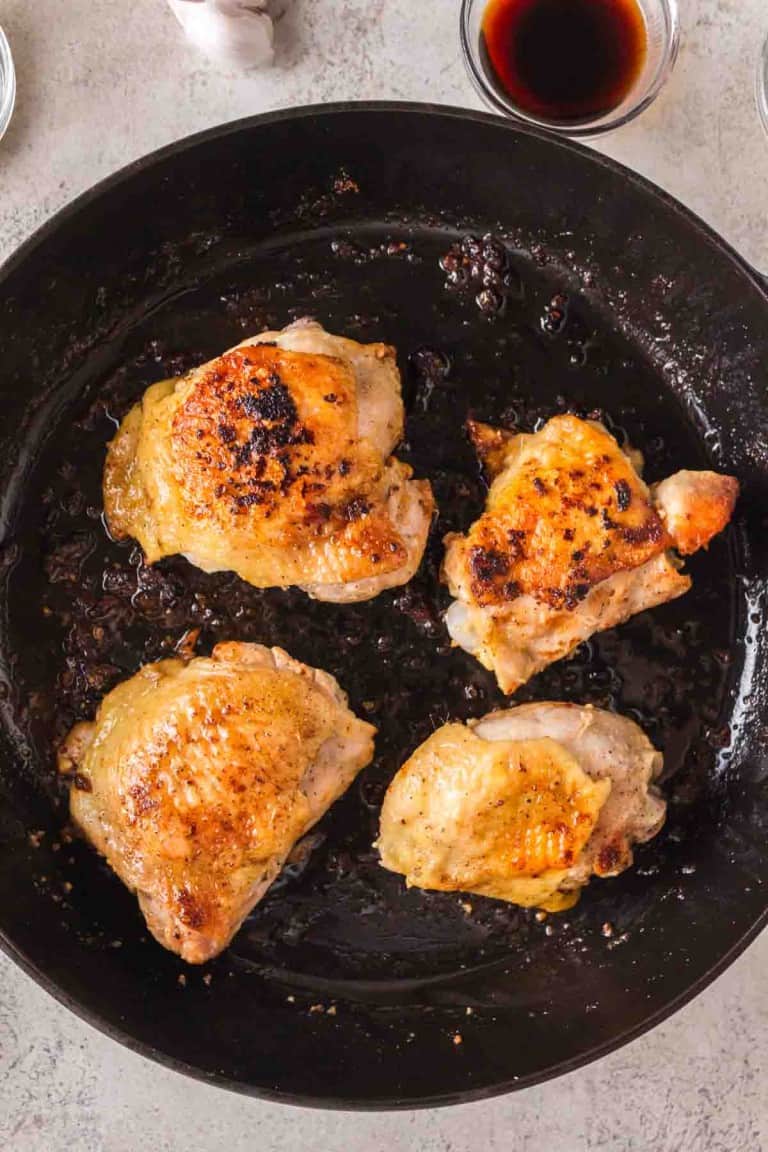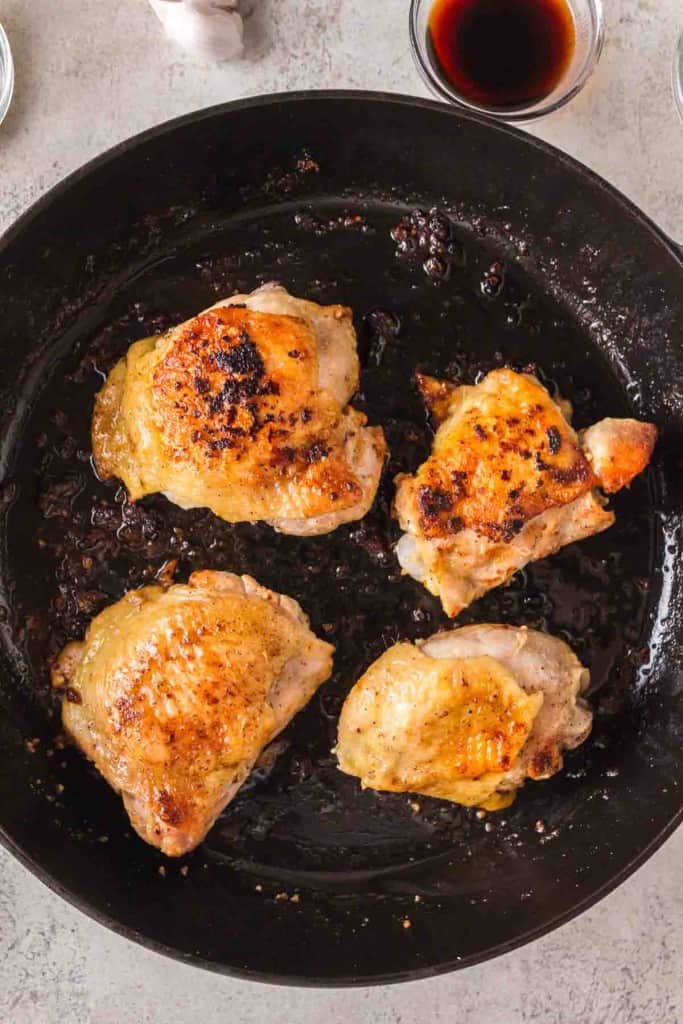 Ingredients
Chicken thighs
Garlic
Butter
Soy sauce
Honey
Chicken broth
White vinegar
Parsley
Sesame seeds
Keep scrolling to find a full, printable recipe with a detailed ingredient list.
Recipe Instructions
Begin by preparing the chicken thighs on a plate, pat dry.
Mix salt, garlic powder, onion powder, minced garlic, and black pepper in a bowl.
Now coat chicken with seasoning.
Cook chicken in skillet with olive oil and garlic for 6 minutes, flipping halfway.
Add butter, soy sauce, honey, broth, and vinegar. Cook 4-5 minutes until sauce thickens.
Serve with parsley and sesame seeds if desired. Enjoy!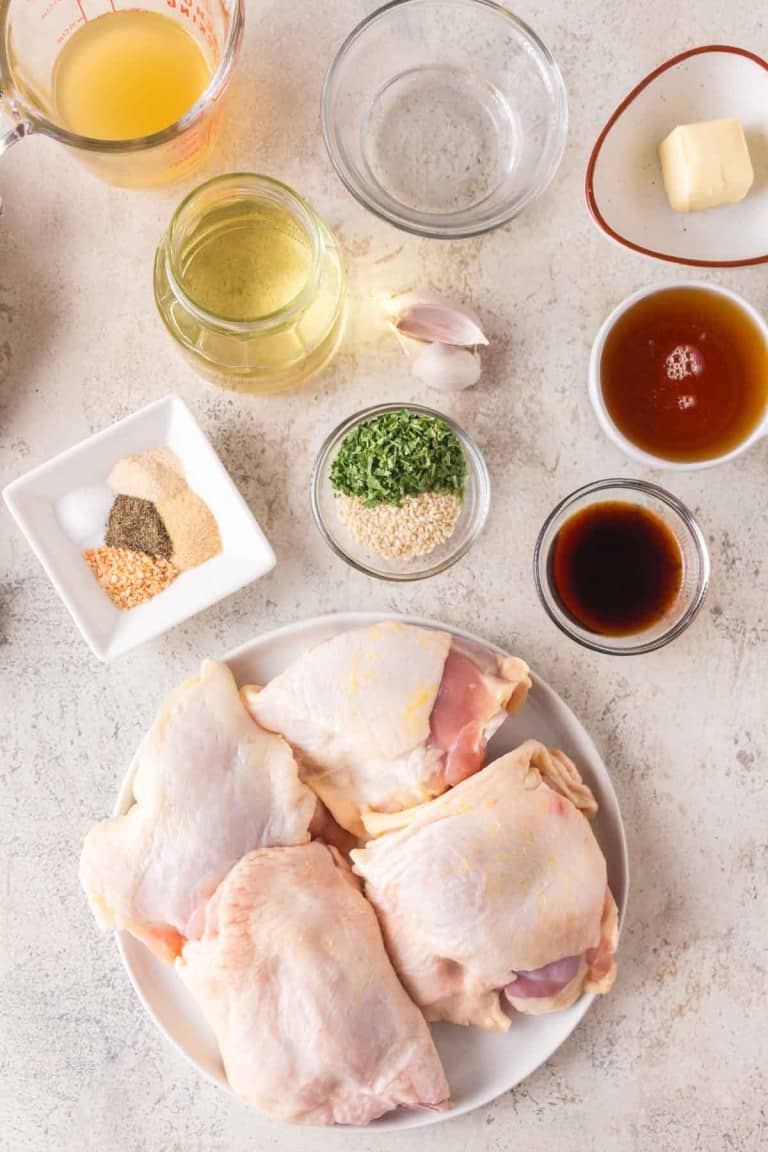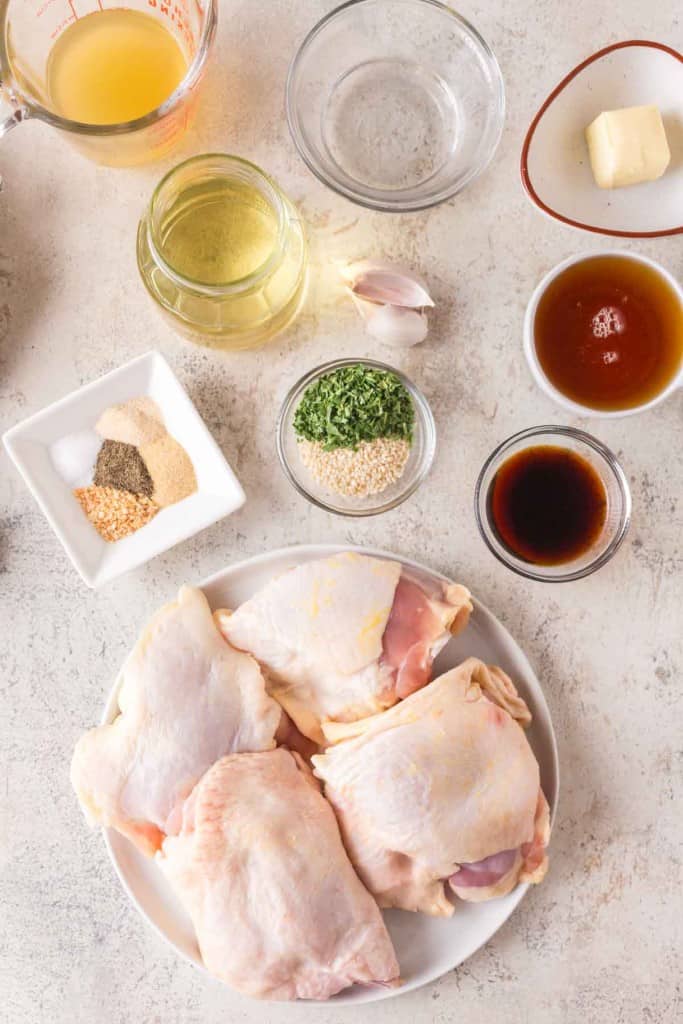 Frequently Asked Questions
What is honey garlic chicken?
Honey garlic chicken is a mouthwatering dish featuring tender chicken coated in a delectable sauce made from honey, garlic, and other complementary flavors.
What makes honey garlic chicken so popular?
The dish's popularity lies in its perfect balance of sweet and savory flavors, as well as its versatility and ease of preparation.
Can I use different cuts of chicken for this recipe?
Absolutely! You can use various cuts like chicken thighs, wings, breasts, or drumsticks to create honey garlic chicken, adjusting cooking times accordingly.
Can I adjust the sweetness of the dish?
Certainly, you can adjust the sweetness by varying the amount of honey in the recipe to suit your taste preferences.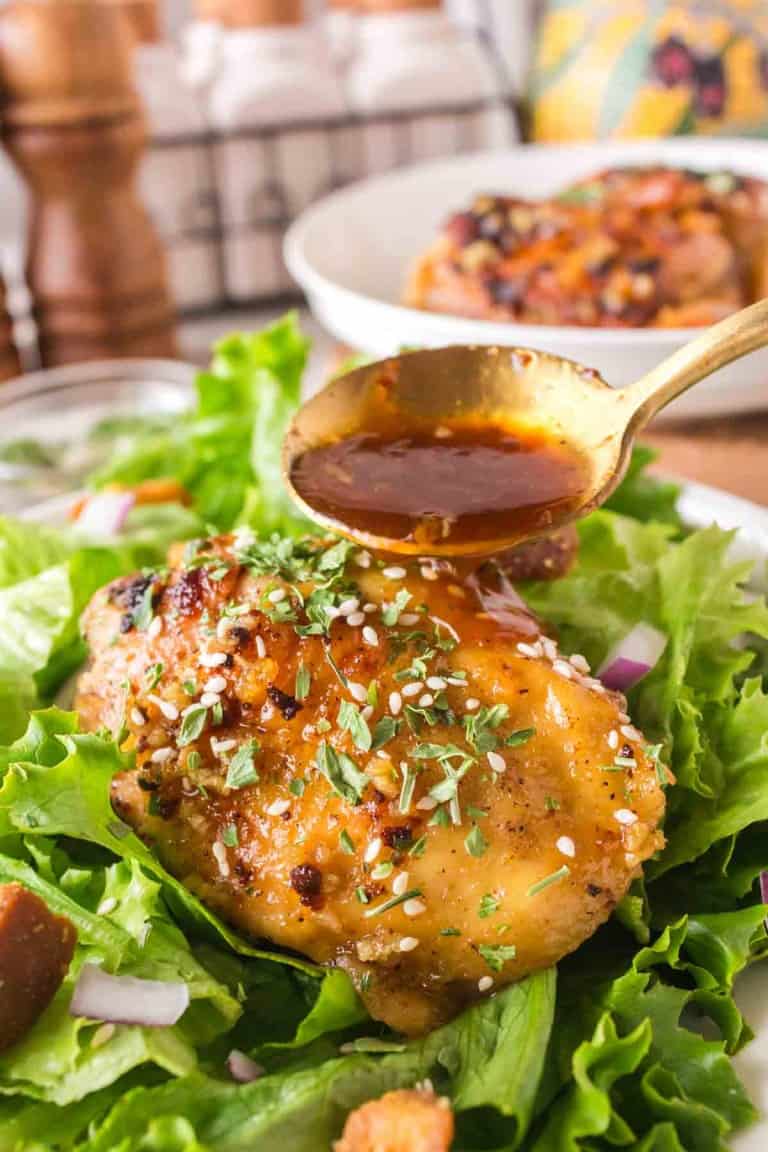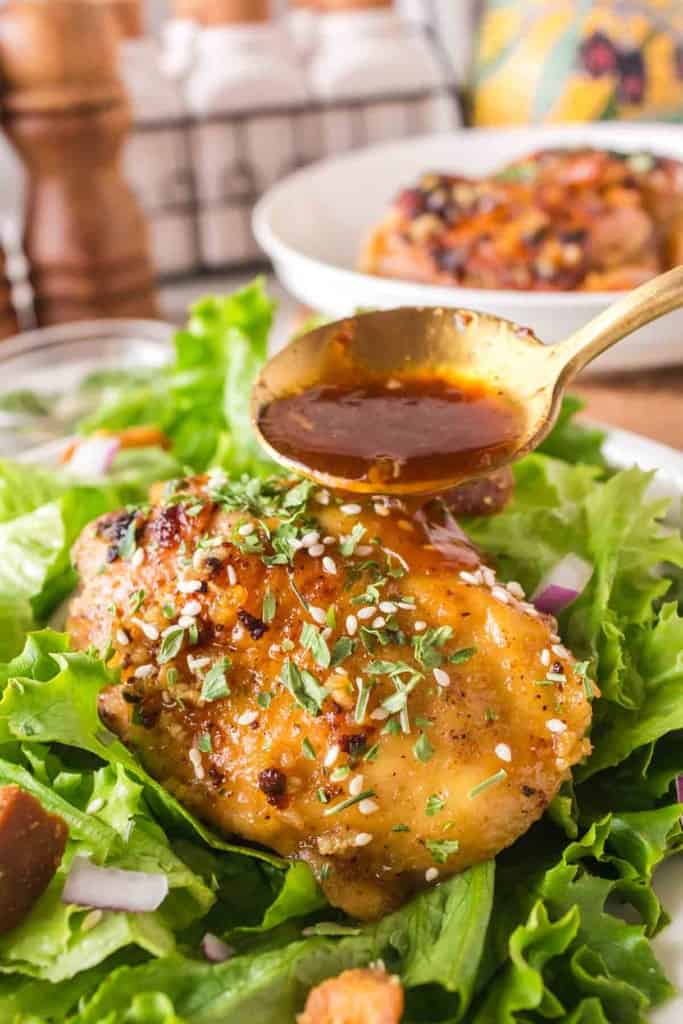 More Recipes
If you've tried this Honey Garlic Chicken recipe or any other recipe on Bless This Mess, then don't forget to rate the recipe and leave me a comment below! I would love to hear about your experience making it. And if you snapped some pictures of it, share it with me on Instagram so I can repost on my stories.
📖 Recipe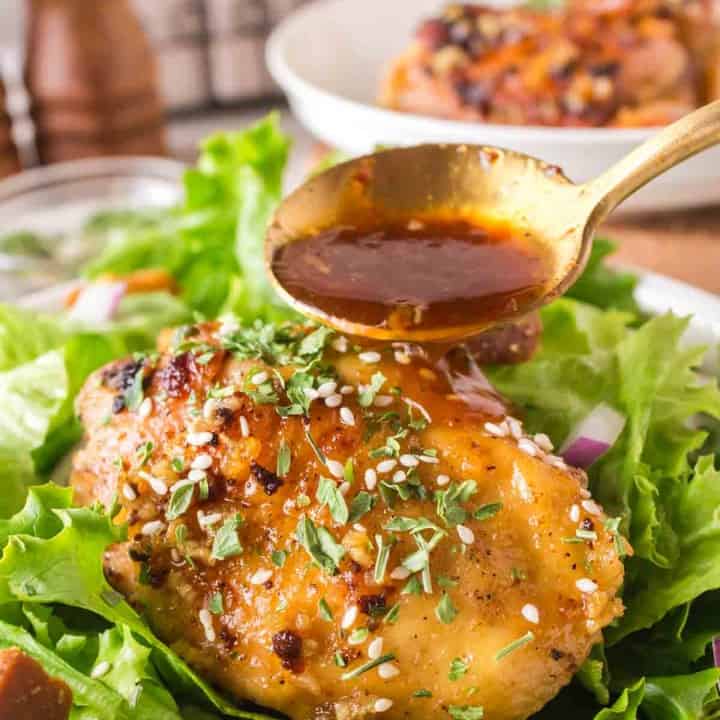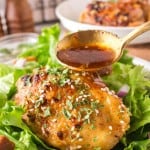 Print Recipe
Honey Garlic Chicken
You'll love this honey garlic chicken recipe, made with seasoned chicken thighs, honey, garlic, and a few other simple ingredients.
Ingredients
4

chicken thighs

bone-in, skin on.

1

teaspoon

salt

½

teaspoon

garlic powder

½

teaspoon

onion powder

½

teaspoon

minced garlic

¼

teaspoon

ground black pepper

2

tablespoons

olive oil

2

cloves

of garlic

minced

1

tablespoon

butter

¼

cup

soy sauce

¼

cup

honey

¼

cup

chicken broth

2

tablespoons

white vinegar

1

tablespoon

parsley

1

tablespoon

sesame seeds
Instructions
Unpack the chicken thighs and place them on a plate. Pat dry with a paper towel if needed. Set aside.

In a small mixing bowl, mix salt, garlic powder, onion powder, minced garlic, and ground black pepper.

Sprinkle the seasoning mixture over the chicken thighs on all sides.

Warm up a skillet on medium to medium high heat and add 2 tablespoons of olive oil and minced garlic. Warm it up until the garlic is fragrant.

Add the chicken thighs and cook for 3 minutes then flip and cook for an additional 3 minutes.

Reduce the heat, cover, and keep cooking for 20 minutes, turning the chicken thighs every 5 minutes. Cook until the chicken has an internal temperature of 175 degrees F.

Place the chicken thighs skin up in the skillet, and add the butter, soy sauce, honey, chicken broth, and white vinegar.

Mix the sauce and cook, on medium heat, for an additional 4 to 5 minutes or until the sauce has thickens.

I use a cast iron skillet, so to mix the sauce I use my whisk to get all the yummy bits from the pan. Sprinkle with parsley and sesame seeds if desired.

Serve and Enjoy!
Notes
Side dish: Serve with a side of pasta, sticky rice, or a salad.
Make sure to have a skillet big enough to make the sauce.
Use leftovers: Chopped the chicken and add it to a Ceasar salad, or a sandwich
Storage: Keep in the fridge for up to 3 days
Re-warm: Microwave or place in the air fryer at 350 degrees F for 3 to 4 minutes.
Nutrition
Calories:
425
kcal
|
Carbohydrates:
20
g
|
Protein:
21
g
|
Fat:
30
g
|
Saturated Fat:
8
g
|
Polyunsaturated Fat:
5
g
|
Monounsaturated Fat:
14
g
|
Trans Fat:
0.2
g
|
Cholesterol:
119
mg
|
Sodium:
1558
mg
|
Potassium:
302
mg
|
Fiber:
1
g
|
Sugar:
18
g
|
Vitamin A:
261
IU
|
Vitamin C:
2
mg
|
Calcium:
39
mg
|
Iron:
2
mg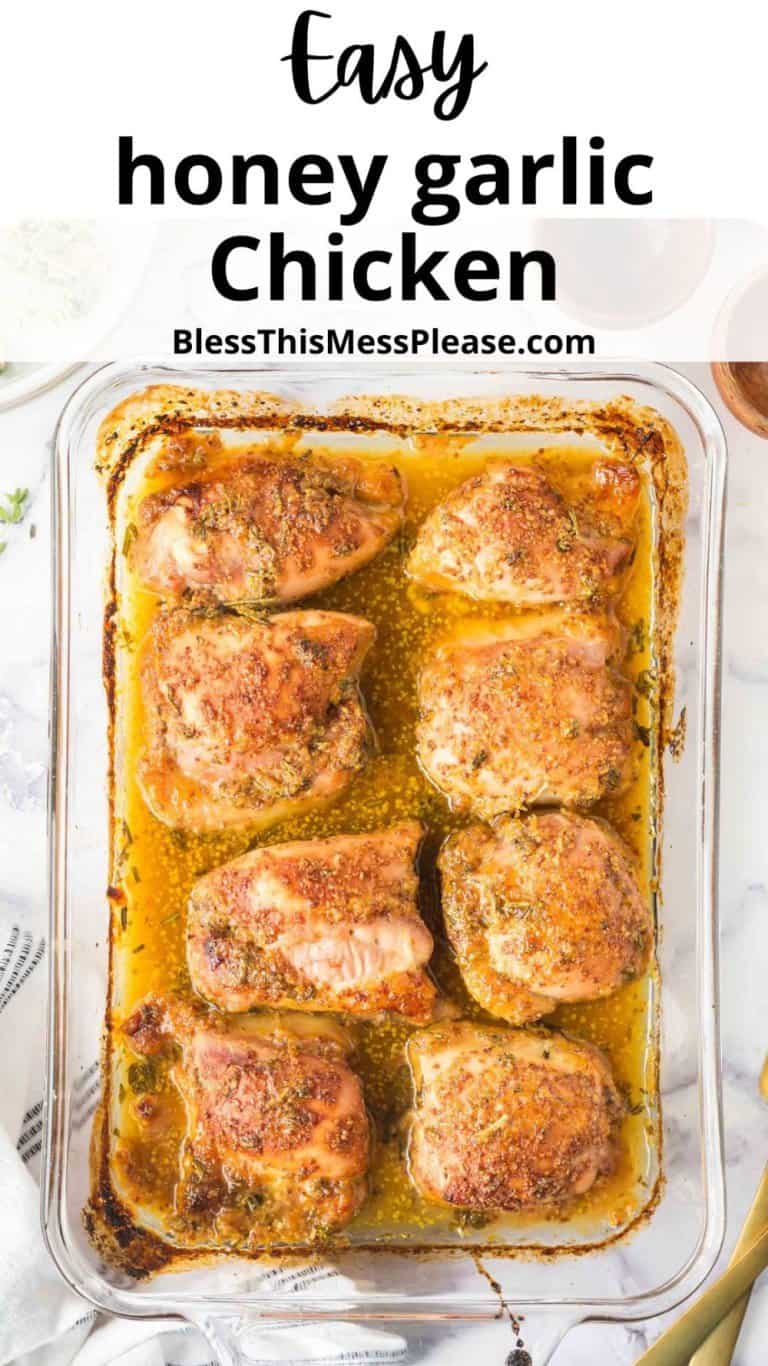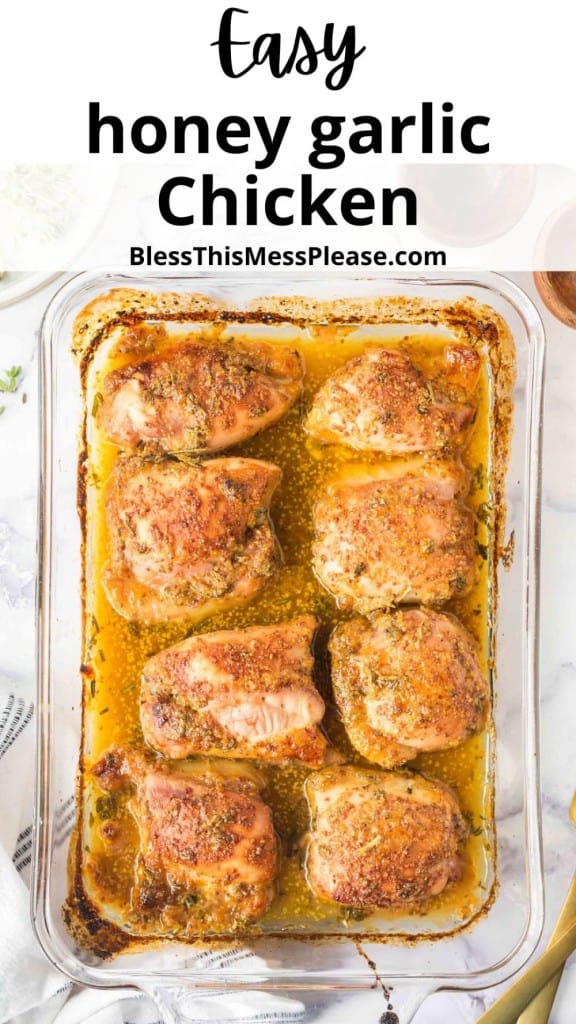 Honey garlic chicken's popularity isn't a coincidence. It's a dish that combines the best of both worlds: the sweetness of honey and the savory punch of garlic, all enveloping tender and juicy chicken. This culinary masterpiece offers a delightful fusion of flavors, textures, and memories that keep people coming back for more.