These Homemade Candy Bar recipes, made with chocolate, marshmallows, nuts and more, make a delicious dessert! Just a mold and your microwave or stovetop will help you create some truly tasty chocolate bars.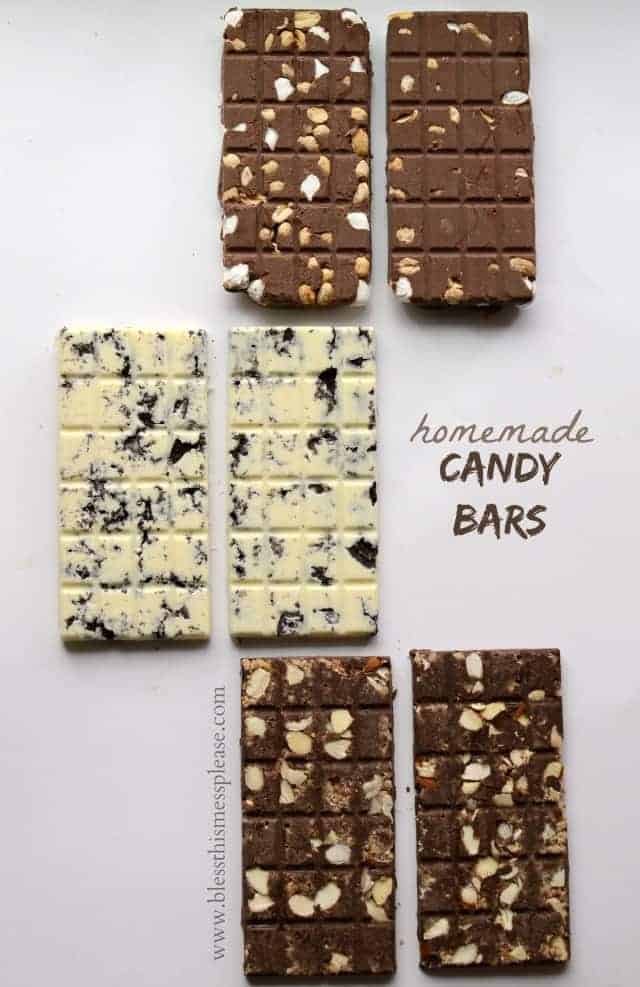 Homemade Chocolate Candy Bars
Once upon a time I received an email about getting some free chocolate in the mail. I like chocolate as much as the next person so I shot back a quick email expressing my interest. The more I thought about the offer and the more I poked around the Chocoley website the more excited I got. I could do a lot of fun things, that I might not do otherwise, with free chocolate. And then the idea for homemade chocolate bars was born. I'm a believer that nearly everything is better homemade, so surely homemade candy bars would be the same. I was willing to take one for the team and find out. I'm a kind soul, I know.
Friends, homemade candy bars are so much tastier than store-bought. When you combine delicious high quality chocolate with other delectable ingredient that you love the results are delicious.
I made four dozen chocolate bars to take with me to a blogging conference to hand out with my business cards and to give to friends. It was so much fun to see the look on people's faces when I told them I had made the gorgeous (and tasty) gift. You too can see that look in your friends' eyes when you present them with handmade chocolate bars. It's so much easier than you think! You could give them away as party favors, as birthday gifts to your friends, you can send them in the mail to your favorite blogger *cough*me*cough* or your very pregnant friend who could use a pick-me-up (Hi Emily! Did you like the chocolate??), or enjoy them at a baby shower. You could make and hide them and then eat them all alone once your family is in bed. You could even come up with your own holiday and celebrate with chocolate… there's never a bad time to enjoy it is there? Trust me, your friends and family will love you forever is you start bringing homemade candy bars to things.
Chocoley Chocolate
The folks at Chocoley have a great story and a great product. I'm really pleased to have connected and gotten to know them! The chocolate is made and shipped right here in the US, which I love, and they are a family owned company which is close to my heart.
They sent me over lots and lots (20 pounds to be exact) of their Bada Bing Bada Boom Candy and Molding Formula Chocolate. This product is so cool. It's pre-tempered which means it's hard to mess up! I've burnt way more batches of chocolate than I care to admit, so this product really takes some intimidation out of candy making. If you are big into chocolate for dipping, homemade candies, cake pops, or even have one of those cool chocolate fountains this is a product you might like to look into.
And now for those homemade candy bar recipes!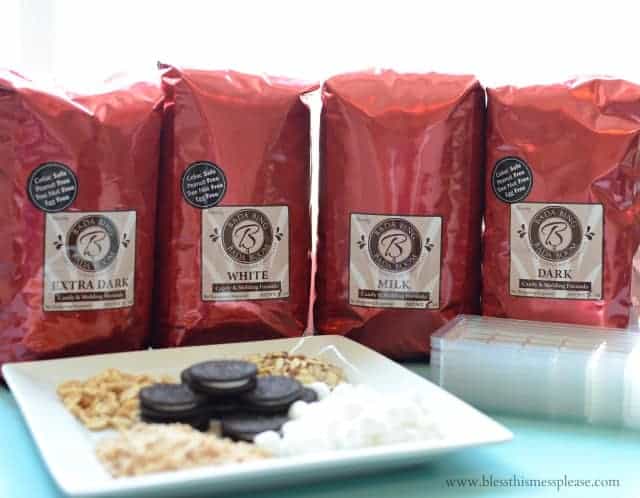 Print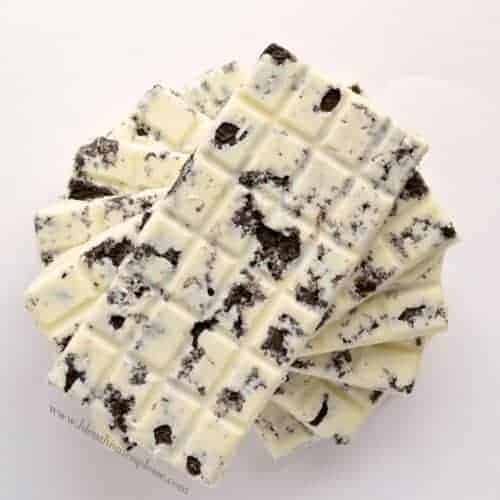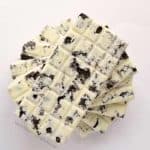 Homemade Candy Bar Recipes
---
Author:

Prep Time:

10 min

Cook Time:

2-3 hrs

Total Time:

2-3 hrs and 10 mins

Yield:

1 bar
Description
These Homemade Candy Bar recipes, made with chocolate, marshmallows, nuts and more, make a delicious dessert! Just a mold and your microwave will help you create some truly tasty chocolate bars.
---
Ingredients
Chocoley Chocolate-
Things to add to the chocolate bars- mini marshmallows, slivered almonds, dry roasted peanuts, crushed Oreo cookies, toffee bits, etc.
---
Instructions
Place the molds on a flat surface and add what you would like to them. My favorite combos were:
Cookies and Cream: 1 to 2 crushed Oreo cookies in white chocolate
Homemade Symphony Bar: scant 1/4 cup of both slivered almonds and toffee bits in milk chocolate
Rocky Road: scant 1/4 cup of both mini marshmallows and dry roasted peanuts in dark chocolate
Dark Mr. Goodbar: 1/4 cup dry roasted peanuts in extra dark chocolate
You really could add just about anything!
Melt the chocolate according the directions that come with the package (they are great and really detailed!). Carefully drizzle a small amount of chocolate over the goodies in the mold. You'll add 1/4 to 1/3 cup of chocolate per mold. Gently pick up the mold holding onto the edge and raise it off the surface you are working on 3 to 4 inches. Drop the mold so that it kind of smacks down on to the table. This helps the melted chocolate to settle into the cracks and it also gets air bubbles out. Continue to carefully drop the mold 4 or 5 times until things look settled. If you need to add a bit more chocolate do it now. Drop it another time or two to smooth out any chocolate you might have added.
Repeat until you make as many chocolate bars as you'd like.
Let the homemade candy bars rest at room temperature until completely set. This may take a few hours depending on the temperature in your house.
Once the chocolate has set gently remove the mold and place the candy bar in the cellophane bag that came with the mold. Store according to the package directions for storing the Chocoley chocolate (in a cool place away from strong odors).
---
Notes
These were so much fun to make. I didn't o a lot of measuring when it came time to melt the chocolate. I just dumped some in the bowl (I used the double-boiler method for melting) and melted it. I used the melted chocolate in the mold and if I needed a little more, I'd melt a little more. It worked great. At the end of the batch, when I had a little left in the bottom of the bowl I scraped it out into a little cup and let my kids dip pretzel sticks in it. Best. Snack. Ever!
Category:

Dessert

Method:

Microwave

Cuisine:

American
Keywords: chocolate bars, candy bars, homemade candy bars, chocolate, homemade chocolate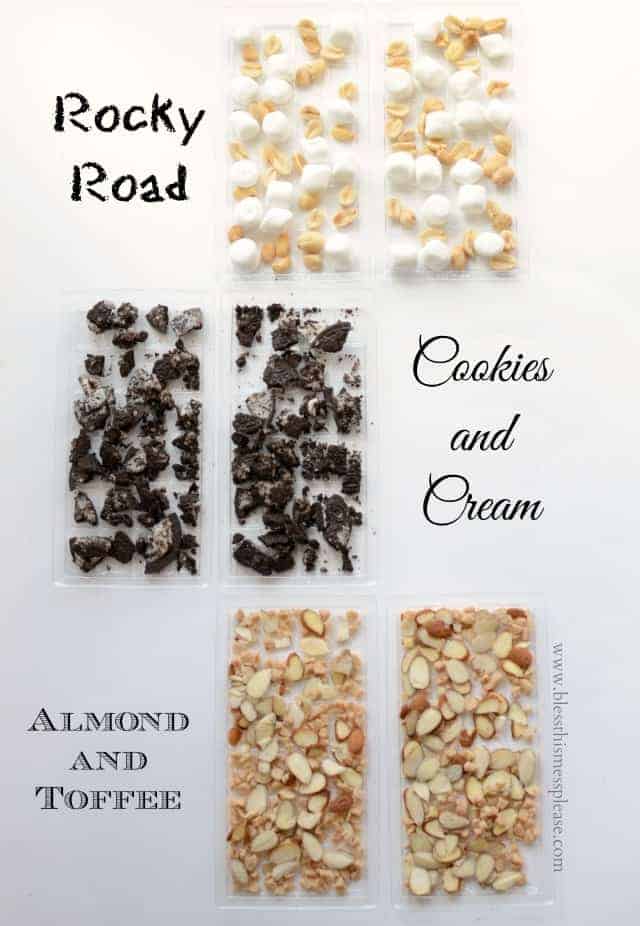 The dark and extra dark chocolate are mild in my opinion. I'm a lover of super dark almost bitter chocolate and they are not that. My husband, who doesn't like anything above milk chocolate really enjoyed the darks. They are just the right amount of chocolate flavor and sweet without being bitter. I would put them in a chocolate fountain at a wedding reception without worry, it's very general public friendly.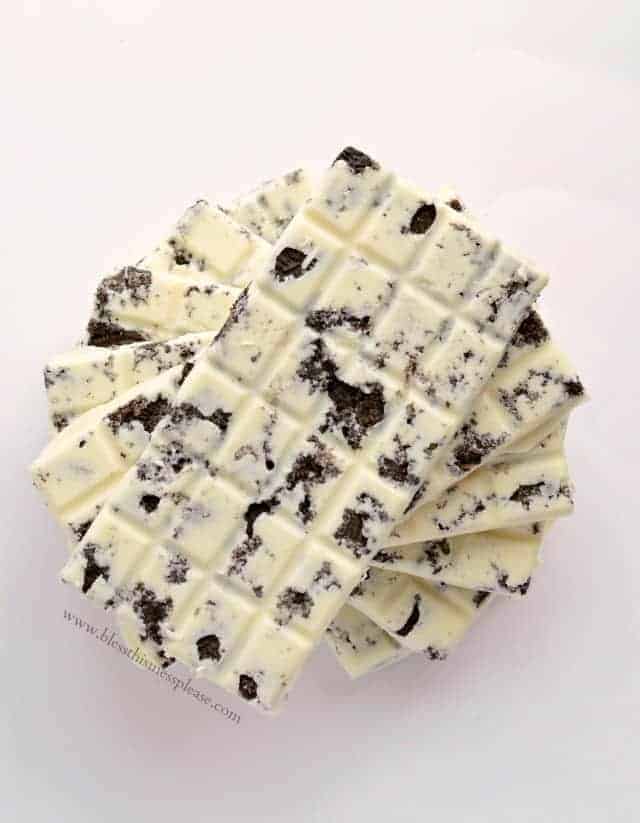 Mmmm. And now I want some chocolate.
Thanks for stopping in and good luck not thinking about making homemade candy bars the rest of the day.
PS – Here's a fun little fact for you. I posted some pictures during and after making these candy bars on Instagram. I had lots of great comments (thank you!), and two friends joked about wishing I'd mail them some. Well I did just that. I love sending snail mail.  If you aren't hanging out with me on IG you might just want to start!