This Herbed Tomato Bacon Pizza recipe is made with homegrown herbs, healthy tomatoes and of course, bacon. Not only is this homemade pizza super tasty, but it is also a great way to bond with your family.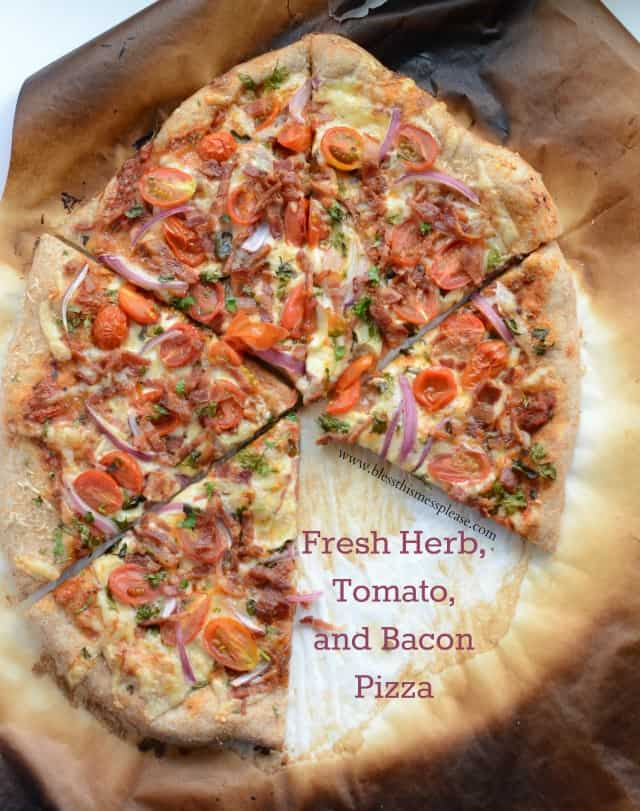 Healthy Homemade Herbed Pizza Recipe
Homemade pizza… there's nothing better for a Friday night at home if you ask me! My mom's homemade pizza was famous when I was a kid. I remember once when I was in junior high school I had a classmate over to work on a project (a solar system diorama I do believe). She happened to be around at dinner time and had Mom's pizza with us. She was so shocked and amazed that people made their own pizza and then she was even more shocked when she tasted it. There's just no match for homemade pizza!
Now that I'm a mom I've dedicated Friday nights to pizza night and it's a tradition that my whole family loves. The kids help make the dough, they fight over who gets to roll it out, and they eat most of the pepperoni before it hits the pizza. It's a tradition that we all love; life is good in the kitchen isn't it?! This recipe for homemade herbed tomato and bacon pizza is a great way to use some seasonal tomatoes and garden herbs which are perfect this time of year. Add a little bacon and you really have a great flavor combo that the whole family will love.
And there's more to this post than some killer pizza. You can enter to win an amazing fridge. Keep reading!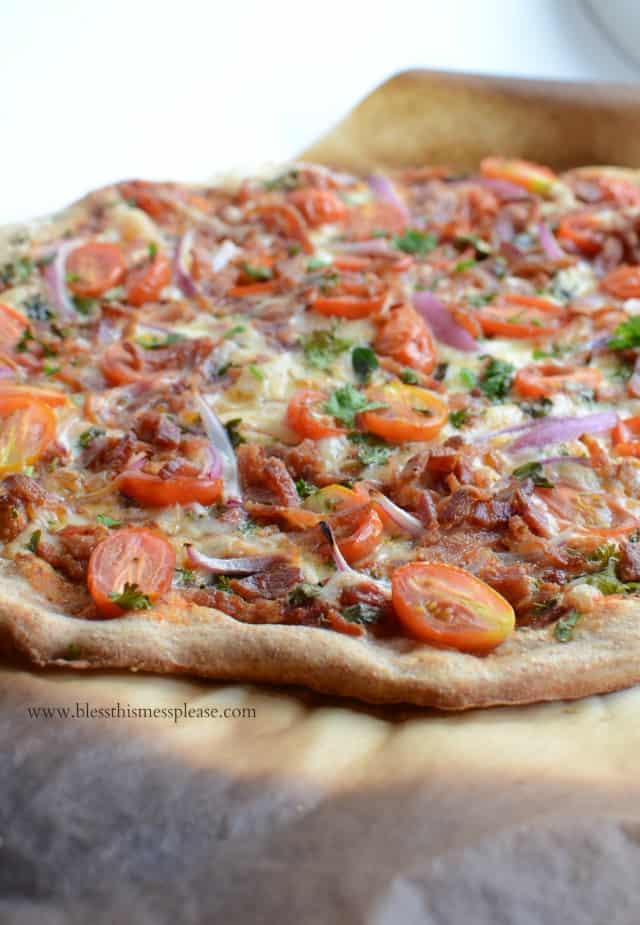 Print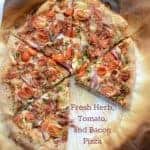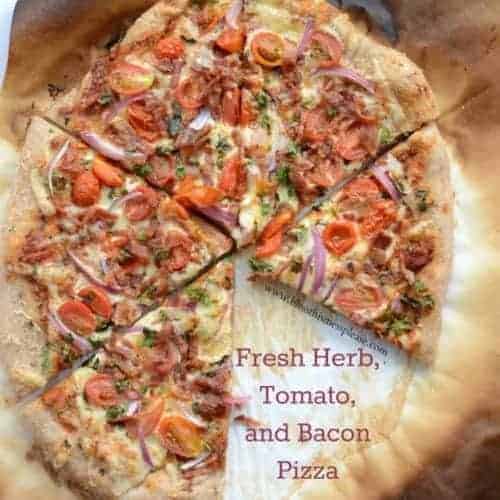 Herbed Tomato Bacon Pizza
---
Author:

Prep Time:

~90 min

Cook Time:

~40 min

Total Time:

~2 hr and 10 min

Yield:

2

large pizzas

1

x
Description
This Herbed Tomato Bacon Pizza recipe is made with homegrown herbs, healthy tomatoes and of course, bacon. Not only is this homemade pizza super tasty, but it is also a great way to bond with your family.
---
Scale
Ingredients
For the Dough
2 1/2 cup

s warm water

1 tablespoon

yeast

1 tablespoon

sugar or honey

1 teaspoon

salt

1/4 cup

olive oil

4

–

6

cups flour (whole white wheat or unbleached all-purpose)
For the Pizza
2 cup

s pizza sauce (my easy recipe is in the notes)

3 cup

s shredded mozzarella

6

–

8

slices bacon, cooked crisp and crumpled

1 pint

cherry tomatoes, halved

1/4 cup

chopped fresh herbs (a mix of basil, parsley, and oregano is delicious)
---
Instructions
In a large mixing bowl add the water, yeast, sugar, salt, and olive oil. Allow mixture to stand for 5 minutes. Add one cup of flour and mix to combine. Add another cup of flour and mix through. Mix by hand for 1 or 2 minutes. The dough should be the consistency of cake batter. Add another cup of flour and mix through. Add flour until you can't mix it by hand very well. Sprinkle some flour on your table and turn the dough onto the table. Knead the dough by hand until it is smooth and elastic, adding flour as needed. This should take 6 to10 minutes of kneading. Place the dough back in the bowl, cover it with a towel, and let it rise in a warm place for 15 to 60 minutes (this time varies a lot for me, I just let it rise according to how long it is until dinner time).
While the dough is rising, preheat your oven to 500 degrees. If you have a baking stone, put it in the oven to heat, too. I would recommend using a stone for baking this pizza. If you don't have a stone you can turn your biggest cookie sheet upside down (so that the flat side is up) or use a rimless sheet. If you are using a stone let the stone heat for 30 minutes. If using a baking sheet, let it heat for 15 minutes.
When the oven is hot, cut your dough in half. Place half of the dough on a piece of parchment paper that is 18 inches long. Using a rolling pin, roll the dough (on top of the parchment paper) into a large circle. The dough should be between 1/4 and 1/2 inch thick (I like mine thin, Husband likes his thicker… you'll have to find what you like). Top with 1 cup of pizza sauce, 1 1/2 cups of shredded mozzarella, and half of the crumbled bacon, tomatoes, and herbs.
When the pizza is all ready, slide the pizza, which is on the parchment paper, onto a rimless cookie sheet or one that is upside down. This will help you get the pizza to the oven.
Open the oven and slide the pizza which is still on the parchment paper, from the cookie sheet onto the hot baking stone or hot cookie sheet. I just tug on the edge of the parchment paper with my hands and slide it on to the stone. BE CAREFUL! Your oven is set to 500. It's super hot, obviously! Make sure the babies are out of the way and be careful when sliding the pizza into the oven.
Bake for 12 to 15 minutes until the top is bubbly and the edges are starting to brown. When the pizza is done, tug the edge of the parchment paper and slide the pizza back onto the cookie sheet you used to transfer it to the oven. Again, be careful!
Let your stone reheat for 10 minutes. While the stone is heating, repeat the whole thing with the second half of the dough and bake the same way.
Repeat with the second half of the dough and the rest of the toppings.
Enjoy, enjoy enjoy!
I serve it right off of the parchment paper (which gets all dark and cooked looking) or I'll tear off a new piece and serve it on a crisp white sheet of parchment. Very pretty!
---
Notes
For the sauce: 2 tablespoons olive oil, 2 cloves garlic, 1 (28-ounce) can crushed tomatoes (extra points if you home can them, which I do every summer!) – In a small sauce pan cook the oil and garlic together over medium heat until the garlic starts to smell good. Add the tomatoes and simmer until it thickens a bit, about 15 minutes. Season with salt and pepper to taste. DONE! Really. Three ingredients and it tastes amazing!
Category:

Dinner

Method:

Oven

Cuisine:

American
Keywords: homemade pizza, how to make pizza, tomato bacon pizza, pizza ideas, healthy pizza, pizza topping ideas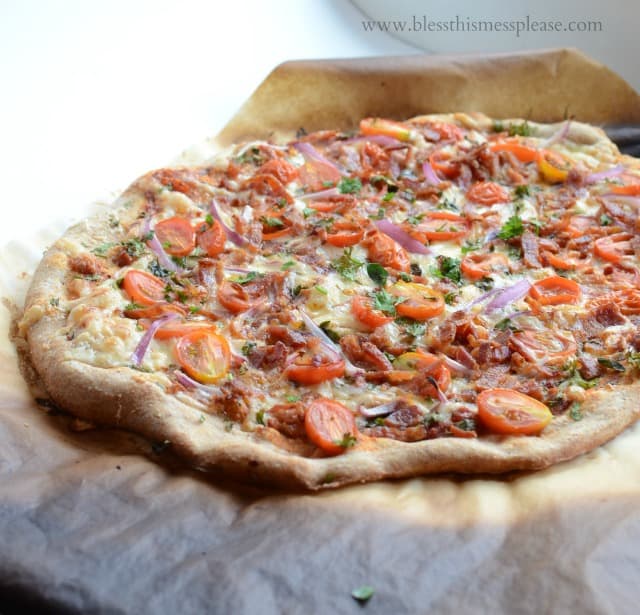 Have you all heard of the TV show, "The Kitchen" with Katie Lee? It's on the Food Network and I really like it. I loved Katie Lee on Iron Chef American, her first cookbook is one of my favorites to pick up from the library, and she has a food philosophy and approach that I can really connect with. I like her. So LG is a sponsor for the show and all of the appliances that she gets to work with are provided by them. It's a great set that makes any home cook get a little green-eyed.
Here's the fun part! LG is giving YOU the change to win the new "Door-in-Door" refrigerator that Katie uses on the show. Someone had to win, so I thought it might as well be you. All you have to do is enter the "Caption This" contest on LG's Facebook page. The contest involves a chance to win LG's newest Door-in-Door Refrigerator. To enter, simply visit LG's Facebook page at LGKitchenCaptions.com and write a witty caption to a scene from LG's brand new home appliance commercials. Entry starts 06/20/14 and ends 07/31/14. Public Voting for best captions start 08/20/14 and ends 09/03/14.
I know what I'd do with that fridge! Fill it! And then love it. A girl can dream can't she? Good luck friends!
And if you thought the Herbed Tomato Bacon Pizza looked good, you might also like these recipes:
Chicken and Bacon Alfredo Pizza from Bless this Mess
Whole Wheat Freezer Pizza Dough from Wholefully
100% Whole Wheat Pizza Crust from Bless this Mess
Thia Chicken Pizza from One Lovely Life
Mini BBQ Chicken Pizza from One Sweet Appetite.
And in case you need a visual, here's that good looking fridge you could win!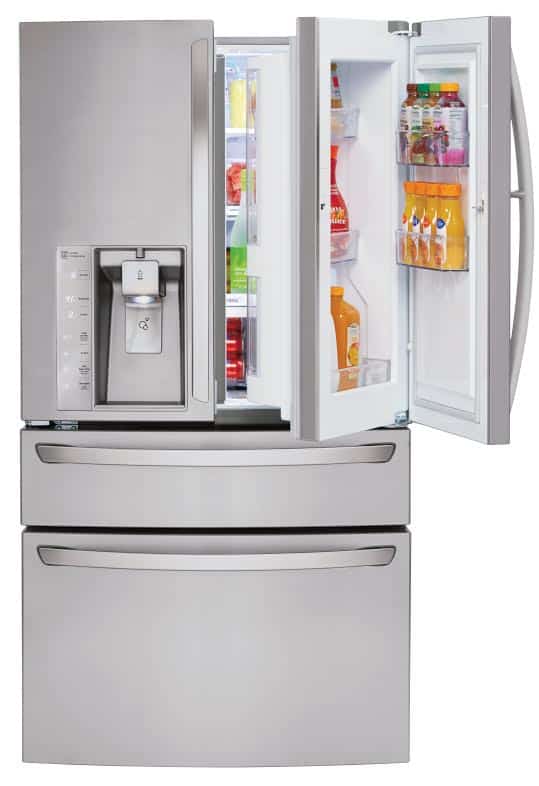 LG Home Appliances are your partner in creating memorable cooking experiences and "Life's Good" moments in the kitchen. This is a sponsored conversation written by me on behalf of LG. The opinions and text are all mine.