Quick and easy grilled pork loin with super easy rainbow grilled vegetable kabobs is a simple meal you are going to be grilling up all summer long. It's fast to put together, is full of flavor, and you'll love that you don't have to heat up the kitchen.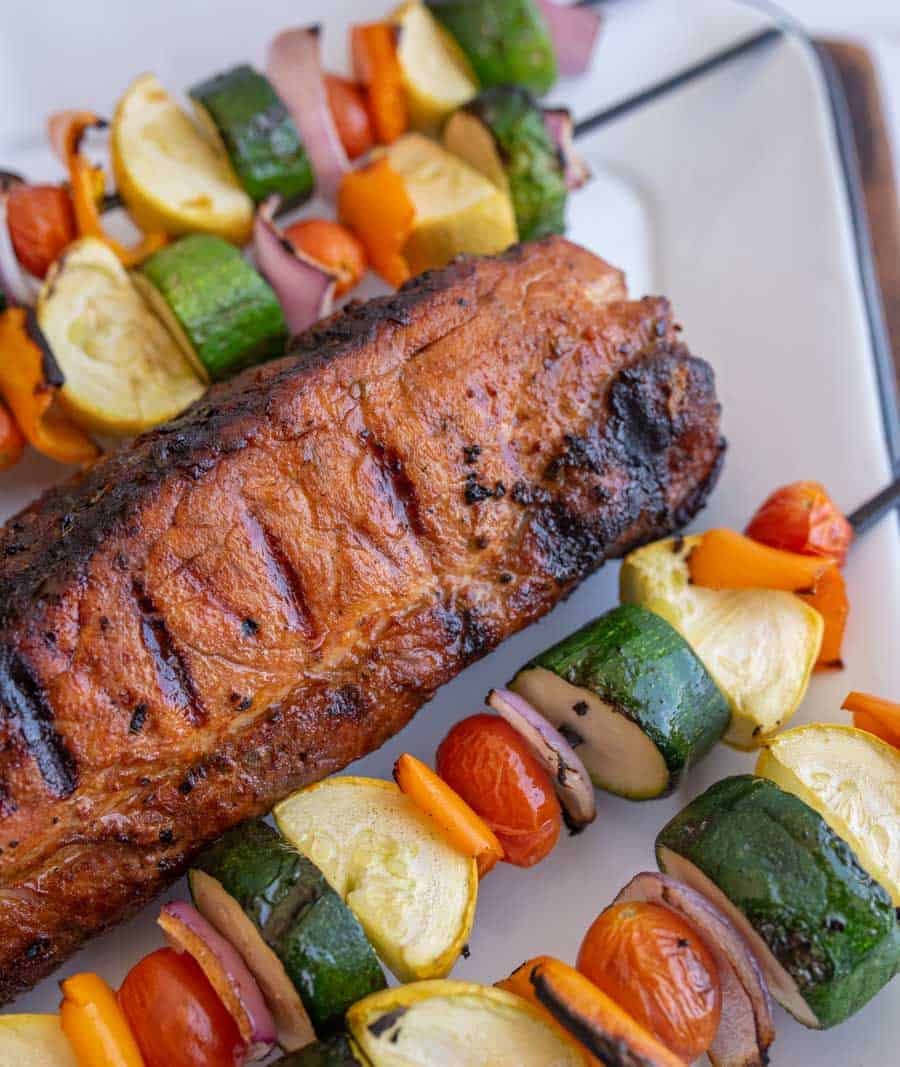 Grilled Pork Loin with Grilled Rainbow Veggie Kabobs
This Grilled Whiskey Black Pepper Pork Loin with Grilled Rainbow Veggie Kabobs was a huge hit in my house. Everyone gobbled the meal up! I love this recipe because the pork took no prep time on my part (I love pre-seasoned meats!). The vegetables come together in just a few minutes, and there's basically no mess to clean up because it's all cooked on the grill. Sign. Me. Up.
Today I'm working with Adaptable Meals, a company who brings high-quality pre-seasoned meats to your table. I LOVE working with meats that have already been seasoned because the work has been done for me. This Whiskey Black Pepper Pork Loin was lean, moist, cooked like a dream, and had just the right amount of heat to the seasoning. The pork loin is seasoned with black, chili, AND red pepper, cumin, oregano, salt, sugar, and dehydrated bell peppers. Adaptable Meals makes their meats with zero artificial ingredients and are gluten free too!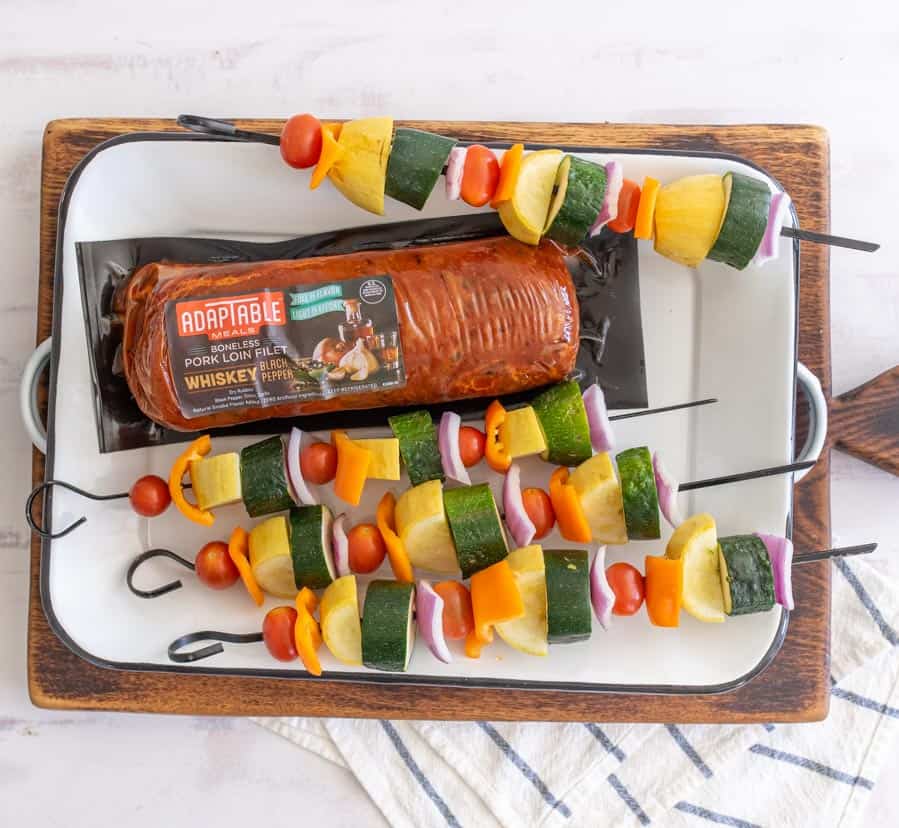 This cut was a pork loin filet which is smaller than a full loin but larger than a tenderloin. It was the perfect size for my family. I like cooking a whole large portion (opposed to individual cuts like pork chops) because it's easier to keep the meat moist. Just be sure to have a thermometer around to check the temperature; that's the key to not overcooking your pork.
Enjoy this incredibly easy meal from my kitchen to yours.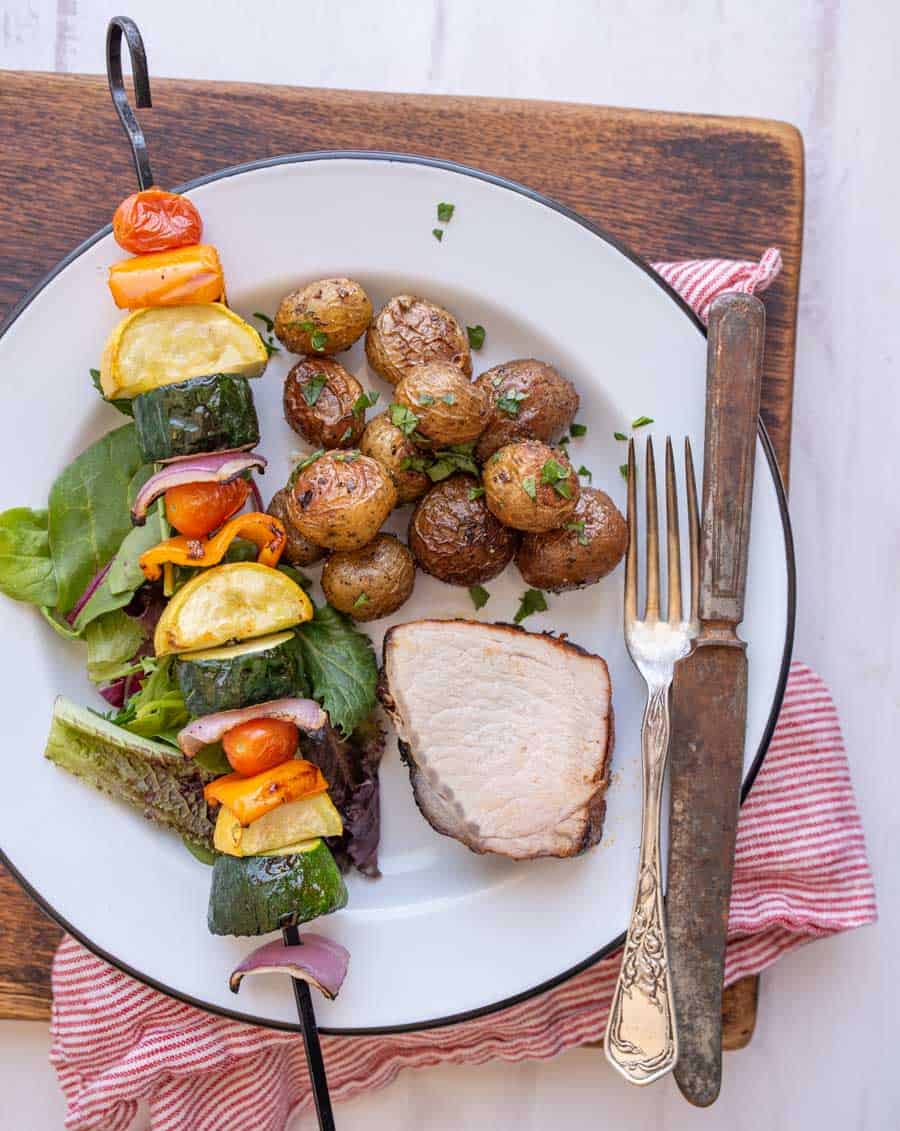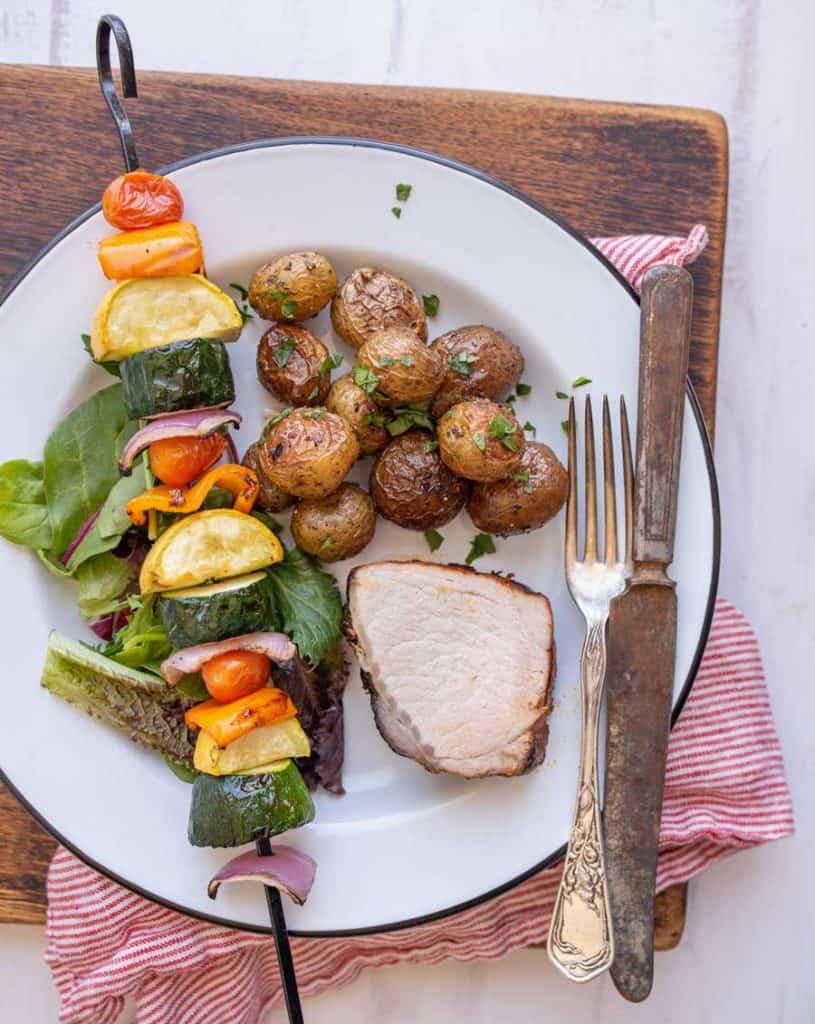 How long does it take to grill a pork loin filet?
This pork loin filet will take 30-35 minutes to cook on the grill. When the internal temperature reads 145 degrees F. on an instant read thermometer, you're good to go. The vegetables only take about 10 minutes to cook, so after 20 minutes of the pork cooking time, add them so that they finish close to the same time.
How do you cook a pork loin without drying it out?
I'm on team use an instant read thermometer when cooking meat and grilling. That way, you know just what is happening on the inside of that pork loin and you don't overcook it! Get the pork up to 145 degrees F. and then take it off the grill right away.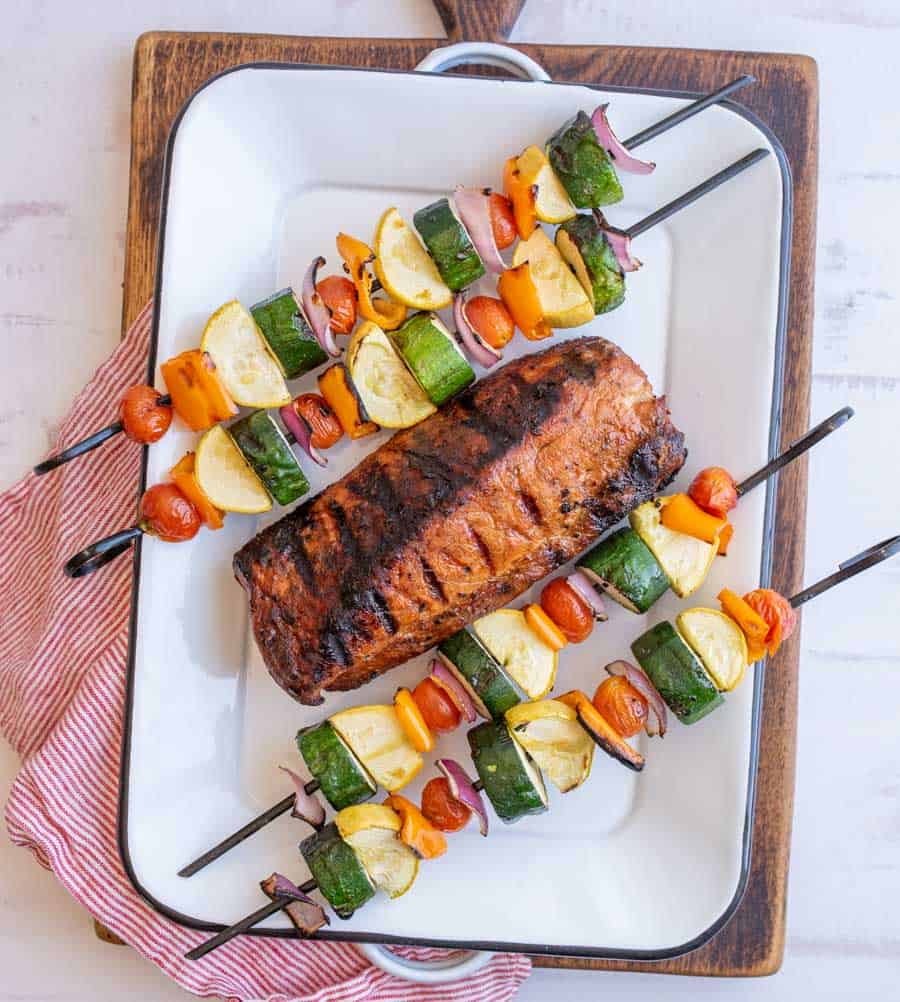 What do you serve with grilled pork loin?
I love that this recipe is served with veggie kabobs. They are a perfect side (recipe included below).
Have you ever had salt potatoes? You boil small new potatoes in very salty water and it makes them magically creamy. We love salt potatoes with grilled pork.
I love this recipe with cilantro lime rice, a quick and easy pasta salad, or with Mediterranean Cucumber Salad.
You have a lot of options, but you can also keep it simple and serve it with corn on the cob and watermelon or fresh peaches.
Print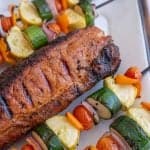 Grilled Black Pepper Pork Loin with Grilled Rainbow Veggie Kabobs
---
Author:

Total Time:

45 minutes

Yield:

Serves 6

Diet:

Gluten Free
Description
Fast, family-friendly, and so beautiful! You'll love this super simple grilled pork loin and rainbow veggies all summer long.
---
1

package Adaptable Whiskey Black Pepper Pork Loin Filet (

1

pound)

1 cup

cherry tomatoes

1

large orange bell pepper

1

medium yellow summer squash

1

medium green zucchini

1

medium red onion
Grill skewers
Salt and pepper to taste or other seasoning blend you like
---
Instructions
Remove the pork from the fridge and let it rest at room temperature while you prepare your vegetables.
The cherry tomatoes are left whole; cut the bell pepper, summer squash, zucchini, and red onion into large but bite-sized pieces, about 1.5 inches square each. For the squashes, I like to cut them into 1-inch rounds and if the rounds are bigger than bite size, I'll cut the rounds in half to make half-moon pieces.
Thread your vegetables onto your skewers, working in rainbow order if you'd like (tomato, then orange bell pepper, then yellow squash, then zucchini, followed by the red onion). Repeat on the skewer until it's full but leave an inch or two on both ends to make sure nothing falls off. Repeat on remaining skewers until you've used all your vegetables.
When your vegetables are ready, prepare your grill.
Preheat your grill over medium-high heat. Clean and oil the grates (I do this with a cleaning brush and then I dip a paper towel in oil and rub it on the grates; this helps everything to not stick).
Reduce the heat to medium to medium-high, and place your pork tenderloin in the center. The loin has three natural sides — grill each side for 10 minutes, continuing to turn to a new side after each 10 minutes.
Add the vegetables for the last 10 minutes of grilling, turning them once halfway through cooking.
Cook until the pork reaches 145 degrees F. on an instant read thermometer, about 30 to 35 minutes on the grill. Cook the vegetables until they are tender and crisp.
Remove the pork and vegetables from the grill as they are done cooking.
Let the pork rest for 3 minutes before slicing.
Season the vegetables generously with salt and pepper or your favorite seasoning blend.
Serve right away while still hot.
Notes
If using wood grill skewers, be sure to soak them in water for a few hours before using or they will catch on fire on the grill.
You can use whatever veggies you like or have on hand. We'll often add mushrooms to this lineup. The key is to cut them to similar sizes so that they finish cooking at the same time.
Prep Time:

15 min

Cook Time:

30 min

Category:

main dish

Method:

grilling

Cuisine:

American
Keywords: how to grill pork, how to grill pork loin, how to grill pork tenderloin, grilled pork loin, grilled pork loin recipe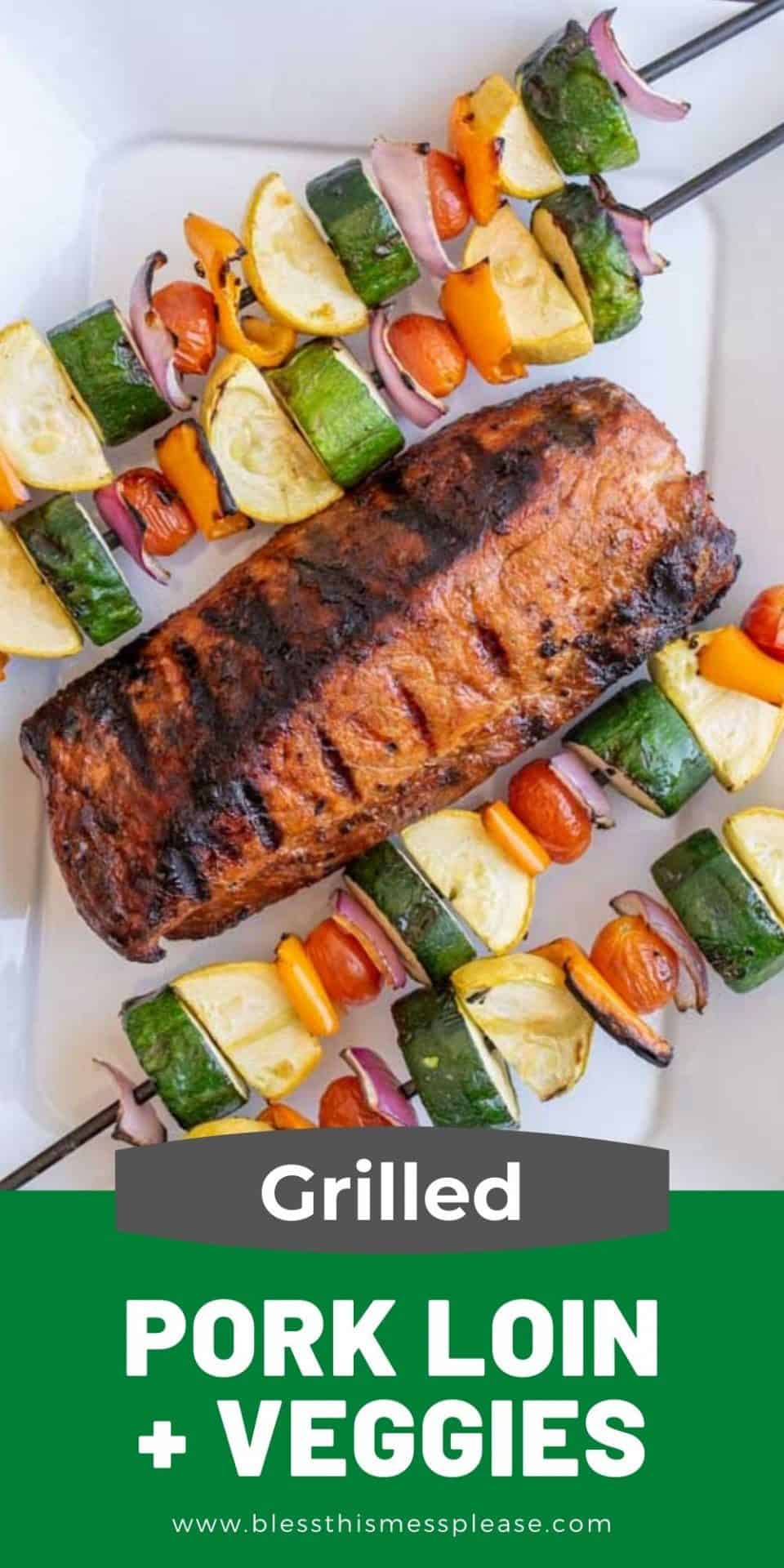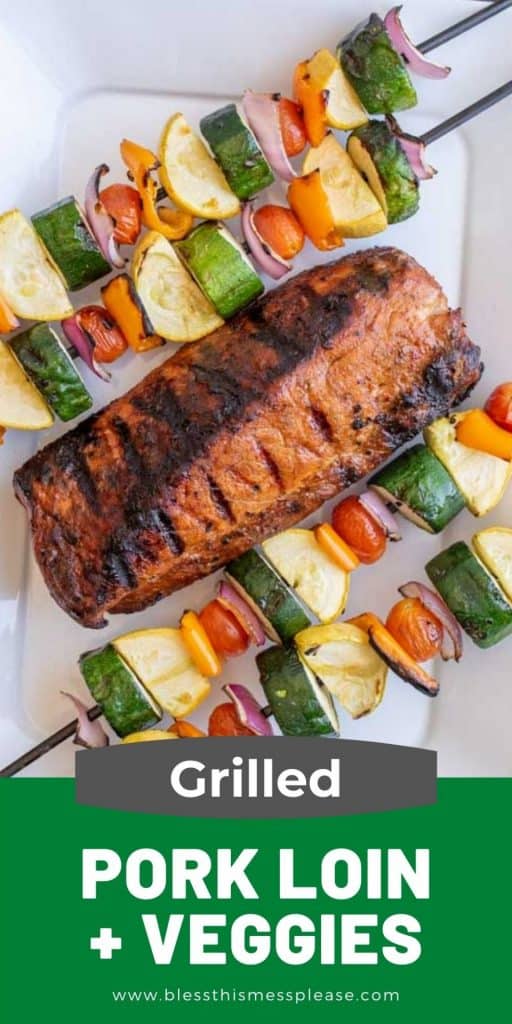 Discloser: This post is sponsored by Adaptable Meals. Thank you for supporting the brands that help make Bless this Mess possible and that I've thoughtfully chosen to work with.
You are going to love how quick and easy this Whiskey Black Pepper Pork Loin Filet with Grilled Rainbow Veggie Kabobs is to make and just how good it is to eat! Thanks to Adaptable Meals, the work has been done for you; all you need to do is man (or woman!) the grill.