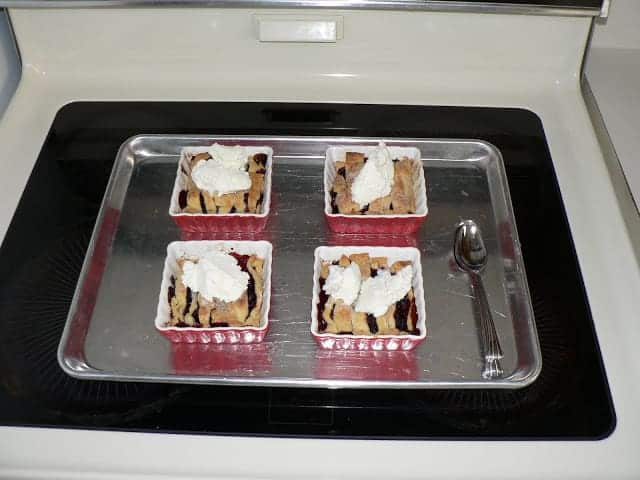 My Grandma makes raspberry cobbler for every event. It is so very good.  Her cobbler is more like a pie and less like a cakey cobbler though.  I got my hands on some huge delicious blackberries last weekend, and I decided to make Grandma-style cobbler with them!  If you have individual ramekins to bake them in do it!  Who doesn't love the individual serving?  It's so Martha if you ask me! 
Blackberry Cobbler
Crust
2 cups flour
1 t. salt
3/4 cup shortening
1/2 cupish cold water
Guts
2 cups frozen blackberries
1/4 cup granulated sugar, plus more for sprinkling
2 T. flour
Ice cream
In a medium mixing bowl mix the flour and salt together.  Add the shortening and cut together with a fork until combine and there are pea-sized pieces.  Add the cold water one tablespoon at a time until the dough comes together.  Don't over mix and be sure to use very cold water (it makes it flaky and nummy).  When the dough forms a ball turn it out on to a floured surface and roll until 1/4 inch thick.  Cut into the size of the bottom of 4 oven safe bowls.  Place crust  in the bottom of your buttered dishes.  Combine the berries, sugar, and flour in a small bowl.  Place 1/4 of the berry mixture in your bowls on top of the crust.  With remaining crust (you should have only used about 1/2 of it)  Cut it into strips and place strips over the berries.  Dip your finger in water and wet the crust and then sprinkle with additional sugar.  
Place bowls on a cookie sheet and bake in a preheated oven (375 degrees) and bake for 30 to 40 minutes until top is golden and berries are bubbly. Serve hot with ice cream.
If you don't have little cute cups you can make this in an 8×8 baking dish!
PS I got my cute little oven safe dishes at the dollar store…