You'll never believe that this pizza is gluten free AND grain free - which means it works for all kinds of dietary needs AND it tastes delicious.
Today I'm working with my favorite company, Bob's Red Mill. I want to share with you one of their new specialty baking mixes, it is a grain free, flat bread mix, and it's one you'll use over and over again.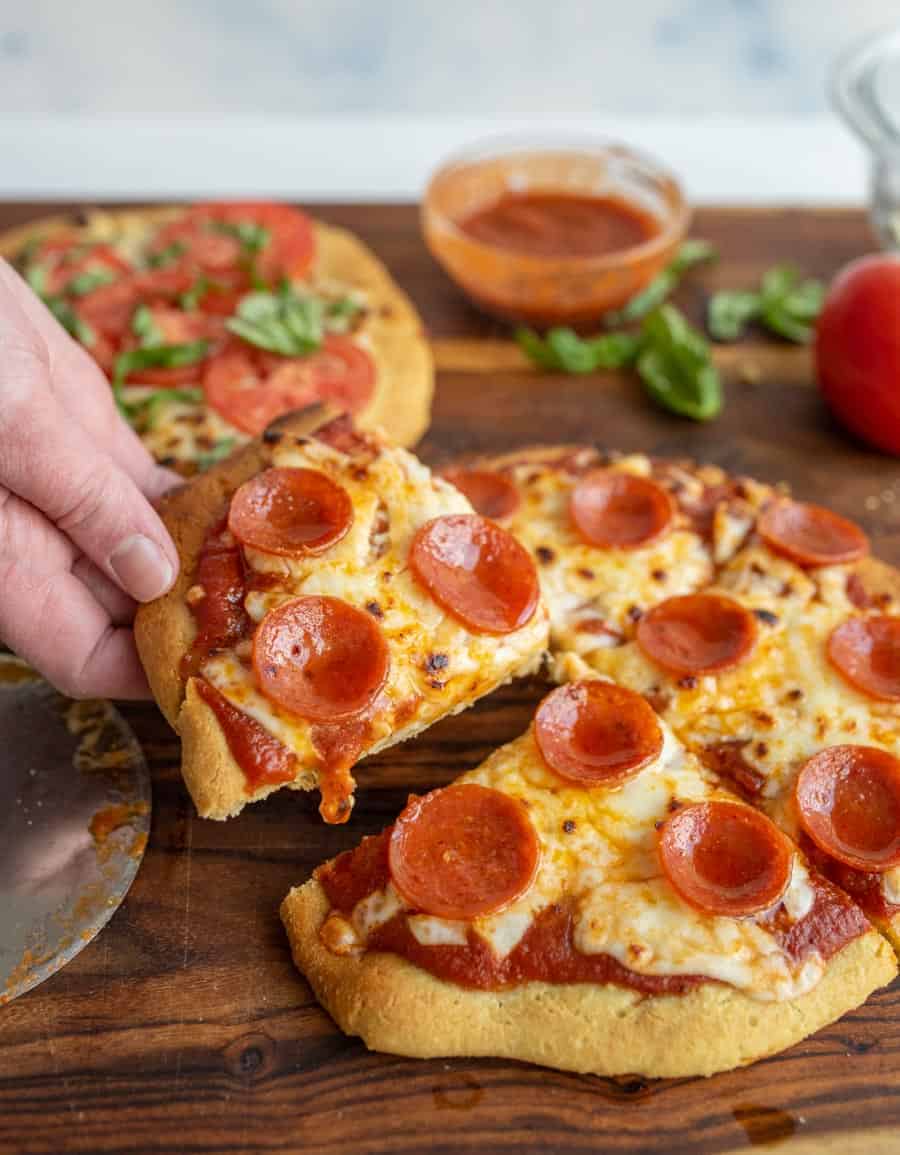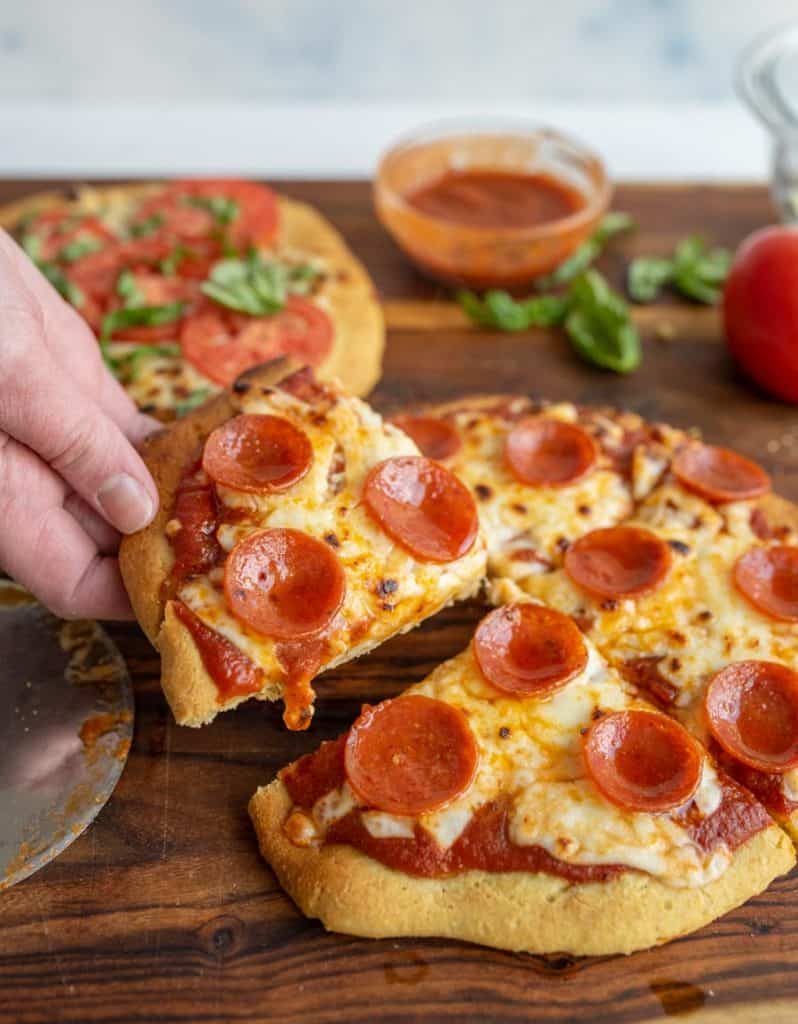 Gluten Free Pizza Recipe
You may not eat a strictly gluten free diet, but you may know someone who does. I love keeping a few gluten free mixes on hand so that when I need to make something gluten free it's ready for me!
Bob's Red Mill Grain Free Flatbread Mix is made with really simple ingredients like cassava flour and almond flour. It's both gluten free and grain free AND it's delicious. It's easy to make and my kids didn't even bat an eye when I served them pizza made with this mix.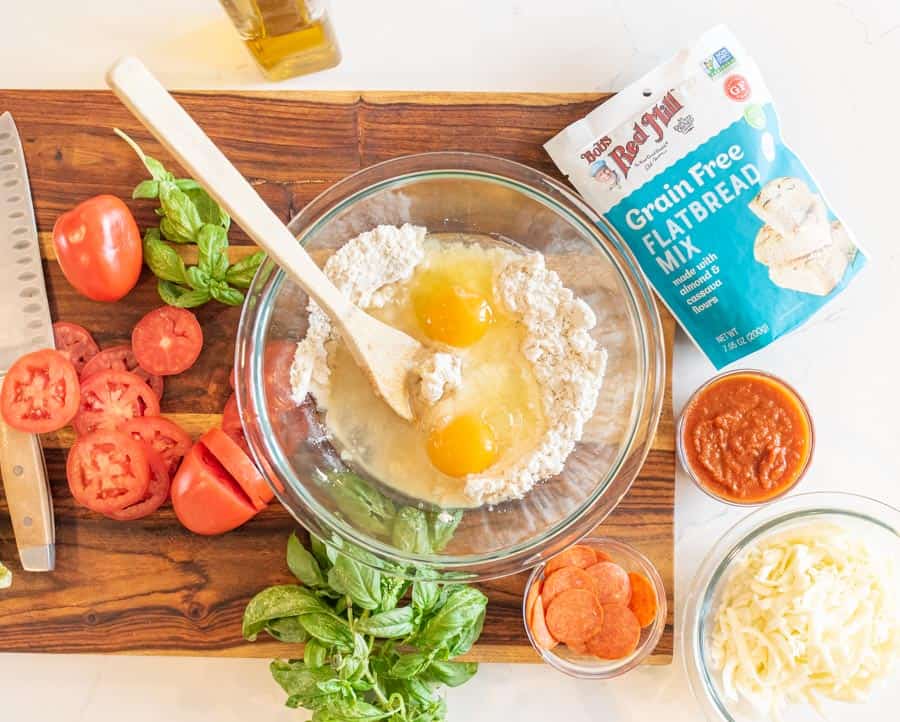 Three reasons I love this baking mix:
I keep it on hand for when I need a gluten free option for friends or family. My father-in-law is gluten-free and my brother's girlfriend is grain-free, so having a mix on hand makes prepping something extra for them a breeze.
I love that this mix is grain free. I've done a bit of cooking with almond flour and cassava flour and I really like them both. I don't eat a lot of grains and when I do I try to make sure they have been through the sourdough process (I digest them much better that way), and if I don't have something like that on hand, I can use this mix!
I love that the mix can be made into flatbread, buns, pizza, wraps, and more. It's really robust and there are lots of recipes on the Bob's Red Mill website.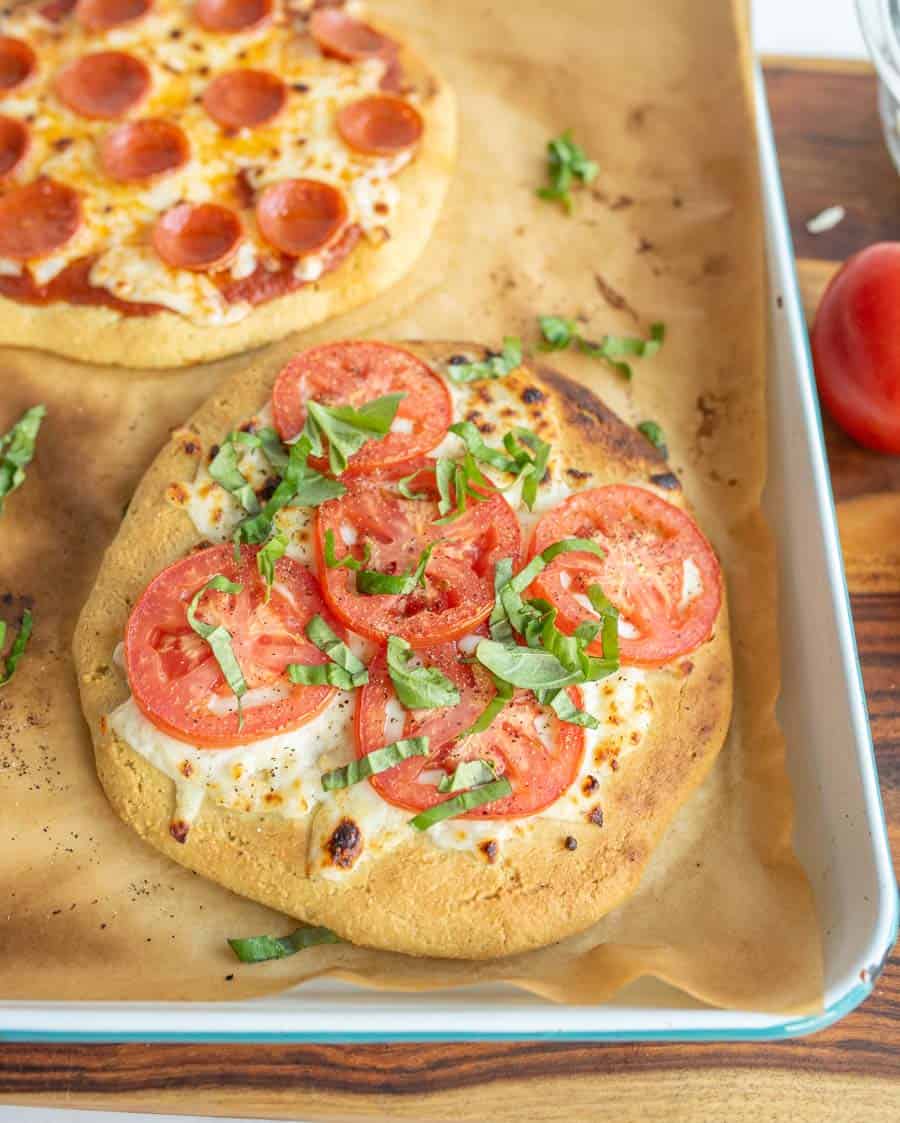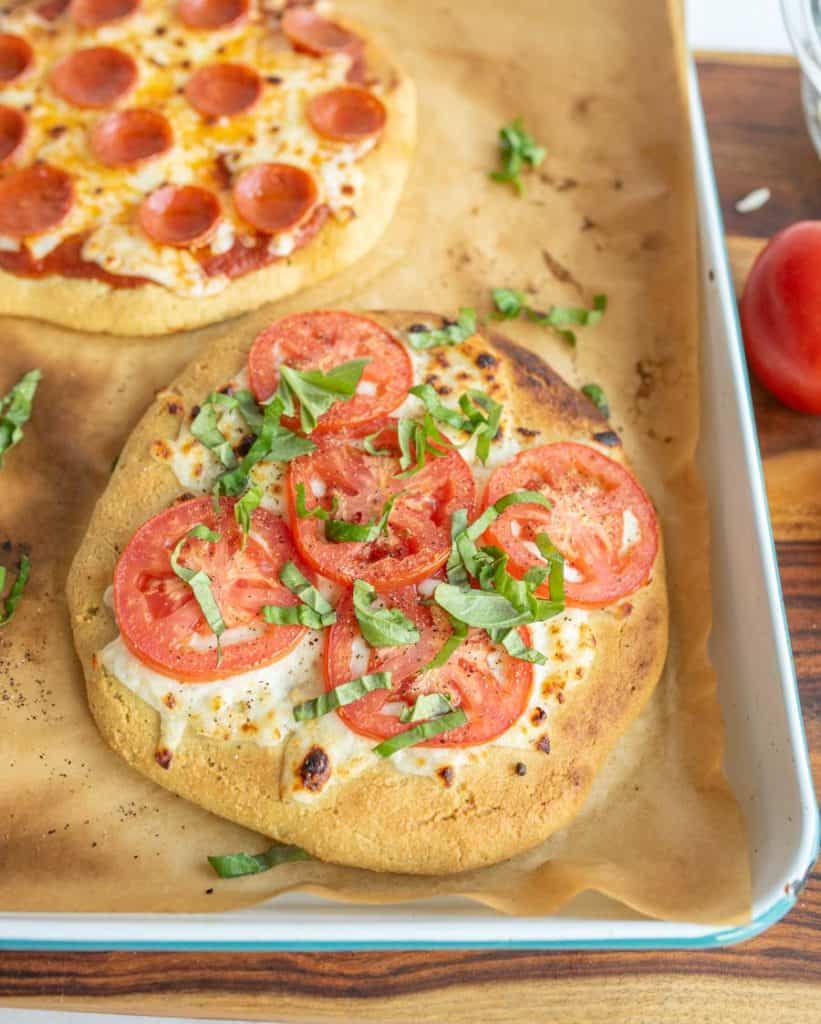 What is the best gluten free crust?
One that you make at home, is easy to make, and turns out each and every time! That's why using a mix is so nice, you don't have to have all of the specialty ingredients that can get expensive! I love using Bob's Red Mill Grain Free Flatbread Mix for making pizza because it always turns out great for me.
What can I put on gluten free pizza?
That's the beauty of making pizza at home, you can put on whatever you like! It's so much easier to make pizza at home that fits your dietary needs too. If you need this pizza to be vegan, vegetarian, dairy, or nightshade free, you can do that! We like traditional toppings like pizza sauce, mozzarella cheese, and pepperoni. We also like garlic oil, fresh mozzarella, ripe tomatoes, and loads of basil. The possibilities are endless!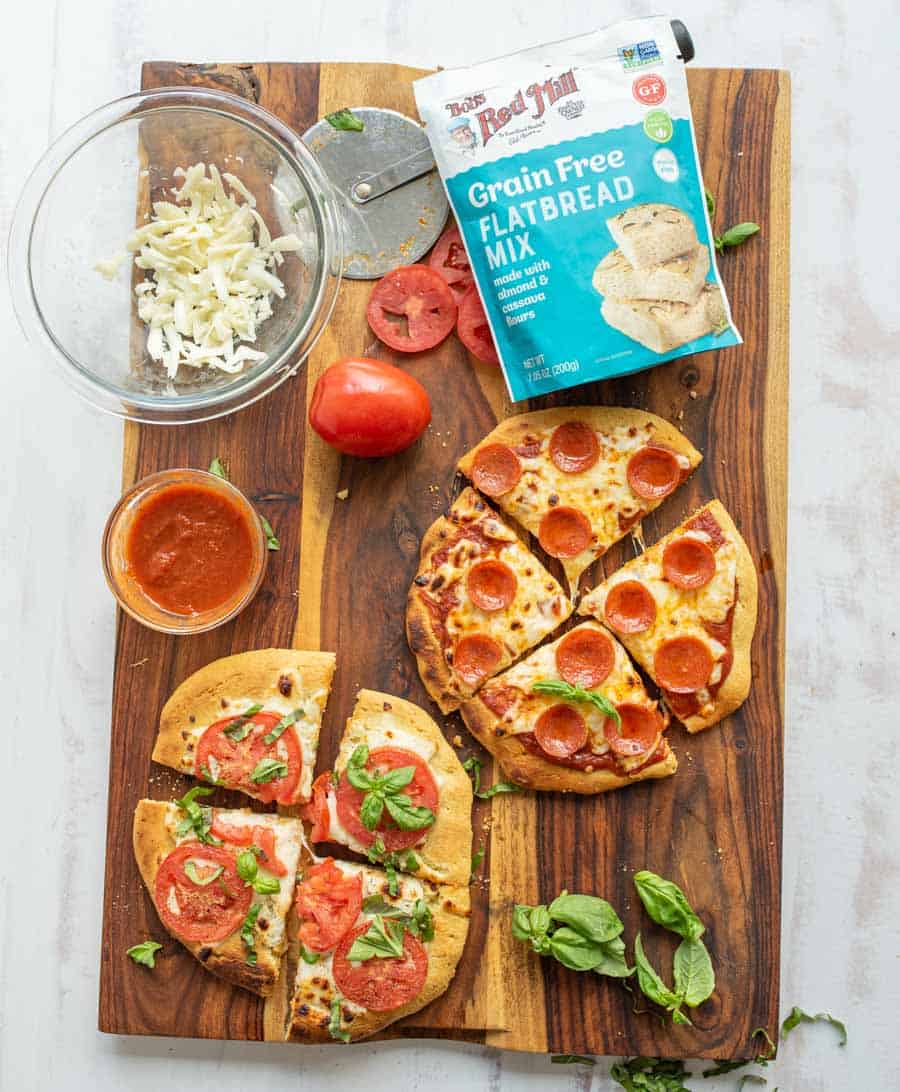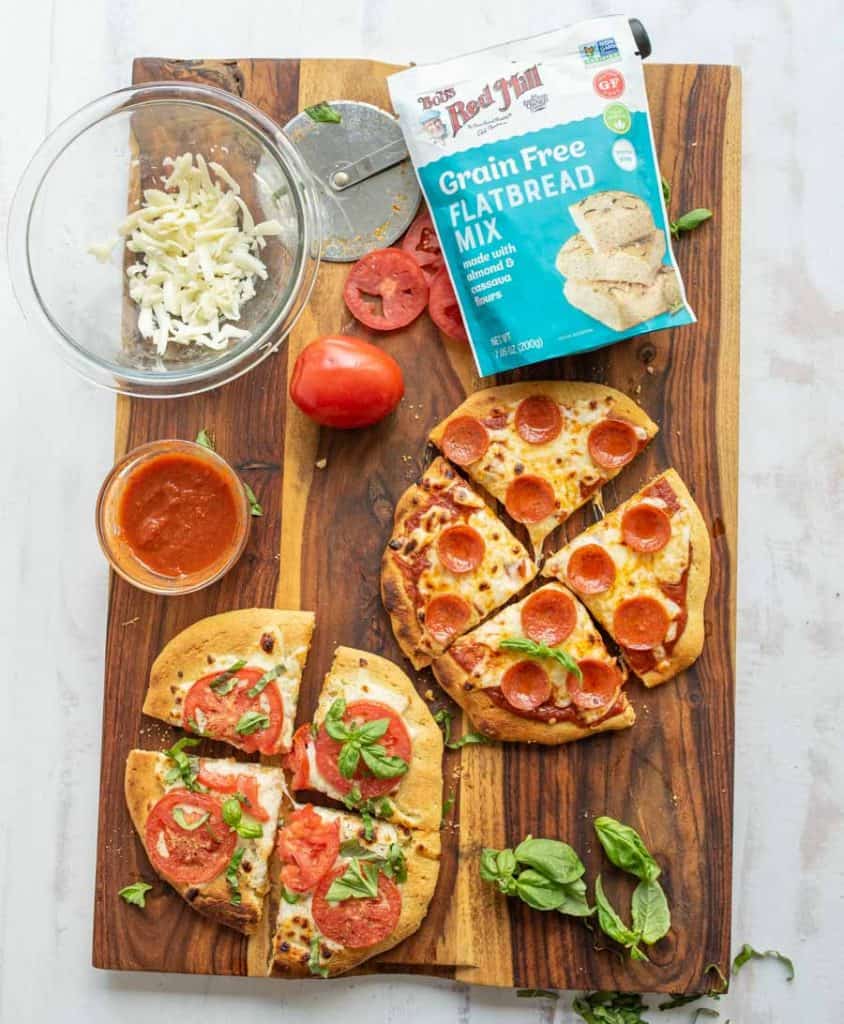 What does grain free pizza crust taste like?
The taste is awesome. I added a little garlic and onion powder to the mix to make it taste a bit more like pizza. The texture is unique too. It is less chewy than traditional pizza (the gluten is where the chewiness comes from) and the texture is a bit more coarse, and while not crumbly, it feels a little crumbly in your mouth.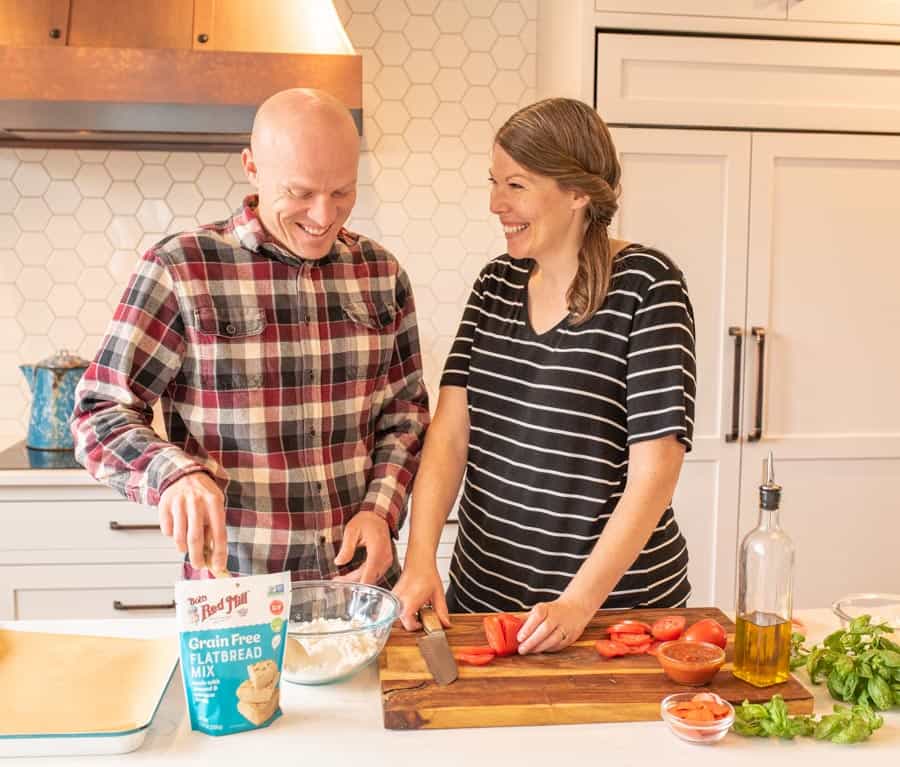 One last plug for the flatbread mix. My husband has a hard time surprising my by making dinner because he's never sure what I can or will eat. I've been trying to heal some stomach issues for a few years now. I tend to eat grains if they are sourdough, but if I haven't planned ahead that is hard to do. Enter an easy to make grain free mix! Now Thomas can surprise me with dinner made. It doesn't hurt my stomach and it was easy for him too. I love that!
You'll love how easy this grain free flatbread mix can be turned into gluten free pizza crust. You'll also love how you can customize the toppings at home. Gluten and grain free baking have never been easier or more successful!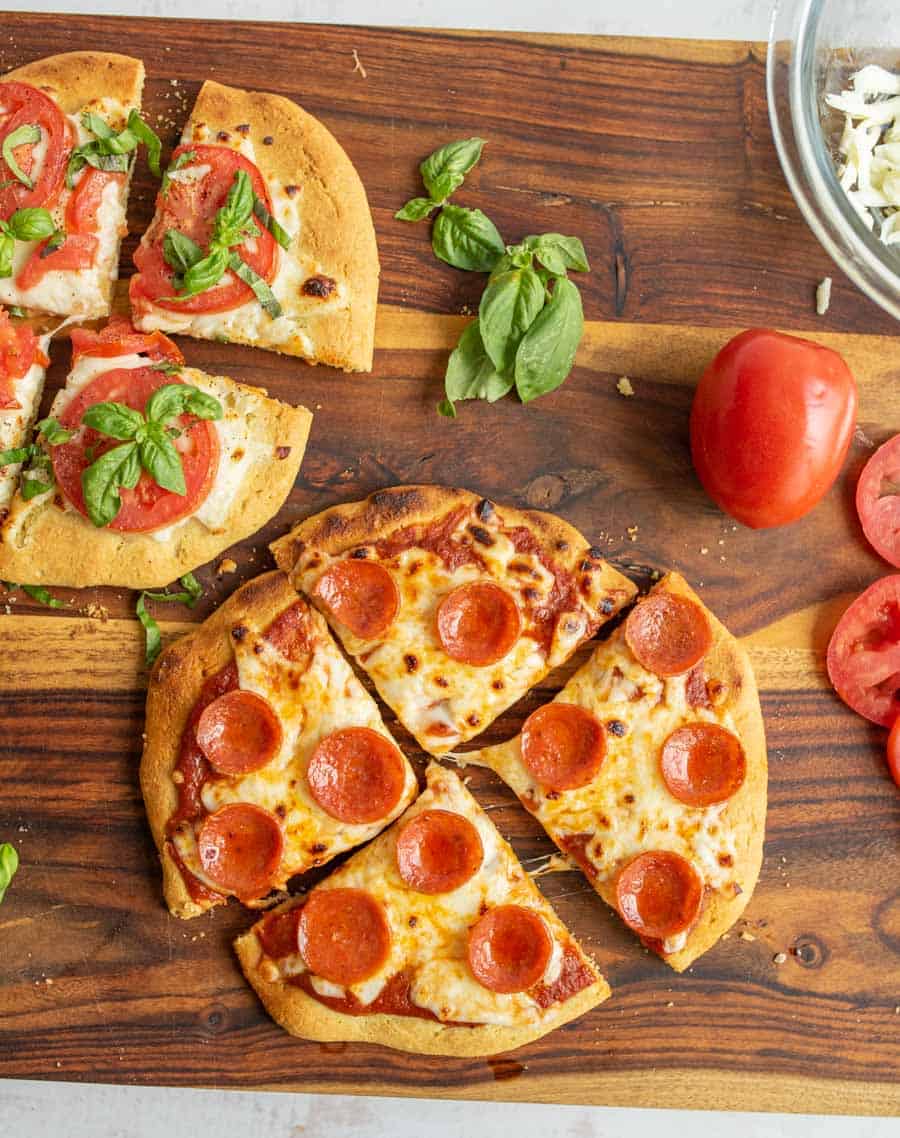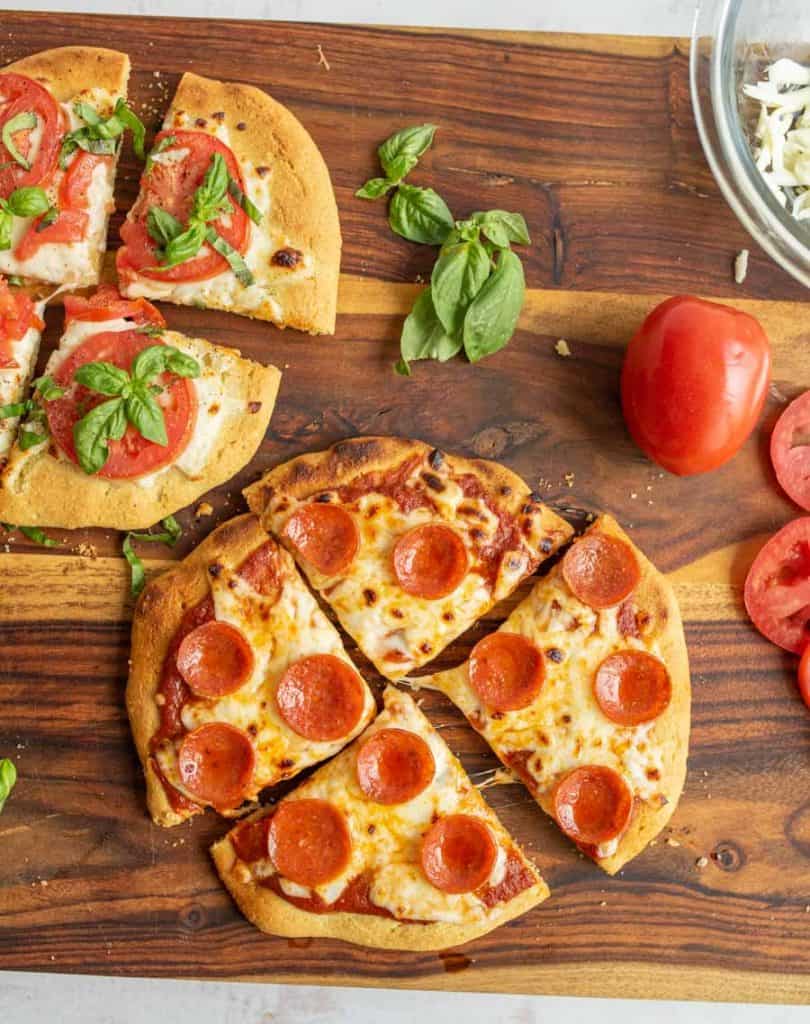 More gluten free recipes:
Print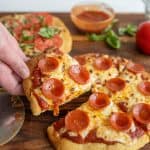 Gluten Free Pizza Recipe
---
Author:

Total Time:

30 minutes

Yield:

2

mini pizzas

1

x

Diet:

Gluten Free
1

package Bob's Red Mill Grain Free Baking Mix

2

eggs

¼ cup

oil

¼ cup

water

¼ teaspoon

garlic powder

¼ teaspoon

onion powder
toppings such as pizza sauce, pepperoni, vegetables, fresh basil, mozzarella cheese
---
Instructions
Preheat the oven to 400 degrees F.
Line a baking sheet with a baking mat or parchment paper.
In a medium mixing bowl add the Bob's Red Mill baking mix, eggs, oil, water, garlic powder, and onion powder.
Mix well to combine and let the mixture rest for 5 minutes.
Place half the dough on one side of the pan and the other hand on the other side of the pan.
Use the back of a spoon to help spread each piece of dough into a 6 inch circle on the prepared baking sheet. You can also wet your hands to pat the dough out (you'll need to use wet hands or the dough will stick to them).
Bake the two crusts for 10 minutes in the hot oven.
Remove from the oven and add toppings of your choice.
Return to the oven for an additional 5-7 minutes to finish cooking the pizza. If you'd like to add a little brown to your cheese you can broil your pizza for 1 additional minute before removing it from the oven.
Slice and enjoy right away.
Notes
The baking mix is gluten free and grain free which makes it a great option for so many dietary needs. Feel free to adjust your toppings to your liking to meet your preferences and dietary needs.
Prep Time:

15 min

Cook Time:

15 min

Category:

main dish

Method:

bake

Cuisine:

American
Keywords: gluten free pizza crust, paleo pizza crust, gluten free pizza crust recipe, paleo pizza crust recipe, grain free pizza crust, grain free pizza crust recipe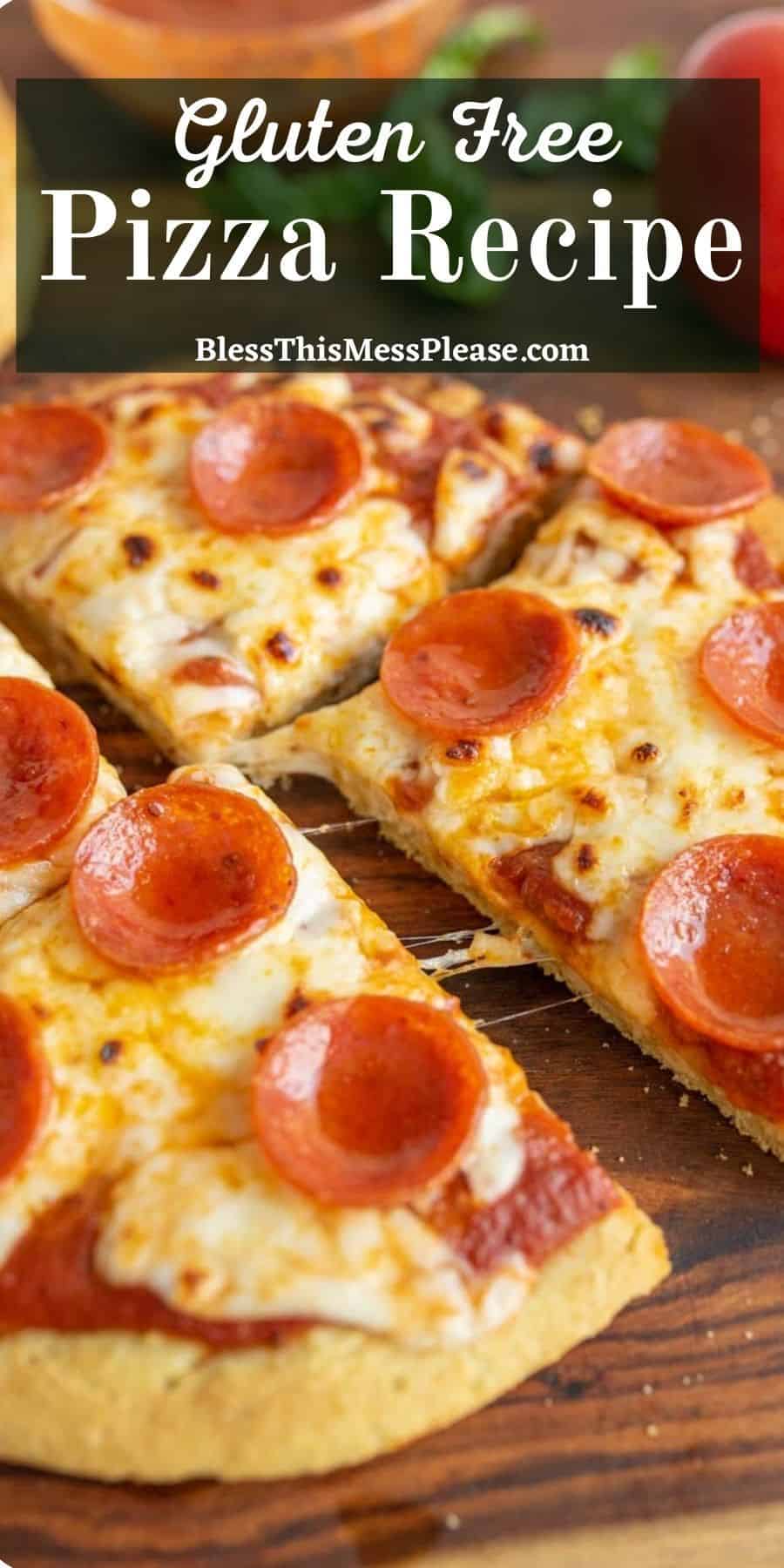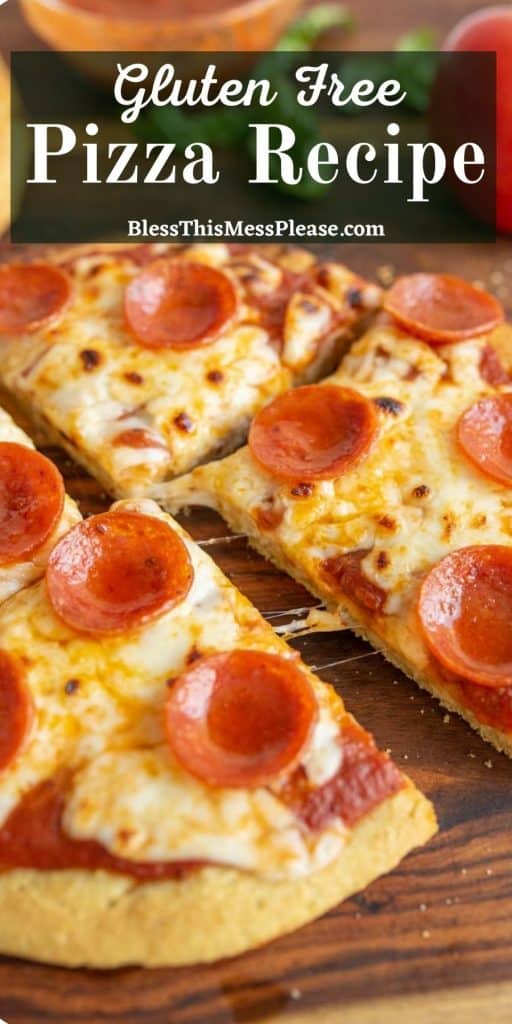 You won't believe how easy this gluten free pizza dough recipe is to make and it's the perfect thing to keep on hand for easy meals and date night!