Make a DIY Trail Mix station for your kids to create their own trail mix combinations to snack on all summer long.
One thing that I notice in the summer though is how often my kids want to snack. It must be all the sunshine, water, and fresh air, because my crew seems to be hungry all of the time. I love setting up a DIY trail mix bar for my kids every so often so that they can make themselves some custom trail mix to munch on when they want. Everybody wins!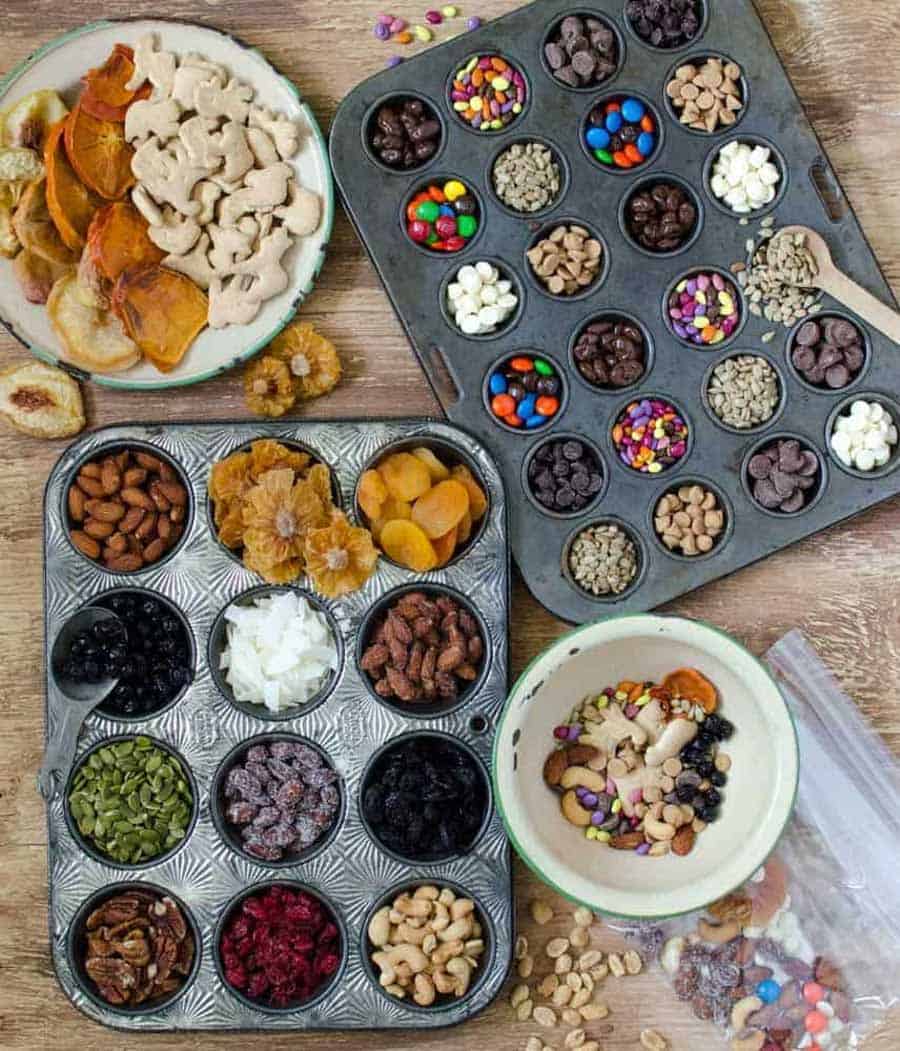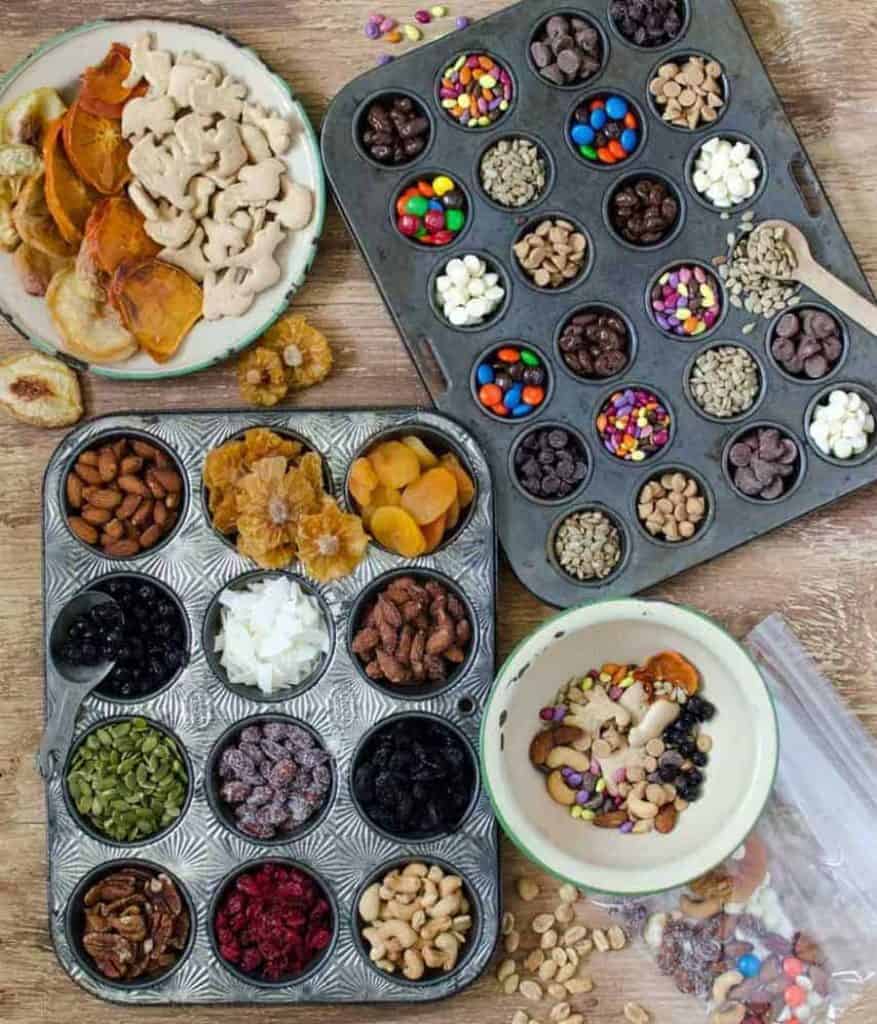 DIY Trail Mix
A DIY trail mix bar is so fun for kids and it would also be fun at a party as a make-and-take for guests or create custom trail mixes before hiking with friends.
I like to add all of my ingredients to a muffin tin so that the kids can easily see all of their options. Then I hand them a baggie and let them fill it up with what they like. I do encourage them to try at least one fruit and one nut, and not just fill up on the chocolate. Even my pickiest eater will eat cashews, peanuts, dried pineapple, and the chocolate.
My kids love being in charge of what goes in their trail mix and I'm always surprised at what they pick (the M&M's are always the favorite, but they love trying different nuts and dried fruit too).
What should I put in homemade trail mix?
The options are endless with homemade trail mix and that makes it so fun. You can add dried fruit, raisins, coconut, nuts, seeds, or different candies. See the recipe card for lots and lots of ideas.
Where is the best place to buy dried fruit?
I have found the best prices for dried fruit from Costco, Trader Joe's, or in the bulk bins from the health food store.
If I add chocolate to my trail mix will it melt?
Be warned, if adding chocolate, you need to plan on keeping bags of trail mix in a cooler if you are hiking on a hot day. If you are just munching on it around the house, the chocolate won't melt too easily.
How do you store homemade trail mix?
You can use plastic baggies. Zipper-top sandwich size seem to work best – they don't fill them totally full, but the bigger baggie lets them stick their hand in without spilling the trail mix all over like it does in a snack-size bag. Or, you can get reusable baggies like these.
The possibilities are pretty endless with it comes to the number of trail mix options that you can make!
If are you are looking for a few other simple snack recipes I recommend my super easy (super tasty):
If you've tried this trail mix recipe or any other recipe on Bless this Mess, then don't forget to rate the recipe and leave me a comment below! I would love to hear about your experience making it. And if you snapped some pictures of it, share it with me on Instagram so I can repost on my stories AND add your photo to your comment so that other can see your creation!
Print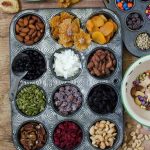 9 DIY Trail Mix Everyone Will Love
---
Author:

Total Time:

15 minutes

Yield:

Serves 6
Description
Here's how to make a do-it-yourself trail mix station that's such a fun thing for families to make before going on an adventure. You'll love all of my trail mix recipes and ideas too. There's no wrong way to make a trail mix.
---
Dried Fruit
We love dried pineapple, blueberries, cherries, persimmons, apricots, cranberries, and peaches. You could also include dried apples, dates, raisins and banana chips.
Nuts and Seeds
You can use just about any kind that you like/want/have. We like salted roasted almonds, honey roasted almonds, pecans, cashews, and peanuts. I also like to include sunflower seeds and hulled pumpkin seeds (pepitas).
Candies/Chocolate
You can include all kinds of chocolate chips (dark, milk, white, or even peanut butter chips), M&M's of any variety, chocolate covered raisins, and even candy-coated sunflower seeds. Include what you like!
Other stuff
Shredded coconut or coconut chips and animal crackers are also great.
---
Instructions
Collect up your ingredients for making trail mix. I like to get a few things from each category though if we are hiking somewhere hot, I'll leave out the chocolate category so that it doesn't melt into a mess.
Put the assorted ingredients into different bowls or into the cups of a muffin tin.
Give your kids baggies/sacks/tupperware and let them pick and choose what they would like in their trail mix.
Toss any "leftovers" from the bowls into a big bag. We call that "family trail mix" and we share it when their individual bags are gone.
Go on an adventure and enjoy when you need a snack.
Notes
Some of our favorite Trail Mix Combos
Dried cherries, honey roasted almonds, milk chocolate chips, cashews, and animal crackers.
Peanuts, salted almonds, dried cranberries, milk, semi-sweet, white, AND peanut butter chips.
Dried cherries, dried blueberries, dried apricots, cashews, pecans, dark chocolate chips, and candy-coated sunflower seeds.
Dried persimmon (Aren't they pretty? Very chewy, FYI), honey roasted and salted almonds, pumpkin seeds, peanut butter chips, and candy-coated sunflower seeds.
Dried white peaches, honey roasted almonds, pecans, sunflower seeds, and candy-coated sunflower seeds.
Dried pineapple, white peaches, blueberries and cranberries, walnuts, sunflower seeds, animal crackers, chocolate-covered raisins, M&M's, and milk chocolate chips.
Dried pineapple and apricots, salted almonds, cashews, white chocolate chip, pumpkin seeds, and coconut chips (my personal favorite!).
Dried blueberries, salted almonds, pecans, pumpkin seeds, sunflower seeds, and white chocolate chips.
Honey roasted almonds, pumpkin seeds, sunflower seeds, M&M's, and dark chocolate chips
Prep Time:

15 min

Category:

snack

Method:

no bake

Cuisine:

American
Nutrition
Serving Size:

1

Calories:

200
Keywords: how to make trail mix, trail mix recipe, trail mix, easy trail mix, trail mix for kids, snacks for kids, healthy snack, healthy snack ideas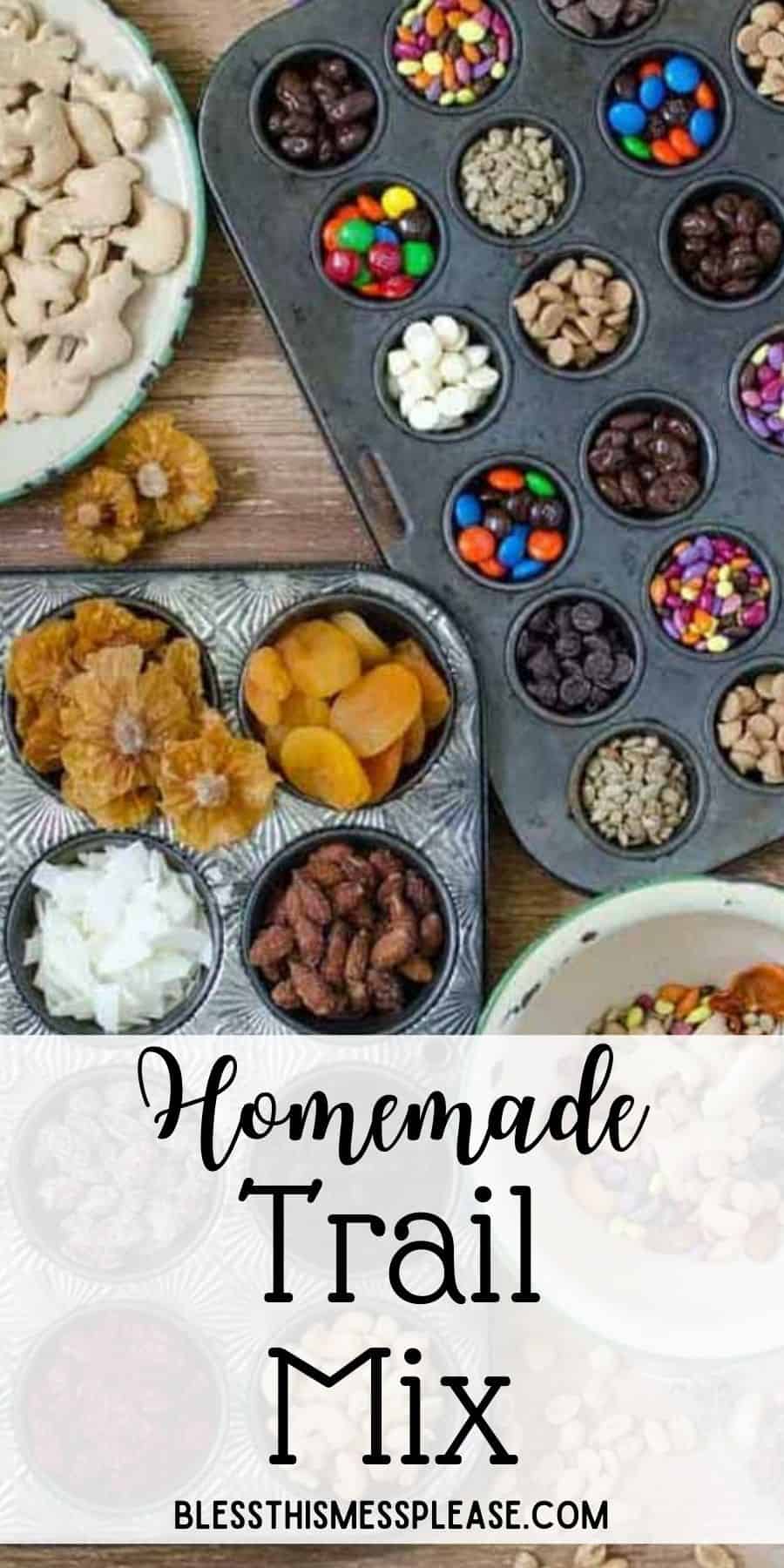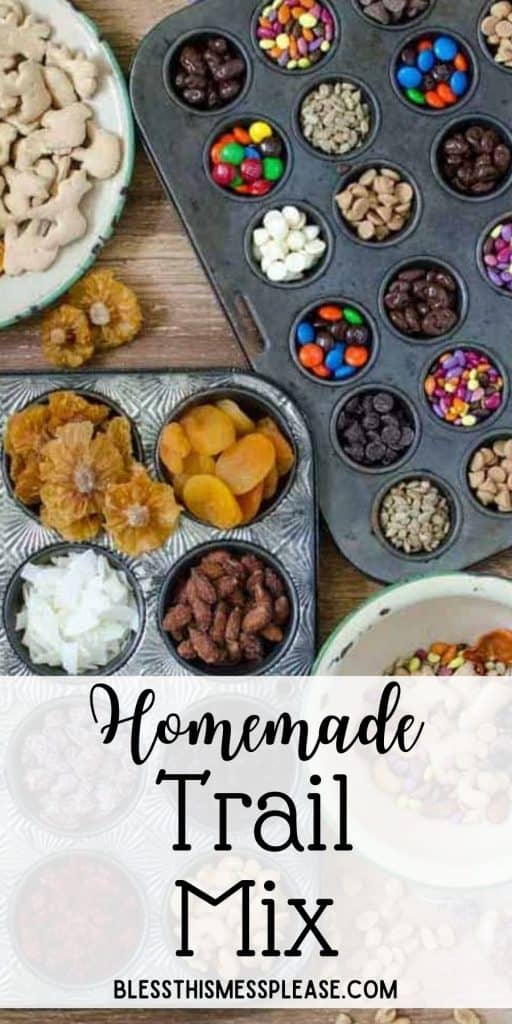 Make a DIY Trail Mix station for your kids to create their own trail mix combinations to snack on all summer long.