Make a DIY Trail Mix station for your kids to create their own trail mix combinations to snack on all summer long.
Summer is almost here and I can feel it in my bones! The chicks are almost ready to be outside on their own (I still turn a heater on and off for them every night), the kids only have a few days left of school (wahoo! this mama lives for summer with her babies home), and the garden is 80% planted (only tomatoes, peppers, another row of pumpkins and green beans left to put in).
When the kids are out of school, we fall into a pretty great summer routine. We normally have slow mornings of breakfast and puttering through their chores. We then tend to the garden and the animals before it get too hot. The kids like to play the rest of the morning and then we have lunch. Most early afternoons we'll go to the pool, the creek, or to our favorite swimming hole in Zion to be outside but stay cool. In the late afternoon we have quiet time, and then it's already time for dinner and baths.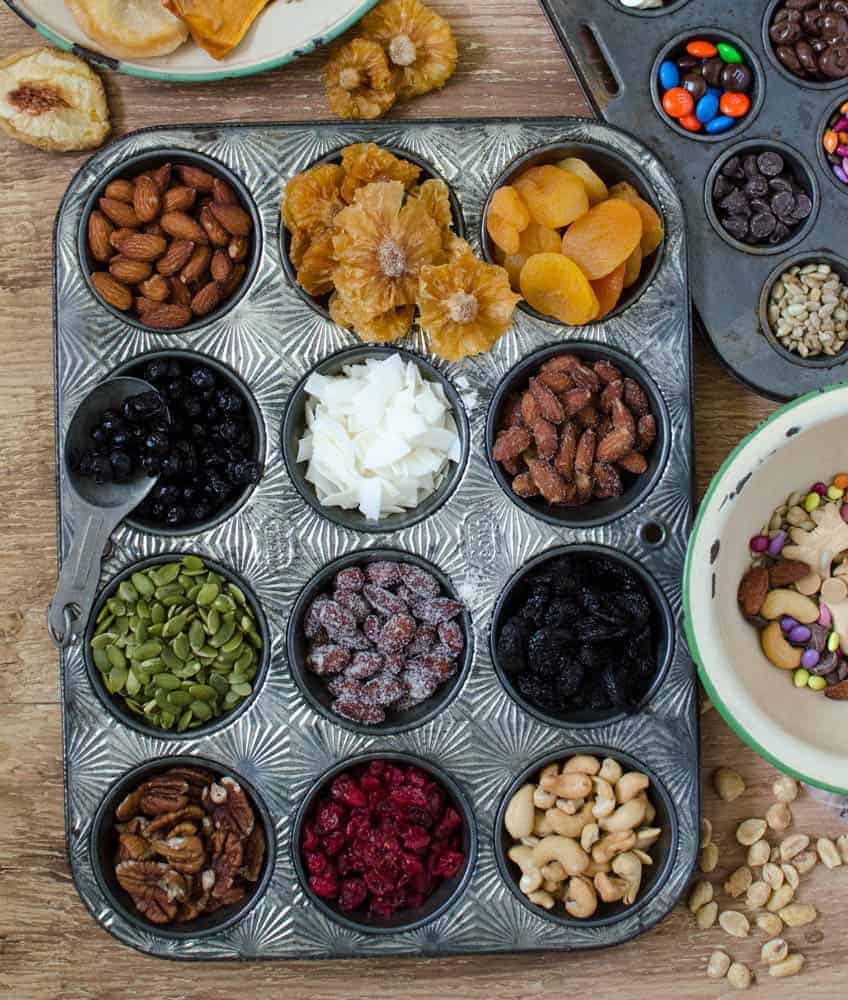 One thing that I notice in the summer though is how often my kids want to snack. It must be all the sunshine, water, and fresh air, because my crew seems to be hungry all of the time. I love setting up a DIY trail mix bar for my kids every so often so that they can make themselves some custom trail mix to munch on when they want. A trail mix bar like this would also be fun at a party as a make-and-take for guests or to set up with friends before a day of hiking. My kids love being in charge of what goes in their trail mix and I'm always surprised at what they pick (the M&M's are always the favorite, but they love trying different nuts and dried fruit too).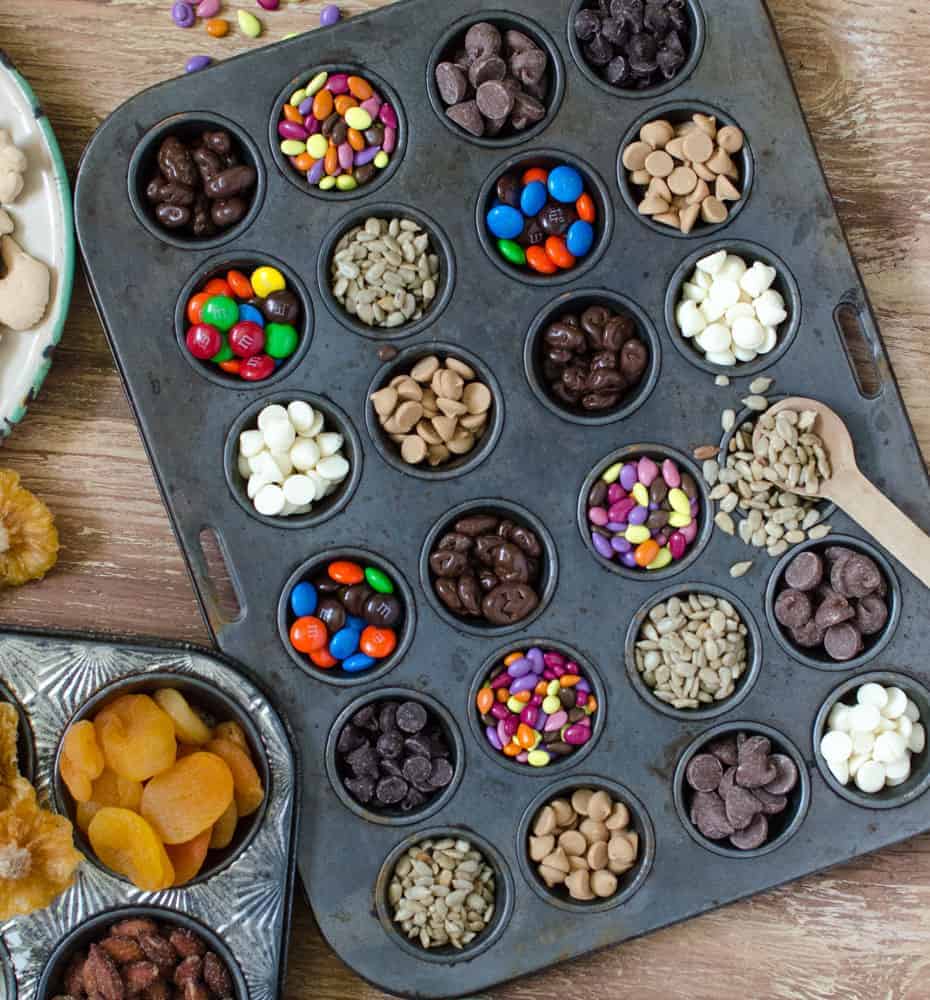 Here are some ideas of what to add to your trail mix party:
Dried Fruit
We love dried pineapple, blueberries, cherries, persimmons, apricots, cranberries, and peaches. You could also include dried apples, dates, raisins and banana chips.
Nuts and Seeds
You can use just about any kind that you like/want/have. We like salted roasted almonds, honey roasted almonds, pecans, cashews, and peanuts. I also like to include sunflower seeds and hulled pumpkin seeds (pepitas).
Candies/Chocolate
You can include all kinds of chocolate chips (dark, milk, white, or even peanut butter chips), M&M's of any variety, chocolate covered raisins, and even candy-coated sunflower seeds. Include what you like!
Other stuff
Shredded coconut or coconut chips and animal crackers are also great.
Tips and Tricks for making DIY Trail Mix:
I have found the best prices for dried fruit from Costco, Trader Joe's, or in the bulk bins from the health food store.
If the crackers were stored very long with the other trail mix ingredients, they tended to get a little soft. My kids did not mind but I don't like non-crunchy crackers.
Be warned, if adding chocolate, you need to plan on keeping bags of trail mix in a cooler if you are hiking on a hot day. If you are just munching on it around the house, the chocolate won't melt too easily.
I like to add all of my ingredients to a muffin tin so that the kids can easily see all of their options. Then I hand them a baggie and let them fill it up with what they like. I do encourage them to try at least one fruit and one nut, and not just fill up on the chocolate. Even my pickiest eater will eat cashews, peanuts, dried pineapple, and the chocolate.
You can use plastic baggies. Zipper-top sandwich size seem to work best – they don't fill them totally full, but the bigger baggie lets them stick their hand in without spilling the trail mix all over like it does in a snack-size bag. Or, you can get reusable baggies like these.
Premade trail mix is a great addition to any of these fun (sandwich-free) lunch box ideas too. They are great if you are packing lunch for yourself, the kids at home, or the kids going to day camp.
I had my kids mark their name on a few baggies and then fill them. Then I kept all the baggies in a basket in the cabinet for them. Instead of trying to put all of the odds and ends of the leftover fruit, nuts, and chocolate in the bags they came from, I just dumped all of the remaining and unused trail mix ingredients into a gallon zipper topped bag. This is trail mix for Thomas and I!
Some of our favorite Trail Mix Combos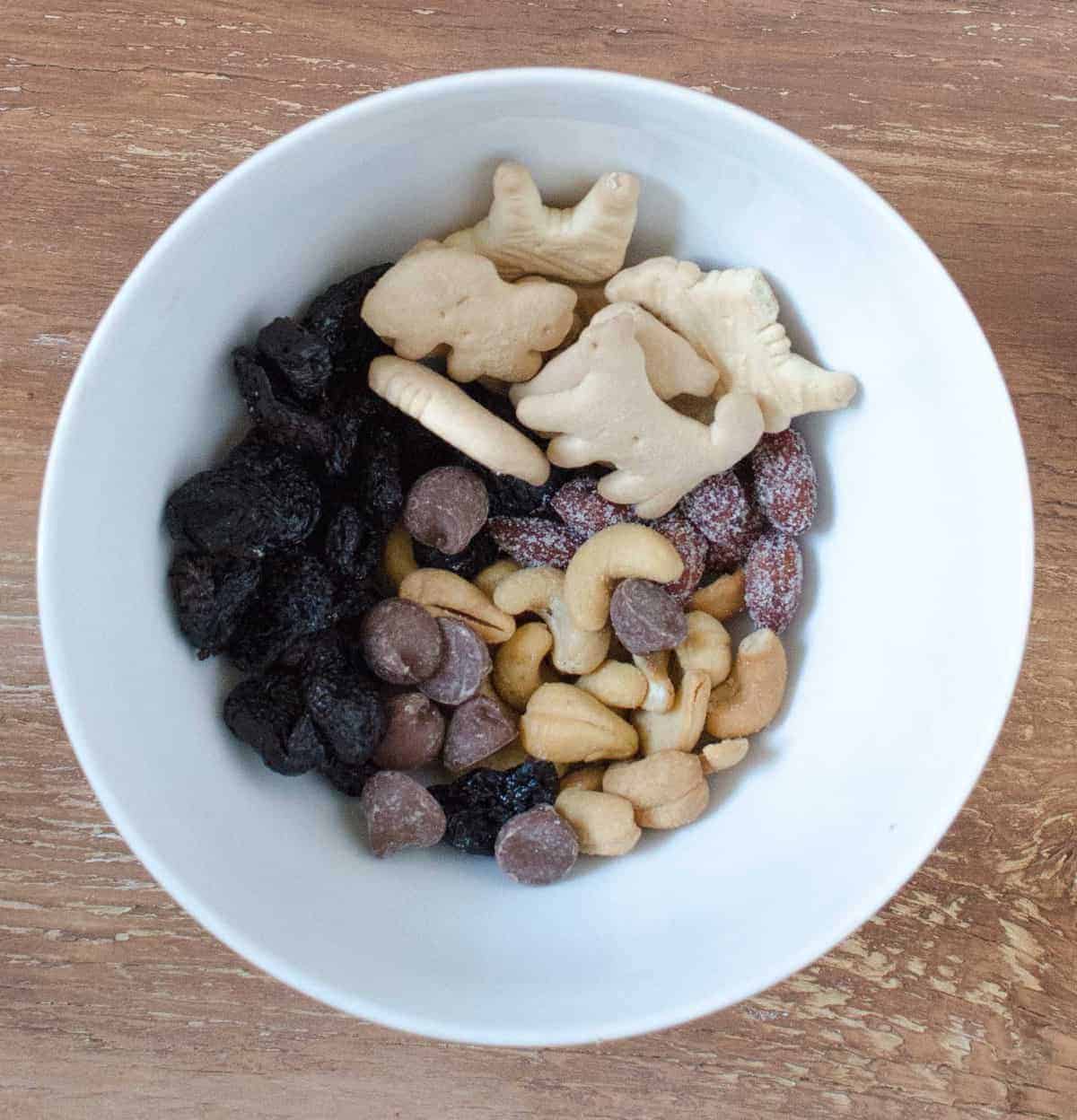 Dried cherries, honey roasted almonds, milk chocolate chips, cashews, and animal crackers.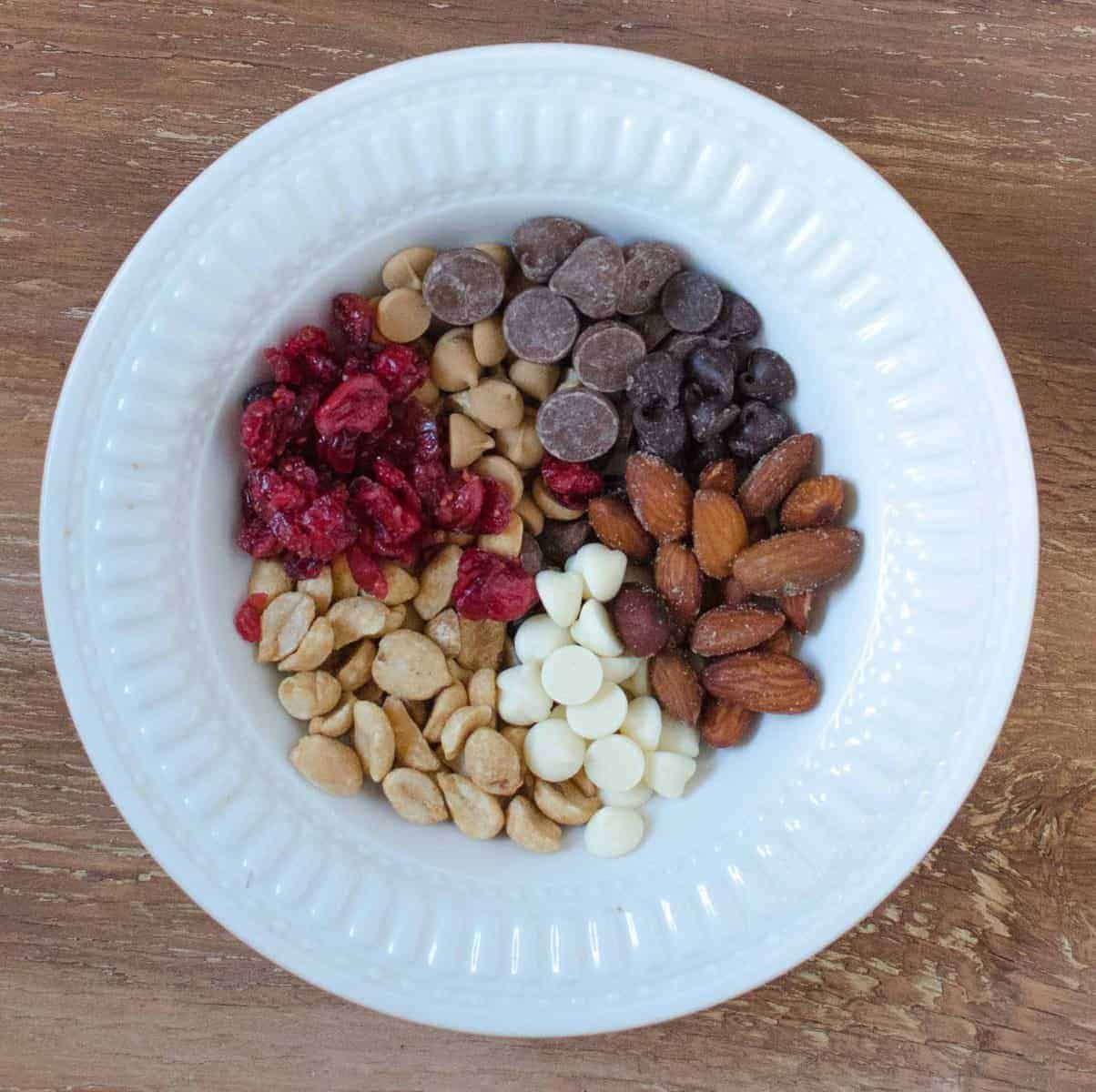 Peanuts, salted almonds, dried cranberries, milk, semi-sweet, white, AND peanut butter chips.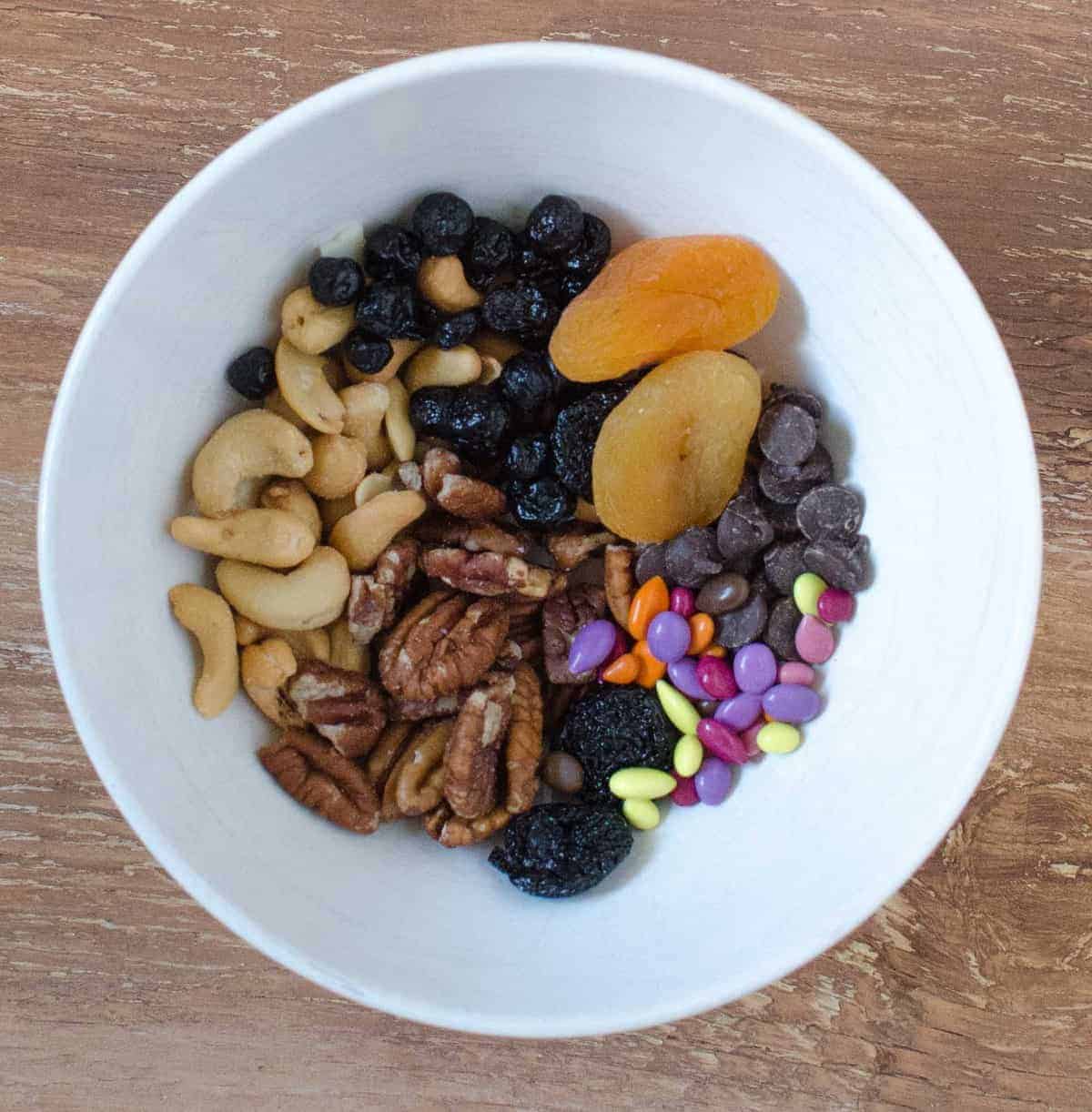 Dried cherries, dried blueberries, dried apricots, cashews, pecans, dark chocolate chips, and candy-coated sunflower seeds.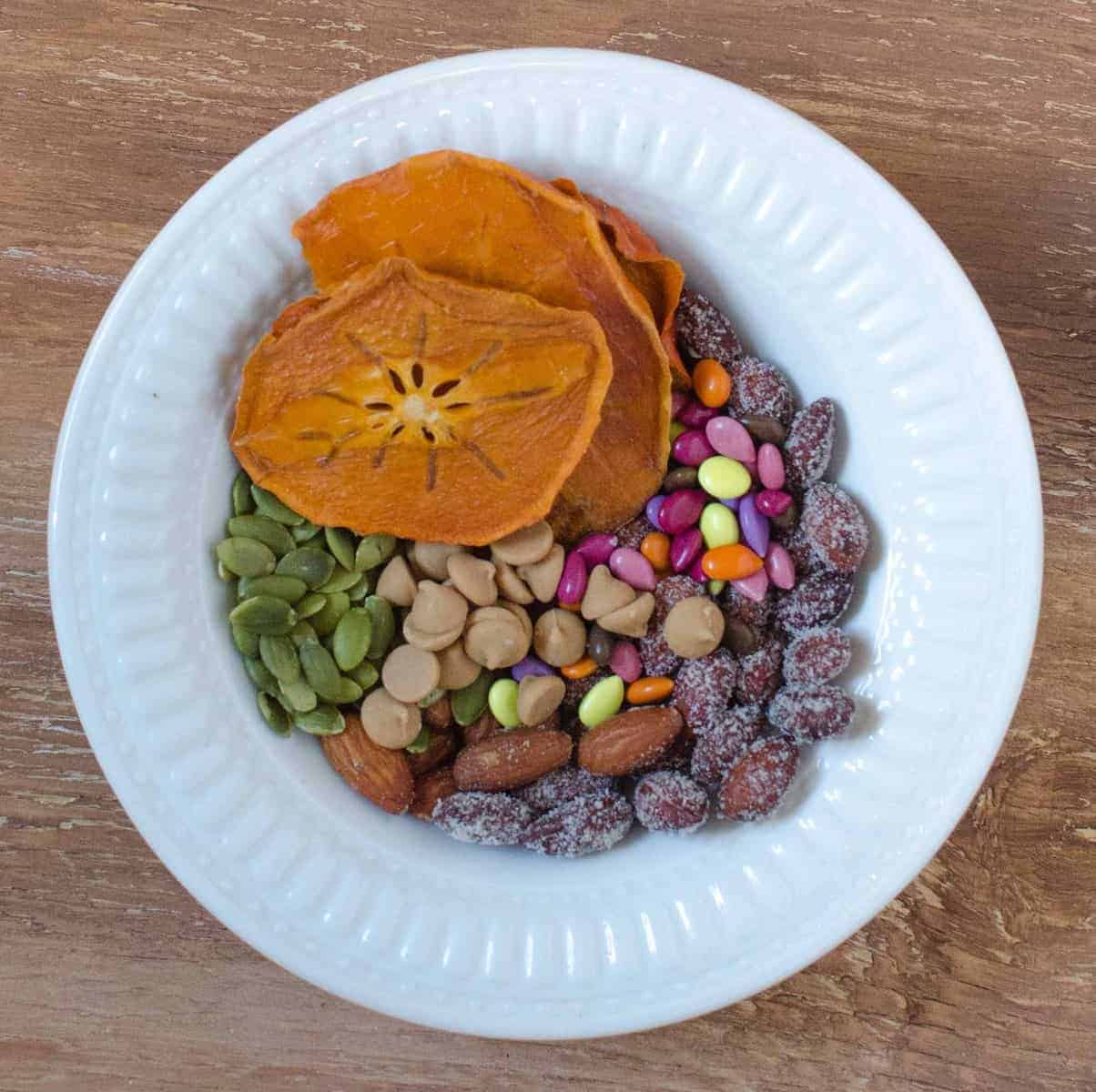 Dried persimmon (Aren't they pretty? Very chewy, FYI), honey roasted and salted almonds, pumpkin seeds, peanut butter chips, and candy-coated sunflower seeds.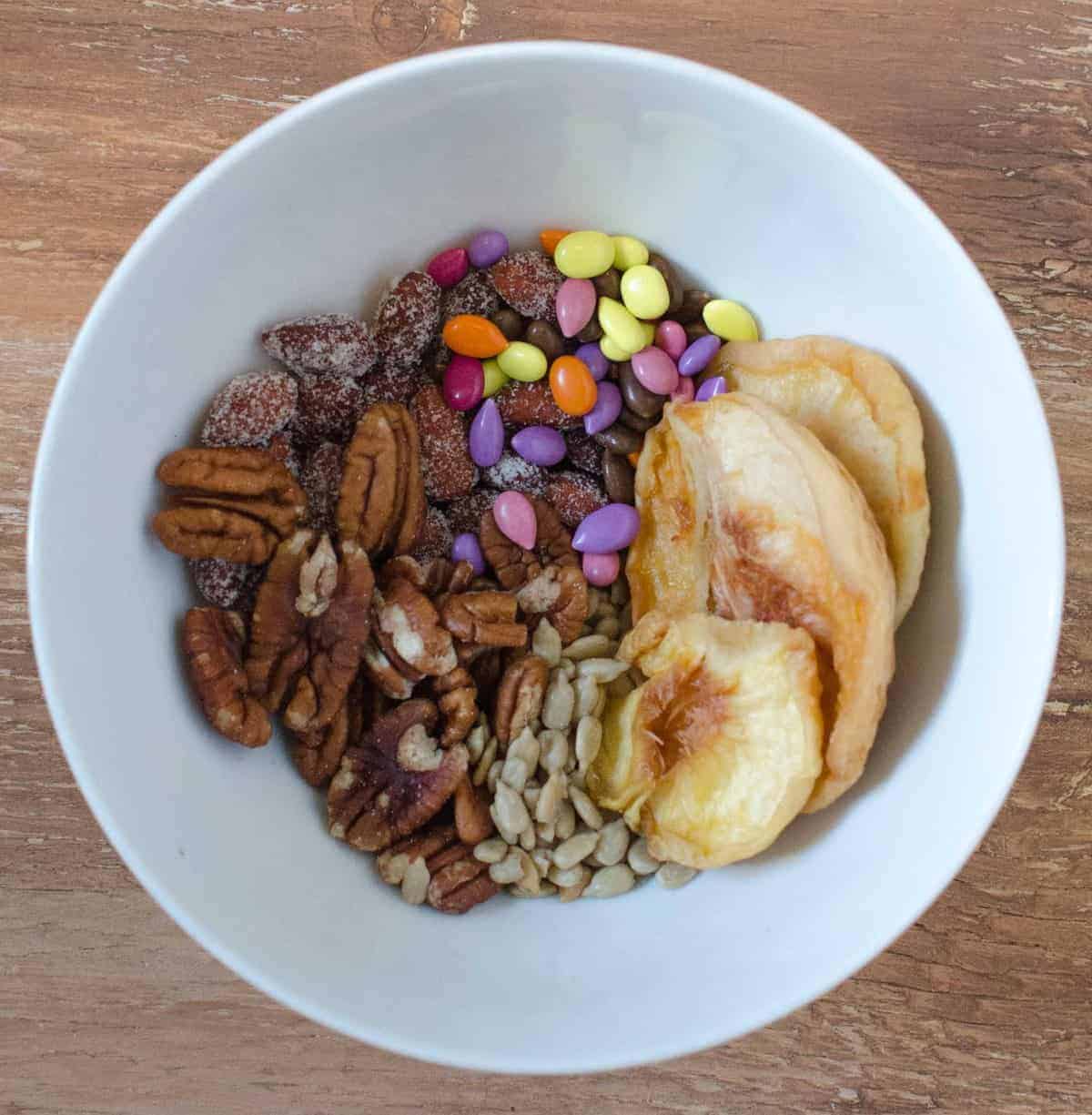 Dried white peaches, honey roasted almonds, pecans, sunflower seeds, and candy-coated sunflower seeds.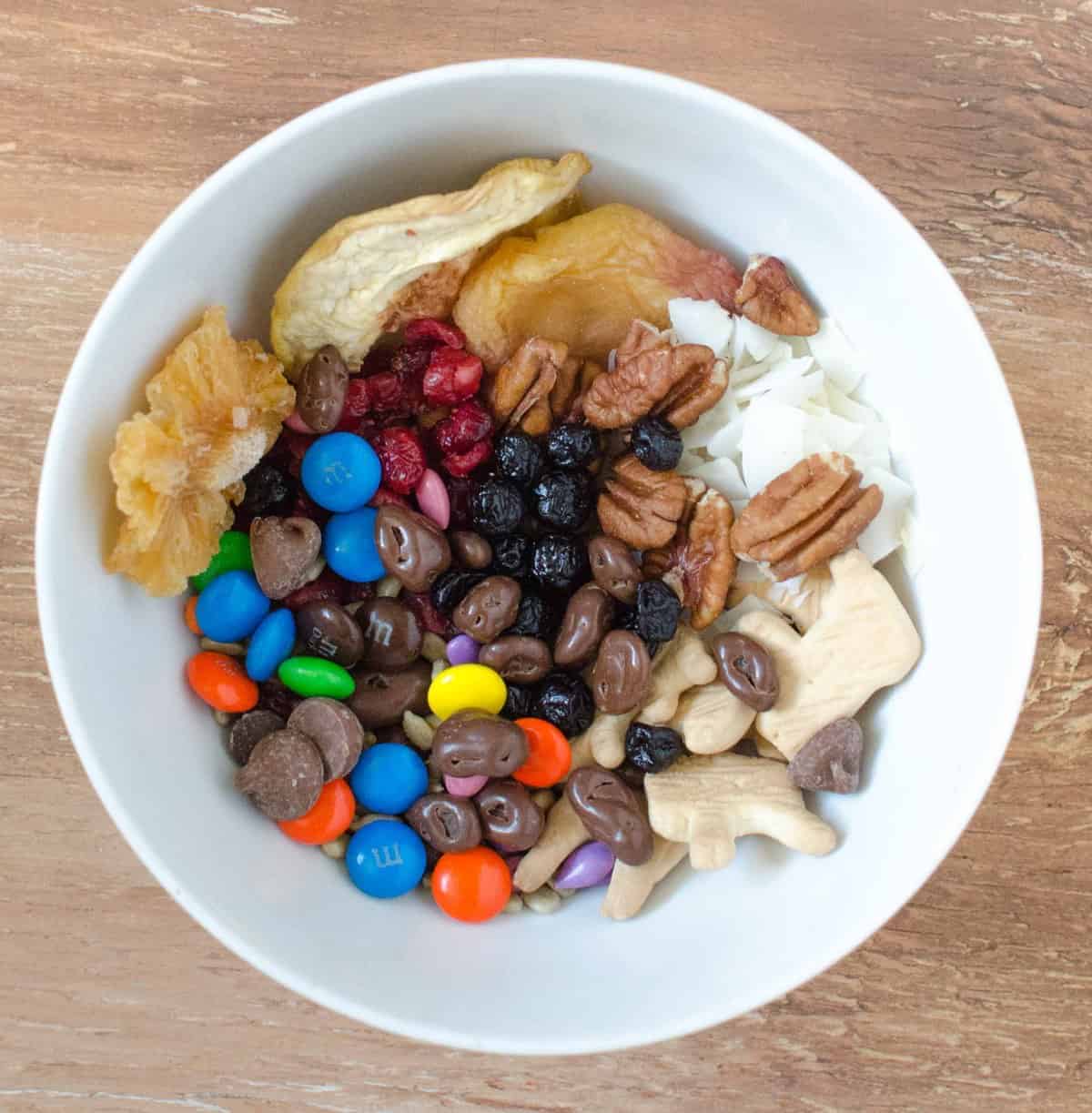 Dried pineapple, white peaches, blueberries and cranberries, walnuts, sunflower seeds, animal crackers, chocolate-covered raisins, M&M's, and milk chocolate chips.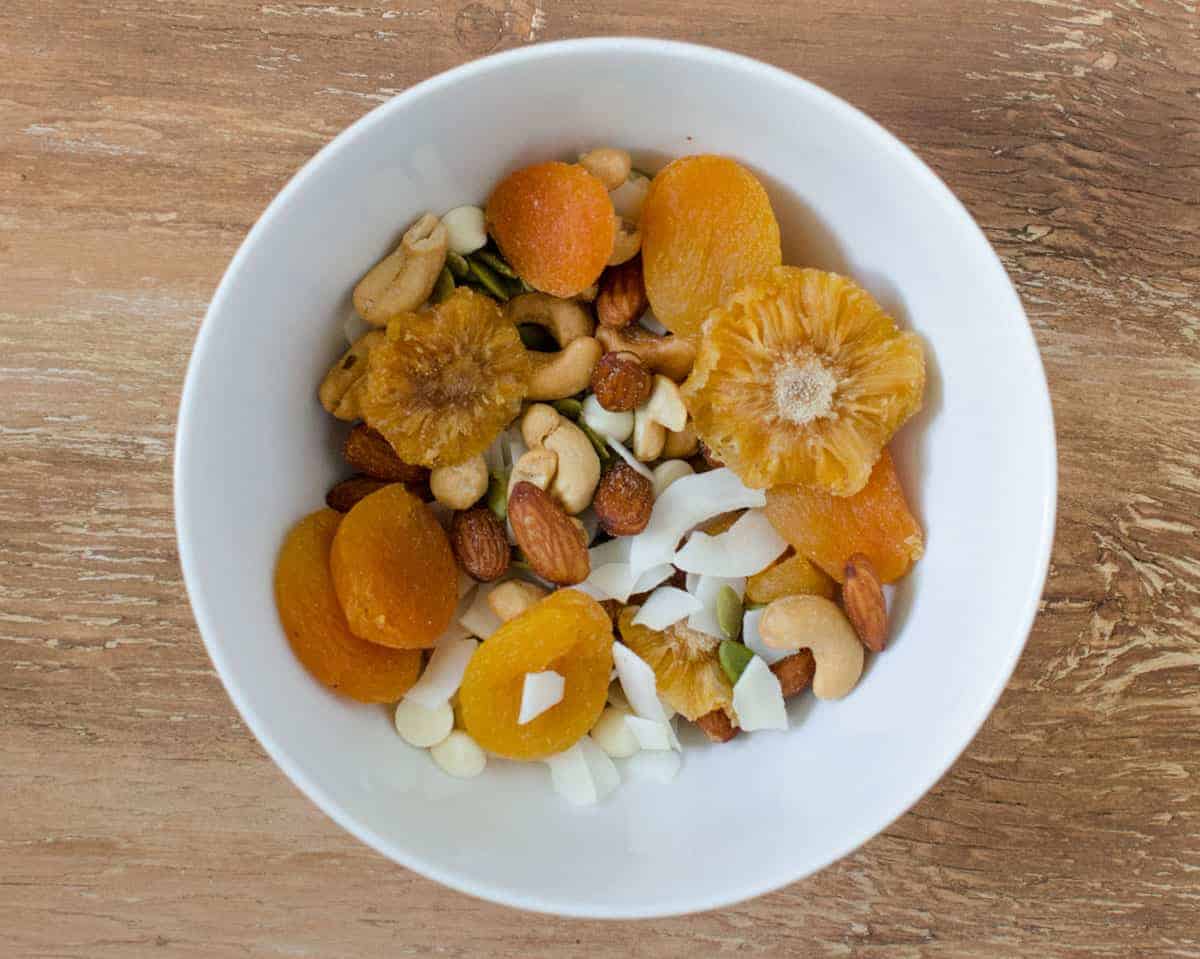 Dried pineapple and apricots, salted almonds, cashews, white chocolate chip, pumpkin seeds, and coconut chips (my personal favorite!).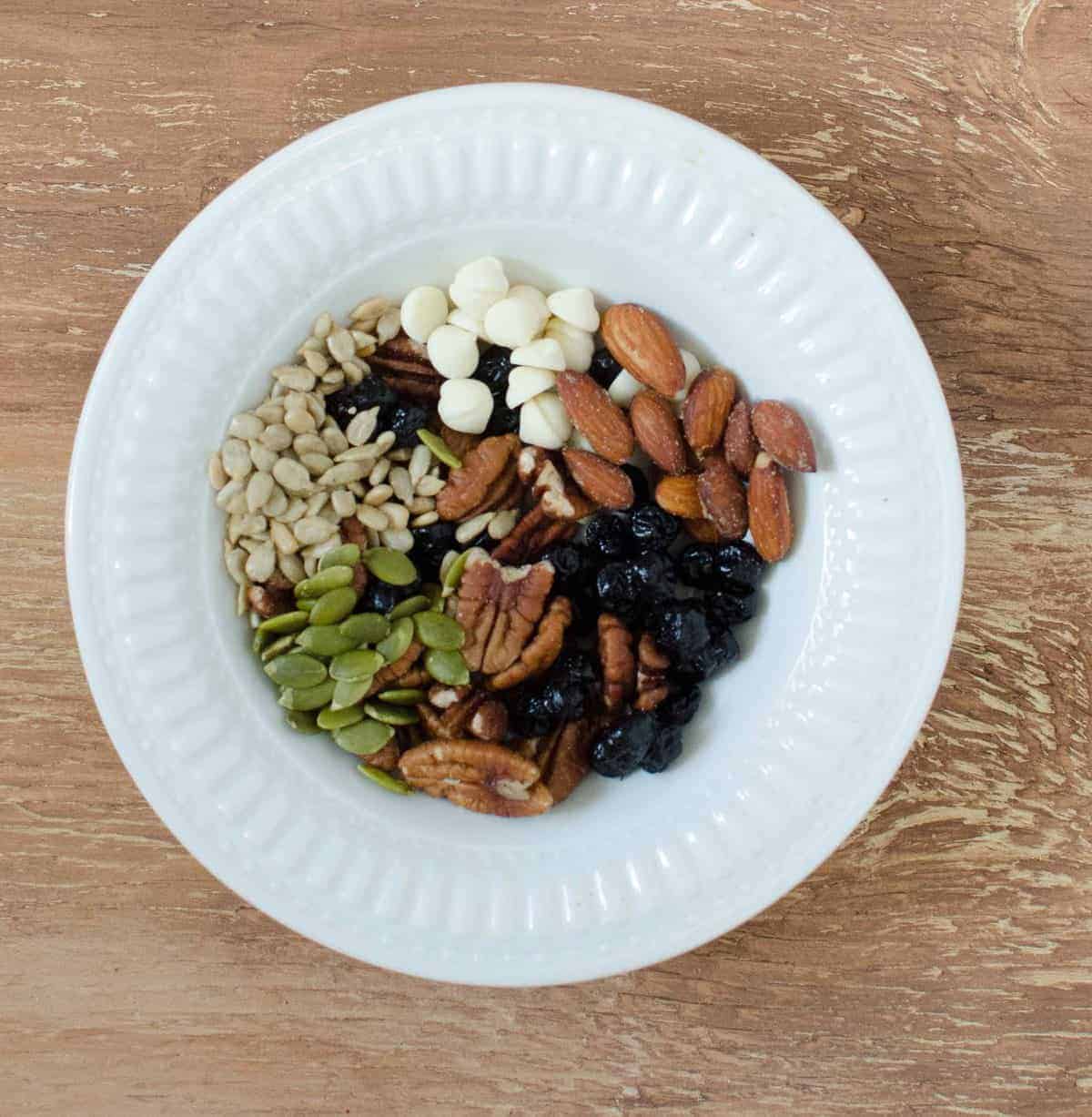 Dried blueberries, salted almonds, pecans, pumpkin seeds, sunflower seeds, and white chocolate chips.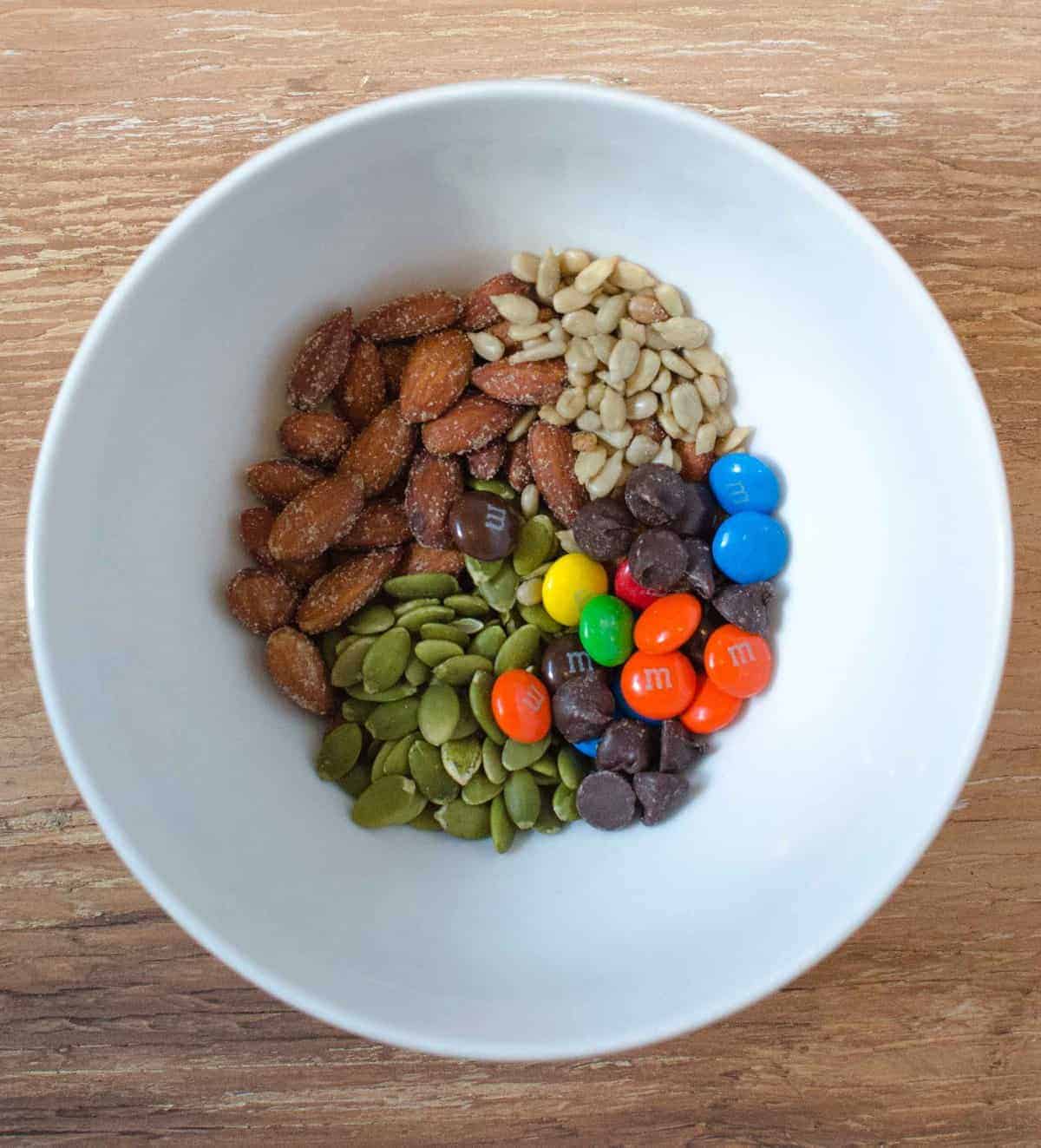 Honey roasted almonds, pumpkin seeds, sunflower seeds, M&M's, and dark chocolate chips.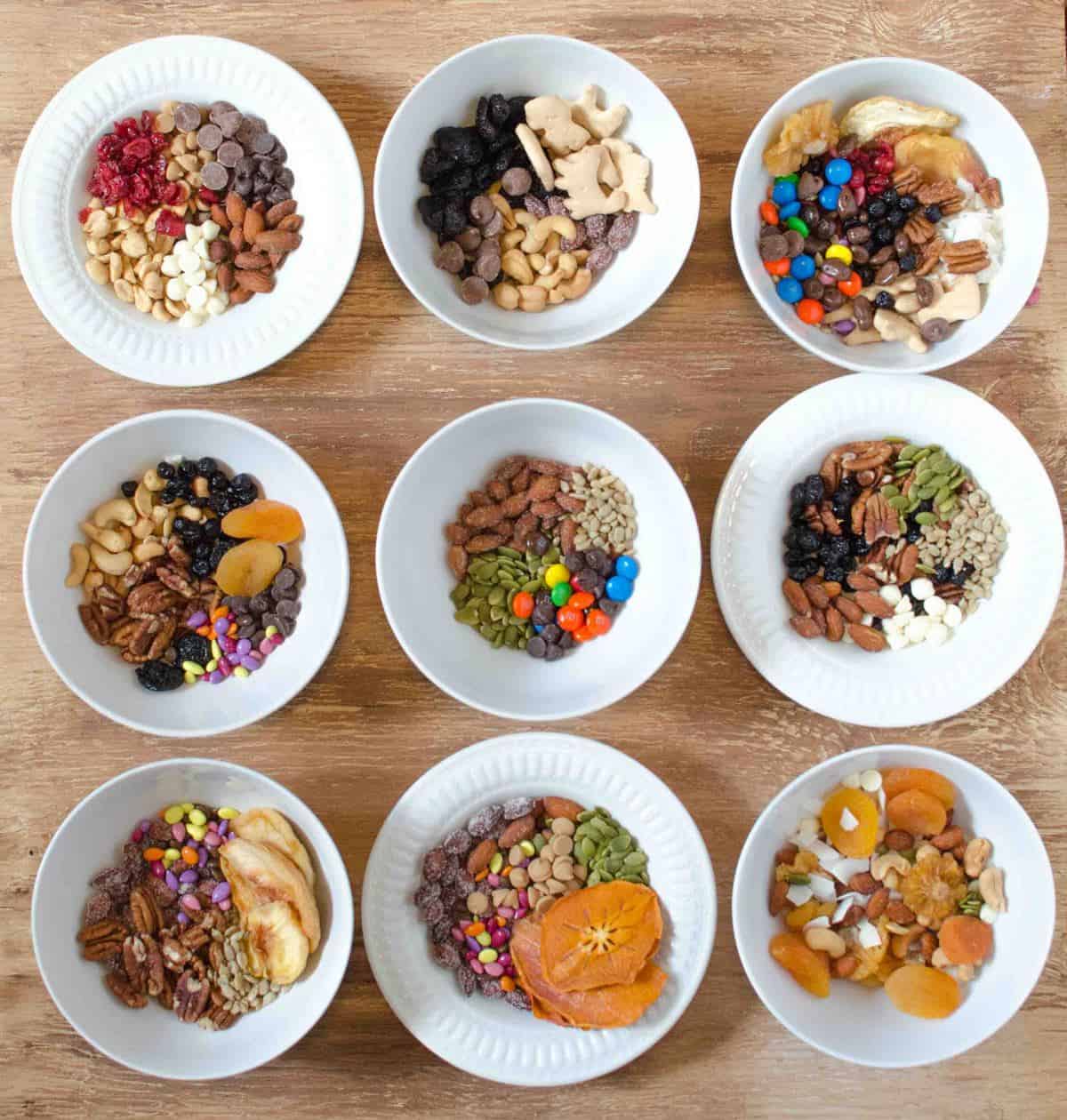 The possibilities are pretty endless with it comes to the number of trail mix options that you can make!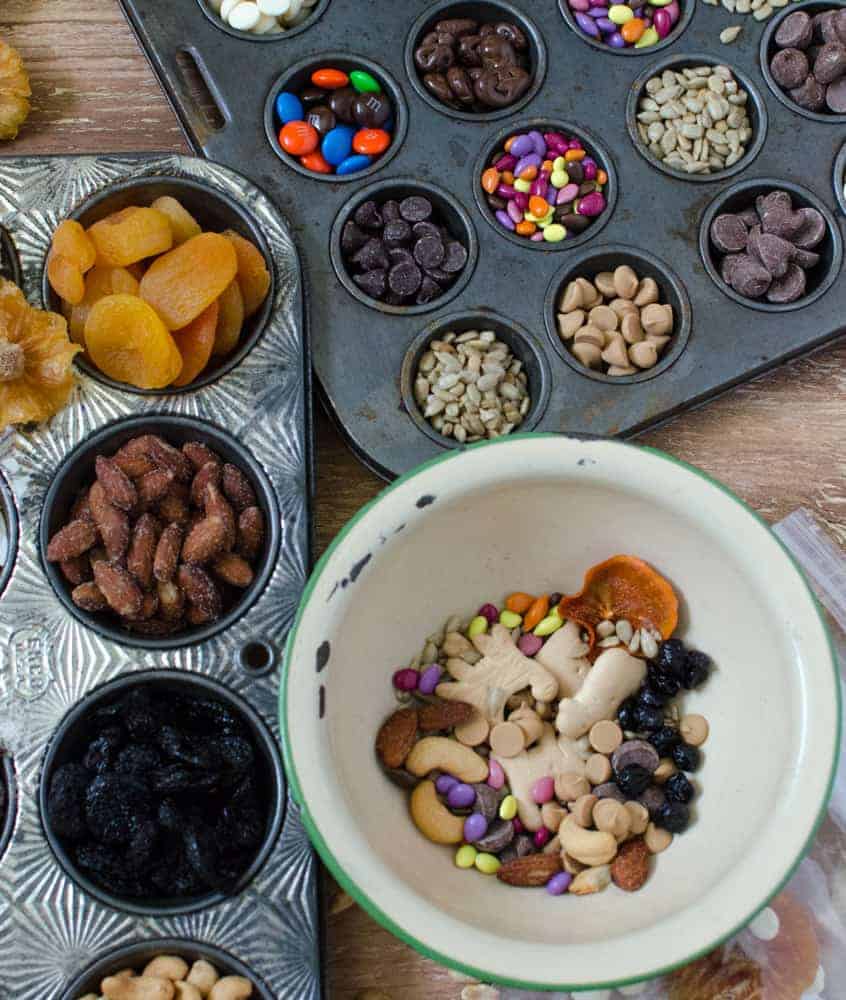 If are you are looking for a few other simple snack recipes I recommend my super easy (super tasty):
I hope you'll set up a little DIY Trail Mix for your kids/family/party this summer and enjoy how fun and simple it is to make some simple snacks with your kids and family!