This Easy Grilled Salmon Recipe is perfect for grill novices to learn how to grill salmon. It's flaky, lemony, and salty in all the best ways, and comes together with little time or effort!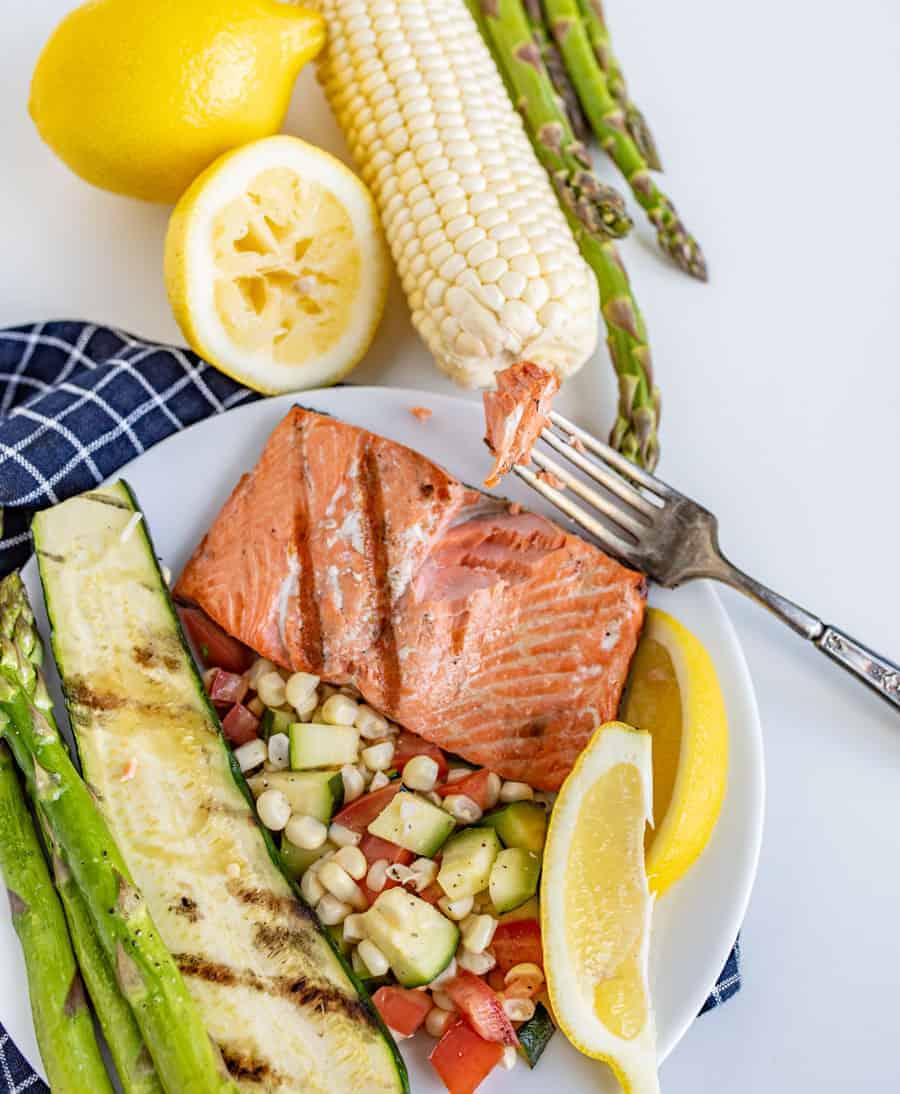 Grilled Salmon Recipe
One of my favorite summertime meals is grilled salmon with bright veggies on the side. To me, lemon juice on grilled salmon is a nonnegotiable accent that boosts the rich flavors and adds lots of citrusy freshness to the final product! You can even grill your lemon halves for an extra smokey element. This is a great healthy meal for busy weeknights or casual weekend meals because it comes together super quickly and with minimal effort.
Because grilling salmon takes such a small amount of time, it pairs really well with fast-cooking vegetables, like asparagus and zucchini. Whether you're a grilling newbie or an old pro, I feel like salmon is an underutilized grilled food that we should be making more often, and this recipe is approachable for everyone! It's so delicious and vibrant, and couldn't be easier to make.
Season it with the usual suspects (salt, pepper, and lemon), or whip out a fun seasoning mix, fish rub, or lemon pepper to shake things up a bit. You can have fun with this and make it a little differently every time!
How long do you grill salmon?
Once my grill's nice and hot, I turn down the heat to low and place the salmon fillets on the grate, close the lid, and let it cook for 6 minutes. Once that time's up, I flip the fillets using a metal spatula and cook them for another 4 to 6 minutes. This is usually perfect for standard 1.5-inch thick fillets.
Do you eat the skin on salmon?
So, this is totally up to you! It's safe to eat salmon skin, although some people don't like the texture or idea of fish skin (hey, I get it). But the skin does have a lot of the same nutrients that are in the fish itself, so it's perfectly healthy to eat. Plus, grilling it gives it a good crispy, crunchy texture that's actually quite nice.
If you don't want to eat it, still cook it with the skin on. It'll help keep the fish together while grilling, and it adds to the flavor. After cooking, the skin is super easy to peel off on a plate if you want to toss it.
How hot should the grill be for salmon?
Heat up your grill on high to grill salmon. This will usually mean it gets up to about 500 degrees F. If you're using a charcoal grill, let the charcoals heat up until they are covered in a white-gray ash. This should take about 5 to 10 minutes after you light the charcoal. Then drop the heat once you put the fish on to medium or use an indirect heat method for charcoal grilling.
How do you know when salmon is done grilling?
When salmon's done cooking, it'll flake easily with a fork or knife. It will also pull away from the skin with ease when it's all done. Some smaller fillets may not need to be flipped at the 6-minute mark and might be cooked through in that shorter amount of time. Just eyeball it, and test it with a fork when you think it's ready!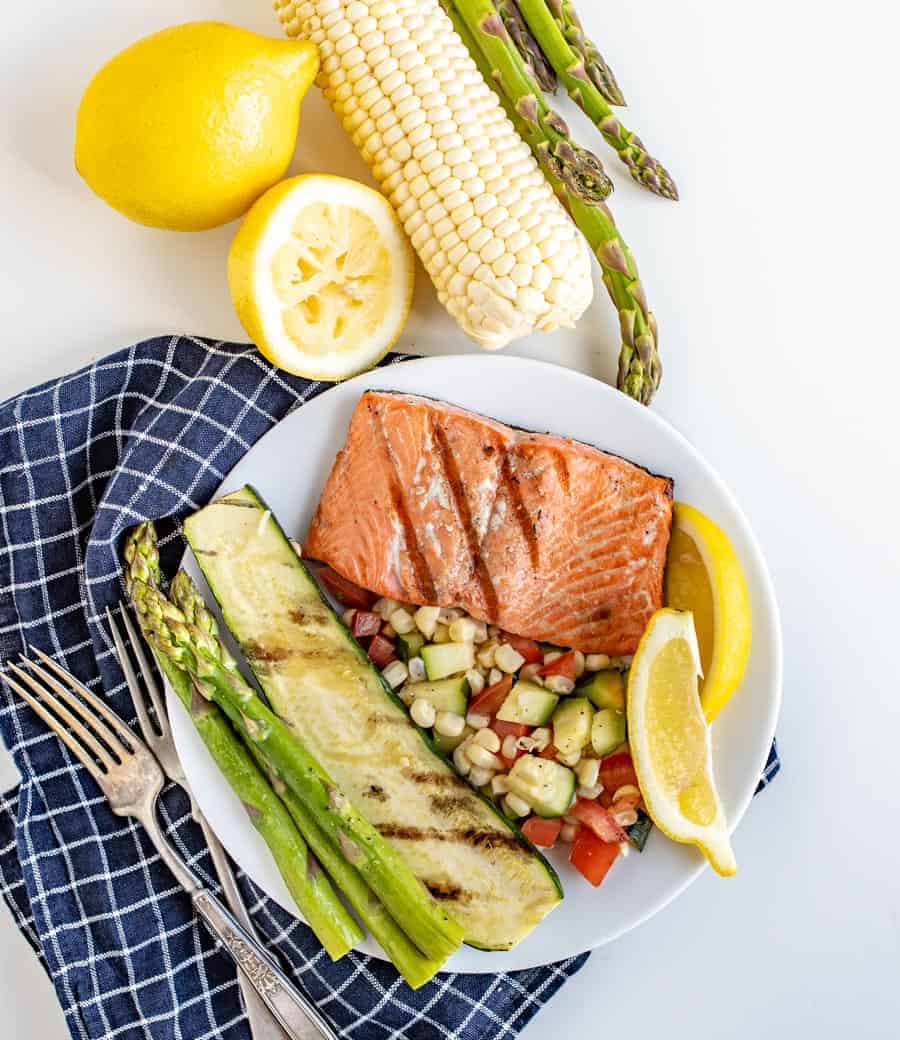 Print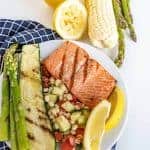 Easy Grilled Salmon Recipe
---
Author:

Total Time:

15 minutes

Yield:

Serves 4
Description
This Easy Grilled Salmon Recipe is perfect for grill novices to learn how to grill salmon. It's flakey, lemony, and salty in all the best ways, and comes together with little time or effort!
---
4

8-ounce salmon fillets

2 tablespoons

melted butter or olive oil

1 teaspoon

kosher salt

1

-

2

lemons, halved
Additional salt and pepper to taste
---
Instructions
Rinse the fish, and lay it onto paper towels. Use the paper towels to pat the fish dry, and place the fillets on a wire rack (a baking or cooling rack placed inside of a baking sheet works great to catch any drips and spills).
Sprinkle half the salt and half the pepper over the fish. Carefully drizzle half of the olive oil or melted butter over the seasoned fish. Using a pastry brush or your fingers, evenly distribute the oil/butter all over that side of the fish. Flip the fish over on the rack, and repeat with remaining salt, pepper, and oil or butter. Let the fish rest while you fire up the grill.
Turn your grill on to high, and allow it to heat for 5 minutes, until the grill is very hot. Carry the fish out, and open the lid to the grill -- it should be very hot. Use a brush to scrape the grill grate clean, and then lower the temperature to low. Place the fish on the grill, close the lid, and leave the fish to cook with the lid closed, for 6 minutes. Use a metal spatula to flip the fish once, close the lid, and cook for an additional 4 to 6 minutes, until the fish is flakey when you test it with the tip of a knife. Using a metal spatula, remove from the grill.
Sprinkle with additional sea salt and lemon juice before serving, and then serve with additional lemon slices (the first squeeze of lemon isn't optional -- it makes it over-the-top amazing, but additional lemon for serving is based on personal taste).
Notes
Feel free to use another seasoning besides salt if you'd like. This is a great time to use a little seasoning mix or blend specific to fish, or something like lemon pepper if you have it. The salt is classic, but you have flexibility!
This recipe is for traditional salmon fillets that are about 1.5 inches thick. If you have thinner salmon, chances are it will cook through without turning it on the grill in the first 6 minute cooking time. Just check it, and take it off the grill if it has cooked through without turning.
Salmon grills quickly so this is a great recipe to grill alongside quick cooking vegetables, like asparagus and zucchini.
Prep Time:

5 min

Cook Time:

10 min

Category:

fish

Method:

grill

Cuisine:

American
Keywords: how to grill fish, grilled fish, salmon, grilled salmon, 15 minute dinner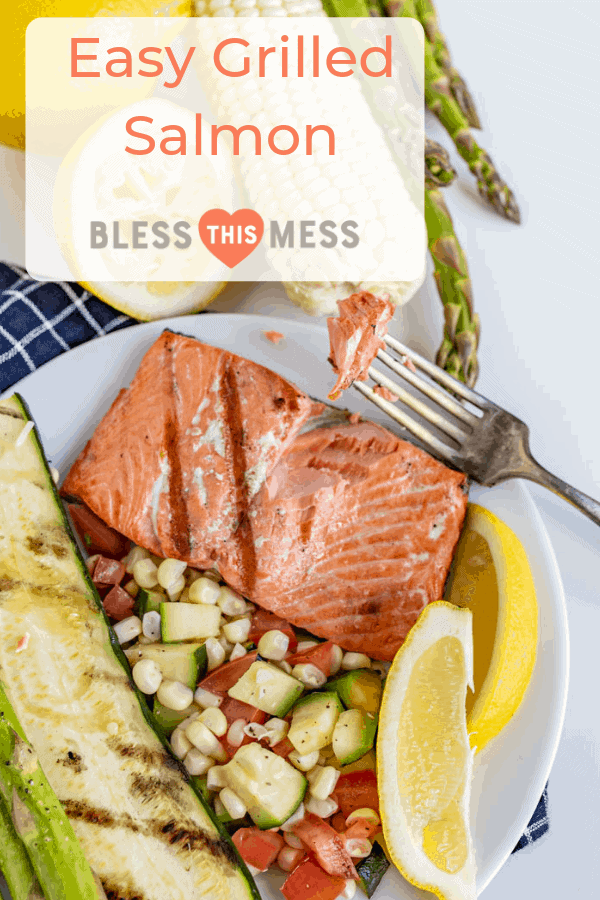 Complete the meal with one of these recipes:
Other grilling recipes for you:
This Simple Grilled Salmon Recipe is perfect for grill novices to learn how to grill salmon. It's flaky, lemony, and salty in all the best ways, and comes together in about 30 minutes or less which is a big win in my book.