Looking for an easy breakfast to make that only takes 4 simple ingredients? German pancakes are my go-to because the recipe just uses the staples: eggs, milk, flour, and a bit of butter!
German pancakes or Dutch Babies are a favorite at our house and will be at yours too. I think what I love most about them is that you can turn a few eggs and just a bit of flour and milk into a meal for the family. They're practically magic.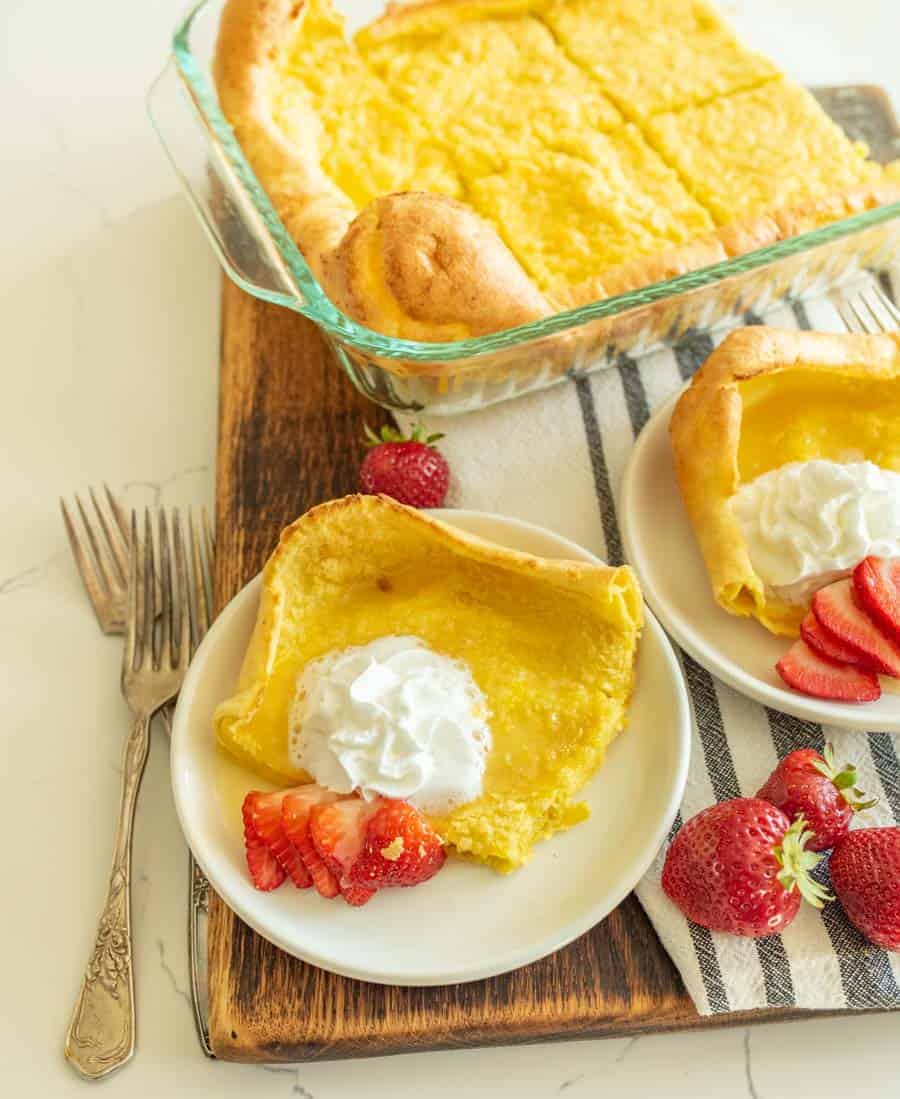 Making German pancakes is as simple as beating 6 eggs together, adding milk and flour, and beating them together well. The butter preheats in the pan and then you just dump the egg mixture in. The eggs make the pancake rise and get extra tall and puffy on the edges of the pan.
When you pull them out of the oven they look nothing like what you put in. So not only are they easy to make with minimal ingredients, they are also a little bit magic.
I started making German pancakes to use up extra eggs (hello backyard chickens!) and because it's a one pan meal my whole family loves. I can't wait for you to make these too.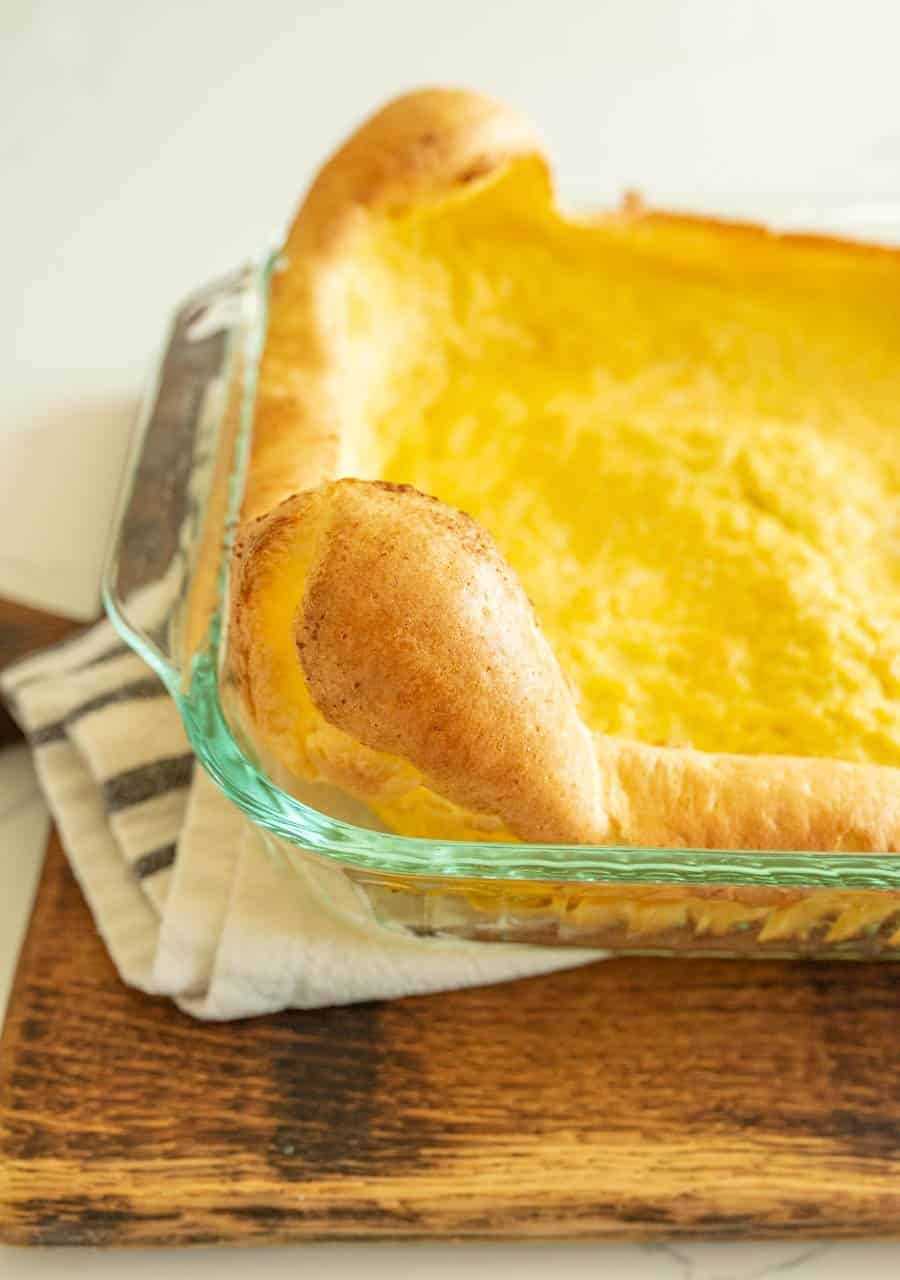 Is it a German Pancake or a Dutch Baby?
Glad you asked, I get confused about the difference too. The short answer is that a German pancake is essentially the same thing as a Dutch Baby. The current form of the German pancake or Dutch Baby is said to have originated at Manca's Cafe in Seattle between 1900 and 1919. Family lore states that the restaurant owner's daughter coined the term "Dutch Baby" because she couldn't pronounce the word "Deutsch" - the German word for German. The "Baby" in "Dutch Baby" may have come from the plate size pancakes they were serving as compared to a full baking dish sized German pancake.
Ingredients for this German pancake recipe:
Eggs: the fresher the better (I'm totally a crazy chicken lady, so if you need an enabler to get chickens or more chickens, I'm here for you). Fresh eggs give extra height and volume to the edges.
Milk: I like to use 2% or whole milk for this recipe. Skim works fine but the pancakes are a little more chewy in the end. Cream doesn't work (they tasted great but were too heavy to rise). And canned evaporated milk also doesn't work great (same issues with not rising well), but I've used it in a pinch when I was out of milk.
Flour: I like to use all-purpose white flour or whole wheat pastry flour for this recipe. The whole wheat pastry flour is light enough to get a good rise while still giving you those whole grain benefits. I have used both with great success.
Butter: you just use a few tablespoons of butter here to fully grease the pan. You'll preheat your oven and when it's almost fully preheated you'll put the butter in the bottom of your baking dish and then put it in the hot oven for a few minutes. This melts the butter AND preheats your dish which helps the egg mixture rise extra high. The butter helps to keep the egg mixture from sticking and it makes a nice little crust on the bottom.
Additions: if you like, you can add vanilla to the egg mixture for extra flavor - though we add enough syrup to the end dish I don't normally add it. You'll always want things for serving like fresh chopped fruit, fruit syrup, homemade buttermilk syrup, maple syrup, jam, whipped cream, etc. You can top a slice of German pancake with all kinds of things. If it goes on a crepe/waffle/traditional pancake then it'll be great on this too.
German Pancakes - Step by Step Instructions
Begin by preheating oven to 400°F.
Cut up a stick of butter and place in 9x13 inch baking dish (preferably glass).
Crack eggs in mixing bowl, whisk. Add flour while whisking, then milk, whisk to combine.
Put baking dish with butter into hot oven to melt (4-5 min).
Carefully remove and tilt to coat bottom. Place on cooling rack.
Whisk egg mixture, pour into hot dish and return to oven.
Bake 20 min or until puffy and golden.
Cut and serve warm with toppings. Top your puff pancake with fruit, whipped cream, or syrup for a delicious breakfast!

Topping Ideas for German Pancakes:
One of the things that we love the most about German puff pancakes is the toppings! You can top them with homemade buttermilk syrup, sliced strawberries, and whipped cream for a really fancy breakfast. You can also go simple with classic maple syrup. Lots of people I know give the German pancake a squeeze of fresh lemon juice and a sprinkle of powdered sugar. You have lots of topping options, so put what you like on top! I hope you enjoy this recipe for German pancakes!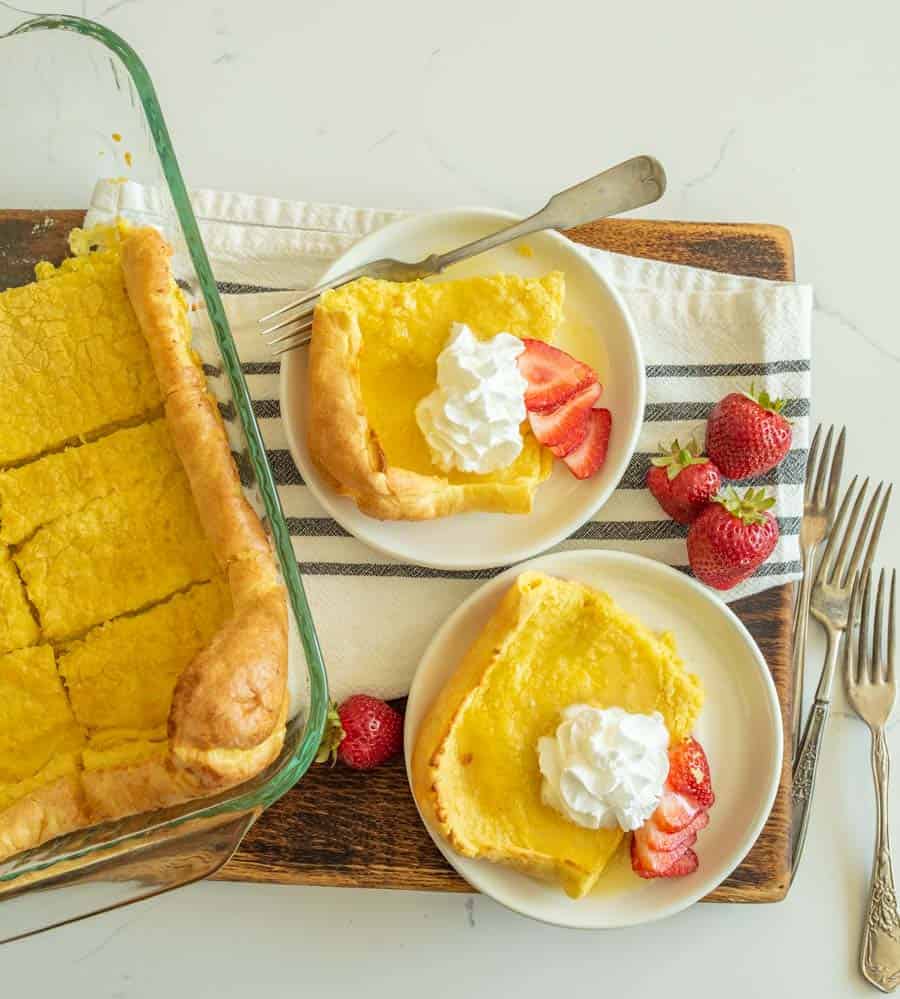 More easy breakfast recipes:
Print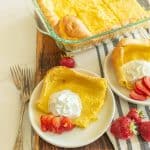 Easy German Pancake Recipe
---
Author:

Total Time:

30 minutes

Yield:

Serves 8
Description
Looking for an easy breakfast to make that only takes 4 ingredients? German pancakes are my go-to because the recipe just uses the staples: eggs, milk, flour, and a bit of butter!
---
4 tablespoons

butter (salted or unsalted)

6

large eggs

1 cup

all-purpose flour

1 cup

milk (2% or whole)

¼ teaspoon

salt, optional

1 teaspoon

vanilla extract, optional
---
Instructions
Preheat your oven to 400 degrees F.

Cut the butter into 4 equal pieces and place them on the bottom of a 9x13 inch baking dish. I prefer glass bakeware for this recipe, the slightly curved corners seem to help the German pancake rise.

While the oven if preheating crack the eggs into a medium-large mixing bowl. Whisk with a wire whisk to combine well.

Slowly add the flour while whisking until fully combined.

Add the milk and whisk to combine fully.

When the oven is hot or nearly fully preheated, add the baking dish with the butter to the oven. Let the dish rest in the oven until the butter is melted, 4-5 minutes. Don't let the butter stay in the oven too long as it can burn if left for too long.

When the butter is melted carefully remove the pan from the oven with oven mitts or hot pads, and while holding onto the edges of the pan, gently tilt the pan back and forth so that the melted butter fully covers the bottom of the baking dish. Place the hot pan on a cooling rack or hot pads on your countertop.

Give the egg mixture one last quick whisk and pour the mixture into the hot baking dish. Using oven mitts or hot pads, quickly and carefully place the hot pan back in the oven.

Bake for 20 minutes or until the German pancake is very puffy on the sides and golden brown.

Remove from the oven. Cut into pieces.

Serve hot with your favorite toppings such as syrup, fresh fruit, or whipped cream.
Prep Time:

10 min

Cook Time:

20 min

Category:

breakfast

Method:

bake

Cuisine:

American
Keywords: german pancakes, german pancake recipe, dutch baby, dutch baby recipe, dutch baby pancake, egg recipe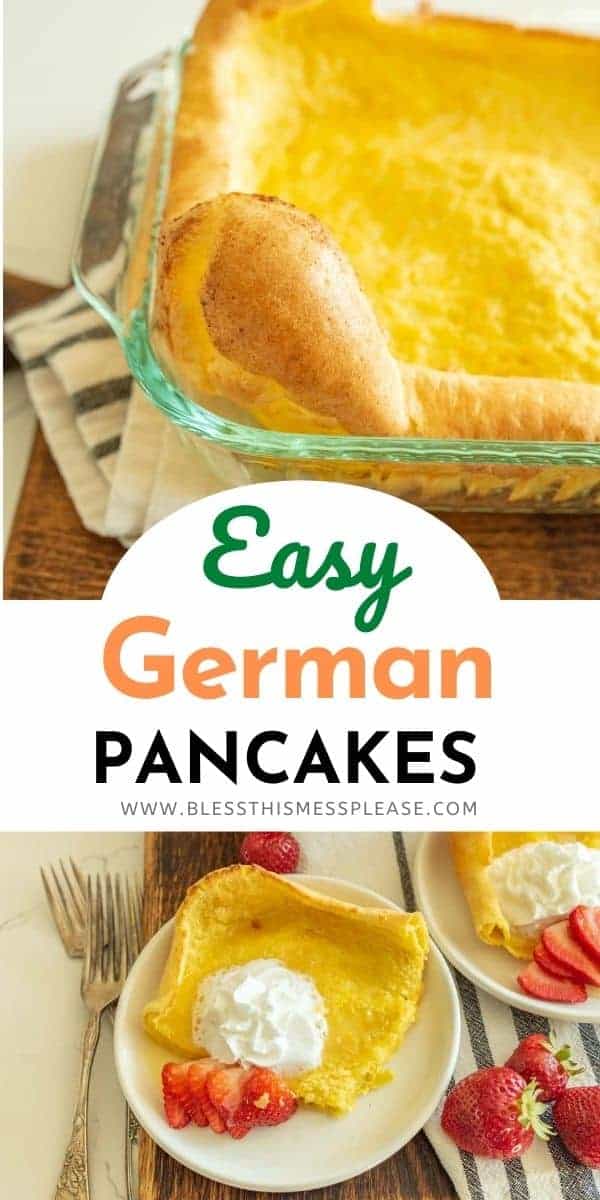 Looking for an easy breakfast to make that only takes 4 ingredients? German pancakes are my go-to because it just uses the staples: eggs, milk, flour, and a bit of butter! It's so easy and we love putting all kinds of toppings on it!