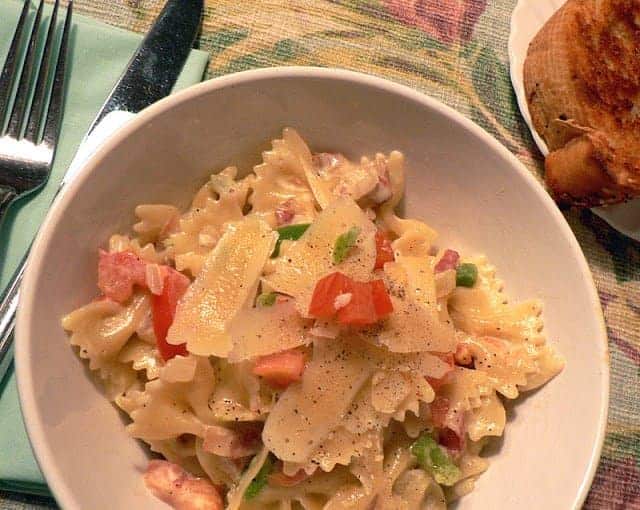 I love bacon. I love it because you get so much flavor for a relatively small amount of money. I buy a pound, cut it into thirds (package and all) and freeze each third individually in a baggie. I used a third of a pound of bacon in this recipe, but I wanted more. I'm calling for a half pound for the recipe, but a full pound never hurt anyone. Your significant other won't complain if you are a little heavy handed on the bacon either.
Now the pasta is "creamed" because the sauce is literally just cream.  It makes things light and wonderful.  You don't get an Alfredo-type sauce when you only use the cream.  The vegetables are really able to stand out with the light sauce, but don't forget the Parmesan on top.  It's not just a garnish and the dish will taste bland without it. Pasta with bacon is the best.
Creamed Pasta with Bacon and Vegetables
1/2-1 pound bacon
1 large onion, diced
2 or 3 cloves garlic, minced
1 large bell pepper, diced
1 cup heavy cream
1 large tomato, diced
1 pound pasta, cooked according to directions
salt and pepper to taste (it will need lots…)
Parmesan, shaved
Finely chop the raw bacon on a cutting board.  After bacon is chopped add it to a large skillet and cook over medium heat until slightly crispy.  If you are using half a pound of bacon, keep all of the grease in the pan.  If you are using a pound, drain off a tablespoon or two of the grease.
Add the onion and bell pepper to the bacon and bacon grease and cook until soft, 4 to 5 minutes. Whisk in the cream, scraping up any browned bits on the bottom of the pan. Let the mixture simmer for 10 minutes. Add the hot cream mixture to the hot cooked noodles. Add the diced tomatoes to the noodles. Salt and pepper to taste. Serve with lots of Parmesan on top.