The county fair was this past weekend I'm so excited to show you a little peak at all the fun! Come see small town America in all of it's glory!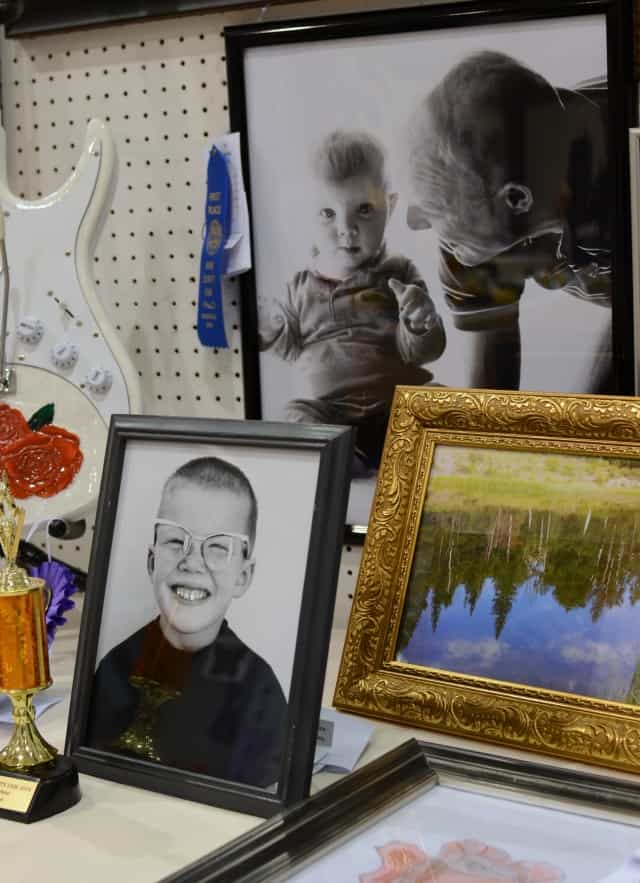 This was our family's first year really participating in the fair and it was so much fun! My Aunt Sally is on the fair board and so she asked me to help set up a "country store" where people who brought exhibits could bring extra items to sell. It was the first year doing it and it was so successful. Lots of people brought things to sell and lots of things were bought! It's so rewarding to see a community so involved and supporting each other.
I spent a lot of hours here! Isn't it great?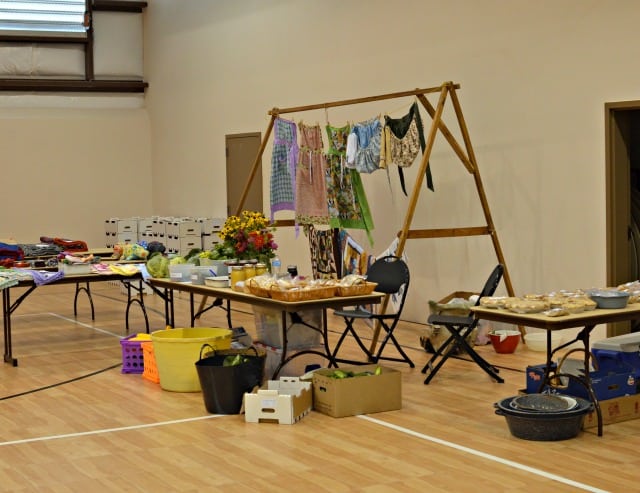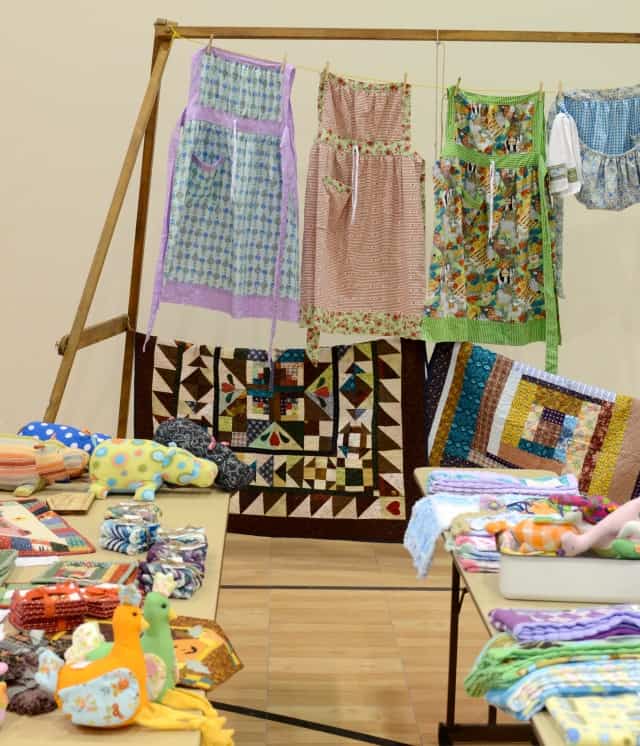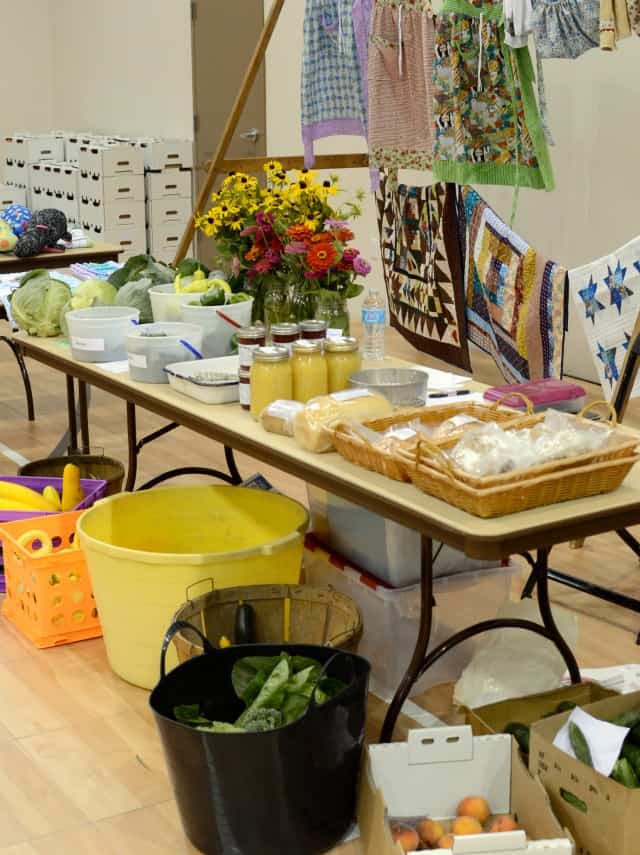 I also entered some of my handiwork from the past year and did SO WELL! Thomas called it beginner's luck and I totally agree. I took the overall grand champion in floriculture, fine arts, and canning! I also got reserve grand champion (we call it sweepstakes here) in canning, fine arts, and horticulture (for a gorgeous cabbage), and lots of other blue ribbons! Crazy! Here are some of my entries.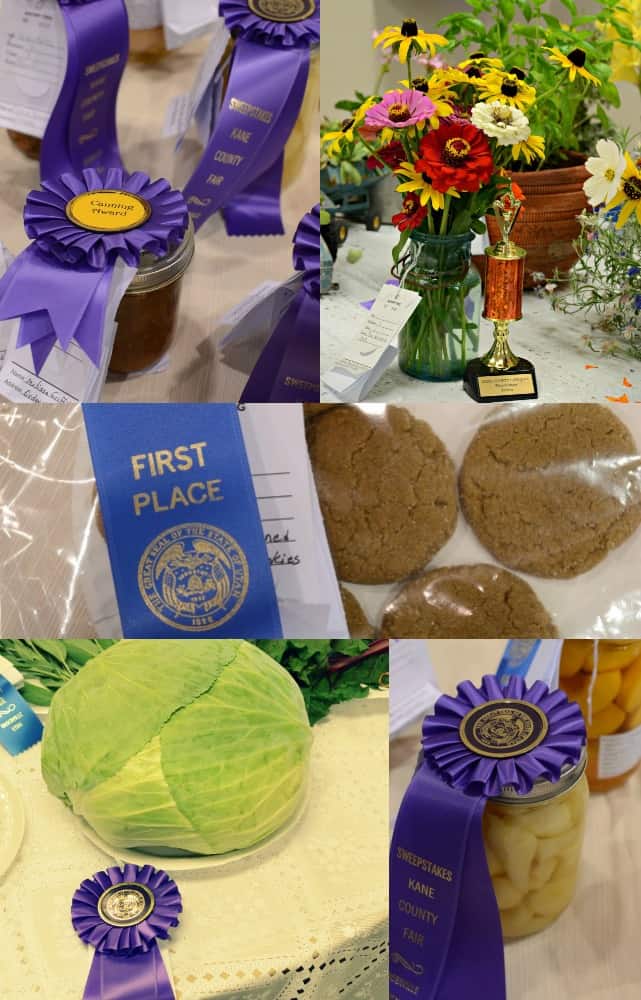 My prize-winning photo! That's Henry with my Great Aunt Effie Mae's glasses on! I really liked Thomas and the baby but the judges loved Henry. They said it captured a memory perfectly.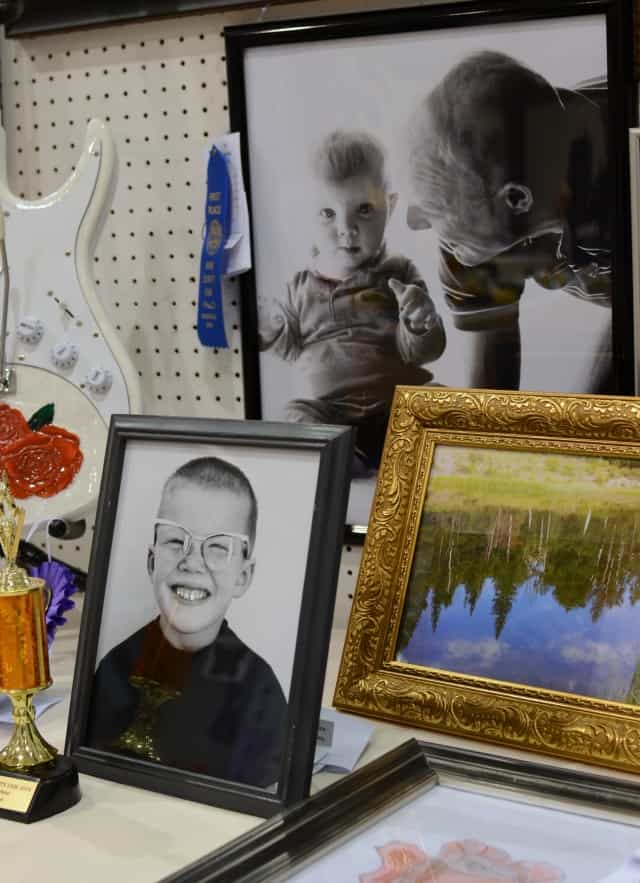 The canning jar picture is also mine. This window is at my grandma's house in Indiana and reminds me so much of her farm and my happy childhood. I literally teared up when I pulled the print out. I love it and it's so very nostalgic.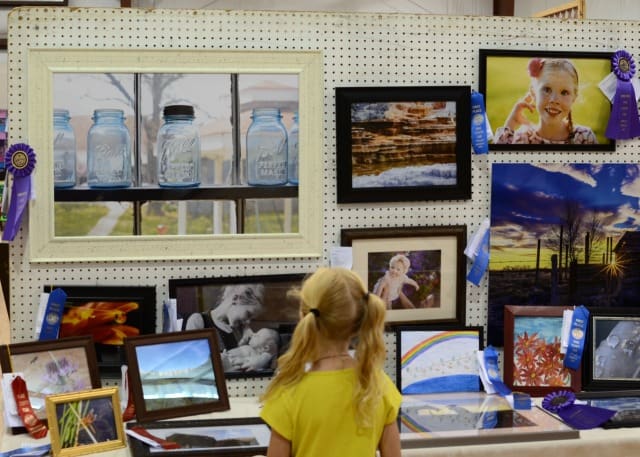 And here were a few other pictures I liked.
So many amazing quilts!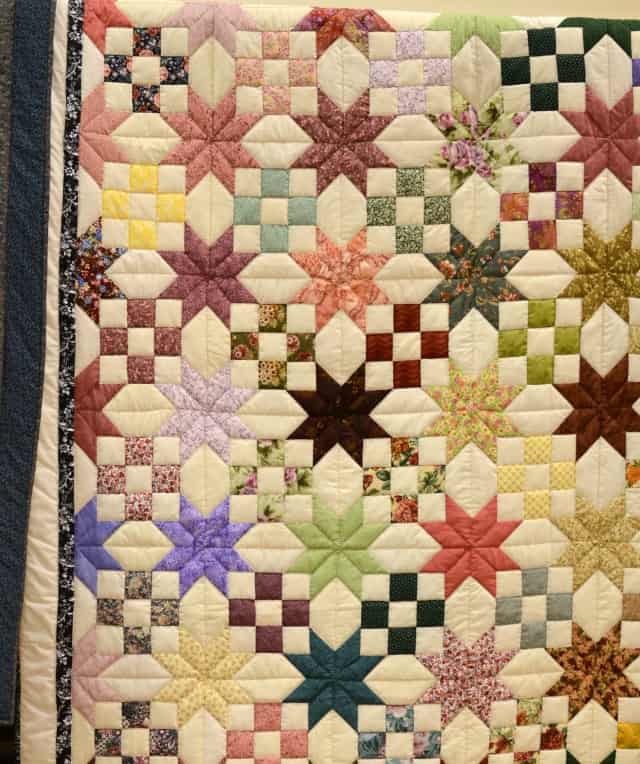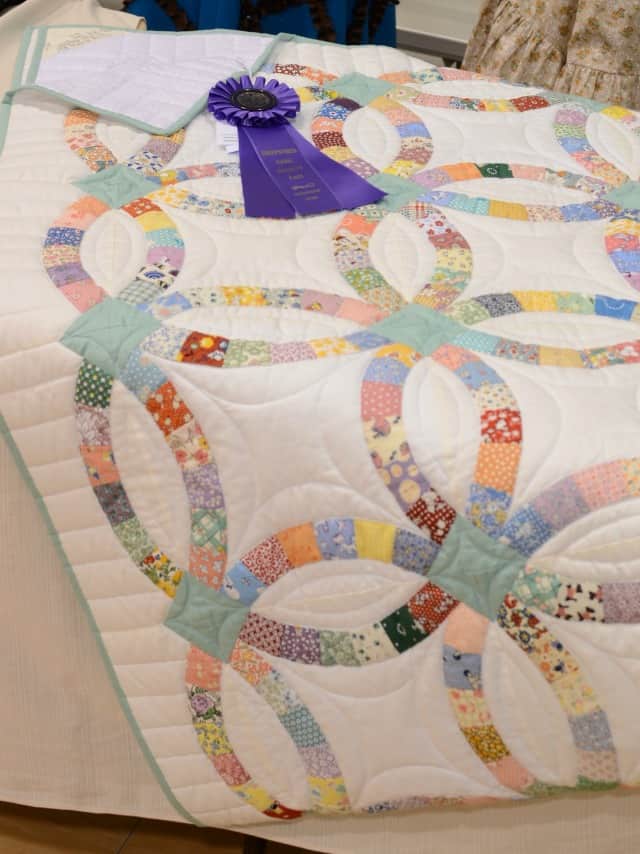 All kinds of local produce to purchase.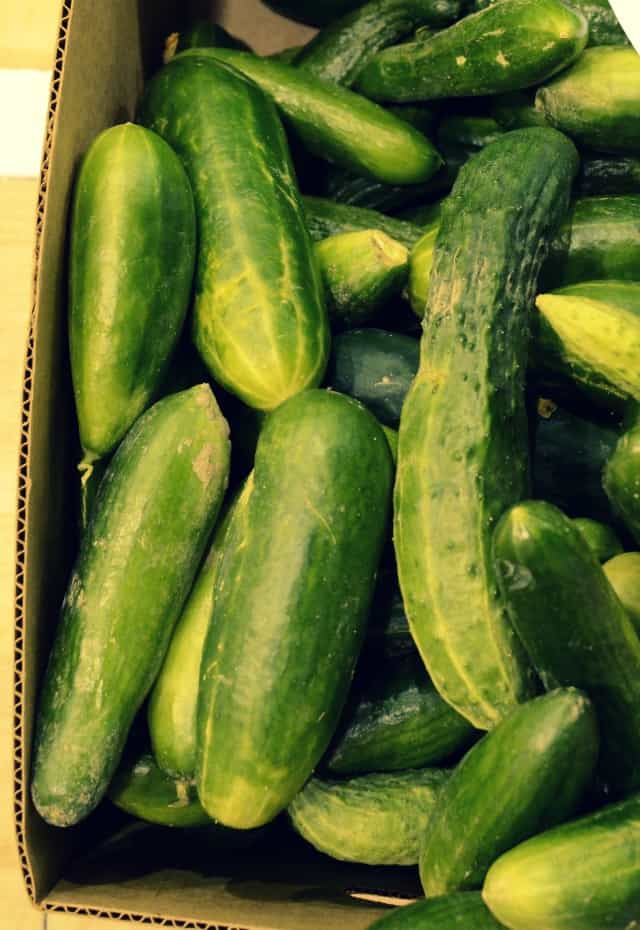 This was all happening inside while the livestock show was outside. I didn't make it out for pictures but it's quiet an exciting attraction.
The evening of the last day is the rodeo and it is SO MUCH FUN!
The people in this town are all kinds of rodeo/horse crazy and the events are really fun to watch.
Here are some of the rodeo events:
Hide Ride: a rider drags a cow hide behind the horse to the end of the arena where the partner has to jump on the moving hide and hang on while the horse and rider go as fast as they can back to where they started
Sweethearts Race: one member of the team runs out to the middle of the arena and jumps on top of a barrel. When the runner is on the barrel the horse rider goes as fast as they can to pick up the person on the barrel. The person normally jumps onto the back of the horse and they race back to the start. All of the couples in the pictures are doing this race
Mutton Bustin': Little kids are stuck on the back of a sheep and they ride it for as long as they can (totally crazy but the pictures were pretty funny)
Chicken Chase: Any kids in the audience can pay a quarter to come out into the arena and chase chickens, ducks, and rabbits. If they catch them, they get to keep them. My kids had their hearts set on a new rabbit and many tears were shed when they weren't fast enough to snag one.
There's also steer riding, calf roping, and barrel racing.
I'm not normally a rodeo goer, but when you know most of the people it's so much fun to watch.
All of these pictures were taken by my talented friend, Chris Williams who has an awesome photography blog. You can find his site, 365 Days In Zion here. And yes, they did go to Zion National Park every day for a year to take pictures. They are stunning!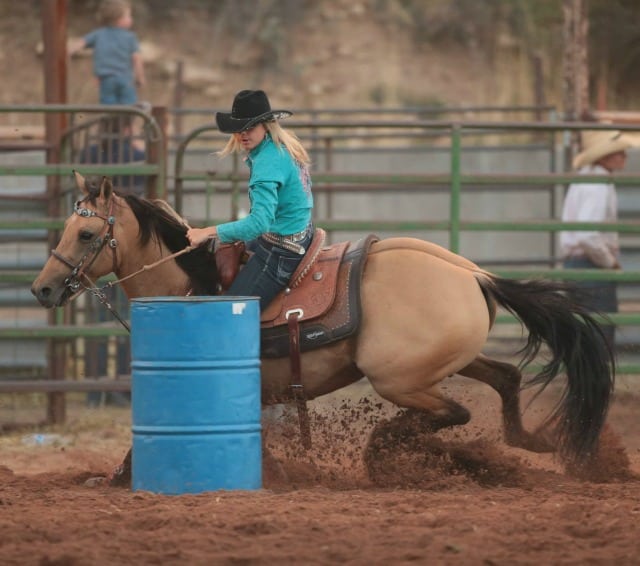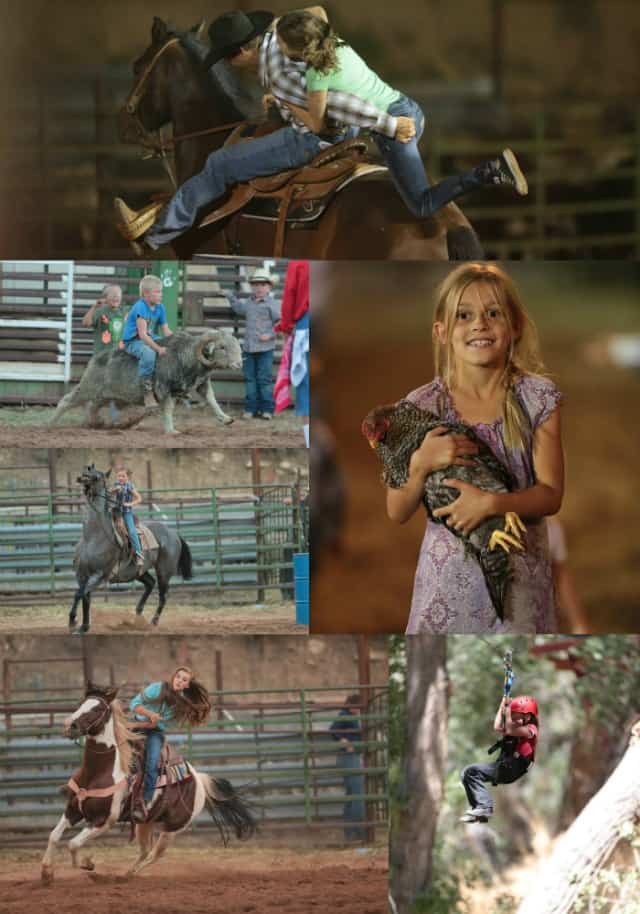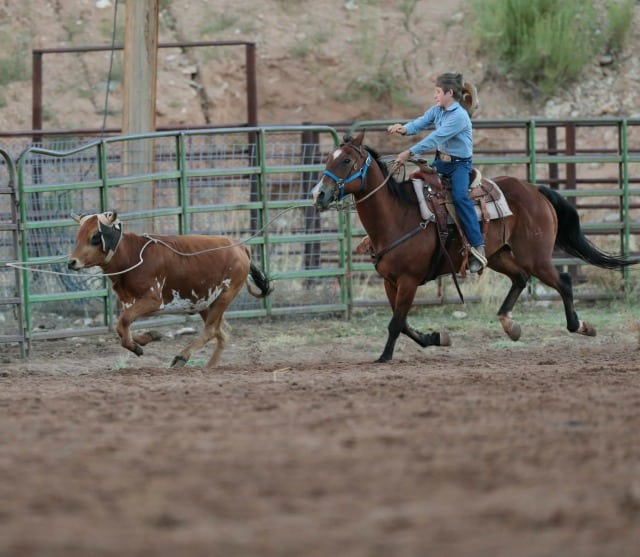 And of course there's so much more! Fair Queens, a parade, fireworks, live stock auction, and the hamburgers, oh the burgers. This was just a little snippet of how our tiny rural community comes together once a year to celebrate all of the things we love and work for.
Thanks for letting me share!
Have YOU ever put something in the county fair?