The best Tips and Tricks for Cooking Potatoes in the Oven all in one place so that you can make the perfect potatoes no matter the temperature, size, time, or if you have foil on hand.
There are all kinds of recipe, methods, and instructions for cooking potatoes in the oven and so I thought I'd collect up some of the most useful information for you in one place. I know that baking a potato doesn't sound like rocket science but with a little knowledge behind you, you'll find success in this simple kitchen skill no matter the baking temperature, size of potato, and even if you are out of foil.
Baked potatoes are one of my favorite easy things to make. They just take a little time but they are always a hit with the kids. I love that they can be a side dish or a main dish. And I love that you can dress them up in so many different ways! There's just so many ways to top a baked potato that you'll never have time to get bored with them. Plus them are easy to find, inexpensive to buy, and what kid doesn't love a potato?! Long live the mighty baked potato!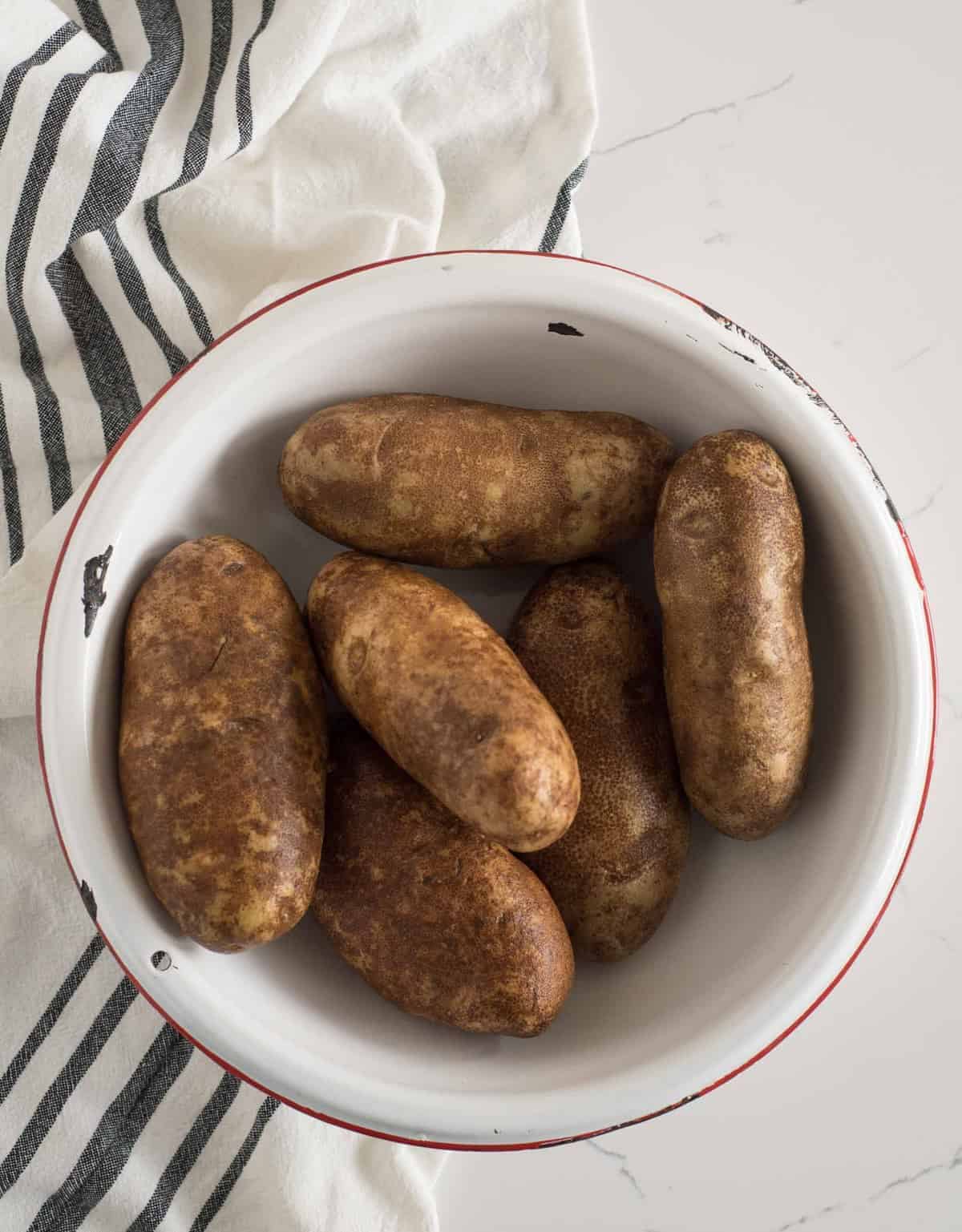 Q:What type of potato is best for baking?
A: Russets are generally considered the best potato for baking because of their high starch content which lends to that dry and fluffy texture we are looking for. You can use yellow or red new potatoes but they don't cool up as nicely. Stick with a classic russet for the best baked potatoes.
Q:What size of potato is best?
A: Use a size that makes sense for you meal and your family. The key is to cook potatoes that are similar in size so that they finish cooking at the same time. If I'm serving baked potatoes as a main dish, I'll choose large baking potatoes. If the baked potatoes are a side to accompany other things, I'll pick small to medium potatoes. I also tend to pick smaller potatoes more often because they cook faster and I have little kids in my family. We tend to waste less if everyone starts with a smaller potato, and I'll often just cook a few extras for my husband or the big kids who might want more than one.
Q:How long to I cook baked potatoes?
A: The amount of time it takes to cook a potato in the oven depends on two things - oven temperature and potato size.
Medium to Small Potatoes:
45 minutes at 400 degrees
60 minutes at 350 degrees
90 minutes at 325 degrees
Large Baking Potatoes:
1 hour 10 minutes at 400 degrees
1 hour 25 minutes at 350 degrees
1 hour 40 minutes at 325 degrees
That a general rule of thumb, but of course you'll have to adjust baking time to meet your individual potato needs 🙂
I have found that it's pretty hard to over bake a potato. If anything, they take longer than you were planning. So give them plenty of time to cook and if they get done a little early, just shut off the oven and let them sit in the hot oven until you are ready to serve.
Q:Should I use foil when baking a potato?
A: I feel like wrapping a potato in foil is personal preference but you need to know that you DO NOT need to wrap them in foil for cooking purposed. Potatoes will bake just great with or without foil. When wrapped in foil the potato skins steams and doesn't get crisp. If you like that, it's a-ok. If you like a crisp skin, ditch the foil. Here's a post about baking potatoes with out the foil if you need a good place to start. (ADD LINK)
Q:Do I have to prick the potatoes before baking?
A: The purpose is to let the moisture inside the potato escape, leaving the middle soft and fluffy without being mushy. So yes, poke away but don't feel like you have to murder said potato. A handful of pokes is adequate.
Q: What do you serve with/on your baked potatoes?
A: Of friends, I have some serving suggestions for you.
If your potatoes are a side you can serve with with these simple chicken legs (and cook them in the oven at the same time!), with Slow Cooker Teriyaki Meatballs, or with with these delicious (and easy) roasted chicken leg quarters. On the side I normally do a salad, roasted veggies, and some seasonal fruit. So easy.
If your baked potatoes are a main dish, you can serve with with this Instant Pot Broccoli and Cheese Soup over the top (great use for the leftovers of that soup), with lentil chili, or with traditional toppings like sour cream and green onions on top. The sky is the limit. I even like Sloppy Joe meat and pickles on top of baked potatoes (don't knock it until you try it!).
Q: What other tips and tricks for cooking potatoes do you have?
A: Did you know that you don't have to just cook potatoes in the oven? You can also cook them in the slow cooker and Instant Pot (pressure cooker). You can read all about that here.
See! So much to love.
I'm so glad I could share all of my baked potato tips and tricks for you today.
And here's my favorite baked potato recipe to go with it all.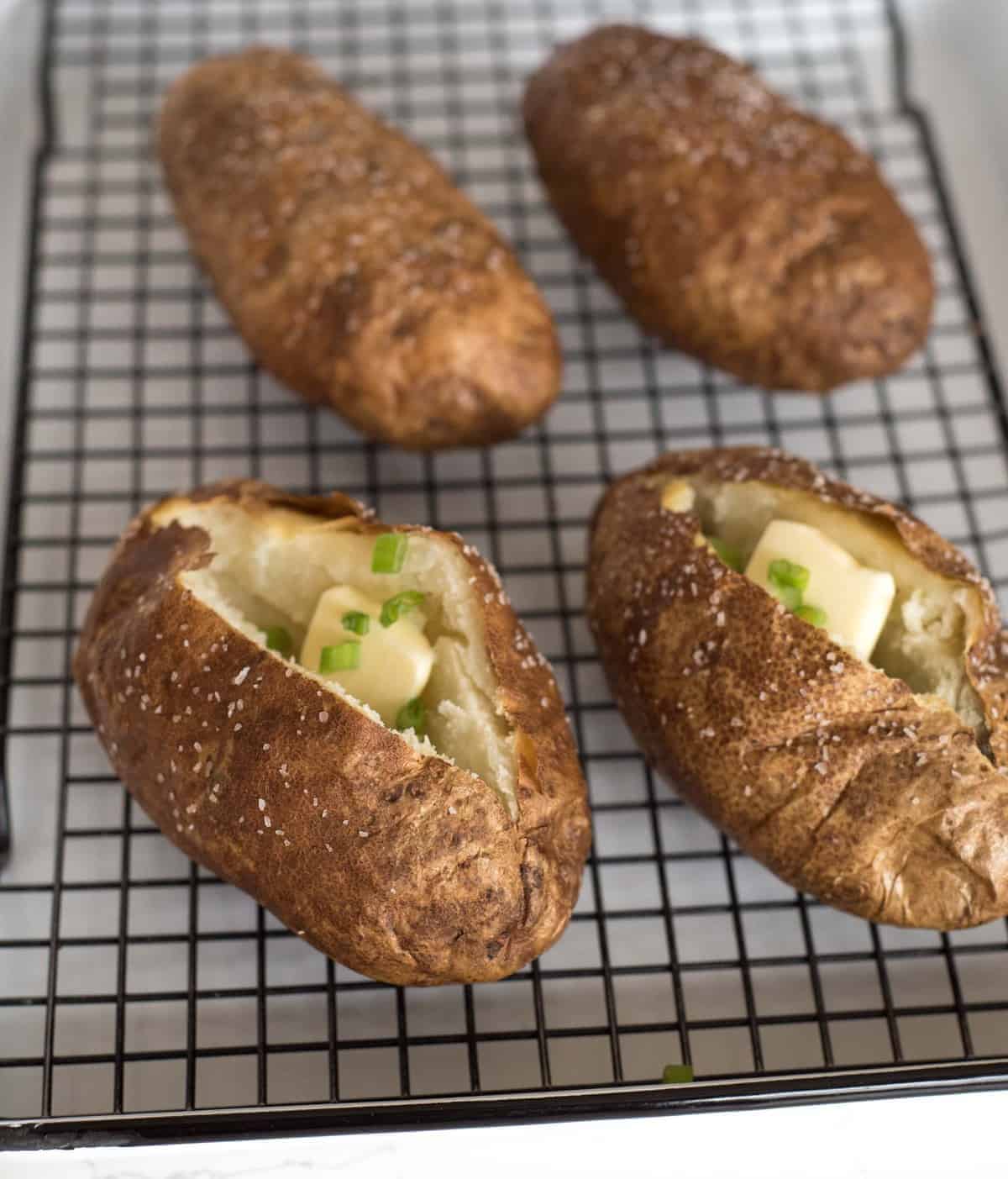 Craving more? Subscribe to Bless this Mess to get new recipes, meal plans, and a newsletter delivered straight to your inbox! If you try this recipe, let me know what you think! Leave a comment, pin it, and don't forget to tag a picture #blessthismesseats on Instagram. I love to see your kitchen skills in action!
Print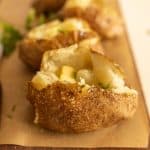 How to bake a potato
---
Author:

Total Time:

50 minutes

Yield:

Serves 4
Description
If you're wondering how to bake a potato, this post is exactly what you need! This is your ultimate guide to making a perfectly baked potato with a fluffy center & a crispy skin.
---
4

Potatoes (about

5

-

8

ounces each)

1 tablespoon

olive oil
Salt
---
Instructions
Preheat the oven to 400 degrees. Wash and scrub your potatoes clean. Poke each potato with a fork a few times to allow steam to release while cooking.
Place potatoes directly on a baking rack set inside a baking sheet and place them in the oven.
Bake until the center of the potato reaches between 205 and 212 degrees. This will be roughly 35-45 minutes depending on the size of the potatoes.
Remove from the oven and use a pastry brush to coat each potato in a thin coat of olive oil. Sprinkle with salt and then flip them over and brush the other side with oil and sprinkle with salt.
Bake the potatoes for an additional 10 minutes to crisp the skin.
Remove the potatoes from the oven, cut a small X on the top of each potato and then using two hands (be careful, they are hot), gently press the potatoes inward so that they "bloom" from the X.
Enjoy right away with your favorite toppings.
Notes
These were medium sized potatoes that came in a 10 pound bag. If you are using the large "baking" potatoes, be sure to add at least a half an hour, if not more, to the cooking time.
Table salt, kosher salt, and sea salt (fine to coarse) all work well here. I like a mix of fine and coarse sea salt on the outside.
Not committed to putting the tater directly on a oven rack? Stick a wire baking wrack inside of a rimmed baking sheet and let the potatoes cook on the rack. Last option, line a baking sheet with foil and bake on the baking sheet.
Prep Time:

5 min

Cook Time:

45 minutes

Category:

Side

Method:

Oven

Cuisine:

American
Keywords: how long to bake a potato, how to bake a potato, easy baked potatoes recipe, temperature for baked potatoes, how long do I bake a potato, baked potato time and temp, best baked potato recipe, perfect baked potato
Long live the simple but delicious baked potato! Hope all of these tips and tricks help.