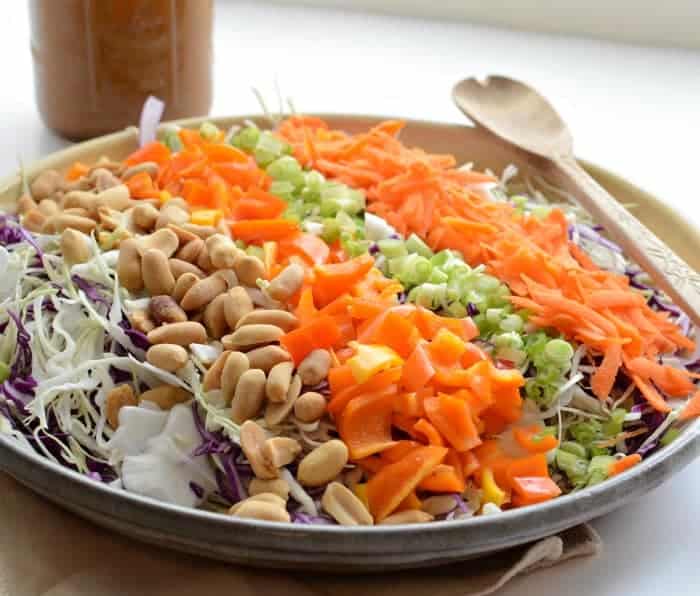 Good morning! We had an exciting weekend with our chicks hatching in our incubator! I'm planning on taking pictures and telling you all about their birth story soon. They are the cutest little fluff balls this side of the Mississippi, though I might be a little biased. While you are waiting for a chick post, you can enjoy this fabulous Chopped Asian Peanut Salad with Homemade Peanut Dressing.
This salad is super versatile and would be awesome with the addition of Chow Mein noodles (you know, those "fried worms" as my dad used to call them), mandarin orange pieces and even mushrooms. Make it how you like and enjoy the simple beauty of a homemade dressing. This is just a lot of chopping and for the dressing you just toss everything in a mason jar and give it a good shake. Simple, healthy, delicious, real food.
Some of the moms in my community get together once a month or so in someone's backyard and have a potluck lunch with our kids. The moms talk, the kids play, it's a glorious treat for all. I took this salad to the last lunch bunch gathering and it was a big hit. This would be a great main dish too with the addition of some shredded cooked chicken, fried tofu, or grilled shrimp. You could double the dressing and use it as a marinade for chicken or shrimp, that would be really good!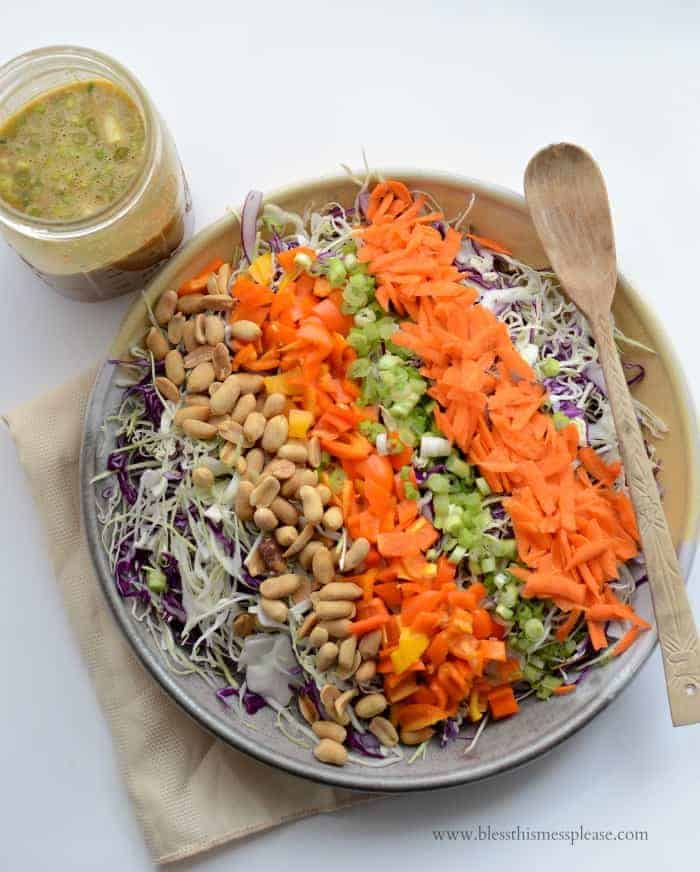 If you try this chopped Asian peanut salad, let me know what you think! Leave a comment, pin it, and don't forget to tag a picture #blessthismesseat on Instagram. I love to see your kitchen skills in action!
Print
Chopped Asian Peanut Salad
Ingredients
For the Dressing
1/4 cup creamy peanut butter (natural works great)
1/4 cup olive oil
1/4 cup rice vinegar
1/4 cup soy sauce
1 tablespoon honey
1 small clove garlic, finely minced
Salt and black pepper to taste
1/4 tsp red pepper flakes, more or less to taste
1 teaspoon ground ginger
For the Salad
6 cups finely shredded cabbage (red, green, or a mix)
1 cup grated carrots
1/2 cup chopped salted peanuts
1/2 cup chopped sweet bell pepper
3 green onions, chopped
(Chow Mein noodles, mandarin oranges, and mushrooms would also be fabulous in this)
Instructions
For the salad: Add all of your ingredients to a bowl and toss to combine. Or you can add the cabbage to a shallow bowl and then line the toppings on top (this is what I did), toss before serving.
For the dressing: Add everything to a mason jar, add the lid, shake to combine. Shake well before using. Adjust salt, pepper, and vinegar to taste, adding more as you like.
You can dress the salad right before serving (the recipe makes more than you will need) or you can let everyone dress their own, pouring the dressing right out of your mason jar. I like to let everyone add their own dressing.
For this recipe, I recommend:
[asa_collection btmp]asian[/asa_collection]
If peanuts are an allergy issue in your family I think that it would still be great if you sub the peanuts for chopped almonds or cashews and used a nut butter in the dressing.
Have a great weekend and let me know if you try this salad! You'll love it!