The ultimate frozen sweet treat, chocolate chip cookie ice cream sandwiches are so tasty and fun for all ages and stages to enjoy! And that's a fact.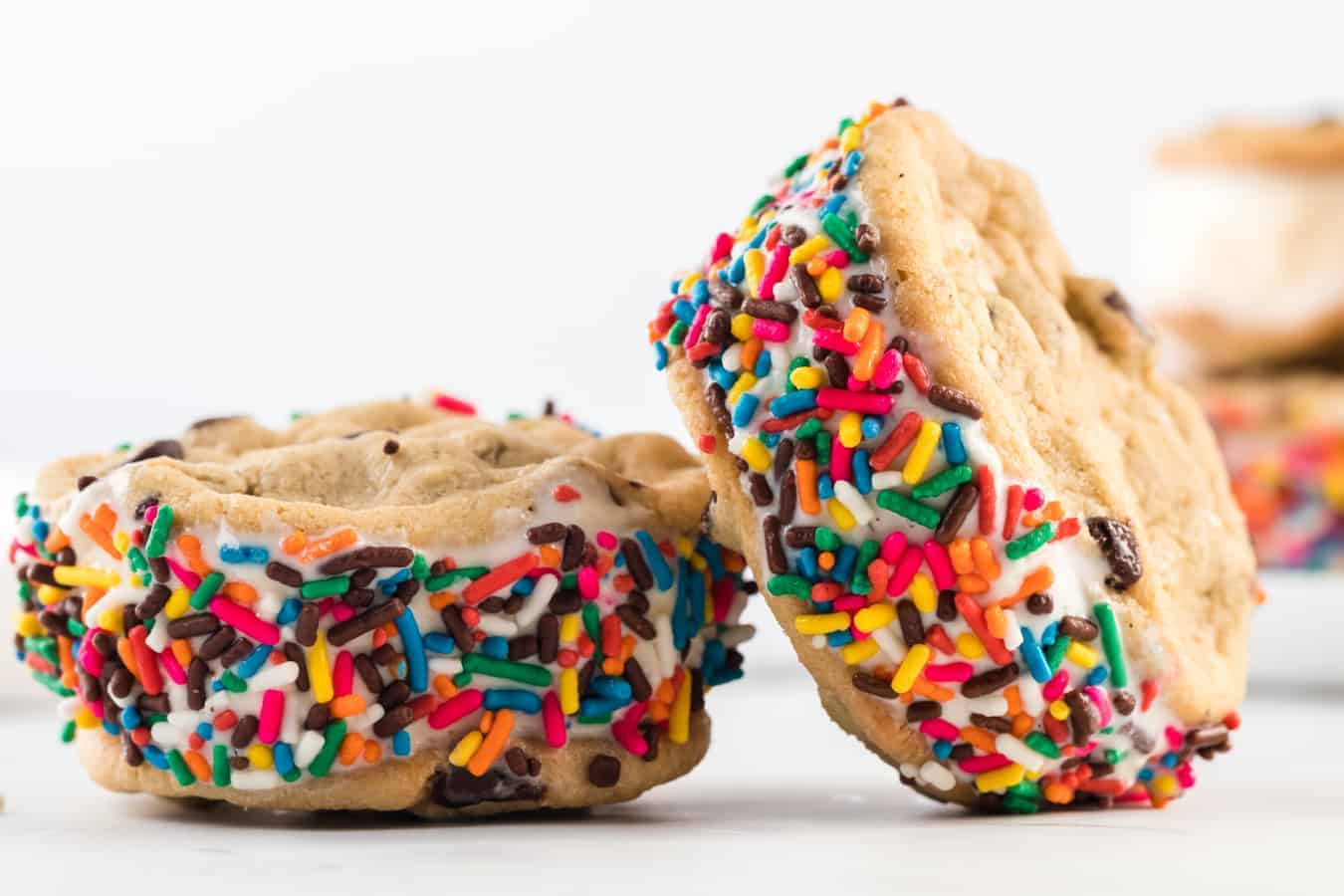 Chocolate Chip Cookie Ice Cream Sandwiches
When I was in an economics class in high school we worked together as a class to come up with a product, market it, and sell it to the school. We learned all about markets, supply and demand, and stocks. As a class we decided to sell cookie ice cream sandwiches to the school during lunch hour. I fell in love with this treat then and haven't gotten enough of them since!
Each member of the class was asked to sell a certain number of stocks in order to get the money for start-up costs. I've always loved business ideas and entrepreneurial ventures, so I bought all of my own stock shares plus most of my friends. I think I spent almost $80 on our class project stock. That was a lot of money to me!
Here is the best part of the story. The econ teacher had been doing this business venture assignment for years. He knew there was a lot of money to be made as a stock holder, and he was normally the one to buy stock shares from his students. When he found out that I had been buying up much more than the average student he wasn't super happy. He gave me a hard time and tried to make me doubt my investment; he even offered to buy the shares I had purchased. I didn't give in, and in the end I made almost $300! It was a great return on my investment, much to his chagrin.
Let's just say, I've always had a soft spot in my heart for cookie ice cream sandwiches! The fun thing about this recipe is the sprinkles. You can use any sprinkle, any color, for any holiday or event! They add the perfect little detail to this simple dessert.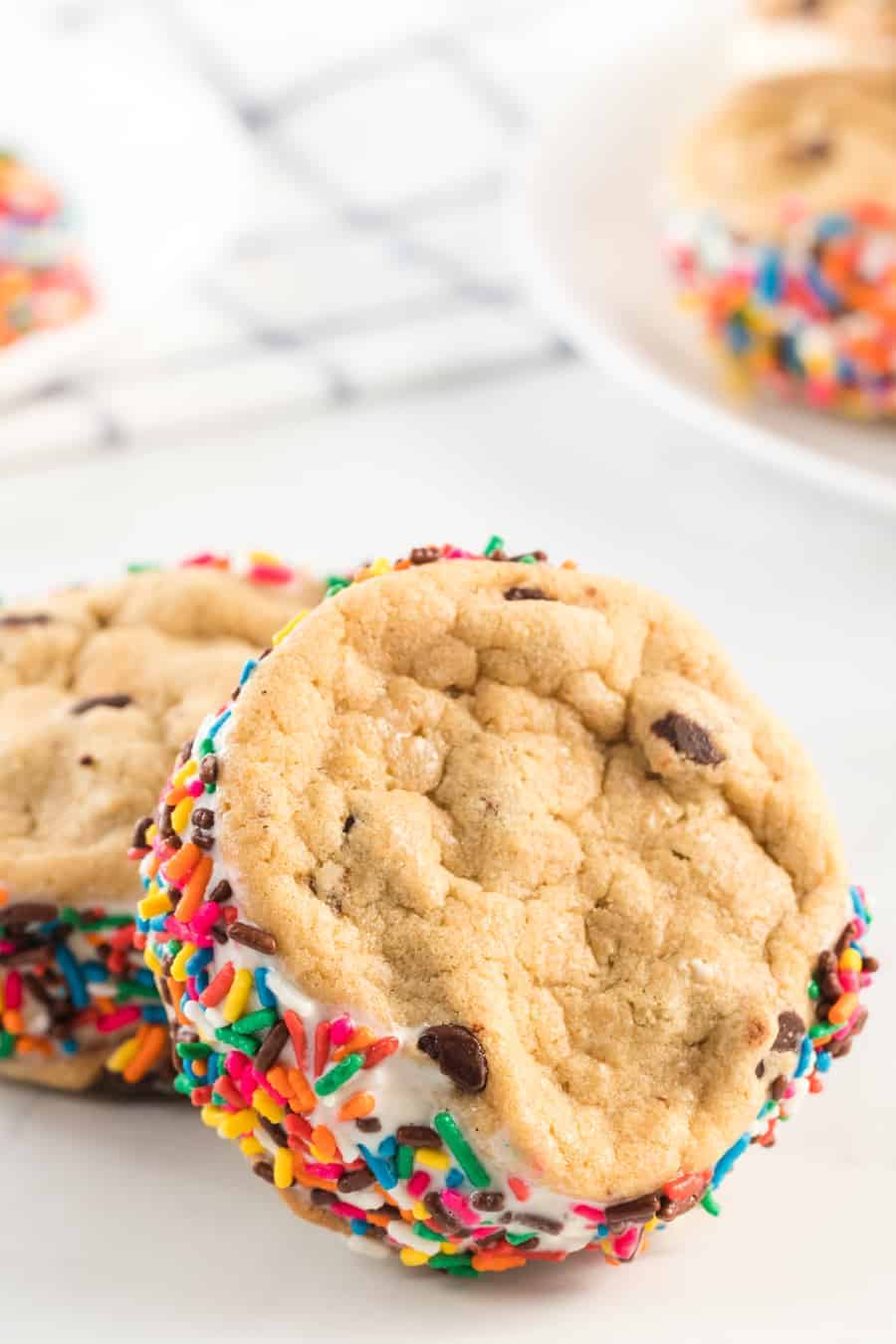 How do you wrap an ice cream sandwich?
This recipe makes four ice cream sandwiches, so you'll want four foot-long pieces of plastic wrap. Once you place about a half cup of ice cream on one cookie, top it with another, press down, and roll the edges in sprinkles, carefully wrap the sandwich in the plastic wrap and place in the freezer to firm up the ice cream again.
How long are ice cream sandwiches good for?
These are great to make ahead and have on hand for guests or a party! If you make a bunch, store extras in a large sealable plastic bag in the freezer in their individual plastic wrap packages. They'll keep for up to a month!
Can you use a different ice cream or cookie in ice cream sandwiches?
Absolutely! Have fun with this and use any of your favorite flavors. Other great combinations would be strawberry ice cream with peanut butter cookies, oatmeal raisin cookies with butter pecan ice cream, or snickerdoodles with chocolate ice cream. Have fun with it, and get creative! You can also use any sprinkles you like, depending on the occasion, holiday, or time of year.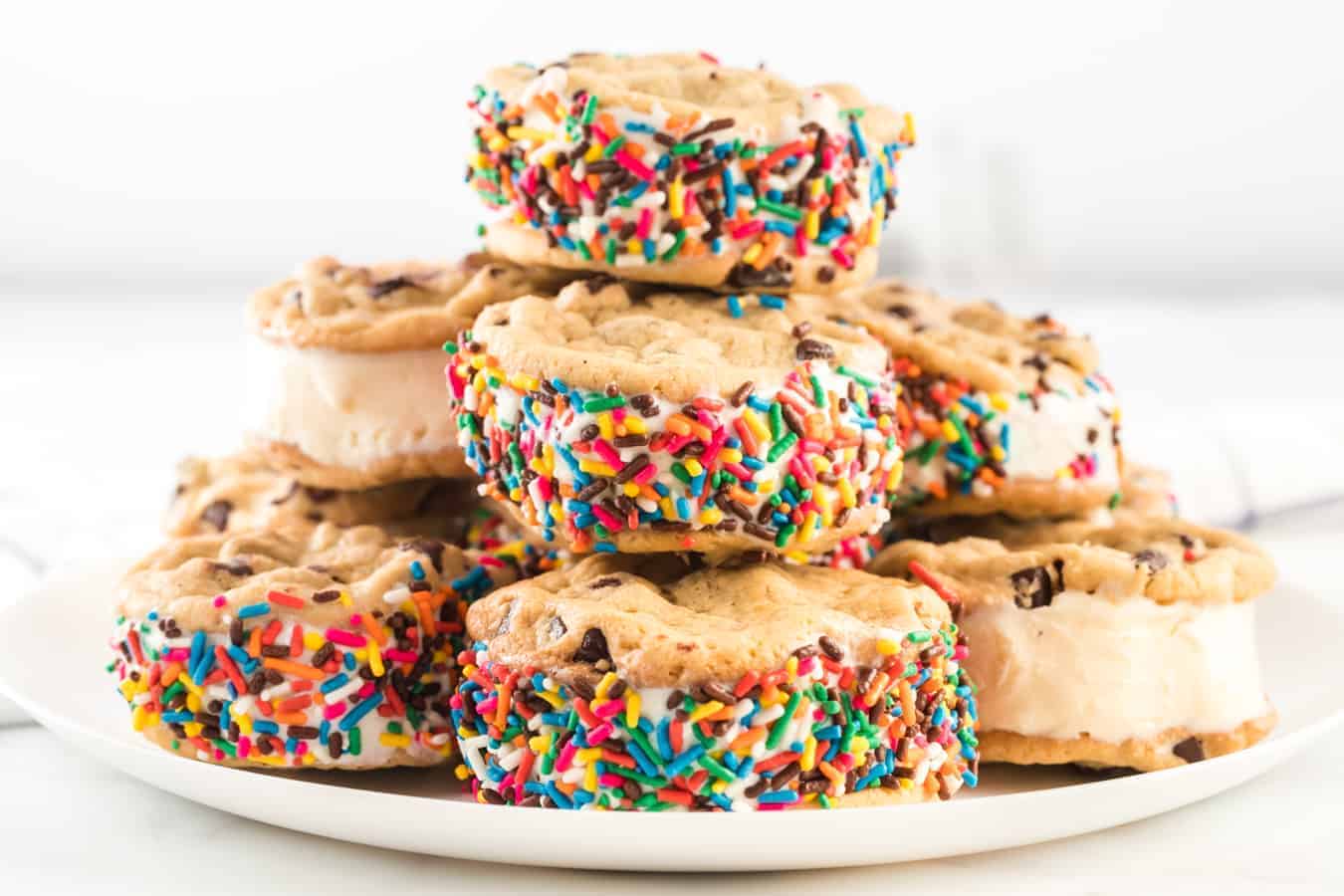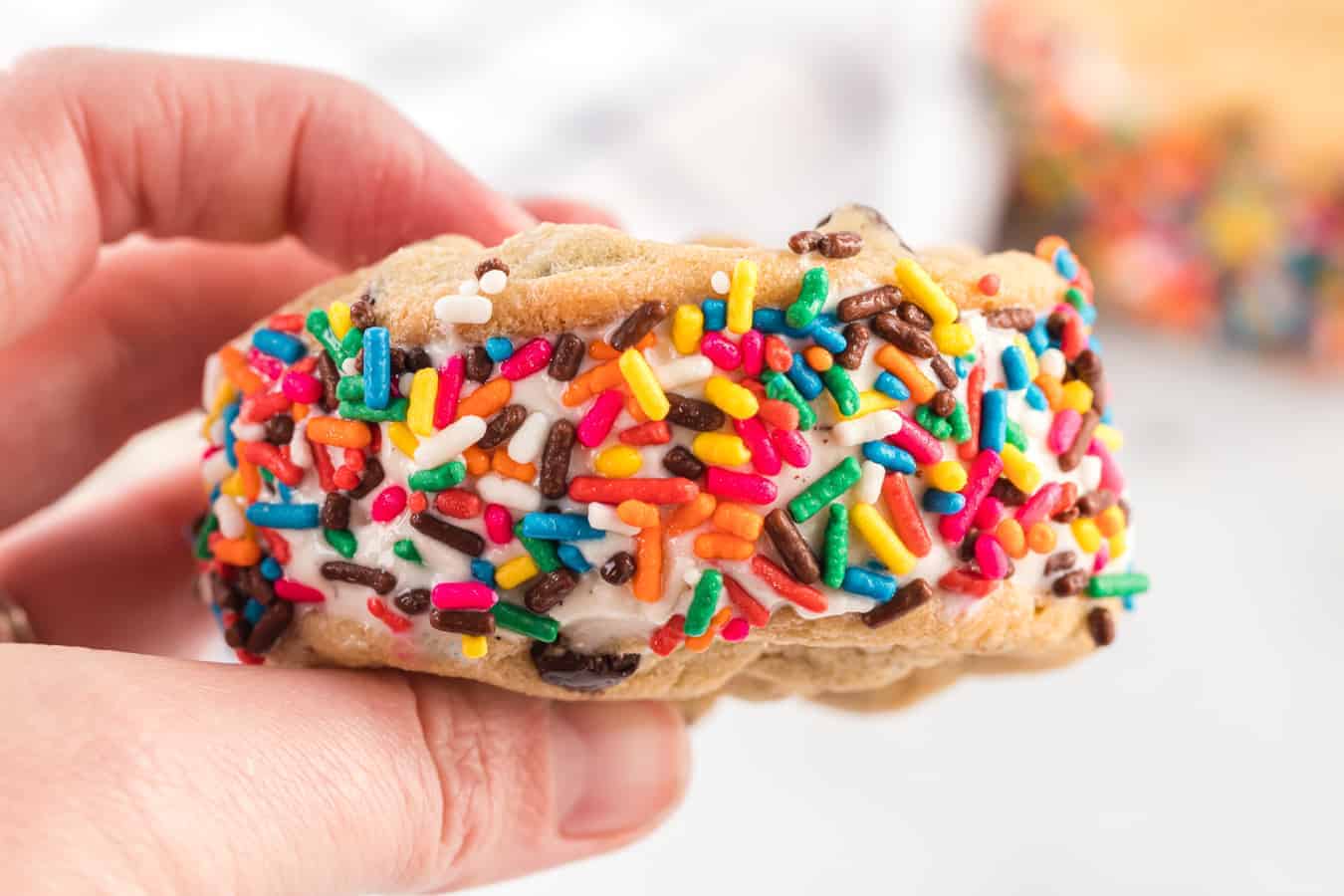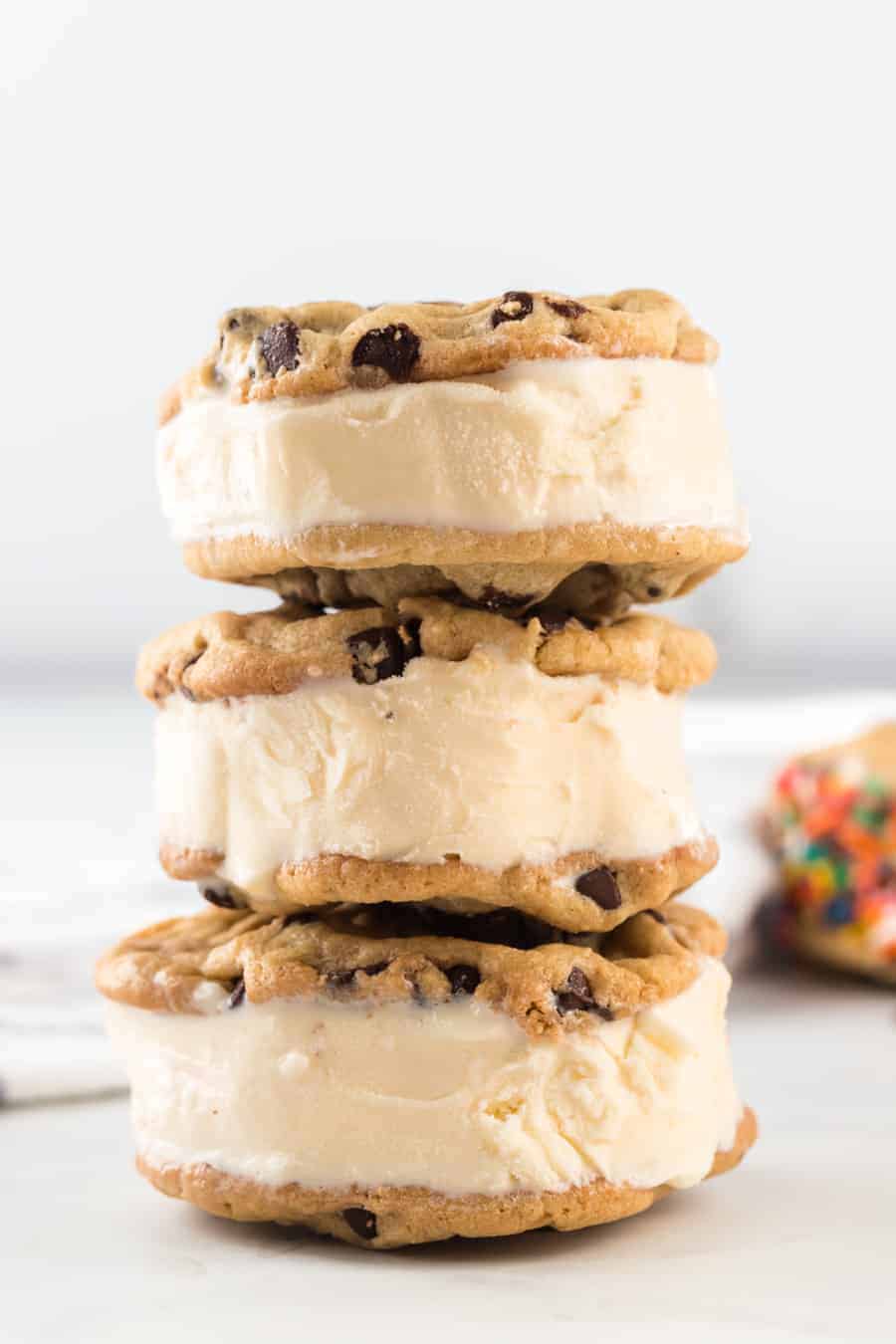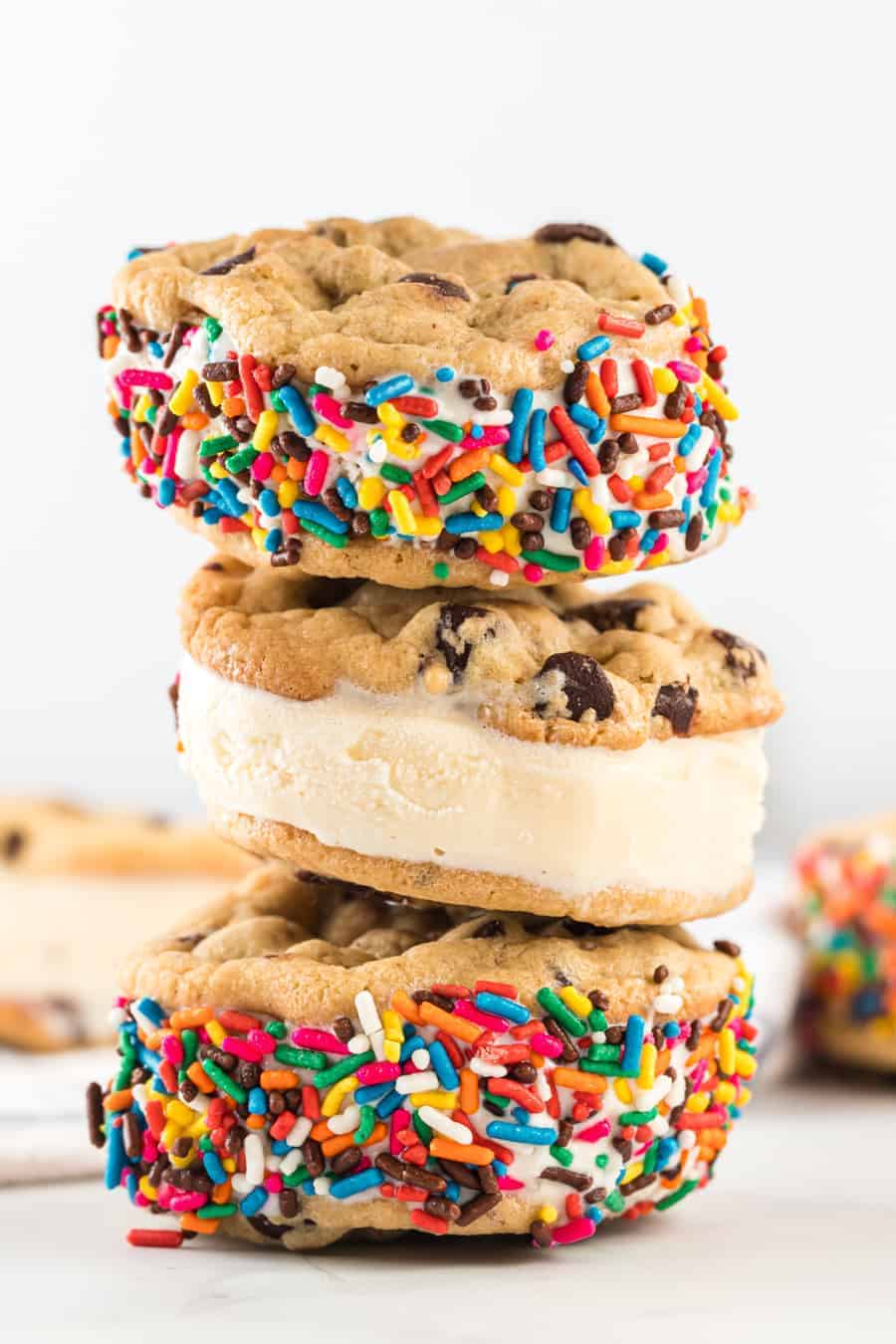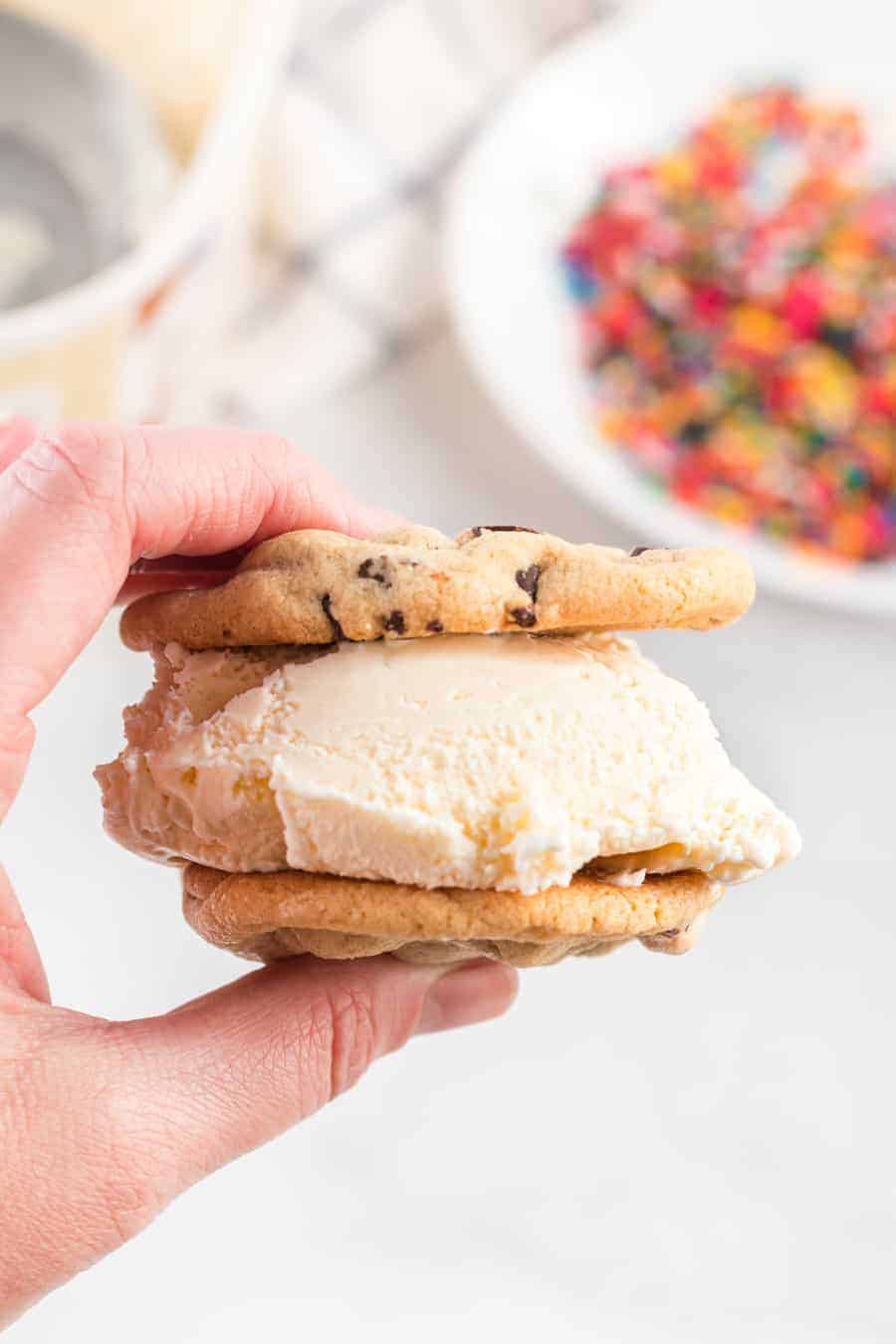 Print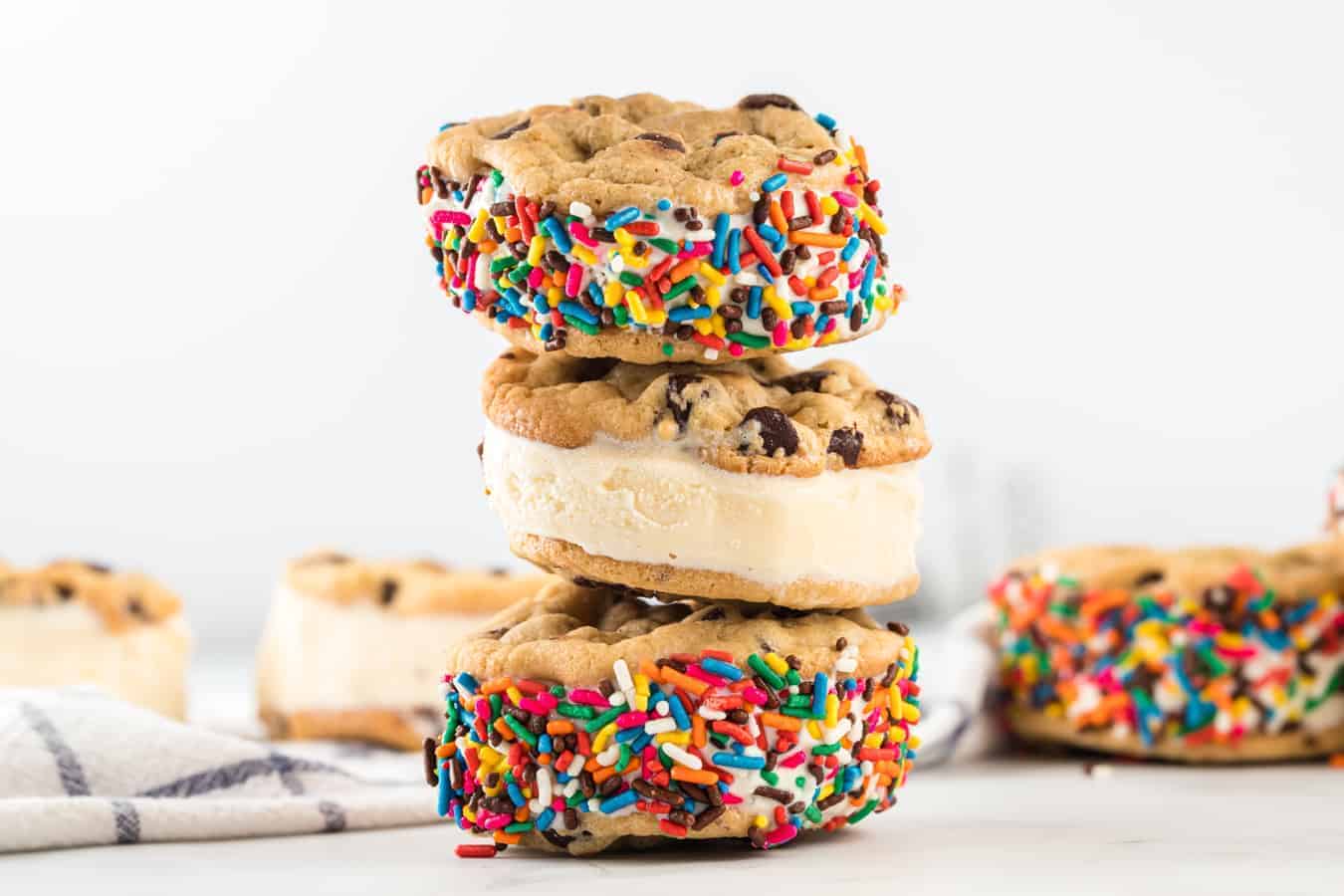 Chocolate Chip Cookie Ice Cream Sandwiches
---
Author:

Total Time:

10 minutes

Yield:

4

ice cream sandwiches

1

x
Description
The ultimate frozen sweet treat, chocolate chip cookie ice cream sandwiches are so tasty and fun for all ages and stages to enjoy! And that's a fact.
---
8

chocolate chip cookies - homemade or store-bought

2 cups

vanilla ice cream
Sprinkles, optional
---
Instructions
Start by setting out your ice cream so that it can soften up. While your ice cream is softening, get out a plate or a shallow dish, and pour about a half cup of sprinkles into it.
Next, cut 4 pieces of plastic wrap that are about a foot long and set them aside.
Take one of the cookies and put a half cup of the soften ice cream on it, keeping it to the center. Place another cookie on top and press it together, so that the ice cream starts to come right to the edge of the cookies.
Roll the ice cream edge in the sprinkles. Wrap in plastic wrap.
Repeat with the other cookies and ice cream.
Place ice cream sandwiches in the freezer overnight or until the ice cream firms back up.
Unwrap and enjoy!
Notes
This is such a fun treat to make-ahead for friends coming over or parties. EVERYONE loves a chocolate cookie ice cream sandwich. That is a fact.
If I'm going to store them longer than a few days, I'll stick the wrapped ice cream sandwiches in a larger sealable freezer bag for up to a month.
Prep Time:

10 min

Category:

dessert

Method:

frozen

Cuisine:

American
Keywords: chocolate chip cookie, ice cream sandwich, cookie ice cream, dessert, ice cream, easy cookie recipe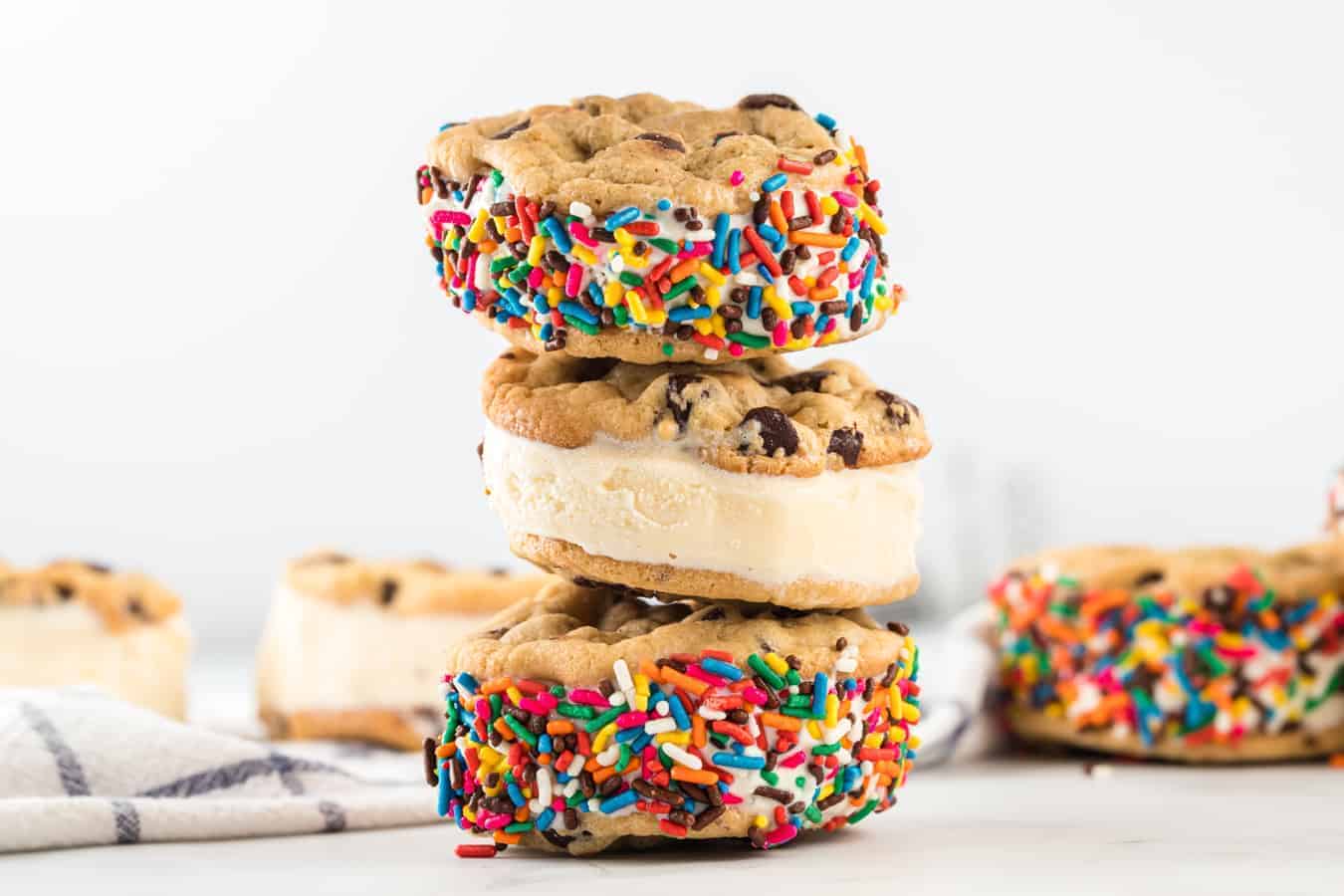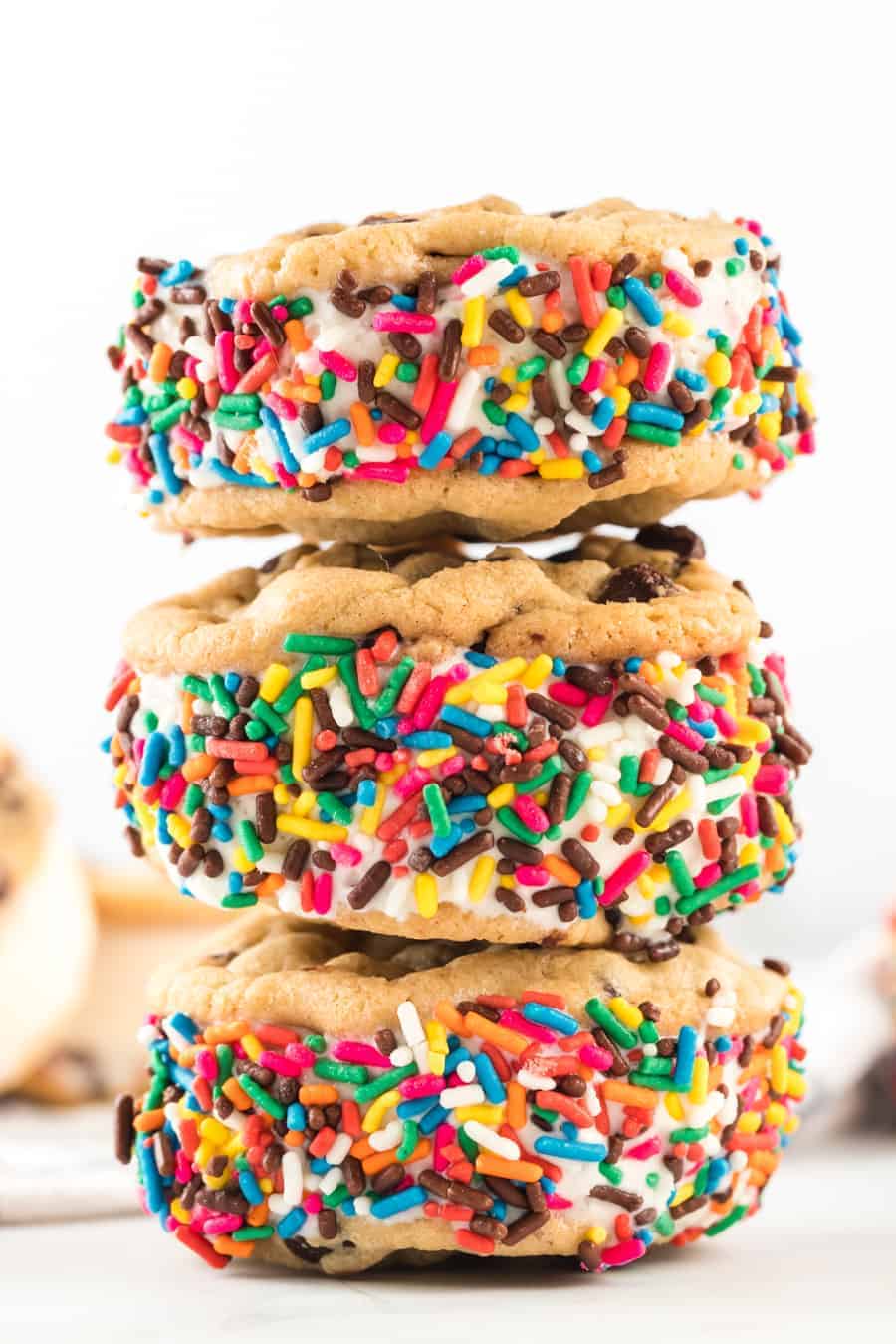 Other chocolate chip cookie recipes you'll love:
This post was originally published in 2012, and has been updated and rephotographed in July 2019.
Chocolate chip cookie ice cream sandwiches are a classic treat that everybody will love to devour next time you host a party or are in charge of bringing a dessert! They're super quick to throw together and make for a fun and creative sweet that tastes as great as they look!