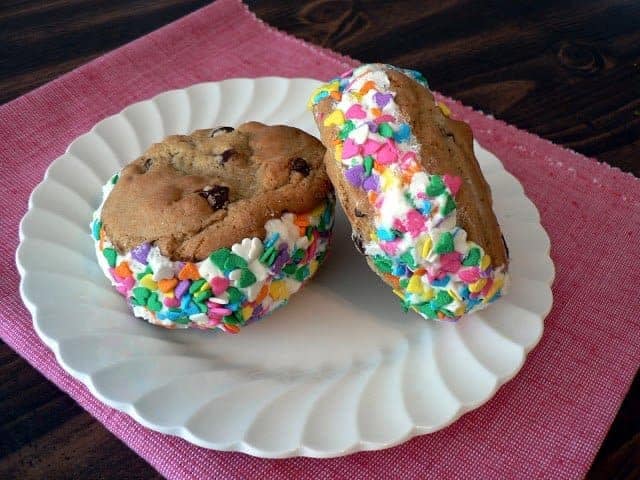 When I was in an economics class in high school we worked together as a class to come up with a product, market it, and sell it to the school. We learned all about markets, supply and demand, and stocks. As a class we decided to sell cookie ice cream sandwiches to the school during lunch hour. I fell in love with this treat then and haven't gotten enough of them since! Each member of the class was asked to sell a certain number of stocks in order to get the money for start-up costs. I've always loved business ideas and entrepreneurial ventures, so I bought all of my own stock shares plus most of my friends. I think I spent almost $80 on our class project stock. That was a lot of money to me!
Here is the best part of the story. The econ teacher had been doing this business venture assignment for years. He knew there was a lot of money to be made as a stock holder and he was normally the one to buy stock shares from his students. When he found out that I had been buying up much more than the average student he wasn't super happy. He gave me a hard time and tried to make me doubt my investment; he even offered to buy the shares I had purchased. I didn't give in and in the end I made almost $300! It was a great return on my investment, much to his chagrin.
Let's just say, I've always had a soft spot in my heart for cookie ice cream sandwiches!
The fun thing about this recipe is the sprinkles. You can use any sprinkle, any color, for any holiday or event! They add the perfect little detail to this simple dessert.
Chocolate Chip Cookie Ice Cream Sandwiches
Makes 4 Sandwiches
8 Chocolate Chip Cookies –
homemade
 or store bought
2 cups vanilla ice cream
Sprinkles
Start by setting out your ice cream so that it can soften up. While your ice cream is softening, get out a plate or a shallow dish and pour about a half cup of sprinkles into it. Next, cut 4 pieces of plastic wrap that are about a foot long and set them aside. Take one of the cookies and put a half cup of the soften ice cream on it, keeping it to the center. Place another cookie on top and press it together so that the ice cream starts to come right to the edge of the cookies. Roll the ice cream edge in the sprinkles. Wrap in plastic wrap. Repeat with the other cookies and ice cream. Place sandwiches in the freezer over night or until the ice cream firms back up.