Sweet and tart with the perfect buttery, crumbly topping, homemade cherry crumble is an absolute game changer when it comes to festive and fun summertime dessert.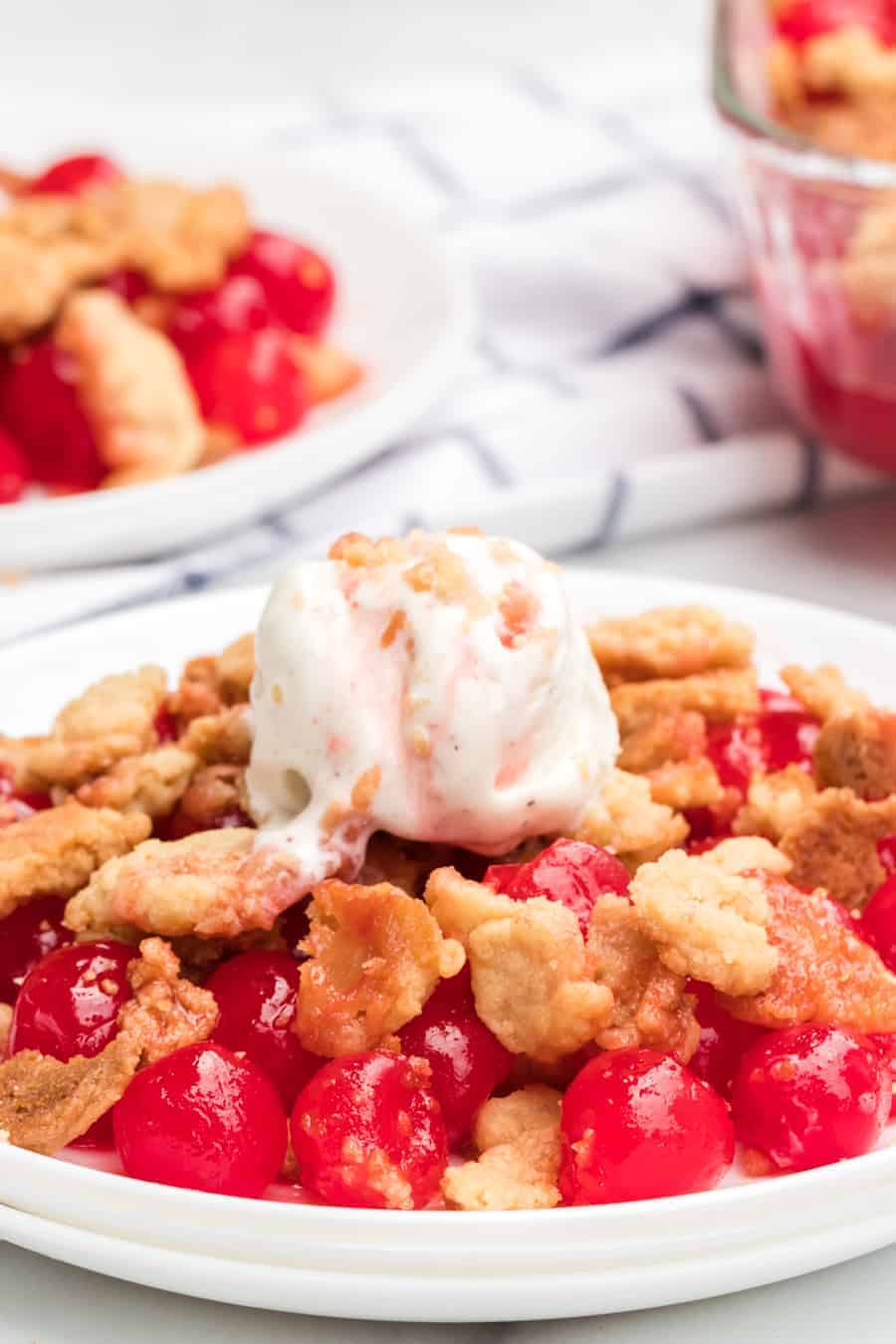 Homemade Cherry Crumble Recipe
Happy Fourth of July! To celebrate, we're getting festive with this decadent and scrumptious homemade cherry crumble. Because why wouldn't we?!
Everyone has a favorite pie. Thomas loves cream pies, my babies love pumpkin, my grandpa loves pecan, my sister gobbles up chess pie, and as for me, I'm a cherry kind of woman. My mom made a mean cherry pie, and it was always my dad's favorite. I think that I clung on to that fact and emulated. The apple doesn't fall far from the tree... Or should we say cherry? Thanks, Dad.
I grew up eating crisps, but have recently discovered crumbles. Fruit crumble tastes like little pieces of delicious shortbread cookies have been baked on top of the gooey, baked fruit. A crisp normally has oats and cinnamon involved. Different things with a bit of overlapping similarity, and both entirely delicious. I personally like the crumble topping on cherries and the crisp over top apples.
This is truly the summer dessert of my dreams, too. I mean, it's all I can do to not eat cherries all summer long. It's just one of those fruits that I wish had a longer season, but they always seem to be here and gone faster than you can say, "summer break." Truly, if someone could figure out how to make cherries in "season" all year long, I'd love you forever. Until then, pick up a batch of these yummy bitesized fruits at your nearest market and get to baking, because you won't want to miss trying this irresistible crumble while you can.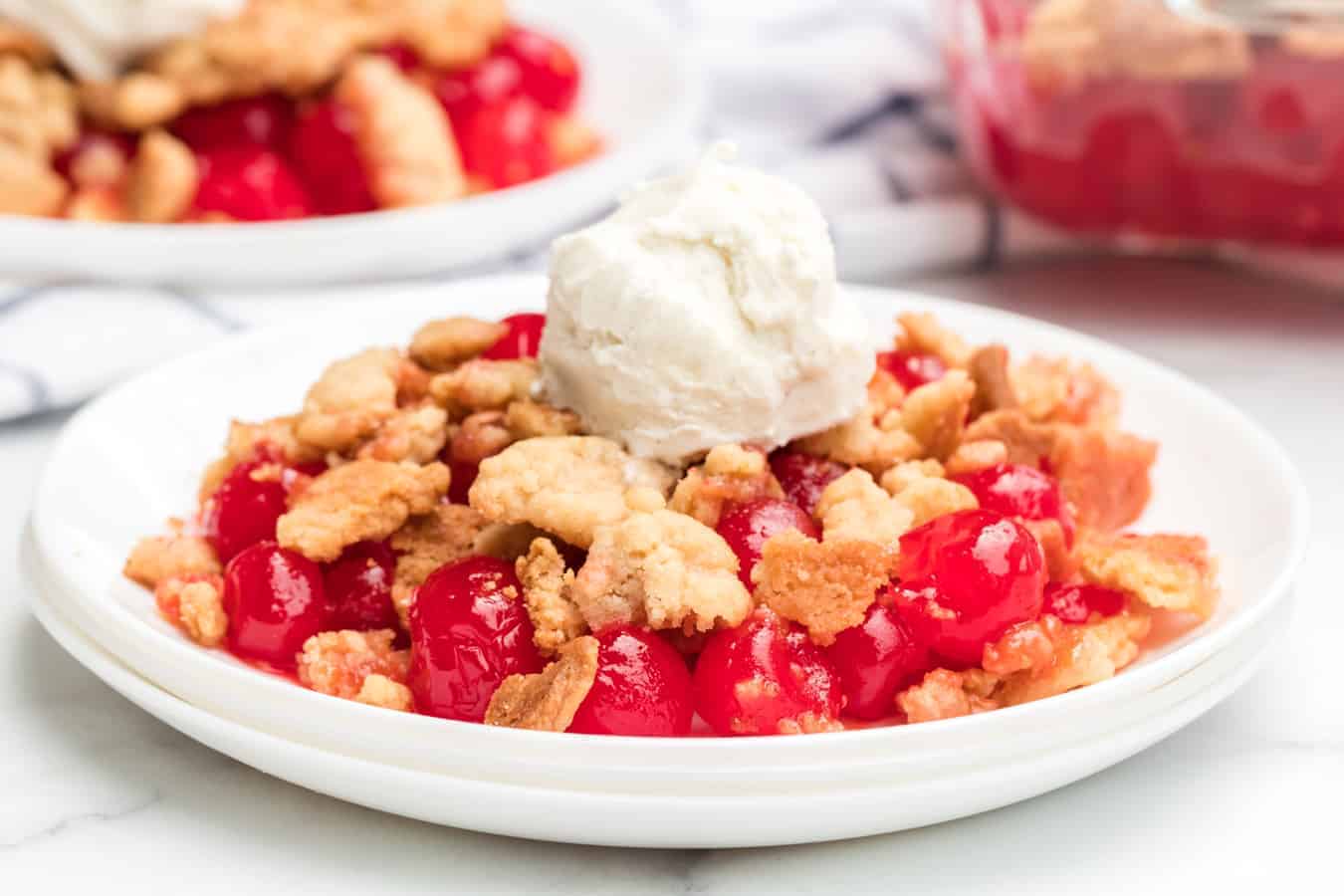 Can you use another fruit in crumble?
Crumble your heart away with any fruit you love! You can't go wrong with a buttery, crunchy crumble over any kind of baked fruit -- a few ideas to try include blueberry, pineapple, strawberry, peach, mango, or a multi-fruit option!
How long does homemade cherry crumble last?
This really tastes its best fresh out of the oven (with a generous scoop of vanilla ice cream, mind you). But if you have leftovers, store them in an airtight container in the fridge for up to a week. Reheat homemade cherry crumble in the oven to re-crisp up any bits of the topping that may have gotten soggy!
What's the difference between a crumble, crisp, and cobbler?
All three desserts are baked goodies that incorporate fresh fruit and some kind of pastry. Cobblers have a biscuit or cake-like topping baked over top the fruit. Crisps and crumbles are fairly similar -- both have a streusel-esque topping, but crisps contain oats while crumbles do not.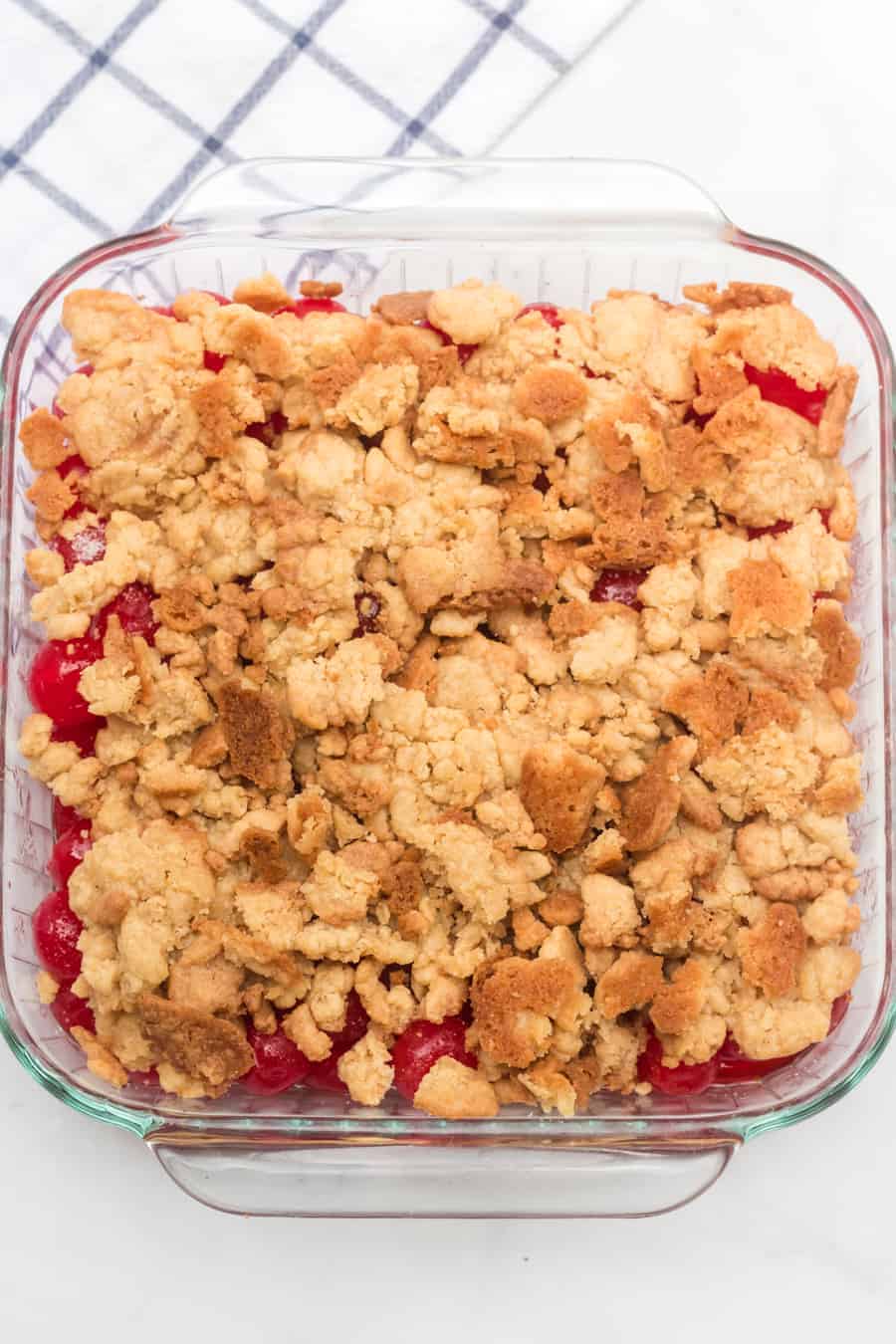 Print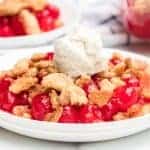 Homemade Cherry Crumble Recipe
---
Author:

Total Time:

1 hour

Yield:

Serves

6

-8

1

x
Description
Sweet and tart with the perfect buttery, crumbly topping, homemade cherry crumble is an absolute game changer when it comes to festive and fun summertime dessert.
---
For the fruit filling:
3

pounds fresh sour cherries, pitted (or

72 ounces

canned unsweetened sour cherries)

4 ½ teaspoons

corn starch

⅔

to

¾

cup granulated sugar
For the crumble:
1 cup

flour

¼ cup

brown sugar

¼ cup

plus 1 tablespoon granulated sugar

2 teaspoons

vanilla extract

⅛ teaspoon

salt

6 tablespoons

butter, at room temperature (but not too soft, a little firm is okay)
---
Instructions
Preheat the oven to 350 degrees F. To make the filling, mix together the cherries, corn starch, and sugar (amount depending on the sweetness of the fruit and your preference). Stir to combine.
Put the fruit mixture into the bottom of an 8-inch square baking dish and cover with foil.
To make the crumble, pulse the flour, brown sugar, ¼ cup granulated sugar, vanilla, and salt in a food processor until combined. Slice the butter into 6 pieces and put them on top of the flour mixture. Process until the mixture clumps together into large balls, about 30 seconds.
Line a baking sheet with parchment, and break the crumble onto the sheet with you fingers. The goal is to have little pieces of crumble, about ½-inch in size. Spread the pieces out in an even layer on top of the parchment paper.
Bake the foil-covered fruit on the upper-middle rack and the crumbs on the lower-middle rack in the oven until the topping is lightly brown at the edges, 15 to 20 minutes.
Take the crumble topping and the fruit out of the oven. Uncover the fruit, and give it a gentle stir. Carefully and evenly sprinkle the crumble on top of the fruit, and then sprinkle on the last tablespoon of sugar.
Bake, uncovered, until the topping is browned and the fruit is nice and bubbly around the edges, about 25 minutes. Let the crumble cool for 10 minutes before serving.
Prep Time:

10

Cook Time:

50

Category:

dessert

Method:

baking
Keywords: dessert, baking, pie, cherries
Here are some other dessert recipes you may enjoy:
This homemade cherry crumble recipe is one of my favorites because it tastes like you are eating cookies on top of perfect sweet and tart cherries. It's a seasonal dessert that I look forward to every summer!
This post was originally published in 2012 and has been updated and rephotographed in July 2019.