Rich and gooey, this cheesy chicken and broccoli stuffed spaghetti squash is packed full of flavor and filling nutrients!
Normally I love to roast my spaghetti squash in rounds (it shreds really nicely that way), but sometimes I like to make spaghetti squash boats where you cut them top to bottom, roast them, and then fill up the middle of the "boat" with all kinds of yummy ingredients. Spaghetti Squash with Meatballs and Tomato Sauce is always a favorite way to fill 'em!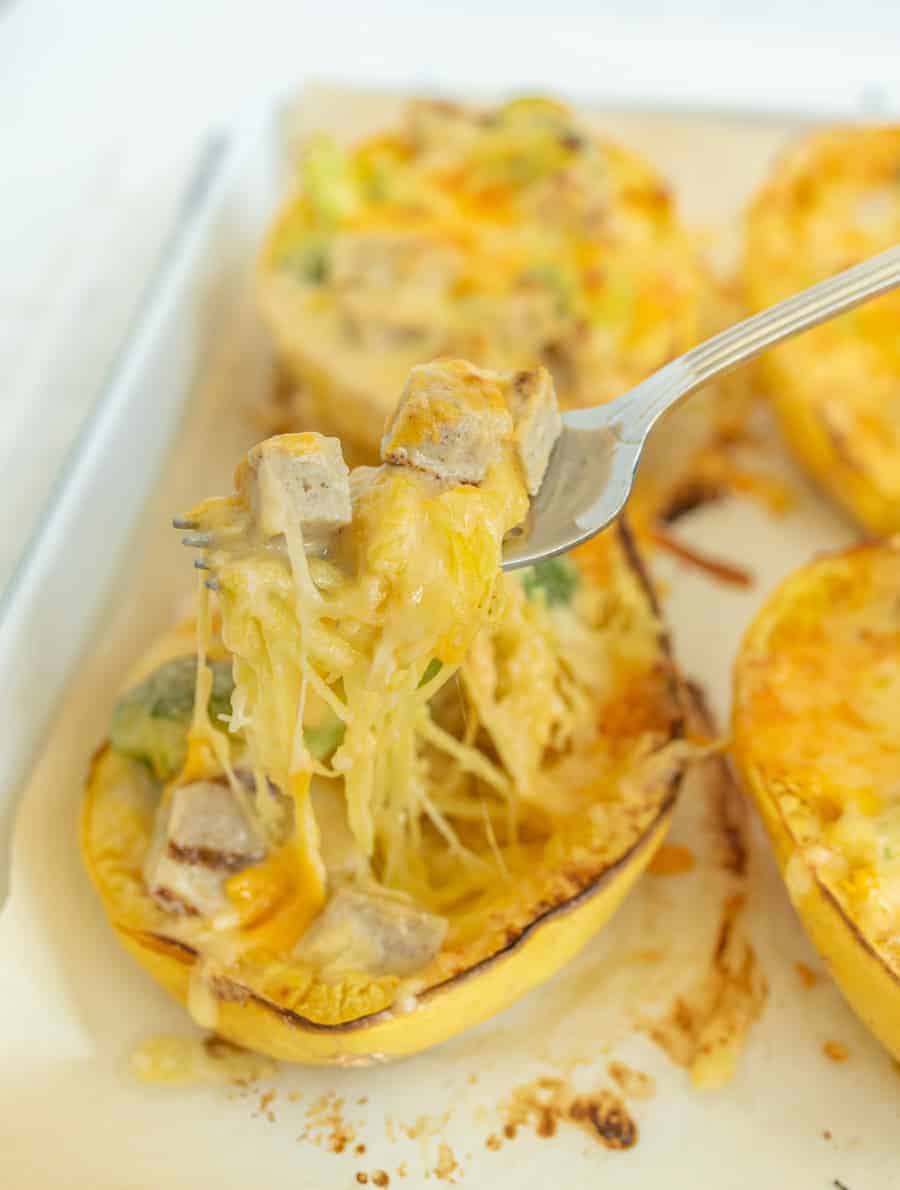 Cheesy Chicken and Broccoli Stuffed Spaghetti Squash
There's something magical about the combination of broccoli and cheese. Or maybe it's just cheese and anything... You really can't go wrong so long as cheese is involved, and this recipe is further evidence of that. Between the chicken, broccoli, and spaghetti squash aspects, it's packed full of nutrients, vitamins, and protein for a pretty perfect meal that tastes outstanding, if I do say so myself.
The cheddar and Swiss cheeses just balance each other out well and add nice sharp and mild tones to the rich dish. I love a meal with simple ingredients and classic flavors that is approachable to all, and this is just one of those! It's great on cool fall evenings or for a healthy Sunday night feast. The best part is that it makes single portions for easy serving and easy clean up... And you all know how much I love easy! I hope you love this tasty dish as much as we do.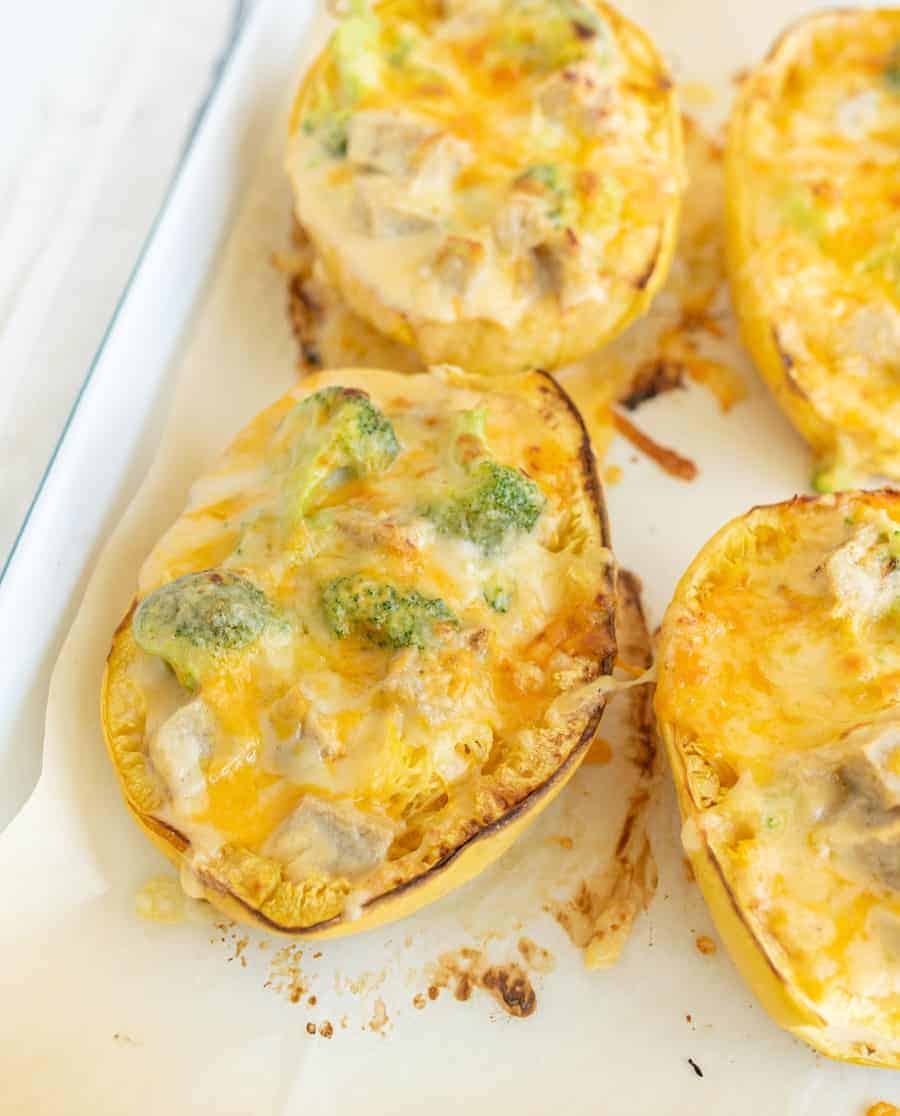 How long do cheesy chicken and broccoli stuffed spaghetti squash last?
To save leftovers, scoop the pasta contents out from the spaghetti squash skin into an airtight container, and store in the fridge for up to 3 to 4 days. Reheat in the microwave or the oven if you'd like a crispier texture on top.
What does spaghetti squash taste like?
Spaghetti squash is wonderful because it's a super mild squash, so it takes on the flavor of the ingredients and spices you put in and on it! It's not as nutty or sweet as its acorn and butternut counterparts, which allows it to not be overpowering in all sorts of pasta dishes.
Can you substitute different veggies, protein, or cheese in this recipe?
Yes! If you'd prefer a different ingredient, please play with it as you'd like. You can try provolone cheese with shredded turkey, onions, and mushrooms, or mozzarella cheese with black olives and pepperoni. Have fun with it and get creative!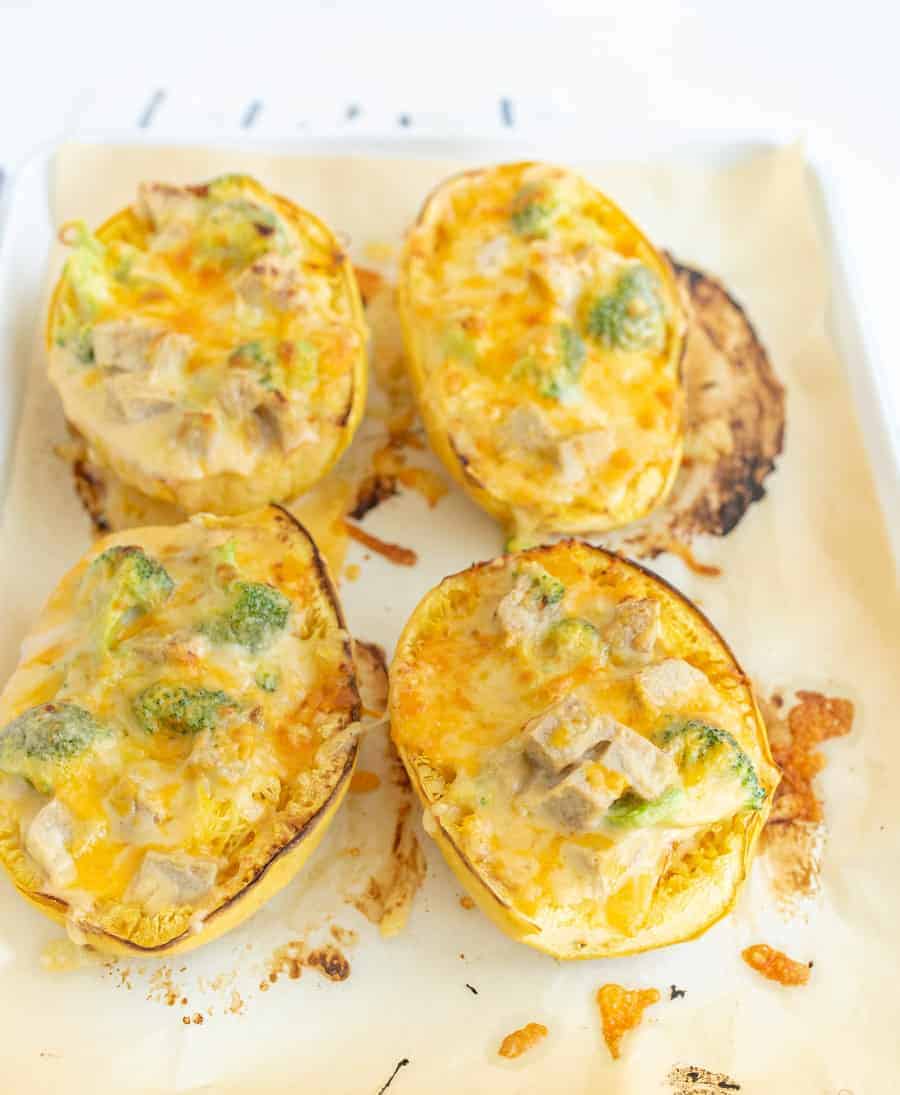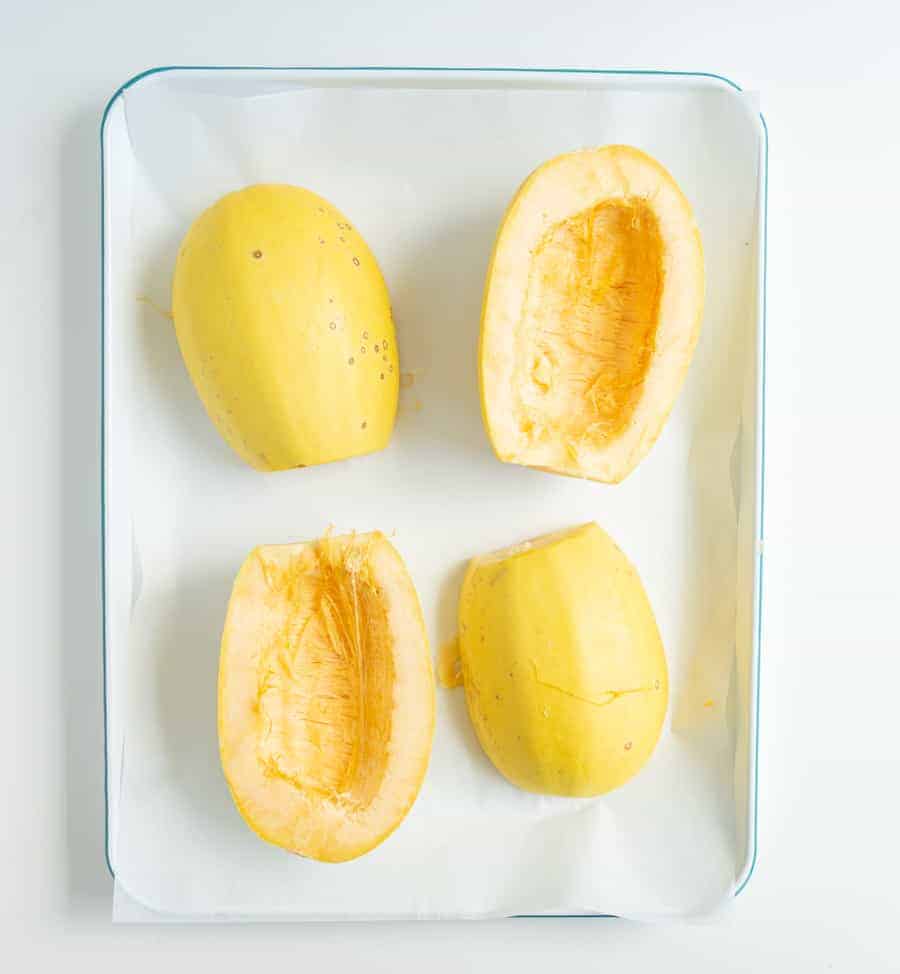 Print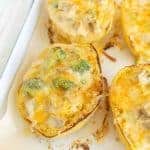 Cheesy Chicken and Broccoli Stuffed Spaghetti Squash
---
Author:

Total Time:

50 minutes

Yield:

Serves 4
Description
Rich and gooey, this cheesy chicken and broccoli stuffed spaghetti squash is packed full of flavor and filling nutrients!
---
2

small (1.5 pound) spaghetti squash

1 tablespoon

butter

1 tablespoon

flour

1 cup

milk

½ teaspoon

salt

¼ teaspoon

onion powder

¼ teaspoon

garlic powder

2 cups

bite-sized broccoli pieces (fresh or frozen)

1 cup

grated cheddar cheese

1 cup

grated Swiss cheese

1 cup

cooked chicken, chopped into bite-sized pieces
---
Instructions
Preheat the oven to 425 degrees F., and line a baking sheet with parchment paper for easy clean up.
Remove the stems from the spaghetti squash, and then use a sharp knife to cut the squash from top to bottom (stem to blossom end lengthwise).
Use a spoon to scrape out the seeds inside the squash, and discard them (or feed them to your chickens!).
Place the squash, cut side down, on the parchment paper, and bake until tender, about 25 minutes.
While the squash is cooking, melt the butter in a small pan over medium to medium-high heat.
When the butter is melted, whisk in the flour, stir to combine, and cook for 30 seconds. Slowly whisk in the milk.
Add the salt, onion powder, and garlic powder. Stir to combine. Add the broccoli and let the mixture simmer for 1 or 2 minutes.
Add half of the cheddar cheese and half of the Swiss cheese, and stir until melted. Add the chicken and stir to combine. Remove from the heat, and set aside.
When the squash is done cooking, remove from the oven. Flip the squash over, and shred the flesh into "spaghetti" with a fork, taking care not to tear the skin of the squash.
Spoon the broccoli mixture evenly over the 4 pieces of squash, and then top with remaining cheese.
Bake for an additional 10 minutes, until the cheese is melted and bubbly.
Serve hot.
Notes
You can use 1 large 3-pound squash for this recipe and serve it more "family style" -- it'll work great.
Prep Time:

15 min

Cook Time:

35 min

Category:

dinner

Method:

bake

Cuisine:

American
Keywords: spaghetti squash, squash, low carb, easy chicken dinner, chicken and broccoli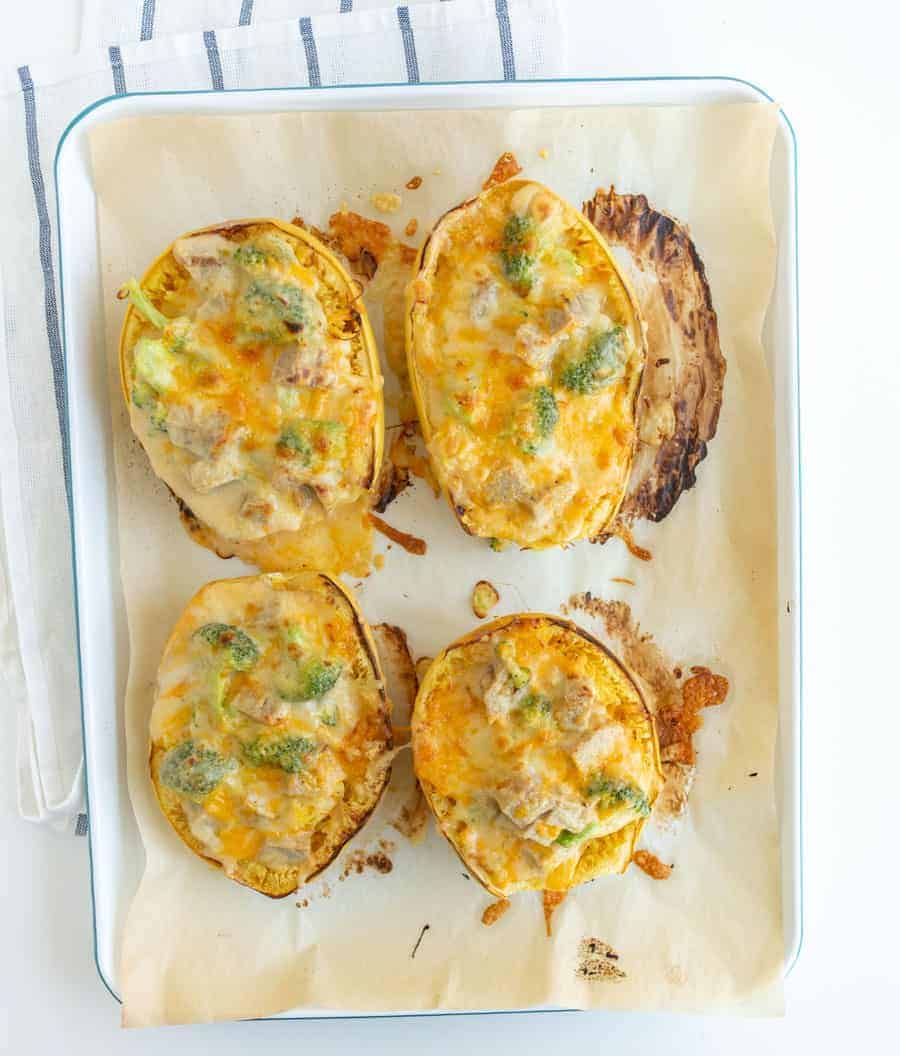 Other Spaghetti Squash Recipes:
Other stuffed squash boat recipes:
Cheesy chicken and broccoli stuffed spaghetti squash is such a flavorful and filling dinner option that is also chock-full of nutrients, vitamins, and protein.