Cheap DIY Halloween costume ideas that are super quick, easy, and very inexpensive to make! Need an idea for a last minute party?! These are just what you are looking for!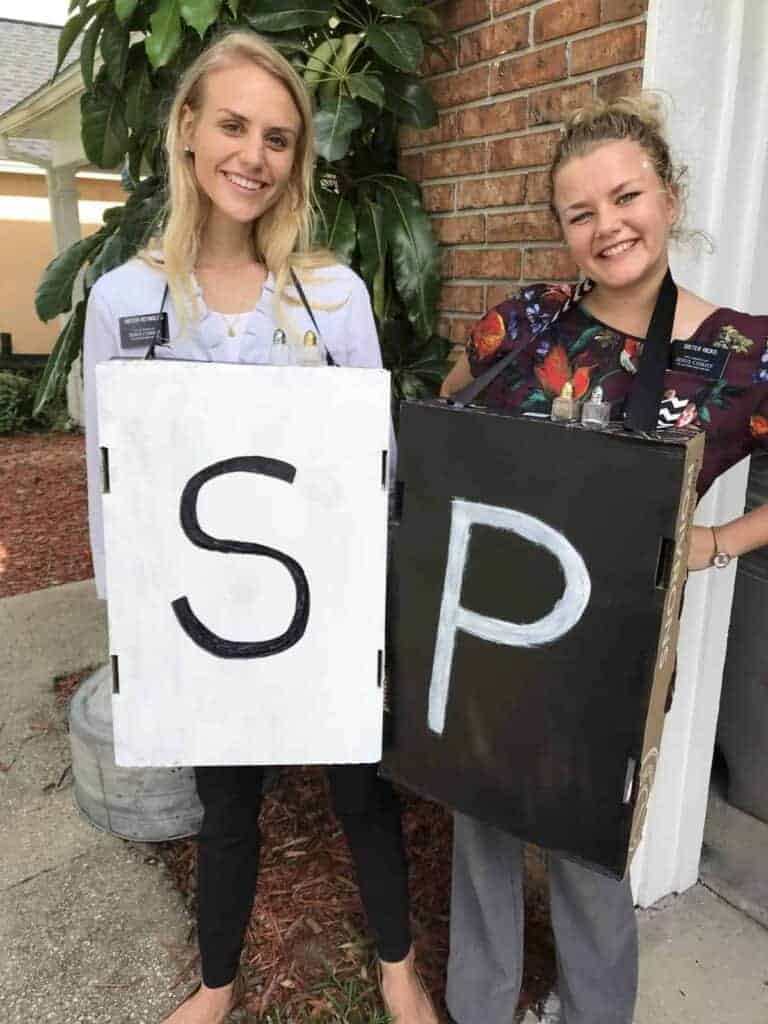 Emily (my friend from college) is here again gracing Bless this Mess with her fun ideas, witty writing, and great pictures. Hope you enjoy this list of cheap DIY Halloween costume ideas from her because I know I sure did. I'm pretty sure I should be the broken record and mine will say - "where are your shoes", because no one in my house can ever locate a pair of shoes when it's time to go! Her ideas are so fun and easy and you'll enjoy them as much as I have. And if you were wondering what my friend looks like, she's the 'broken record' mom in the pictures! I LOVE homemade Halloween costume ideas and you can see a whole post I wrote about homemade Halloween costumes for kids here (plus some fun family/group costume ideas).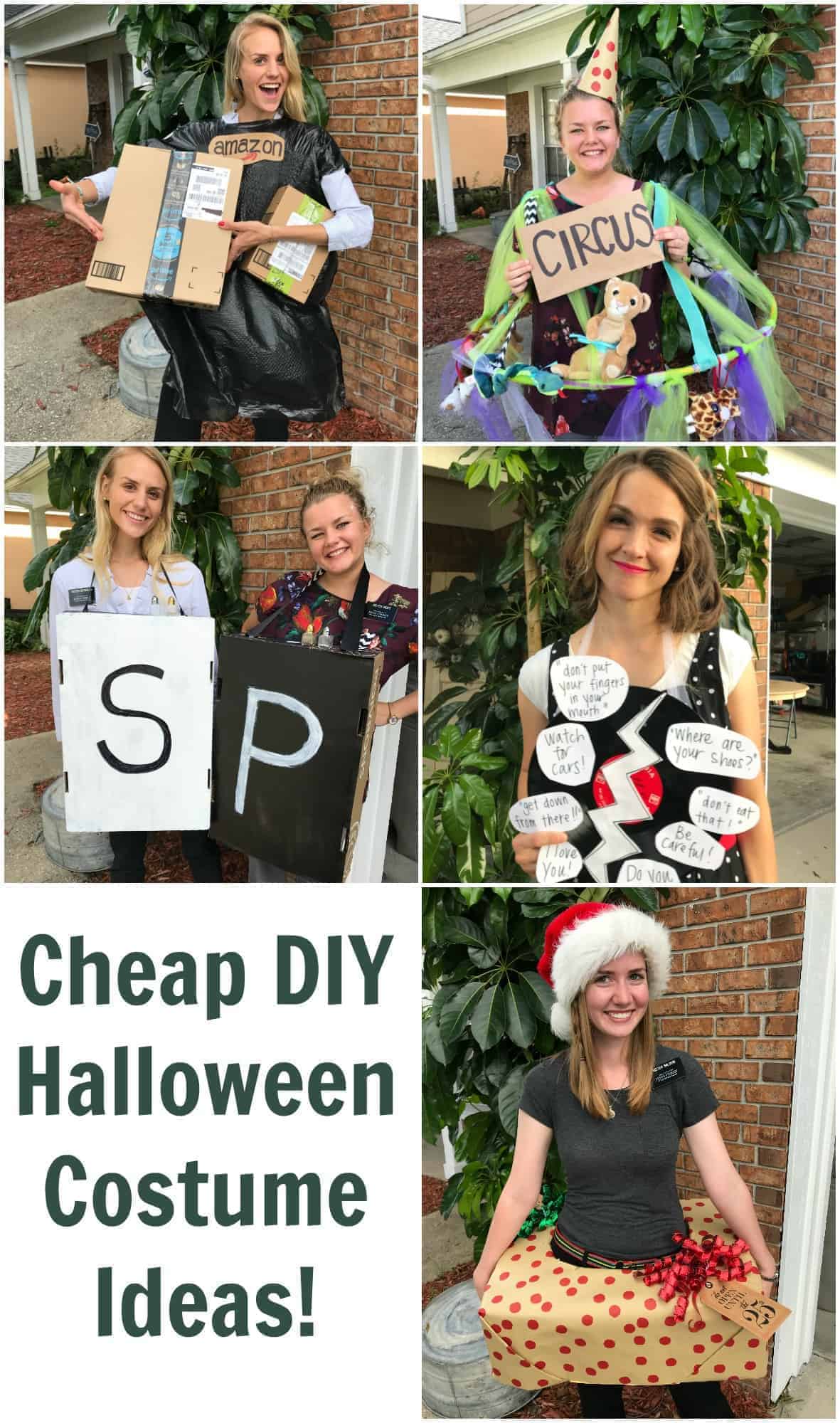 Halloween!! I love it, but I don't enjoy the stress of finding costumes! Also, the expense of a costume you wear only once really drives me crazy!!
My goal for creating these Halloween costumes was simple: Use what I could find around the house.
I didn't want to spend any money and I was successful in this goal! I hope these few ideas help you, too!
Here were my finds to work with:
Hula hoop, ribbon, medium and small boxes, paint, brown paper bag, Christmas wrapping paper, gift tags, Santa hat, kids beanie babies or stuffed animals, markers, tape, hot glue gun.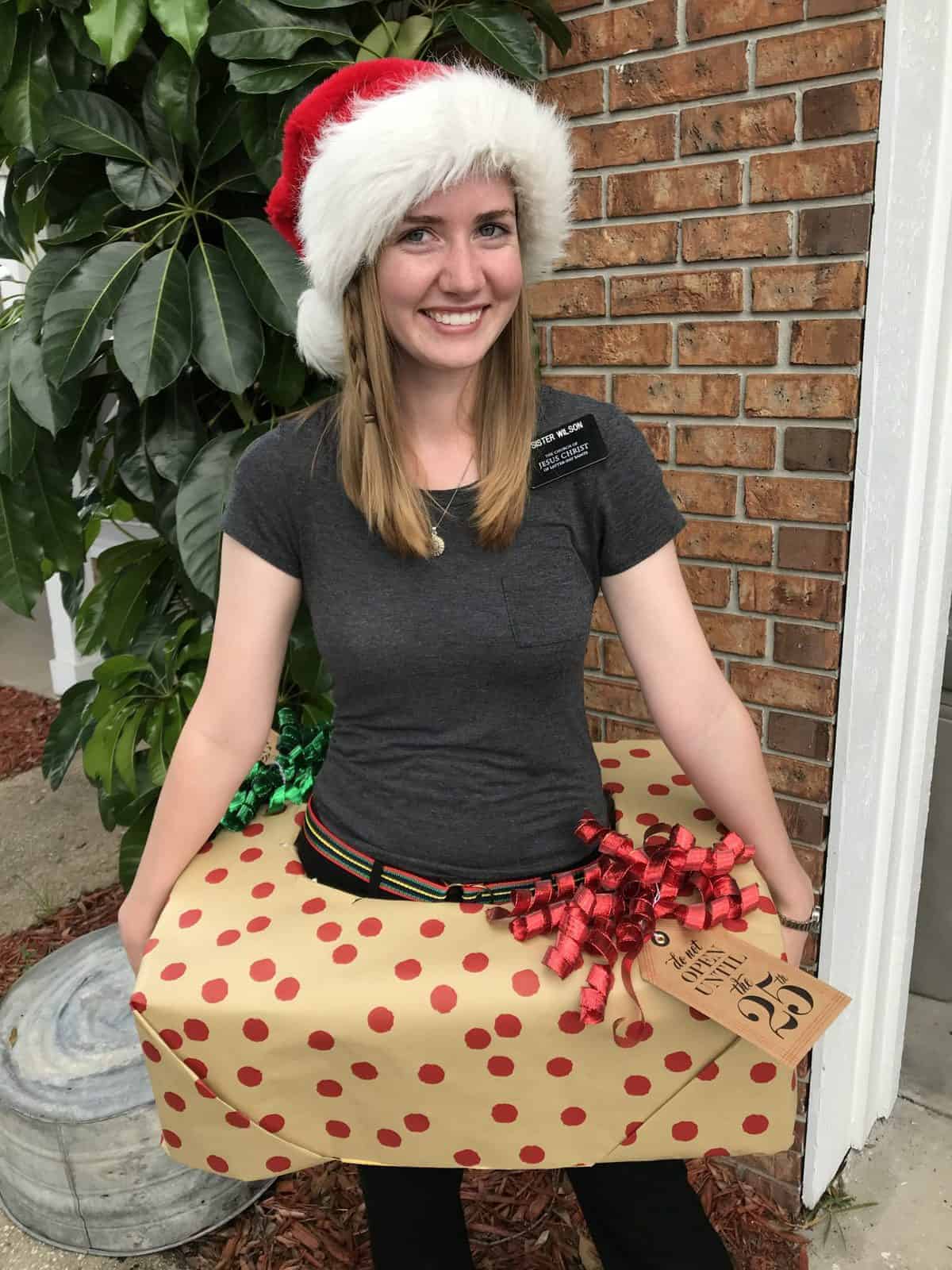 CHRISTMAS PRESENT COSTUME
Find that box you just threw out, Santa's hat, some old wrapping paper from last years Christmas and poof! You're fabulous!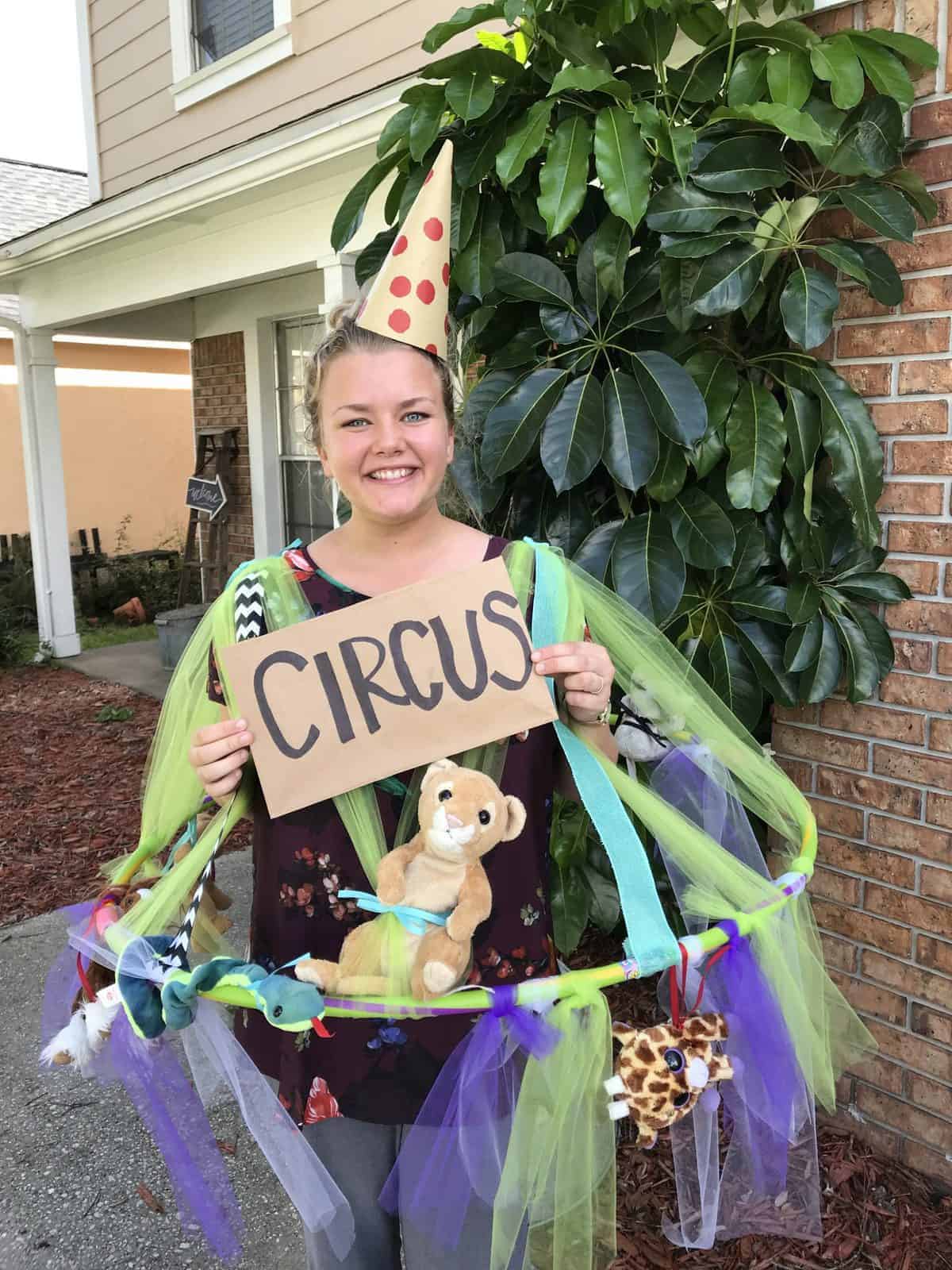 TRAVELING CIRCUS COSTUME
This was inspired by my three children. I like to tell people we are a three ring circus - partially to warn them but also because it's how I feel! We put on a show wherever we go! For this costume, use stuffed animals or beanie babies fastened to a hula hoop and voila! You're me! For the hat, simply cut out any paper and bobby pin onto head. I feel like it completes the look!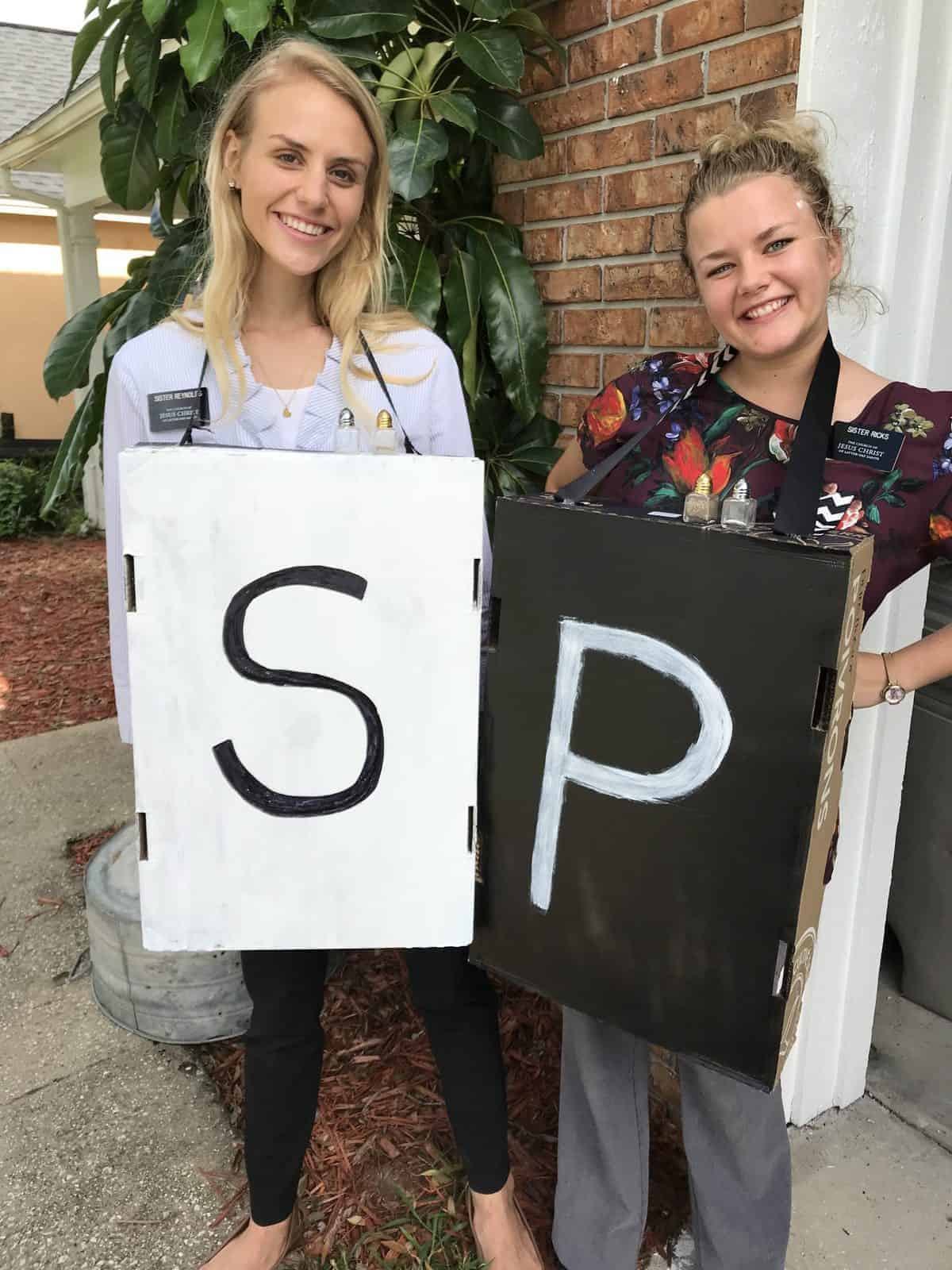 SALT AND PEPPER COSTUMES
A box and paint. Pretty simple. This was the quickest costume to put together. The dry time was the only real wait time. I was thinking a tin strainer would make a nice hat to complete the look!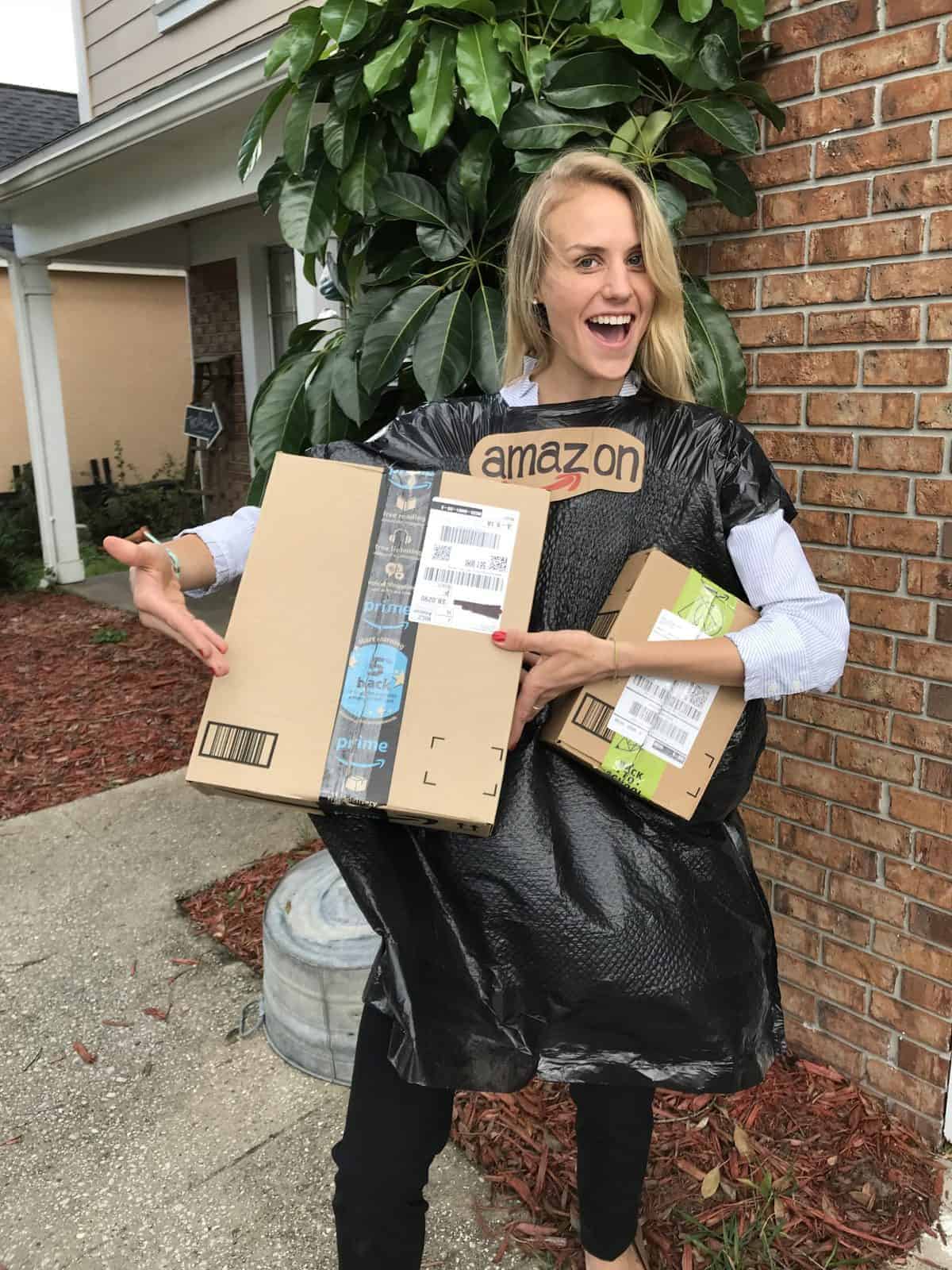 AMAZON (WO)MAN COSTUME
My original idea was inspired by my dad, because he's the indulgent, guilt-present-buying grandpa for my kids.
I honestly didn't know where I was going with this one for the broader audience. However, I feel like a jungle theme would make this costume more clever. Maybe a fake snake wrapped around your neck? Be an "AMAZON (WO)MAN"! (Insert snorting laugh here).
This last costume cost me $4 but I still want to share.
BROKEN RECORD COSTUME (for the moms!)
Going with a 1950s theme, I bought a polka dot dress to go with the record I found at a thrift store and tried to make it appear broken. Apparently these are really durable and my hands can't actually physically break a record as easily as I thought! This was super easy to put together and it was fun coming up with the things I say as a mom. Because I basically AM a broken record!
Happy Halloween and I hope you enjoy these Cheap DIY Halloween Costume Ideas!