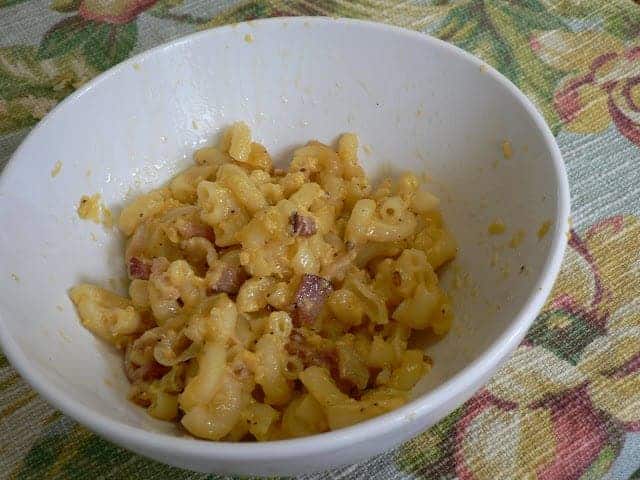 The inspiration for this recipe comes from Pioneer Woman's "Fancy Macaroni".  She uses such cheeses as 
Parmigiano Reggiano and Fontina.  I dream of the day when Parmigiano Reggiano graces my fridge shelf.  But until that day, cheddar will be used.  I'm sure her version is amazing.  Mine was very good though, and very "normal people budget" friendly.  Enjoy!
Baked Man-n-Cheese
4 cups Macaroni, uncooked
6 T. butter
2 medium onion, halved and thinly sliced
1/2 pound bacon
1/4 cups flour
2 1/2 cups milk
2 egg yokes, beaten
salt and pepper, to taste
3 cups cheddar cheese, the sharper the better


Preheat oven to 350 degrees. Cook macaroni for half the time of the package instructions. Drain and set aside. Fry bacon until slightly, crispy. Drain on a paper towel. Reserve 1 T. of the bacon grease.  In the same skillet that you fried the bacon in add the onions and cook over medium-low heat for 15-20 minutes, or until golden brown and soft. Set aside.

In a pot, melt 4 tablespoons butter. Sprinkle in flour and whisk to combine. Cook, stirring constantly, over medium heat for 1 minute. Pour in milk,  cook for 3 to 5 minutes or until thick. Reduce heat to low. Add salt & pepper to taste. (Do not undersalt!)

Beat egg yolks in a seperate small bowl then drizzle 1/4 cup hot milk mixture into the yolks, stirring constantly. Pour egg mixture back into sauce and cook for another minute.

Add cheese and stir until melted. Add onions and bacon and stir. Taste for seasonings and add more salt if needed. Add cooked macaroni and stir to coat.  Pour into a baking dish and bake for 15 to 20 minutes or until sizzling and hot.