You are going to love these creative 8 Wholesome Lunch-Box Ideas for Adults and Kids alike, that go way beyond your typical deli sandwich! Use some fresh fruits and veggies when trying these adult lunch box ideas!
I'm full of lunchbox tips. Check these out: Six Quick and Easy Hummus Lunch Boxes, 6 Easy Pinwheel Recipes for Lunch Boxes and Make Ahead Lunch Box Ideas.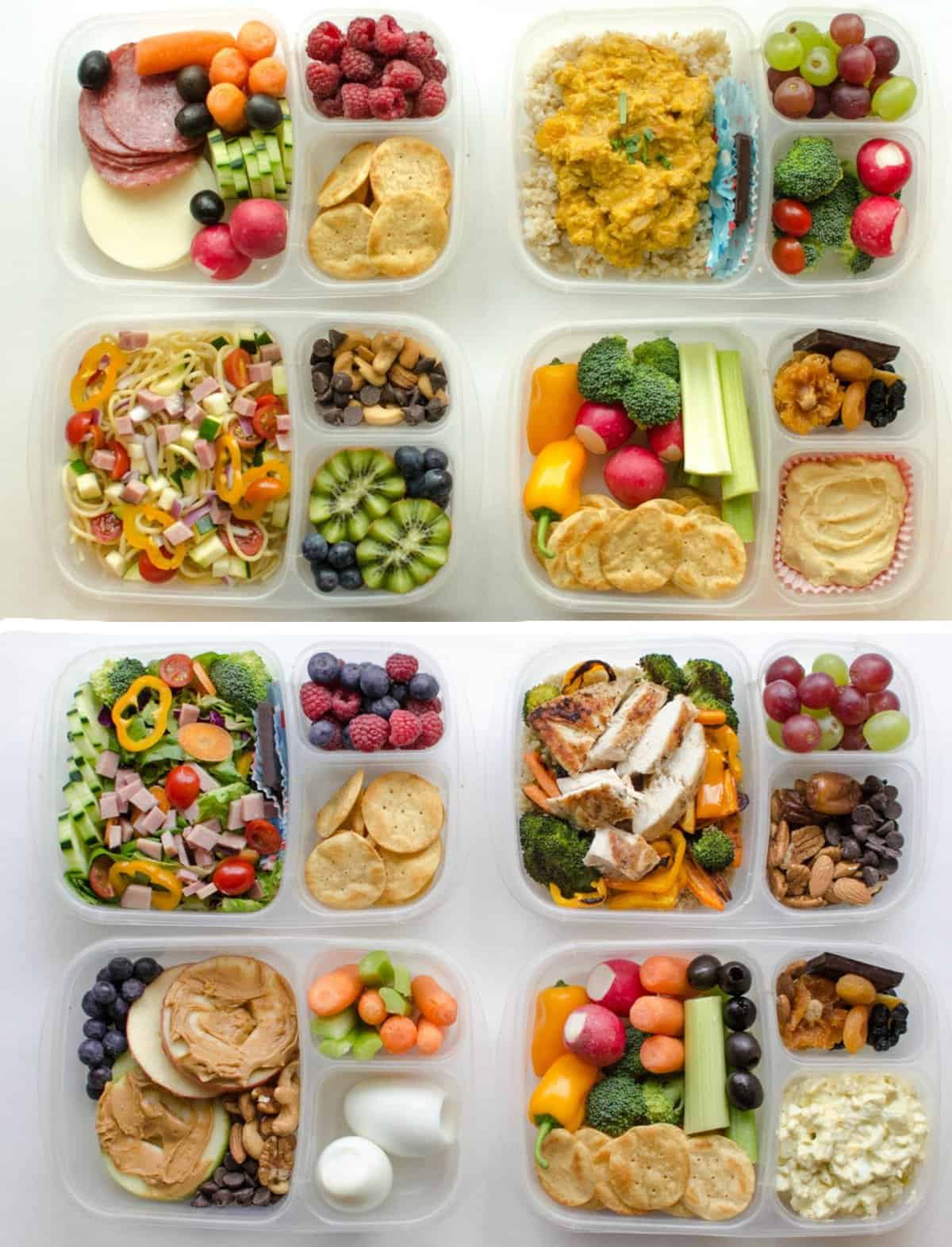 Lunch Box Ideas of Adults and Kids!
I'm sure you have heard the phrase, "If you are prepared you shall not fear." That is the name of game when having healthy, tasty, on-the-go lunch options. I've been working on prepping meals/ingredients/lunches/stuff for the freezer more and more lately and it has been such an awesome thing to have done and ready to use! I'm getting into a great groove and having more food conveniently ready in the fridge is a total game changer.
What is it about the spring that is a total zoo? We have everything from the dentist and t-ball practice to the spring dance recital and baseball going on. Having healthy food ready to go in the fridge means that I'm making good choices, even on the craziest of days.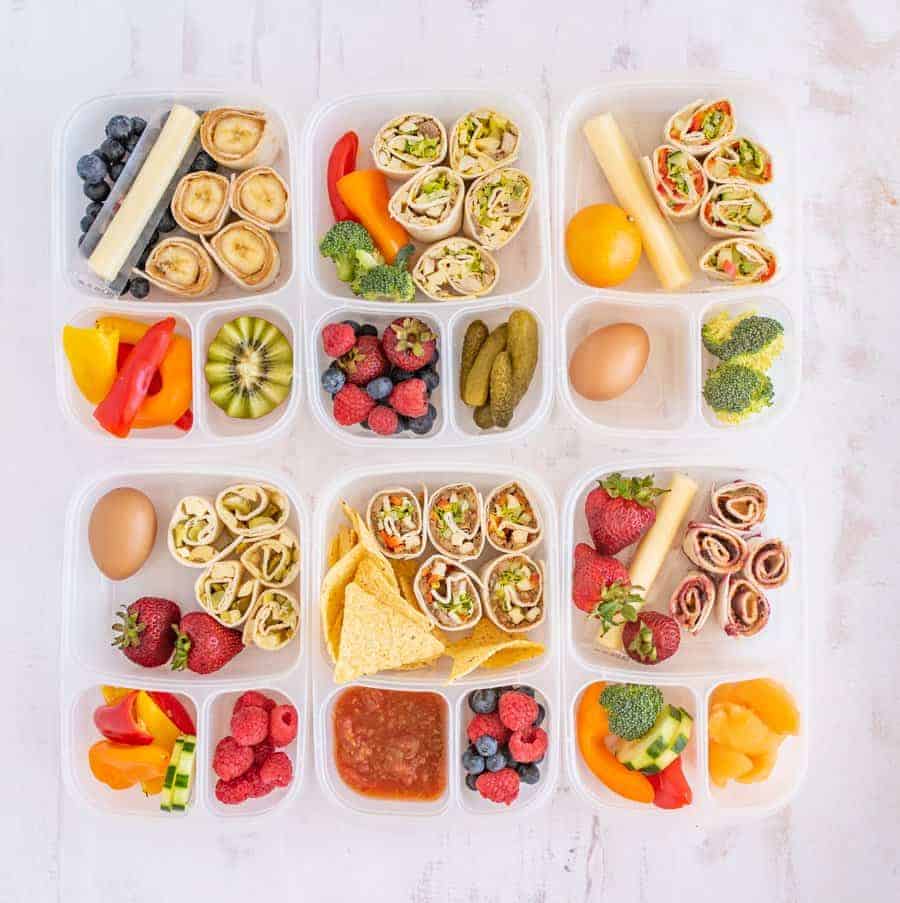 I do pretty well about planning dinner, but it's a whole lot harder to plan lunch. I thought I'd take a little time to prep some awesome lunches and share them with you today. These are simple, wholesome lunch-box ideas for adults. Kids could enjoy them too but I had adults in mind when I created them.
Another added bonus to having a plan for your lunch is that it saves you money! I am here for saving my dollars and eating something that will benefit me in more ways than one.
I have learned that it really doesn't take that much time to prepare meals for my lunch and it makes all the difference in how a feel. Ain't nobody want a hangry mom! These are perfect adult lunch box ideas to enjoy on the go, at work, or even at the park with the kids. Real food never looked so good.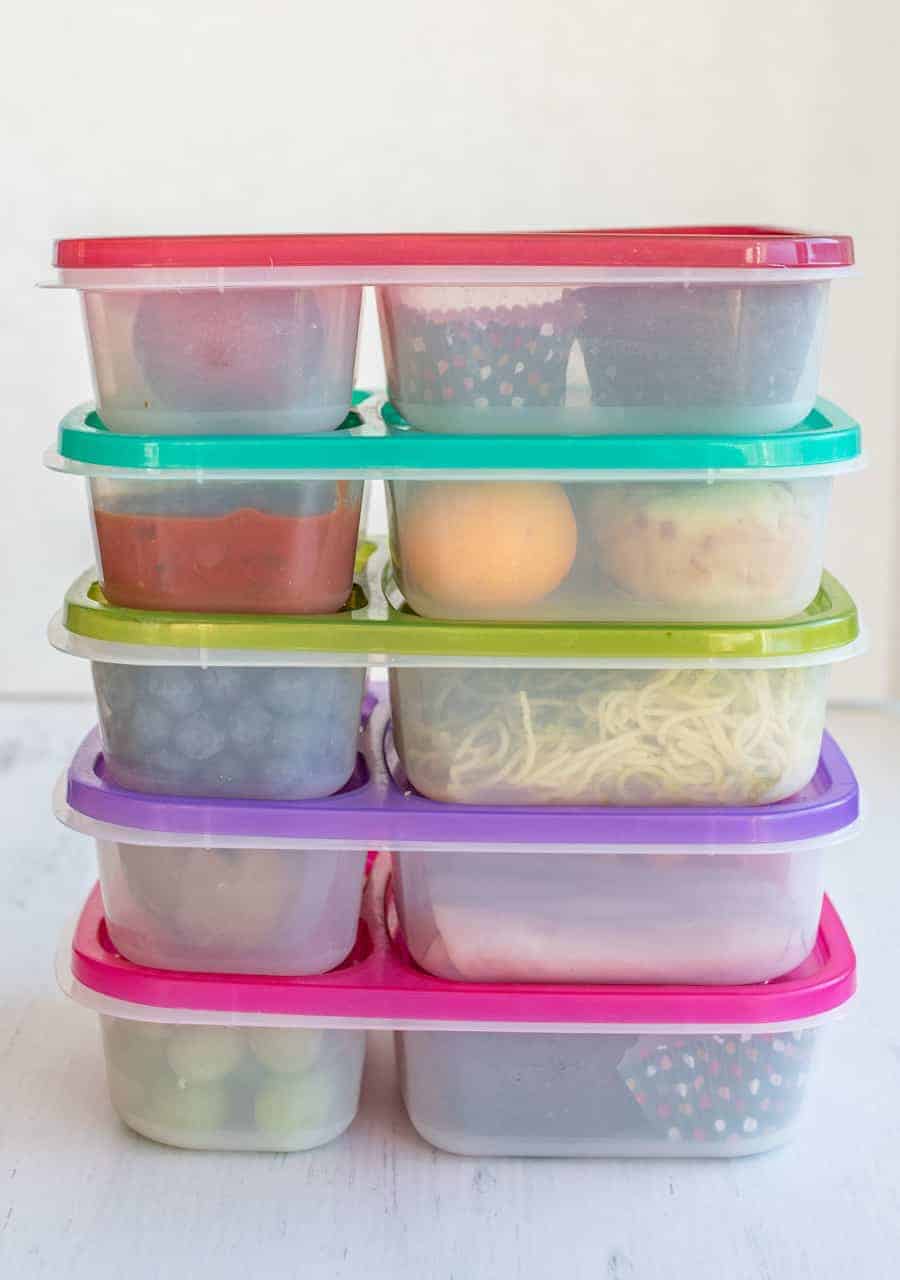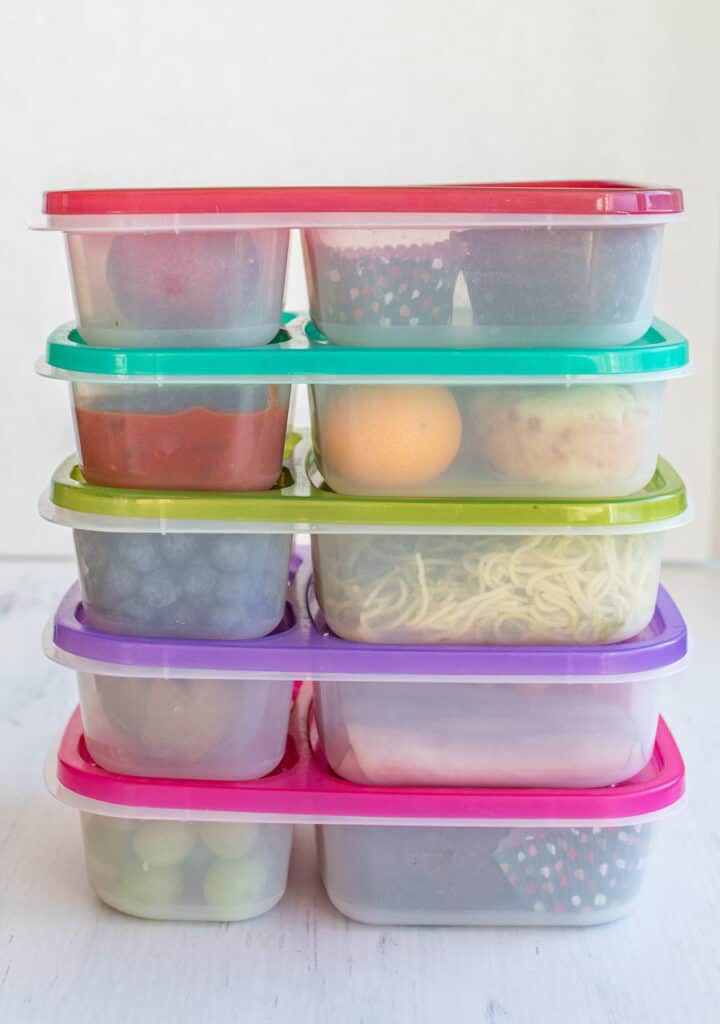 WHAT CAN I HAVE FOR LUNCH INSTEAD OF SANDWICHES?
It is easy to get stuck in the sandwich rut for lunch but the sky is the limit when lunch is involved. Don't overcomplicate it. A few ideas: you can enjoy some type of salad, whether it be a pasta salad, a green salad topped with protein or quinoa salad. You can replace a traditional sandwich with a wrap. I like to mix it and use lettuce as a wrap or naan bread. However, the most efficient way to create a lunch is using leftovers. I tend to make extra servings of dinner just for this purpose. Kill 2 birds with 1 stone I say.
IF I AM TRYING TO LOSE WEIGHT SHOULD I SKIP LUNCH?
NOOOOO! Skipping meals is never a good idea. Often skipping a meal will make you hungry to the point that you will binge eat and not make healthy food choices. I am a huge fan of eating well balanced meals and healthy snacks throughout the day. Eating this way will boost your metabolism and keep you from crashing.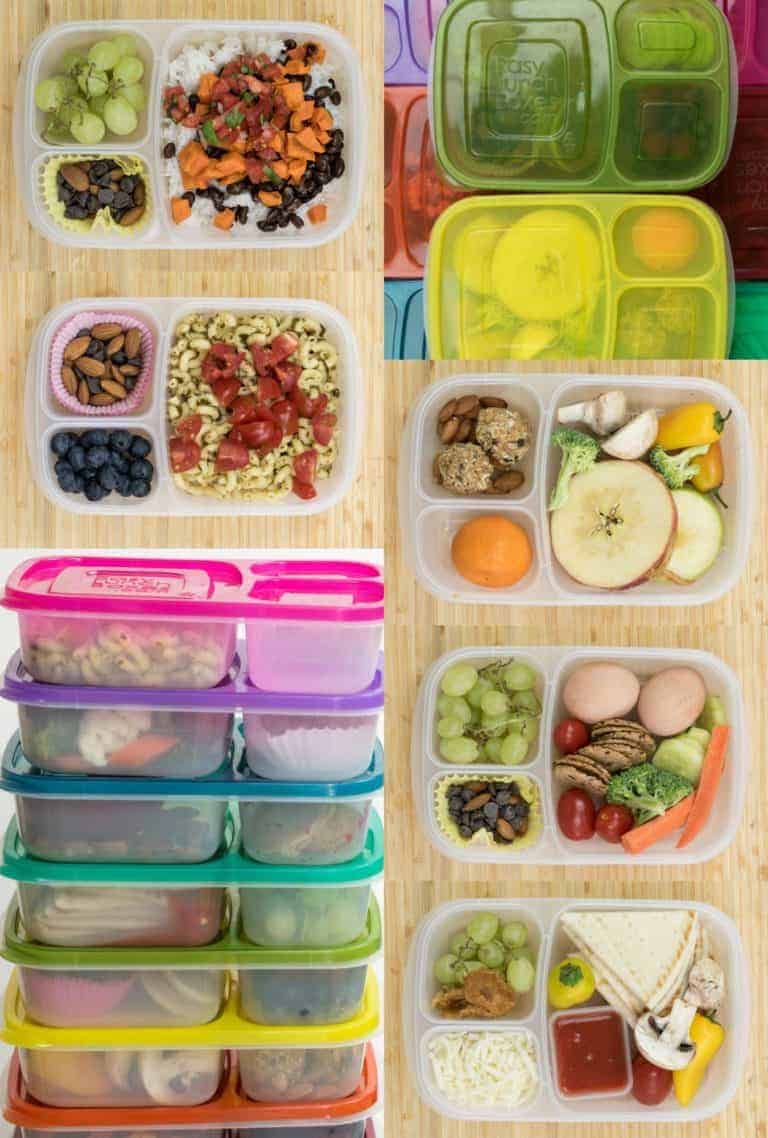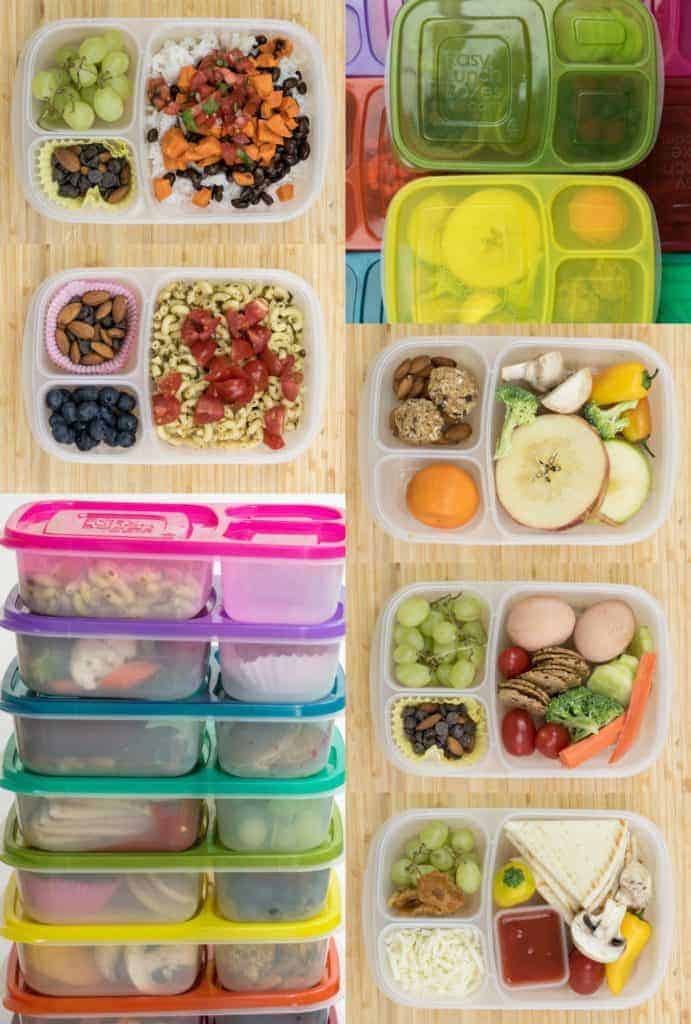 WHAT'S THE KEY TO A GREAT LUNCH ON THE GO?
I like to make sure my grownup lunchboxes all use simple, real food that can be prepped ahead of time and stored in the fridge. I strive to create a meal includes ample protein, fat and carbs. Always include fruits and vegetables too! This makes it easy to grab and go and not be stuck having to choose fast food or something you don't really want to eat (or worse, not eat at all!).
WHAT'S THE BEST WAY TO STORE AND CARRY LUNCH TO GO?
You must get some lunchboxes you love! These Easy Lunch Boxes are super great for my kids and myself alike. It helps you portion everything out easily, plus it makes clean up and transporting simple.
Freezable lunch bags are also a really great option if you know you are going to be out for a while and want to bring a packed lunch. I use these year round when I need to keep lunches cold.
HOW CAN YOU MAKE MEAL PREP EASIER?
I like to prep lunches while I'm making dinner and already have out my knife and cutting board. You can also do a big meal prep session, or you can prep a little as you go. Whatever is easiest for you! Check out all of my meal prep tips here!
I am so excited for you to make and try a few of these wholesome packed lunch ideas for adults! It's a simple way to get whole foods for lunch, even on the craziest of days.
Possible Lunch Box Meals: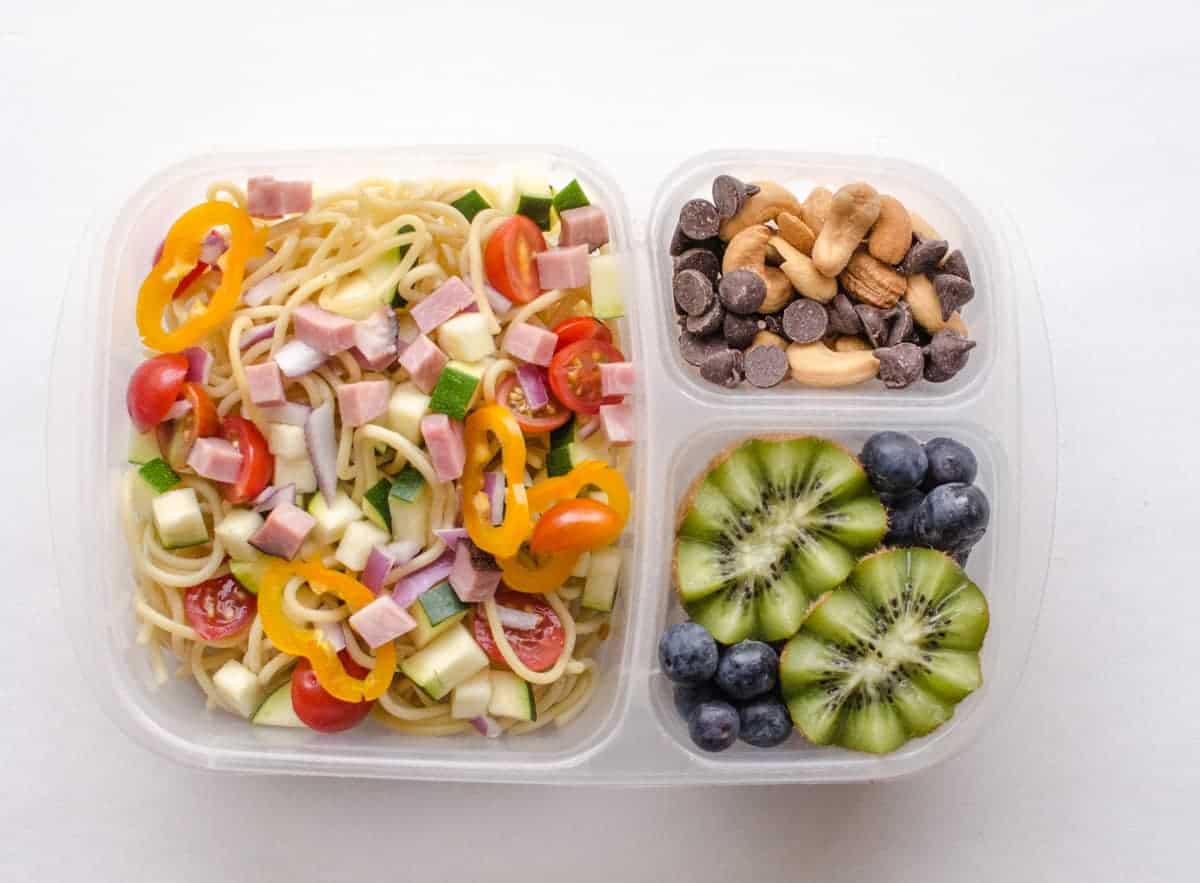 Easy Pasta Salad (leftover pasta + chopped zucchini/red onion/tomato/bell peppers/ham + salad dressing (roasted garlic, creamy Italian, and classic vinaigrette are awesome in this)
Cashews + dark chocolate chips
Kiwi + blueberries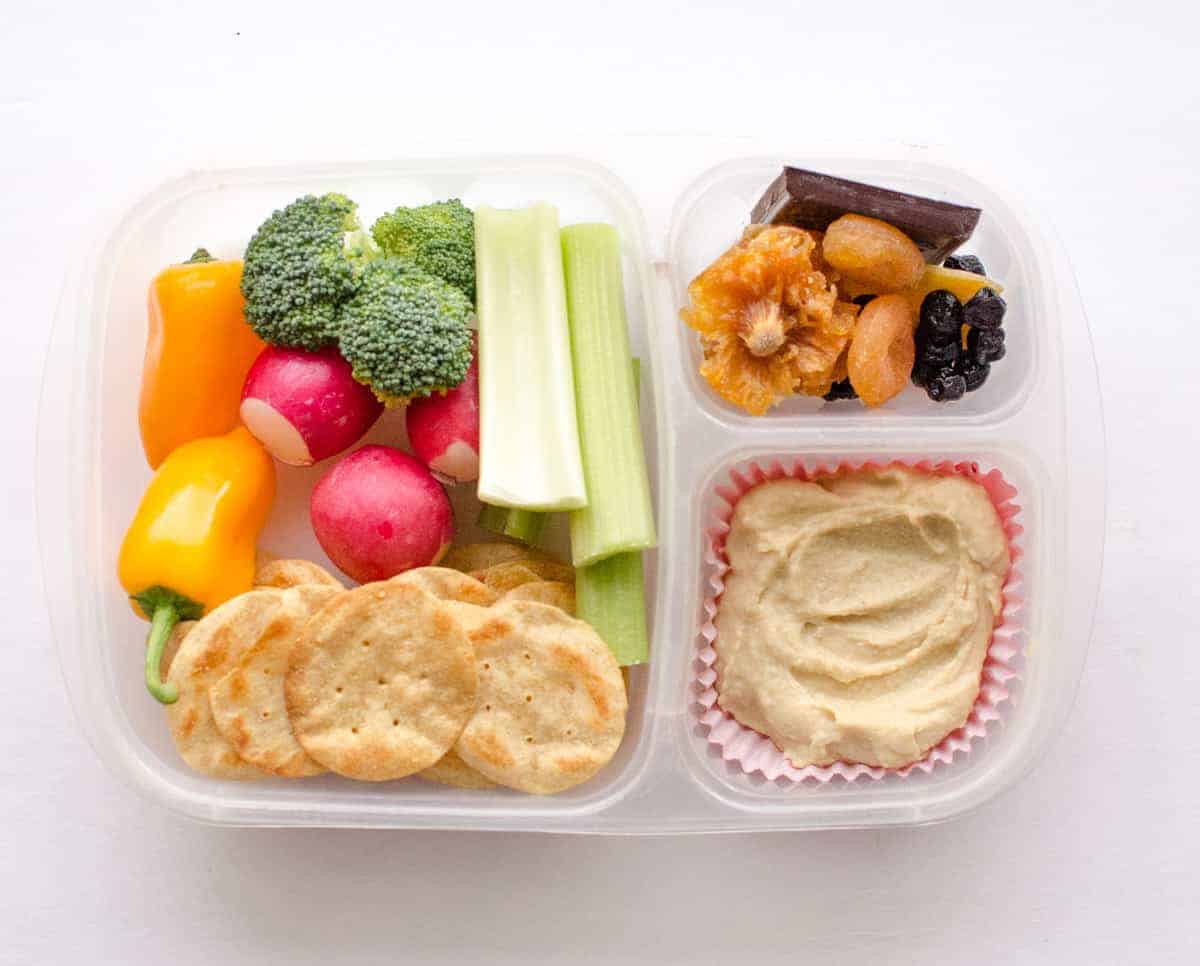 Hummus
Celery/carrots/bell peppers/broccoli
Crackers
Dried fruit (mango/pineapple/blueberries/apricots) + dark chocolate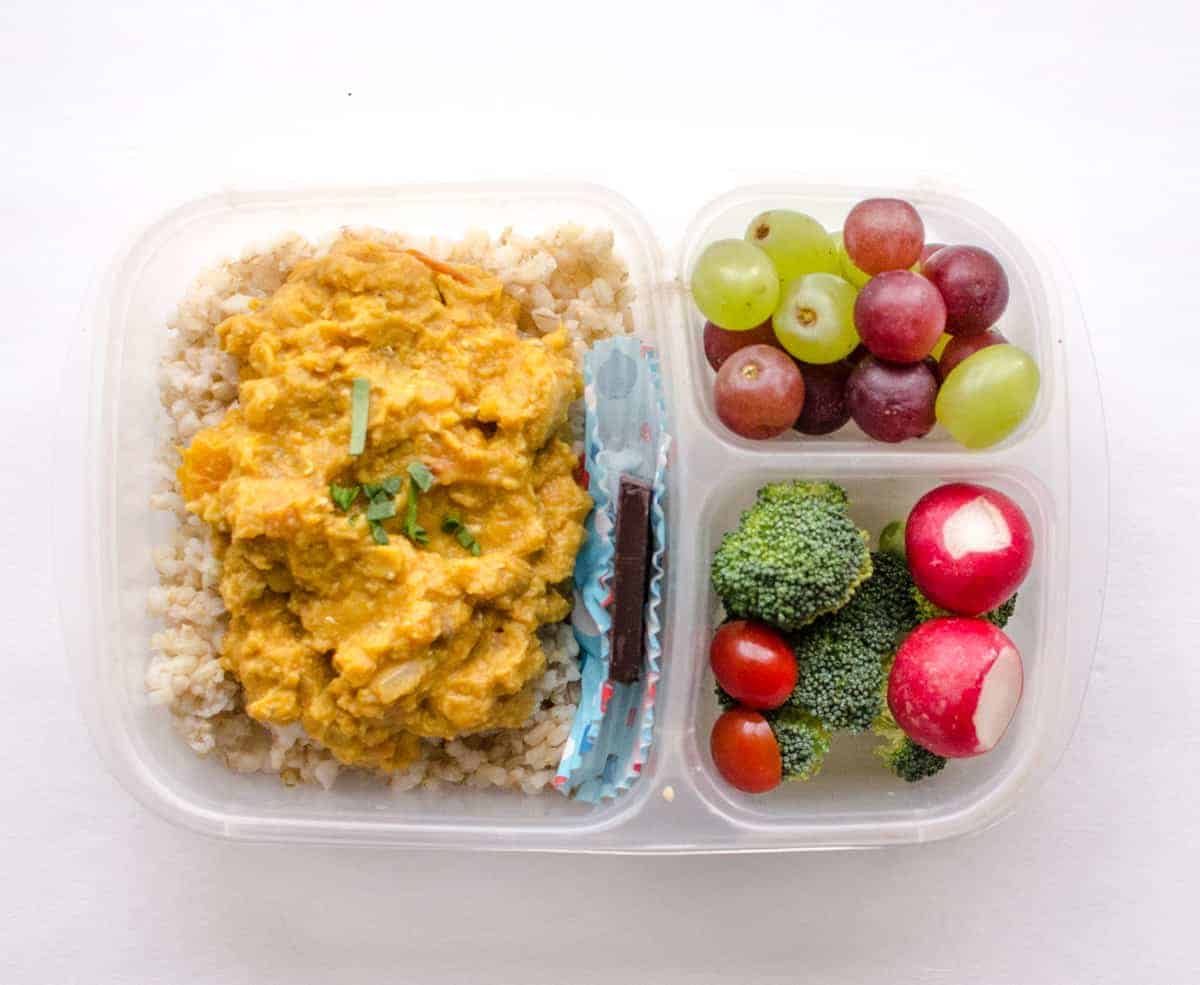 Butternut Squash and Red Lentil Curry + brown rice (my favorite leftovers!)
Dark chocolate
Broccoli/radishes/tomatoes
Red and green grapes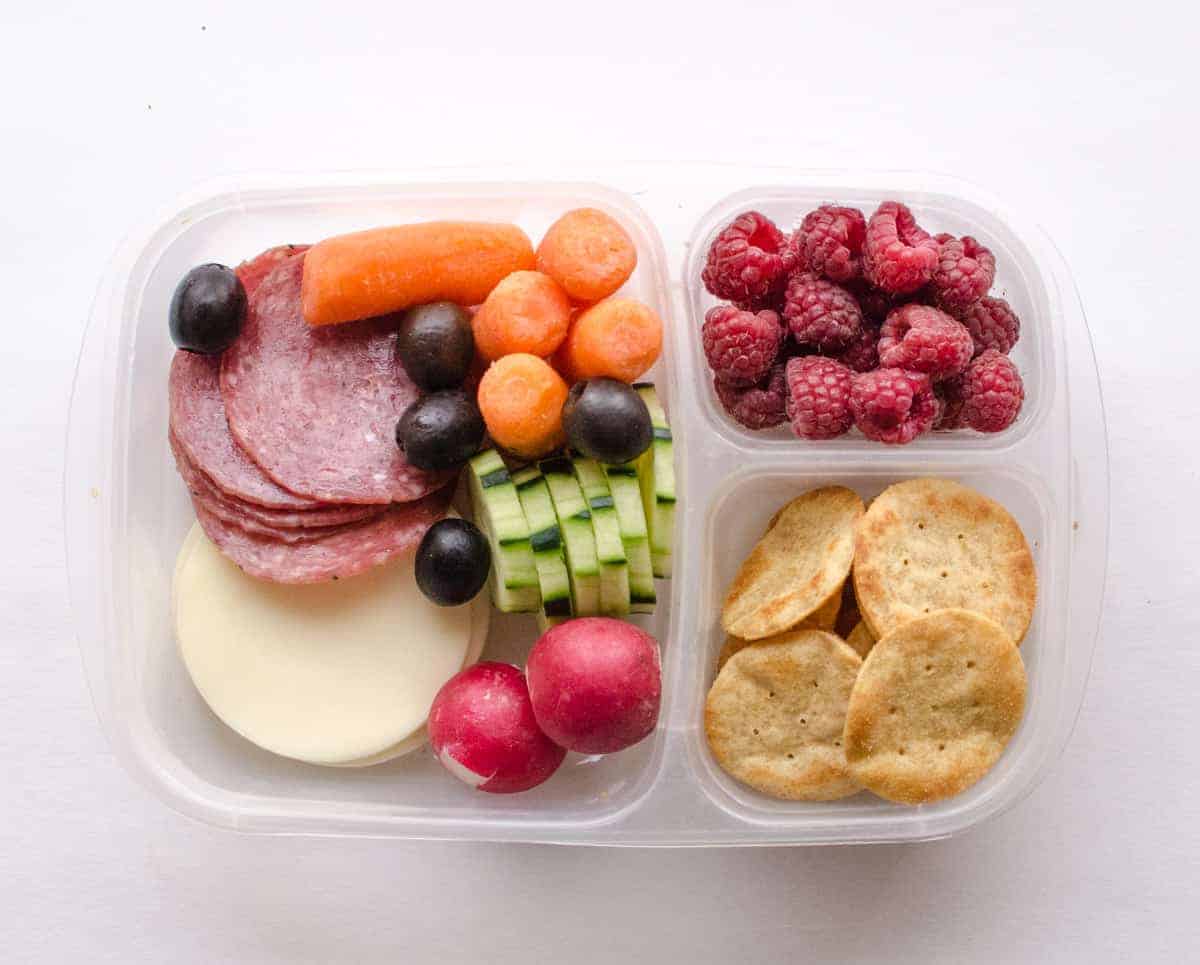 Salami + provolone
Crackers
Radishes/cucumber/carrots/black olives
Raspberries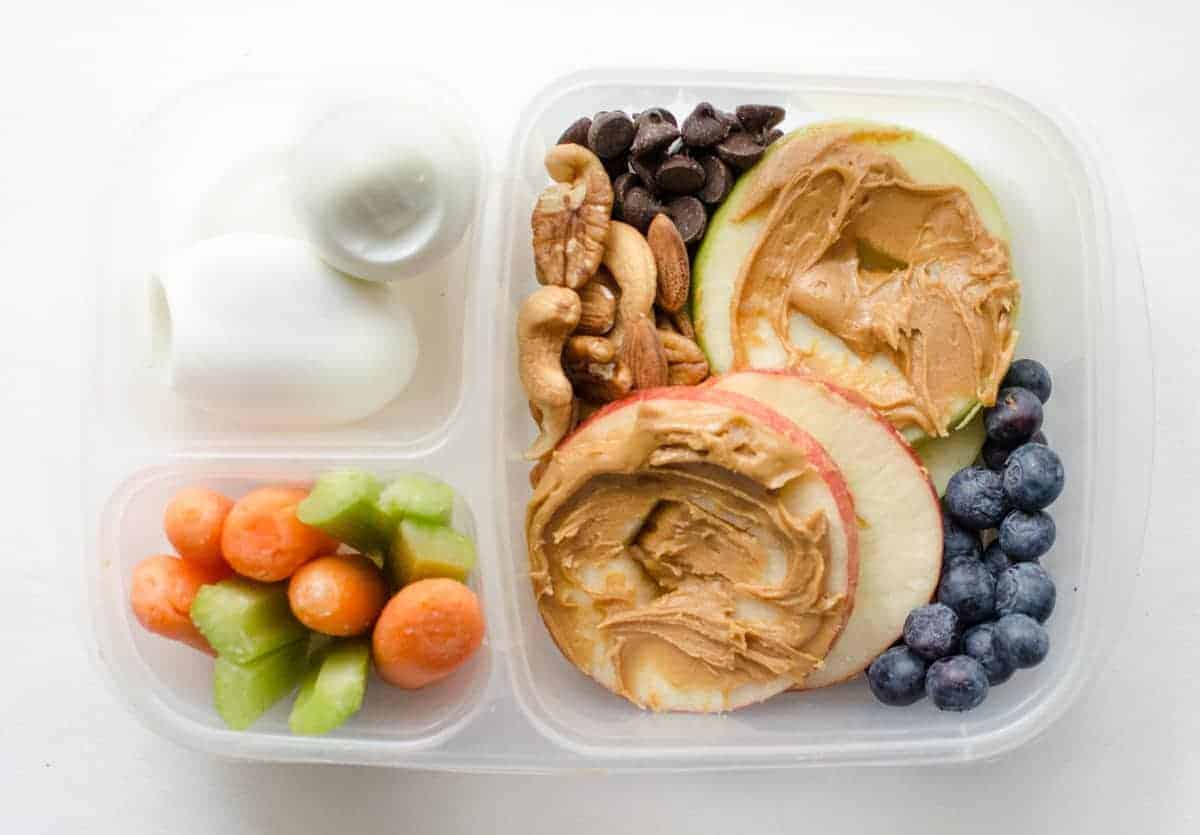 Apple and Peanut Butter "Sandwiches"
Blueberries
Cashews + almonds + pecans + dark chocolate chips
Boiled eggs
Carrots + celery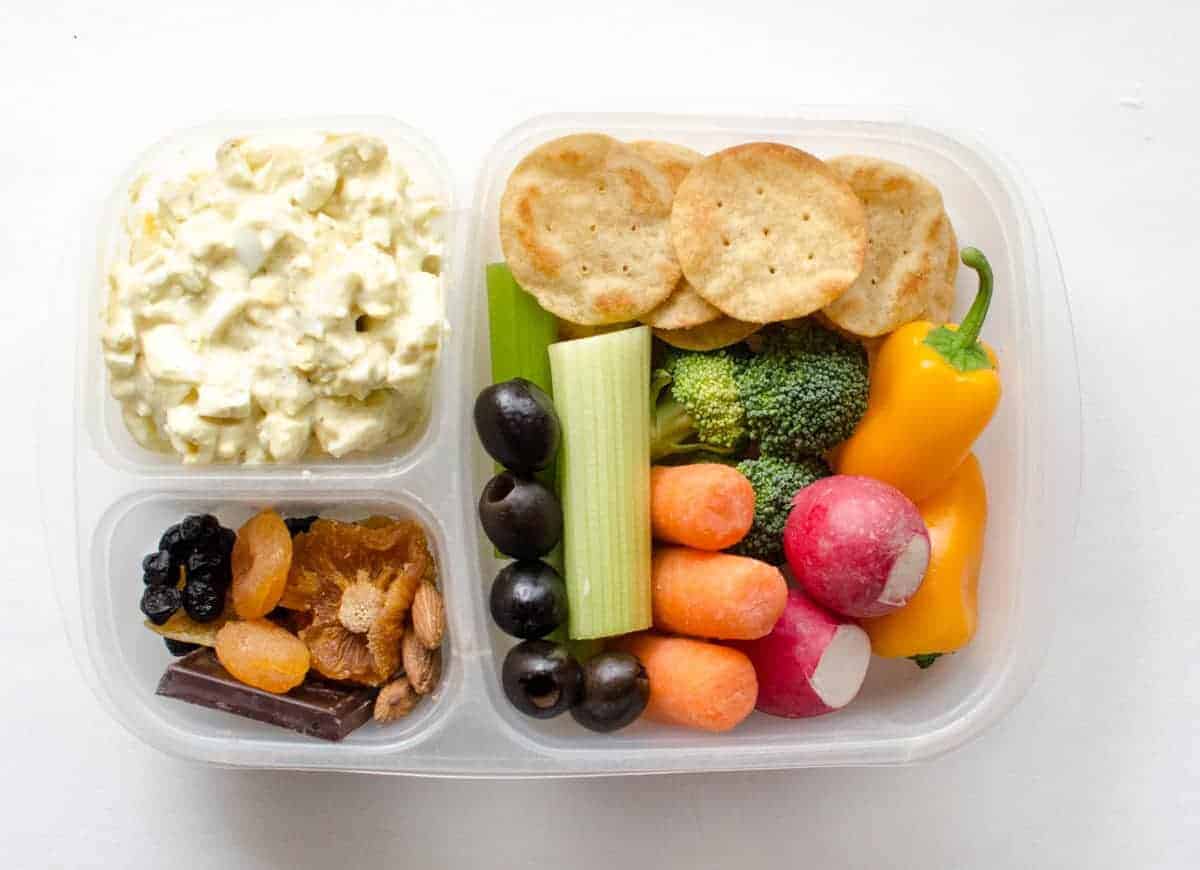 Crackers
Black olives/celery/carrots/broccoli/radishes/bell peppers
Dried blueberries/apricots/pineapple + dark chocolate + almonds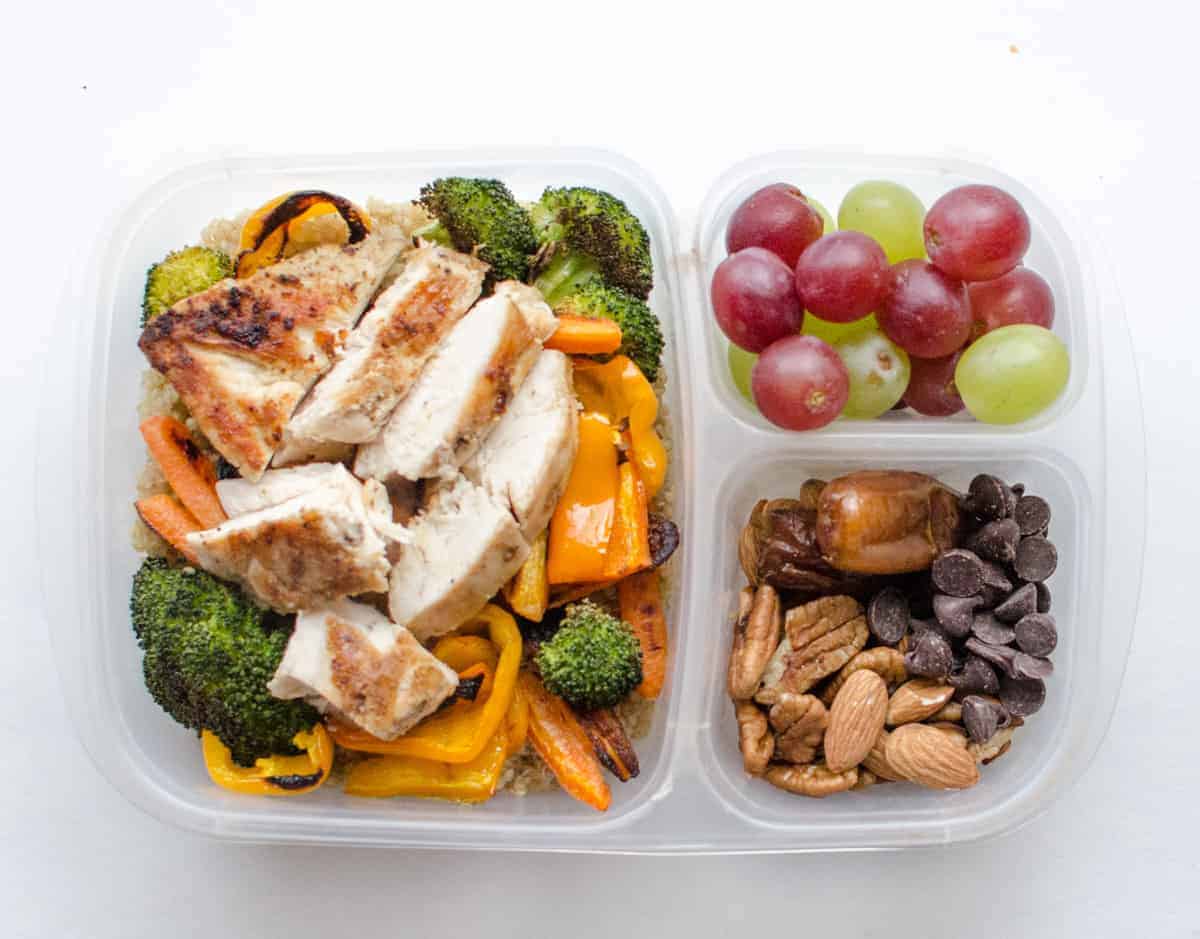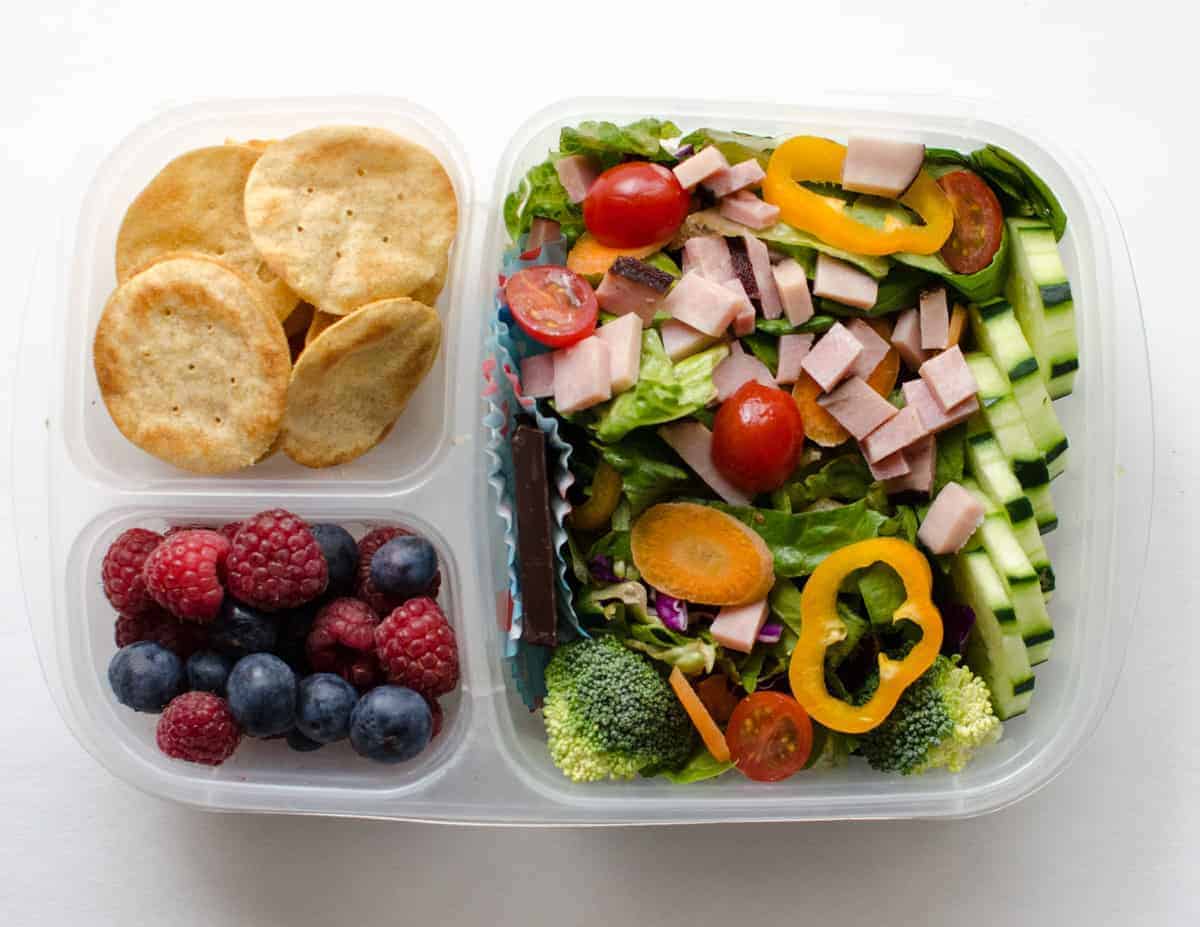 Green Salad (all the veggies + optional ham/cheese/boiled egg). If I'm going to eat it within an hour or two, I'll add the dressing before I leave the house. I'll bring the dressing in a separate container if I'm not going to eat it for a few hours. Don't dress the day you make it; it gets soggy fast.
Crackers
Blueberries + raspberries
Dark chocolate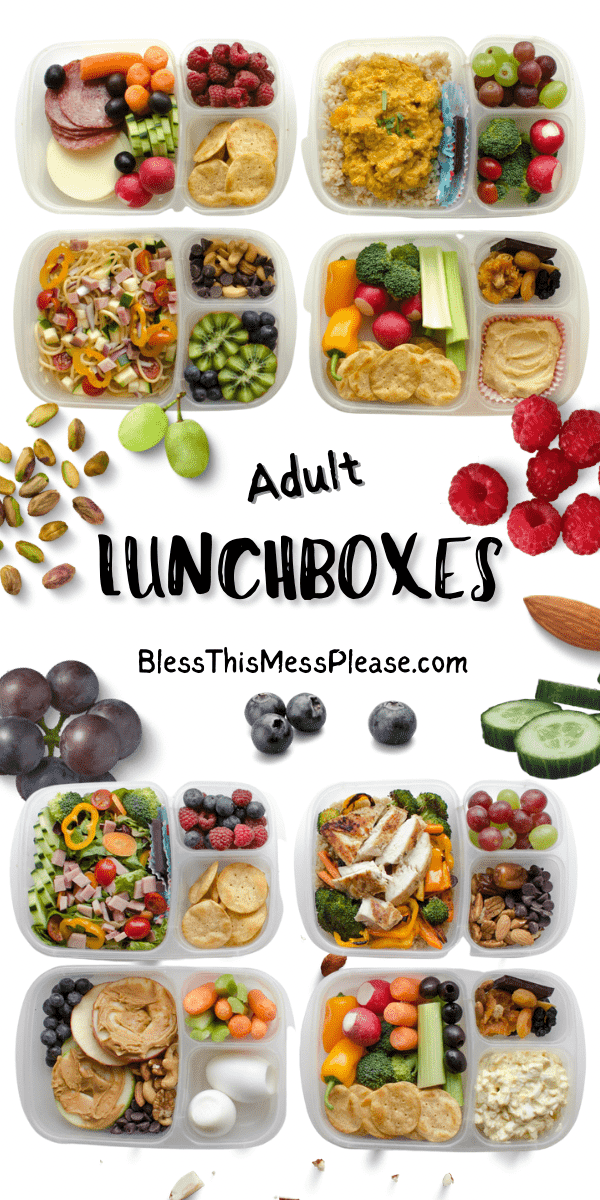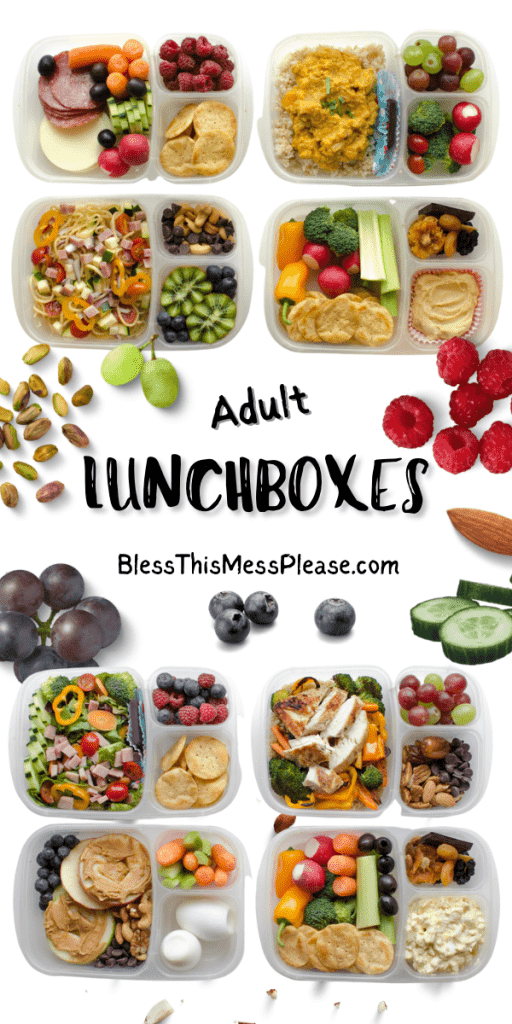 Wasn't that awesome and pretty painless? The noodles and curry are leftovers from a dinner and the boiled eggs and salad dressings can be made ahead of time. Even if you were whipping these up one at a time in the morning, they shouldn't take more than a few minutes to put together.
If you are looking for other lunch-box inspiration, you might also like these posts:
My favorite page on all things meal prep and food prep (lots of make ahead meal ideas!)
I am so excited for you to make and try a few of these wholesome packed lunch ideas for adults! It's a simple way to get whole foods for lunch, even on the craziest of days