Disclosure: This post was sponsored by GOOD THiNS through their partnership with POPSUGAR Select. While I was compensated to write a post about GOOD THiNS, all opinions are my own.
I've been working on prepping meals/ingredients/lunches/stuff for the freezer more and more lately and it has been such an awesome thing to have done and ready to use! I even had the chance to teach a meal planning/food prep class to over 30 women this past month and I loved it. I'm getting into a great groove and having more food conveniently ready in the fridge is a game changer.
What is it about the spring that is a total zoo? We have everything from the dentist and t-ball practice to the spring dance recital and baseball going on. Having healthy food ready to go in the fridge means that I'm making good choices, even on the craziest of days.
I do pretty well about planning dinner, but it's a whole lot harder to plan lunch. I thought I'd take a little time to prep some awesome lunches and share them with you today. These are simple, wholesome lunch-box ideas for adults. Kids could enjoy them too but I had adults in mind when I created them. These are perfect  adult lunch box ideas to enjoy on the go, at work, or even at the park with the kids. Real food never looked so good.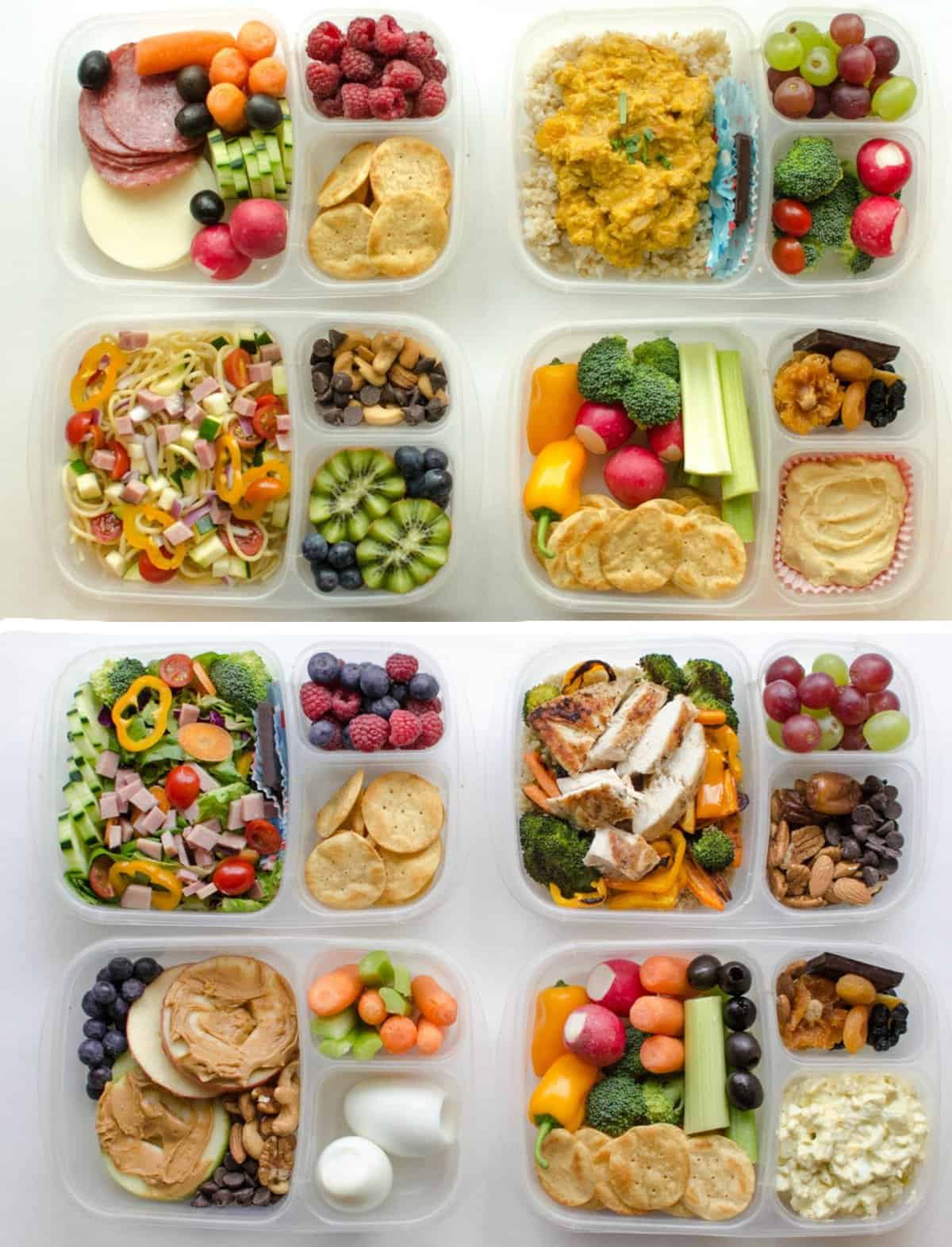 All of these lunches are really simple, are loaded with wholesome real food options, and can be made ahead of time and kept in the fridge.
I bought a set of Easy Lunch Boxes when my oldest went to kindergarten so that she could start packing her lunch and we still use and love them all of the time. When I'm packing my school kids' lunches, I'll often just make two more lunches for the little boys at home. They love eating out of these cute boxes and I love that the work is done.
I prepped these lunches while I was making dinner and already had out my knife and cutting board and was busy making a mess in the kitchen. You can set out to do a big meal prep session or you can prep a little as you go, it's up to you.
Here are the details on the lunches!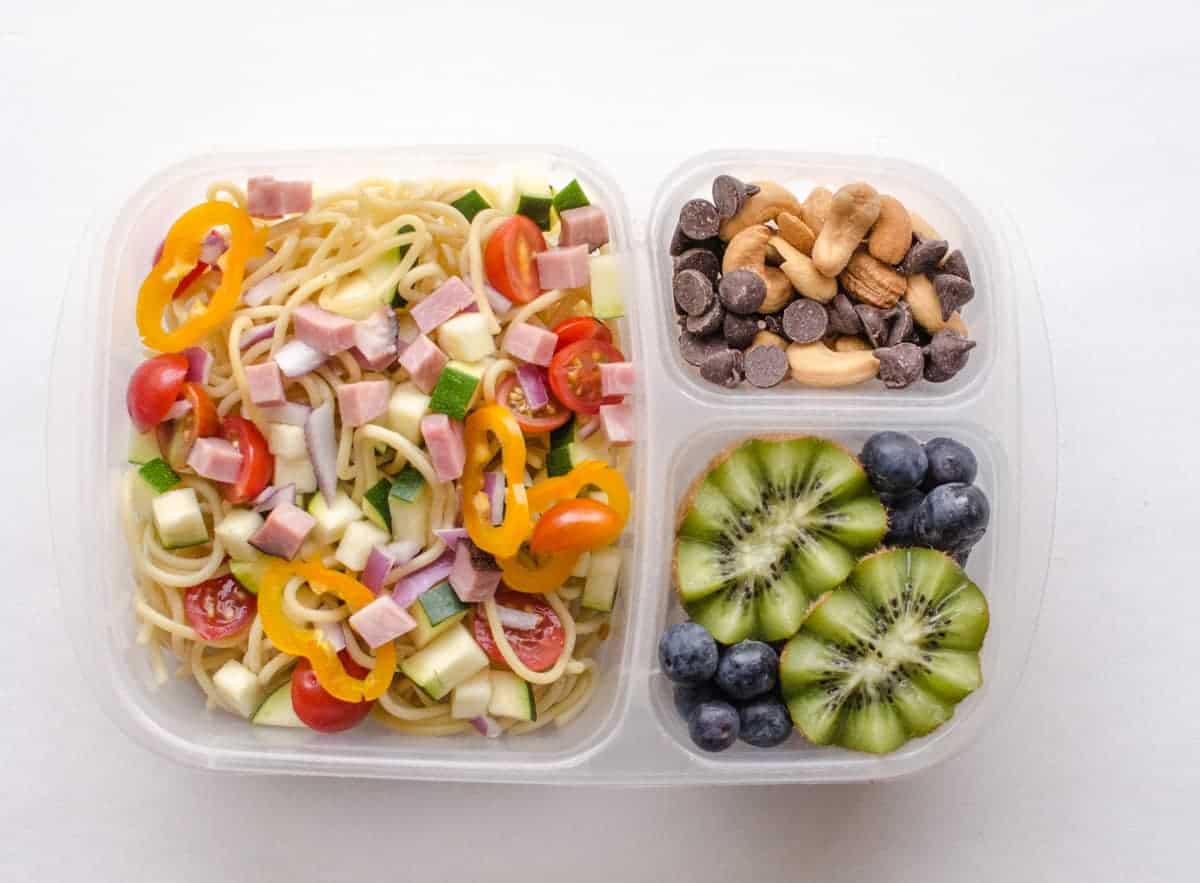 Easy Pasta Salad (leftover pasta + chopped zucchini/red onion/tomato/bell peppers/ham + salad dressing (roasted garlic, creamy Italian, and classic vinaigrette are awesome in this)
Cashews + dark chocolate chips
Kiwi + blueberries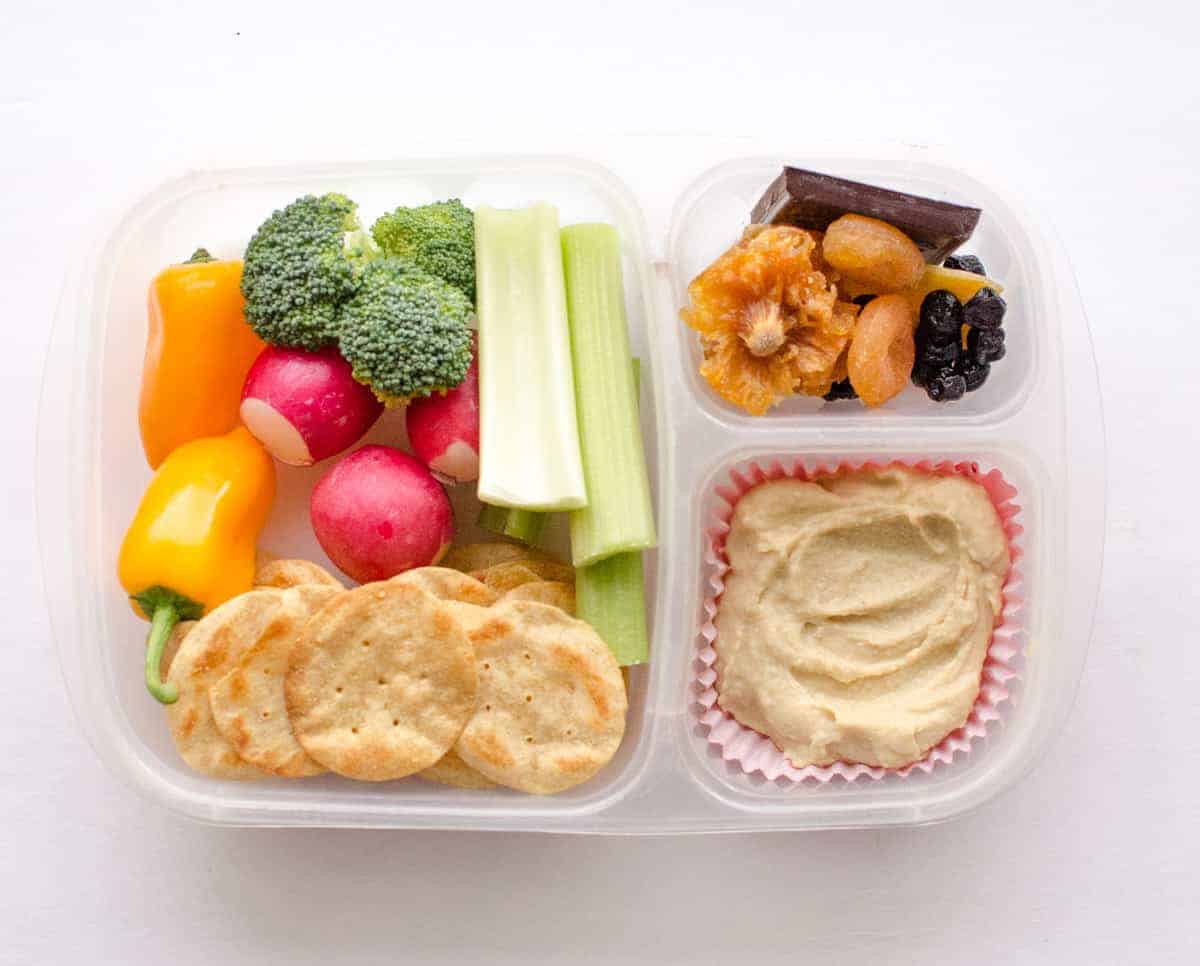 Hummus
Celery/carrots/bell peppers/broccoli
Sweet Potato GOOD THiNS
Dried fruit (mango/pineapple/blueberries/apricots) + dark chocolate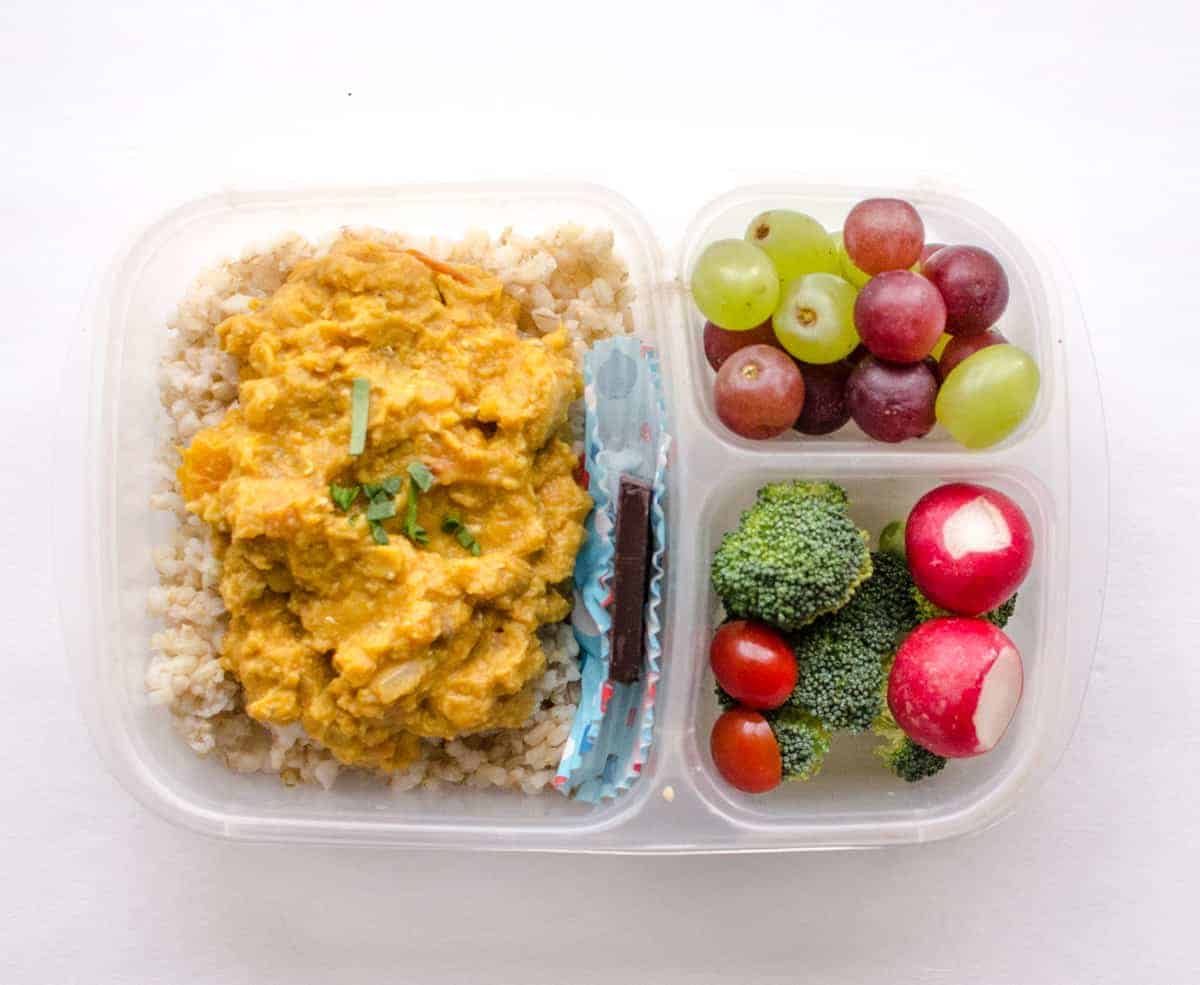 Butternut Squash and Red Lentil Curry + brown rice (my favorite leftovers!)
Dark chocolate
Broccoli/radishes/tomatoes
Red and green grapes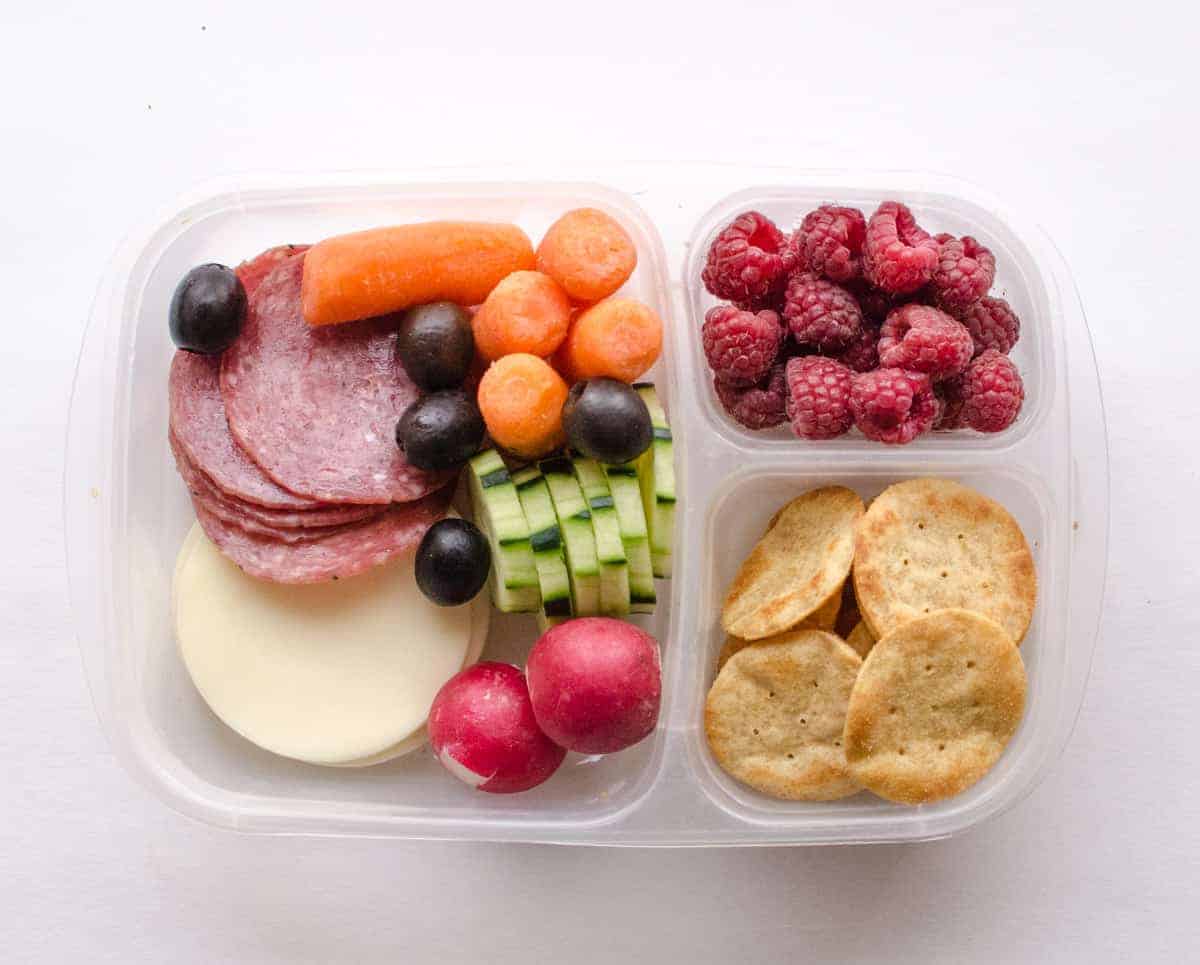 Salami + provolone
Radishes/cucumber/carrots/black olives
Raspberries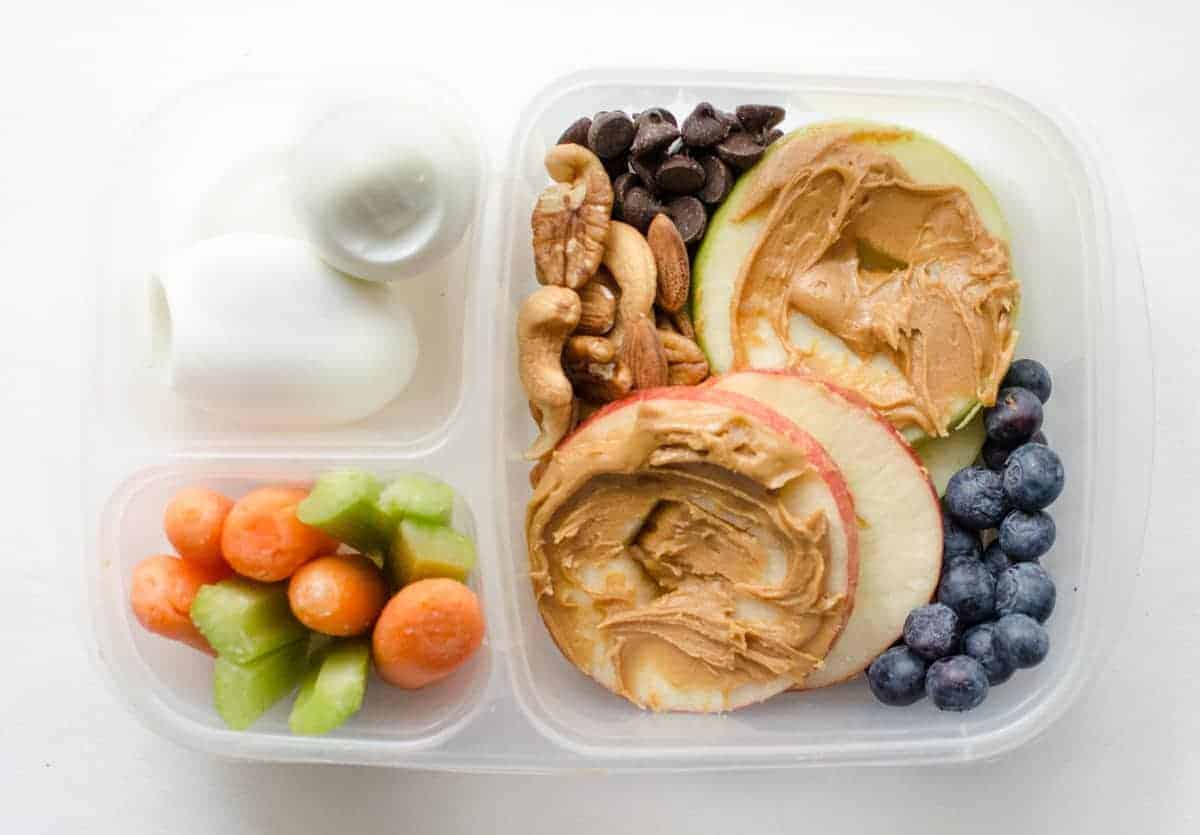 Apple and Peanut Butter "Sandwiches"
Blueberries
Cashews + almonds + pecans + dark chocolate chips
Boiled eggs
Carrots + celery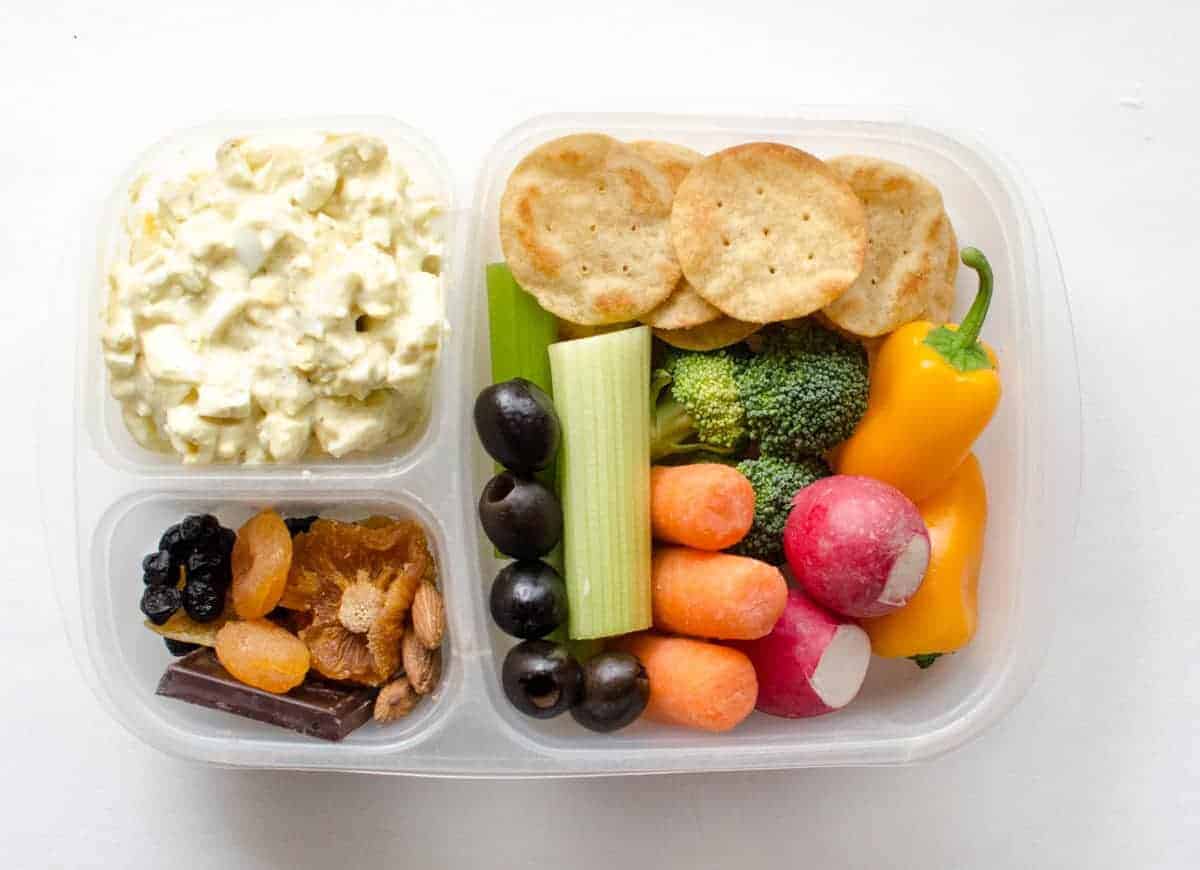 Egg Salad
Sweet Potato GOOD THiNS
Black olives/celery/carrots/broccoli/radishes/bell peppers
Dried blueberries/apricots/pineapple + dark chocolate + almonds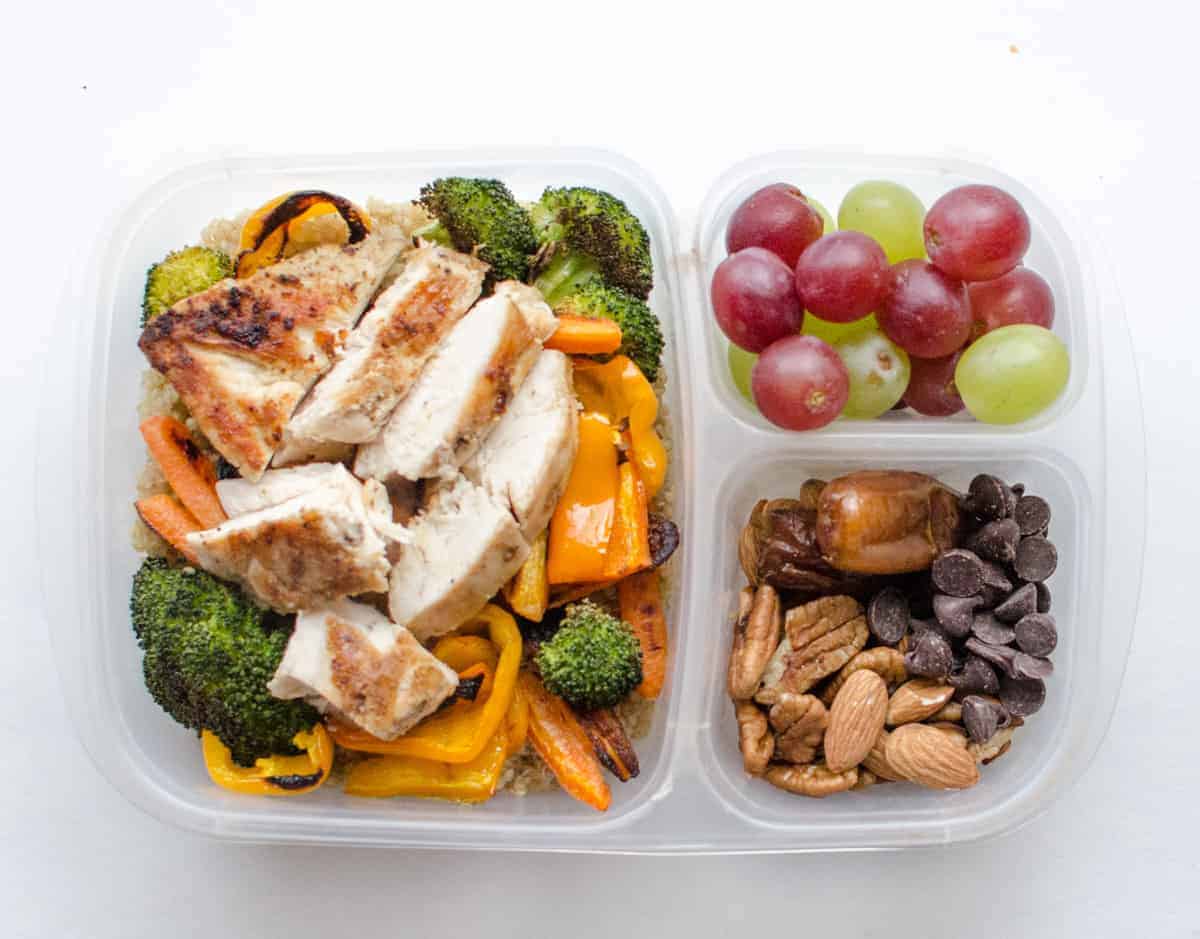 Cooked Quinoa + Roasted Veggies + Chicken Breast (great with optional dressing on top, and I love the roasted garlic on this)
Red and green grapes
Pecans + almonds + dates + dark chocolate chips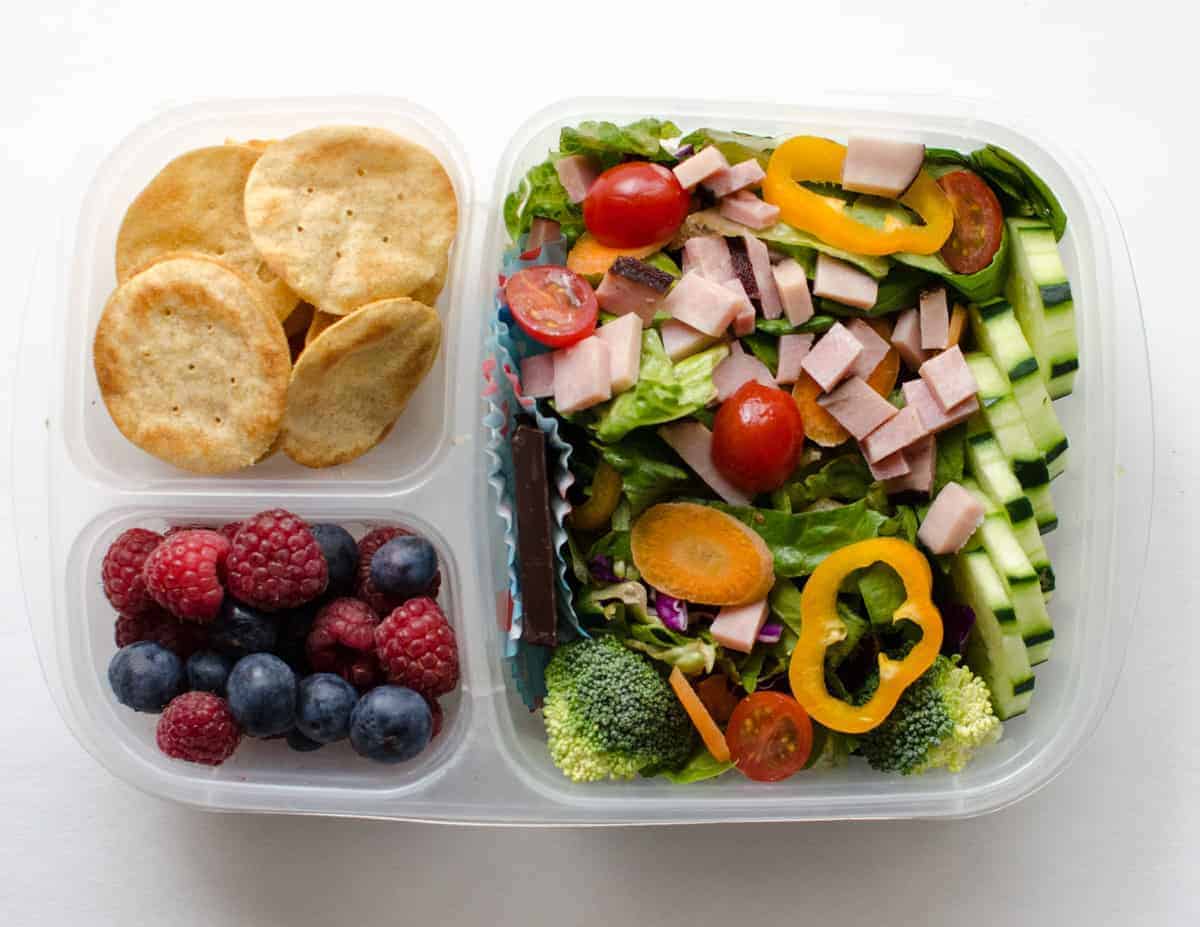 Green Salad (all the veggies + optional ham/cheese/boiled egg). If I'm going to eat it within an hour or two, I'll add the dressing before I leave the house. I'll bring the dressing in a separate container if I'm not going to eat it for a few hours. Don't dress the day you make it; it gets soggy fast.
Sweet Potato Good Thins
Blueberries + raspberries
Dark chocolate
Wasn't that awesome and pretty painless? The noodles and curry are leftovers from a dinner and the boiled eggs and salad dressings can be made ahead of time. Even if you were whipping these up one at a time in the morning, they shouldn't take more than a few minutes to put together.
I had the chance to work with GOOD THiNS on this post and I'm so pleased that I did. When I was reading the email about their products, I automatically thought of lunches and easy dinners to pack to baseball games. I was not disappointed when I got the Sweet Potato GOOD THiNS in the mail! It's so nice to have a few prepackaged wholesome snacks on hand for busy mornings, lunch prep, and on the go. They are thin, crispy, and just a little sweet. They are made from things like potatoes, wheat, and sweet potatoes. Wholesome goodness that is ready for the lunch box in the morning is high on my list of must-haves. We really enjoyed them and know that you will too. Now I just need to get Thomas to order them for our little grocery store to sell so that we can buy them more often.
Kids are honest in a way that adults rarely are. They're also difficult to please, which is why they make great go-to food critics.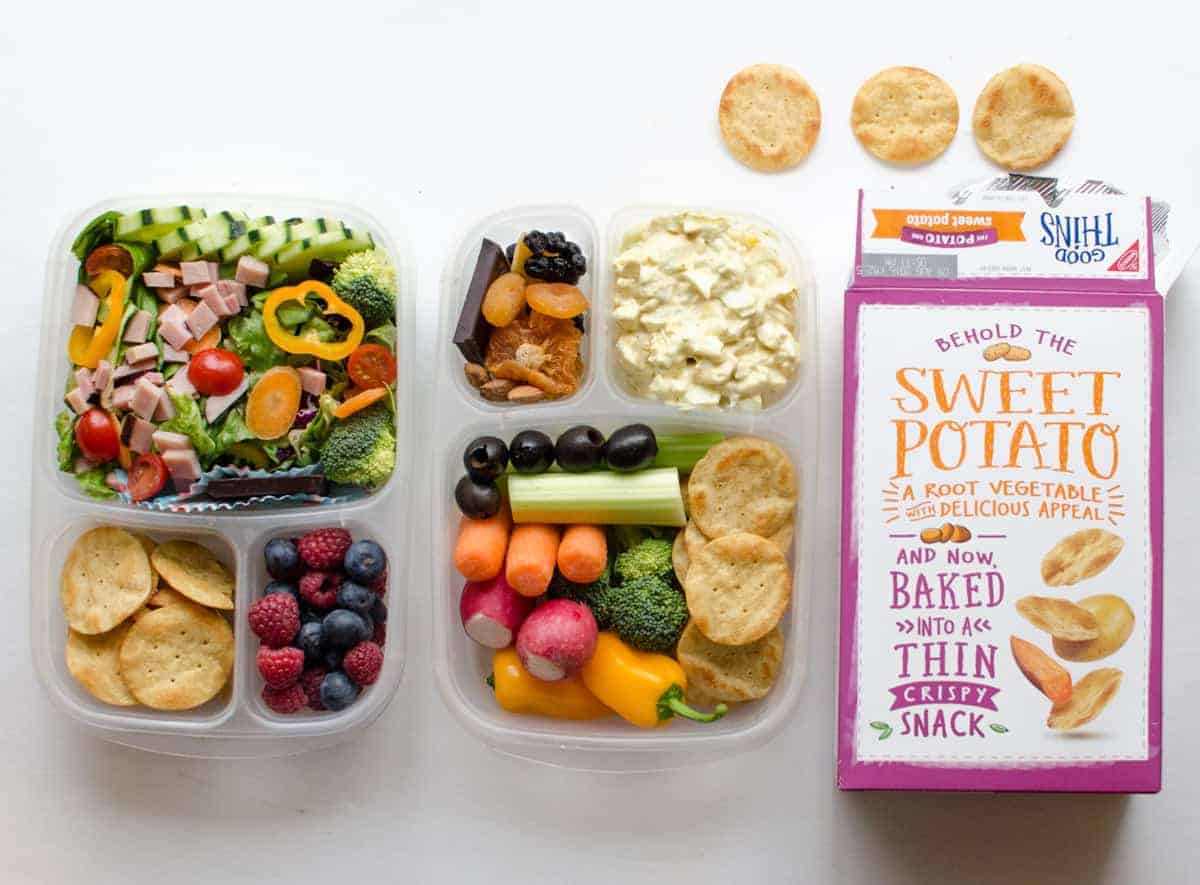 Enjoy these lunch-box ideas and thank you for supporting the brands that continue to make Bless this Mess possible. It means a lot to me.
If you are looking for other lunch-box inspiration, you might also like these posts:
5 Secrets to Healthy Packed-Lunch Success
Lunch-Box Inspiration
Lunch-Box Ideas for Kids
Lunch Lately from Cassie at Back to Her Roots