Your snack game will never be the same once you try these no-bake oatmeal energy balls. And with eight flavor options, plus tips on how to make up your own, you definitely won't get bored!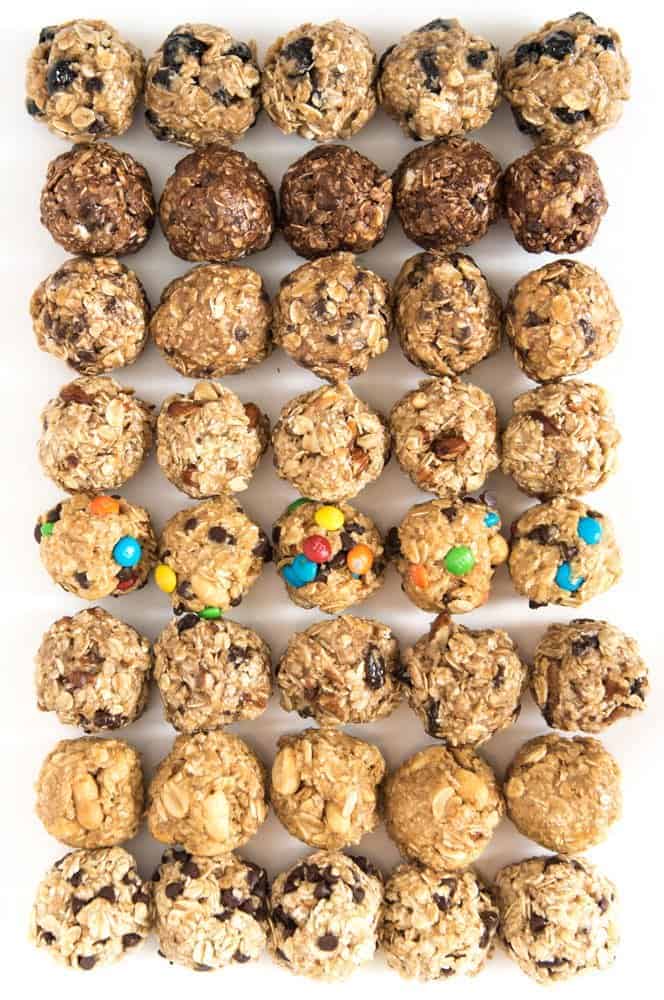 Hello friends! I'm so excited to finally be getting this awesome post out to you today. I've had the recipes done and photographed for a while and then life happened; I had a pretty nasty illness, and spring sprung, which means I've been slow getting all these words written for you. Last year's post about 9 Energy Bites was so well received that I wanted to share with you 8 recipes for no-bake oatmeal energy bites, the cookie-like cousin of the date ball.
We LOVE No-Bake Oatmeal Energy Balls, and I have been making them pretty much non-stop this year. It's an easy thing for the kids to grab out of the fridge, they travel great, they are so easy to make, and they taste like a cookie. These are going to become a fast family favorite in your house too, that I guarantee! These are a great, easy, budget-friendly whole food snack you are going to make again and again. If you feel like your kids are constantly asking for food, you are going to love these. Best. Snack. Ever!
Want all 8 recipes in one easy printable? You can get it for free here!
What I Love About No-Bake Oatmeal Energy Balls
I have everything on hand to make them.
The base of No-Bake Oatmeal Energy Balls is oatmeal, peanut butter, and honey. You can mix in a lot of things to suit your taste, but in general, they are made from just a few simple ingredients that I always have on hand. There's nothing special to put on a shopping list, they can be mixed together in just a few minutes, and my kids are crazy for them.
They are made with "whole food" ingredients.
Oats, peanut butter, and honey are some pretty great simple ingredients. I love that these have a good mix of health fats, carbs, protein, and fiber that help keep my family running. Some of the recipes also include almond butter and I'm sure that they could be made with sunbutter too. If you need these to be gluten-free, find gluten-free oats. I feel like these are very easy to adjust to your dietary needs, which is always nice. That being said, a few of the recipes do have chocolate chips in them and one even has 1/4 cup of mini M&M's. I know that these aren't whole foods. You can, however, find some great whole food chocolate chips and dye-free candies, if that's important to you. Make them work for you and you'll be one happy camper.
Oatmeal energy bites taste like cookies.
I'm never sad when easy whole food recipes taste like cookies. Neither are the kids. Long live the cookie!
My kids love them.
As much as I'd like you to think my kids eat all the things I put in front of them without fuss, that just isn't true. These, however, are 100% kid approved. They have been tested by my kids plus about 10 other neighborhood buddies. The Monster Cookie No-Bake Oatmeal Energy Balls were the favorite… thanks to those M&M's. :)
They can be made on a prep day, store well, and travel well.
Long live a prep day for busy moms! These are great made ahead of time, store well in the fridge, travel well, and are all around awesomeness.

Tips and Tricks for Making No-Bake Oatmeal Energy Balls
Rest time is a must.
Don't skip the resting time. This is when the oats will absorb some of the moisture and will help everything stick together. It's a must.
When in doubt, add something sticky.
Different factors like the kind of oatmeal and mix-in's you add are going to affect the "stickiness" of the energy balls. If they are too dry and won't stick together after the resting time, your best bet is to add a tablespoon or two of something sticky (like the peanut butter and/or honey).
Add what you love.
Don't let my recipes stop you from adding what you think sounds good or what you might have on hand; these are just to get you started. You can also add some "superfoods" to these if you are looking to boost the nutrition (always a good idea, if you ask me). A tablespoon of chia seeds, ground flaxseed, and/or hemp hearts can be added to any and all of these recipes. Play with them! I'm going to make some with dried pineapple and cashew butter soon, because we love the stuff.
SUBSTITUTIONS
When it comes to the oats:
Did you know that quick cooking oats are still a whole grain? Unlike other "instant" kind of things, quick cooking oats are simply cut smaller. If you use quick cooking oats (sometimes called 1-minute oats), the texture of the oats will be softer/less chewy. If you use old-fashioned oats, the texture will be chewier. I found that a mix of the two was the best, though using one or the other will work well too. I like the chewy old-fashioned oats, but my husband thought they tasted too much like raw oats (LOL, because they are…).
When it comes to the honey:
I did not do much recipe testing using anything other than honey. If you would like to experiment, I think that agave or brown rice syrup might be a good place to start, though I didn't work with either.
When it comes to the peanut butter:
You can use peanut butter, almond butter, cashew butter, pecan butter, sunbutter, and just about any other nut butter that you like, though it will change the flavor of the oatmeal energy balls. I like to use almond butter when I don't want the flavor of the nut butter to be very strong (like peanut butter). It worked great in recipes like the Blueberry Muffin No-Bake Oatmeal Energy Balls because the flavor is a bit more mellow than peanut butter.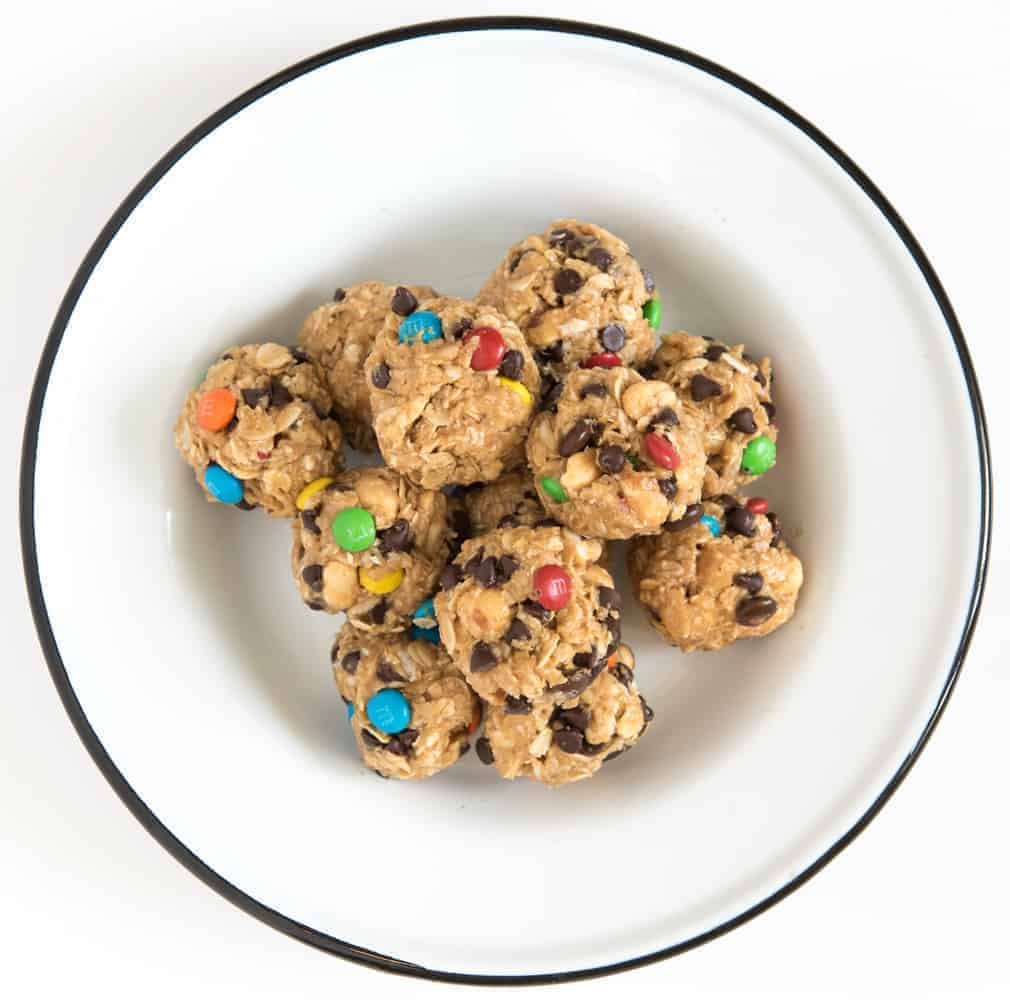 Monster Cookie No-Bake Oatmeal Energy Balls
If there were an awards ceremony for No-Bake Oatmeal Energy Balls, this Monster Cookie version would win the kids' choice award. What is it about a few pretty little candies that gets them so excited?! Peanut butter, M&M's, whole peanuts, and chocolate chips all in one place was a big hit with all the little people. And let's be honest, these were my husband's favorites too. I couldn't find any mini baking M&M's, so I just bought a normal sized tube of the mini M&M's from the candy isle and they were just enough for one recipe.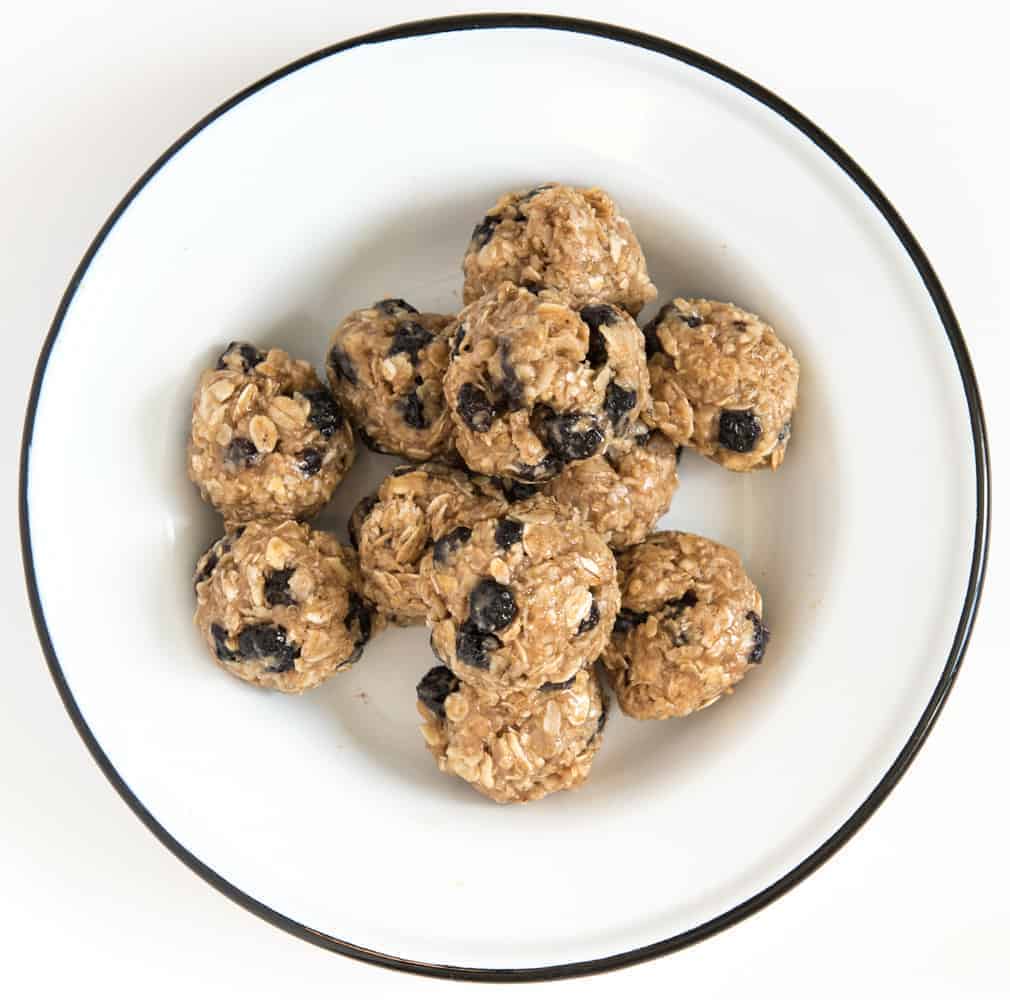 Blueberry Muffin No-Bake Oatmeal Energy Balls
Blueberry Muffin No-Bake Oatmeal Energy Balls are often my favorite because I love dried blueberries a whole lot! I used almond butter in this recipe because it has a more natural flavor compared to peanut butter. The additional of a little cinnamon and some toasted coconut really makes this no-bake recipe a treat.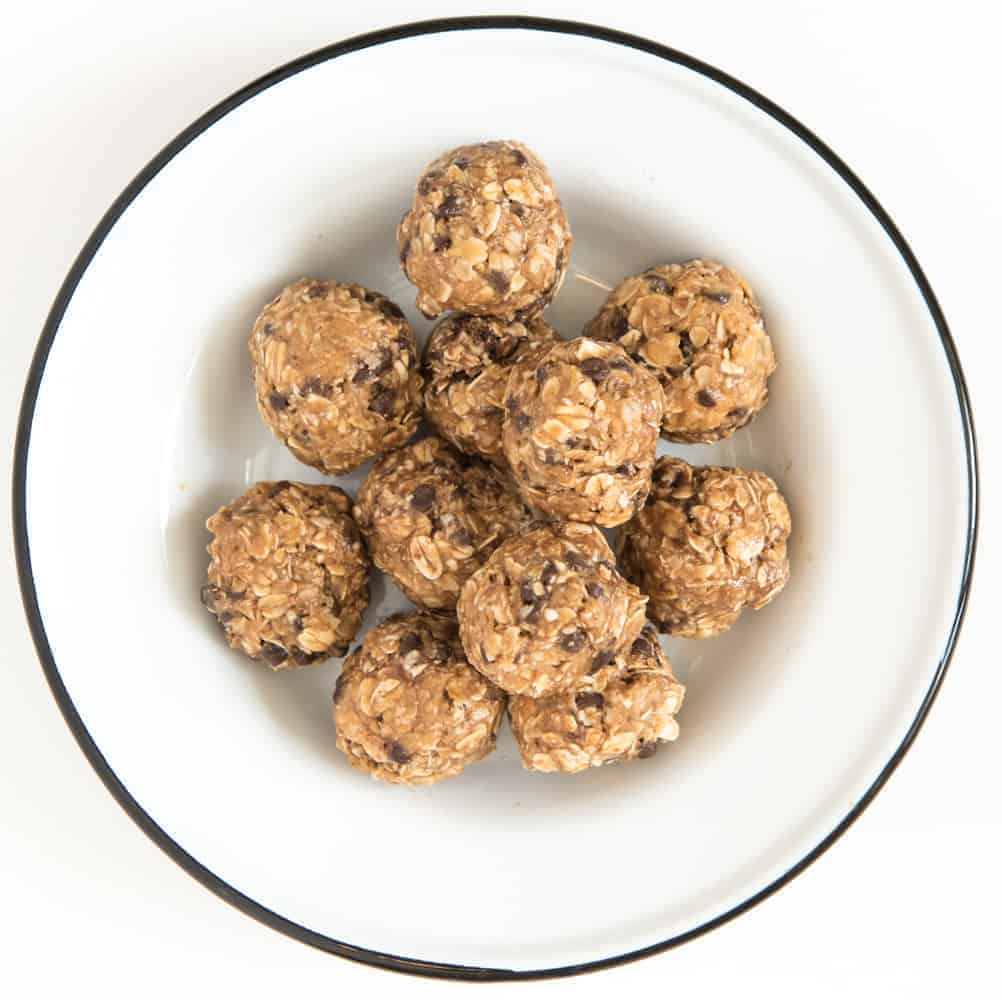 Classic Chocolate Chip and Peanut Butter No-Bake Oatmeal Energy Balls
This variety is forever a favorite thanks to the combination of peanut butter and chocolate. It's simple but always delicious.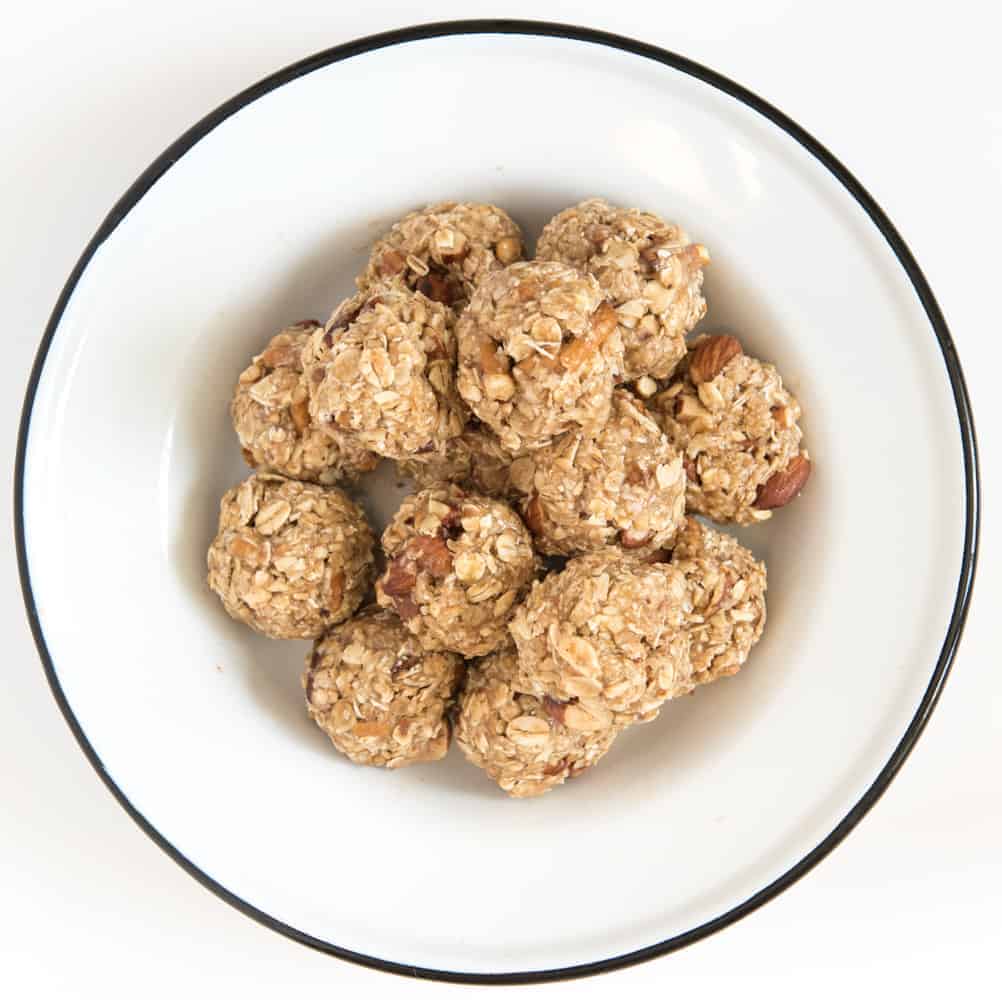 Sweet and Salty No-Bake Oatmeal Energy Balls
There's something magical about Sweet and Salty No-Bake Oatmeal Energy Balls. These are made with almond butter, salted roasted almonds, and crushed pretzels. They are sweet but have some great crunchy and salty components that make them stand out from the crowd.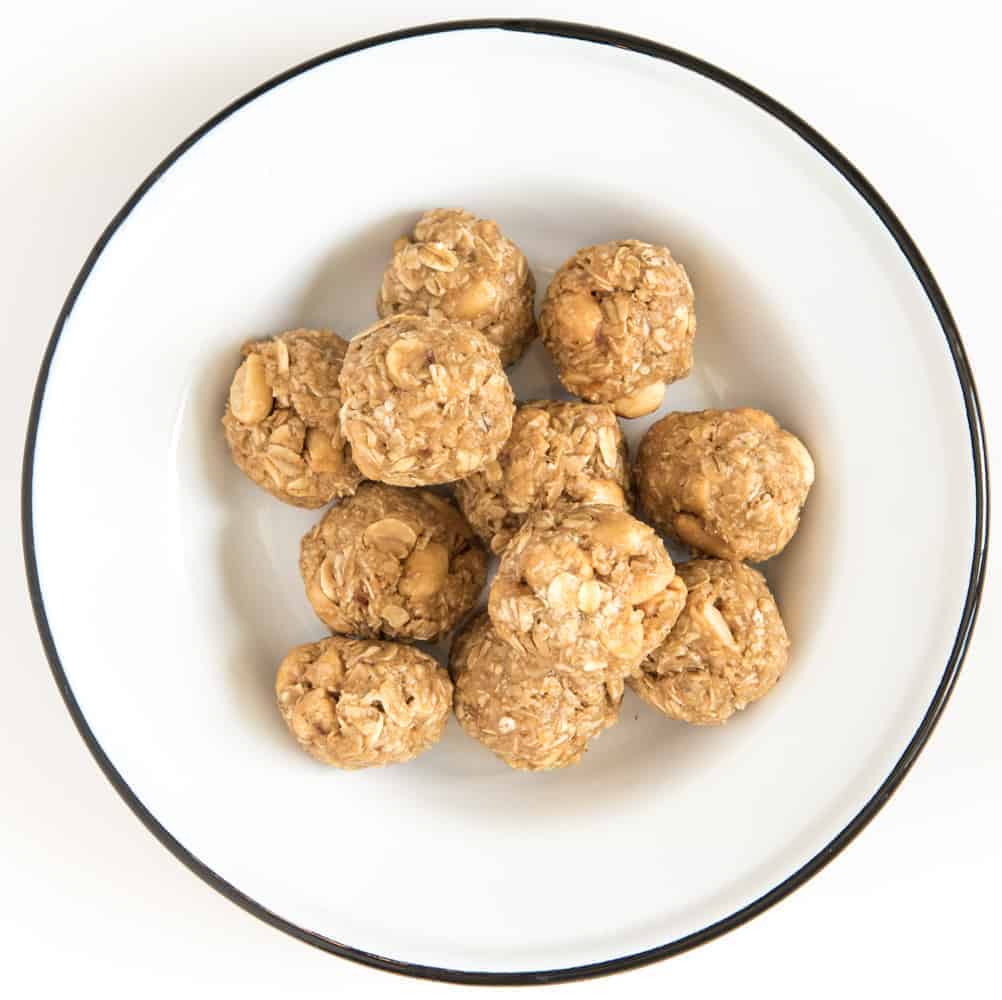 Peanut Butter Cookie No-Bake Oatmeal Energy Balls
Long live peanut butter! This No-Bake Oatmeal Energy Ball recipe has big peanut flavor and crunch thanks to peanut butter and whole peanuts. I'm never sad when I make a batch of these because peanut butter is my spirit animal.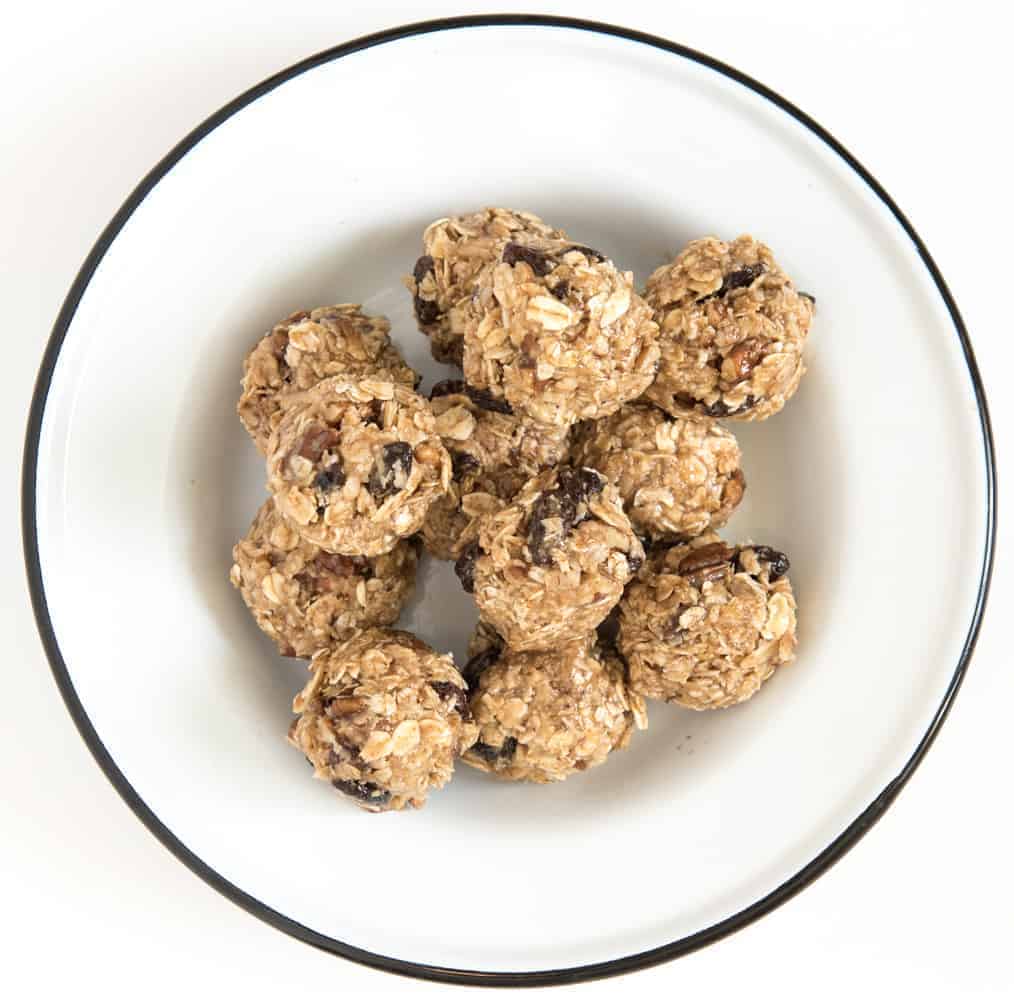 Oatmeal Cookie No-Bake Oatmeal Energy Balls
I used almond butter, spices, chopped pecans, and raisins to mimic the flavors of a classic oatmeal cookie. The best part about this cookie though is you don't have to bake it and it's pretty darn good for you! If you like the classic oatmeal cookie taste but not the raisins, feel free to swap them out for a few chocolate chips.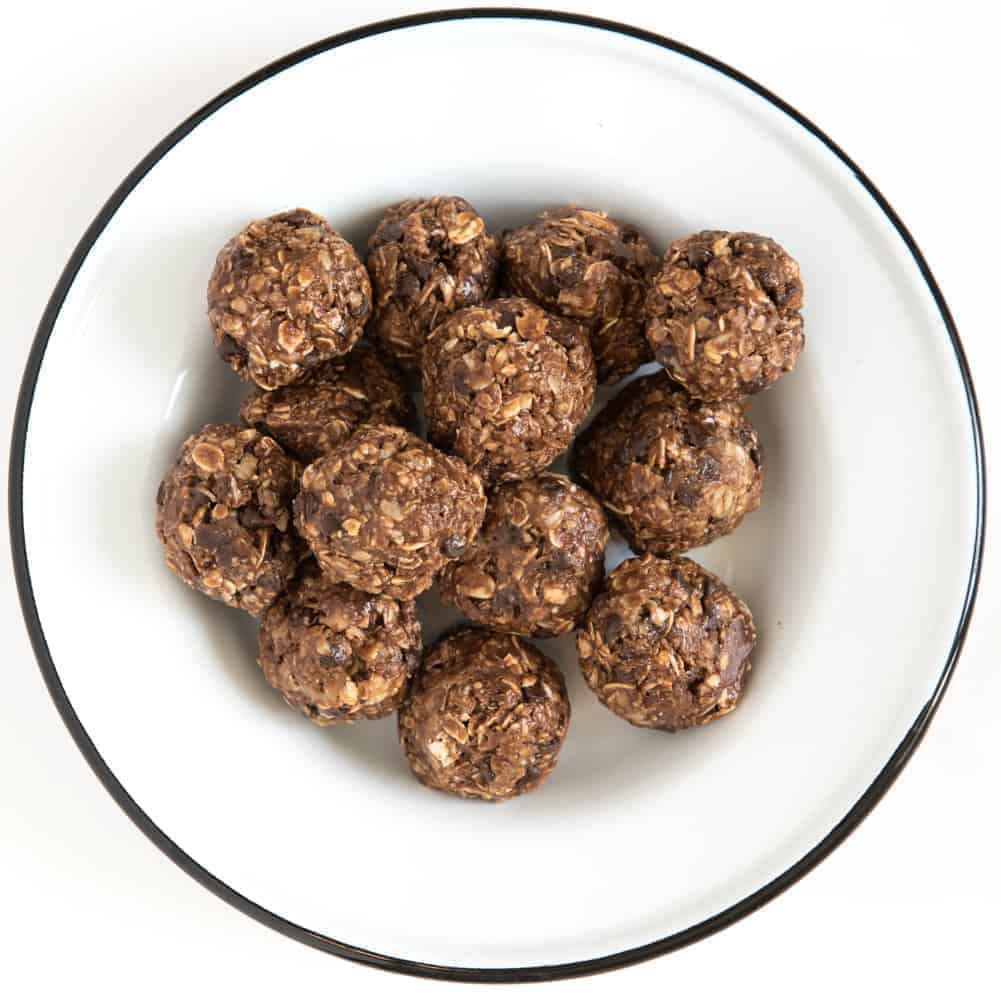 Double Chocolate No-Bake Oatmeal Energy Balls
Long live the chocolate fix without the guilt. A little cocoa powder and a few chocolate chips turn this no-bake oatmeal ball into a real treat. You can use peanut butter or almond butter. This is a great one to add any superfoods to because the dark color makes it harder for kids to detect their presence. :)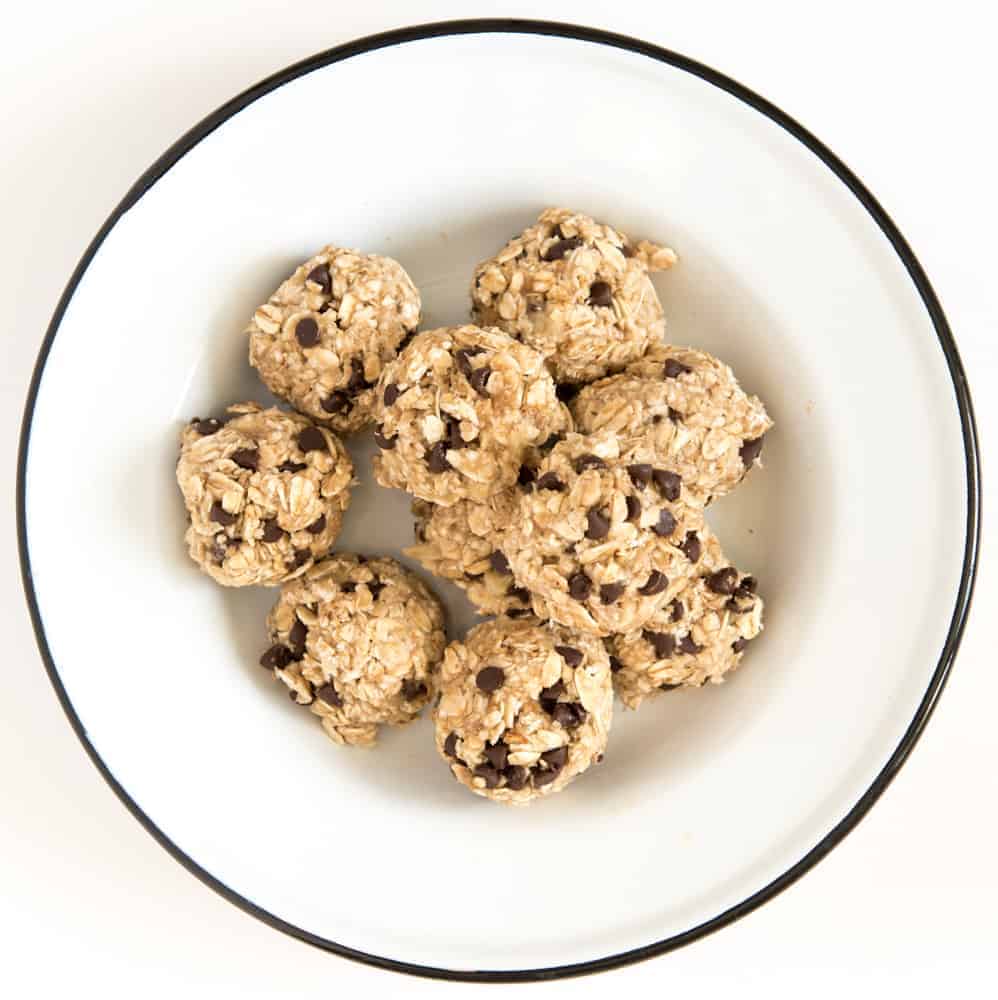 Vegan Banana No-Bake Oatmeal Energy Balls
This recipe is a bit different in the fact that it doesn't follow our honey + nut butter recipes. I wanted to try an vegan/nut free option for you. This No-Bake Oatmeal Energy Ball is make with a mashed banana and not much else. You'll need to let this rest longer in the fridge (more moisture for the oats to soak up), but it turned out great. You can add vegan chocolate chips or skip them. Be sure to use a banana that is nice and ripe, but not so dark that it will taste old. This one was ok but I didn't love the banana in it. My toddler however couldn't get enough. You're going to have to be the judge on this one.

And there you have 8 amazing No-Bake Oatmeal Energy Ball recipes! Your snack game will never be the same.
This post is going to be your go-to No-Bake Oatmeal Energy Balls guide! I hope you use it over and over again. If this post speaks to you, you think someone else might like it, or you want to save it for later, by all means, share it on your social media platforms. Pin it, Facebook it, throw a picture up on Instagram and tag me (#blessthismesseats). All of those things are incredibly helpful to me. There is so much power in your sharing, you literally have no idea how important that is for me. Thank you, thank you, thank you.
Now, which one are you going to make first?!