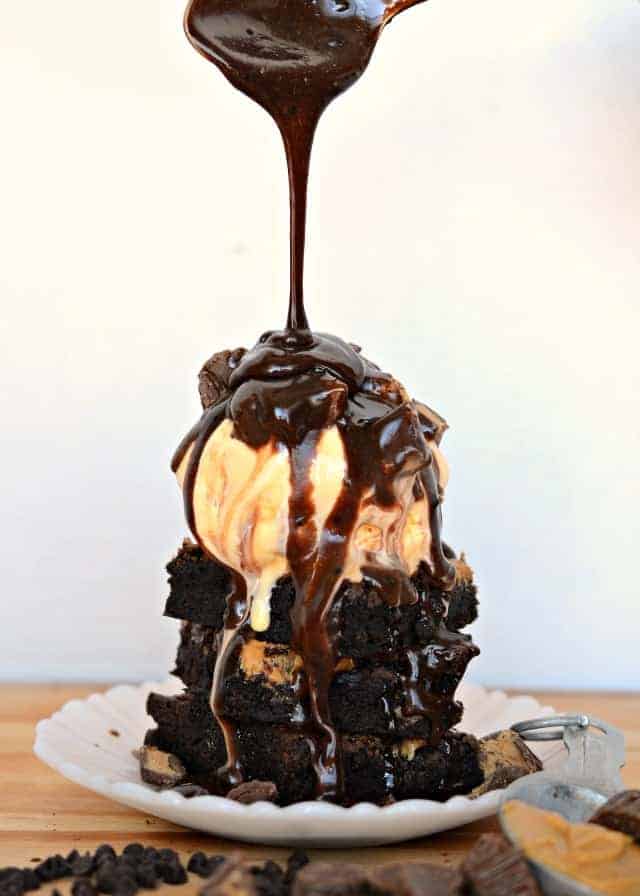 Aww gurl. Sometimes the stars align and things just work like magic. This recipe is one such example. Hello chocolate peanut butter perfection! Just imagine the most perfectly rich and moist brownie with peanut butter swirled on topped, smooth cold ice cream, and chopped Reese's cups. And it isn't just drizzled with any old hot fudge either… it's topped with peanut butter hot fudge you'll be tempted to drink for breakfast. Dessert just got taken to a whole new level.
So if you remember from months past I'm part of a group of bloggers who do a little chocolate party every month. Chocolate is the key ingredient, there's a second ingredient (like cranberries, coconut, or mint) and then we ninja up a recipe with chocolate and the second ingredient to share. It's a fun group and it's a good way to keep blogging exciting. Any who, this month is double chocolate. Yes ma'am – chocolate on chocolate! Now how can that be bad?
I've had the image of this Ultimate Chocolate Chip Cookie n' Oreo Fudge Brownie Bar from Kevin and Amanda burned on to my retinas for months now. I wanted to make something equally as rich with an equally gorgeous picture to match. I sure think I succeeded. And I dare say my concoction might even be tastier ;)
I present to you the richest most decadent chocolate and peanut butter dessert that you will ever meet: The Ultimate Chocolate Peanut Butter Brownie Sundaes
Grab a glass of milk and your yoga pants for this post because you'll need them just looking at the pictures.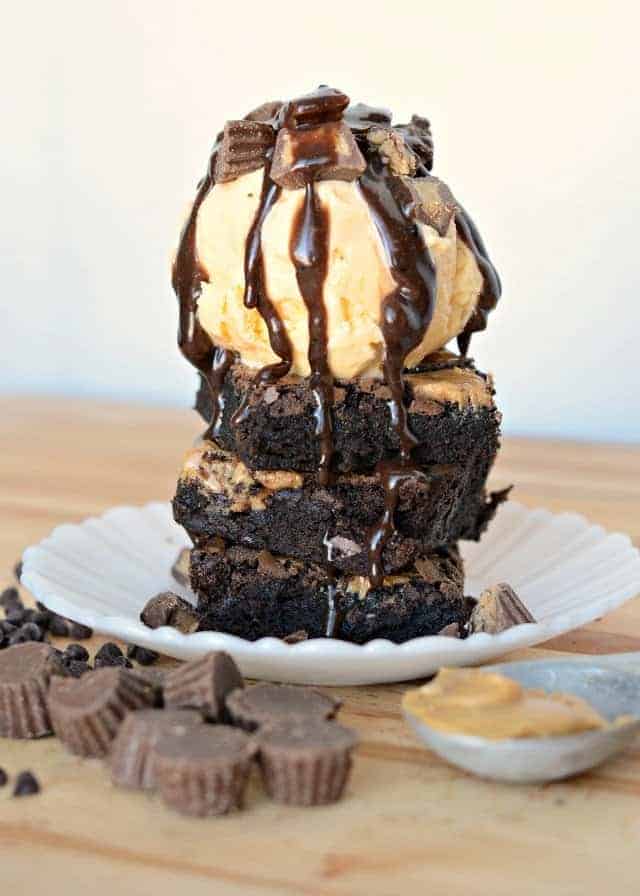 Brownies adapted from The America's Test Kitchen Family Baking Book (One of the best cookbooks ever…)