How to make a simple homemade pancake mix, plus instructions on how to make the mix into pancakes for your busy weekday mornings.
If you love creative and tasty spins on classic pancakes, you need to try my Blueberry Cornmeal Pancakes, Healthy Whole Grain Zucchini Bread Pancakes, and Whole Grain Carrot Cake Pancakes with Maple Cream Cheese Whipped Cream (truly divine).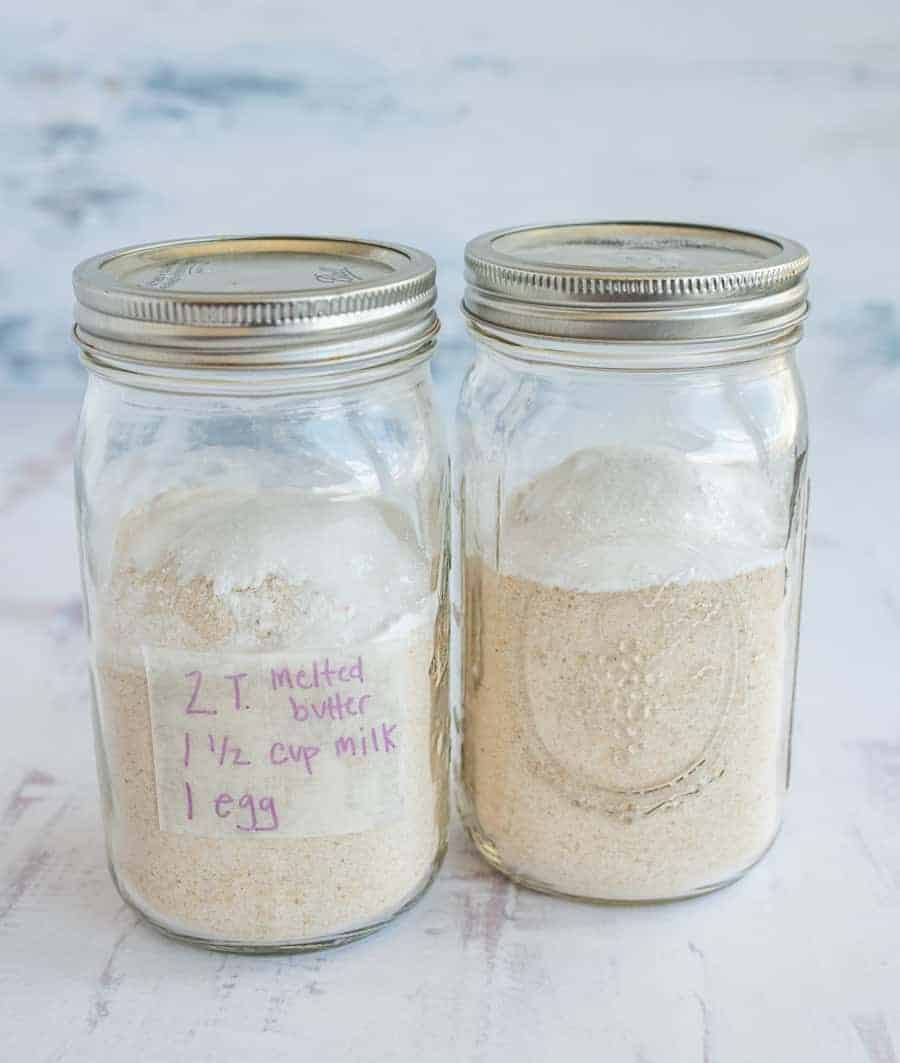 Homemade Pancake Mix
What makes a mix or box of pre-measured dry ingredients so appealing? Cake, muffins, pancakes -- name a baked good, and you can probably find a mix for it on the shelf at the market. There is just something about a mix that makes the process seem so much simpler, don't you think? I mean, is it really that hard to get the flour, sugar, and baking powder out and measure it? No. Does it feel like a lot of work sometimes? Yes!
For this homemade pancake mix, simply measure out the dry ingredients for your recipe into a mason jar, and then label the jar with what else the recipes needs (wet ingredients), baking temperature, and baking time. Use an old flat and the metal canning ring to close the jar, and pop it on your shelf. So easy!
I do this with waffles, pancakes, cornbread, basic muffins, and biscuits. I normally write out my label on masking tape and just stick it to the outside of the jar; it comes off easily when the jar is washed. I love having these mixes on hand for busy mornings because I know exactly what's in them, and they take no time to put together!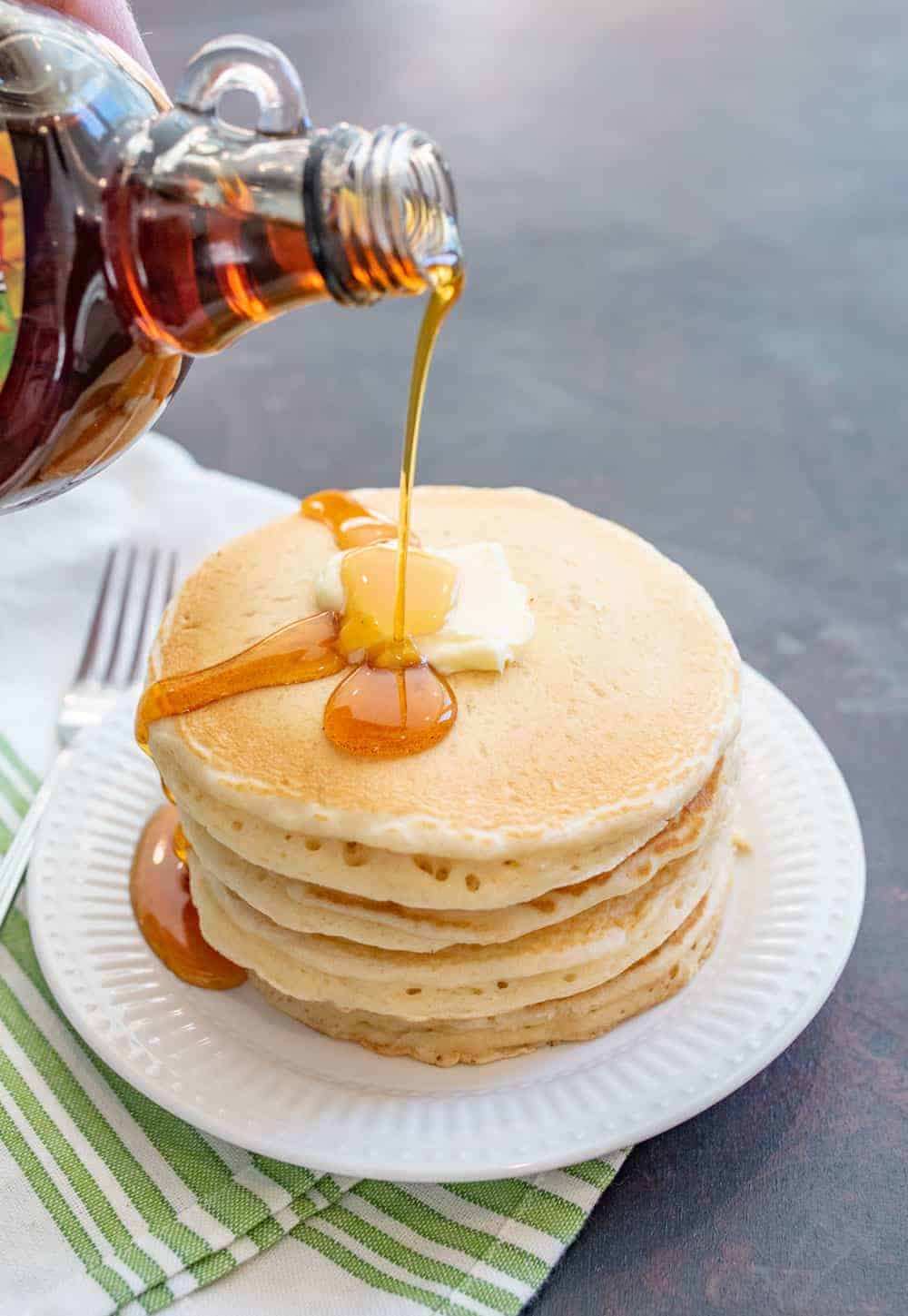 What is pancake mix made of?
Pancake mix is so, so simple to make -- all you need is 2 cups of flour, 3 tablespoons of sugar, 2 ½ teaspoons baking powder, and ½ teaspoon salt. Put it all in a mason jar, and add a label with instructions to add an egg, 1 ½ cups of milk, and 2 tablespoons of melted butter or oil.
What can I add to pancake mix?
You can add a few yummy additions to the dry pancake mix, like cinnamon powder, pumpkin pie seasoning, dry fruit, nuts, or chocolate chips if you're storing it in a cool place! Don't add things like fresh fruit or anything else that could spoil until you're actually making the pancakes themselves.
How long does homemade pancake mix last for?
This will last a good while in your pantry since it's a bunch of dry ingredients in a sealed container! Flour typically lasts for about 6 to 8 months, so I'd use the pancake mix within that span of time after making it.
Print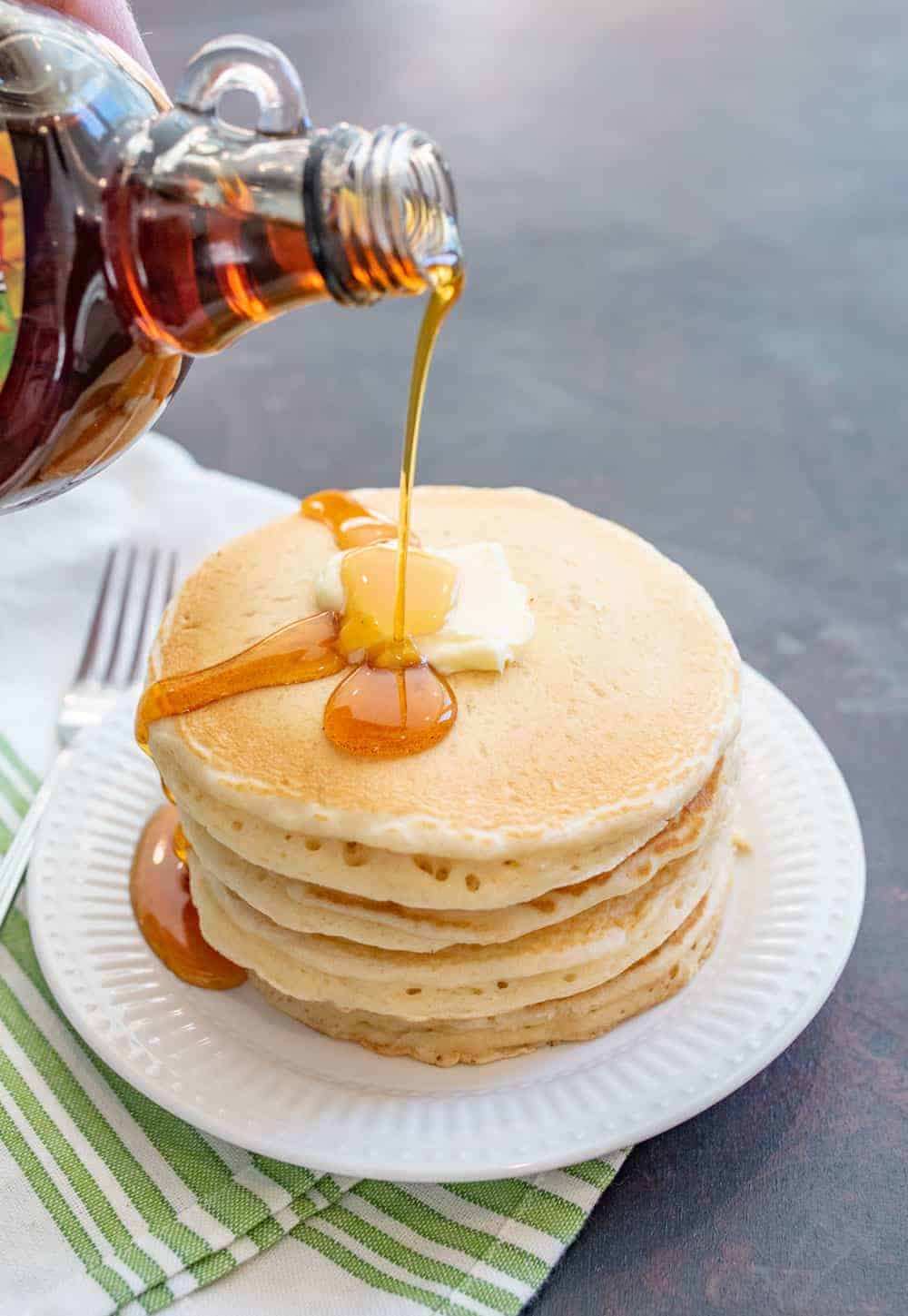 Weekday Pancakes from a Homemade Mix
---
Author:

Total Time:

15 minutes

Yield:

6

-

8

pancakes

1

x
Description
How to make a simple homemade pancake mix, plus instructions on how to make the mix into pancakes for your busy weekday mornings.
---
In your mason jar, combine:
2 cups

flour (all purpose, whole wheat, or a combo of the two)

3 tablespoons

sugar

2 ½ teaspoons

baking powder

½ teaspoon

salt
For your label, write:
Basic Pancakes
Add:
1

egg

1 ½ cups

milk

2 tablespoons

melted butter or oil
Mix ingredients together, and cook on griddle over medium heat.
---
Instructions
To make the homemade pancake mix:
Add the dry ingredients to a quart-sized mason jar (flour, sugar, baking powder, and salt).
Repeat with more dry ingredients and more jars to make up enough jars for a month of weekday pancakes (4 in my house, we have pancakes once a week), and add the lids.
Write out a label, and stick it to the jar (thick masking tape works great to write labels on).
Store until your busy weekday morning.
To make the pancakes :
When that busy morning comes, just pour the contents of the jar into a medium bowl.
Make a well in the center, add all of the wet ingredients as listed on the label (egg, oil, and milk), and whisk together. Cook on a well-greased griddle, skillet, or cast iron pan over medium heat, until golden-brown on both sides.
Serve with your go-to pancake topping, such as maple syrup, yogurt, honey, or berries.
Notes
If using whole wheat flour, you'll probably need to add a few tablespoons more milk so that the batter is thin enough to pour.
Prep Time:

10 min

Cook Time:

5 min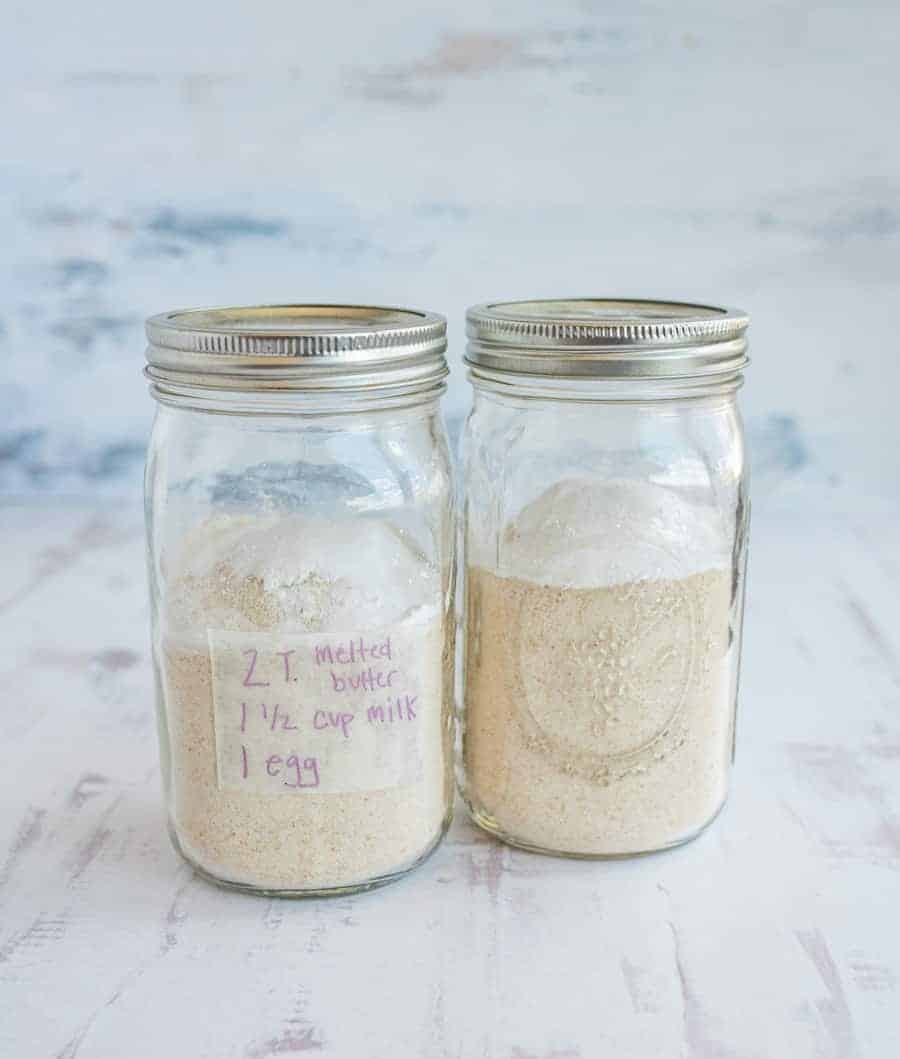 Other pancake recipes you'll love:
This post was originally published in 2012, and has been updated and rephotographed in September 2019.
Homemade pancake mix is super quick to throw together and makes delicious pancakes on busy weekday mornings so much easier!