Turkey Burgers tend to get a bad rap-but this one is perfectly moist, beautifully seasoned and won't fall apart! You just have try this recipe.
I love a good burger and this one reigns supreme. You can grill it or cook it on the stove or even bake the patties in the oven. We love to eat these turkey burgers in the summer but we find ourselves making them indoors during other seasons too. The results are the juiciest turkey burger that you have ever sunk your teeth into.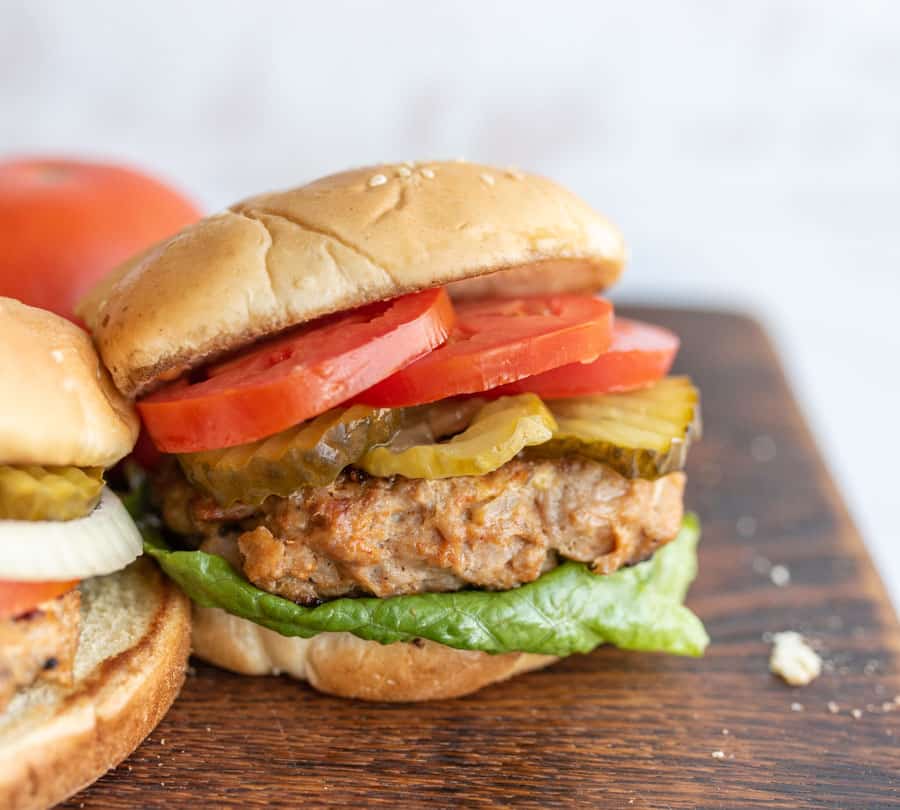 Are Turkey Burgers Healthy?
Yes! Both turkey and hamburger are good sources of protein but turkey is usually lower in fat. So this is a great option for people who are watching their fat intake. And when you are cooking at home you have more control over the ingredients so if you need to make adjustments for your dietary needs, you can.
Recipe Ingredients
Ground turkey: the star of the show!
Seasonings: Montreal Steak Seasoning, smoked paprika, garlic powder, and salt all work together to make a wonderfully flavorful patty
Finely chopped onion: I love adding this fresh element to the burger mixture, they add a lot of flavor and moisture
Bread crumbs: these help everything to stick together and also take some of the stickiness out of the turkey meat. They help your patties stick together and make the meat mixture easier to handle.
Egg: this helps to bind the meat together and prevent your patty from falling apart while cooking
Burger toppings for serving: You can serve these just how you'd like your favorite burger. Add a bun, lettuce, tomato, cheese, ketchup and/or anything else you might like. I personally love them with pickles.
How To Make These Burgers
Add all of your patty ingredients to a bowl and gently stir to combine.
Divide the mixture into your serving sizes and refrigerate.
Shape the chilled burger mixture into patties.
Cook on a grill or in a skillet on the stove just until they reach 165 degrees F on the inside.
Serve hot with your favorite burger toppings.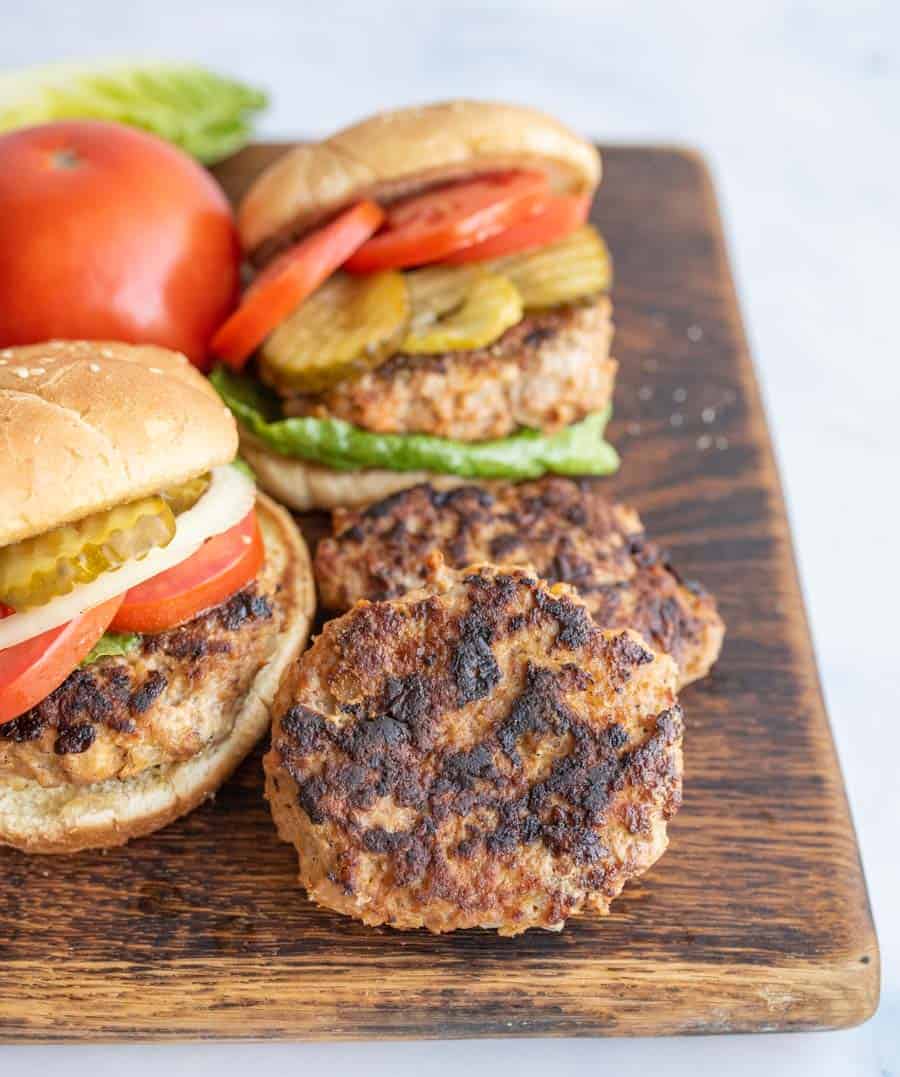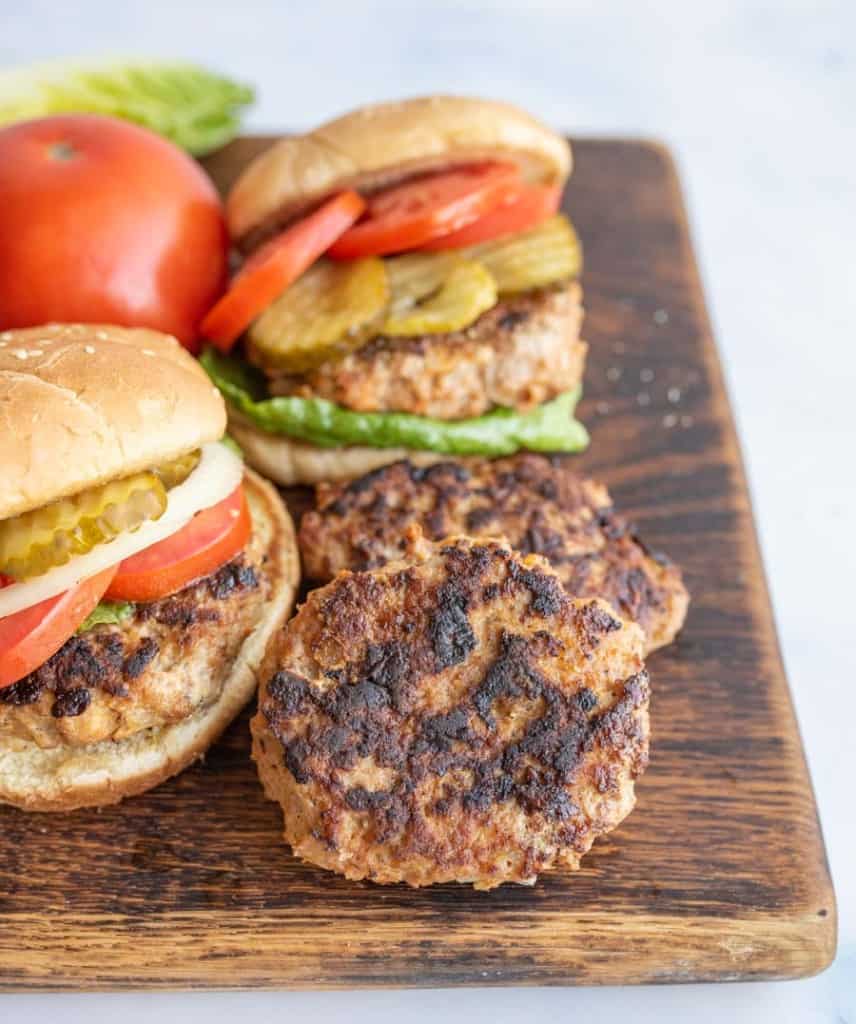 Why Did My Turkey Burgers Turn Out Dry?
I bet you cooked them for too long. When grilling or cooking turkey patties you want to be aware of the internal temperature. If a turkey burger is overcooked it will be super dry and not as good as it could be. I like to use an instant-read thermometer because it takes out the guess work. You want the center part of the turkey patty to be 165° F.
Healthy Burger Toppings
pickles
lettuce
tomatoes
onion
mustard
ketchup
avocado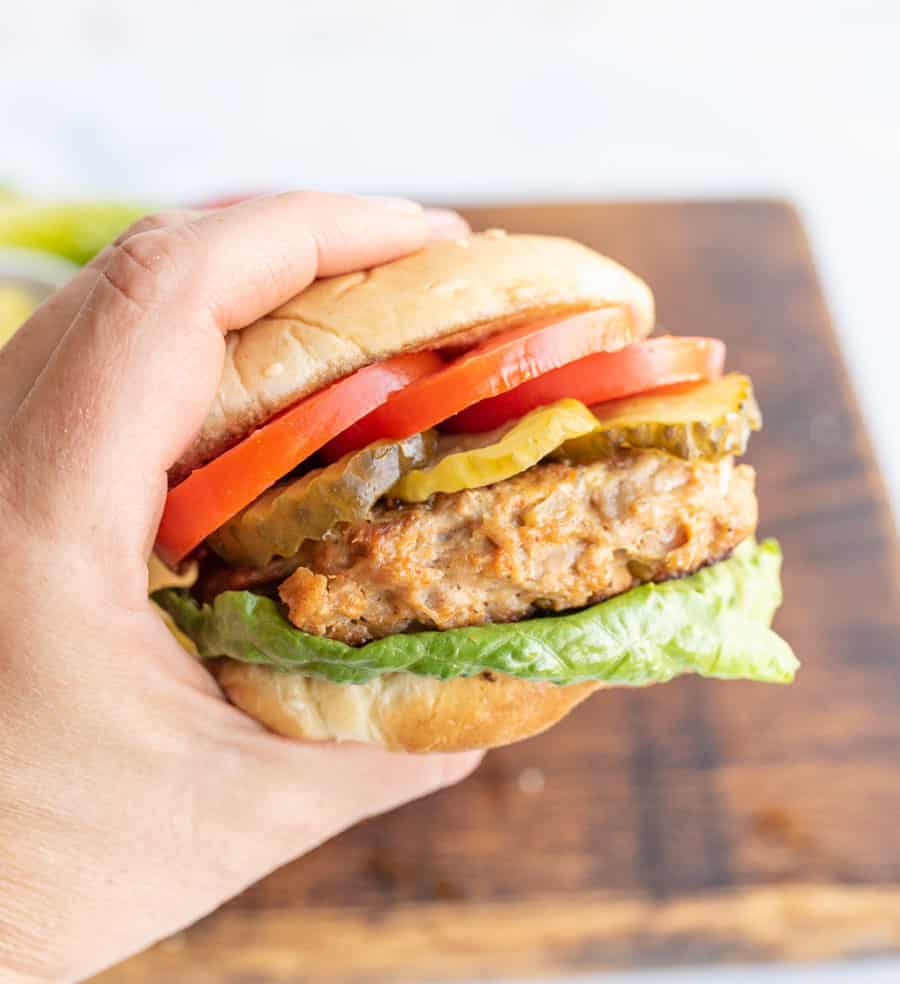 Frequently Asked Questions:
How do you keep turkey burgers from falling apart?
In order to prevent turkey burgers from falling apart you need to add something to hold everything together. This is called a meat binder. Similar to meatloaf, a meat binder (in this case) is an egg and breadcrumbs that will promote the turkey burger to keep it's shape and structure.
What goes well with this turkey burger recipe?
So many options for side dishes when you are serving turkey burgers. You could serve french fries, coleslaw, potato salad, pasta salad, watermelon, potato chips-you can't go wrong!
Do you need to chill turkey patties before cooking them?
Refrigerating turkey patties will help them stay intact on the grill/stove. If you have the time, you can put the patties on a tray and put them in the refrigerator for 30 minutes up to a couple of hours.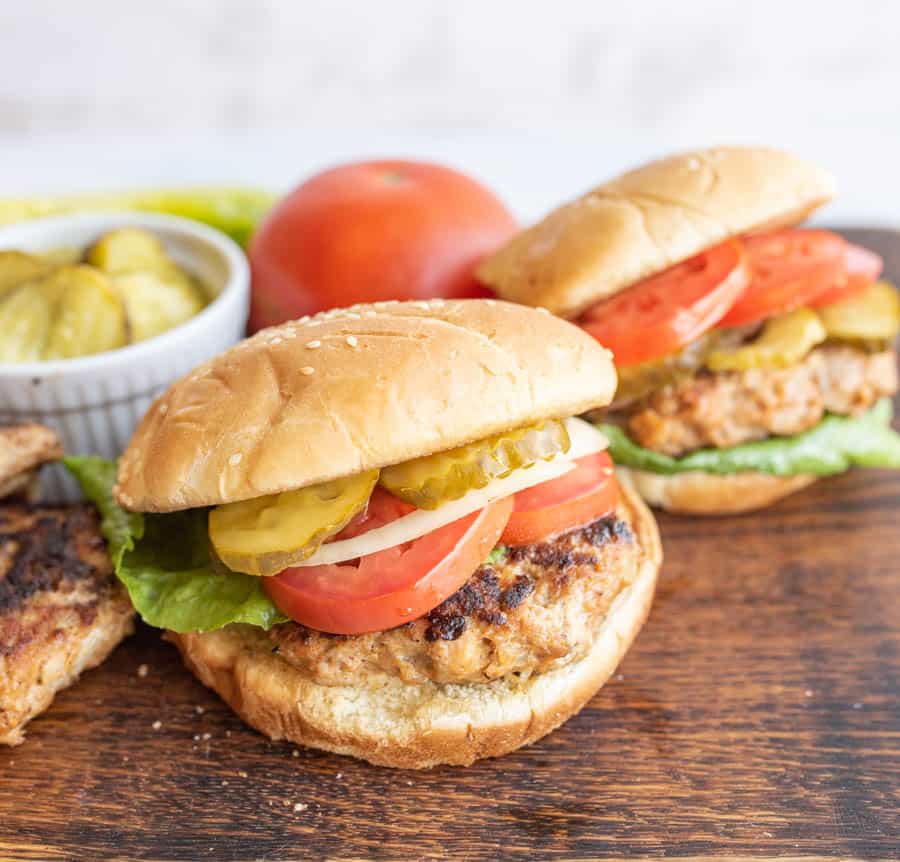 Sides to go with Turkey Burgers:
If you've tried this turkey burger recipe or any other recipe on Bless this Mess, then don't forget to rate the recipe and leave me a comment below! I would love to hear about your experience making it. And if you snapped some pictures of it, share it with me on Instagram so I can repost on my stories.
Print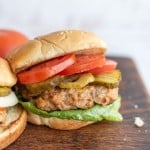 Turkey Burger Recipe
---
Author:

Total Time:

55 minutes

Yield:

Serves 4
Description
These healthy Turkey Burgers are quick, simple, and full of flavor. They stay moist, won't fall apart on the grill, and packed with flavor.
---
1

pound ground turkey

2 teaspoons

Montreal Steak Seasoning

1 teaspoon

smoked paprika

½ teaspoon

garlic powder

½ teaspoon

salt

½ cup

onion, minced

½ cup

bread crumbs

1

large egg, well beaten
Optional for serving:
4

burgers buns
lettuce, tomatoes, pickles, cheese
ketchup, mustard
anything else you like on a burger
---
Instructions
Line a baking sheet with parchment paper that has been cut into 4 pieces (you need 4 pieces of parchment paper that are large enough to hold a burger patty, about 6x6 inches.
In a medium bowl add the ground turkey, Montreal Steak Seasoning, smoked paprika, garlic powder, salt, onions, bread crumbs, and beaten egg.
Gently stir the mixture just until everything is combine.
Divide the mixture into 4 even pieces and set them on the prepared baking sheet, one piece on each piece of parchment paper. We aren't making patties at this point, just blobs of the meat mixture on the tray.
Place the baking sheet in the fridge and chill for 30 minutes (this will help everything stick together!).
After the chilling time remove the pan from the oven. Lightly spray the top of the meat blobs with cooking spray or brush lightly with a light oil (like vegetable or avocado oil).
Use your hands to gently pat the meat mixture into a patty that is about 4 inches across and ½ inch thick. Add a little more oil as needed.
Preheat your grill or a large nonstick (or cast iron) skillet over medium to medium-high heat. Lightly oil your grill or skillet.
Remove your patty from the parchment paper by picking up the paper, placing the patty side down on your cooking surface, and then peeling the parchment paper off the top.
Cook on one side for 5-6 minutes and then flip and cook for another 5-6 minutes. Cook until the center of the patty reaches 165 degrees F on an instant read thermometer. I LOVE using a thermometer when cooking turkey burgers because it assures you aren't over cooking them and they stay moist! Highly recommend.
Remove the burgers from the grill or skillet and serve as you would your favorite hamburger. You can serve them on a bun with all your favorite topping and condiments. They are also great in a lettuce wrap.
Notes
You can use homemade bread crumbs if you have them (I just pulse the tail ends of bread in my food processor when they are getting old, great way to use odds and ends of loaves). You can also use store bought plain bread crumbs or panko bread crumbs.
I like to beat the egg well before adding it, it seems to incorporate better and I don't over mix the meat trying to get it worked in.
The onion needs to be cut finer than a chop, so cut it up small! Large pieces of onion encourage your patty to fall apart while cooking.
Turkey can be really sticky and hard to work with. My parchment paper and cooking spray trick is my best hack at making ground turkey easier to work with!
If you are gluten free I have had good luck using ground up oats (oat flour) in place of the bread crumbs (just throw some oats in the blender, process until flour, and then measure out what you need!).
Prep Time:

45 min

Cook Time:

10 min

Category:

main dish

Method:

bake

Cuisine:

American
Keywords: turkey burgers, how to make turkey burgers, turkey burger recipe, juicy turkey burgers, turkey burgers on the stove, grilled turkey burgers, easy turkey burger recipe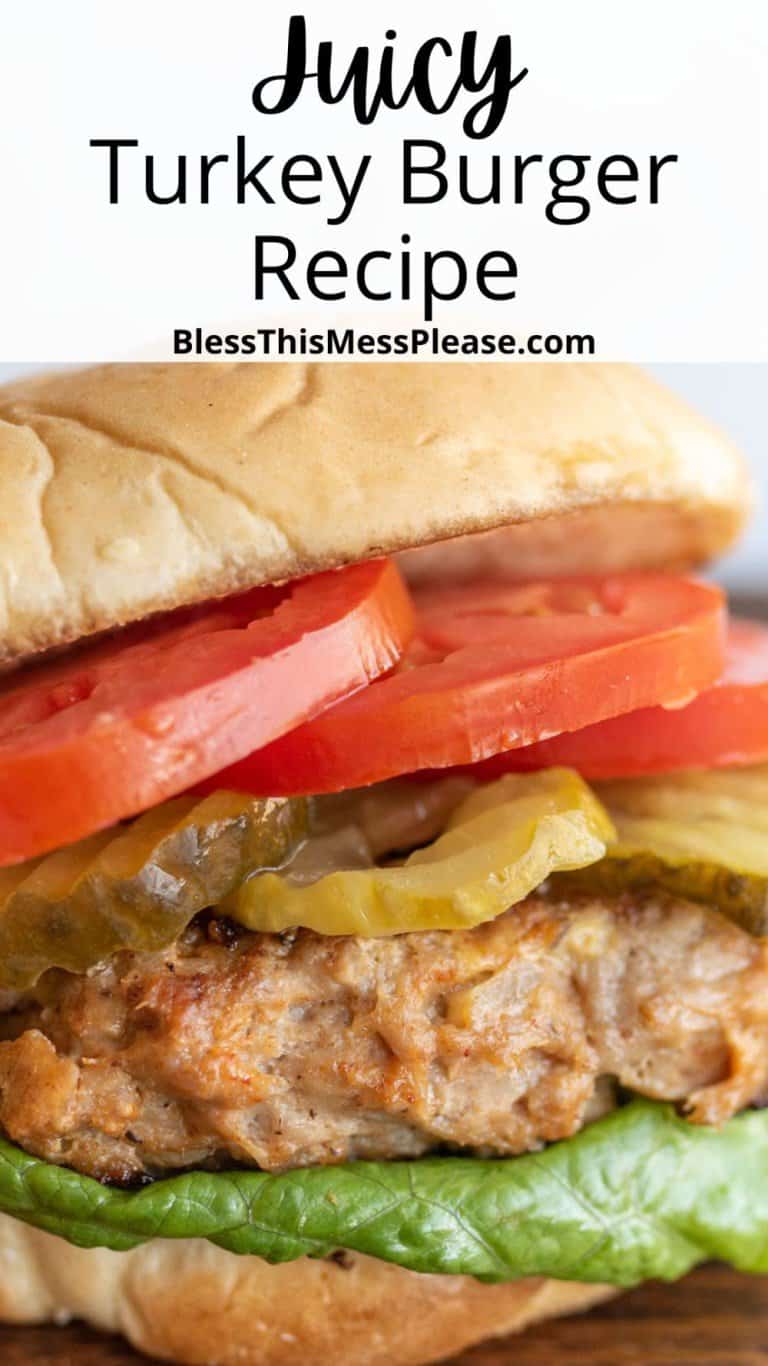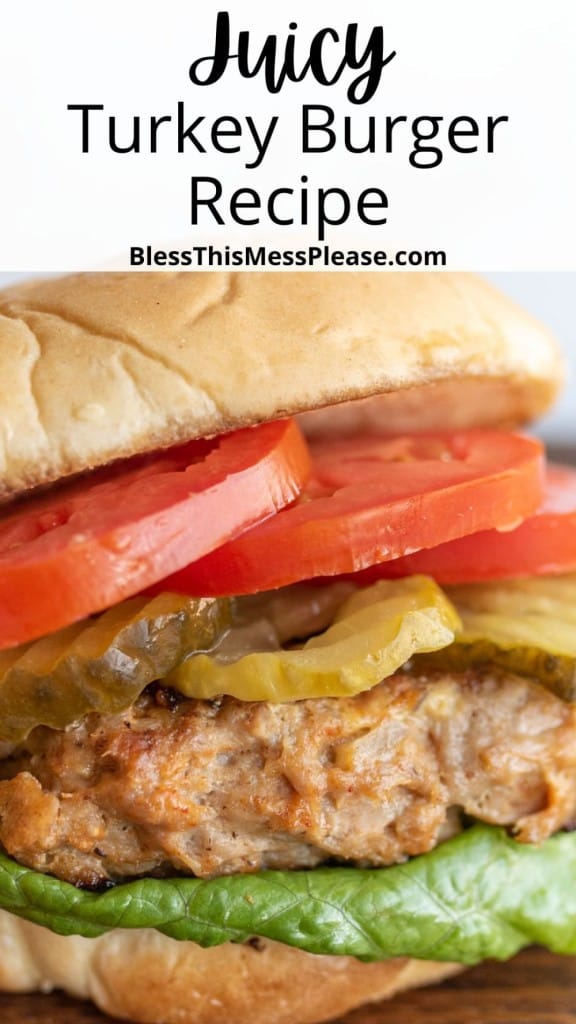 You are going to love this healthy turkey burger recipe. They are easy to make, full of flavor and incredibly juicy. Enjoy!