After reading through my top hummingbird feeders below, you'll want to fill it with hummingbird food, right? Well, you can save money and make your own homemade hummingbird food to attract them with my easy recipe.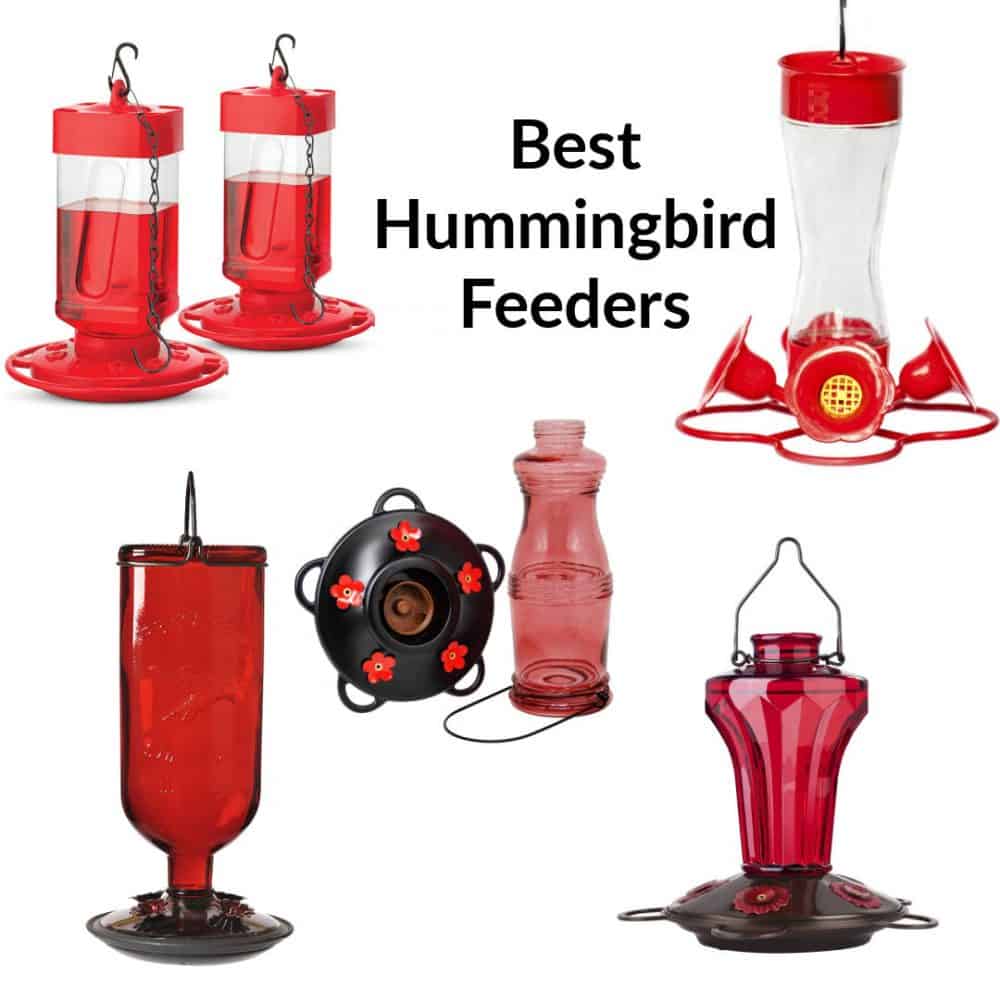 Hummingbirds are one of my very favorite little friends to attract to the yard. They are so much fun to watch on the porch or to enjoy while in the garden and I'm always looking for more ways to get more of those silly hummers in my yard.
Having a nice hummingbird feeder is a great way to help encourage them to come to the yard and while they love flowers that I plant, a feeder is a stable and season-extending option to enjoy the birds as long as the summer lasts.
I've done some hummingbird feeder shopping the last decade or so and here are some of my top hummingbird feed recommendations for you.
Where to hang my hummingbird feeder
A well-placed feeder becomes a trusty food source for famished hummers, a pretty yard accent, and a fun view for hummingbird watchers to take in the sight of these little ones eating.
Where you put the feeder matters because one that's badly positioned could leak and attract insects or pests, the food might spoil more quickly, or feeding hummingbirds may be more susceptible to predators. Poor placement could also mean that the birds can't even see or find the feeder.
Best places to set up a hummingbird feeder: In a hummingbird garden with lots of brightly colored, tubular plants; from a gutter or awning, where it's visible but shaded; or near a tree, so they can perch and rest easily when needed.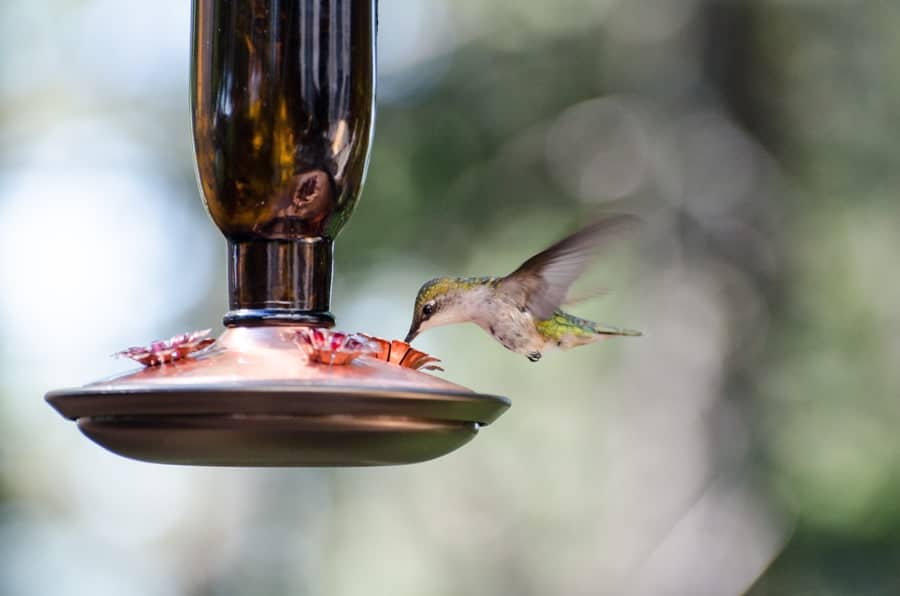 What hummingbird feeder will attract the most birds?
I have found that when you have a good location, a hummingbird feeder that has red on it (lots of red!), and is kept full basically constantly, will be the most effective.
Here are my top feeder recommendations: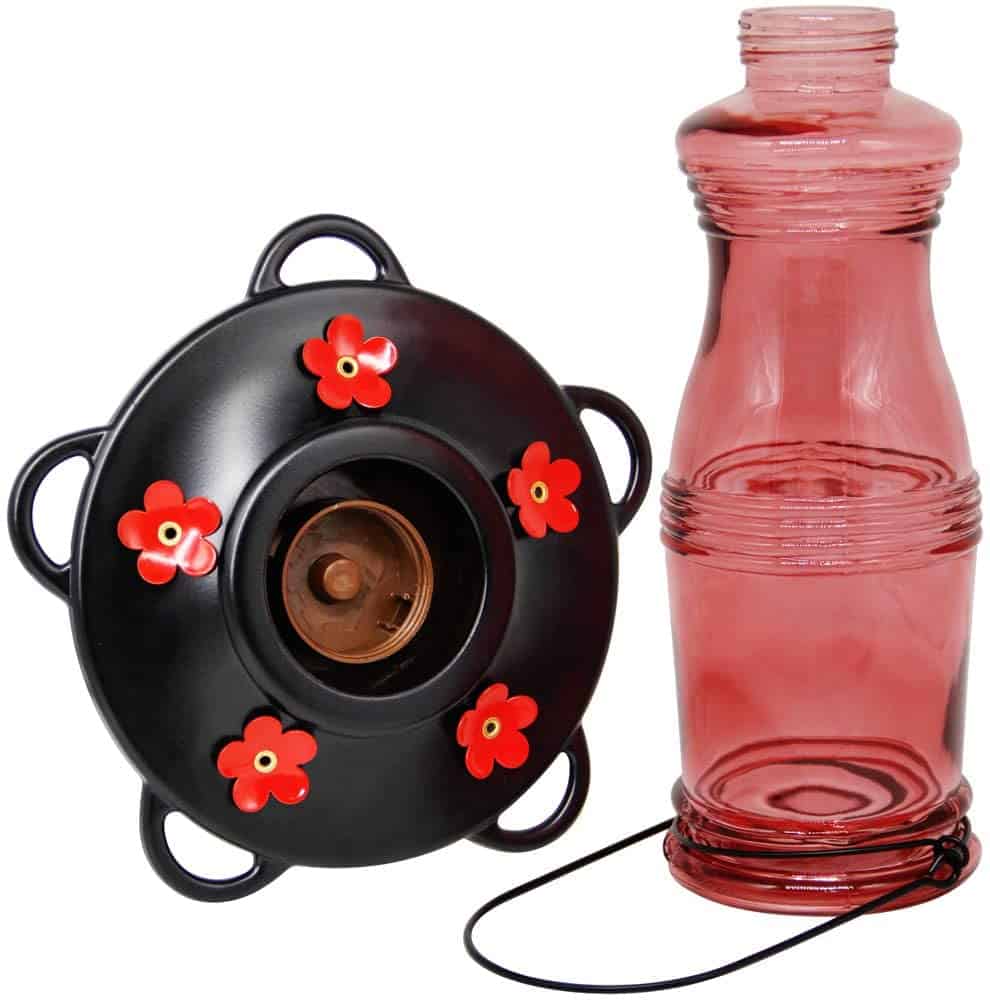 Glass Hummingbird Feeders, are they better?
I do like to use a glass hummingbird feed because they are easy to clean and are dishwasher safe most of the time. Most plastic ones are not safe to pop in the dishwasher. I think that glass looks nice and are well built feeders generally. The cons are they do break more easily so be sure they are secured well when you are hanging them.
Top glass hummingbird feeder to buy:
Nature's Rhythm Red Antique Glass Bottle Hummingbird Feeder (holds 28 ounces, 5 feeding spots)
Juegoal Glass Hummingbird Feeders (holds 26 ounces, 5 feeding spots)
Nature's Rhythm Bird Feeder (has 4 bee guard feeding ports, holds 12 ounces)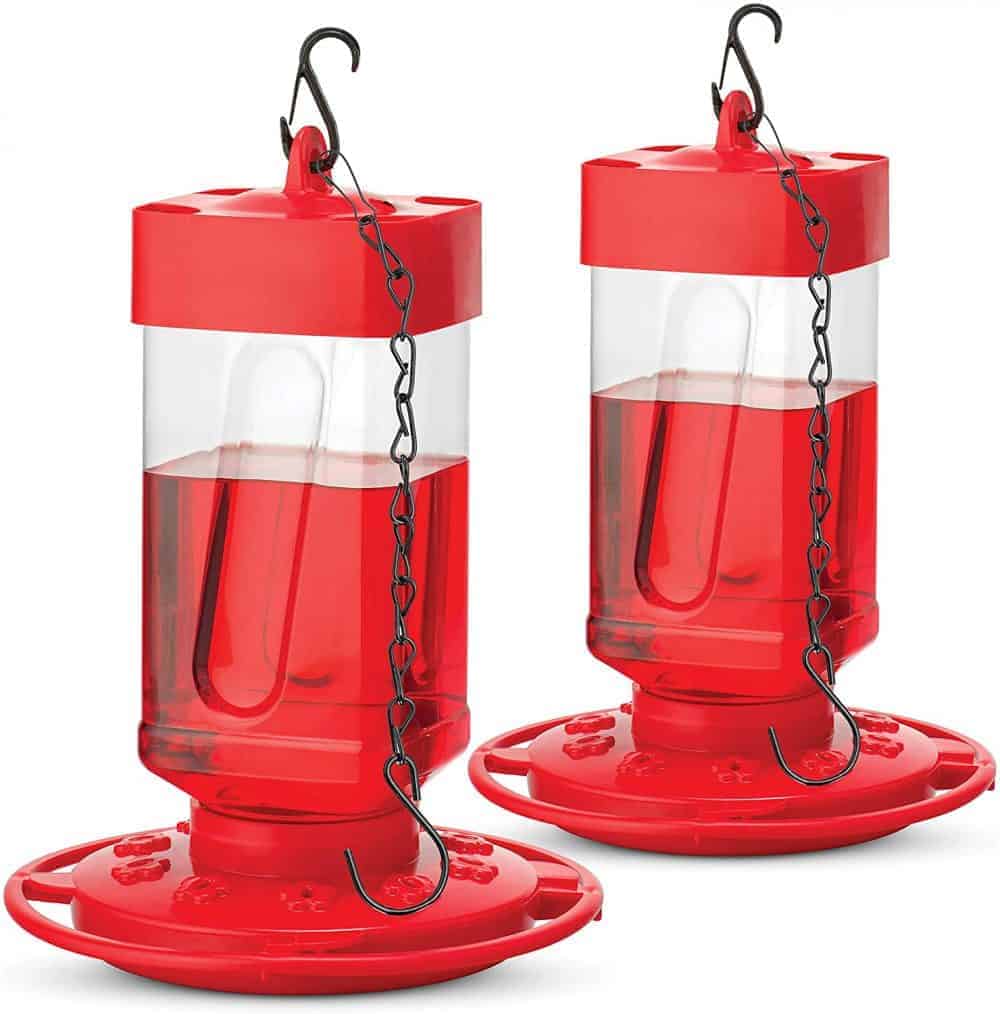 Plastic hummingbird feeders
The perk of using a plastic feeder is that they aren't overly fragile, are very inexpensive, and are easy to work with. They generally screw together easily and some look really nice. The cons are that the plastic can sun rot and become brittle and crack, making them last not nearly as long as a glass feeder can.
Here are my top 3 plastic hummingbird feeders to buy:
Sewanta Hummingbird Feeders (holds 32 ounces, 10 feeding spots, pack of 2 feeders)
Sewanta Hummingbird Feeders for Outdoors, plastic (holds 16 ounces, 10 feeding spots)
First Nature Hummingbird Feeder (10 feeding spots, holds 16 ounces, inexpensive!)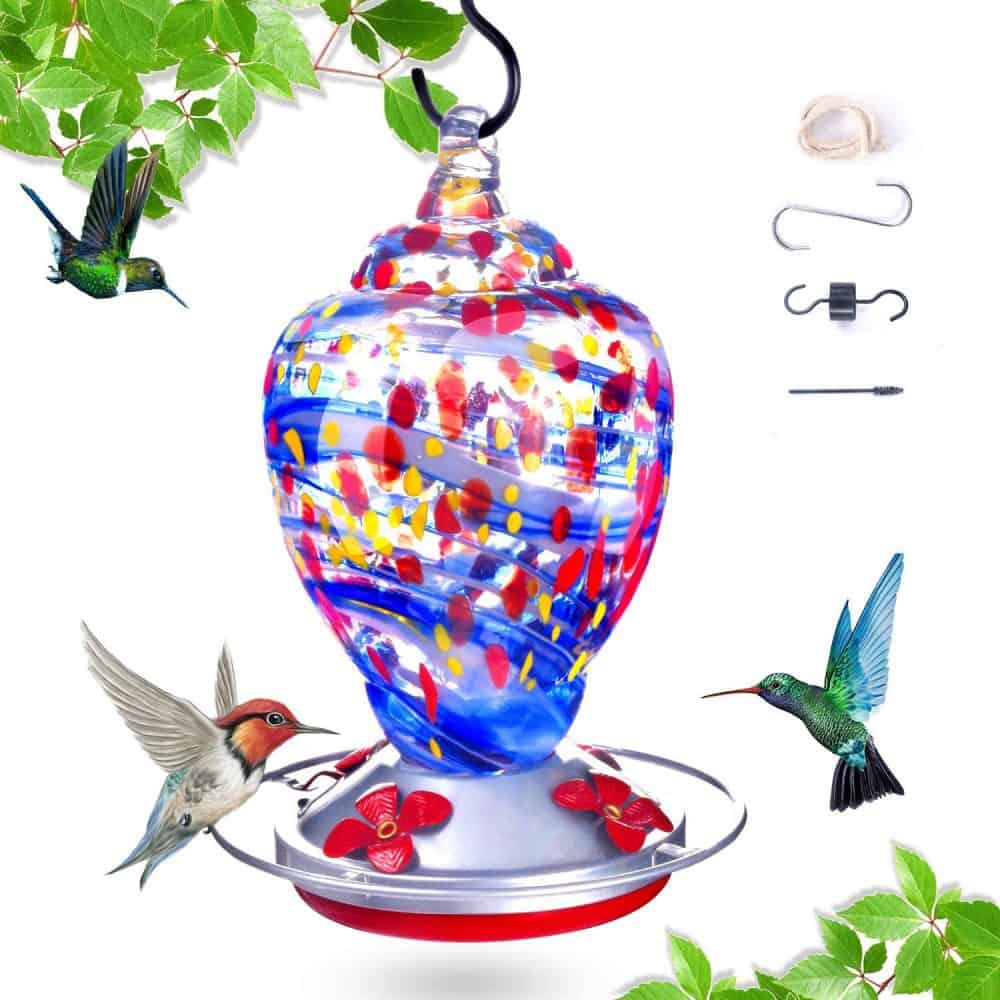 Unique hummingbird feeders
Sometimes the feeder is as fun as the birds that it attracts. I think a really unique and beautiful hummingbird feeder adds a lot to a garden or porch. Here are some of my favorite beautiful and functional hummingbird feeders.
Here are my top 3 unique hummingbird feeders to buy:
Kernowo Hummingbird Feeder, Hand Blown Glass (ant mote, holds 28 ounces, 4 feeding spots)
Jalamwang Garden Hummingbird Feeder with Perch - Hand Blown Glass (holds 25 ounces, 4 feeding spots)
Rezipo Hummingbird Feeder with Perch (holds 26 ounces, 4 feeding spots, comes with free ant-block hook)
My #1 hummingbird feeder recommendation:
Juegoal Glass Hummingbird Feeders (holds 26 ounces, 5 feeding spots)
I like this feeder the best because it is glass, easy to assemble, easy to wash, has lots of red on it to attract hummingbirds best, holds a good amount of hummingbird food, and is beautiful!
Best Humming Bird food:
Now that you have a hummingbird feeder all picked out, you'll want some food to go with it. I have a great humming bird food recipe for you! It's super simple and it doesn't use red food coloring (spoiler alert: it's not actually good for your feathered friends!). Just click on the link above to get that hummingbird food recipe and you'll be ready to have many many humming birds come to your yard.
Enjoy the bird watching from one hummingbird lover to another!
Humming bird feeders are a must have if you want to attract those zany little birds to your yard. Here's a list of some of my favorite humming bird feeders to buy and why I love them. I hope this is so helpful and that you find something for your yard or a gift for a friend!