As a child, I remember feeling so grown-up and special when I was able to order a Shirley Temple Drink at a restaurant. The combination of the sweet grenadine syrup, fizzy lemon-lime soda, and the garnish of maraschino cherries made me feel like I was drinking something fancy and elegant. It's a classic non-alcoholic drink that's perfect for everyone, no matter their age! It's such a fun and festive drink, you'll want to serve it at your next party or special occasion.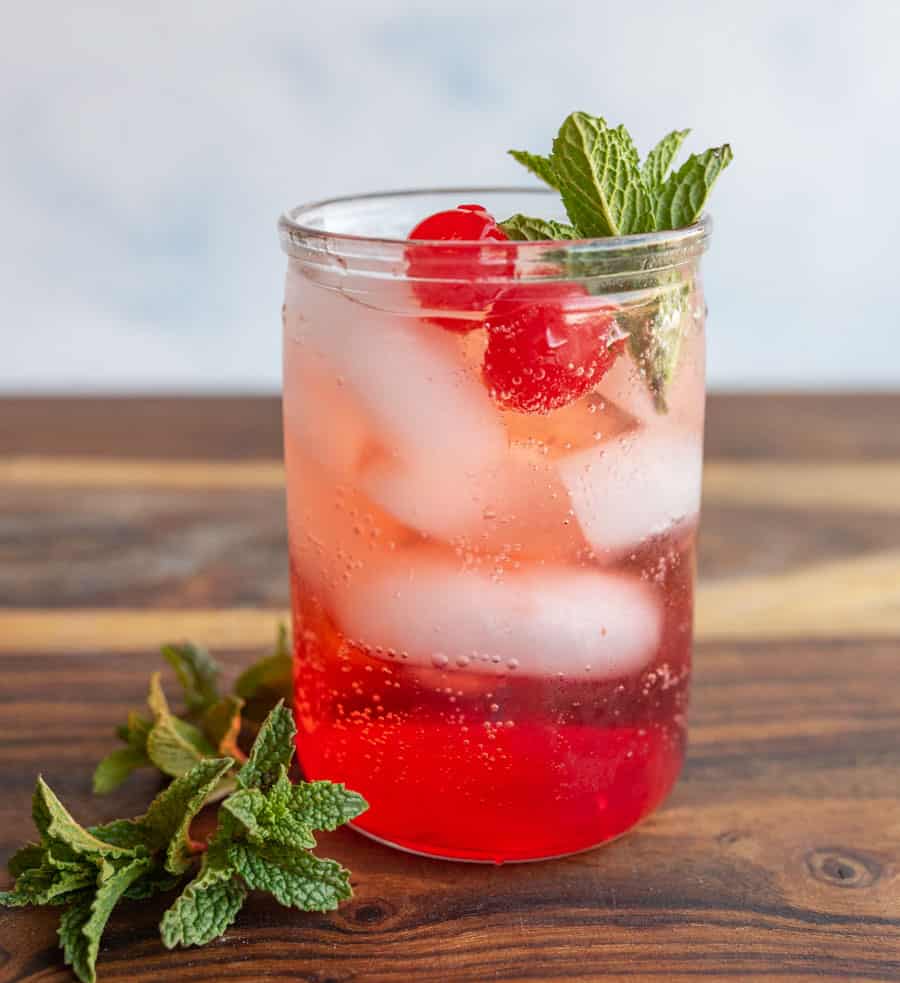 Making a Shirley Temple drink is a breeze and takes about one minute! You start by filling a tall glass halfway with ice. Then pour the grenadine over the ice and finish up by adding the lemon lime soda (typically Sprite or 7UP). Oh and don't forget to garnish with maraschino cherries too!
History of the Shirley Temple Drink:
Shirley Temples are named after the famous child actress Shirley Temple, who was a popular Hollywood star in the 1930s. A bartender created this bubbly drink for her so she could feel grown up and special when she attended parties and dined with adults. And it's still a popular drink order today!
Shirley Temples are a pink, fizzy mocktail that are sweet and always in style. They are a great drink to make year-round. You can make just one drink, several, or you can make a big batch to serve at a party or wedding.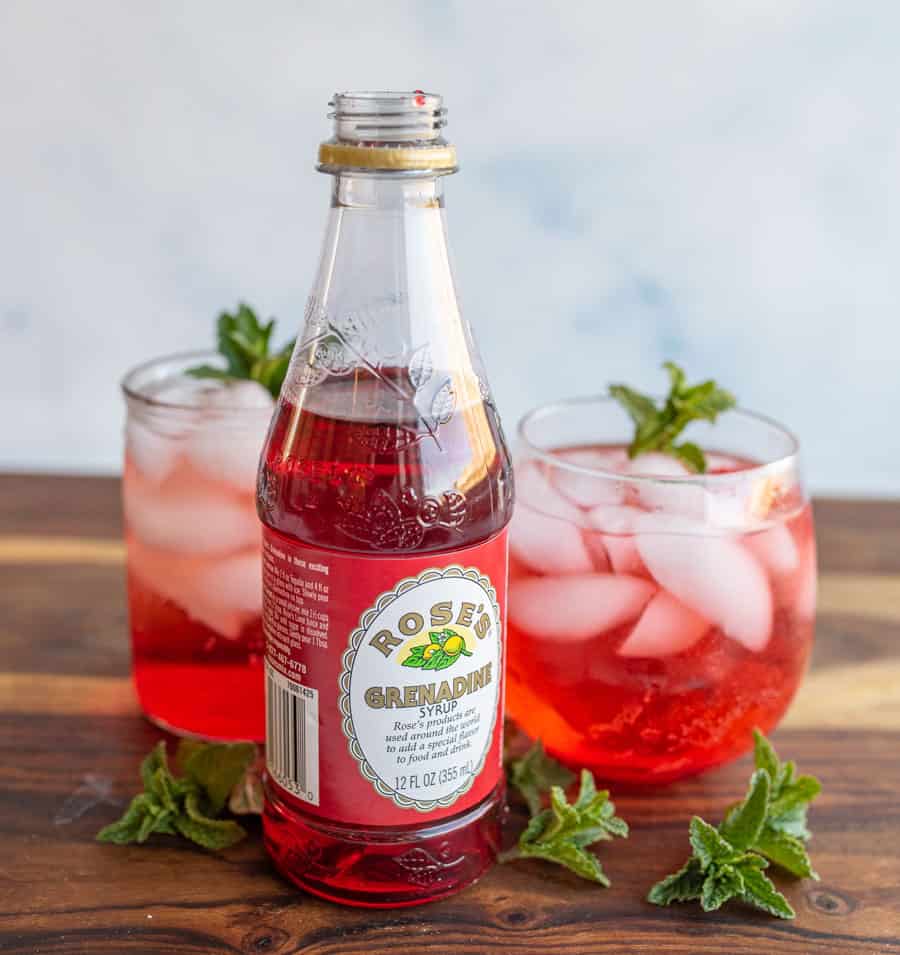 Ingredients in a Shirley Temple:
Grenadine: this is just a flavored syrup but it's the star! It's what give the drink it's characteristic color and flavor. More on grenadine below.
Ice: This is calculated in, you plan on it melting some to help balance out the sweetness of the syrup and soda.
Soda Pop: you can use any lemon lime or ginger ale soda that you like or a combination of the two
Maraschino cherry (or two): going with that pretty reddish-pink theme, the maraschino cherry is the classic garnish and just looks so good.
What is grenadine?
Grenadine is the star of the show in Shirley Temple drinks. The name "grenadine" originates from the French word grenade, which means pomegranate, which come from the Latin grānātum "seeded." Grenadine is a fruit syrup that is traditionally made from pomegranate juice and sugar. Today, the typical store bought version (Rose's or Torani) are just a very sweet flavored syrup with a slight pomegranate flavor. Kids love Shirley Temples made with these grenadines! You find them with the other drink mixers (like margarita mix) at the grocery store. If you want a more adult version of your Shirley Temple drink, you'll want to go the more authentic route. Liber & Co make an excellent grenadine made from pomegranates, cane sugar, and orange flower water.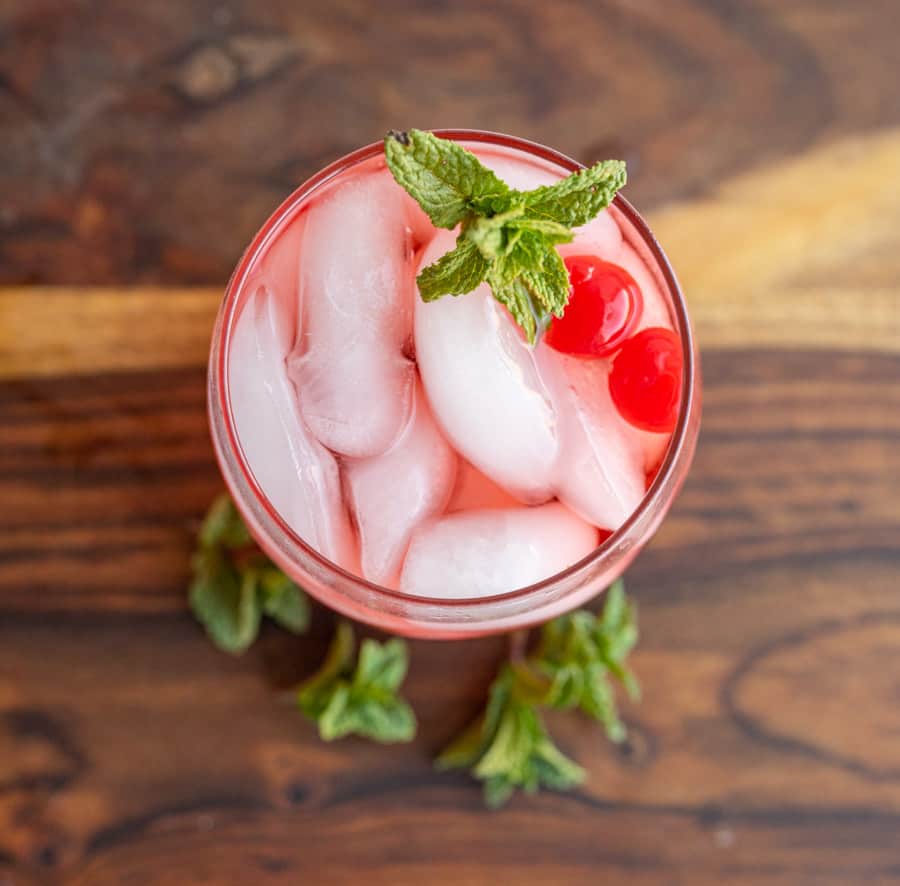 How to make a Shirley Temple
Let's get started on making a delicious Shirley Temple!
Grab a tall cup and fill it half full with ice - popular glasses include a narrow collins or highball. But our family parties often just sport SOLOs.
Pour in the grenadine - this is the key to achieving the drink's signature flavor and classic pink color.
Add in your favorite lemon-lime soda and give it a gentle stir to combine all the flavors - you can use Sprite, 7up, or a generic alternative.
Top it off with a maraschino cherry - other garnishes might include a slice of lime or lemon for a citrusy twist, or a bit of fresh mint for a refreshing herbal aroma. You might try a slice of orange or a few raspberries for some added color and flavor.
And voila! Your refreshing and sweet Shirley Temple is ready to be enjoyed. Remember to serve it right away for the best experience!
Variations on the Shirley Temple
While the classic Shirley Temple recipe is sure to please children and adults alike, there are a few fun and creative variations to try. Here are a few ideas to mix things up:
Shirley Temple Black(Shirley's married name) - A more grown-up version of the original, this recipe calls for black cherry soda instead of lemon-lime soda. Add grenadine, ice, and top with a cherry.
Blue Shirley: Instead of using grenadine, use blue curacao for a fun blue twist on the classic drink.
Dirty Shirley: Add a splash of vodka to your Shirley Temple for a little extra kick.
Tropical Shirley: Use pineapple juice and orange juice instead of soda for a tropical twist.
Raspberry Shirley: Add a splash of raspberry syrup to your Shirley Temple for a fruity and flavorful variation.
Strawberry Shirley Temple - Mix strawberry syrup with lemon-lime soda and garnish with fresh strawberries for a refreshing summer mocktail.
Roy Rogers - This mocktail is similar to a Shirley Temple but instead of grenadine, it uses cola. Simply add cola instead of lemon-lime soda to your glass of ice, and top with a cherry.
These are just a few ideas to get you started, but feel free to get creative and experiment with different juices, syrups, and garnishes to make your own unique version of the classic Shirley Temple drink.
Frequently Asked Questions:
Is ginger ale or Sprite better for Shirley Temples?
I have made Shirley Temples using both Sprite (or 7UP) and ginger ale and they taste similar. Ginger ale was used in the original Shirley Temple but now a lot of people make them with any light colored soda. I say - do whatever you prefer!
What is a mocktail?
A mocktail is a drink that doesn't contain alcohol. It typically consists of a fruit juice mixed with a soda.
Is there caffeine in a Shirley Temple?
This popular drink is alcohol free and contains no caffeine. It really is a great drink that everyone can enjoy and feel fancy.
Can I make a Shirley Temple without grenadine?
Grenadine is what gives the Shirley Temple its signature sweetness and tangy flavor - in addition to that classic pink color. Without grenadine, a Shirley Temple just wouldn't be the same. So, if you want the real deal, be sure to add a splash of grenadine to your next Shirley Temple!
But if you're in a pinch, cherry syrup or raspberry syrup can work. You can also make your own grenadine with pomegranate juice. Or make a simple syrup and add a couple drops of red food coloring.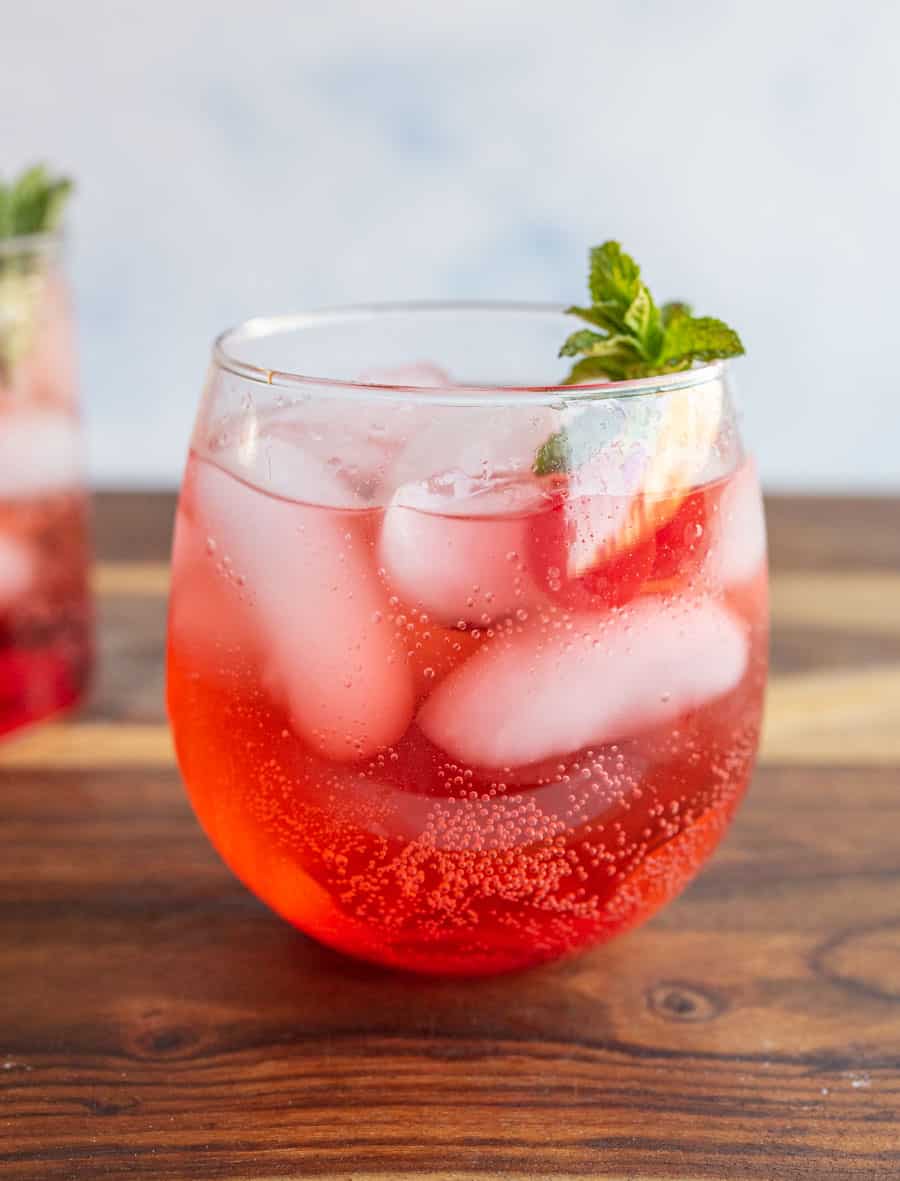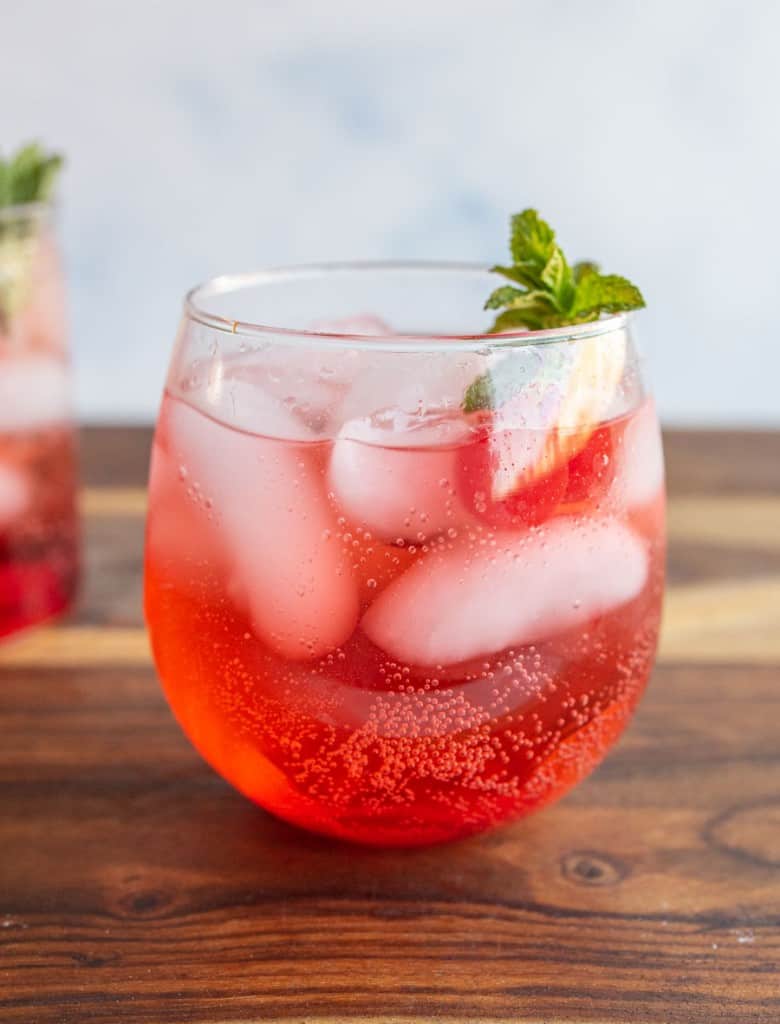 More great drink recipes:
If you've tried this Shirley Temple recipe or any other recipe on Bless this Mess, then don't forget to rate the recipe and leave me a comment below! I would love to hear about your experience making it. And if you snapped some pictures of it, share it with me on Instagram so I can repost on my stories AND add your photo to your comment so that other can see your creation.
📖 Recipe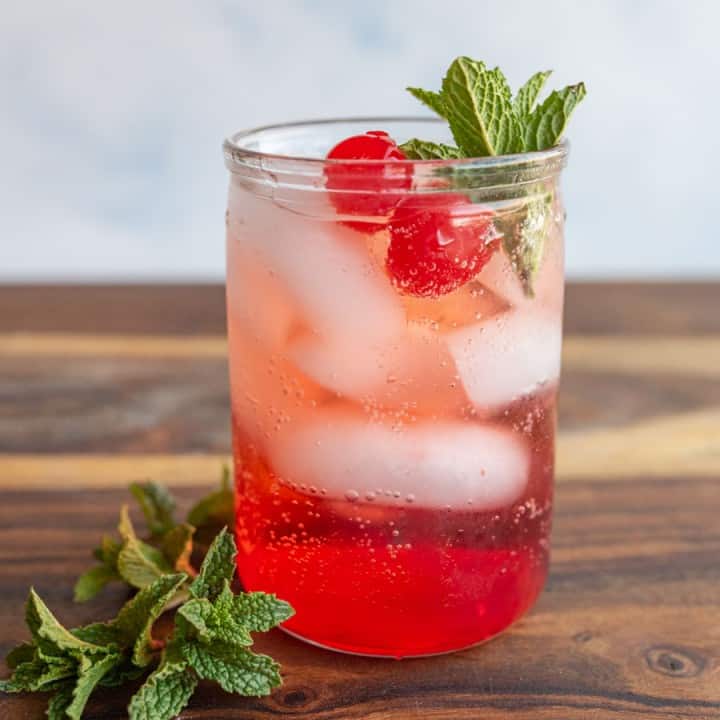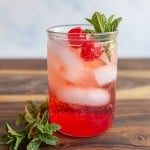 Print Recipe
Shirley Temple Recipe
Ingredients
1

cup

ice cubes

1

ounce

grenadine

about 2 tablespoons

8

ounces

lemon-lime soda

or ginger ale - or a mixture of the two, chilled

maraschino cherries and mint sprigs

for garnish
Instructions
Add the ice to a cup and then pour the grenadine over the ice.

Add the soda of your choice and stir gently to combine.

Add a maraschino cherry to the top of the glass and a sprig of mint if you'd like.

Serve right away.
Notes
Need more than a few Shirley Temples? Try making a Shirley Temple Party Punch, here's the recipe: Add 6 cups ice, 1 (12-ounce) bottle Grenadine, and 1 bottle each (2 liters each) of lemon-lime soda and ginger ale to a large serving bowl and stir gentle to combine! Top with a whole jar of maraschino cherries without any stems and serve it like any other party punch. It's always a huge hit and the color is so pretty!
Use what soda you like or have on hand. You can do all lemon-lime or all ginger ale or do a mix of the two. I prefer all ginger ale.
For more tips and variations, please refer to the full article.
Nutrition
Calories:
169
kcal
|
Carbohydrates:
43
g
|
Protein:
0.2
g
|
Sodium:
42
mg
|
Potassium:
10
mg
|
Sugar:
36
g
|
Calcium:
13
mg
|
Iron:
0.1
mg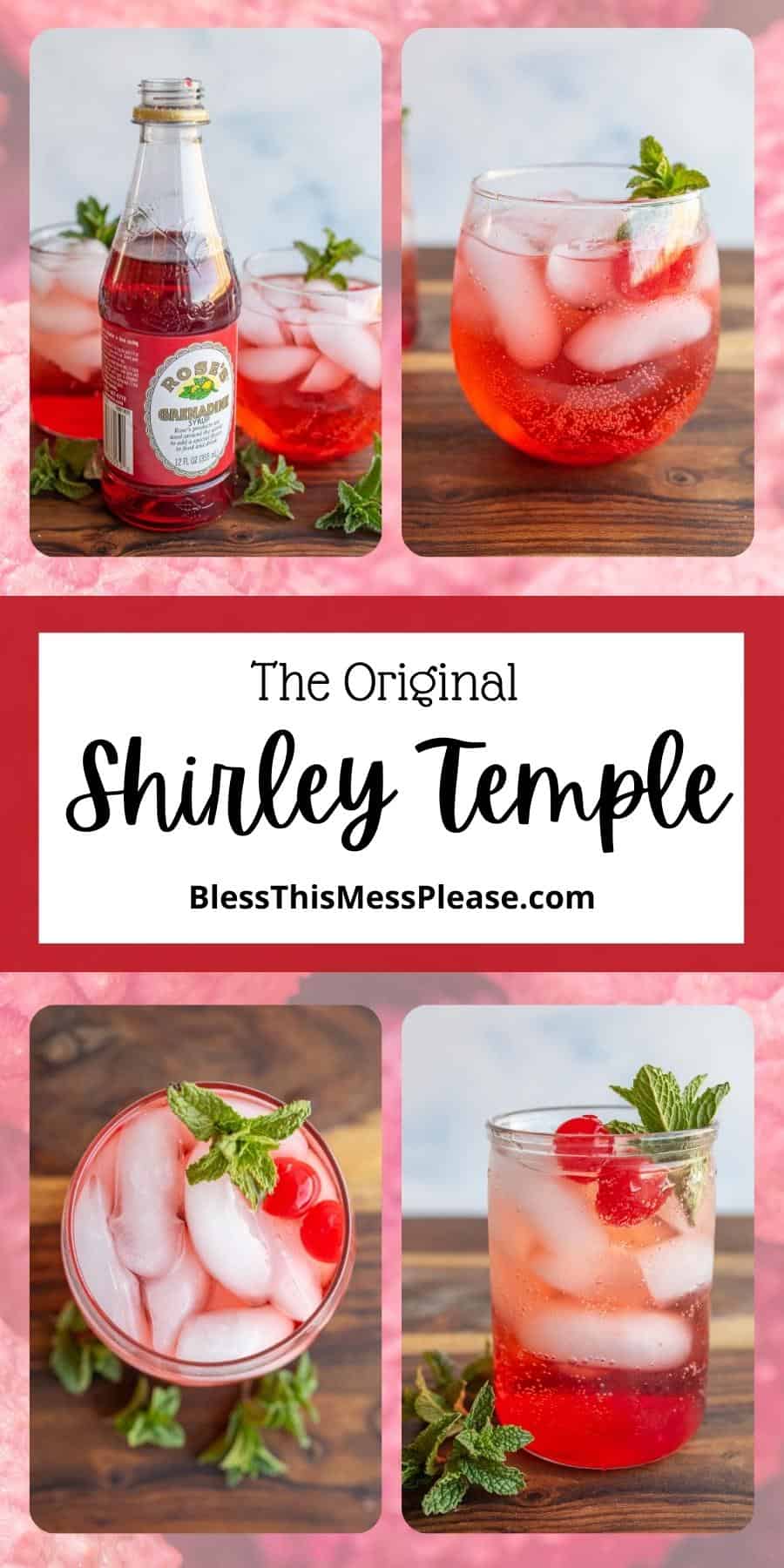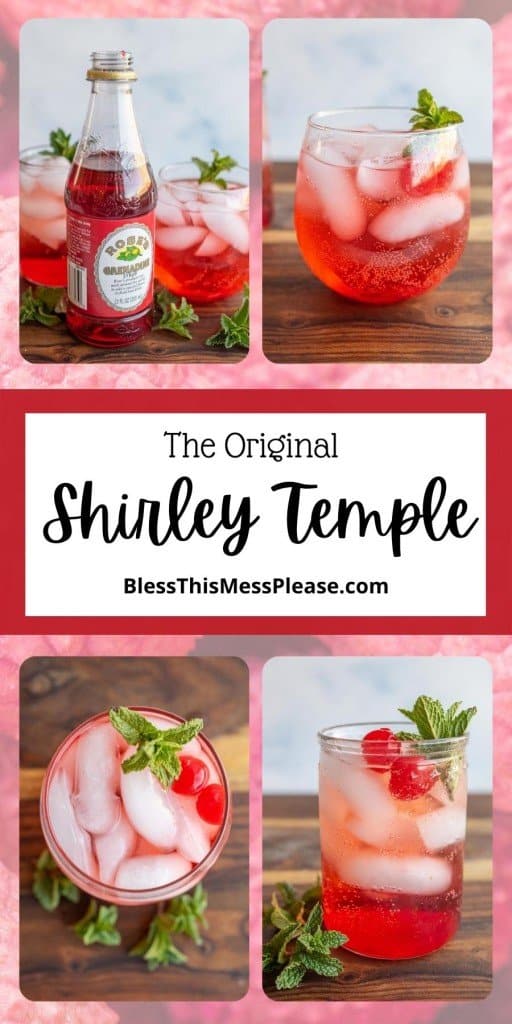 Add some festive fun to your next holiday celebration by including the tradition of mixing up some Shirley Temple drinks. These classic Shirley Temple mocktails are perfect for all ages, and they add a touch of glamour to any party. So go ahead and make some Shirley Temples for your next birthday or New Year's Eve party, and let the good times roll!