These tasty bites are easy-to-make, no-bake peanut butter chocolate chip oatmeal bites that are perfect for snacks, kids' lunches, and post-workout recovery.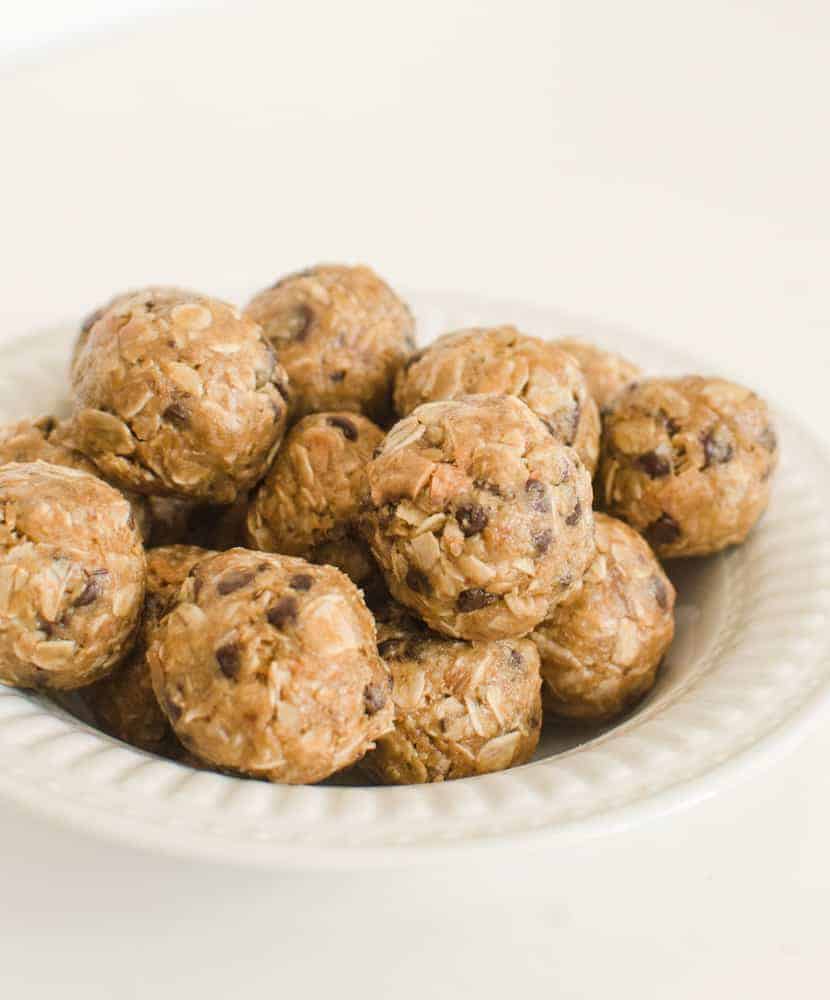 No Bake Peanut Butter Chocolate Chip Oatmeal Energy Balls
If you have a sweet tooth or a busy life, or both, these no-bake energy balls are for YOU, my friend. They're packed with all sorts of nutritious whole-foods goodness, but they also satisfy sweets cravings with a little kick of mini chocolate chips. For fans of oatmeal chocolate chip cookies, or anything with peanut butter and chocolate, you'll want to give these guys a try!
I live for no-bake recipes because it often means the recipe is silly simple, which this one is. All you have to do is combine all your ingredients, let the mixture cool in the fridge for a bit, then roll it into tablespoon-sized balls, and enjoy! It really couldn't be easier, and you'll love having an no-frills, but super tasty, snack to fuel extra-long days or get the kids through until dinner!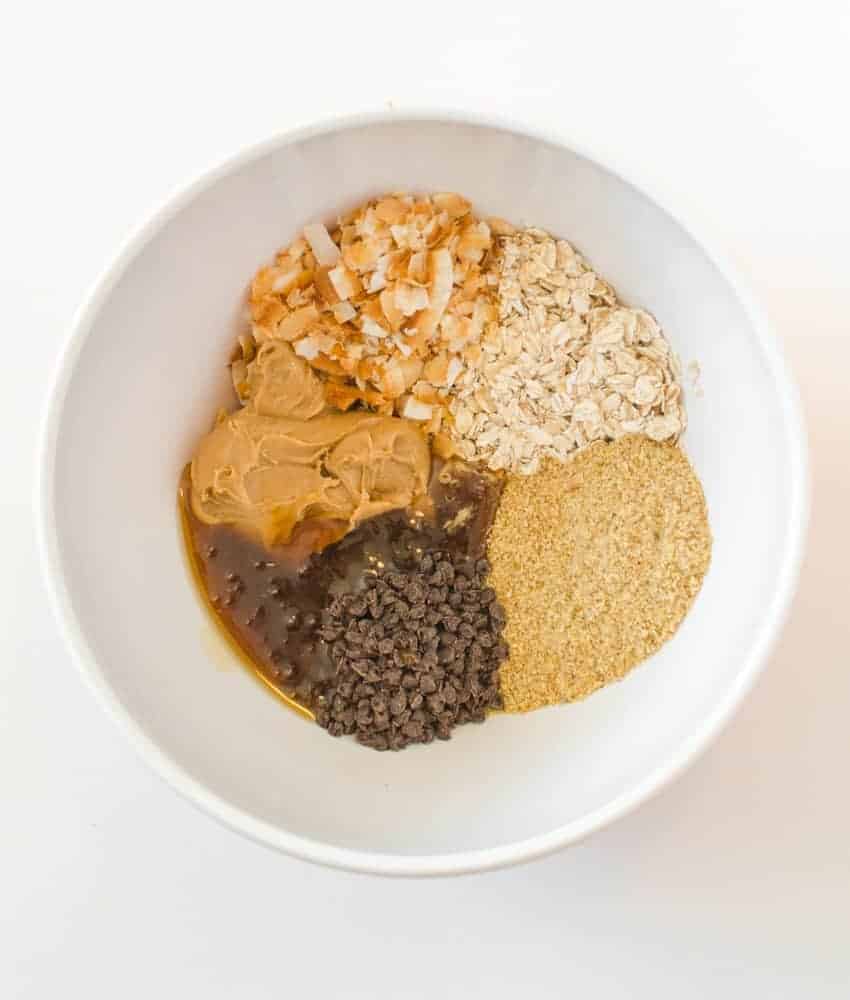 The hardest part about trying to eat only whole foods for me is snacks and desserts/treats. That's where these little balls of deliciousness come in! Peanut Butter Chocolate Chip Oatmeal Energy Bites taste a whole lot like no-bake cookies, and my kids (and I) aren't at all sad about it. These are great to make on your meal prep day (along with some snacks in a jar and a veggie box) and keep in the fridge. Then you can pull them out when you need a little something sweet or when the kids get home from school. Who doesn't like no-bake cookies for a snack?
How to make oatmeal energy bites:
Oats: One of my favorite whole grains. They are cheap, easy to find (and easy to get gluten-free if needed), and just plain fun. I use old fashioned oats and they make a chewier, more "toothsome" energy bite. You could use quick cooking oats (still a whole grain, they are just cut smaller) or half and half to change the texture. While my husband likes the quick cooking oats better, I like the old fashioned in this recipe. The flavor will stay the same with either, but the texture will change as the quick cooking oats will make the balls softer. You can also use a combination of the two if you'd like. It all works, it just changes the texture a bit.
Unsweetened Coconut Flakes: I get Bob's Red Mill unsweetened coconut flakes online, but I did see them at a bigger grocery store last month. I love these coconut flakes. They are nice chubby flakes which toast up really nicely and are great added to all kinds of things, like yogurt and desserts.
Peanut Butter: My favorite food! I used the organic natural peanut butter from Costco; we love it! You can use any natural peanut butter for this recipe. If you use a more traditional peanut butter, you might need to increase the amount by a few tablespoons or add a bit more honey so that they stick together. Natural peanut butter has a bit more moisture in it than traditional peanut butter, which helps this recipe form into balls. I'm confident you could use another nut or seed butter in this if you need to, though it will affect the taste.
Ground Flaxseed: You can buy ground flaxseed in a bag (also called flax meal), or you can buy whole flax seeds and grind them yourself at home (most people use a little coffee grinder for this, I have this one just for this purpose). Flaxseed that you grind at home is going to be more nutritious, which is true for most things like this, but both options work great. Flax is fun because it is a great source of healthy omega-3 fatty acids. I'm trying to use it more and this is an easy way to do that.
Honey: Long live nature's natural sweetener. I bought a hive 2 years ago and have yet to put bees in it. I can't wait! Buy local honey when you can, and when you can't, Costco has it for a great price.
Mini Chocolate Chips: I like the mini chocolate chips in this recipe because they go with the texture and size of the rest of the ingredients better. You can use normal chocolate chips, but I feel like the mini ones distribute the chocolate more evenly through each bite. No matter what you choose, chocolate is always a good idea.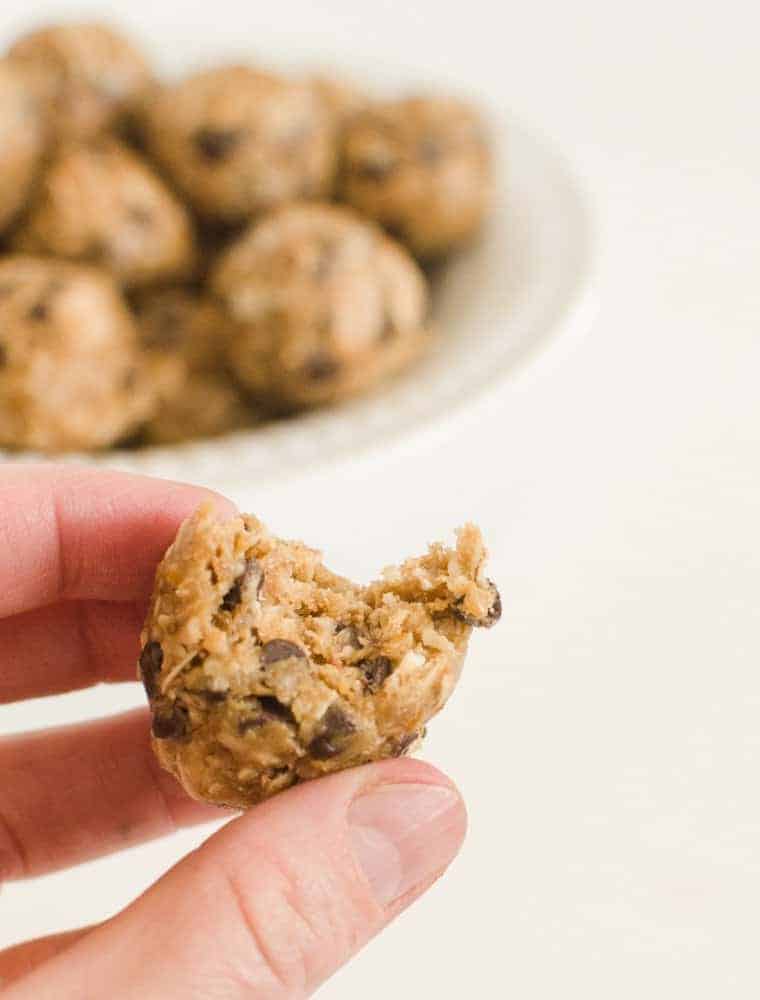 Can you eat raw oats in energy balls?
It is perfectly fine to eat uncooked oatmeal! But some people do experience bloating from raw oats, so if you notice this happens to you, you can always soak your oats in water for 30 minutes before mixing up a batch of energy balls.
Why are energy balls good for you?
Energy balls practically have it all in terms of nutrition! They're packed with fiber, protein, and healthy fats, which makes them an incredible snack when you're on-the-go.
How long do no-bake energy balls last?
After forming your no-bake energy balls, store them in the fridge for up to two weeks in an airtight container. They won't hold their shape as well or last as long if you leave them out at room temperature.
Can you freeze energy balls?
Yes, you can! You might even prefer them frozen, if you're a frozen cookie lover like I am. You can also store them in the freezer to keep them longer than two weeks, and let them sit out for 20 minutes or so to thaw a bit to enjoy them in a softer state.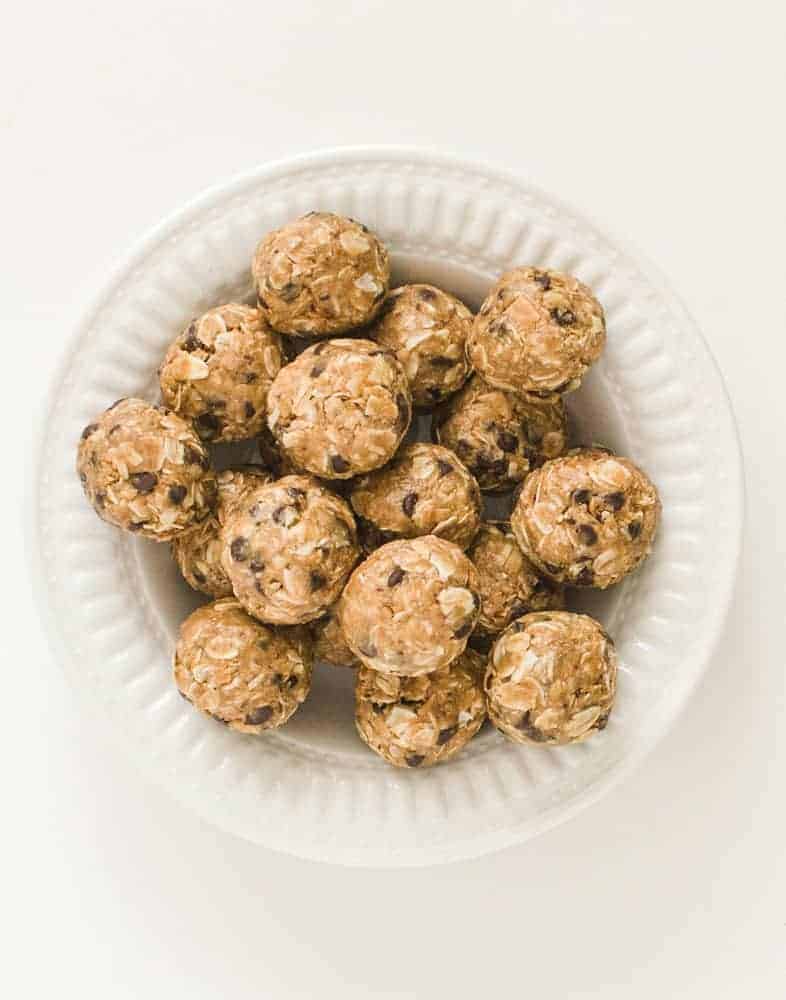 Print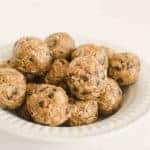 Peanut Butter Chocolate Chip Oatmeal Energy Balls
---
Author:

Total Time:

5 minutes

Yield:

20

balls

1

x
Description
Easy, no-bake energy ball recipe perfect for snacks, lunch boxes & post-workout recovery. Tasty bites made with peanut butter, chocolate chips & oatmeal!
---
1 cup

(dry) oatmeal (I like old fashioned)

⅔ cup

toasted unsweetened coconut flakes

½ cup

peanut butter

½ cup

ground flaxseed

⅓ cup

honey

½ cup

mini chocolate chips

1 teaspoon

vanilla extract
---
Instructions
Add everything to a medium bowl and mix to combine well. Stick the bowl in the fridge and let it chill for about half an hour. This resting time helps to ensure that the balls will stick together when rolled.
After the chilling time, take a tablespoon of the mixture in your hand and roll into a ball. Repeat with remaining oat mixture. If your balls aren't sticking together after the resting period, you can add a little more honey or peanut butter, stir well, and try rolling again. Sometimes it just needs a little more of the wet ingredients to hold together well. And the moisture in the peanut butter will depend on the brand/type that you use.
Store in an airtight container in the fridge for up to 2 weeks or in the freezer much longer.
Notes
If you'd like to add chia seeds, add 1-3 tablespoons depending on your preference.
Prep Time:

5 mins

Category:

Snacks

Method:

Bowl

Cuisine:

American
Keywords: oatmeal energy balls, easy energy balls recipe, chocolate energy balls, peanut butter energy balls, energy bites recipe
Other no bake snack ideas:

You can plan on making these for snacks, dessert, lunch boxes, post-workout recovery time, or middle of the night treats for you nursing moms. I also like to have these on hand for after naps when my kids are super grumpy and need a little something in their system to help them feel happy again. No one can say no to chocolate and peanut butter. No one. ENJOY!