Remember a few months ago when I told you all working I was with GE Appliances on their Our American Kitchen stories? It's been a lot of fun and I have another post today highlighting some of the touching (and fun!) videos they have made of real American families living awesome lives with the kitchen as the center of their home. This topic is one that I love because I very much relate to why and how the kitchen is so important to our families and the stories we are making every day. So today I'm highlighting GE's hard work as well as sharing our future dream kitchen plans, which has been a gift of love from my mom! First up, the videos! GE has been around for a 105 years and we've used a bunch of their appliances in the many apartments and homes we've lived in (and remodeled). They've been around through lots of changes in the American kitchen and they are always coming up with not just what the market needs, but what people want. Our American Kitchen is a documentary series that has tried to capture just that... the American people who feel just like I do about their kitchen: it's the heart of the home.
There's a whole series of videos about all kinds of people and I chose my favorite two videos to share with you today. The first video is called 'Chase's Cooking Show' and it's about boy who lives with Autism and has fallen in love with cooking shows. His mom got him in the kitchen and he now has his own Internet cooking show. I loved this story. I choked up at the end when his mom talks about how proud she is of him. I loved that Chase found comfort and a love for something that helped him express who he is. That's something I appreciate. My food is part of who I am too.
The second video is about Maryann, the Cookie Lady. You have to watch this! She's the cutest little old lady who bakes every day and delivers her love through cookies to her small community. Again, food is my love language (and it's obvious Maryann and I have a similar love language), and it was really fun to watch and relate to why Maryann is in the kitchen, because she loves it and she loves to spread all the baked goodness around.
Aren't those fun? Sure, they might show the appliances they use, but that is not the point of the video. GE took the time to get to know some of its customers and the videos are so real. And now it's time for you to get an idea of what I'm planning for our future kitchen! Thomas and I hoped to start building a house this past spring on the 7 acres where our garden, orchard, and chickens live, but life has gotten the better of us. We are being a bit more realistic and planning on starting in the following spring. If things happen before that, awesome, if not, I'm not going to be so disappointed when they don't. The kitchen is the heart of the home and dreaming about our future house has only made that statement more and more true. We have literally planned the entire main level around the kitchen. The placement of the kitchen was determined by the view out the windows (because when you have a view like we do, you make sure you can see it from "the heart"). The size of the kitchen was determined by how important the heart is... the bigger the better was our motto. The more room we have to prep, cook, and serve, the more people we can welcome into our heart. The rest of that floor was laid out to best accommodate dinner guests and the flow of traffic. Here's the outside front elevation so that you can get an idea of our style. It's very country farmhouse. My mom went to college for drafting and though technology has made her hand-drawn blueprint-creating obsolete, she's still a ninja at it! She hand drew all of our plans. We gave her a list of things that we wanted and loved and we worked together from here. A mom who can custom design your future dream home is a handy thing to have around. Thank you Mom!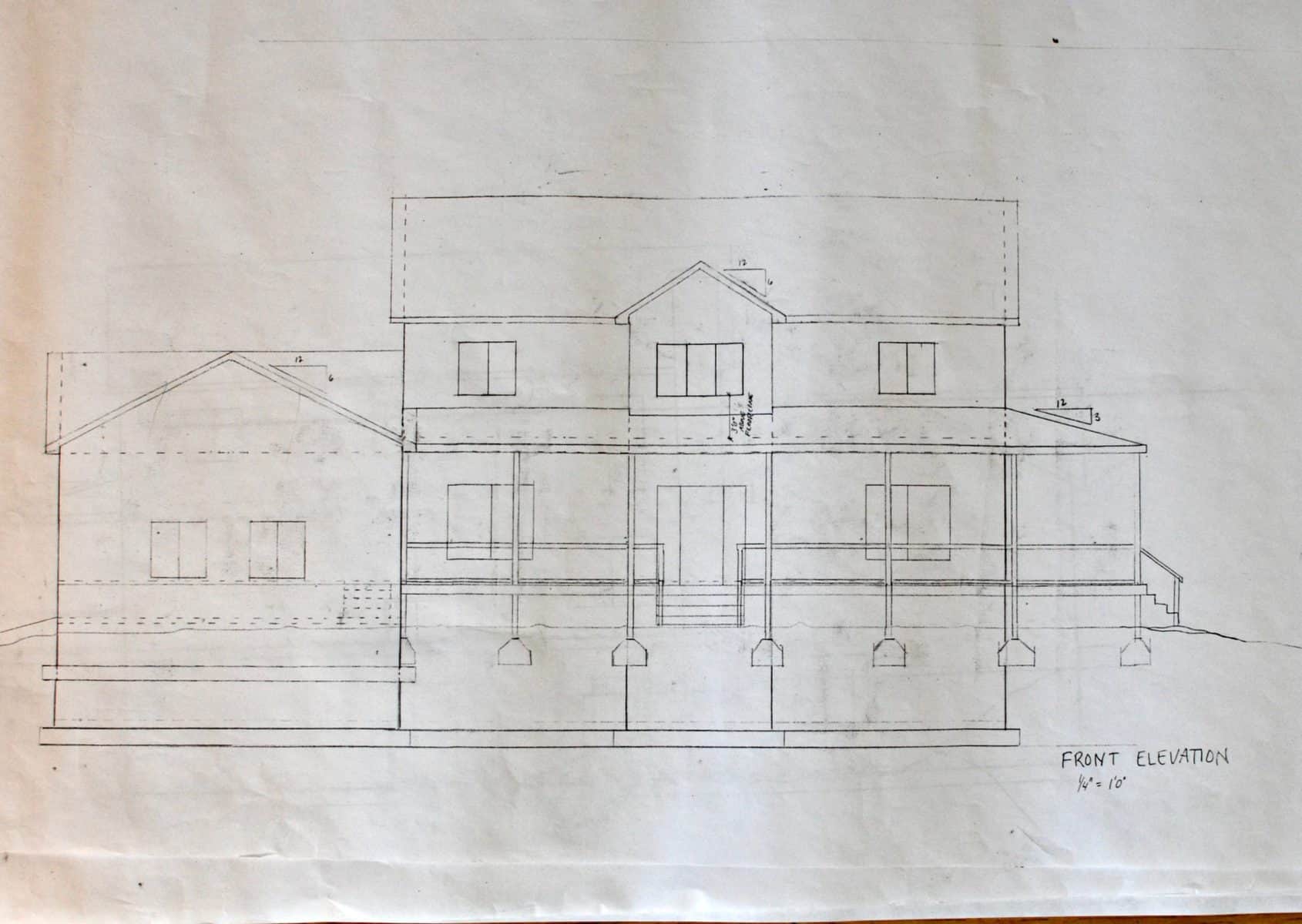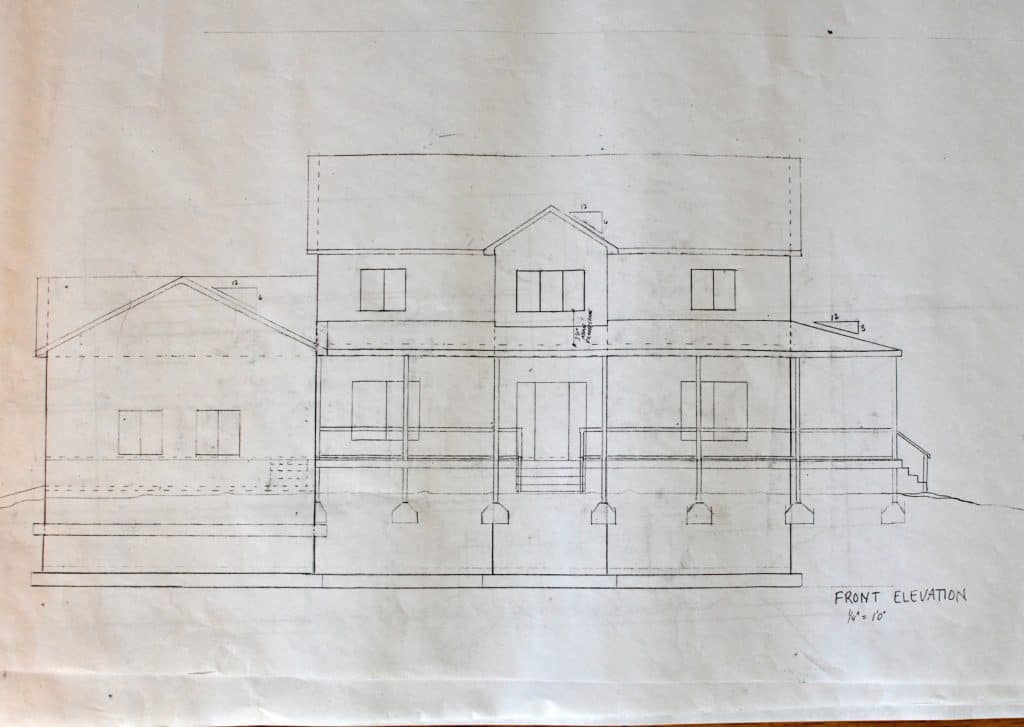 It's a two-story house with a walk-out basement in the back, but you are going to have to wait for future plan reveals to see the upstairs and basement! The left of the house is the garage and the wrap around porch spreads along the front. Here's the main level. Of course, our print of this one is hard to read. If you double click on it though it should make the picture bigger!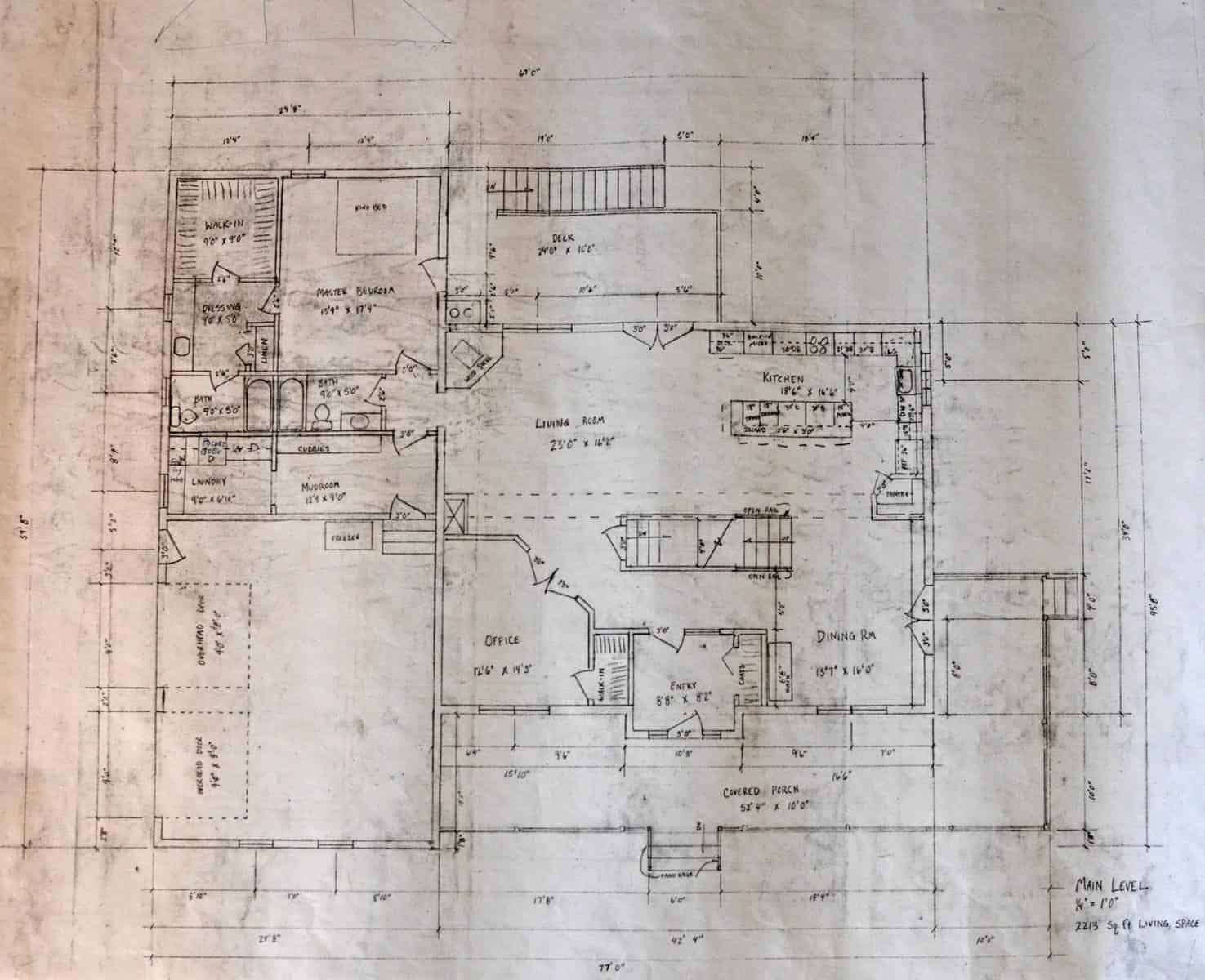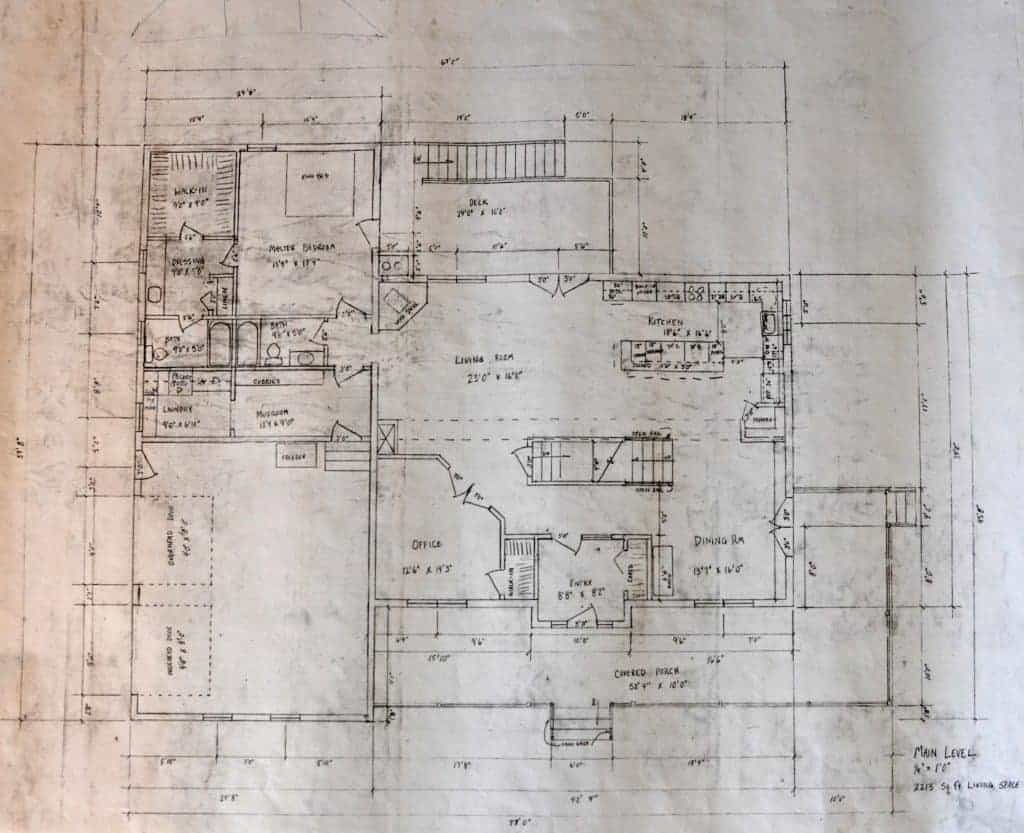 Looking at the plans makes my heart flutter.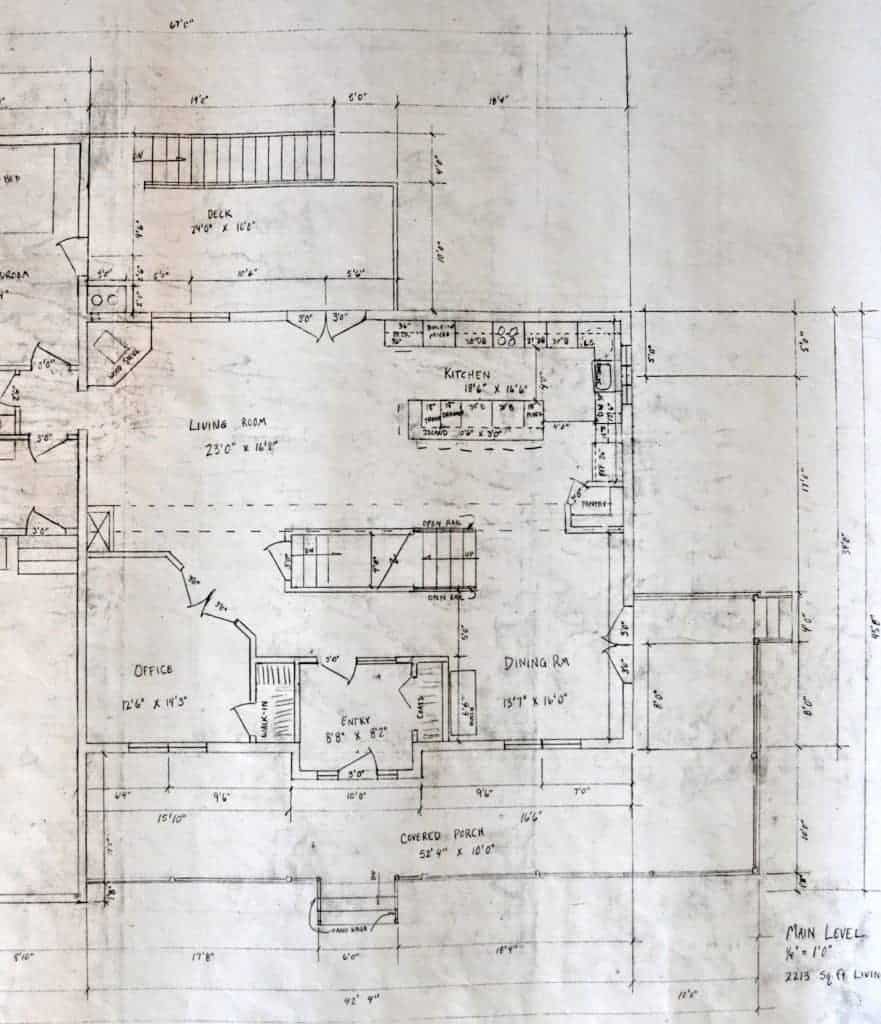 Can't you just imagine eating in that huge kitchen! When you are almost a family of 7, plus have giant extended family, you really can't have a big enough (realistic) kitchen! It's open to the living room and the living room has a deck off the back that faces our beloved mountains. I'm planning on eating on that deck all summer long! The office in the corner of the house is mine (swoon!) and it'll double as a craft and play room for a long time. The dining room is big enough to fit a 12-foot long table that I dream of making from reclaimed wood for The Shanty. Wouldn't that be fabulous! My mom LOVES kitchens as much as I do and she even did our cabinet elevations!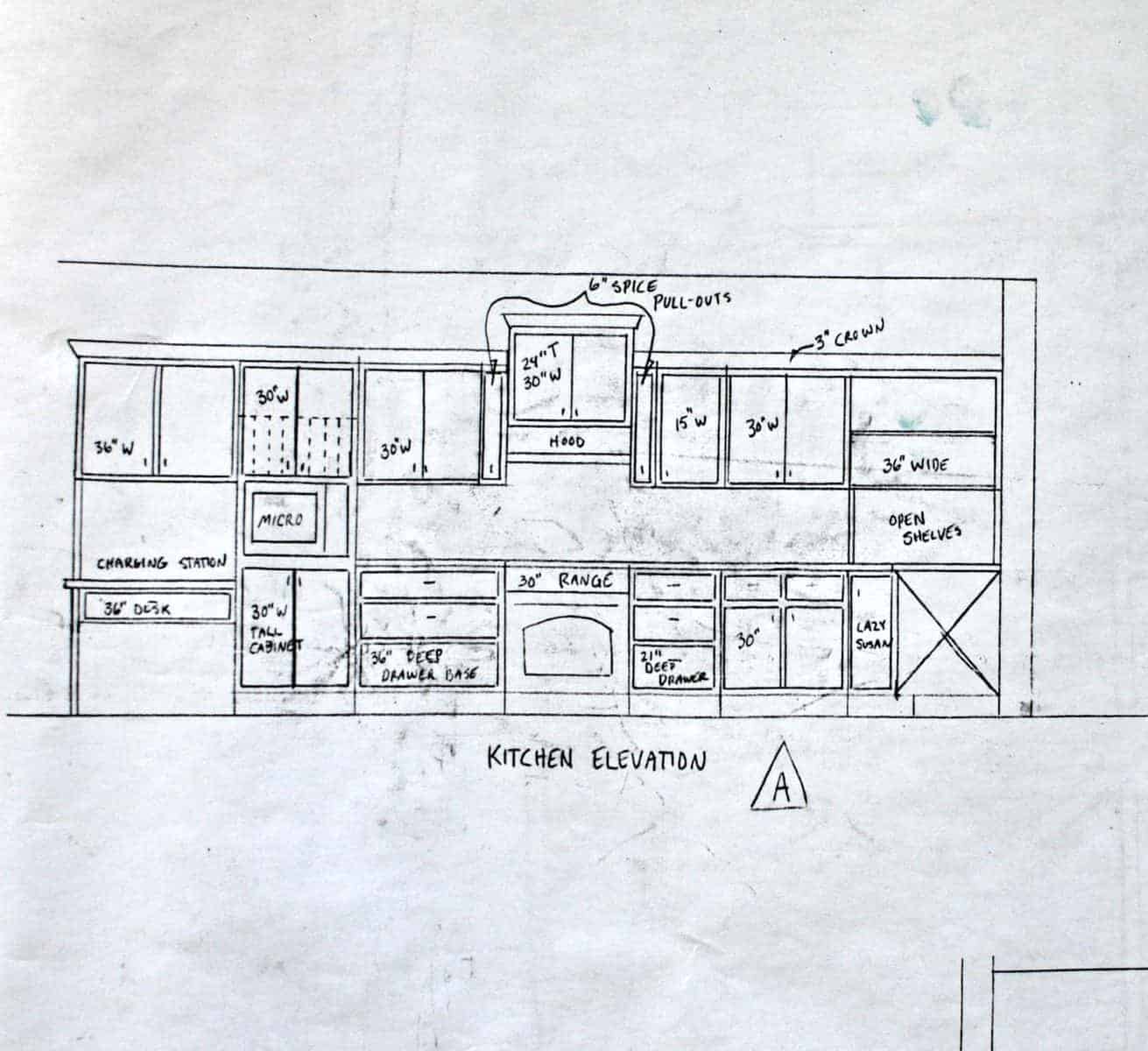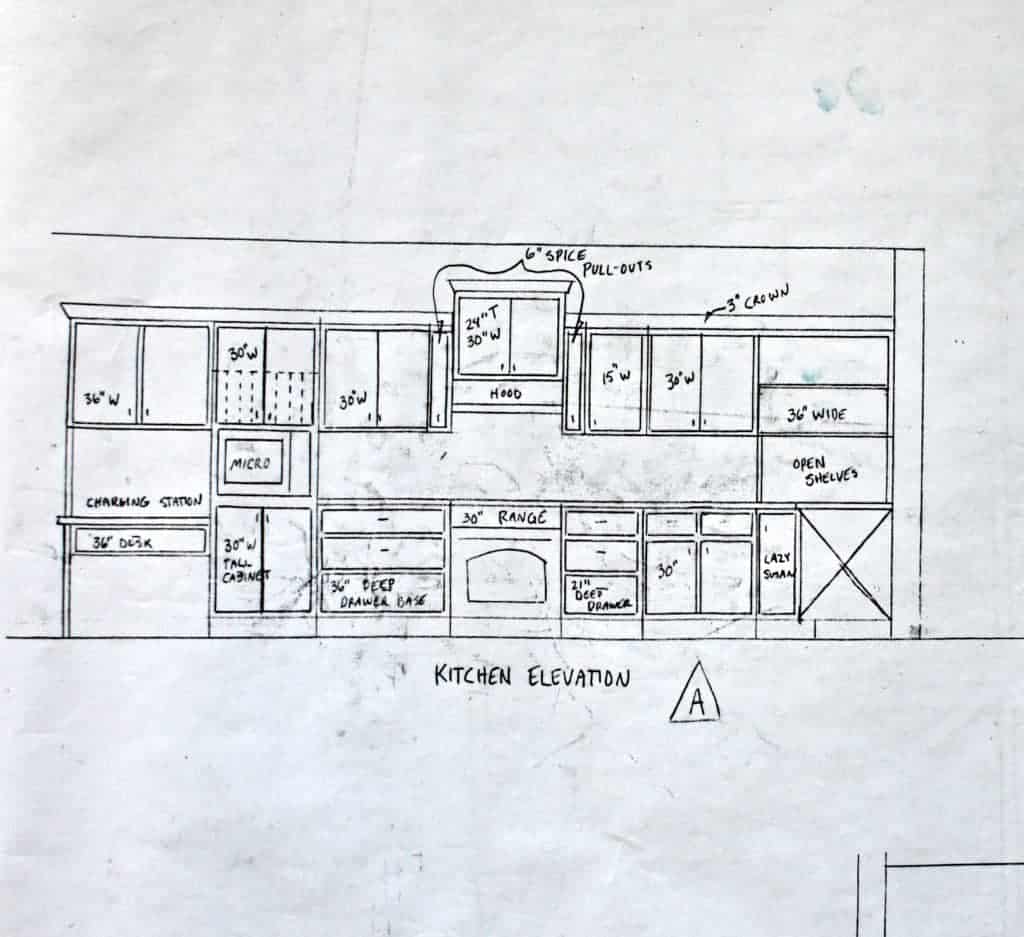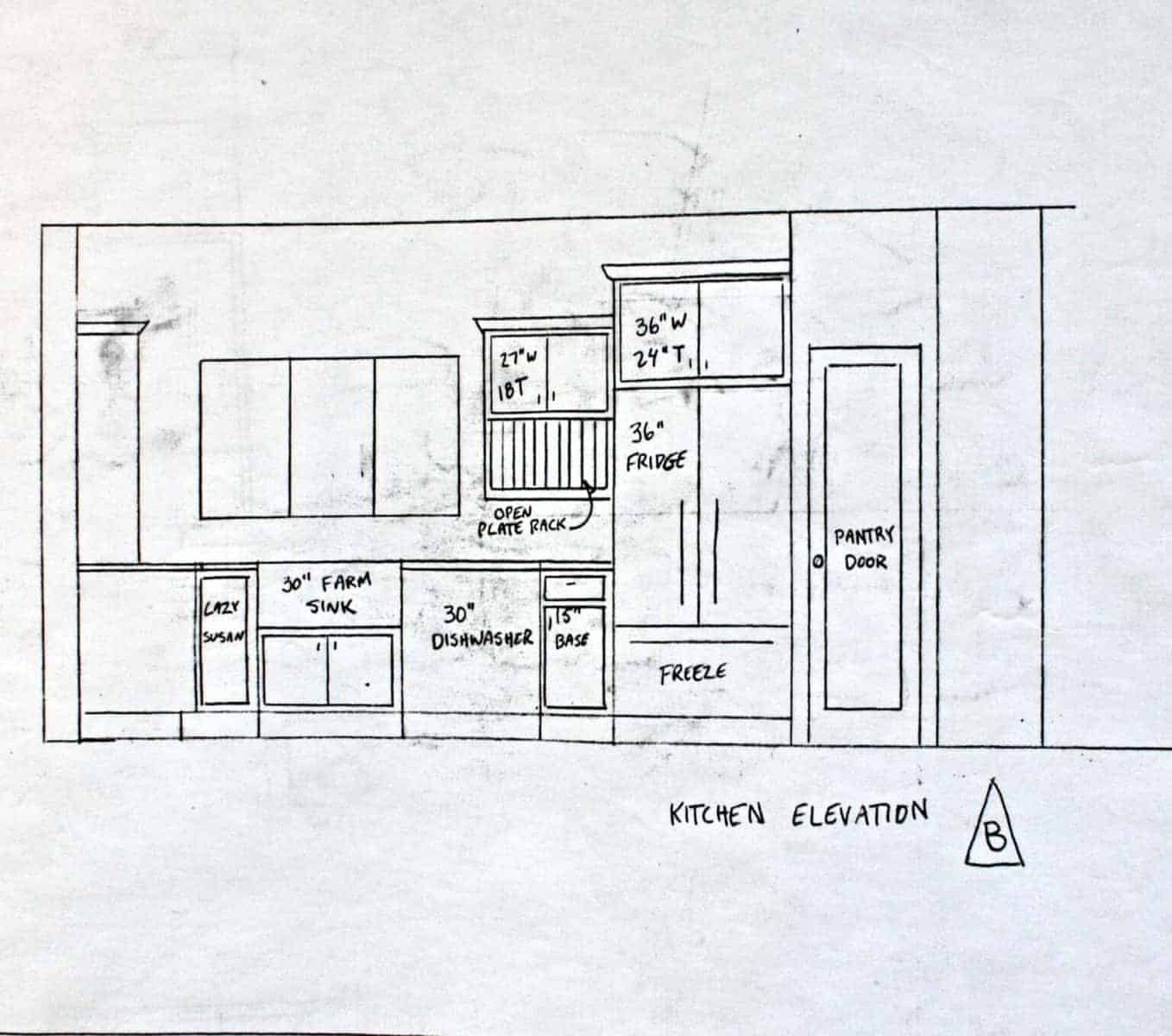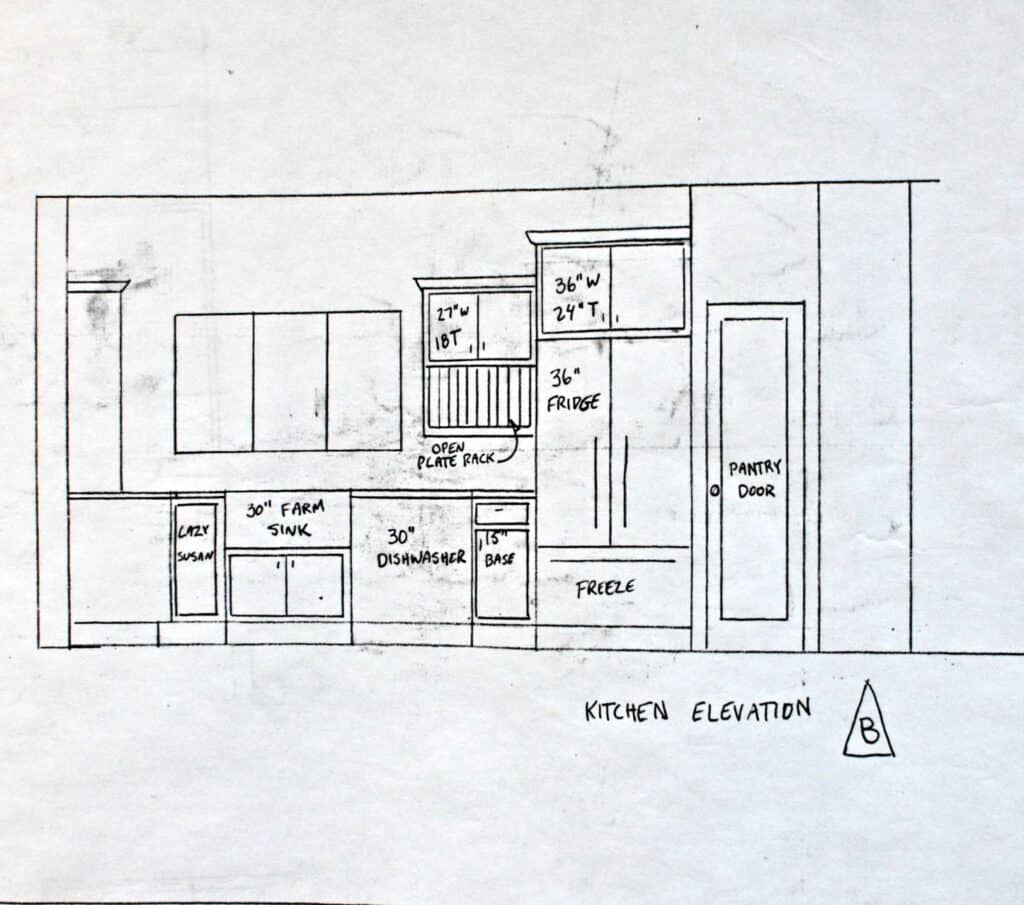 And let's not forget that glorious 10.5 foot long island. Now that is the kind of thing a big all-American family needs in the perfect kitchen. Somewhere to gather and enjoy each other! Not to mention all the food that could be prepped on that island. I literally cannot wait for this dream to become a reality.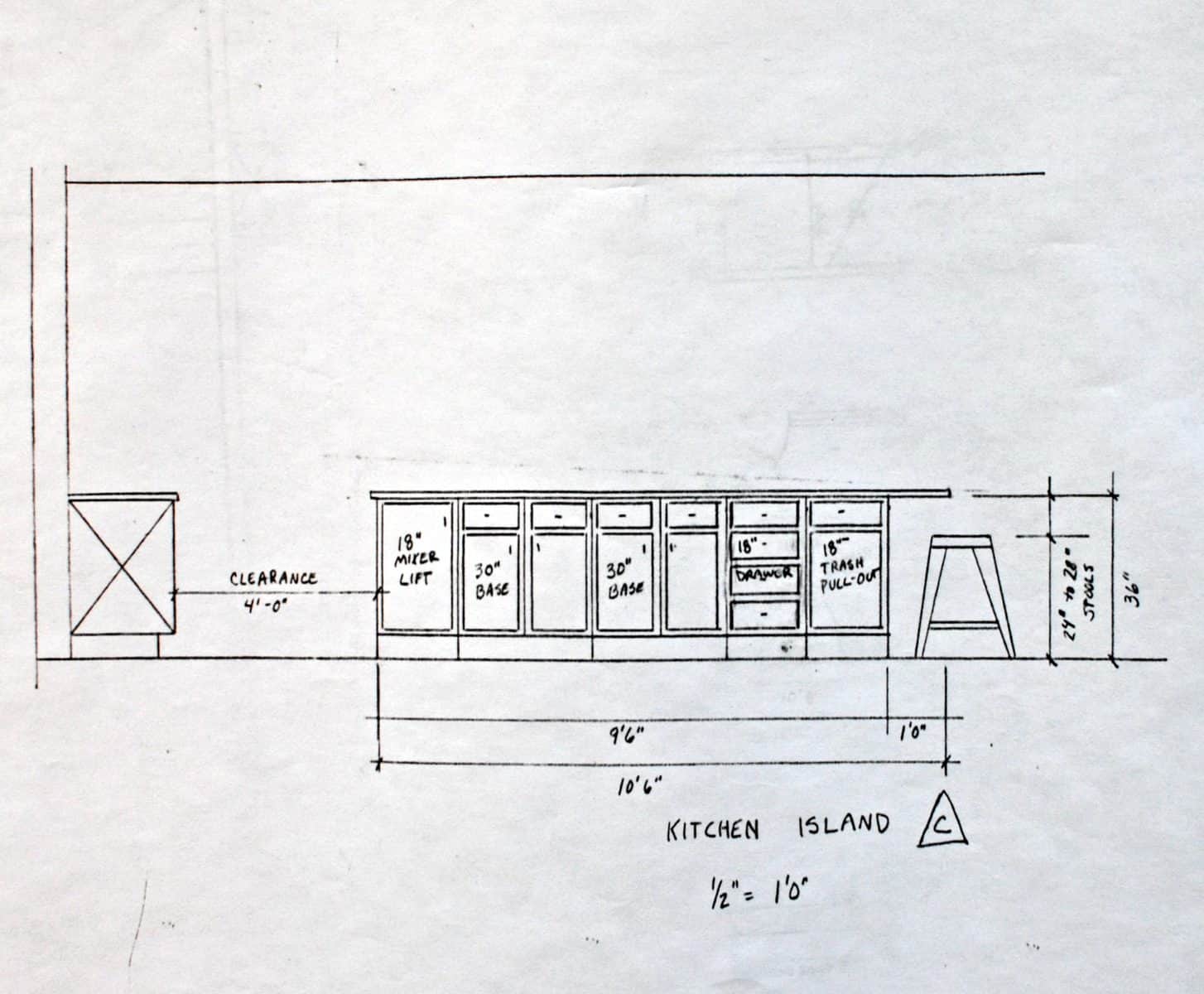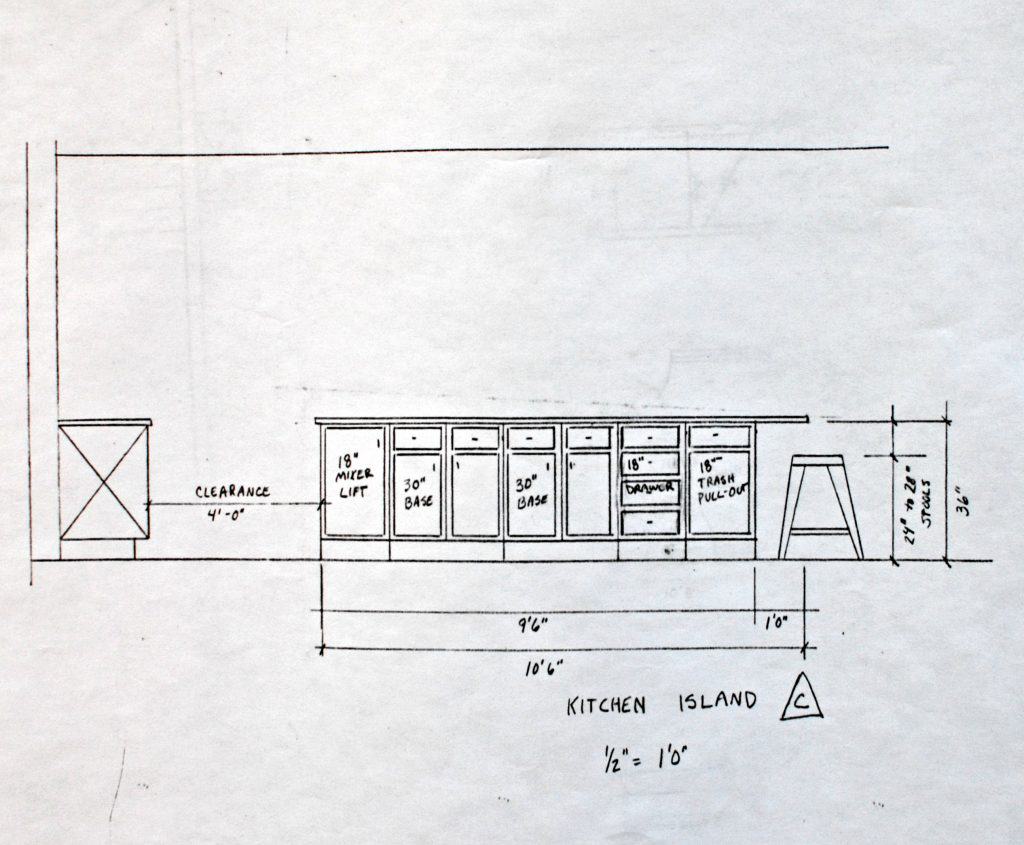 All this dreaming, wishing and planning will be even sweeter when it happens after a long wait right?! I keep telling myself that, and if the kids are a little bigger by the time we move in maybe they'll destroy less things (I can hope anyways). And let's talk about the view. Soul. Filling.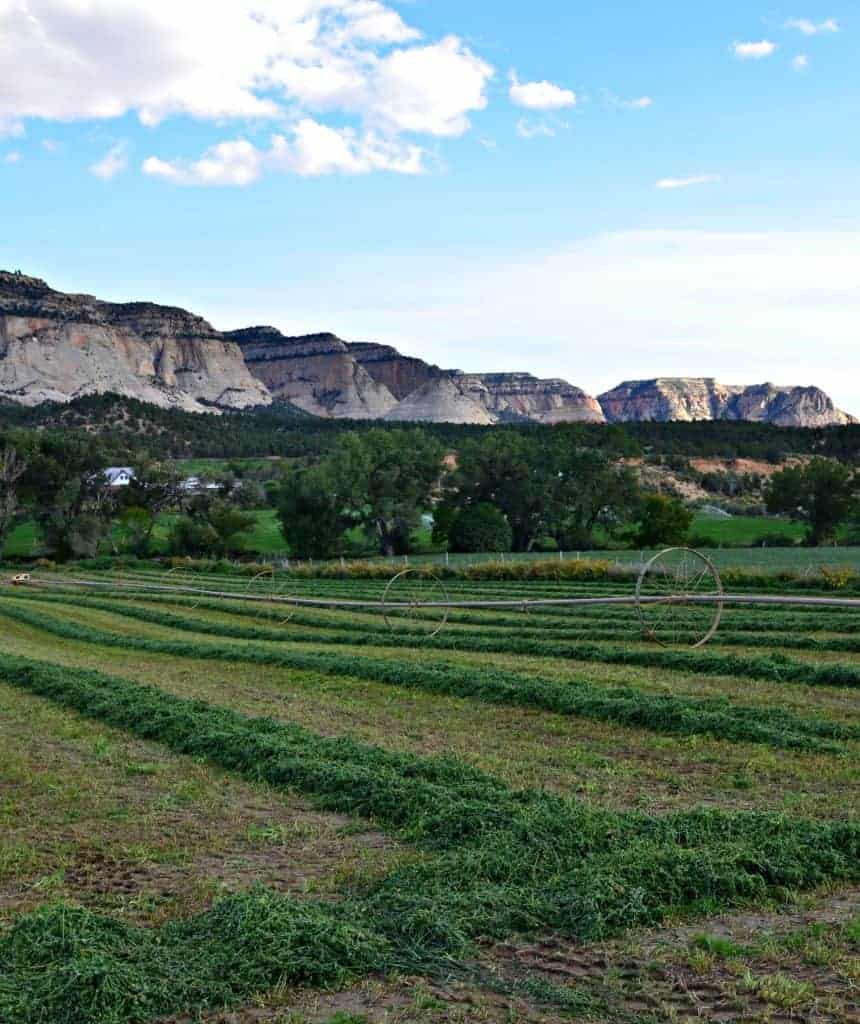 Thank you so much for letting me share this dream with you. I hope you are as excited as we are about our future home and I know you'll love all of the videos that GE Appliances also worked hard to put together for families to enjoy! Now let's get to that giveaway!
What does the American Kitchen mean to you?
Tell me in the comments in three sentences or less and you'll be entered to win a GE Cafe™ Series Refrigerator worth $3,100! Entries from participating blogs will be pooled and one winner will be chosen at random.
Entry Instructions:
No duplicate comments.
You may receive (2) total entries by selecting from the following entry methods:
Leave a comment in response to the sweepstakes prompt on the blog post promoting this Promotion. Your comment will be your entry. In your comment, tell us what your American Kitchen means to you in 3 Sentences or less.
For those with no Twitter or blog, read the official rules to learn about an alternate form of entry.
This giveaway is open to US Residents age 18 or older (or nineteen (19) years of age or older in Alabama and Nebraska). Winners will be selected via random draw, and will be notified by e-mail. The notification email will come directly from BlogHer via the sweeps@blogher email address. You will have 2 business days to respond; otherwise a new winner will be selected. The Official Rules are available here. This sweepstakes runs from 9/16/15 – 10/25/15. Be sure to visit the GE Appliances brand page on BlogHer.com where you can read other bloggers' posts!