This recipe for a classic stove-top Beef Stew featuring tender chunks of beef roast, carrots and potatoes is the epitome of comfort food. It is what you want to come home to after a long, busy day.
First, I want to let you know that It will take a few hours to get the beef to just the right amount of tenderness. I promise you it is it worth it though. You begin by searing chunks of beef roast and once they are nice and tender it is time to add the potatoes and carrots. The longer the flavors marinate together the better on this classic stew recipe.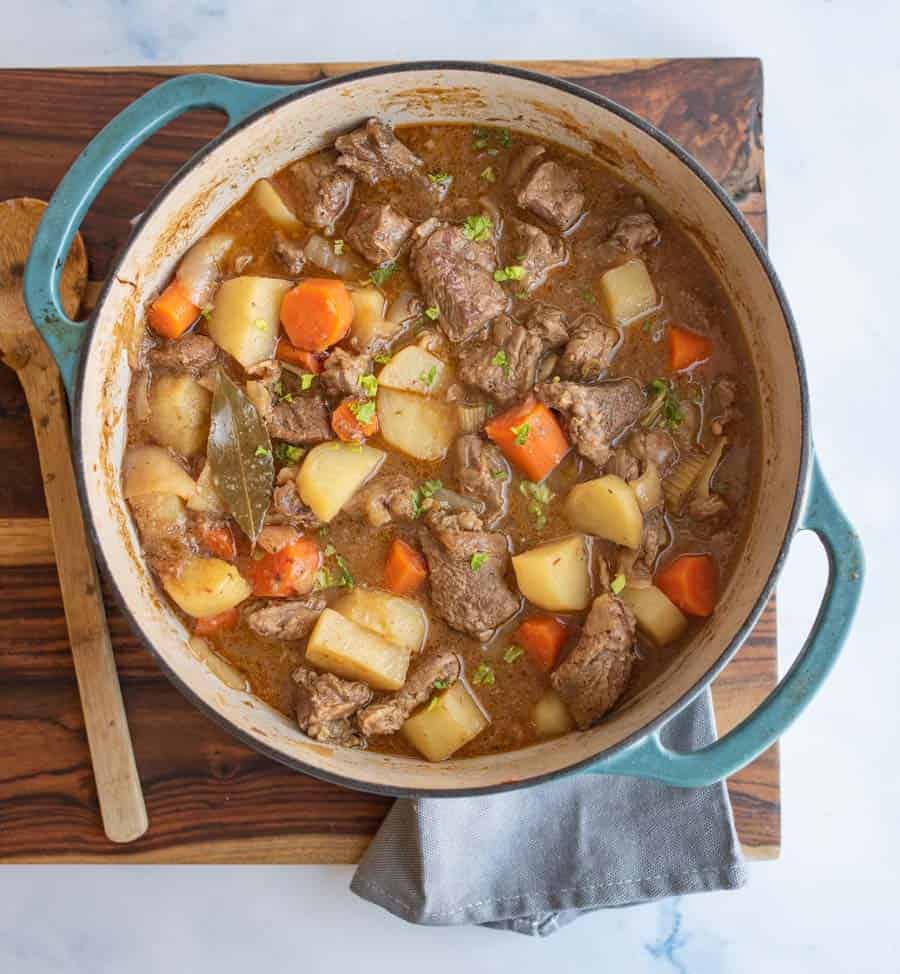 Best Meat for Beef Stew
The most popular meat for beef stew is a chuck roast. I use this most often. When I see chuck roasts on sale I always snag one or two to freeze and use later. If you want to get really fancy or if you are serving this stew for a special occasion, you could use ribeye. Watch for 4 inch ribeyes to be on sale during the holidays. It makes a great stew.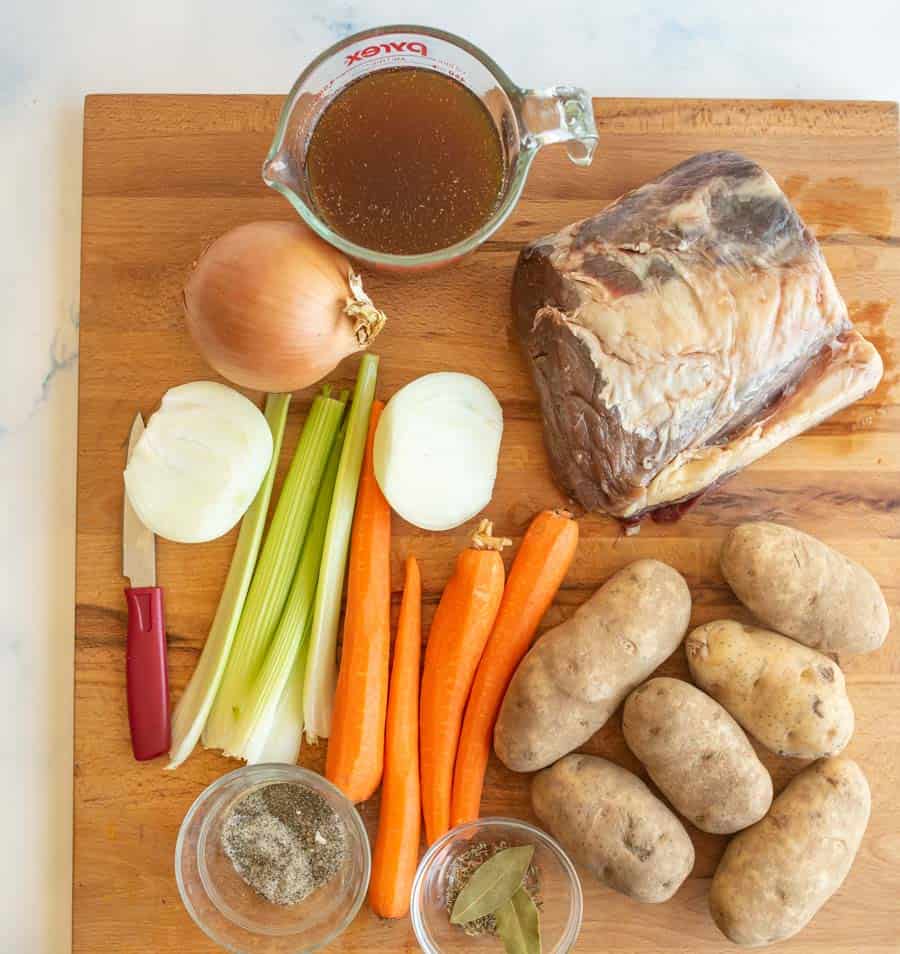 Recipe Ingredients:
B

oneless beef chuck roast

: this is the star of the dish! Perfectly marbled (the fat adds great flavor) and at a great price point, this is a great cut of beef roast to know how to cook
Flavor builders: onion, celery, tomato paste, and garlic come together and cook with the beef to make the base flavor for the saucy gravy that the beef cooks in. These are the back bone of this dish.
Red wine (or grape juice) and beef broth: after you cook up the flavor builders you deglaze the hot pan with the wine and add the beef broth for the chunks of beef to cook in all afternoon, it's an amazing melody
Seasonings: rosemary, thyme, bay leaf, salt, and pepper are the simple seasonings that makes this dish what it is, no fuss or frills here
Russet potatoes and carrots: these are added at the end of the dish and cooked to perfection. The beef takes longer to cook so adding these at the end is how to get them cooked without overcooking them
How to Make Beef Stew:
Cut your beef into large chunks and then heat up a good Dutch oven with some oil in the bottom.
Season up your beef with salt and pepper and then sear it in the hot pan. Repeat with all of the beef, working in batches.
When the beef is cooked add your flavor builders (onion, celery, tomato paste, and garlic) and cook them up.
Deglaze the pan with wine (or juice) and add extra beef broth scraping up any browned bits. And then nestle all that seared beef back into the pan. Add your seasonings.
Cover and cook for as long as you can, an hour or so minimum.
Add your potatoes and carrots and let this simmer until the veggies are very tender.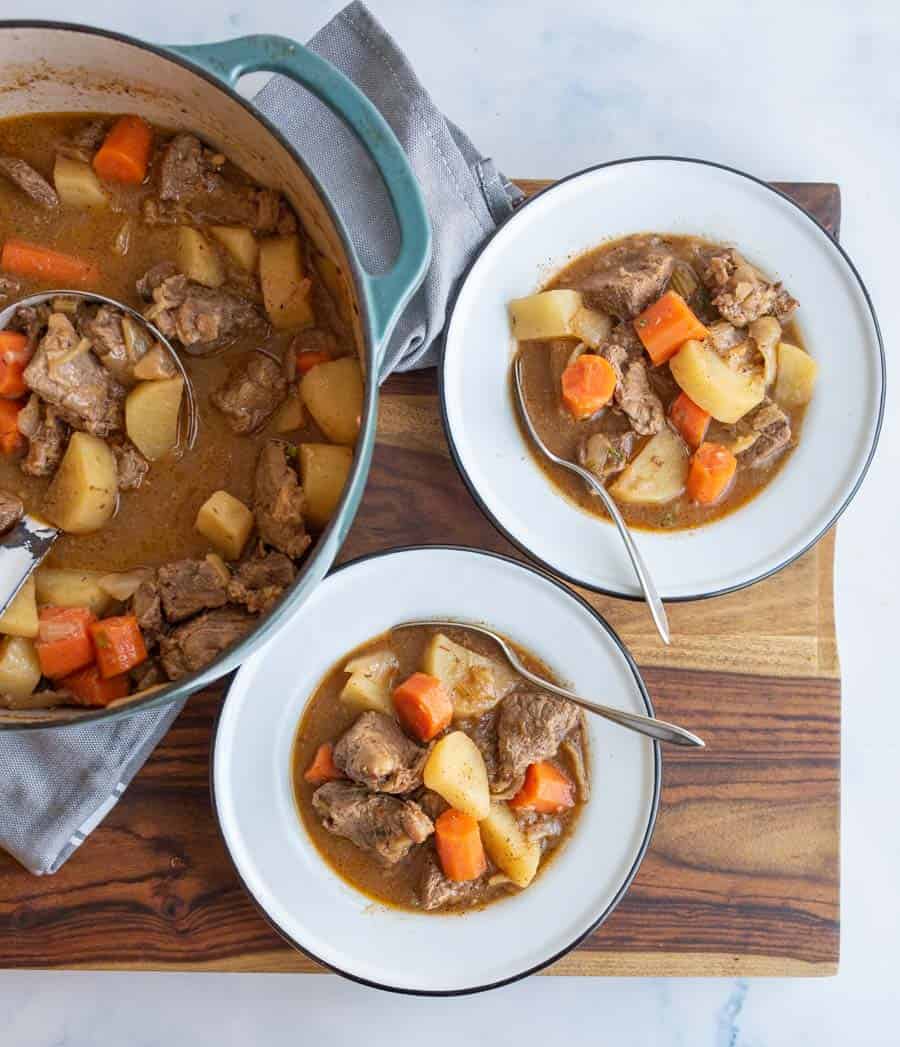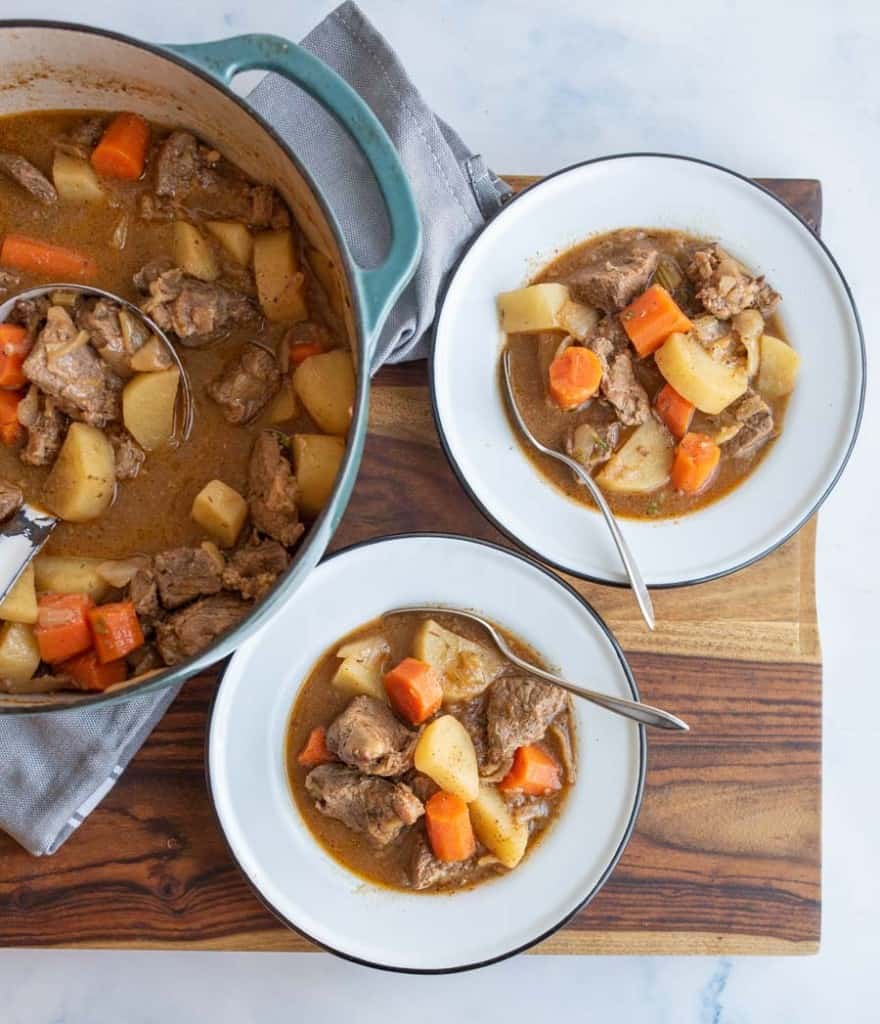 Frequently Asked Questions
Why is my stew meat tough?
Your stew meat will end up being tough if you didn't cook it long enough. Don't rush the process. A chuck roast takes a few hours to become tender and trust me when I say- it is worth the wait!
Why is chuck roast so much cheaper than other cuts of beef?
Chuck roast is more affordable than other cuts of meat (although not as affordable as it once was) because it is leaner so it tends to be more tough than other cuts.
What type of potatoes are best for beef stew?
You want to use a potato that is low in starch and that will keep its shape. Yukon potatoes or red potatoes are both good options. I like to use Yukon gold potatoes because they have a thin peel and don't require peeling prior to being added to the stew.
Why is my beef stew so watery?
You were using the wrong recipe or didn't let it cook long enough! This recipe used tomato paste to help thicken the stew and the long cooking time gives the stew time to evaporate some of the water as well as the starch in the potatoes to break down and thicken the stew. In the notes of the recipe you can also read about how to add cornstarch to your stew if you want it even thicker! No running beef stew here.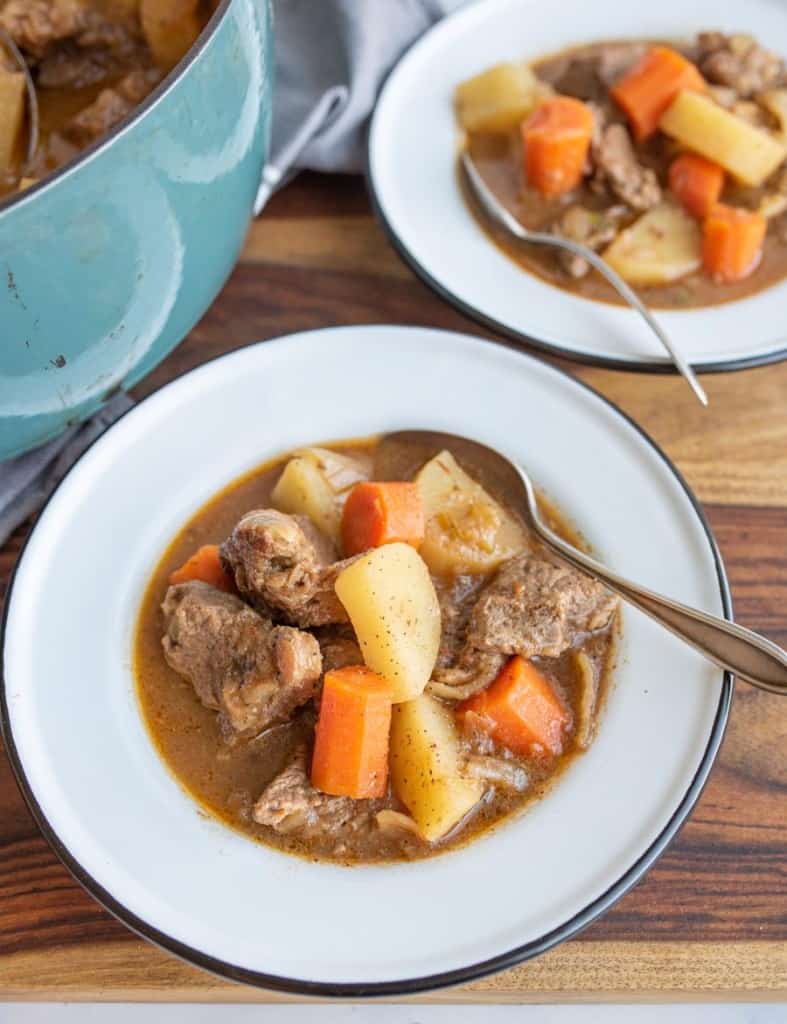 Other Healthy Additions:
You can add some green vegetables at the end of cooking time like frozen green beans or peas to this recipe. Just let them cook long enough to heat through.
What is a good side dish for beef stew?
You can't go wrong with serving up some type of bread. Either rolls, cornbread, a crusty sourdough loaf, or a baguette. I also like to serve my beef stew with a green salad if company is coming over.
If you've tried this homemade beef stew recipe or any other recipe on Bless this Mess, then don't forget to rate the recipe and leave me a comment below! I would love to hear about your experience making it. And if you snapped some pictures of it, share it with me on Instagram so I can repost on my stories.
Print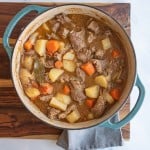 Old Fashioned Beef Stew Recipe
---
Author:

Total Time:

2 hours 20 minutes

Yield:

Serves 8

Diet:

Gluten Free
Description
Classic beef stew made with chuck roast, potatoes, onions, carrots, and spices. This dish simmers away on the stove for a few hours so that it's perfectly tender when it's time for dinner.
---
2 teaspoons

salt

1 teaspoon

ground black pepper

3

pounds boneless chuck roast

2

-

5

tablespoons light oil (such as avocado or vegetable), divided

2

medium yellow onions, cut into

1

inch pieces

2

large stalks celery, chopped

2 tablespoons

tomato paste

4

cloves garlic

1 cup

red wine or white grape juice

3 cups

beef broth

½ teaspoon

dried rosemary

½ teaspoon

dried thyme

1

bay leave

6

medium (or

3

large) russet potatoes, peeled and cut into large 1.5 inch pieces

3

large carrots, cut into large 1-2 inch pieces
chopped parsley, optional for a garnish
---
Instructions
Add your salt and pepper to a small bowl and stir to combine.
With a sharp knife, cut your beef roast into chubby 2 inch pieces. Sprinkle the salt and pepper evenly over all of the roast, taking care to get it on lots of sides of the pieces of cubed meat.
In a large Dutch oven add the oil and heat over medium to medium-high heat. When the oil is hot, add the seasoned beef and cook on one side until well seared. Use tongs to rotate the beef so that it sears on multiple sides. Don't crowd the pan at this step, you'll probably need to work in 2-3 batches so that the beef isn't touching in the bottom of the pot. Remove the seared beef to a plate, add more oil, and sear the next batch, repeating as needed until all of the beef is nicely browned. It will not be cooked through at this point, only on the outside.
Remove all of the seared beef to a plate and the onions and celery to the same pot that you seared the beef in. If it need a little more oil, go ahead and add a few teaspoons. Cook the vegetables until they are just tender, about 3 minutes. The pan should be nice and brown on the bottom but turn down the heat a bit if it's looking too black or smokey.
Add the garlic and the tomato pasta and stir to combine. Let cook for an additional 1 minute or so or until fragrant.
Add the red wine or grape juice to the hot pan. It will sizzle and any bits of meat and veggies that were stuck there will come off. Scrape the bottom of the pan with a wooden spoon to loosen up those crusted on bits. Simmer this mixture for 5 minutes.
Add the beef broth, rosemary, thyme, and bay leaf to the pot. Add the seared beef and any juices that collected on the plate. Stir to combine.
Bring the pot to a gentle simmer, cover with the lid, and let cook at a very low simmer for 1-2 hours.
Add the potatoes and carrots to the pot and simmer for another 40 minutes to 1 hour or until the vegetables are tender.
Adjust the salt and pepper in the dish to taste, garnish if desired with chopped parsley, and serve hot. It's excellent with hot bread such as baguettes, my moms jumbo dinner rolls, or fresh sourdough bread.
Notes
This recipe has a lot of flexibility when it comes to the cooking time. The shortest amount of time it takes me is about 2 hours (20 minutes to get everything ready/seared, 1 hour cooking the beef, and 40 minutes for the vegetables), I like it better if I take 3 or more hours to make it though and I'll often start it midafternoon and let it simmer away. I think the beef is best when cooked for 1.5 to 2 hours as it makes it more tender, and I like the vegetables very soft and will often cook them a full hour. The potatoes start to break down a bit and thicken the sauce a bit. It's wonderful.
If you are in more of a hurry, cut your potatoes and carrots into smaller pieces so that they cook faster. You can also add 2 tablespoons of cornstarch to ½ cup of cold water (mix well to combine) and add that to your stew at the end to thicken it up a little (let it cook in the stew for 3-4 minutes) if the liquid isn't as thick as you like. I'll do that sometimes too if I didn't let the potatoes cook down as much as I might other times.
I love to add a cup or two of frozen peas to this recipe 5 minutes before I serve it. It might be less traditional but I think it's delicious.
Prep Time:

20 min

Cook Time:

2 hours

Category:

main dish

Method:

stove top

Cuisine:

American
Keywords: beef stew recipe, how to make beef stew, beef stew, beef stew with carrots, beef stew with potatoes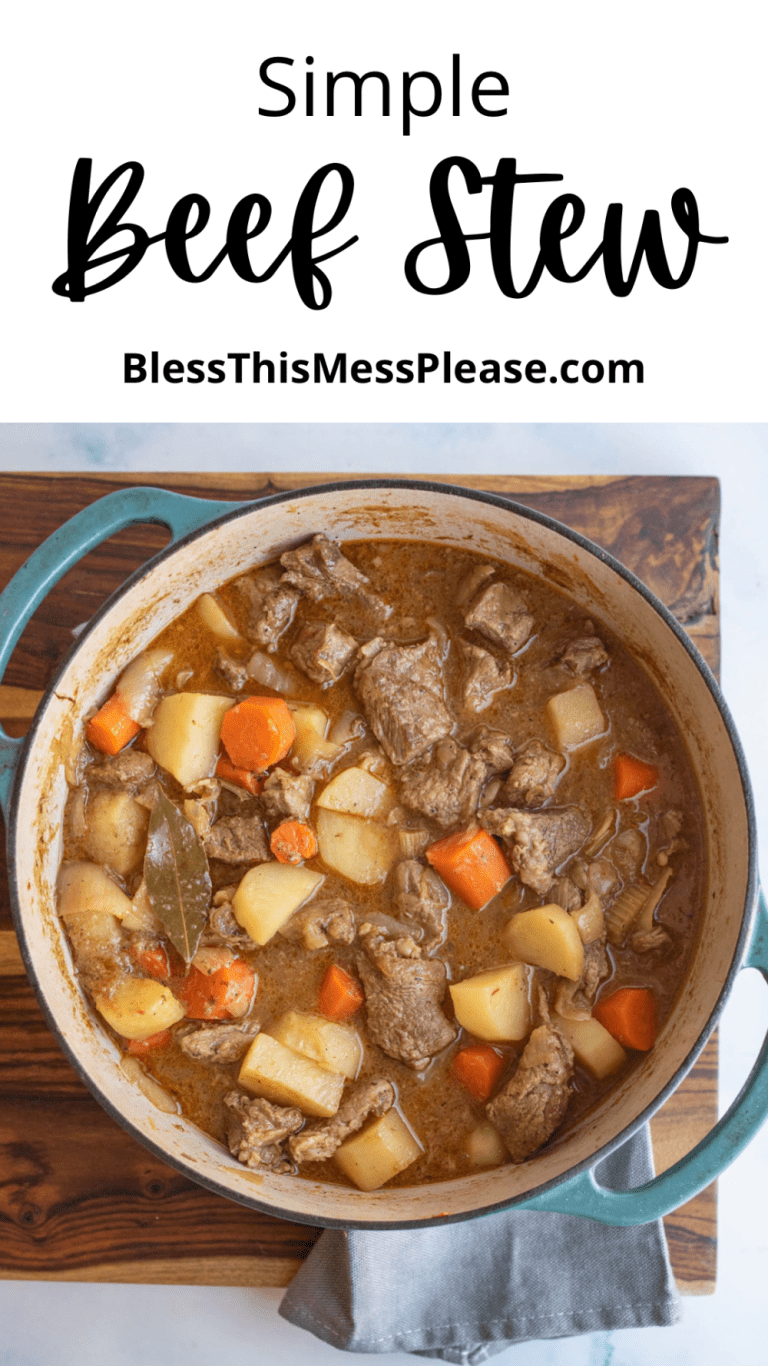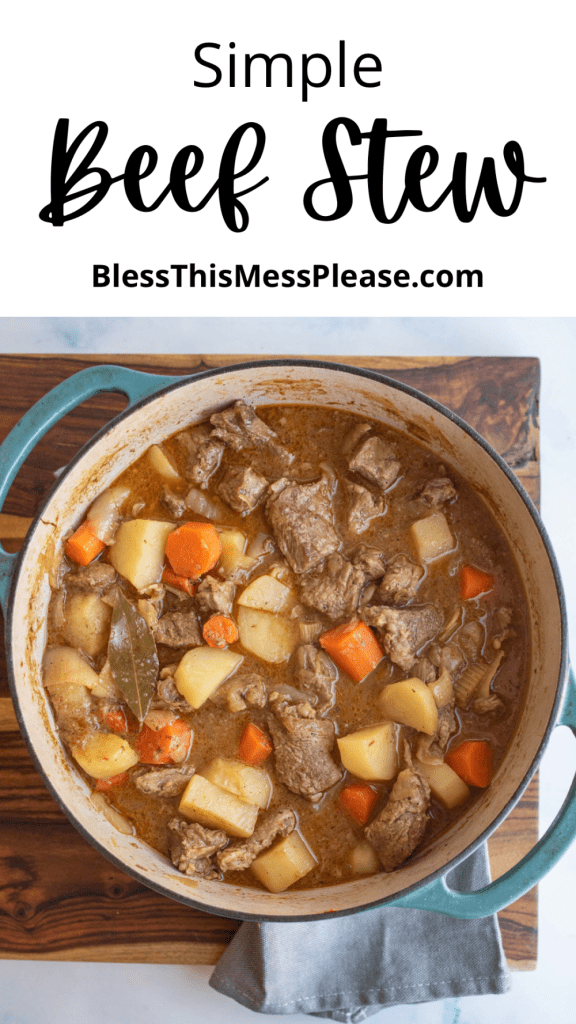 Classic healthy Beef Stew is the essence of comfort food. It is warm, hearty, full of vegetables and big on flavor. You are going to love it!