Picture this: a succulent chicken breast swimming in a creamy, flavorful sauce that's so good it might just make you say "I do." No, it's not a scene from a romantic movie; it's "Marry Me Chicken," the dish that's making taste buds swoon and hearts skip a beat.
Marry Me Chicken is a dish that combines tender chicken breasts with a luscious, creamy sauce that's often made with ingredients like garlic, sun-dried tomatoes, Parmigiano cheese, and a splash of heavy cream. The chicken is seared to perfection and then simmered in the sauce until it's infused with all the amazing flavors. It's comfort food with a gourmet twist, and it's the kind of meal that instantly makes you feel all warm and fuzzy inside.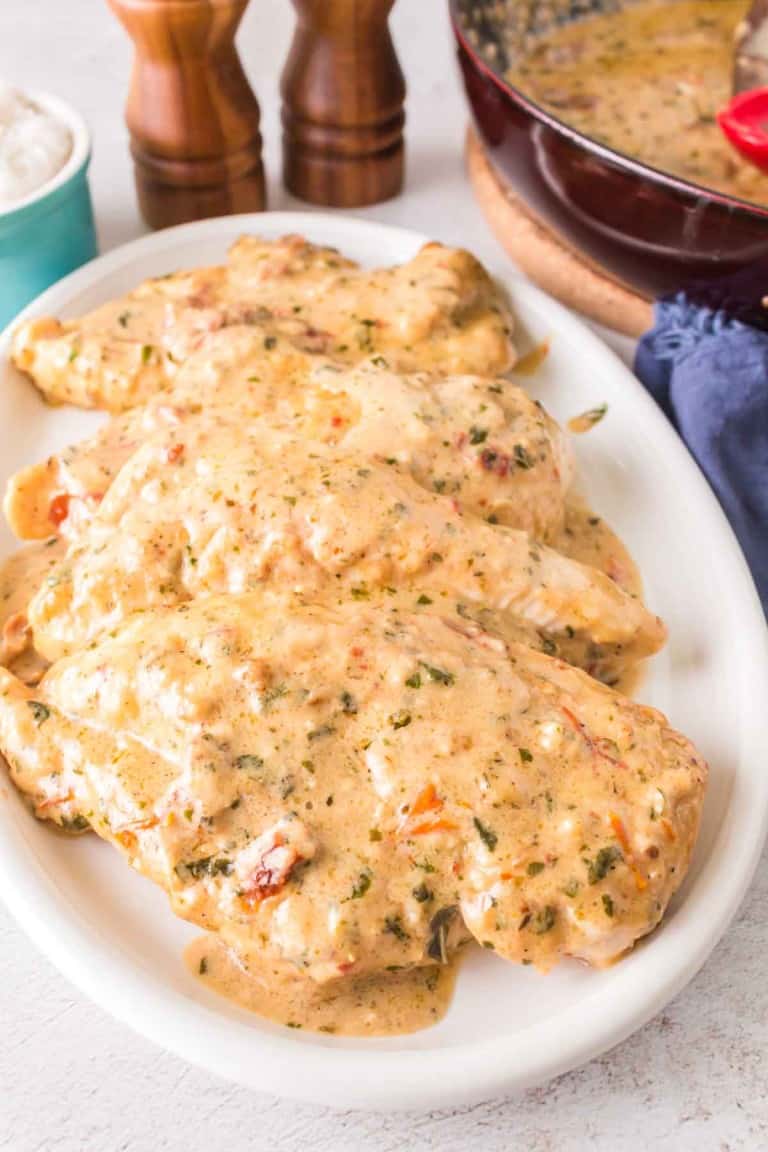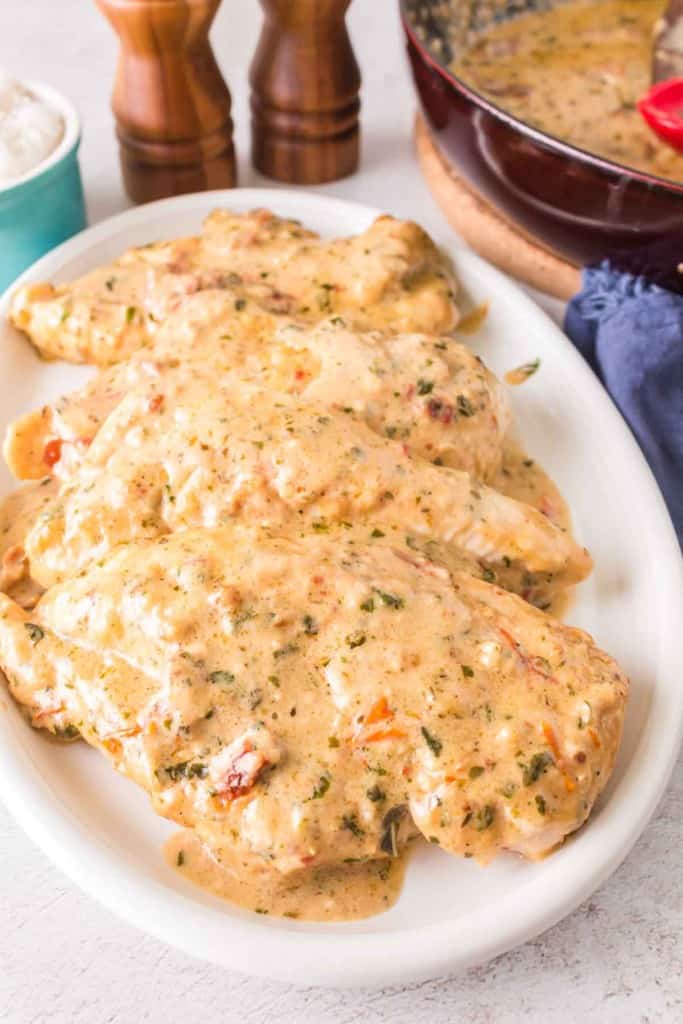 Marry Me Chicken
Now, you might be wondering, "Why on earth is it called Marry Me Chicken?" Is it because someone proposed over a plate of it? Well, not quite, but the story is just as charming. The name likely originated from the dish's irresistible nature. The creamy sauce is so dreamy that it's said to be capable of prompting marriage proposals. It's as if the dish is so delicious, it could even make you want to pop the question to the person who cooked it. Hence, the playful and slightly cheeky name, Marry Me Chicken.
The popularity of Marry Me Chicken isn't just about the name; it's also about the incredible taste. Here are a few reasons why people can't get enough of this dish:The combination of garlic, sun-dried tomatoes and cream creates a symphony of flavors that dance on your taste buds.
Marry Me Chicken might sound and taste like a fancy restaurant dish, but it's surprisingly easy to make at home. It's a weeknight dinner miracle that can also impress dinner guests.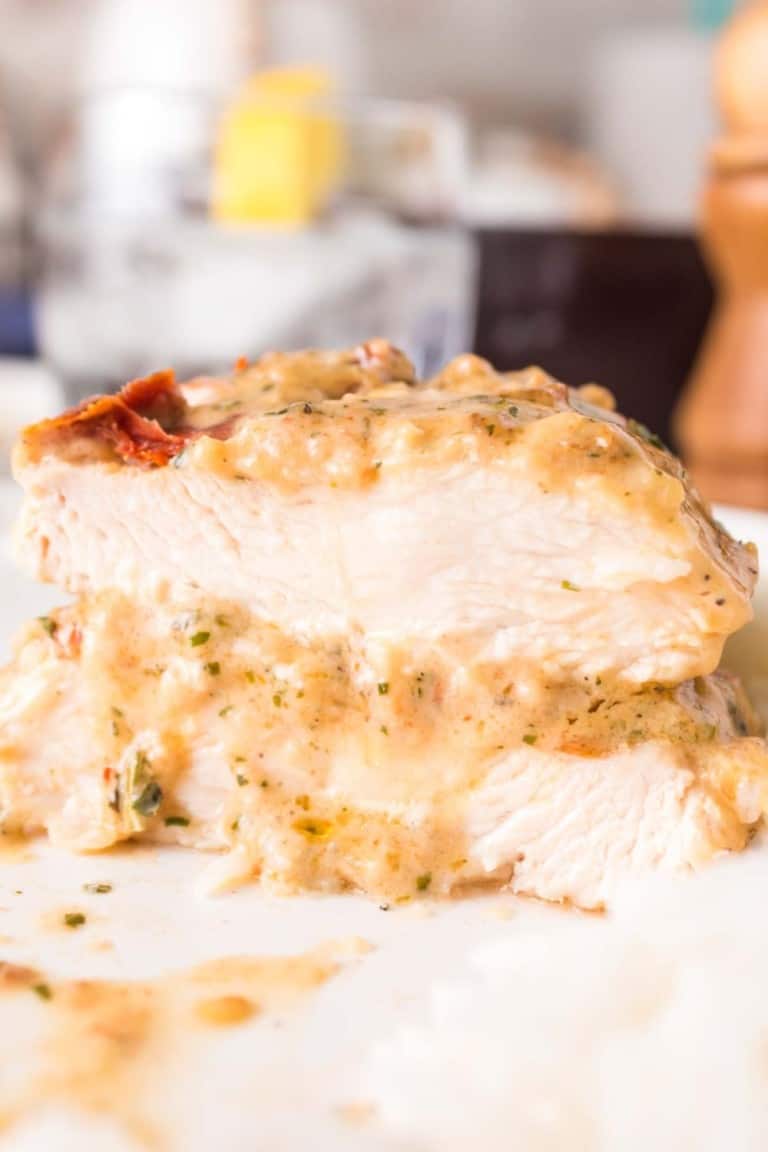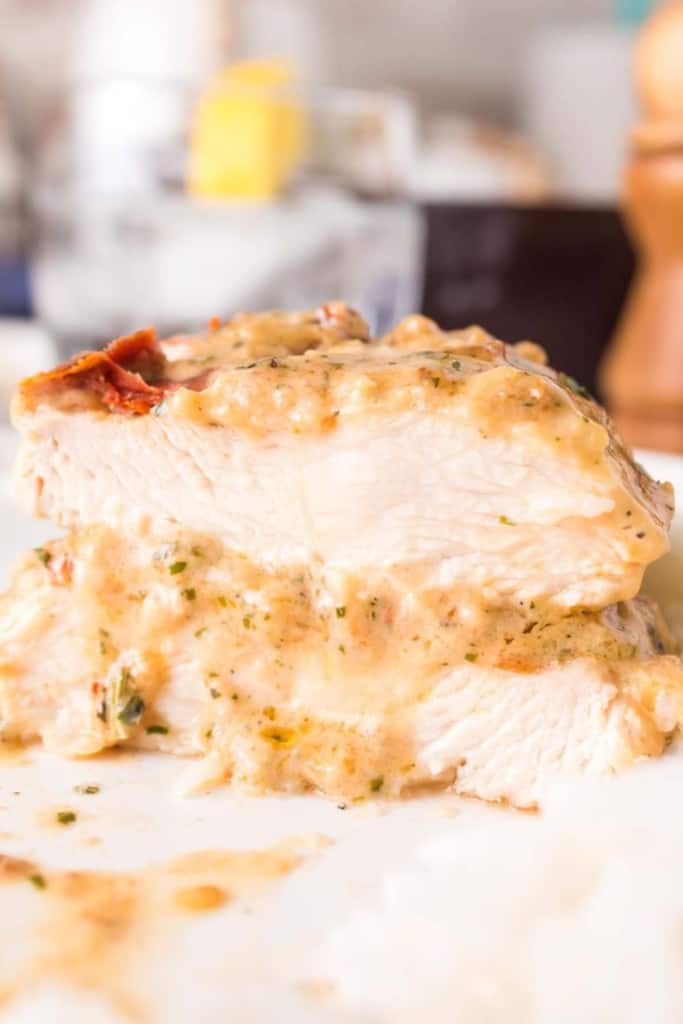 Ingredients
Chicken breasts
Flour
Garlic
Olive oil
Chicken broth
Heavy cream
Sun-dried tomatoes
Parmigiano cheese
Parsley
Keep scrolling to find a full, printable recipe with a detailed ingredient list.
Recipe Instructions
Place chicken on a plate, remove excess fat, and dry with a paper towel.
Coat with Flour Mix and then sprinkle mixture on chicken, press to coat both sides.
Cook Chicken by heating 3 tablespoon olive oil in a skillet over medium heat.Add minced garlic, warm until fragrant. Cook chicken 3-4 mins each side until internal temp is 165°F. Place cooked chicken on a plate.
Now it is time to make the sauce. Over medium heat, add chicken broth and heavy cream to the skillet.Use a spoon to release pan crumbs, cook for 1-2 mins.Add black pepper, Italian seasoning, and red pepper flakes. Mix.
Mix in sun-dried tomatoes until sauce is pink. Add grated Parmigiano and Parsley, mix.
Cook sauce for 2-3 mins, add chicken, cook 2-3 mins until heated.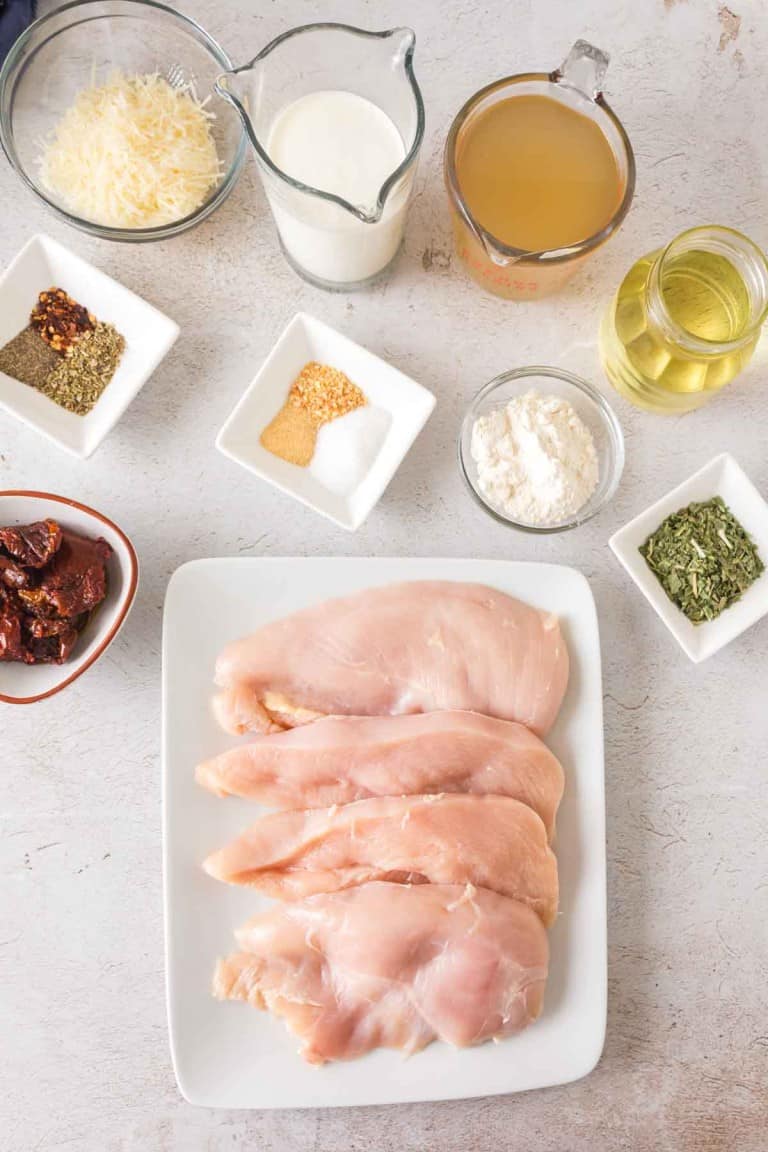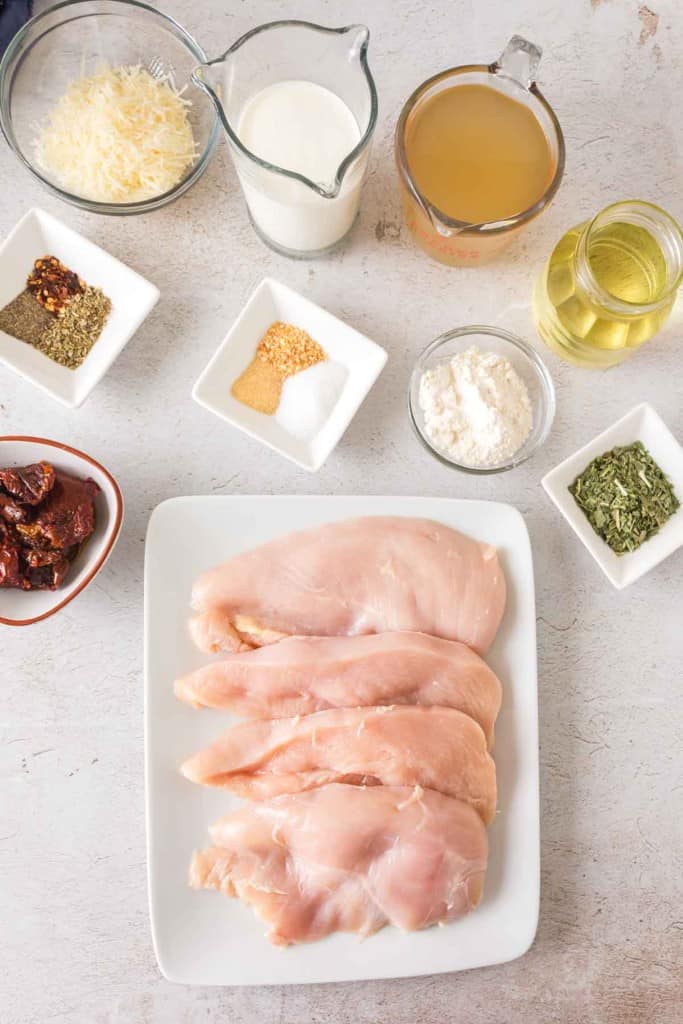 Frequently Asked Questions
Can I customize Marry Me Chicken recipe?
Absolutely! Marry Me Chicken is quite versatile. You can add your favorite vegetables, adjust the seasonings, or even try different types of cheese for the sauce. Feel free to make it your own while keeping the core flavors intact.
Is Marry Me Chicken difficult to make?
Not at all! Despite its fancy name, Marry Me Chicken is surprisingly easy to prepare. The steps involve coating and cooking the chicken, creating the creamy sauce, and bringing everything together. It's a great option for both weeknight dinners and special occasions.
What can I serve with Marry Me Chicken?
Marry Me Chicken pairs wonderfully with various sides. Consider serving it over pasta, rice, or with a side of roasted vegetables or a crisp salad. The versatile sauce complements a range of accompaniments.
How do I know when the chicken is cooked through?
The internal temperature of the chicken should reach 165°F to ensure it's fully cooked and safe to eat. You can use a meat thermometer to check the temperature in the thickest part of the chicken breast.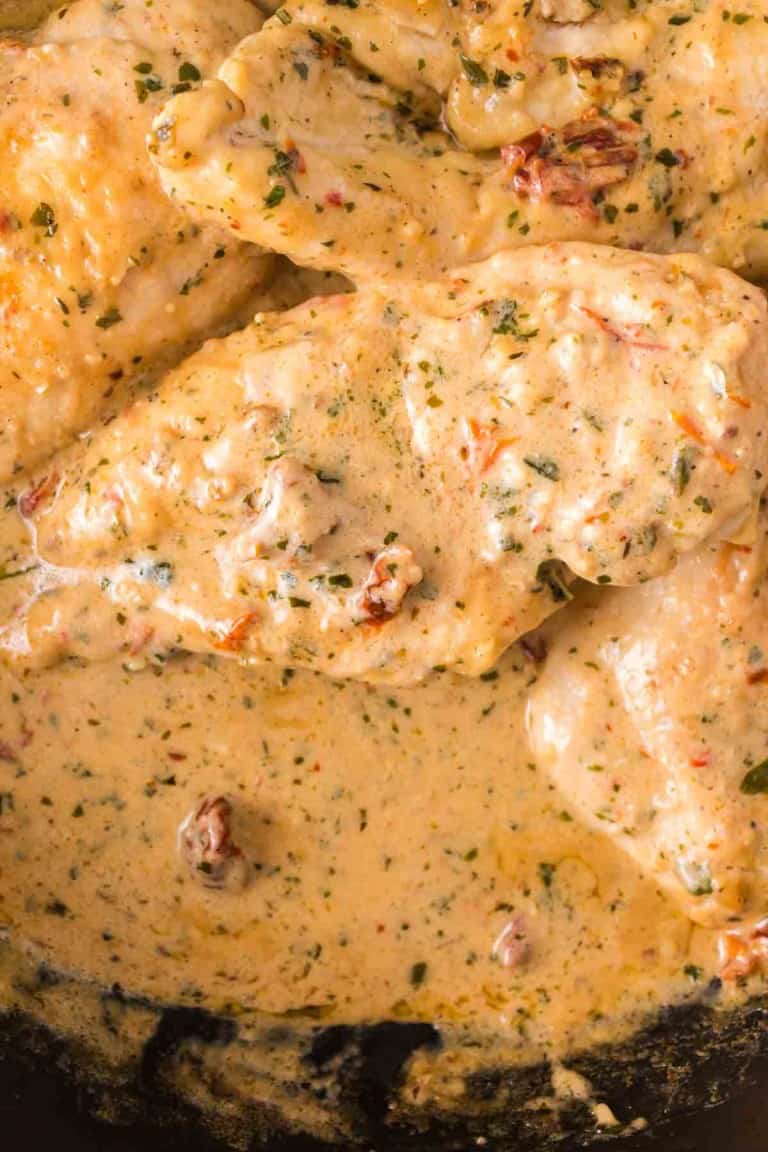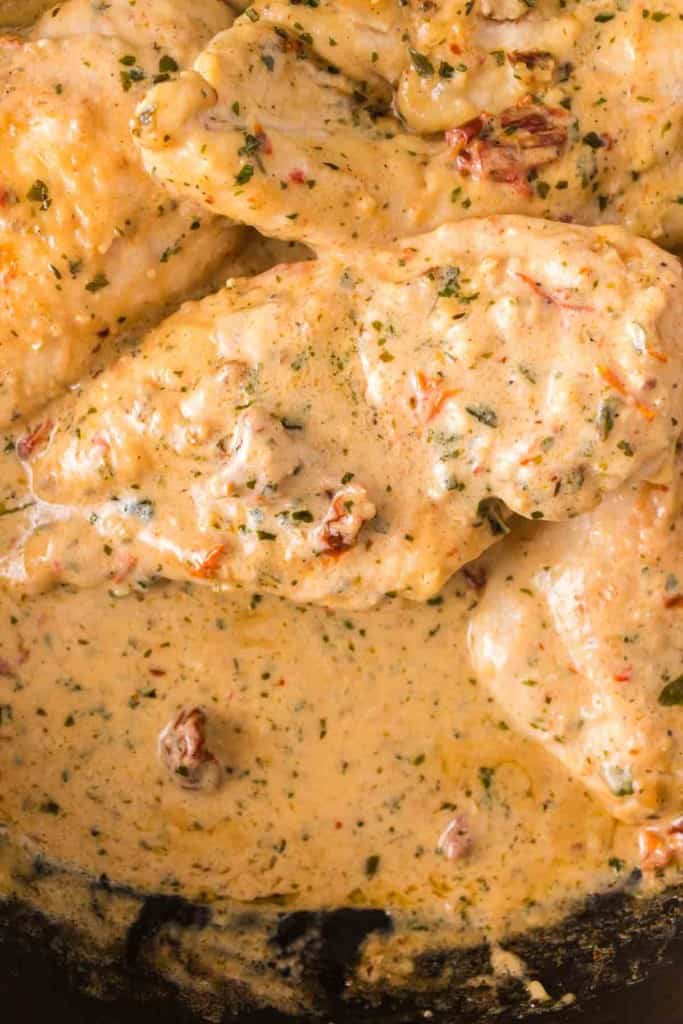 More Recipes
If you've tried this Marry Me Chicken recipe or any other recipe on Bless This Mess, then don't forget to rate the recipe and leave me a comment below! I would love to hear about your experience making it. And if you snapped some pictures of it, share it with me on Instagram so I can repost on my stories.
📖 Recipe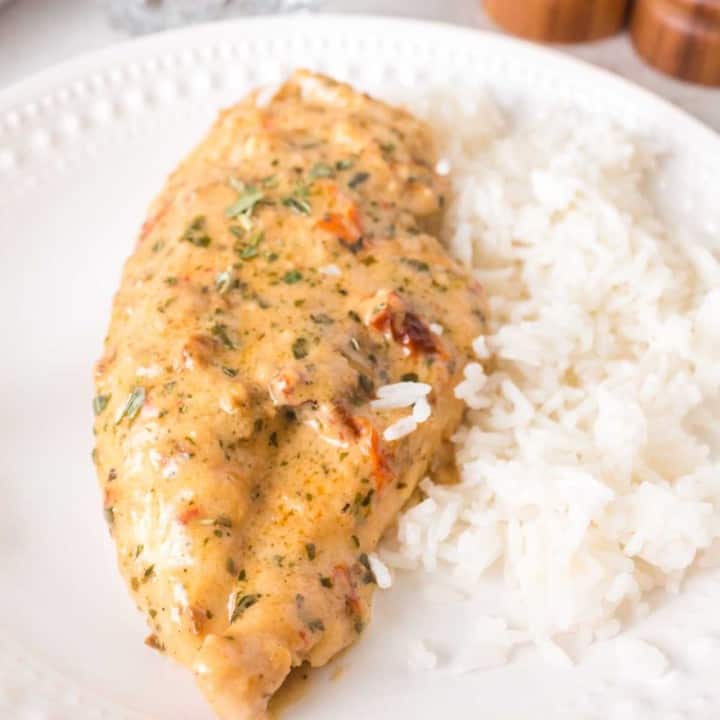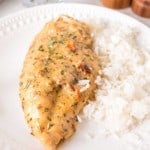 Print Recipe
Mary Me Chicken Recipe
Marry Me Chicken is a mouthwatering dish that features tender chicken breasts cooked in a creamy sauce, and its intriguing name is derived from the idea that its irresistible flavors might just inspire a proposal.
Ingredients
4

chicken breasts

about 1 ½ pounds, skinless, boneless

3

tablespoons

unbleached all-purpose flour

2

teaspoons

salt

1

teaspoon

garlic powder

1

teaspoon

minced garlic

3

tablespoons

olive oil

or any oil of your choice to cook the chicken

1

cup

chicken broth

¾

cup

heavy cream

½

teaspoon

ground black pepper

½

teaspoon

Italian seasoning

½

teaspoon

red pepper flakes

OPTIONAL

⅓

cup

sun-dried tomatoes

finely chopped

⅓

cup

fresh grated Parmigiano cheese

2

tablespoons

chopped Parsley

you can also use Basil
Instructions
Place the chicken breasts onto a plate. Cut excess pieces of fat and pat dry with a paper towel

In a small bowl, mix the flour, salt, garlic powder, and minced garlic.

Sprinkle the flour mixture on the chicken breasts. Gently pat it down to cover both sides.

In a skillet, over medium heat, warm 3 tablespoons of olive oil. *NOTE* Add minced garlic clove and warm until the garlic is fragrant.

Add the chicken breasts and cook for 3 to 4 minutes then flip and cook for an additional 3 to 4 minutes. Keep cooking until the internal temperature is 165 degrees F.

Take the chicken breasts out of the skillet and place them on a plate.

Over medium heat, add the chicken broth and heavy cream. Using a heat-proof spoon or wood spatula, mix and carefully release the crumbs in the pan left from cooking the chicken. 1-2 minutes

Add the ground black pepper, Italian seasoning, and red pepper flakes. Mix well.

Add the chopped sun-dried tomatoes and mix until you have a pink color sauce.

Add the grated Parmigiano and Parsley. Mix well.

Cook the sauce for 2 to 3 minutes while stirring, once the sauce has thickened up add the chicken and cook for an additional 2 to 3 minutes or until the chicken is heated through.

Serve and Enjoy!
Notes
Use about 1 ½ pounds, skinless, boneless chicken breast. If they are thick, I would suggest cutting them in half. For this recipe, thin chicken breasts are better than thick because you have the right balance of chicken and sauce in each bite.

When warming up the oil in the pan, before cooking the chicken, you can add 1 clove of garlic, minced.
I chose sun-dried tomatoes in oil. I took them out of the bottle, pat them dry with a paper towel, and chopped them.
Side dish: serve with a side dish or rice, steamed vegetables, green salad, or a fresh loaf of bread.
Use leftovers: You can chop the leftovers and add to a wrap or mix them in with pasta.
Storage: In the fridge for up to 4 days.
Re-warm: In the microwave or a pan, low heat, add some moisture.
Nutrition
Calories:
589
kcal
|
Carbohydrates:
13
g
|
Protein:
55
g
|
Fat:
35
g
|
Saturated Fat:
14
g
|
Polyunsaturated Fat:
3
g
|
Monounsaturated Fat:
14
g
|
Trans Fat:
0.03
g
|
Cholesterol:
202
mg
|
Sodium:
1804
mg
|
Potassium:
1252
mg
|
Fiber:
2
g
|
Sugar:
5
g
|
Vitamin A:
1119
IU
|
Vitamin C:
9
mg
|
Calcium:
164
mg
|
Iron:
2
mg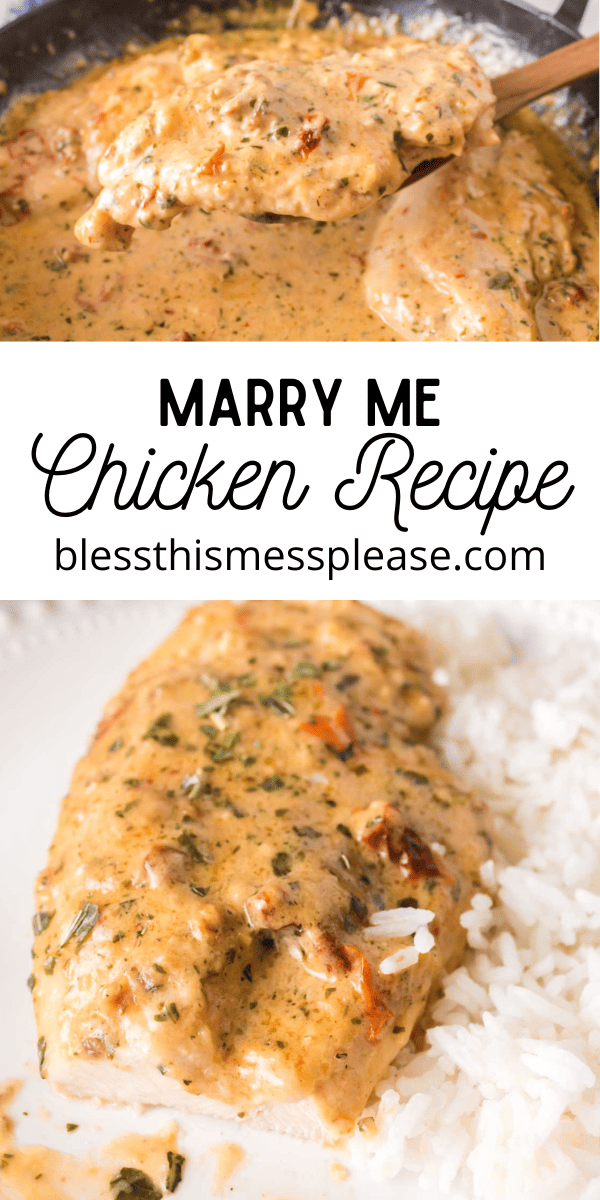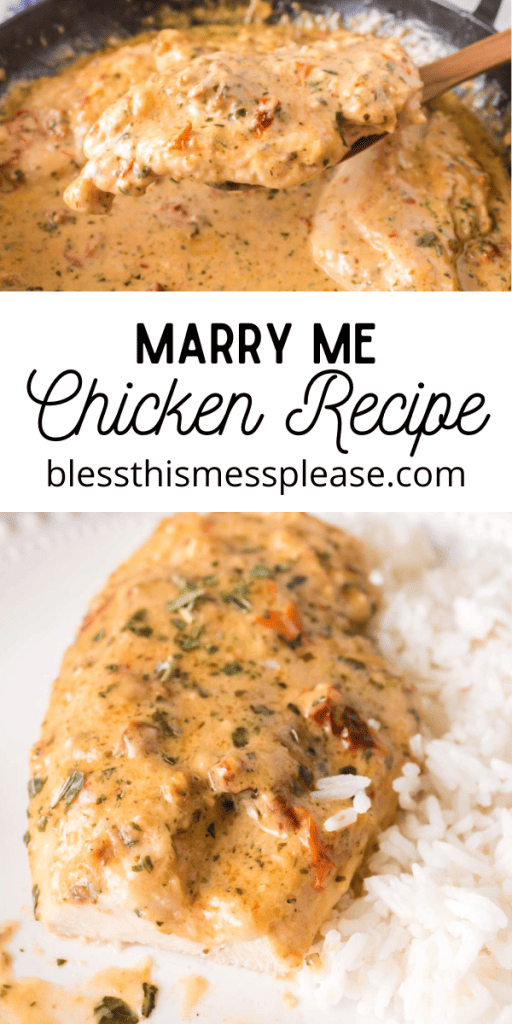 Whether you're seeking culinary bliss or contemplating popping the question, Marry Me Chicken promises a symphony of flavors that'll make any meal memorable.