Lemon Chiffon Cake is like a zesty combination of pound cake and angel food cake... It's light, fluffy, and citrusy without any fussiness. An easy lemon cake recipe that you'll definitely want to try!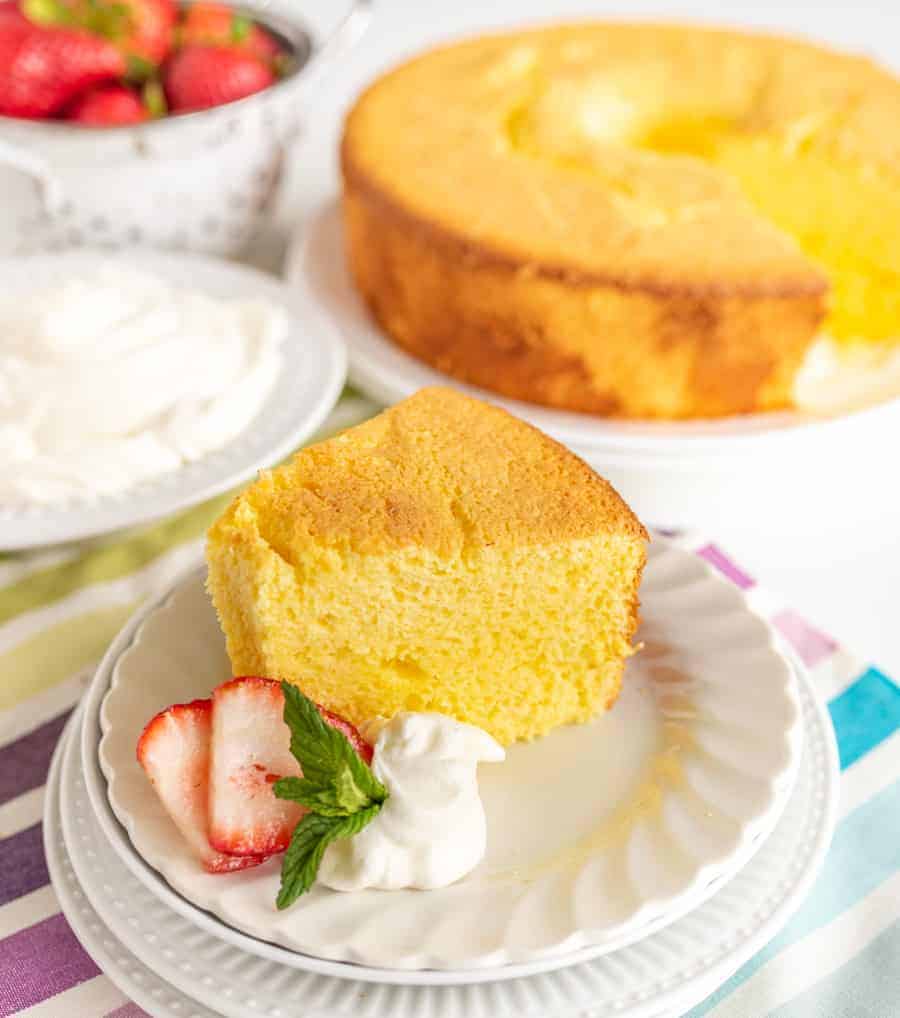 Easy Lemon Chiffon Cake
You're going to want to add this cake to your spring and summertime baking list. Even if you aren't a big baker, this one is a piece of cake to make (get it?) and won't leave you fretting over just-so measurements and intricate steps. I like getting the kids involved to help with cracking the eggs and making the meringue. More hands make easier work!
Not familiar with chiffon cake? Think of it as a crazy-awesome mix of pound and angel food cake. It's got the soft and light texture of angel food, with the richness pound cake is so well known for.
For a Sunday feast dessert, or really any dessert during the warm months, you've got to try making this Lemon Chiffon Cake using Bob's Red Mill cake flour. This flour adds a serious richness of texture and depth of flavor. Scoop a dollop of whipped cream on top of a slice with a small handful of halved strawberries for a pretty presentation and a refreshing cap to any meal.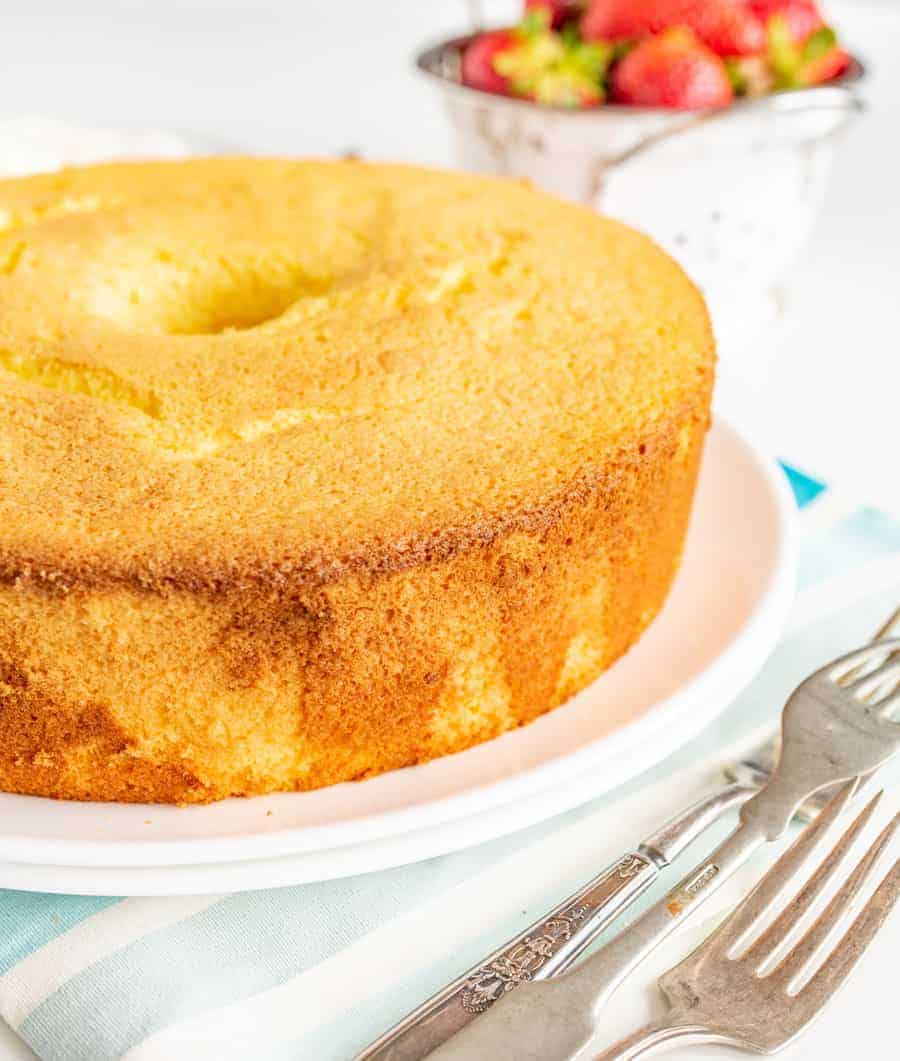 What is the difference between chiffon cake and sponge cake?
The use of oil or butter is the main difference between chiffon and sponge cake. Sponge cake only contains three main ingredients: eggs, sugar, and flour. Chiffon cake has a similar richness to butter cake because of the use of oil or butter, but its other ingredients achieve the springiness of a sponge cake.
Is chiffon cake the same as angel food?
Just like there are similarities between chiffon and sponge cake, there are some for angel food and chiffon, too. Angel food cake uses no yolks and no fat, while chiffon does include them. All three types of cakes (chiffon, angel food, and sponge) are very similar, with slight ingredient and baking variances. I like this lemon chiffon version because it's unfussy and has some really nice, light, and fresh springtime flavors.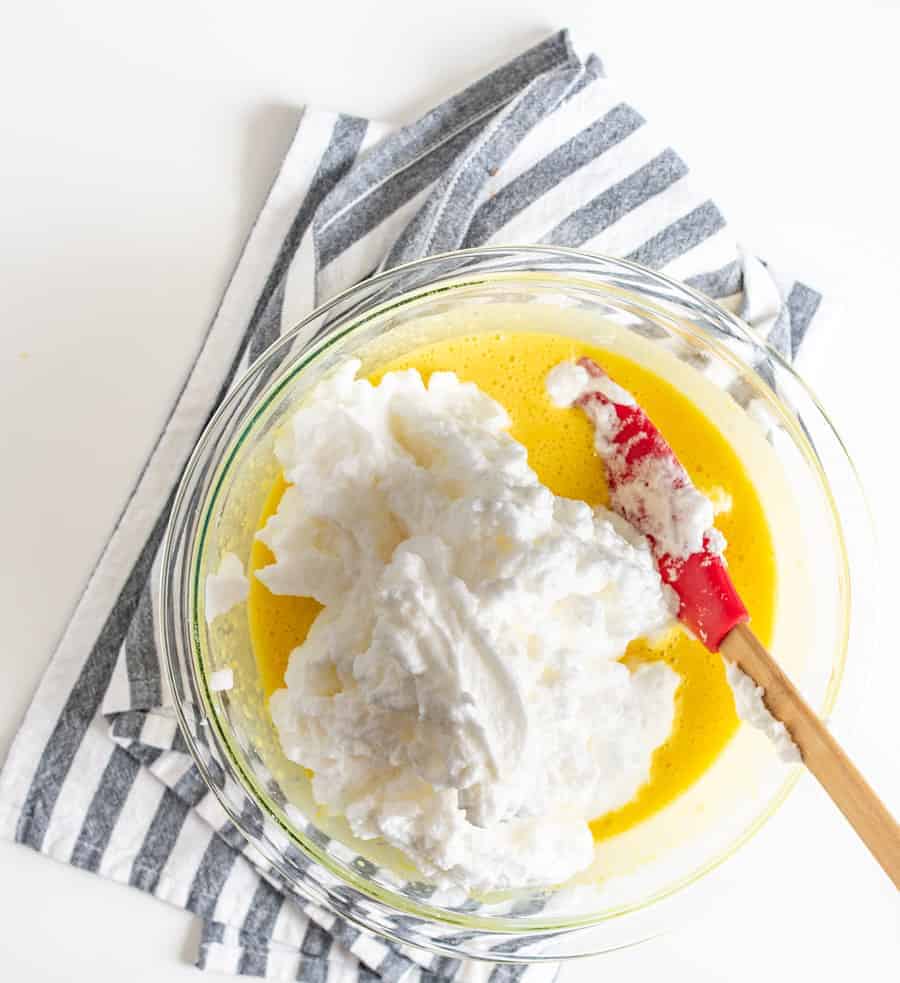 Tips for making this Lemon Chiffon Cake recipe:
Make a great meringue: The beaten egg whites (meringue) is the most important aspect of chiffon cake. Make sure the egg whites are chilled, whisk them until a stiff peak with a tip that folds over, and fold the meringue into your egg yolk mixture thoroughly and carefully, so the egg whites don't deflate.
Find the right pan: You'll want to use an aluminum pan with a removable base, and you don't want it to be non-stick. Don't grease it because, as the cake rises, it needs to cling to the sides of the pan for support. A greased pan will lead to a collapsed cake. An angel food pan will also work. If your pan doesn't have a removable base, line the pan with parchment paper for the same effect.
Let the cake cool upside down: This allows it to settle downward, rather than collapsing as it cools. It should take 2 to 3 hours to cool.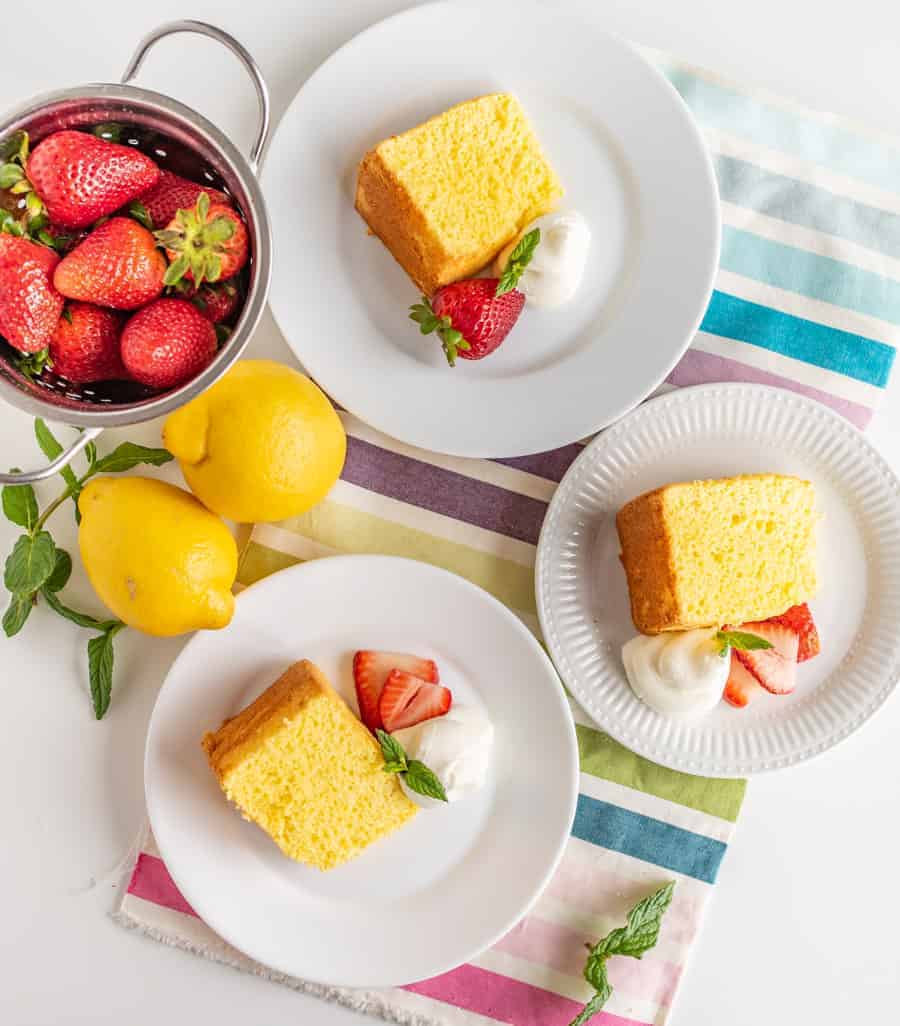 Print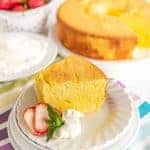 Lemon Chiffon Cake
---
Author:

Total Time:

3 hour 25 min

Yield:

Serves

12

-

1

6

1

x
Description
Lemon Chiffon Cake is like a zesty combination of pound cake and angel food cake... It's light, fluffy, and citrusy without any fussiness. An easy lemon cake recipe that you'll definitely want to try!
---
1 ½ cups

granulated sugar

1 ⅓ cups

cake flour

½ teaspoon

baking soda

½ teaspoon

salt

5

large eggs, yolks separated from whites, at room temperature

2

large eggs, at room temperature

2 tablespoons

grated fresh lemon zest

2 tablespoons

fresh lemon juice

⅔ cup

water

½ cup

vegetable oil

1 teaspoon

vanilla extract

½ teaspoon

cream of tartar
---
Instructions
Adjust the oven rack to the lower-middle position, and preheat oven to 325 degrees F. Line the bottom of a 16-cup tube pan with parchment paper, but do NOT grease. If you are using a tube pan with a removable bottom (like an angle food cake pan), then you do not need to line it with parchment paper.
In a large bowl, add the sugar, cake flour, baking soda, and salt. Whisk to combine.
In a medium bowl, add the 5 separated egg yolks, 2 whole eggs, lemon zest, lemon juice, water, oil, and vanilla extract. Whisk to combine well.
Slowly whisk the egg mixture into the flour mixture to make a thick batter.
In a large mixing bowl, using a hand mixer (or a stand mixer), beat the separated egg whites and the cream of tartar together on medium-high speed, until the egg whites are beat stiff, 2 to 4 minutes.
Fold the whipped eggs whites into the batter with a large rubber spatula.
Scrape the cake batter into the prepared pan, and smooth the top. Wipe any drips of batter from the side of the pan, and then gently tap the cake pan on the counter a few times to settle the batter.
Bake until the top of the cake is golden brown and springs back when firmly touched, about 50 to 60 minutes.
Remove the cake from oven, and invert the cake pan over a sturdy bottle or a metal kitchen funnel (or if your cake pan has "feet" that go above the top of the pan, simply rest the cake upside down). Let the cake cool completely, upside down, for 2 to 3 hours.
Once cool, run a small knife around the edge of the pan to loosen, and gently tap upside down to release the cake. Remove the parchment paper, and place the cake right side up on a serving platter. (If you used an angel food cake pan, run the small knife around the edge, remove the bottom, run the knife around the bottom, and then remove the cake).
Serve plain, with a light dusting of powdered sugar or with a glaze.
Notes
You can also serve this cake with a little whipped cream and some fresh berries. It's so light and fluffy!
Prep Time:

25 min

Cook Time:

1 hour

Category:

Dessert

Method:

Oven

Cuisine:

American
Keywords: chiffon cake, lemon cake, easy lemon cake recipe, how to make lemon cake, best lemon desserts, lemon cake from scratch, homemade lemon cake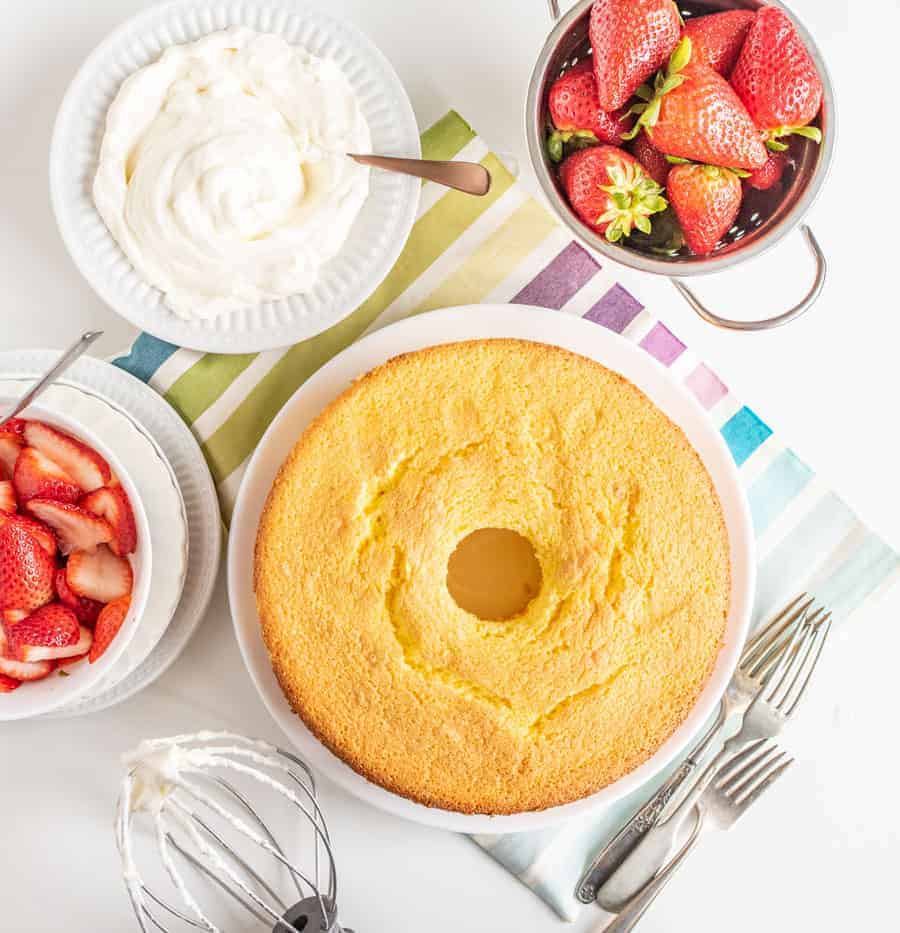 For more cake recipes, check out these posts: