Ever wondered how to make beef jerky!? It's actually a pretty simple, straightforward, and FUN DIY project you can do anytime and get flavorful, salty, chewy beef jerky to snack on!
You don't need many supplies or ingredients either, just some time to let it dehydrate (or bake down in the oven if you don't have a dehydrator) to get a tasty batch of beef jerky made easily at home!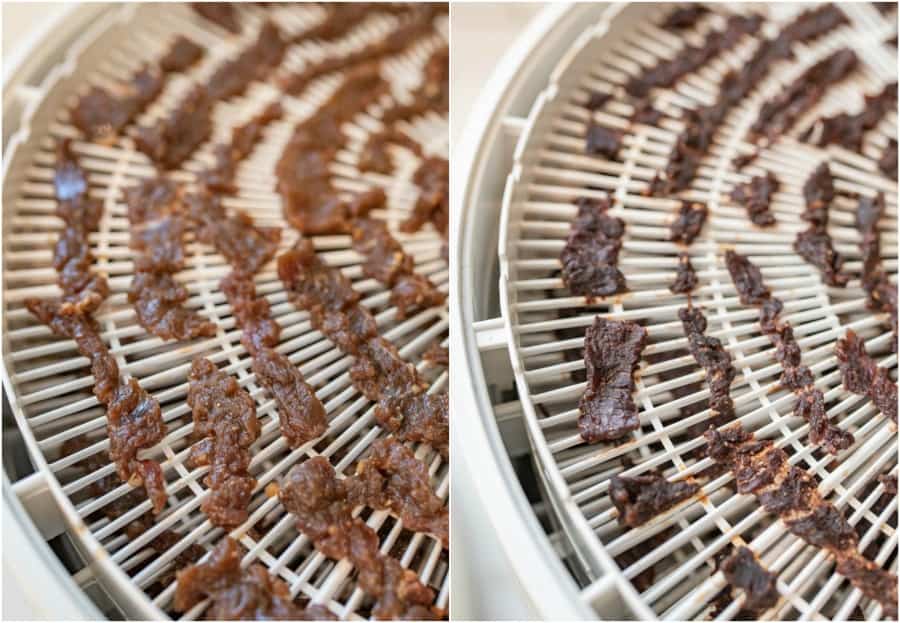 How to Make Beef Jerky
Let's be honest, the good beef jerky from the store doesn't get you very much bang for your buck. And it's a heckuva tasty treat that's delicious and packs some good protein for after-school snacking, pre-activity fuel, or lunch-box munchies. So what's someone to do who LOVES beef jerky but isn't into spending upwards of 10 bucks for just a couple servings?
Make it yourself! It's easier than you'd expect, too! While a dehydrator works great for making beef jerky, you don't need one to get the job done (so don't freak out if you see these photos and assume I'm going to make you buy a new kitchen gadget!). You can easily make beef jerky in the oven by lining a baking sheet with foil, placing a baking rack in the baking sheet, and lining the beef on the rack to bake at a low heat for a few hours. Just see the notes in the recipe card below for full details!
The best part about making your own beef jerky is it's way more affordable than the stuff at the store, you can make a BIG batch of it, and you can switch up the marinade to get the flavors *just* how you like them. The original recipe yields a solid salty, lightly sweet, and barely garlicky flavor that's amazing. But you can also add chili powder to the recipe for more spice, or grind black pepper onto the beef before baking/dehydrating for a peppered flavor. It's SO good, and you'll love the simplicity of it!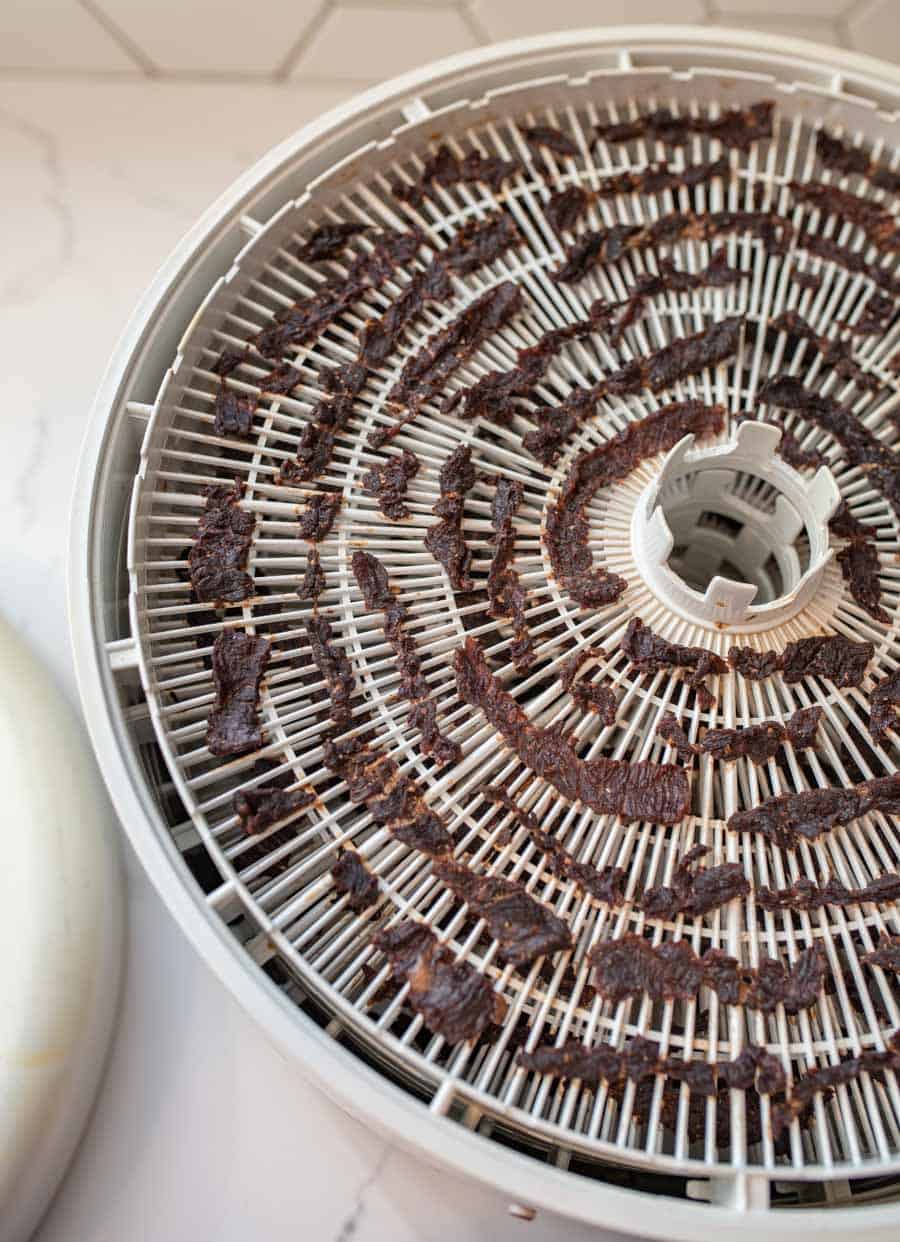 What is the best meat for beef jerky?
I prefer using flank steak or round steak to make beef jerky because their leaner cuts of beef (meaning less fat to cut off).
How should you cut beef to make beef jerky?
This is really up to personal preference! For jerky that stays together better and is chewier, cut the meat with the grain. For jerky that breaks apart easily and is more tender, cut it against the grain. It's best to freeze the meat for about 20 minutes to make it firmer and easier to slice, and then cut it into ⅛-inch slices before marinating.
Is it cheaper to make your own beef jerky?
Yes yes yes! A couple pounds of beef may cost you $15 or so, give or take a few dollars, and the rest of the ingredients you probably have on hand or are good pantry staples to get and keep around. The end result will yield a much larger batch of jerky than the bags you can get at the store for sometimes up to $10.
How long does it take to make beef jerky in a dehydrator?
This recipe took about 4 hours in the dehydrator -- it was very thin -- and depending on the brand of dehydrator, you can expect it to take between 4 to 8 hours.
How is beef jerky made?
Beef jerky is SO easy to make -- easier than you'd assume! You simply slice the beef, mix up the marinade, let the beef sit in the marinade in the fridge for 8 to 12 hours (or overnight), and then dehydrate it for about 4 hours.
Do you cook beef before making jerky?
You do not. The salty marinade and dehydrator cure and dry the meat, basically preserving it and making it shelf stable for a long period of time.
Is homemade jerky healthy?
It sure it! It's a wonderful source of protein and is made of simple ingredients. I love it for an easy, protein-packed snack!
How do you know when jerky is done dehydrating?
You can test the jerky by picking up a piece, bending it in a 90-degree angle, and seeing if any liquid squeezes out. If moisture comes out, it's not done yet and can go back in the dehydrator. It'll be dry and a little bendy when it's totally done.
How long should you let beef jerky marinate?
You really want the flavors to absorb, get soaked into, and cure the meat well, so be sure to marinate it for a good while! I recommend 8 to 12 hours, or overnight.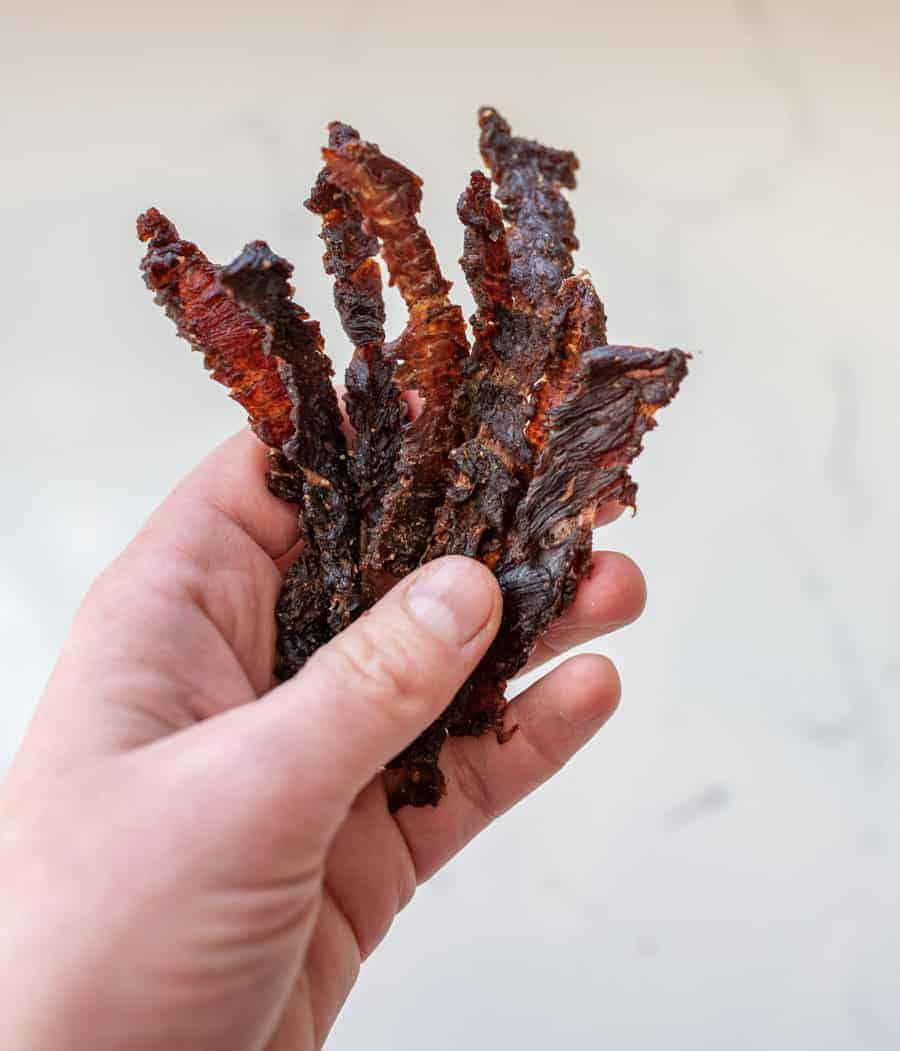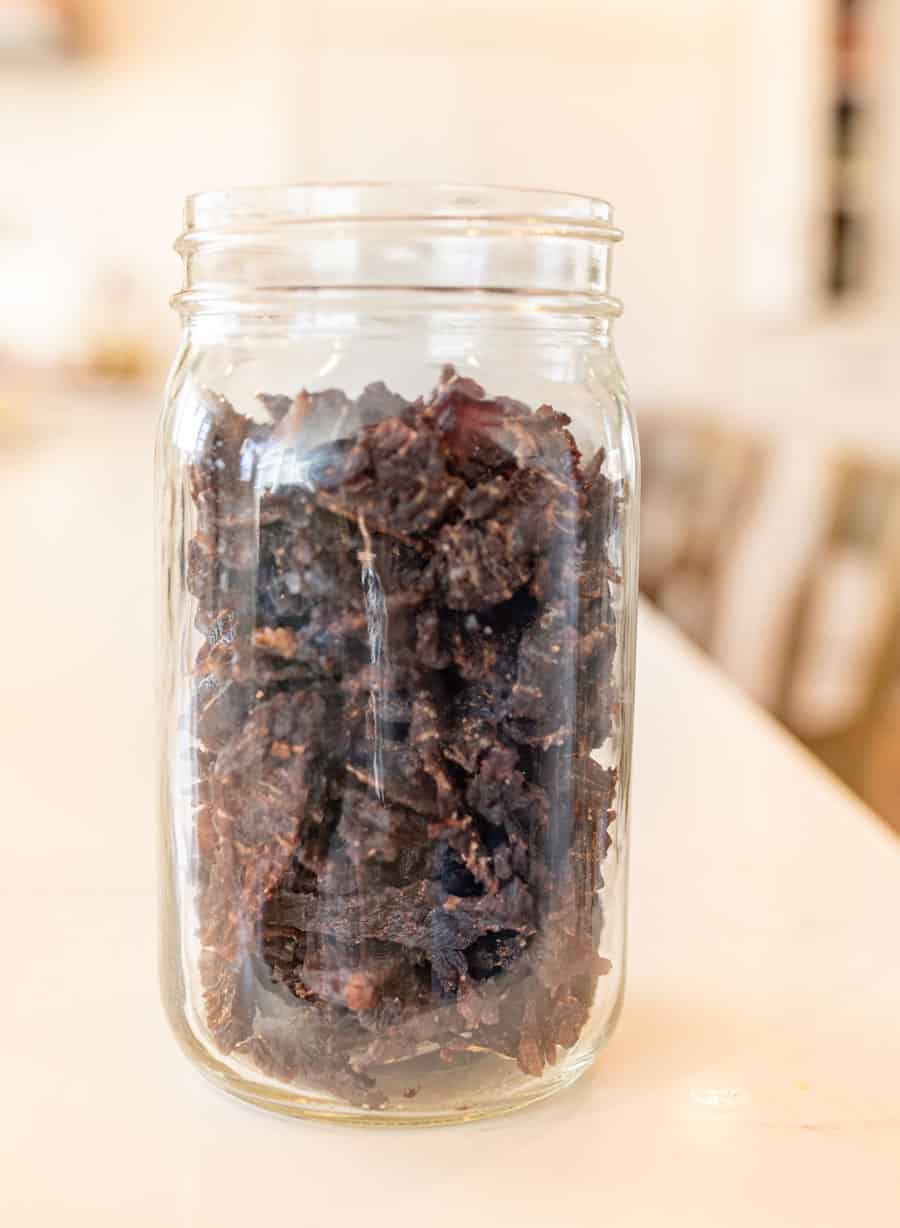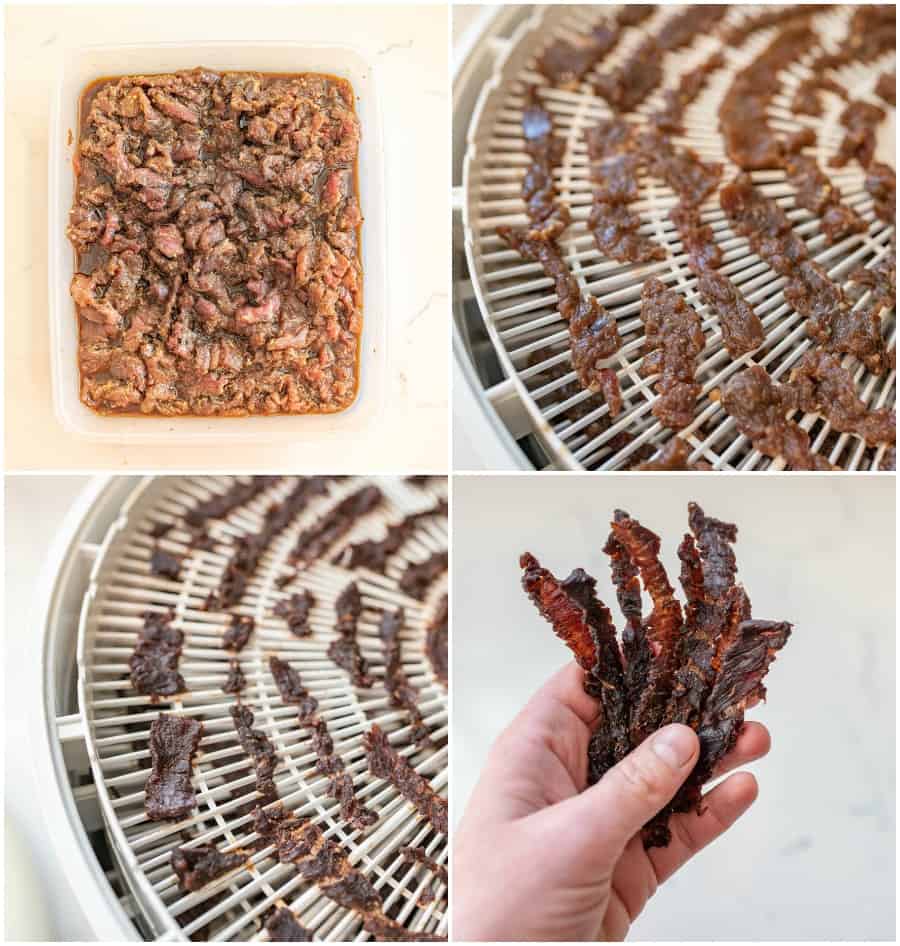 Print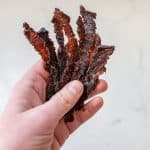 How to Make Beef Jerky
---
Author:

Total Time:

14 hours

Yield:

About

4 cups

of jerky

1

x
Description
Ever wondered how to make beef jerky!? It's actually a pretty simple, straightforward, and FUN DIY project you can do anytime and get flavorful, salty, chewy beef jerky to snack on!
---
2

pounds round or flank steak

½ cup

low sodium soy sauce

2 tablespoons

Worcestershire sauce

1 tablespoon

real maple syrup

1 teaspoon

garlic powder

1 teaspoon

onion powder

1 teaspoon

season salt

1 teaspoon

liquid smoke
---
Instructions
Using a sharp knife, cut the steak into ⅛-inch thick pieces. This can be made easier by placing the steak in the freezer for 20 minutes first. (It firms the meat up and makes it easier to slice.) You can slice it with the grain (this will result in chewier jerky that stays together better) or against the grain (this will result in tender jerky that tends to break into pieces easier). If there is any fat or tough pieces, feel free to discard them.
Place the sliced jerky in a medium airtight container with a lid or in a large zipper-topped plastic bag.
In a small bowl combine the soy sauce, Worcestershire sauce, maple syrup, garlic powder, onion powder, season salt, and liquid smoke. Stir to combine.
Add the soy sauce marinade to the meat and stir to combine. If your meat is in a container, press it down so that most of it will be submerged in the marinade. If you are using a plastic bag, remove as much air from the bag as possible, and pat it down a bit so the meat is well covered. Seal the bag or put a lid on the container and store it in the fridge.
Let the marinade meat rest for 8 hours to 12 hours (overnight works great).
When the marinating time is over, place the meat on the racks of your dehydrator so that it's in an even layer and not touching. Use as many dehydrator racks as you need. (See notes if you don't have a dehydrator.)
Place the racks on/in your dehydrator, turn it on, and cook according to your dehydrator's manufacturer instructions for cooking jerky. (The booklet that came with the dehydrator will normally have a chart to follow for temperatures and times for cooking jerky.) I cooked mine at a medium-low heat for 4 hours (it was very thin) and most will tell you to cook yours at medium to medium-low for 4 to 8 hours.
The jerky will be done when it is dry but still a little bendy.
I like to remove my jerky in batches as it cooks. The thinner pieces will cook faster, so I'll remove them first and leave the rest to dehydrates as needed. I generally start checking at the 3 hour mark and check/remove done pieces about every hour after that. This helps ensure a more uniform jerky in the end.
When all of the jerky is dried to your liking, remove all from the dehydrator and store in an airtight container in the fridge for up to 2 weeks or in the freezer for up to 2 months.
Notes
It's very easy to mix up the flavor of your jerky by changing a few things. If you like it spicy, feel free to add 2 teaspoons of chipotle chili powder to the marinade. If you'd like it peppered, simply sprinkle the raw meat with freshly ground pepper once you have placed it on the dehydrator racks.
No dehydrator? No worries! You can line a rimmed baking sheet with foil and then place a wire baking/cooling rack inside the pan. Simply place your meat on the wire rack and bake at 175 degrees for 2-5 hours. Flip the jerky over on the rack after an hour or so (about half way through your baking time). Again, pulling off the jerky as it's done will lead to the most consistent results.
Prep Time:

30 min

Cook Time:

3 hours

Category:

snack

Method:

dehydrator

Cuisine:

American
Keywords: how to make jerky, beef jerky, jerky recipe, beef jerky recipe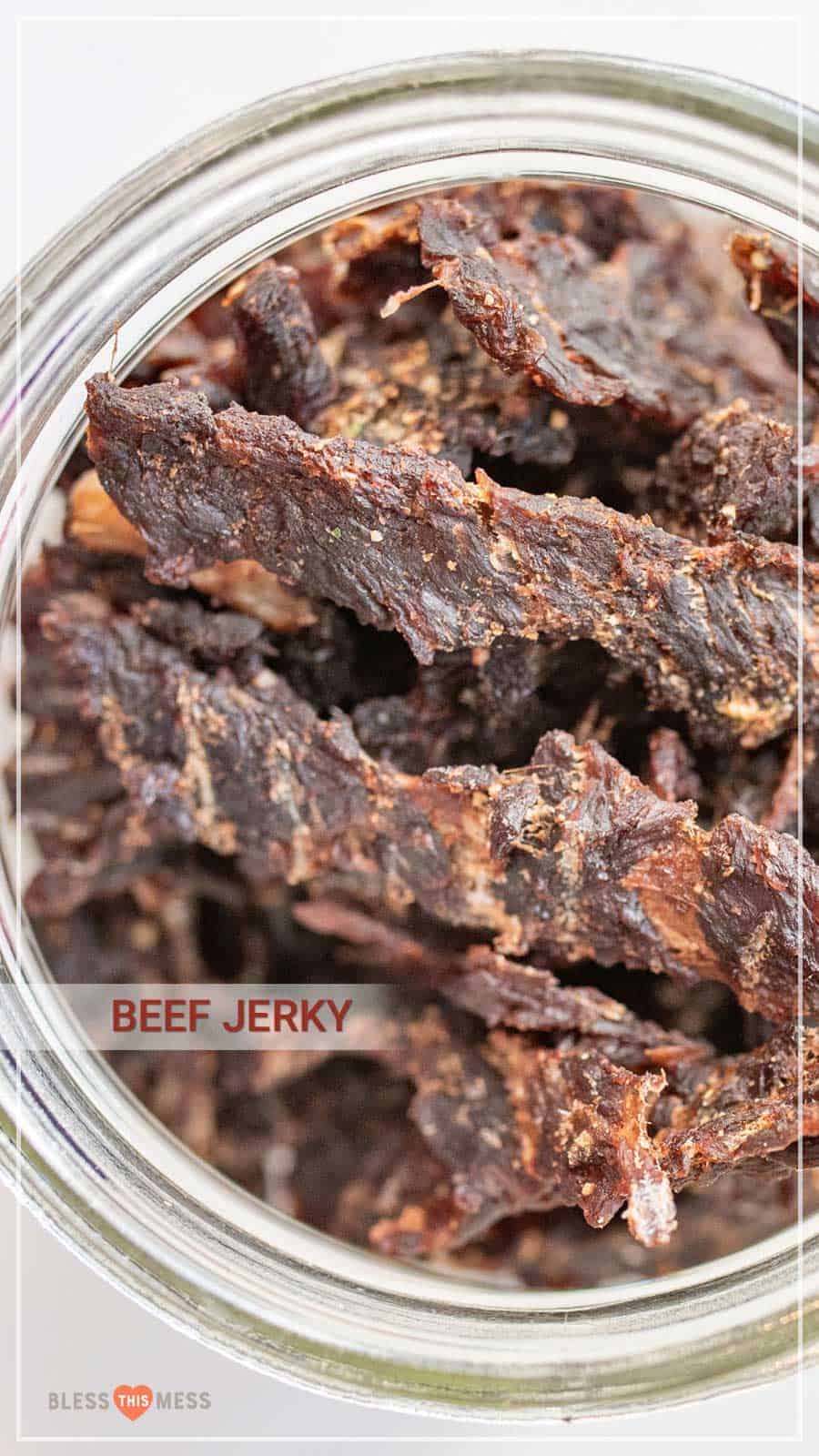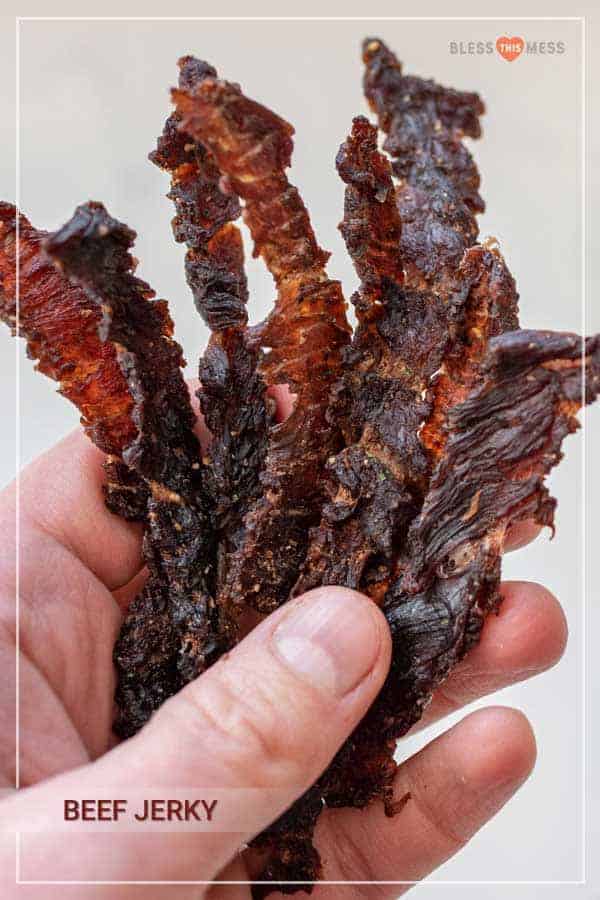 Beef jerky takes some time to make, but it's beyond easy and such a tasty and fun snack to make at home for unlimited snacking!
Other great snack recipes you will love: