There may not be a better treat than Girl Scout Cookies, and these Homemade Thin Mints certainly don't disappoint… And they're available year 'round!
When I hear the phrase "Thin Mint," I must have one, right then and there! But I live in the middle of nowhere, or close to it, and I don't have the Girl Scout Cookie hook-up that one can only dream of and salivate over. So, I have to improvise. After some research and lots of delicious testing that I didn't happen to mind one bit, this recipe was born.
If you're a Thin Mint lover like I am, these cookies will be your saving grace, especially if you don't live near an active cookie-hawking group of little ladies or if it's the wrong season to support the gals. The mint flavor marries perfectly with the chocolate, and the center of the cookie is the exact texture of the boxed version.
What are the ingredients in Thin Mints?
These cookies have the same base materials as many cookies: butter, powdered sugar, salt, vanilla, and flour. But, to add that chocolate-minty burst of delectability, you'll also need 1 cup of dark cocoa powder, 1 pound of good quality melting chocolate, and pure peppermint extract.
What do Thin Mints taste like?
Some people thumb their noses at Thin Mints because of the, in my personal opinion, ingenious combination of chocolate and mint. While that could seem like an unlikely pair, just like mint-chip ice cream, Thin Mints have the richness of chocolate treats with just a hint of refreshing, zesty peppermint.
Can you freeze Thin Mints?
These freeze very well in an airtight container or bag… if they stick around long enough, that is! Thin Mints can keep up to 2 to 3 months in the freezer. Some people actually prefer snacking on frozen cookies as opposed to room temperature, so if you're a fan of cold treats, give it a try!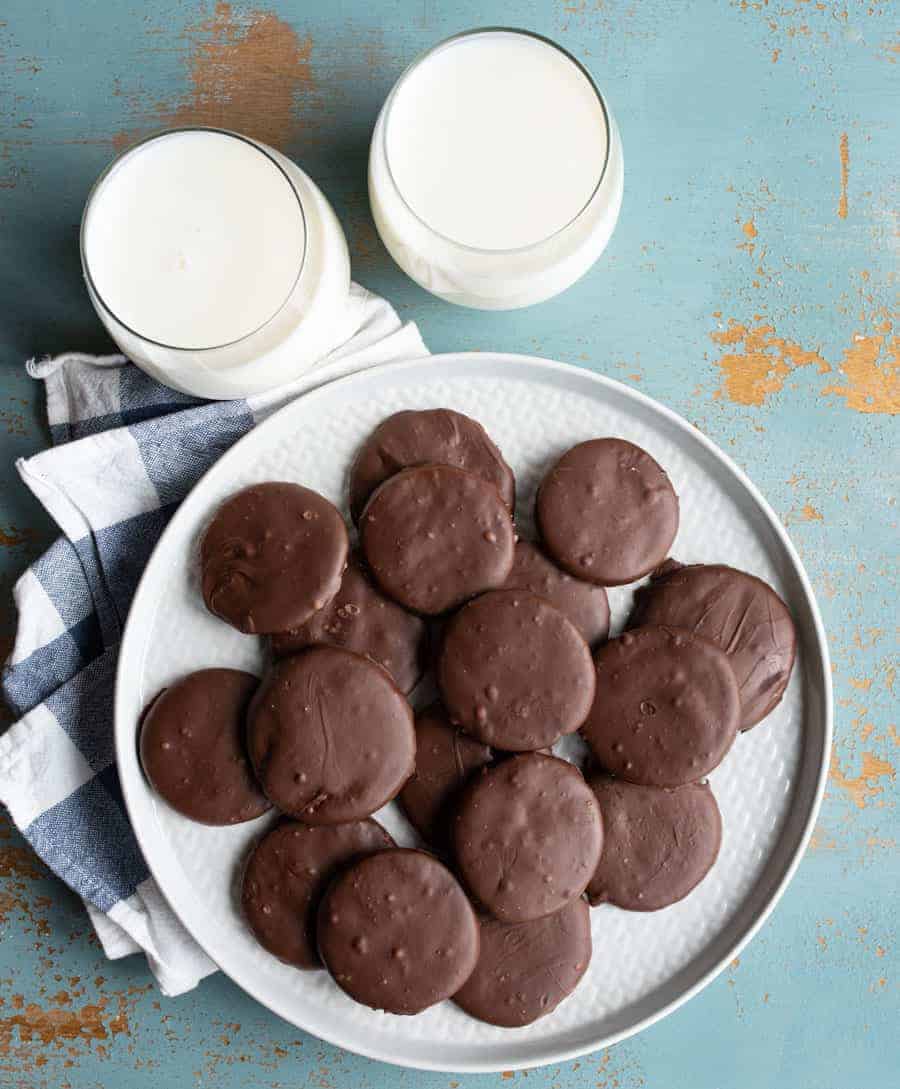 Print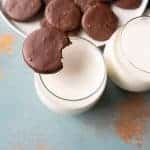 Homemade Girl Scout Cookies: Thin Mints
---
Author:

Total Time:

55 minutes

Yield:

4

dozen cookies

1

x
Description
There may not be a better treat than Girl Scout Cookies, and these Homemade Thin Mints certainly don't disappoint… And they're available year 'round!
---
1 ¼ cups

butter, at room temperature

2 cups

powdered sugar

1 cup

dutch processed cocoa or dark cocoa powder (I used Hershey's Special Dark Cocoa)

½ teaspoon

salt

1 teaspoon

vanilla

1 ½

to

1 ¾

cups flour

1

pound good quality melting chocolate

¾

to

1

teaspoon pure peppermint extract
---
Instructions
In a stand mixer, with a cookie paddle attached, cream the butter and sugar together on medium speed until the mixture is light and fluffy, about 2 minutes.
Add the cocoa powder, salt, and vanilla, and mix until incorporated. Add half of the flour and mix. Add the remaining flour, ¼ cup at a time until you get a pretty dry dough. You don't want the dough to be sticky at all, and it might even crumble just a little. Don't be worried about a dry dough... We want a cookie that doesn't spread when baked and that is crispy!
Divide the dough into 3 balls, and pat them together to form a disk. Cover the disks in plastic wrap and refrigerate for about 15 minutes.
Now, if your world is crazy like mine, and 3 hours, instead of 15 minutes, pass before you get back to baking, let the dough rest at room temperature for 15 minutes. The butter makes the dough super stiff if it's too cold.
Preheat your oven to 350 degrees. Remove plastic from 1 disk and roll your dough out between 2 pieces of parchment paper or on a lightly floured surface. Roll the dough thin! We are talking ¼-inch to an ⅛-inch thick.
Use a 2-inch circle cutter to cut out the cookies. Place on a cookie sheet and bake for 8 to 9 minutes. It's super hard to tell when a near-black cookie is done. I baked mine for 10 minutes the first round, and they tasted burnt on the bottom, so you'll need to adjust as you go. Repeat with the rest of the dough. Place the cookies on a wire rack to cool.
After cookies have cooled completely, it's time to get dippin'!
Chop up your chocolate. Put it in a microwave safe bowl, and microwave it for 1 minute. Reduce your power to half, and continue to microwave in 30-second increments, stirring after each 30 seconds. Do this until your chocolate is smooth and melted. It's possible to scorch and ruin your chocolate in the microwave. If you are prone to this, use a double-boiler method, instead. If your chocolate seems too thick, you can add a little shortening to thin it out. When your chocolate is melted, stir in your peppermint extract. I started with ½ teaspoon of peppermint extract and then added in a few drops at a time until it was minty enough for me. You should be right around 1 teaspoon of extract.
Drop a cookie in the melted chocolate, and make sure all of it gets covered in the chocolate. Fish the cookie out with a fork. Tap the fork on the edge of your bowl to encourage extra chocolate to drip off. Place the chocolate-coated cookie on a piece of parchment or waxed paper until set.
Best if enjoyed after waiting 8 hours after dipping in chocolate.
Notes
I tasted one the night that I made them and was surprised how normal-tasting they were. I wasn't in love. The next morning, however, magic had happened. The cookie had absorbed some of the moisture from the chocolate, and the mint flavor had time to marry with the chocolate. The texture of the cookie in the center became exactly what I was looking for! So, if you can, make these a day in advance, and let them sit before digging in.
I hear they store well in the fridge and freezer just like real Thin Mints, but mine didn't last that long.
Prep Time:

45 min

Cook Time:

10 min

Category:

dessert

Method:

bake

Cuisine:

American
Keywords: thin mints, how to make thin mints, chocolate mint, mint chocolate, girl scout cookie recipes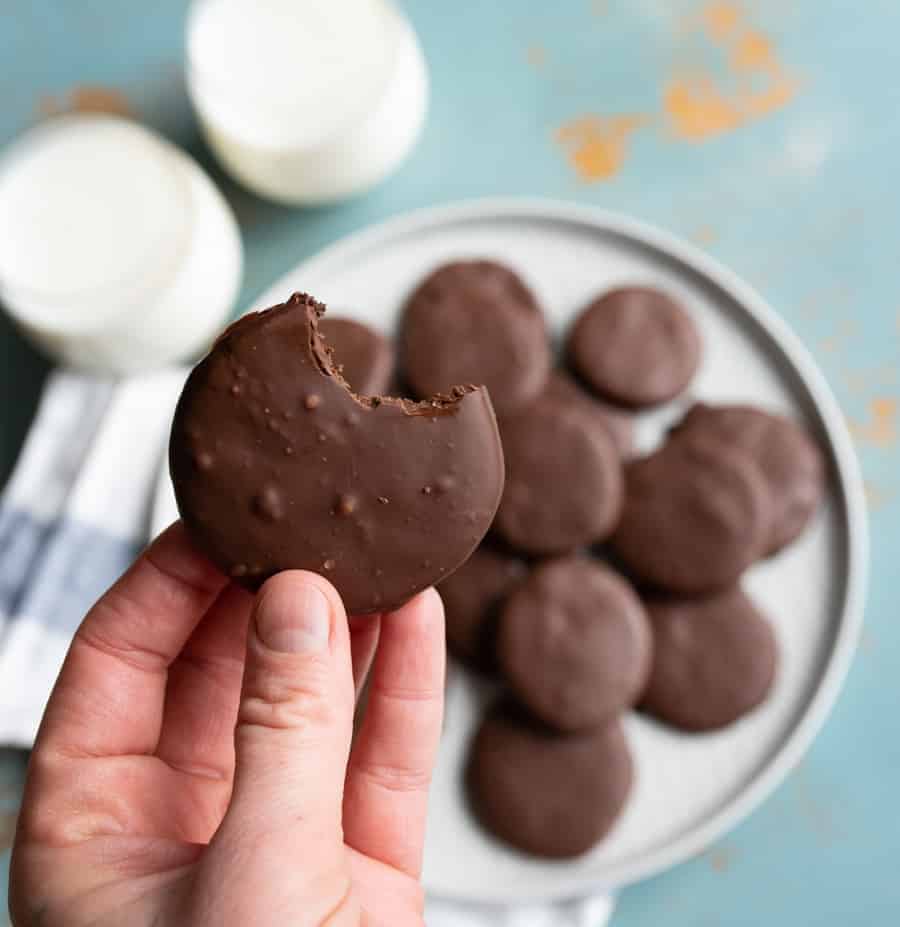 Other amazing cookie recipes you might enjoy:
Ooooh aren't these a fun break for a normal cookie? Something a little extra fun and fancy. I think you need to try them ASAP.