Christmas shouldn't get all of the fun with gingerbread houses! It's time to share the love, so I introduce you to my Haunted Halloween Gingerbread House. They are such a great activity during Halloween. Let your creative spooky juices flow on this one.
Seasonal activities are my favorite. It is such a treat to break the mold and do something out of the ordinary like Halloween gingerbread houses. Kids of all ages will enjoy creating this masterpiece. I think it would also be a fun activity for your family, classroom, group date or even an adult party.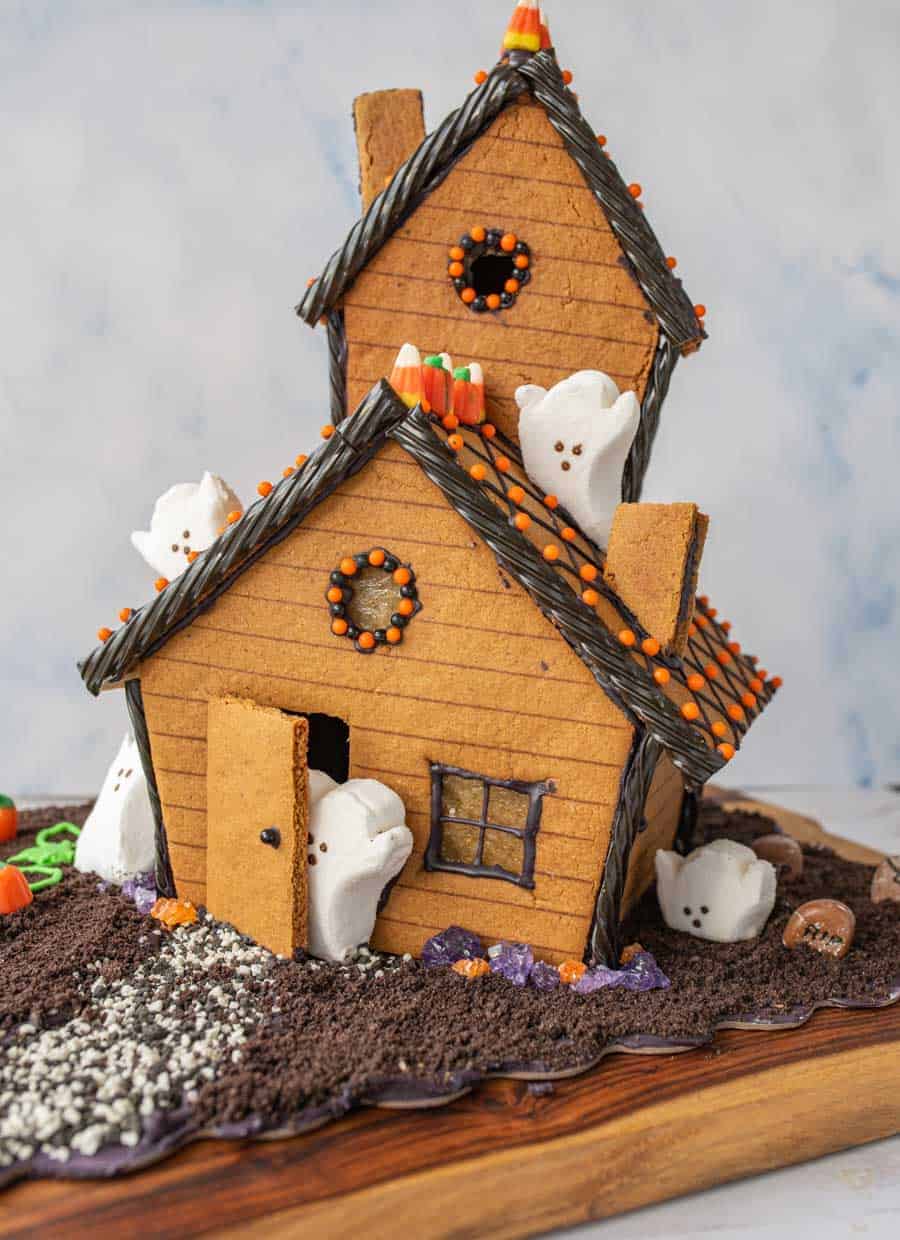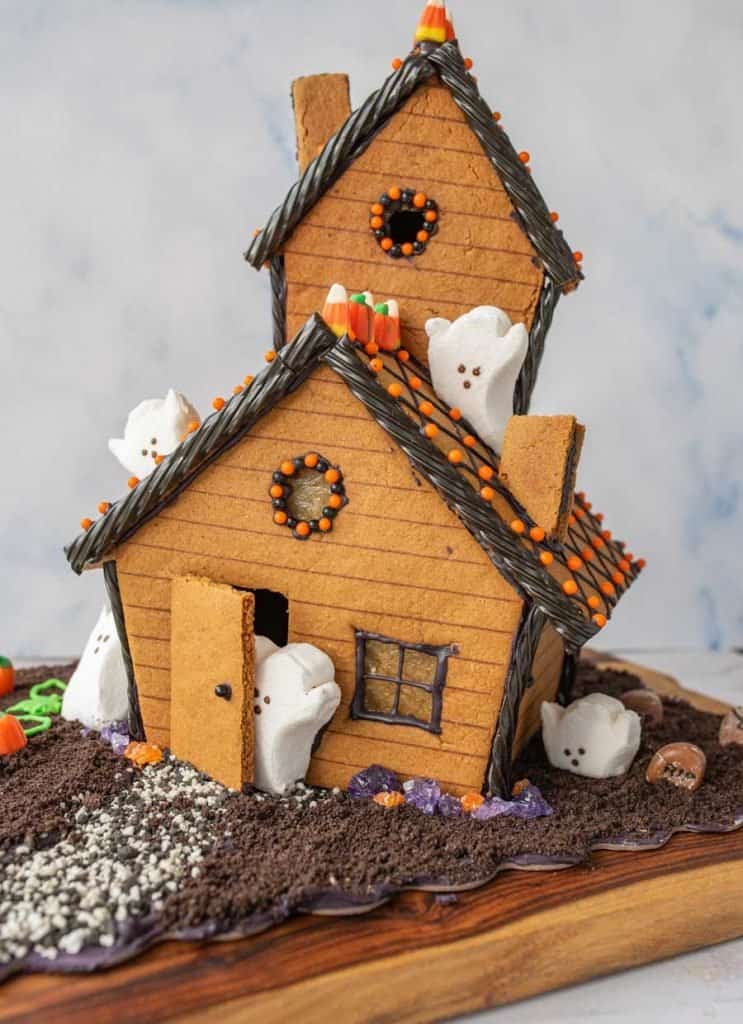 Halloween Gingerbread House
Halloween is a great time to create haunted houses. Schedules aren't near as hectic as during the Christmas season and it is a holiday based around candy-how fitting! Your family or friends will have such a fabulous time making this Halloween rendition of gingerbread houses.
It's easy to make houses haunted. It's okay if your roof is a little off and your windows aren't straight- that adds to the spookiness. This haunted gingerbread house boasts a spiderweb on the back, cute peep ghosts, and the cutest pumpkin patch. Feel free to let your imagination run wild on this one.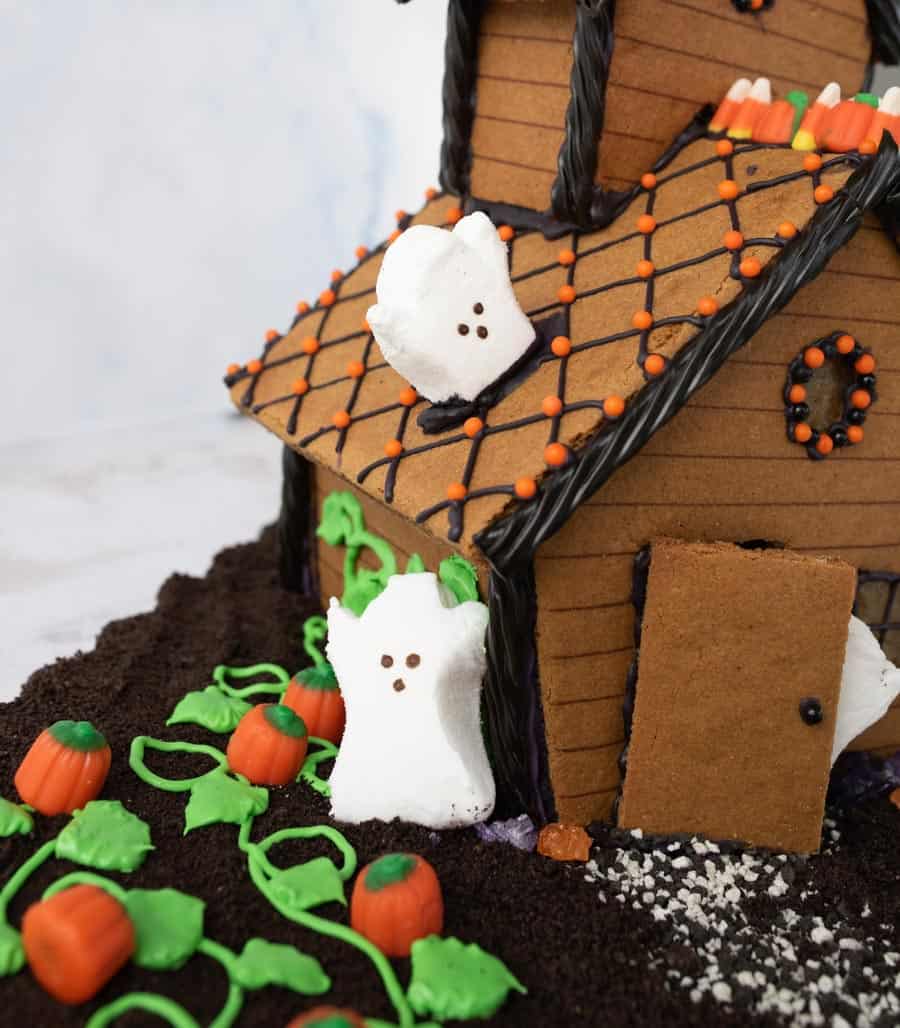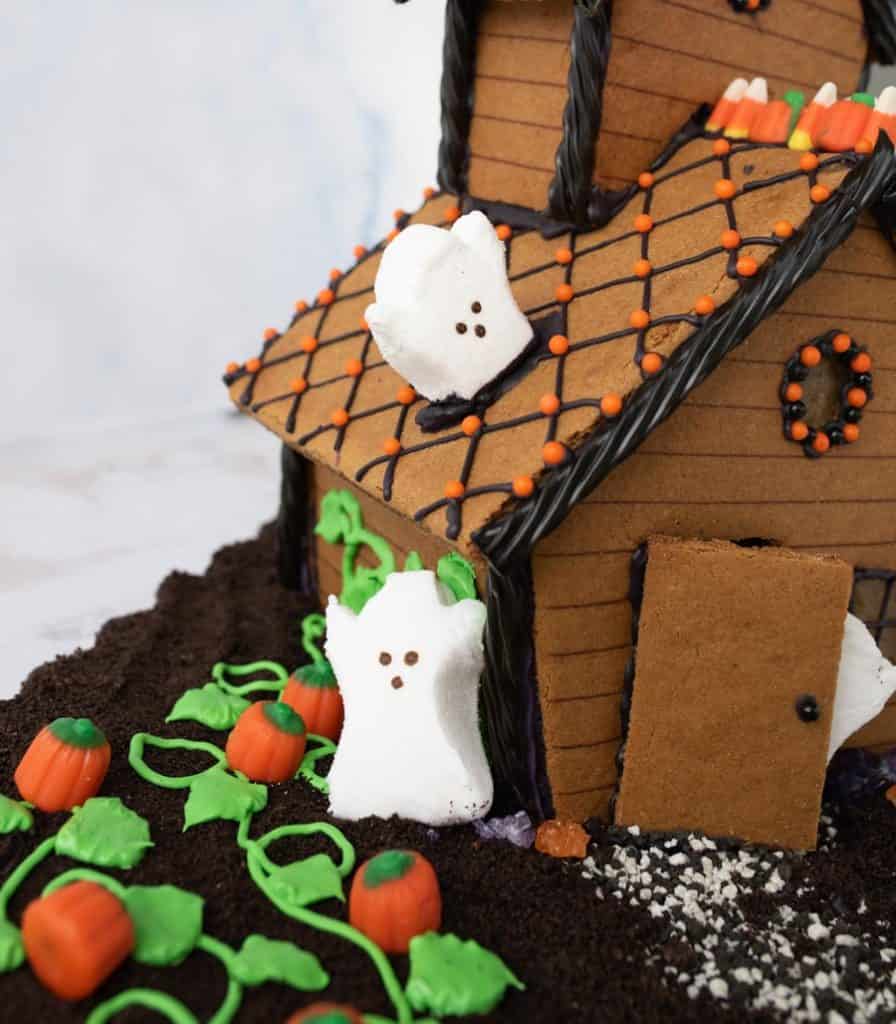 What base do you use for gingerbread houses?
Before you start building you want to find a sturdy base to build your gingerbread house on. A couple suggestions are building on a cookie sheet, a piece of cardboard, and my personal favorite is to use a cardboard cake board, they are so sturdy, meant for food, and you aren't tying up one for your cookie sheets. .
What is the best way to stick a gingerbread house together?
The best way to construct your house is to use royal icing. This icing acts as a glue because it will harden once it dries. You can find royal icing recipes that use raw egg whites (very traditional), and you can find royal icing recipe that use powdered meringue which also works great. Use what you prefer.
Do you eat Halloween gingerbread houses?
YES! My kiddos like to snack on all the candies during construction too. You can use your haunted gingerbread as a decoration or you can munch on it. It's up to you, but keep in mind the candy will get hard after a couple of days. That being said, my kids favorite part of making a gingerbread house is eating it! What they don't eat we set outside and let the birds and squirrels take. This recipe is 100% edible and the gingerbread used in construction is delicious!
Halloween Gingerbread house details: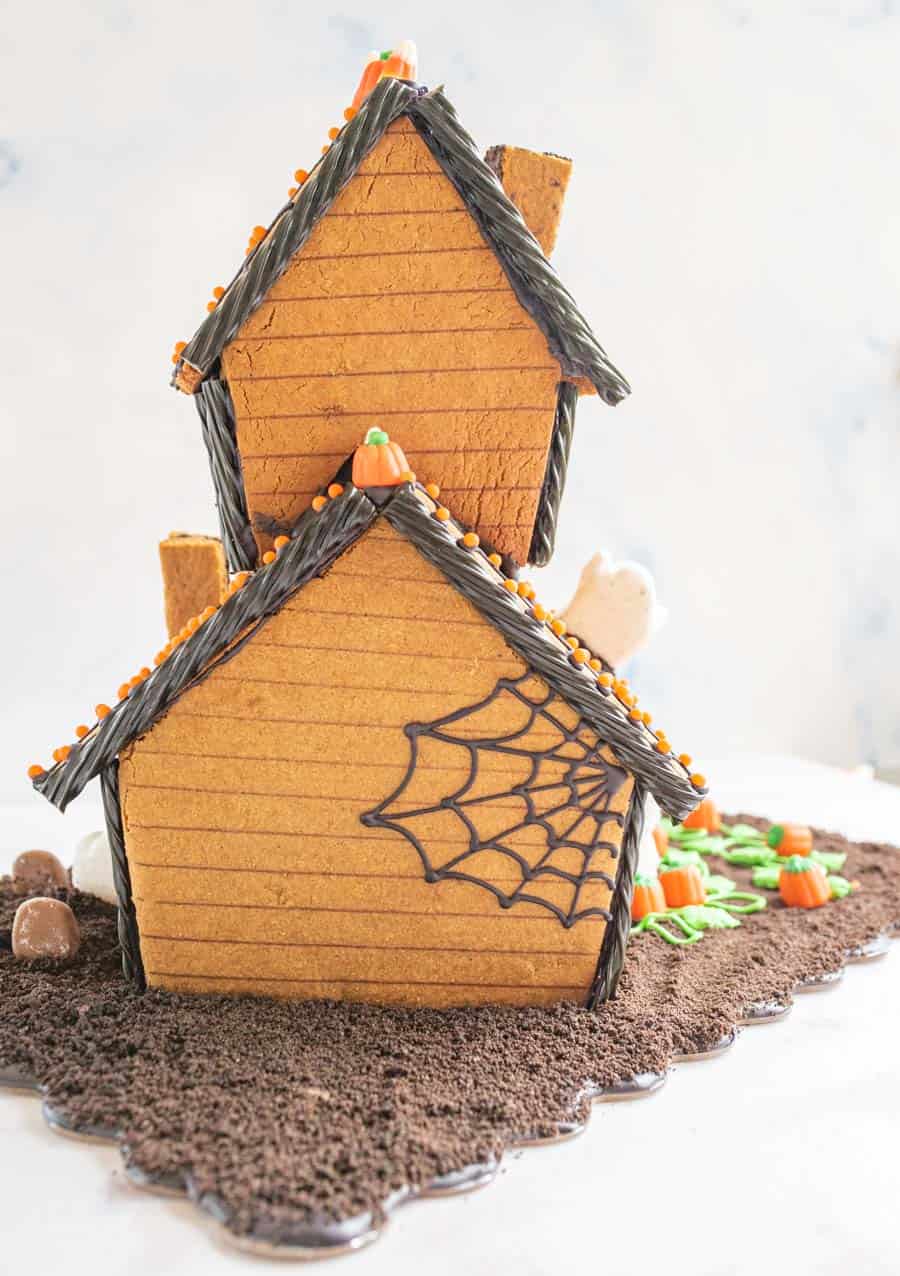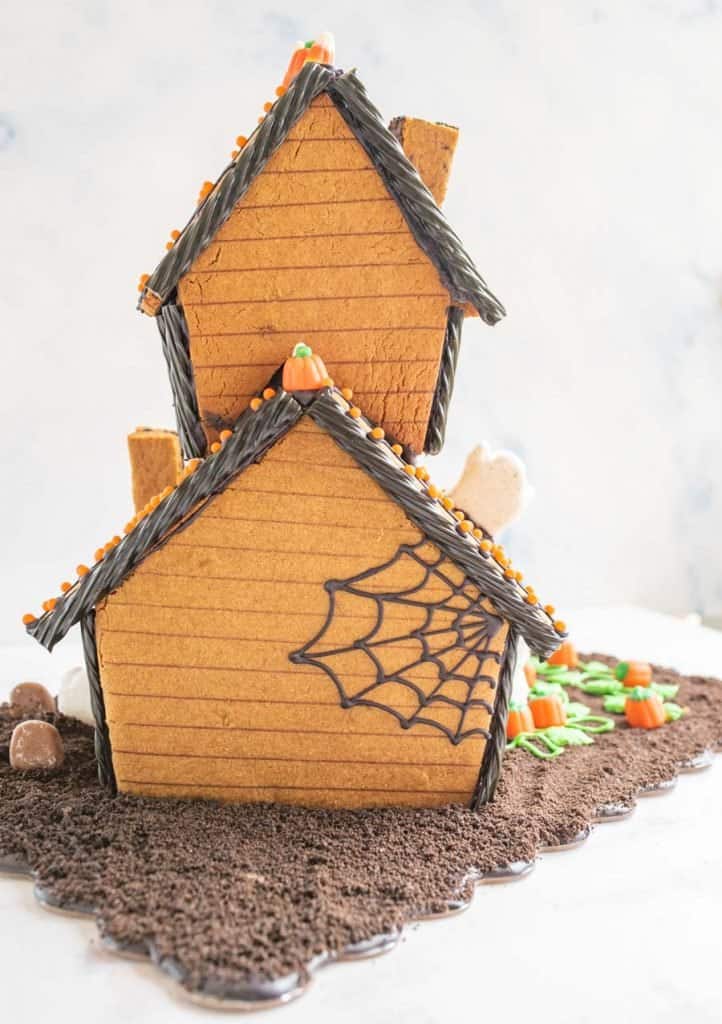 Here's the back view (above):
The roof is lined with black licorice on the cut edges of the gingerbread, this really cleans up those cut line. The "boards" for the house on the gingerbread are made with edible marker, those marks were made before we assembled the house. The spiderweb is made with royal icing that we died purple (we used that purple royal icing on everything you see). Food Crafting brand sells a purple powdered sugar at Joann's and we used it for our purple royal icing (in place of traditional white powdered sugar). It was a short cut to getting what we wanted and we didn't have to add any additional food coloring.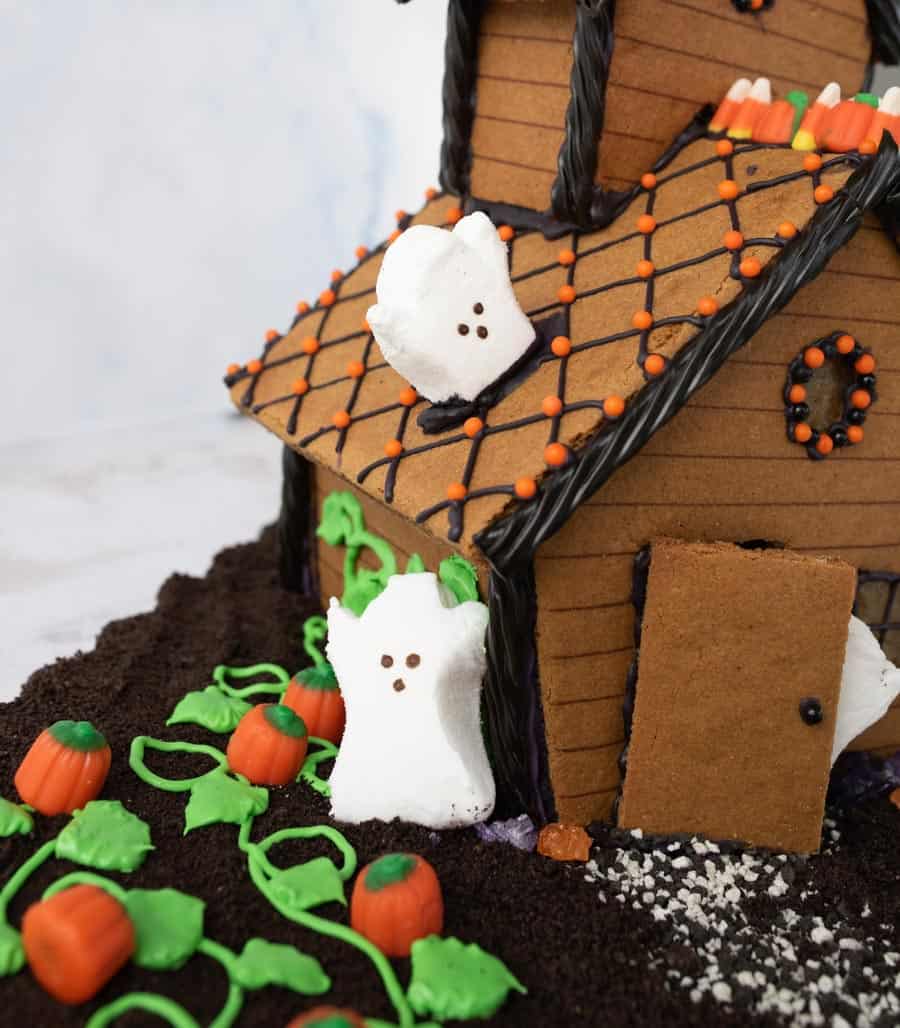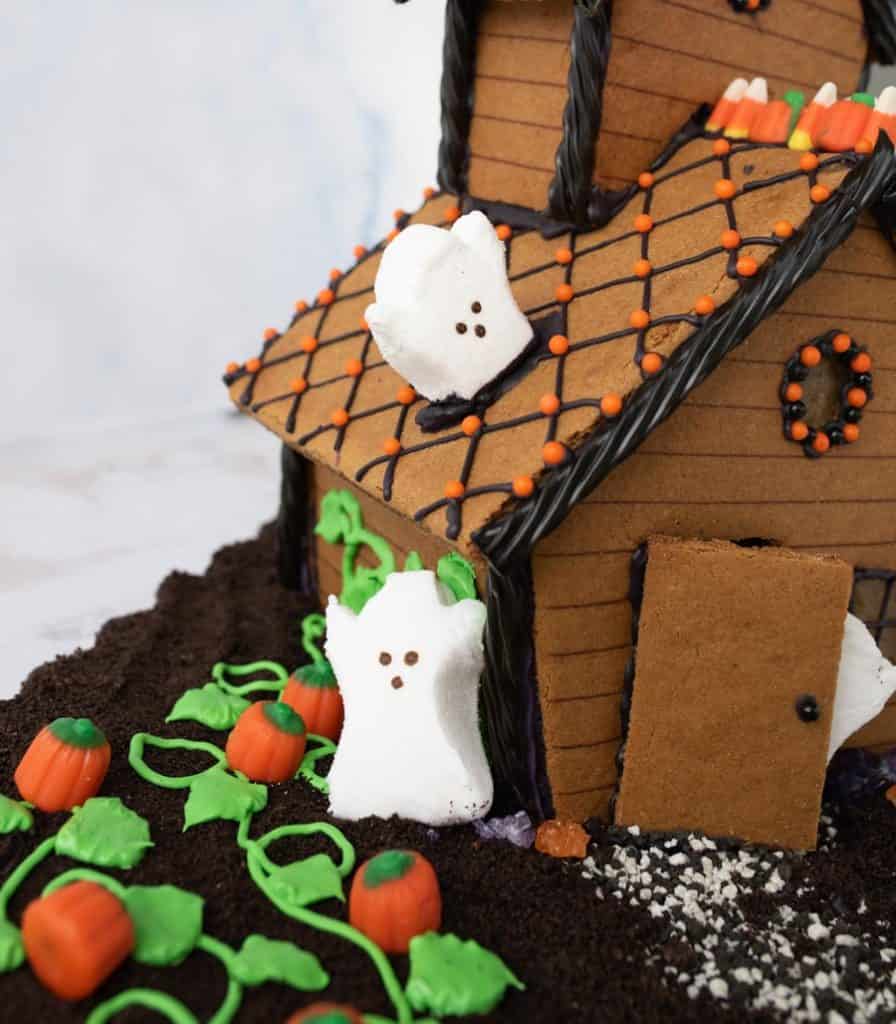 Side View (above):
We made the Peep marshmallow ghosts a pumpkin patch with candy corn pumpkins and green royal icing. Isn't that a fun way to fill in the space around the house? After we assembled the house we spread a thin layer of purple royal icing on the cake board and then covered it with a layer of finely crushed Oreo cookies for a "dirt layer". Putting the Oreos in the food processor gets them to a very fine texture that is all the same color. The path to the front door is made out of Wilton Cookies and Cream Crunch sprinkles, and we used broken pieces of purple and orange rock candy as well as chocolate rock candy to make a boarder around the house.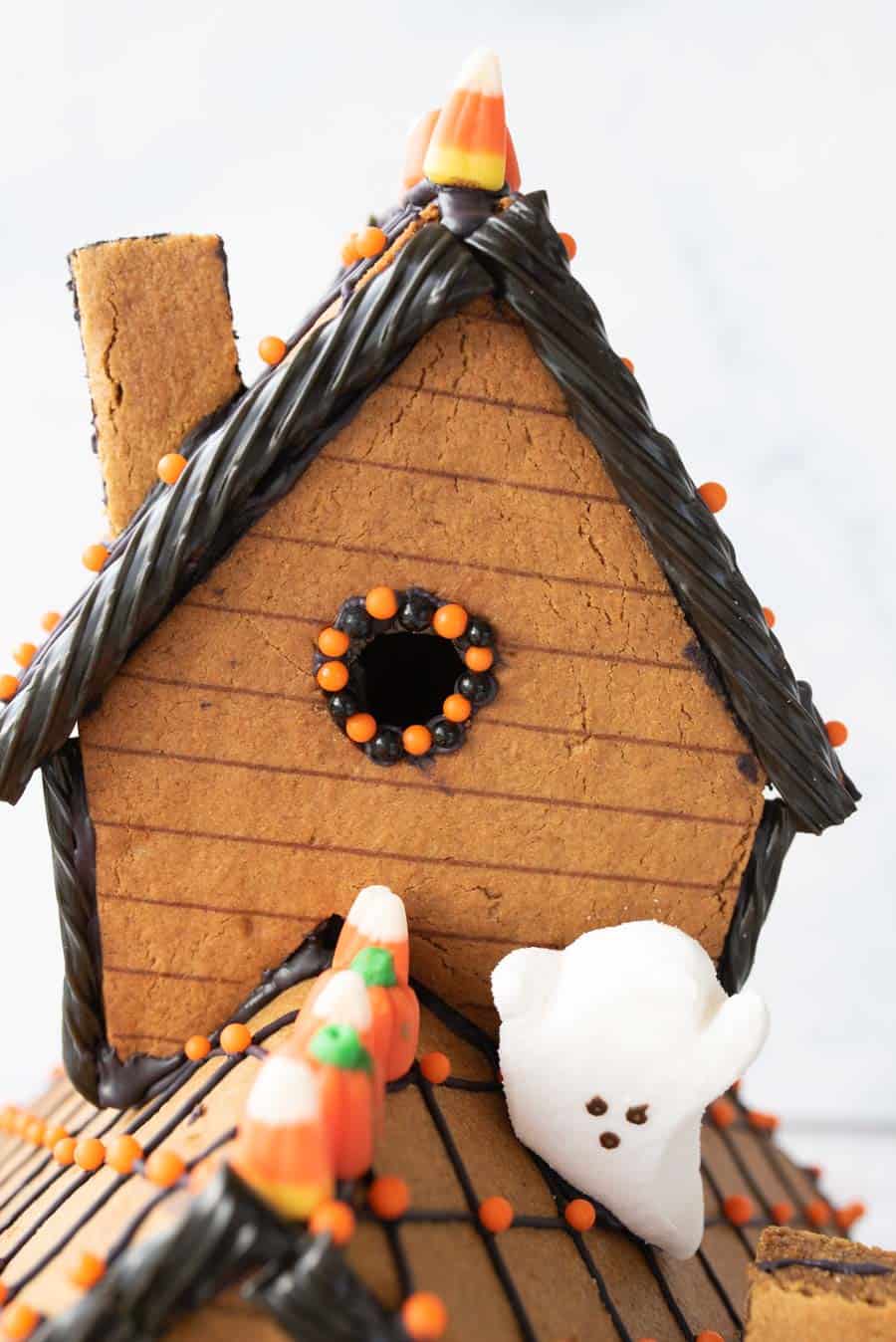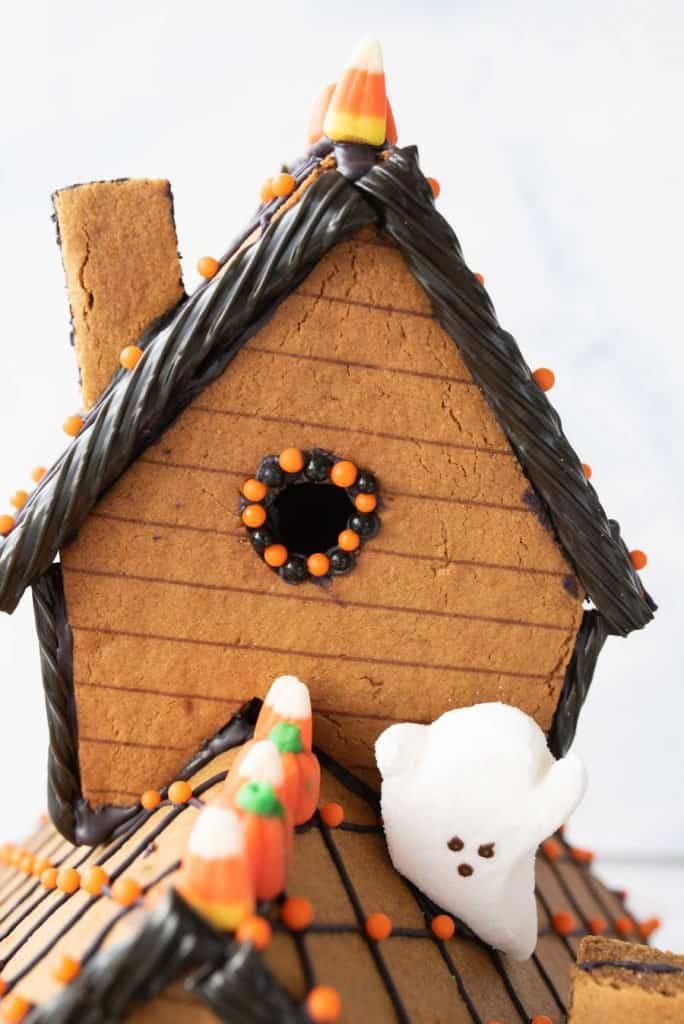 Front view of the second story of the haunted house (above):
We wanted the haunted house to have a crooked second story and it was pretty hard to engineer. We made a prototype out of foam board a few different times to get the size, angles, and a pattern for our gingerbread. We lined the roof with candy corn and candy corn pumpkins, we added royal icing lines for roof tiles, and we used Wilton sprinkles from Joann's in orange and black on the roof and around the windows.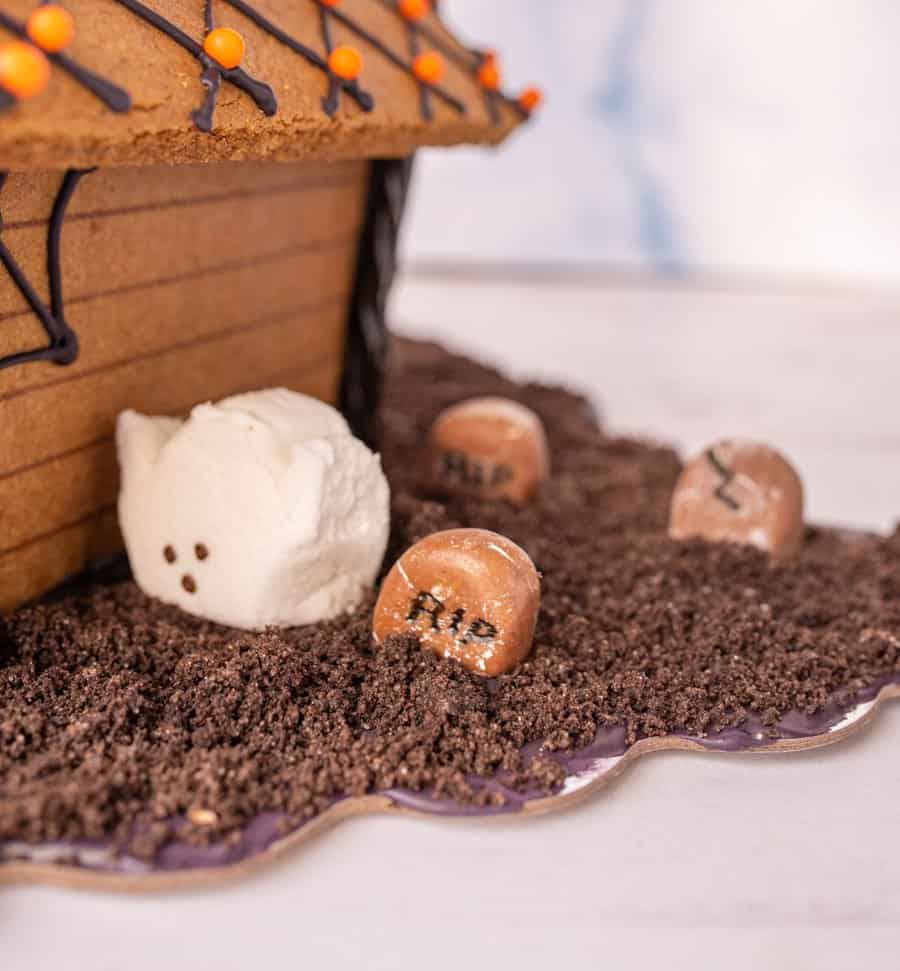 Side graveyard view (above):
We made a little graveyard out of tootsie rolls that we shaped into headstones. We dusted them with powdered sugar to give them an aged look and wrote on them with edible marker to make "RIP" and some cracks. We loved using the Peep marshmallow ghosts to add some tenants to our haunted gingerbread house. Seriously though, how cute did this turn out!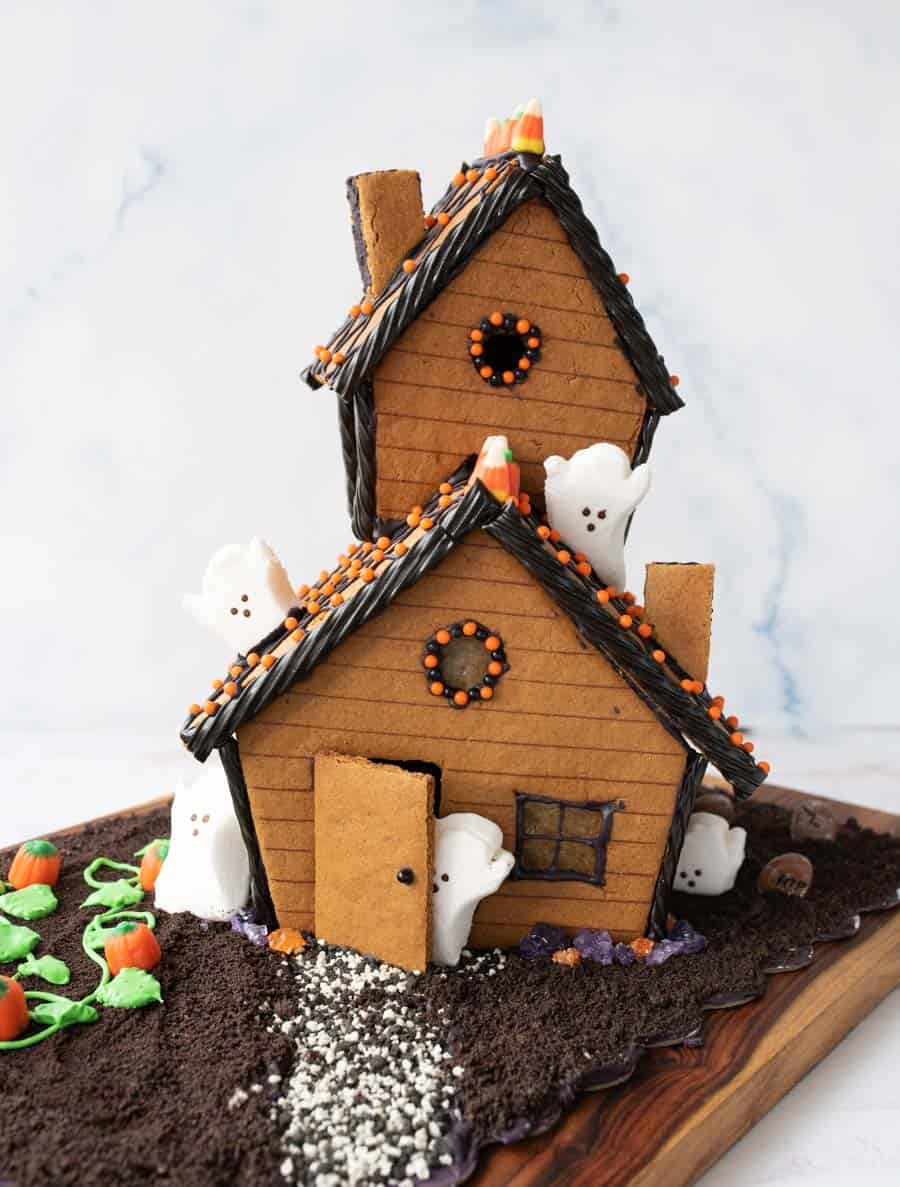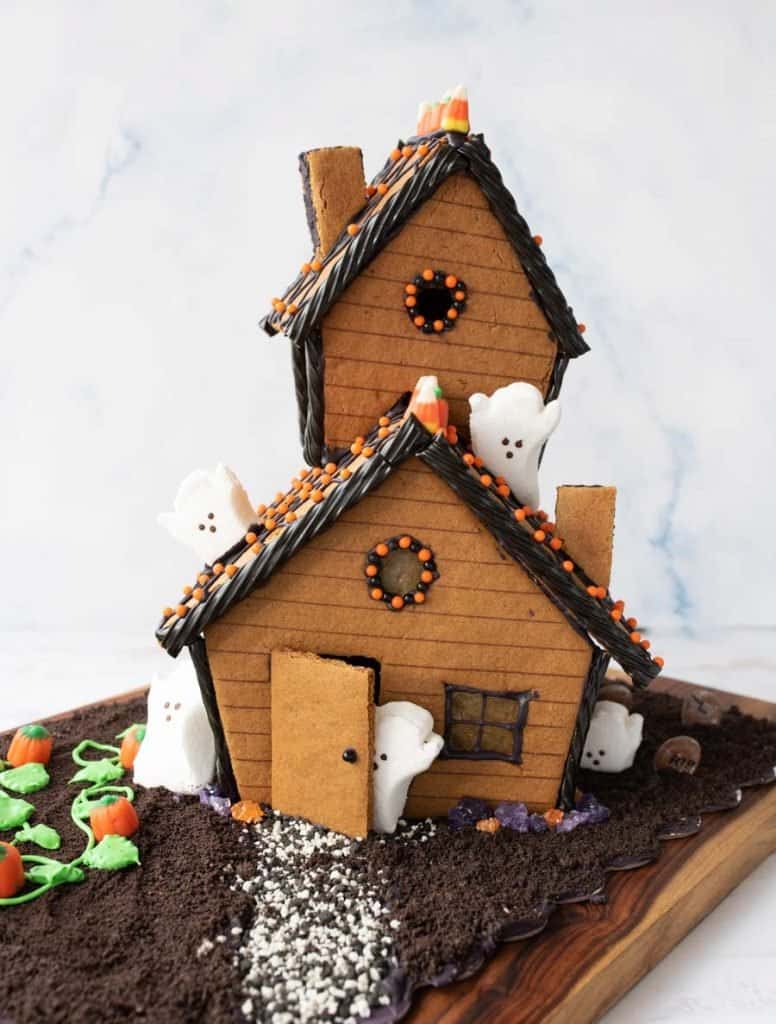 More Halloween Recipes:
If you've tried this Halloween Haunted House recipe or any other recipe on Bless this Mess, then don't forget to rate the recipe and leave me a comment below! I would love to hear about your experience making it. And if you snapped some pictures of it, share it with me on Instagram so I can repost on my stories AND add your photo to your comment so that other can see your creation.
Print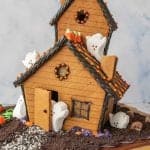 Haunted Halloween Gingerbread House
---
Author:

Total Time:

4 hours

Yield:

Gingerbread for

1

small house

1

x
Description
Totally unique Haunted Halloween Gingerbread house that is 100% edible, totally fun to make, and will be the center of any party or Halloween setting.
---
½ cup

butter, at room temperature

¾ cup

brown sugar

1

large egg

¼ cup

molasses

2 ⅔ cups

flour

2 teaspoons

ground ginger

1 teaspoon

baking soda

½ teaspoon

ground cinnamon

½ teaspoon

ground nutmeg

½ teaspoon

ground allspice

½ teaspoon

salt
---
Instructions
Make a paper pattern for your gingerbread house and get it printed, cut, and ready to go.

Preheat the oven to 360 degrees F (a little hotter than 350 degrees F helps the gingerbread to be crisper and sturdier.

Line a jelly roll pan with parchment. Use cooking spray to lightly grease the paper and the edges of the jelly roll pan.

In a large bowl beat together the butter and brown sugar until light and fluffy.
Add the egg and molasses and beat to combine.
Add the flour, ginger, baking soda, cinnamon, nutmeg, allspice, and salt and mix until the mixture comes together into a thick dough.

Press the entire batch of dough into prepared pan in even layer.

Bake for 20 to 25 minutes or until a deep golden brown.

Remove from the oven and let cool 5 minutes.

While still warm cut, place your paper pattern on top of the warm cookies slab, and out the desired shapes using a small paring knife.

Let the pieces cool completely in the pan and then run your knife through your cuts one last time.

Assemble cooled pieces using royal icing on a large carboard cake board and decorate with additional colored icing, with candy, marshmallow ghosts, or however you would like.

NOTE: this very large Halloween gingerbread house took 3 batches of gingerbread on three pans to make. The scraps of gingerbread leftover are delicious dipped in milk.
Notes
This gingerbread recipe is perfect for making houses and it still tastes great. Plan on your house getting gobbled up! It's thick and sturdy and still so good.
Use candy that you like or have on hand like ghost marshmallow Peeps, black licorice for boarders, candy corn, candy corn pumpkins, sprinkles and jimmies in Halloween colors, candy rocks, and more. There's more detailed instructions on what we did and what materials we used with photos in the blog post.
A HUGE thank you and shout out to my favorite neighbor and favorite sister-in-law Beth. She's the woman behind this work! She took all of my ideas and turned them into this. I so love working with her and am so proud of all the work that she does.
Prep Time:

30 min

Cook Time:

20 min

Category:

dessert

Method:

bake

Cuisine:

American
Keywords: Halloween gingerbread house, how to make a gingerbread house, haunted gingerbread house, gingerbread for houses, how to make gingerbread, Halloween gingerbread house recipe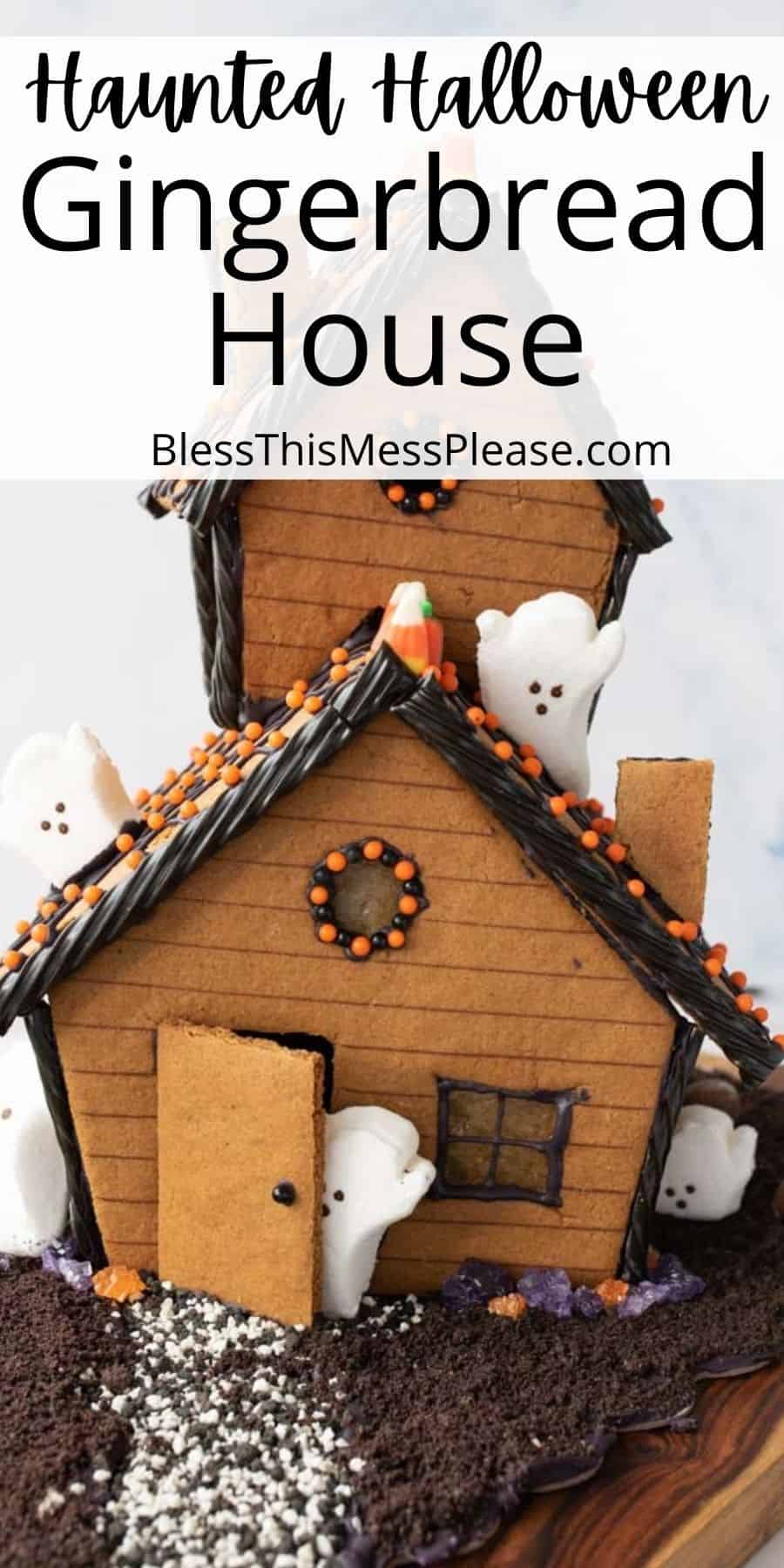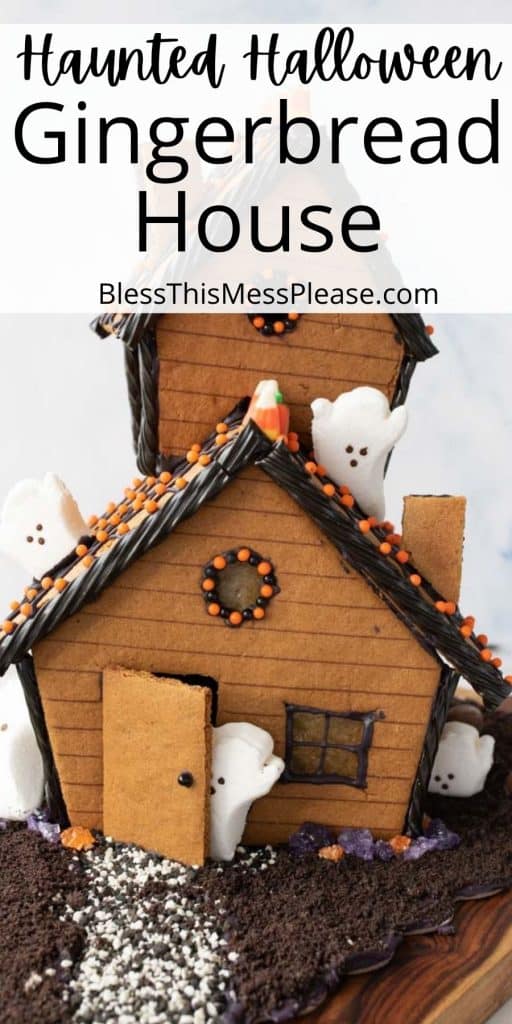 I think Halloween Gingerbread Houses will be your new favorite fall tradition. They are really fun for all ages and they make a cute haunted decoration when you are finished.