Quick and easy grilled pork chop sandwiches made with Smokey Mesquite Pork Loin Chops which are extra thin and cook up nice and quick. Serve these on a bun with my easy 5-minute coleslaw on top and a little barbeque sauce.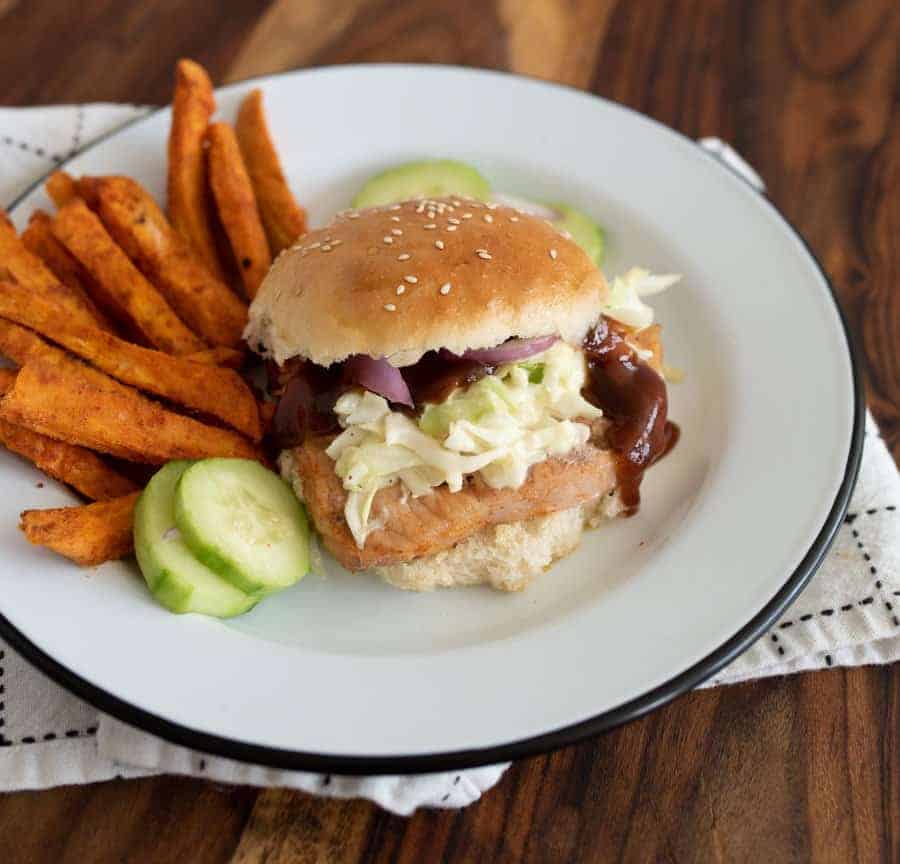 Grilled Pork Chop Sandwich
This recipe comes together in 15 minutes and is a favorite in our house during the warm weather months because you don't have to turn on your oven and everyone loves it!
Today I'm working with AdapTable Meals, a company who brings high-quality pre-seasoned meats to your table. I LOVE working with meats that have already been seasoned because the work has been done for me. These thin mesquite pork chops were so flavorful and easy to work with because the seasoning already had time to blend into the meat. They are seasoned with onion, garlic, orange peel, and smoke. They're made with zero artificial ingredients and are gluten free too!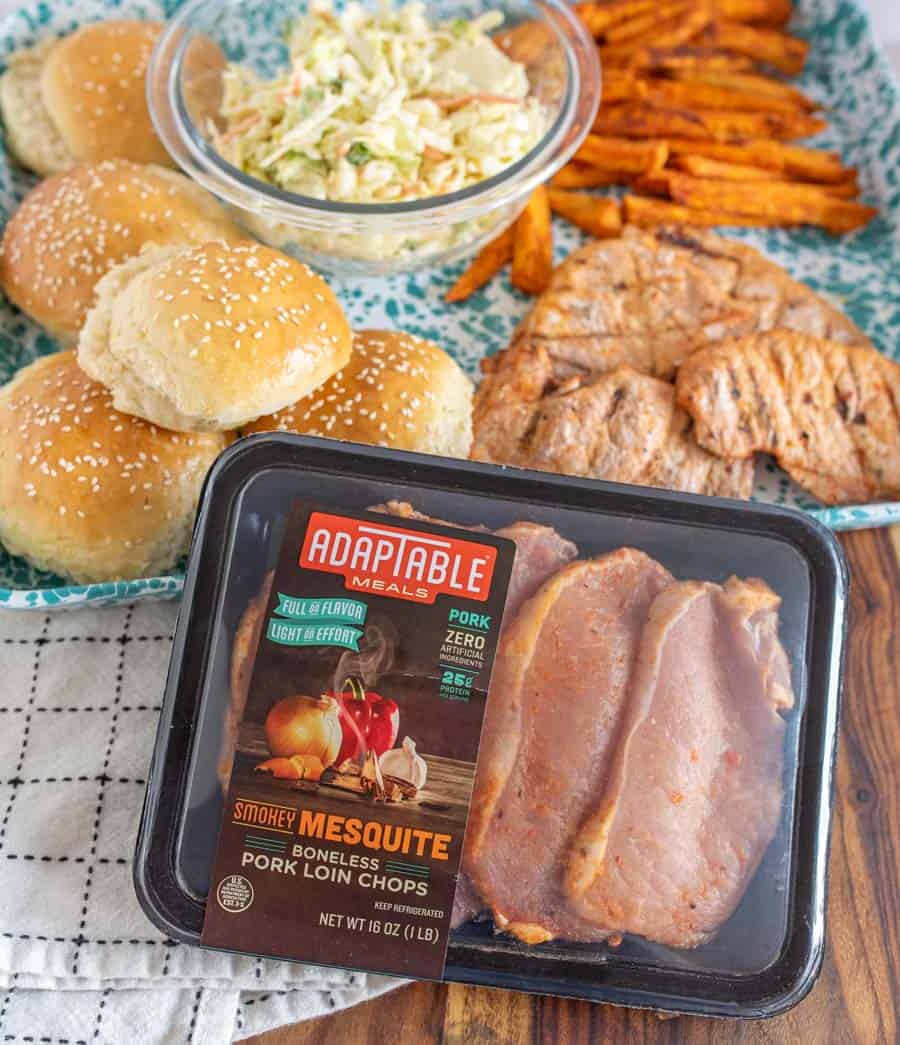 Grilling season is a favorite time of mine, because it makes quick and easy meals a reality without heating up your kitchen. You are going to love how fast this meal is too. The Smokey Mesquite Pork Loin Chops are extra thin and lean, so they cook in just a few minutes, and the slaw recipe is done in less than 5 minutes. You can have dinner on the table in 15 minutes without breaking a sweat.
Don't let me stop you though, these pork chops could be served on their own with a side of fresh corn and watermelon, you could bread them up a little and cook them on the stove for a crispy pork chop sandwich, or you could serve them however your family likes best. You have so many options.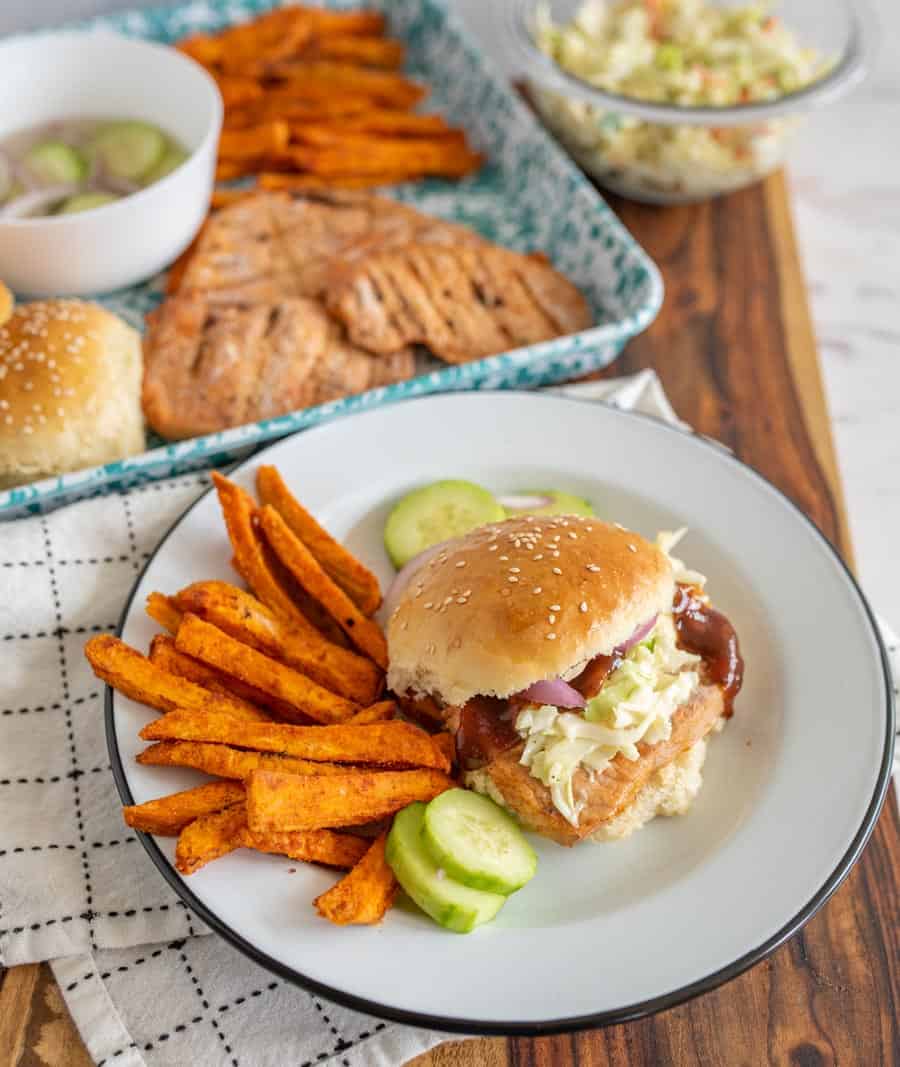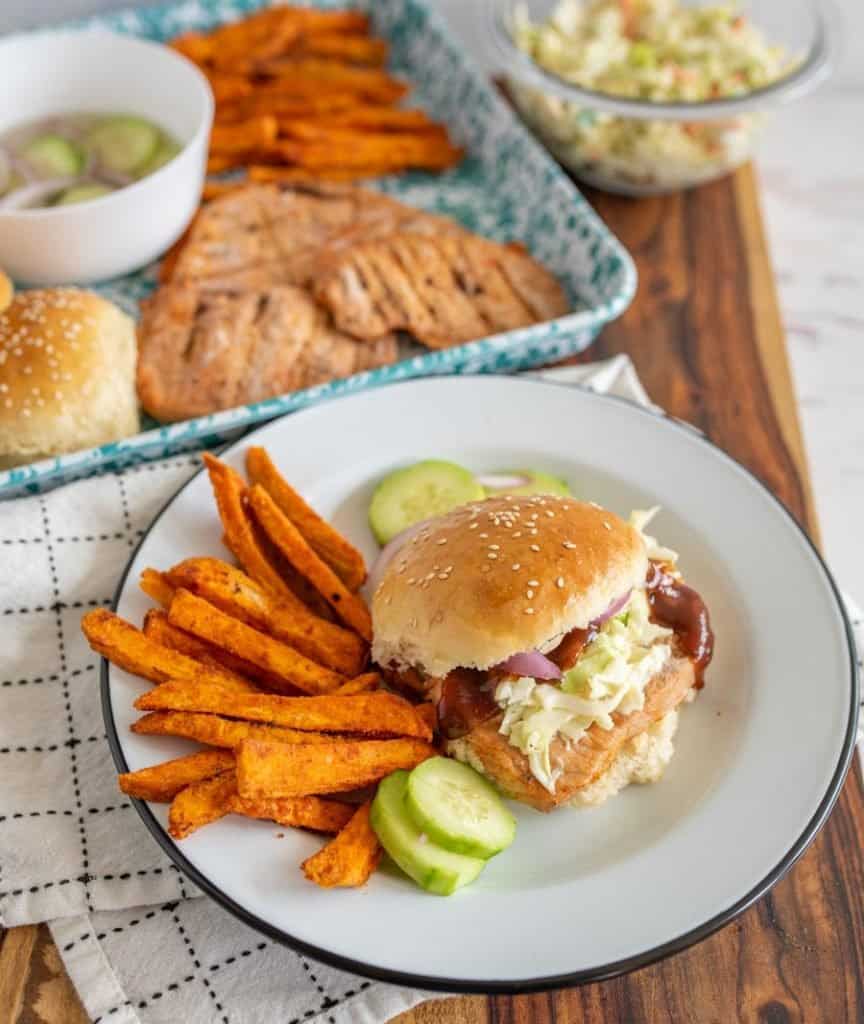 How do you make a pork chop sandwich?
It's so easy! Grill up your pork chops (they cook so fast!), whip up a little coleslaw for the top, put everything on a bun with some barbecue sauce and gobble it up. You can't beat how quickly they come together.
How do you cook a pork chop without drying it out?
I'm on team use an instant-read thermometer when cooking meat and grilling. That way you know just what is happening on the inside of that pork chop and you don't overcook them! Did you know that pork only needs to be cooked to 145 degrees F?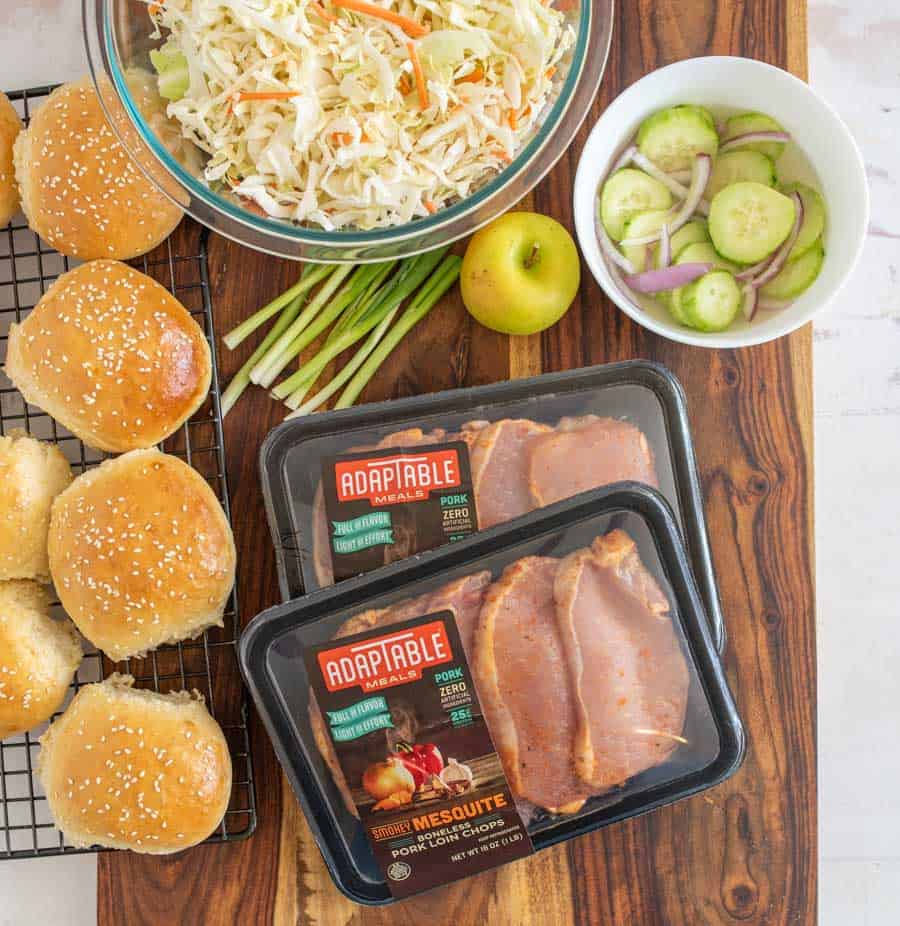 What do you serve with a pork chop sandwich?
I love that this recipe is served with slaw on top! The recipe follows.
I think pork sandwiches are great with sweet potato fries on the side.
I made a batch of my famous quick pickled cucumbers to go with the sandwiches and it was so good.
Last but not least, I think some macaroni and cheese is always a good idea with this meal. Here's my favorite 15-minute mac and cheese recipe.
Print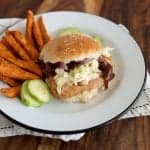 Grilled Pork Chop Sandwiches with 5 Minute Cole Slaw
---
Author:

Total Time:

15 minutes

Yield:

Serves 5
Description
One of my favorite 30 minute meals! Easy grilled pork chop sandwiches with a super fast 5 minute coleslaw and some barbecue sauce on top.
---
1

package

AdapTable Smokey Mesquite Pork Loin Chops

(1 pound, about

5

pork chops)

1

bag pre-cut coleslaw, 14 ounces

1

large sweet apple, such as gala

6

green onions, finely chopped

½ cup

mayonnaise

2 tablespoons

white or rice vinegar

2 teaspoons

granulated sugar

1 teaspoon

salt

½ teaspoon

ground black pepper

5

brioche or high-quality burger buns for serving

barbecue sauce for serving
---
Instructions
15-20 minutes before you plan to cook the meat, remove it from the fridge and let the meat rest at room temperature.

While the pork is resting, make your coleslaw.

Add the chopped coleslaw mix (preshredded cabbage and carrots) to a large bowl.

Use a cheese grater to shred the apple into the bowl (leaving the core behind); if you like larger pieces of apple, you can finely chop the apple instead of grating it.

Add the green onions (use both the white and green parts of the green onions for this recipe).

Add the mayonnaise, vinegar, sugar, salt, and black pepper. Stir well to combine. Set aside.

Preheat your grill over high heat. Clean and oil the grates.

Reduce the heat to medium and place the pork chops on the grill.

Cook for 2 to 2.5 minutes on each side or until the pork reaches 145 degrees F. on an instant-read thermometer; these pork chops will cook very quickly. Be sure to not overcook them as it will dry them out.

Remove the pork from the grill and let it rest for 3 minutes.

To make your sandwiches, place a cooked pork chop on the bottom of one bun, top with ¼ cup of the coleslaw mixture, and add 2 tablespoons of barbecue sauce on top of the coleslaw. Put the top bun on the sandwich and enjoy! Repeat with remaining ingredients.
Notes
The chopped coleslaw is just the cabbage and the carrots chopped up. You don't need the kit that has the dressing in it, you are making your own.

You can sub the green onions with ¼ of a small red onion. Just grate the onion when you grate the apple. You'll need about ¼ cup, but definitely make it to taste, depending on how strong the onion is.

The coleslaw is a bit vinegary and I like it like that. It goes well on the sandwich with the sweet barbecue sauce. Feel free to adjust the vinegar, sugar, and salt/pepper to your liking. If you don't want the coleslaw on top of the sandwich, feel free to serve it on the side.

This recipe is also amazing with my easy refrigerator pickles on it, I'd highly recommend whipping up a batch and serving them with this pork chop sandwich.
Prep Time:

5 min

Cook Time:

10 min

Category:

main dish

Method:

grilling

Cuisine:

American
Keywords: pork chop sandwich, how to grill pork chops, pork sandwich, grilled pork chop, grilled pork chop sandwich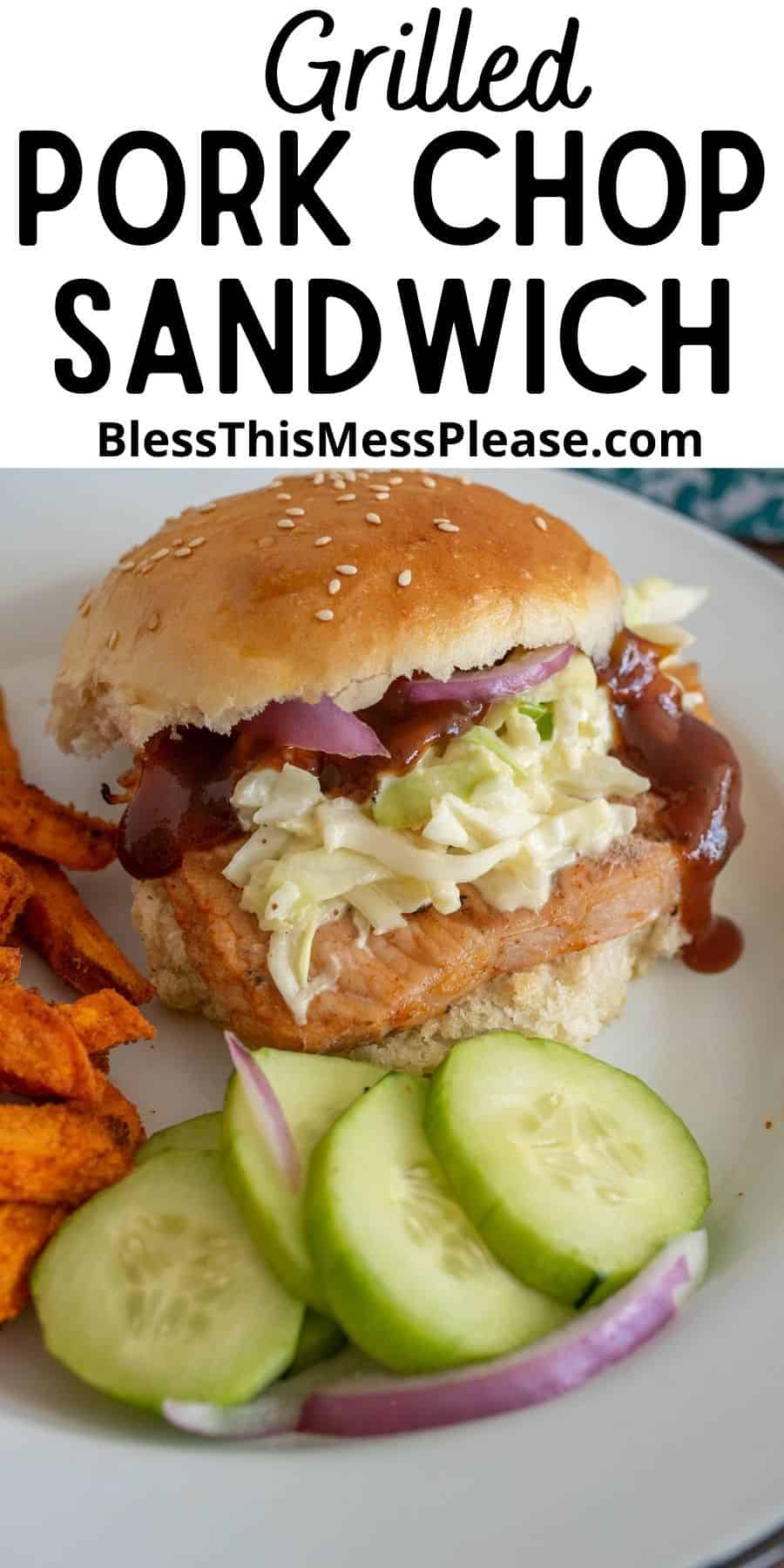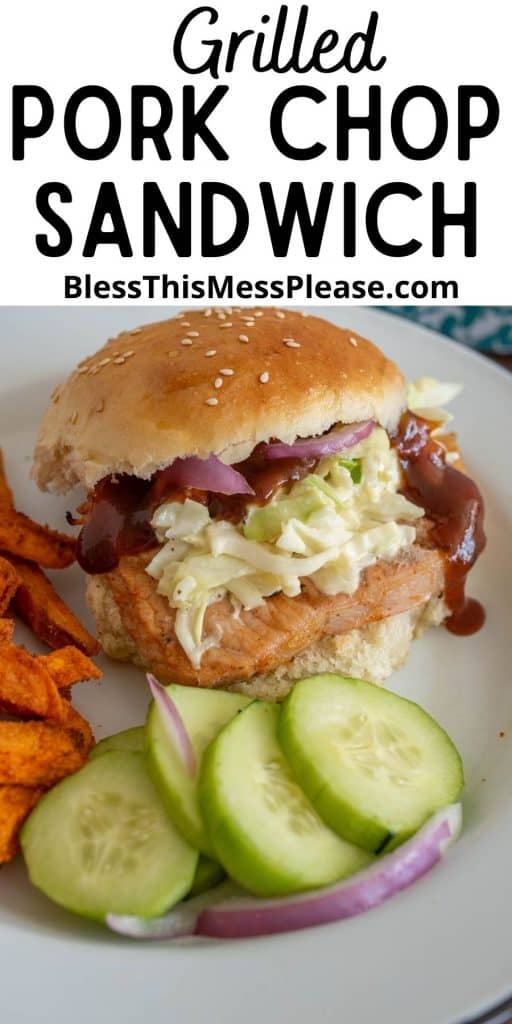 Discloser: This post is sponsored by AdapTable Meals. Thank you for supporting the brands that help make Bless this Mess possible and that I've thoughtfully chosen to work with.
You are going to love how quick and easy this grilled pork chop sandwich comes together. Thanks to AdapTable Meals, the seasoning work for the chops has been done for you!