Grilled Hamburger Tin Foil Dinners is a mouthwatering dish that combines juicy burgers, crispy tater tots, and a medley of flavorful vegetables, all cooked to perfection in individual foil packets. It's a simple yet satisfying meal that will have everyone coming back for seconds.
I love the grilled tin foil hamburger and tater tot dinner because of the convenience it offers. By cooking each portion in its own foil packet, you eliminate the need for plates and utensils, making cleanup a breeze. It's perfect for casual outdoor gatherings or camping trips where simplicity and ease are key.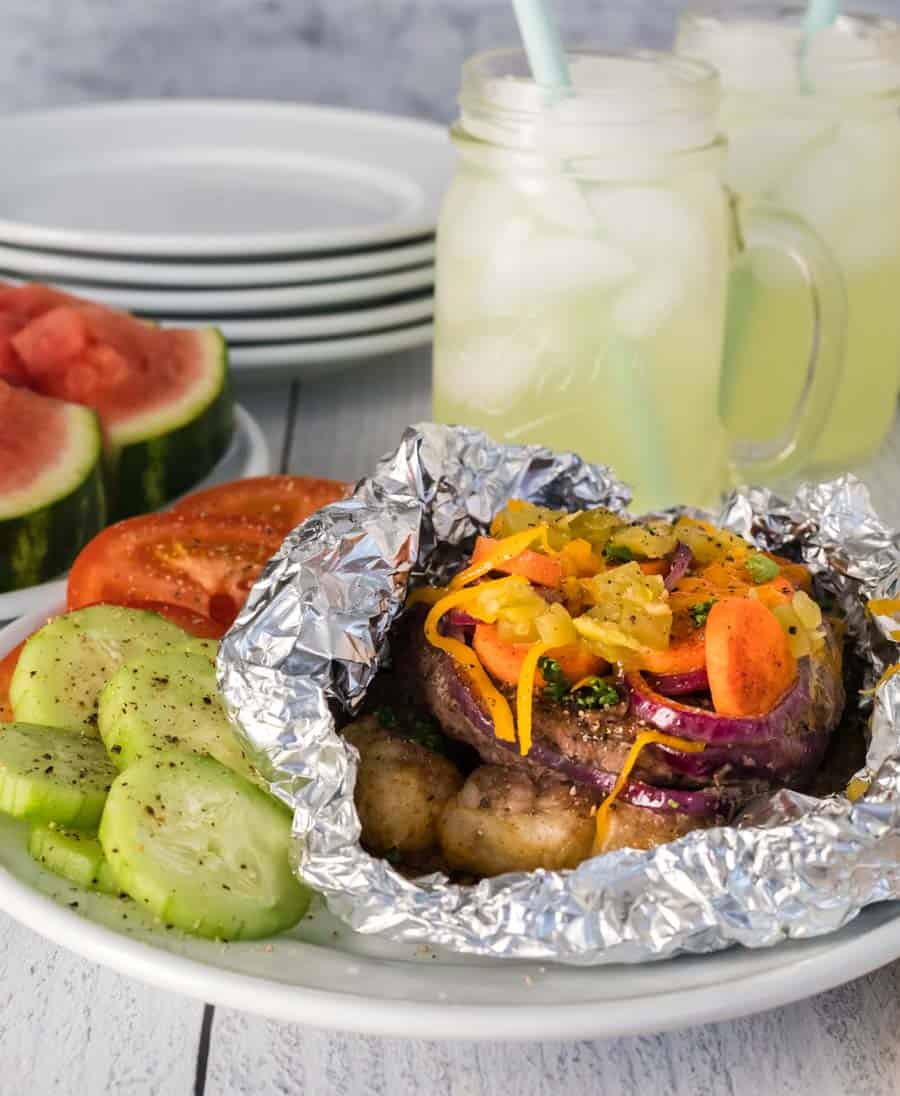 Grilled Hamburger Tin Foil Dinners
Another reason this meal is a hit is the combination of flavors and textures. The burger patty, seasoned with Montreal Steak seasoning, provides a savory and juicy centerpiece. The tater tots add a delightful crunch, while the onions, carrots, and butter create a savory and slightly sweet aroma that infuses the entire dish. Plus, you have the option to customize it with shredded cheese or canned diced green chilis, adding an extra kick of flavor.
The grilled tin foil hamburger and tater tot dinner is incredibly versatile and can be served on various occasions. It's perfect for summer barbecues, picnics, tailgating parties, or even a fun weeknight meal. Whether you're enjoying the great outdoors or just gathering with friends and family in your backyard, this dish is a crowd-pleaser that will satisfy everyone's appetite.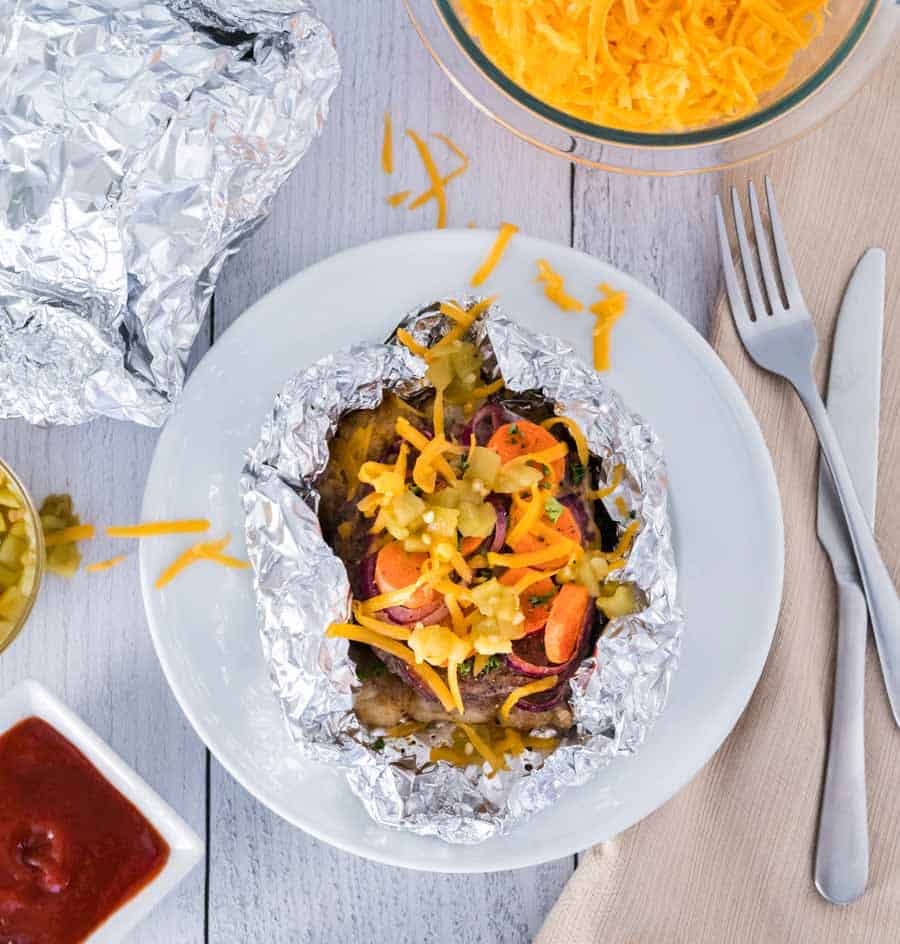 Ingredients
Frozen tater tots
Hamburger patties homemade or store-bought
Onion
Montreal Steak seasoning
Carrots
Butter
Tin foil
Keep scrolling to find a full, printable recipe with a detailed ingredient list.
Recipe Instructions
First, prepare the foil: Lay out 6 pieces of foil, spray with cooking spray.
Assemble the packets: Divide tater tots among the foil. Place a burger patty on top, sprinkle with seasoning. Add onion rounds, sliced carrots, butter, and season salt.
Wrap the packets: Fold and roll the foil to create tight pockets.
Grill the packets: Preheat grill, place packets on medium-high heat. Cook for 10 minutes, flip, and cook for another 10 minutes.
Serve and enjoy: Check burger doneness, remove from heat, let rest for 5 minutes. Eat as is or top with cheese and/or green chilis. Enjoy straight out of the foil!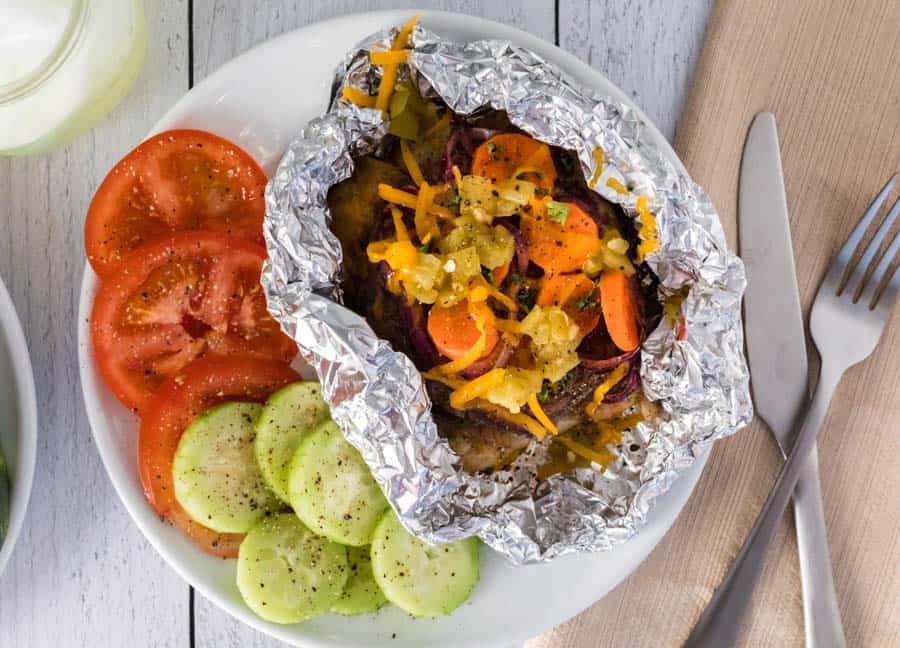 Frequently Asked Questions
Can I use frozen tater tots?
Yes, you can use frozen tater tots straight from the bag. There's no need to thaw them before assembling the foil packets. The heat from the grill will cook them to a crispy perfection.

Can I substitute the burger patty with a different protein?
bsolutely! While the traditional recipe calls for burger patties, you can get creative and use other proteins like chicken patties, veggie patties, or even a grilled portobello mushroom cap for a vegetarian twist. Adjust the cooking time accordingly based on the protein you choose.
Can I cook the foil packets in the oven instead of a grill?
Absolutely! If you don't have access to a grill or prefer to use the oven, you can bake the foil packets at 400 degrees Fahrenheit for approximately 20-25 minutes. Just make sure to check the doneness of the burger before removing them from the oven.
What other vegetables can I add to the foil packets?
Feel free to get creative with your vegetable choices! You can add bell peppers, zucchini, mushrooms, or any other veggies you enjoy. Just make sure to slice them thinly so they cook evenly within the allotted time.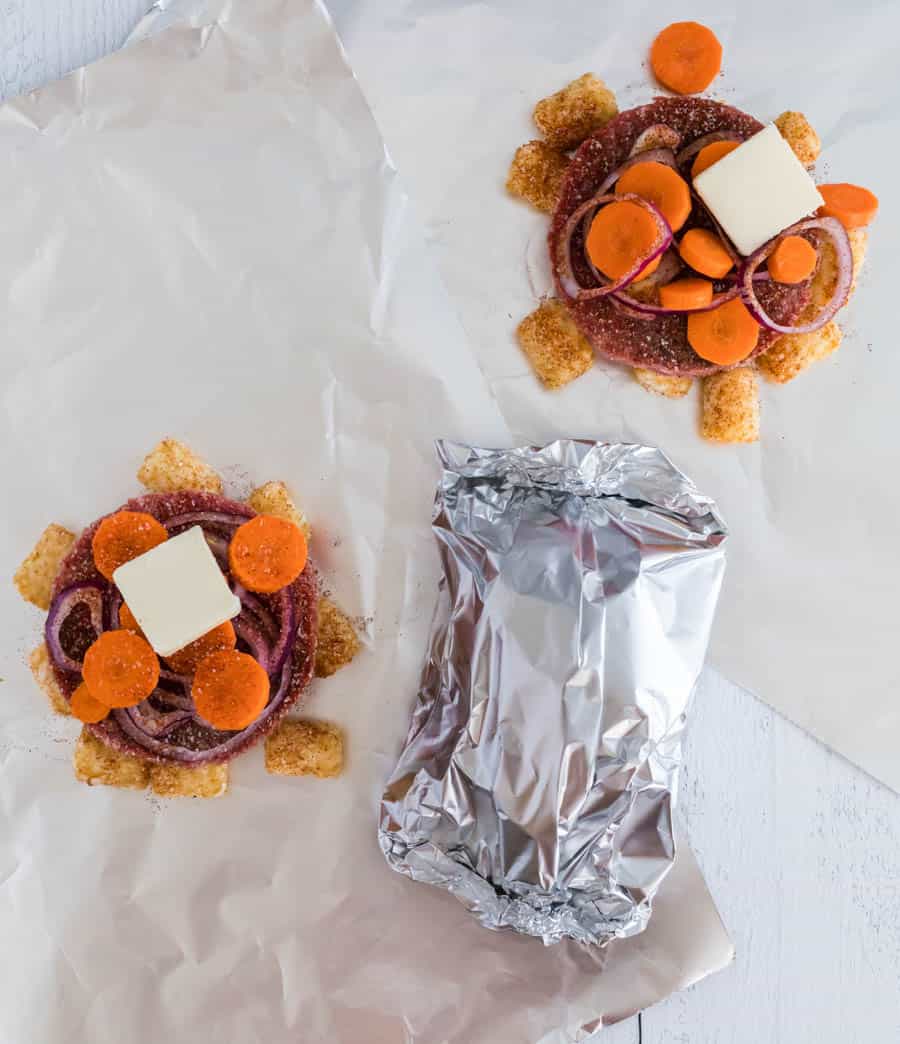 More Recipes
If you've tried this Grilled Hamburger Tin Foil Dinners recipe or any other recipe on Bless This Mess, then don't forget to rate the recipe and leave me a comment below! I would love to hear about your experience making it. And if you snapped some pictures of it, share it with me on Instagram so I can repost on my stories.
📖 Recipe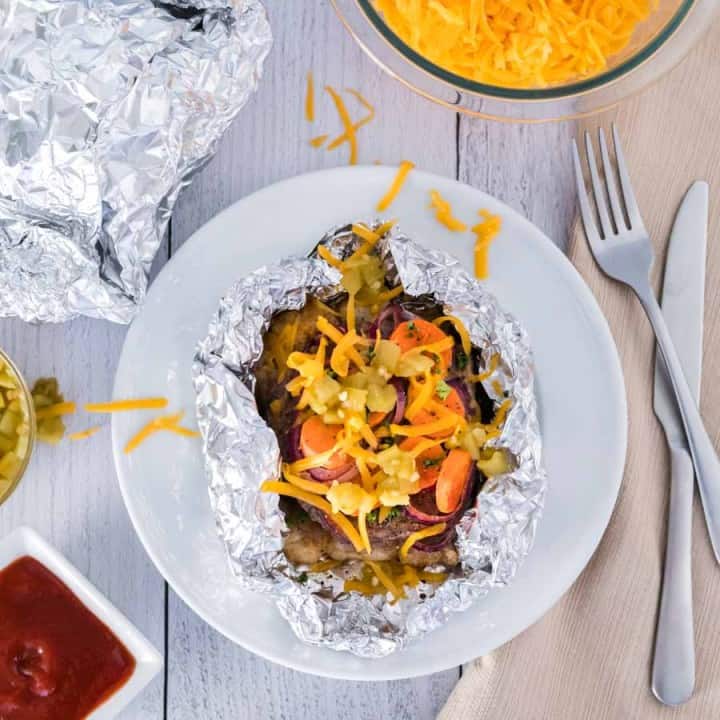 Print Recipe
Grilled Hamburger Tin Foil Dinners
Grilled Hamburger Tin Foil Dinners is a mouthwatering dish that combines juicy burgers, crispy tater tots, and a medley of flavorful vegetables, all cooked to perfection in individual foil packets. It's a simple yet satisfying meal that will have everyone coming back for seconds.
Ingredients
1

bag

frozen tater tots

32 ounces

6

hamburger patties

homemade or store-bought, thawed fully if frozen

1

medium onion

peeled and sliced into rings

1

tablespoons

Montreal Steak seasoning

or similar season salt blend

2

large carrots

sliced into ¼-inch pieces

6

tablespoons

butter

6

pieces

of foil

18 inches long
Instructions
Prepare your foil by laying out 6 pieces on a large work surface.

Spray the tin foil with cooking spray.

Divide the tater tots evenly among each 6 pieces of foil. You'll want them in a single layer all in the middle of the foil.

Place an uncooked burger patty on top of each layer of tater tots, one per piece of foil. Sprinkle well with the Montreal Steak seasoning.

Place a few onion rounds on each burger.

Divide the sliced carrots evenly among each piece of foil, and place them on top of the onions.

Place a one tablespoon pat of butter on top of each stack of carrots. Sprinkle with season salt again.

Fold the two short ends of the foil together (bring the ends to the center and fold and fold them together) and then roll the two other ends of the foil up. The goal is to create a nice, tight pocket for everything to cook in.

Preheat your grill to medium to medium-high heat (about 400 degrees F.).

When the grill is hot, place the tin foil packets on the grill, close the lid and cook for 10 minutes.

After 10 minutes flip the foil packets over, close the lid, and cook for an additional 10 minutes. When I flip them over I like to rotate them around the grill a bit to compensate for any hot spots on the grill.

Remove one foil packet, and open it CAREFULLY (it's hot and steamy in there!) and check the doneness of the burger. If it is cooked through, remove all the packets from the grill. If it needs to cook a bit longer replace the one you checked, and let it cook until the burger is cooked through.

Remove from the heat, and let rest for 5 minutes.

Eat as is or top with some shredded cheese and/or canned diced green chilis.

We typically eat the meal right out of the foil.
Notes
You can sub the hamburger for ground turkey or chicken if you like.
If I'm in a big hurry, sometimes I'll just brown and cook the burger on the stove in a skillet. Then I'll add the cooked crumbled burger to the foil in place of the raw patty. It cooks fast since you aren't waiting for meat to cook. I normally do 7-or-so minutes per side.
Don't want to heat up your grill? You can bake these on a rimmed baking sheet in a 400 degree F. oven for 20 to 25 minutes.
You can also take these on camping trips! I'll prepare the foil dinners ahead of time and keep them in a cooler. ALSO use TWO layers of foil instead of one to help the contents of the foil packet not scrotch. (I don't keep them more than a few hours in the cooler; I'll normally make them the first night we are there since the meat is raw.) Then, make a big fire and let it burn down to coals. Make a bed of coals and place the foil packets on top, top with a few more hot coals. Cook for about 30 minutes or until cooked through. So fun!
The tater tots are just easy and they cook quickly. You can replace them with VERY thinly sliced potatoes and up the cooking time to 15 minutes per side (or 30 minutes total).
SERVING SUGGESTIONS: This is so great with sliced garden veggies, like cucumber and fresh tomatoes sliced on a plate with a little salt and pepper on top (sometimes we like to top the tomatoes with cottage cheese), or serve it outside with slices of fresh watermelon on the rind.
MEAL PREP: You can make the whole foil pack ahead of time; just keep them in the fridge for up to 48 hours before cooking.
Nutrition
Calories:
631
kcal
|
Carbohydrates:
44
g
|
Protein:
20
g
|
Fat:
43
g
|
Saturated Fat:
17
g
|
Polyunsaturated Fat:
6
g
|
Monounsaturated Fat:
16
g
|
Trans Fat:
0.5
g
|
Cholesterol:
90
mg
|
Sodium:
870
mg
|
Potassium:
797
mg
|
Fiber:
5
g
|
Sugar:
2
g
|
Vitamin A:
3771
IU
|
Vitamin C:
13
mg
|
Calcium:
50
mg
|
Iron:
3
mg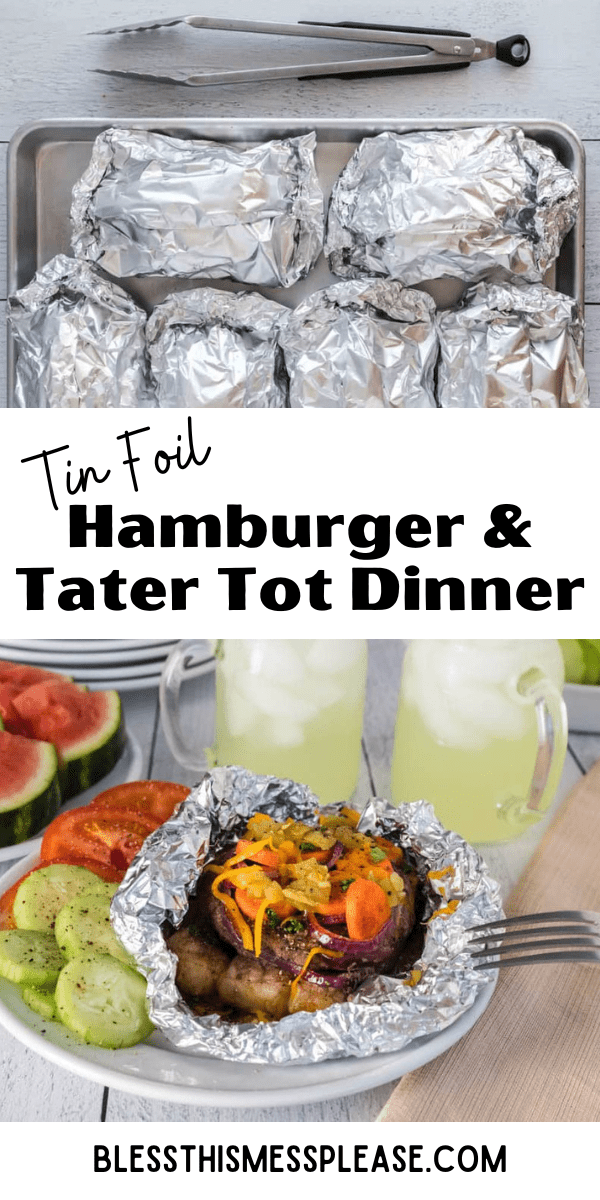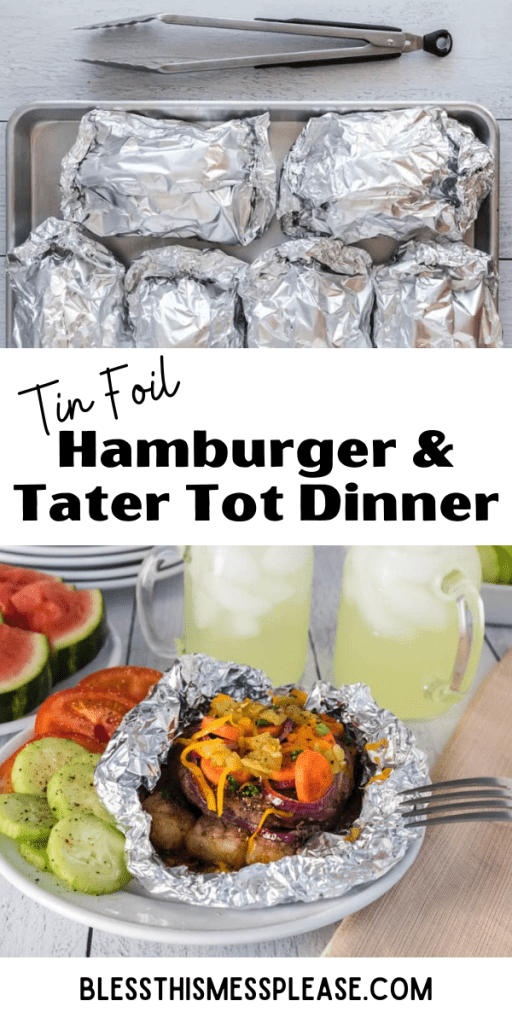 This Grilled hamburger tin foil dinner is a delightful and fuss-free meal that will leave your taste buds singing. With its easy preparation, customizable ingredients, and flavorful results, it's no wonder this dish has become a favorite among casual cooks and outdoor enthusiasts alike.