Let's recap this afternoon, shall we?
I decided it was time to put the fancy new camera to good use and take a new family picture. Thomas and I have never paid to have our family picture taken. We are set-up-a-tripod-and-run-like-a -crazy-person-before-ten-seconds-are-up kind of people. It's a hard life being cheap. Thomas is a Photoshop master and can work his magic to make our picture look great.
So back to this afternoon. After the babies woke up from naps they were snacked, washed, changed into their fancy matching(ish) outfits, shoed, rewashed, and carseated. We loaded stools and props and the tripod into the car and went hunting for a spot. We went to a neighbor's backyard and drove around to a few different fields. I was so excited and pleased with how things were coming out. I was so fancy and even used the manual setting on my camera. I was just sure they were perfect pictures. We bribed the older two with cold hard cash and going out to dinner. The kids were great, the weather lovely, and then we came home tired and hungry to a tornado-just-came-through house.
Thomas sat down to see what things looked like on the computer and they were awful. Completely over-exposed, we are full-on glowing in most of the pictures. Things looked so good on that LCD screen!
All that work, time, and effort for nothing. And I'm out $6 in bribe money, too.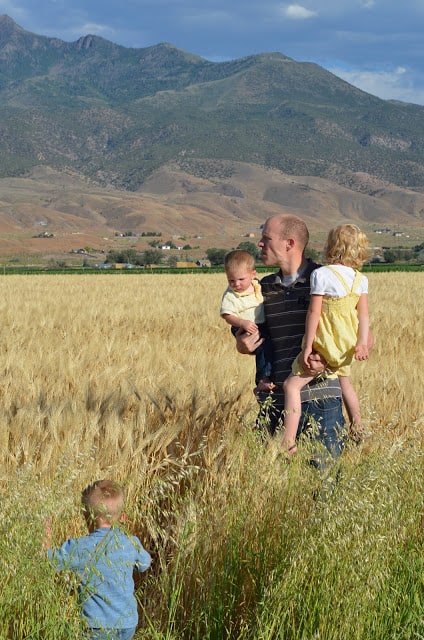 I've now been humbled back to Auto and will only bust Manual out on food pictures.Wouldn't all of us in that wheat field have looked great on my wall? I'm still pretty hung up about the whole thing. My only consolation is that I have to take the kids out to dinner tomorrow; I am always true to my bribes.