Crispy Roasted Potatoes are simply potato cubes roasted at a high temperature that make the most delicious, caramelized and crispy edges.
These are my side dish go-to because they pair so well with basically everything. I make these all of the time to go with meals like sloppy joes, pulled poked, and even grilled or slow cooked meat.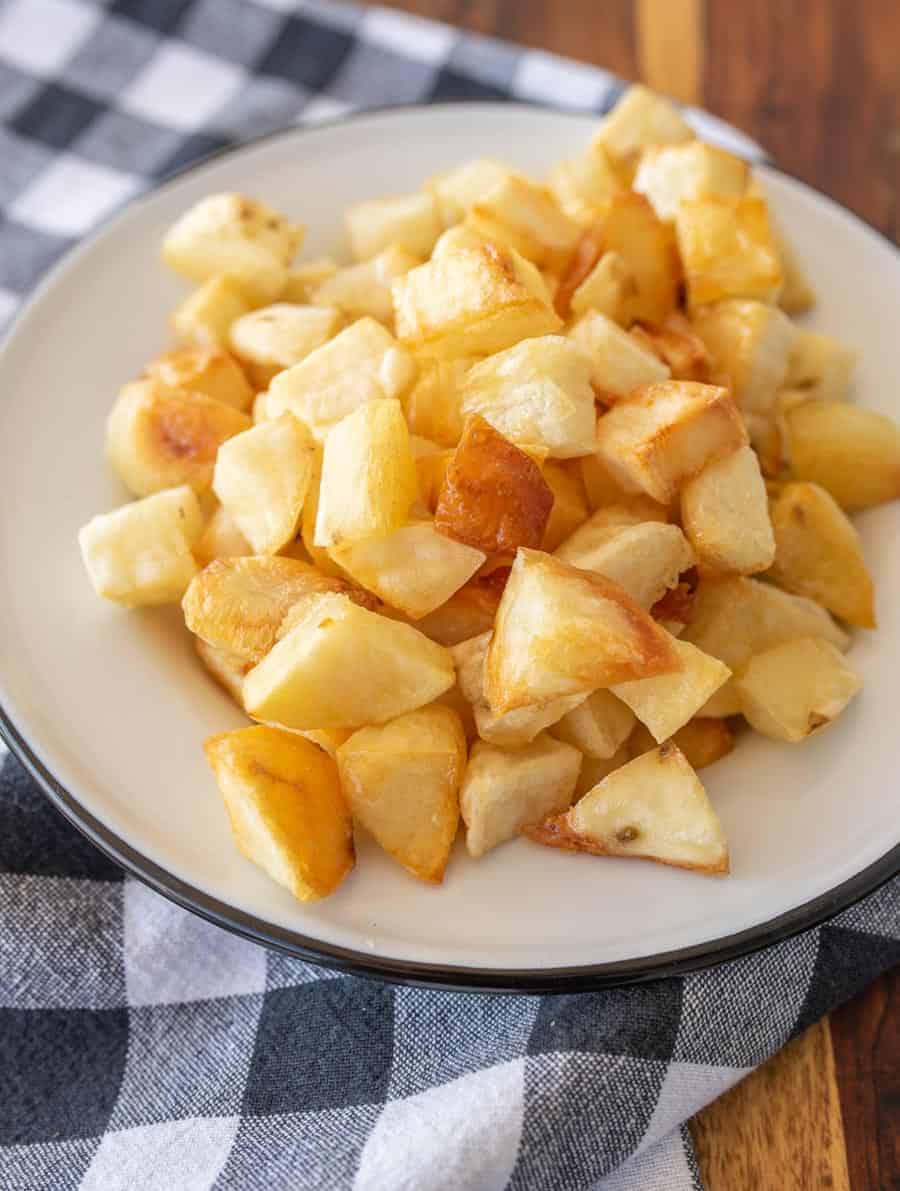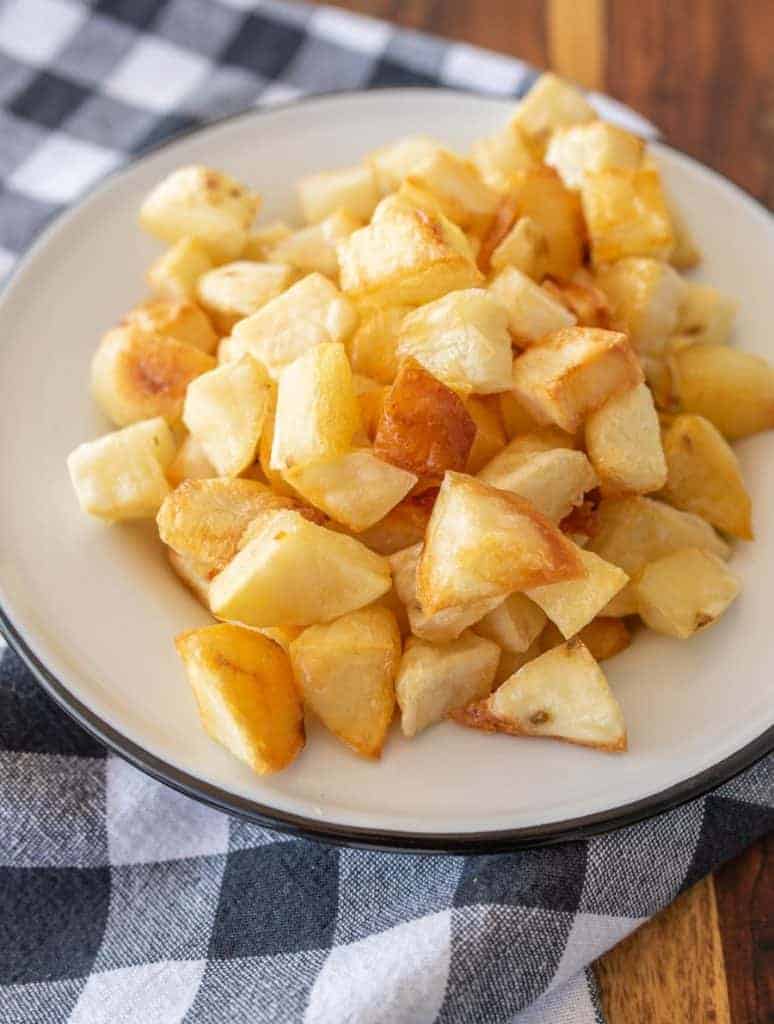 Crispy Potatoes
If you are ever having a hard time thinking of side dishes, make these! Crispy potatoes are my family's favorite simple side ever. The key is plenty of oil, a high temperature, and stirring the potatoes every 15 minutes.
A trick of the trade is not to crowd the potatoes on the sheet pan. A standard size sheet pan will hold roughly 2 pounds of potatoes while still allowing them space. If you try to roast more than that, you risk some soggy taters and aint nobody want that!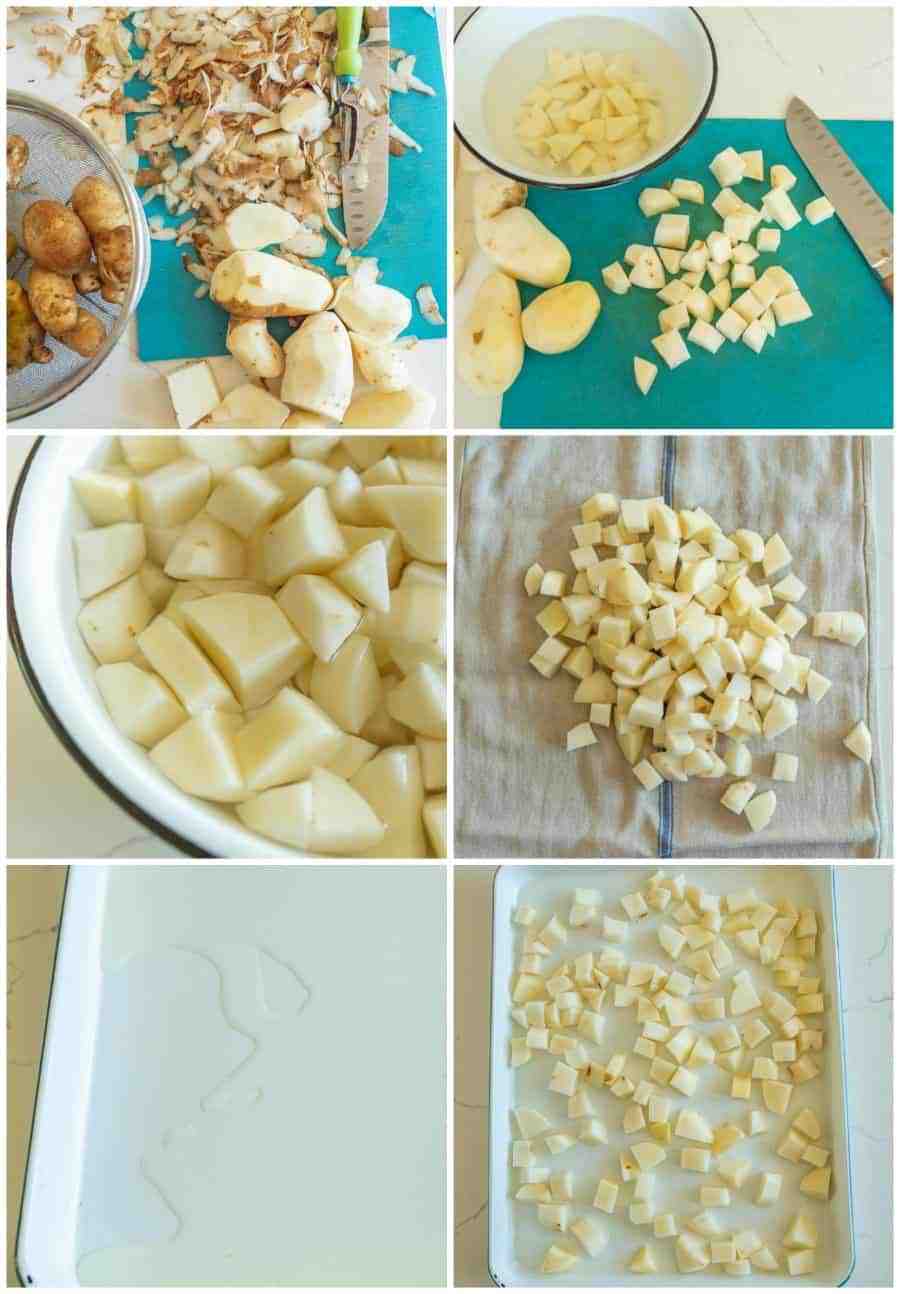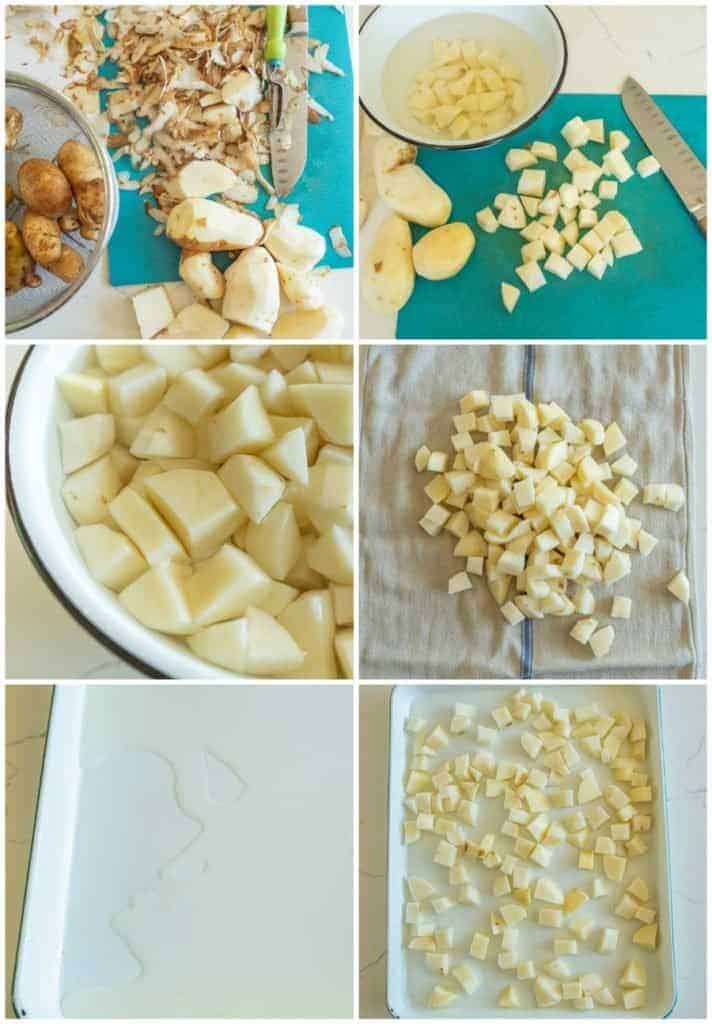 Steps for Roasting Potatoes:
Peal and cube your potatoes, taking care to make them as even in size as you can.
Rinse the potatoes off and then let them soak in water.
Drain the potatoes and then pat them dry.
Place them on a baking sheet that has plenty of oil on it.
Roast at a high temperature, stirring every 15 minutes, until cooked crisp.
Serve hot!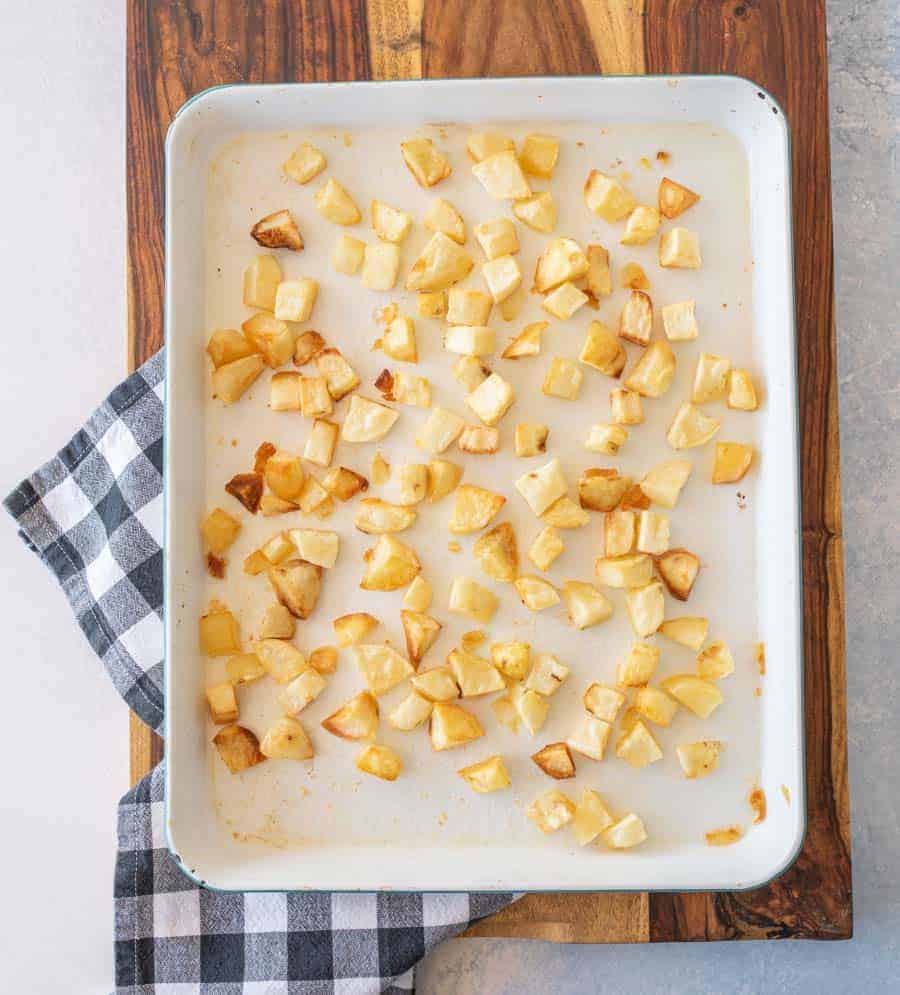 When roasting potatoes, should I put them on tin foil?
Nope, I've found that it's easiest to stir the potatoes and to get a crispy bottom to them if the potatoes are touching the baking sheet directly. Using foil, parchment, or a baking mat won't allow the potatoes to get as crispy as they do directly on the pan.
Which is the best oil for roasted potatoes ?
I like to use a light oil like canola or avocado oil. They don't add too much flavor to the potatoes but still cook them up nice and crispy. Olive oil is also a great option though you'll taste more of the oil because it has more flavor.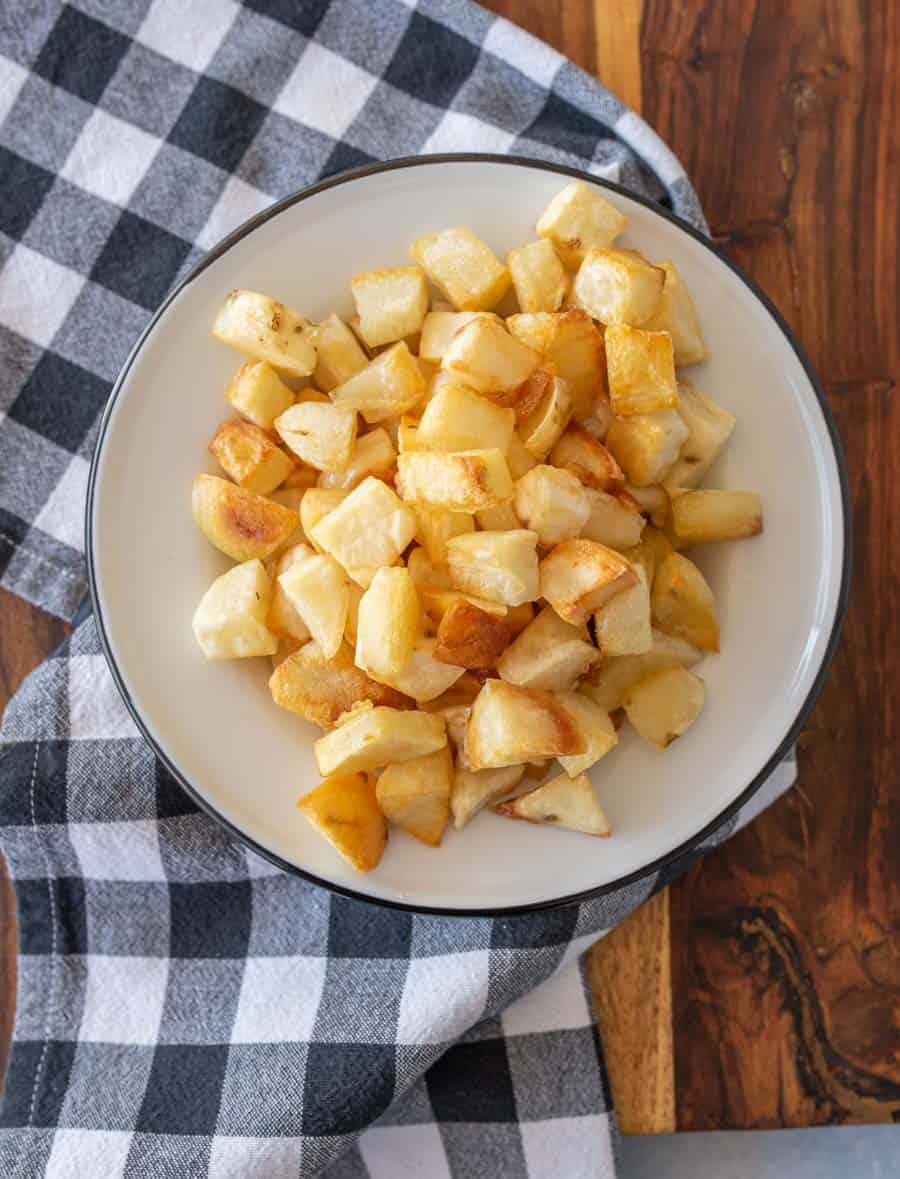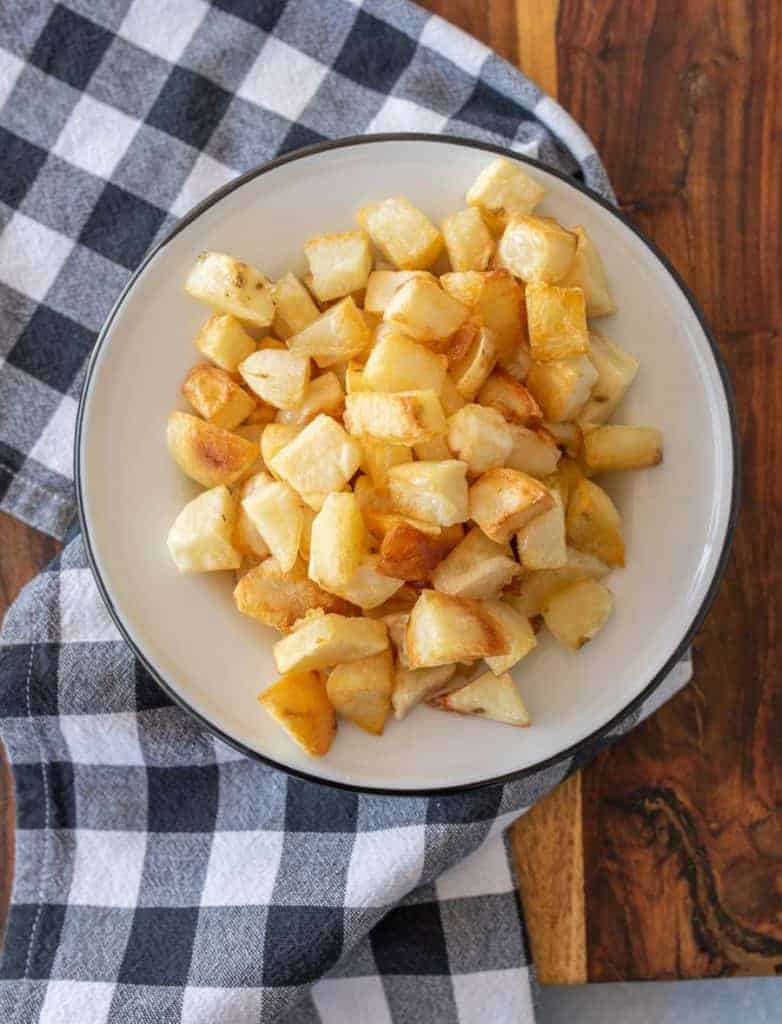 What to serve with crispy potatoes:
Print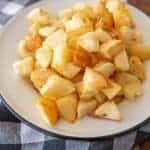 Extra Crispy Oven Roasted Potatoes
---
Author:

Total Time:

1 hour 5 minutes

Yield:

Serves 6

Diet:

Gluten Free
Description
The easiest crispy roasted potatoes are made with potatoes, oil, and salt, that's it! They are the perfect side to so many meals and so good!
---
5

or

6

medium russet potatoes, about

2

pounds

5 tablespoons

vegetable or canola oil

½ teaspoon

kosher salt
additional salt to taste
---
Instructions
Scrub your potatoes clean and then peel the potatoes and cut them into even 1 to 1.5 inch squares. Make sure they are all close to the same size.
Put all of the potatoes in a medium bowl. Fill the bowl with hot tap water and let the potatoes soak for 10 to 30 minutes.
Drain the potatoes and then pat them dry with a clean dish cloth or paper towels.
Wipe the bowl out so there is no water left in it. Put the dry potatoes back in the dry bowl and toss them in 1 tablespoon of oil.
Preheat the oven to 450 degrees F. On a large, rimmed baking sheet add the remaining 4 tablespoons of oil and spread it all over the pan until it is completely coated (a pastry brush works well here).
Sprinkle the salt on the oiled pan.
Place the potatoes evenly on the pan taking care to not crowd them too much.
Cover the pan tightly with foil and bake for 15 minutes.
Remove the foil, stir the potatoes and bake for another 15 minutes.
Remove the potatoes from the oven and stir a second time and then bake for another 15 minutes or until the potatoes are golden brown and cooked through.
Be sure to use a thin metal spatula while turning so that you can cleanly remove them from the bottom of the pan and not peel the crispy potatoes bottoms off of the rest of the potato cube.
Remove the potatoes from the oven, stir another time and lightly salt again. Stir to combine.
Serve hot.
Notes
If your potatoes are getting too hot or starting to get too dark on the bottom between stirring, feel free to lower your oven temperature to 400 degrees F. at any point in the cooking process.
Cutting your potatoes into as even sized pieces as you can helps to ensure they cook evenly.
Prep Time:

20 min

Cook Time:

45 min

Category:

side dish

Method:

bake

Cuisine:

American
Keywords: roasted potatoes, how to roast potatoes, crispy roasted potato cubes, crispy roasted potatoes
Which potato is best for roasting?
I like using Russet and Yukon gold for roasting purposes because they crisp up nicely.
What temperature do I roast potatoes at?
The key is high heat. You will want to set the oven to 425degrees F. for the best outcome. Oven temperament does vary a bit though, so if you feel like it's going to burn your potatoes before they are cooked through feel free to try roasting them at 400 degrees F.
How to make Taco Bell crispy potatoes:
If you are like me, you are totally sad that Taco Bell stopped making crispy potatoes and potato soft tacos. These are an excellent make-at-home option! When you add the dried potatoes to the dry bowl and toss with 1 tablespoon of olive oil, add 1 teaspoon smoked paprika, 1 teaspoon chili powder, ½ teaspoon onion powder, and ½ teaspoon garlic powder to the bowl and toss the potatoes in them too. This additional seasoning gives them that "fiesta" flavor! Bake as directed. These roasted potatoes make amazing roasted potato tacos, just like Taco Bell.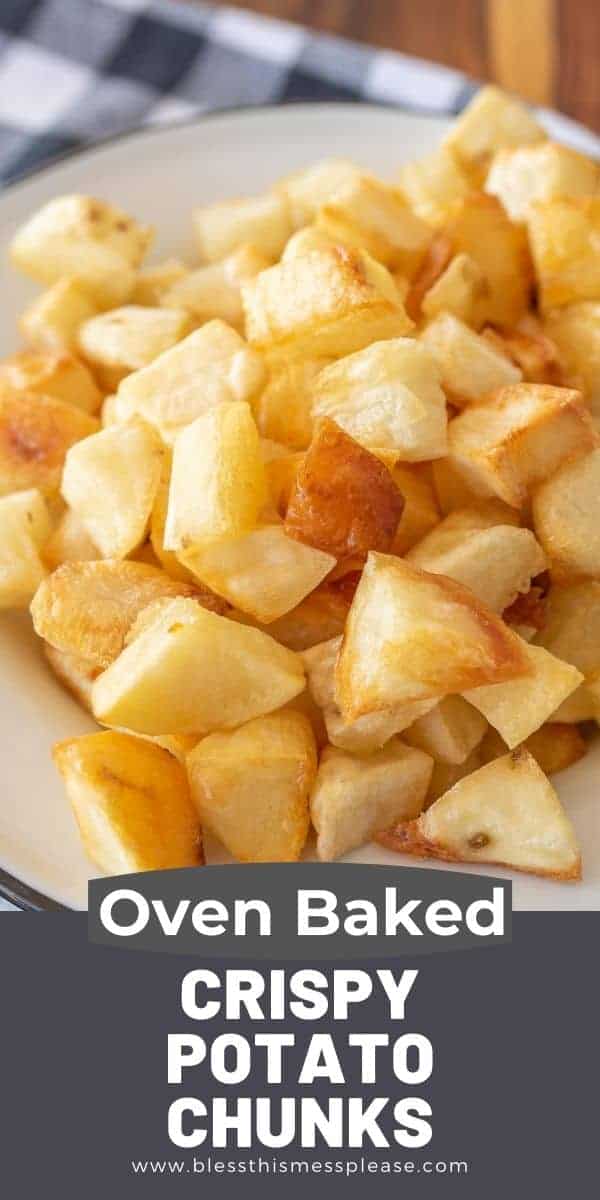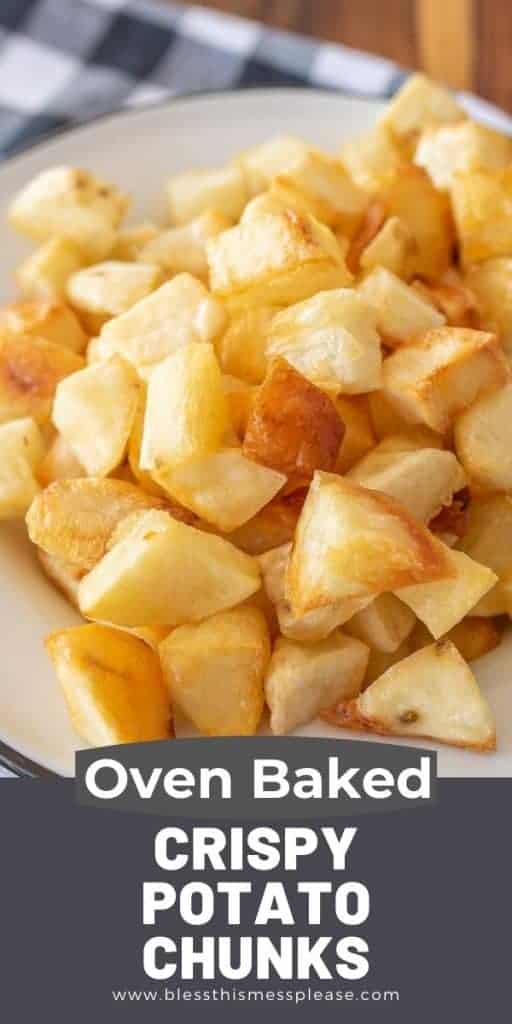 More Potato Recipes:
Crispy Roasted Potatoes are a tried and true recipe in our family. I know you will enjoy these alongside many different main dishes.