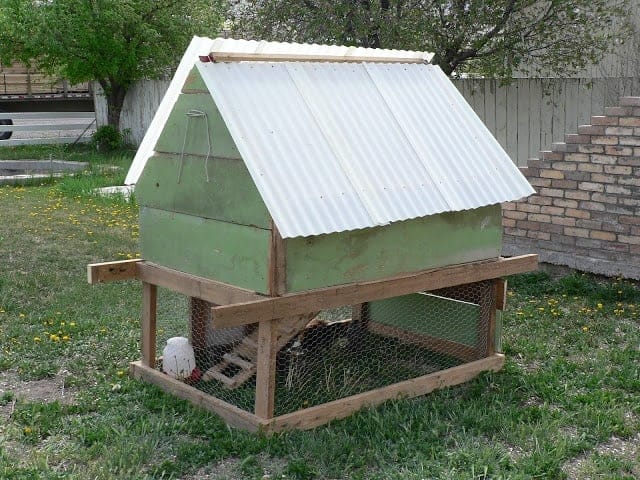 Here's a recap of all the amazing things that happened this week!
I finally finished the chicken coop. It took me days, but it's done. The ladies spent their first night in there last night and I think they love it; I know I do. Expect a detailed post on this later in the week.
They love having access to the ground and they like to take dirt baths. It's seriously one of the cutest/funniest things ever. I could watch the chickens for a long, long time. My kids agree: they will go outside and just watch the birds. I'm so pleased with how the coop turned out.
Lilacs smell so good.
Our friend Mr. Toad who is also a resident of the yard. I love my boy's chubby dirty hands.
Thomas and his dad worked on texturing the walls yesterday. This is Terry mixing mud with water with a giant whisk attachment on a drill. Next time I need to make gobs of cupcakes you better believe I'm grabbing a five-gallon bucket and this tool.
Thomas hammin' it up for a picture with the texture do-hicky. He ain't afraid of no ghost!
Seriously people, doesn't that look like cake batter? Mmmm. I'll lick the bucket.
So they got everything textured and then they cleaned and cleaned and cleaned. The floors look amazing! They mopped up all the white drywall dust, mud splatters, and texture over-spray to prep for painting. The floors haven't looked so good since January when we started hanging the drywall. 
Thomas and I finished cleaning and put the babies to bed early and I started priming!!! (I had to stop myself from adding 237 exclamation points). I'm so excited! We have had drywall up since January. Everything has taken forever and a day and they were projects that I just couldn't do. I can paint though. My goal is to get everything primed and painted this week. I don't care if I work myself into a coma; it will get done. I love being able to work on the house again and feel like I can control something. I'm not good at dealing with situations when I can't help or control. 
Not only did I finish my coup and prime, but I found out I got accepted to do some guest posting on another HUGE blog. I'm beyond excited and I'll let you know more details soon. I have to send her a picture of myself and I don't have any of just me. I made Thomas take a few after church today. This was the best one from the five minutes he wanted to be my photographer. I like it fine, but is it too grainy? I can try again… What do you think? I want a good picture for sure! 
I'd love your input on the picture. I also need an introduction paragraph. It seems easy but isn't! How would you describe me and my blog in a way that would intrigue people enough to jump from her site over to mine. I feel like this is a massive opportunity and I really need to shine. I'd love all the help I can get. 
Thanks so much, really.