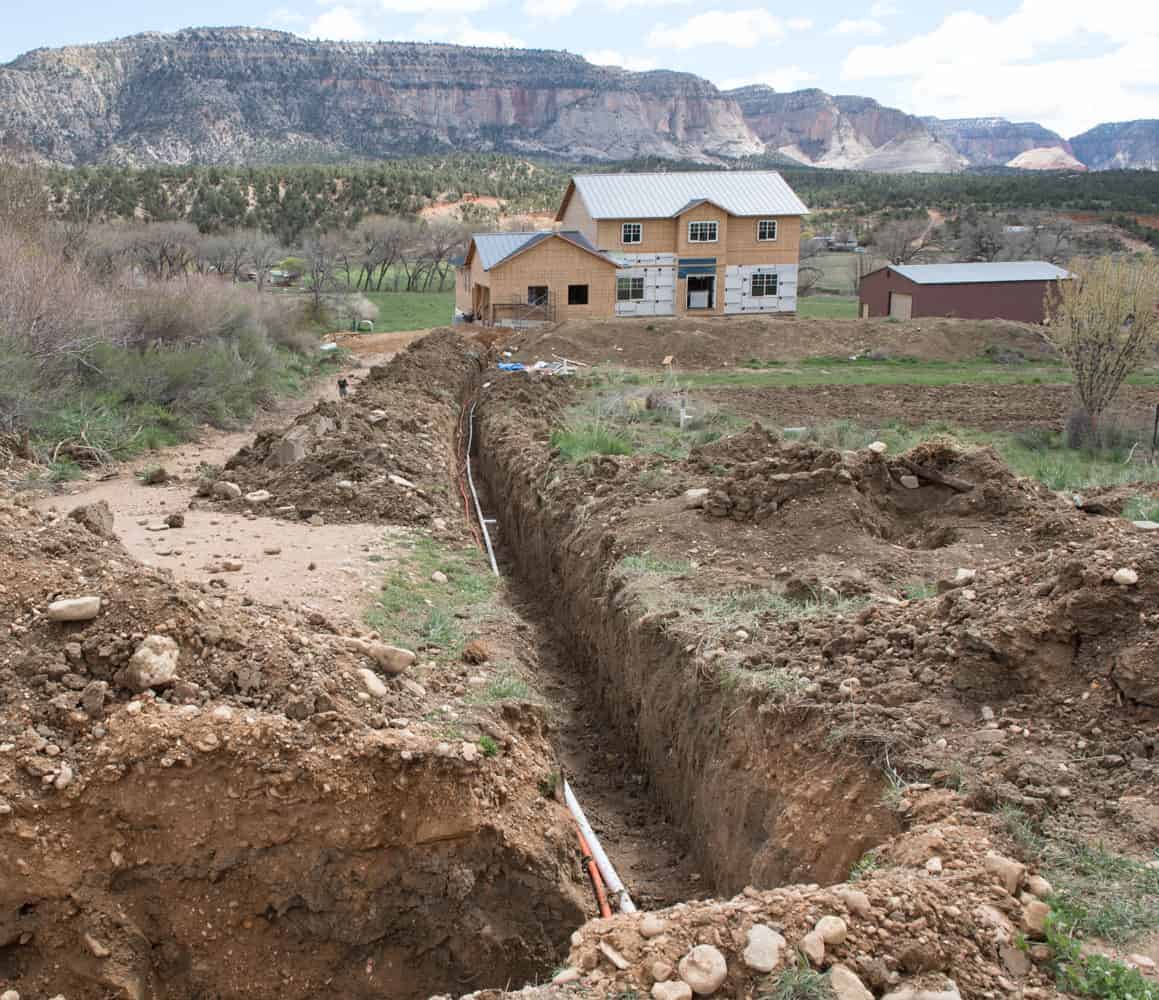 It's time for a house update and spoiler alert: there's a video to go with it!
My brother made this video for me as a surprise! I'll be honest, it made me tear up. Sometimes it feels like we will never get moved in. Watching really put all of the work that we have done into perspective. You guys, we are building a whole house! AND IT'S COMING TOGETHER!!!
So when we left off last we were working on our fancy triple-pane window installation (they are so nice). Now we have finished our stairs, installed all the insulation, framed almost all of the walls (just deciding where the pantry goes and where the wall between the laundry room and mud room go left to do!), plumbed and wired the upstairs, completed installing the drywall upstairs, and have made lots of decisions for the downstairs. We are currently running water and fiber-optic lines to the house, plumbing and wiring the main level, making kitchen plans, and picking major appliances/finishes/cabinets/flooring/light fixtures. I dare say we are heading into what I would call, "the fun part"!
How is it April already? The goal we set when we stated building 16 months ago was a December 2017 move in, that means we have just 8 months left before moving in. We are still on track for that. Yay!
I've done some budget shifting and have decided that I'm going to spend the money and build my dream kitchen. I live in my kitchen! It's where I raise my family, it's where I work, it is truly the heart of our home. I've decided to not worry about buying cabinets for my mud room, laundry room, or office so that I can put those funds into the kitchen. After we get moved in, I can finish those rooms a little at a time. I cannot wait for this kitchen to come together. It's going to make Joanna Gaines proud!
Here's some of the pictures I've taken to help you see some of our work.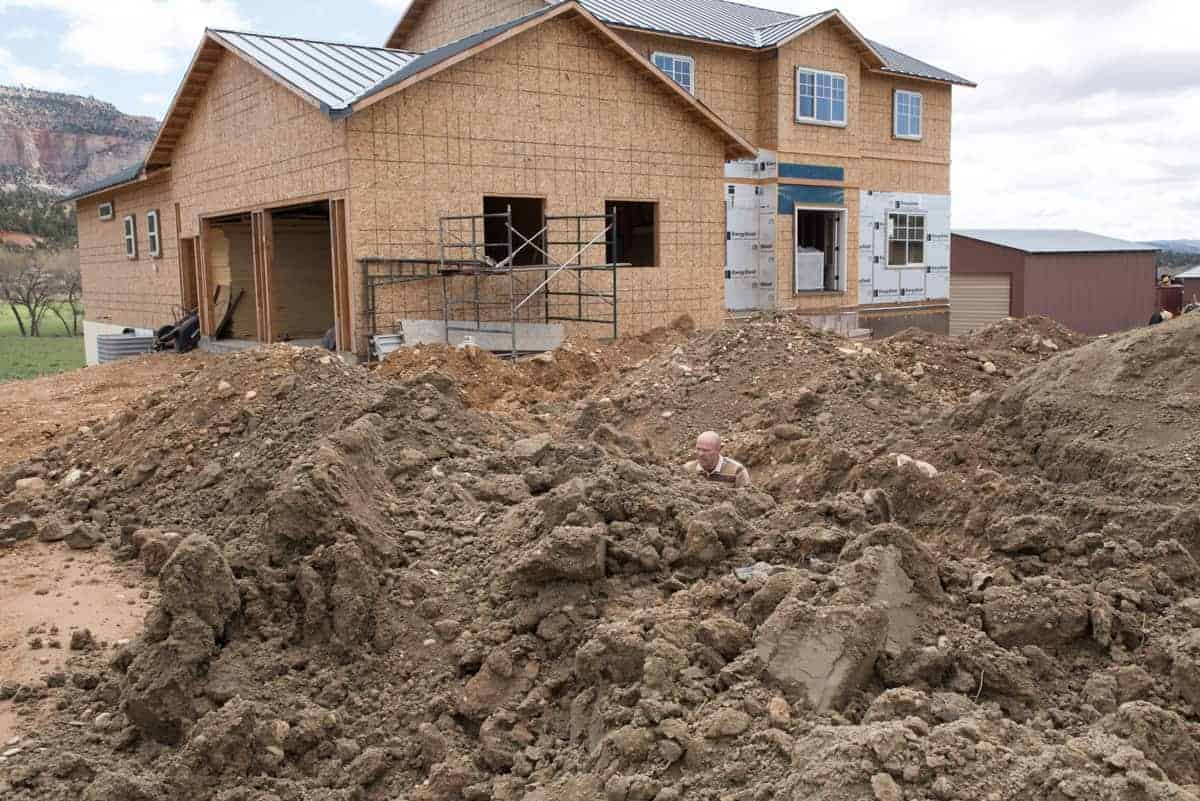 I spy with my little eye... Thomas! Can you spot him in the picture above. Last year we installed the irrigation, sewer, and power lines. To finish off the remaining utilities, we needed to run water and fiber optic lines - which was no small task (500 feet of 3-4 foot deep trench) and it's one we needed to wait until spring to do. We had to run the lines from the main lines along the highway which meant that we needed to cross a commercial driveway as well as the only driveway to my in-laws house (we are building next door to them). So Thomas has spent parts of about 10 days total but as of a few hours ago, our lines are official in and the hole is filled back in. Hooray for having water on the property! We've had irrigation but now we have drinking water and plan on finishing the upstairs bathroom quickly so that we'll have a toilet too. It's the little things...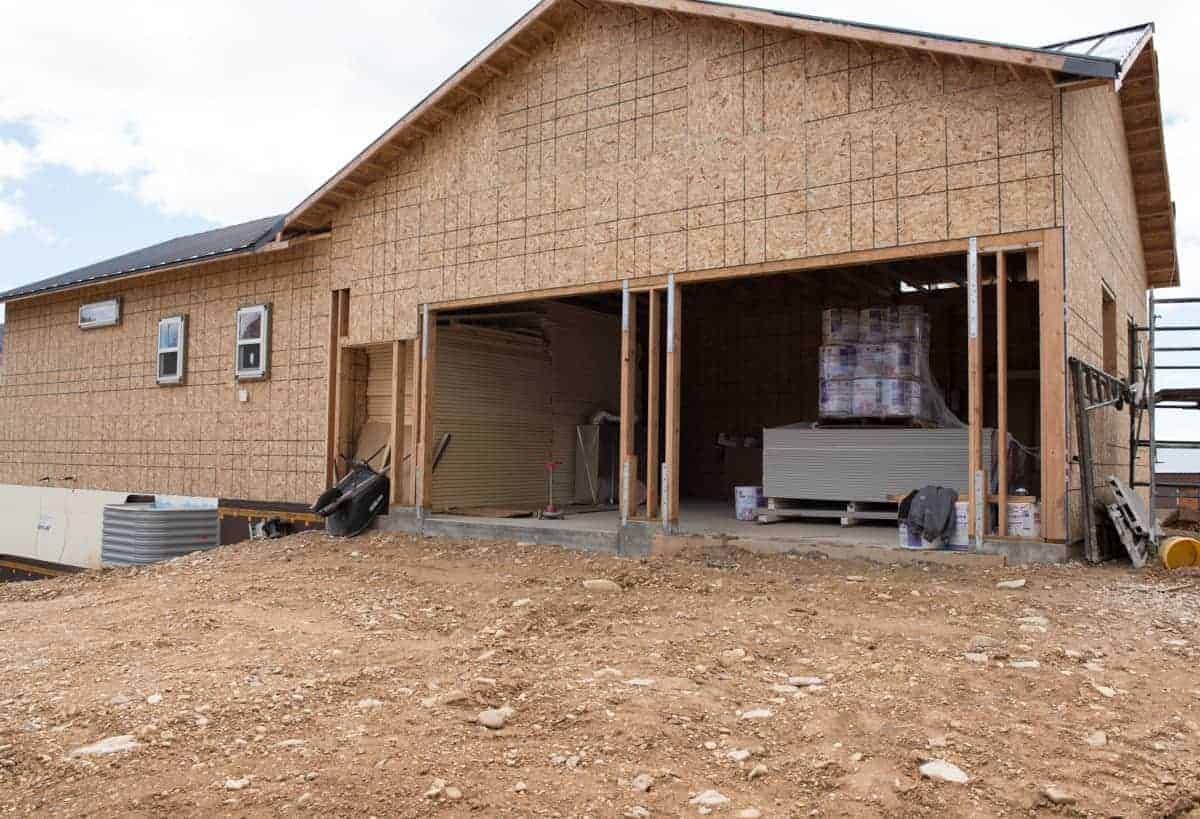 Having a garage, just for the building process, has been so useful. I can't image what it'll be like to have a place to park our cars out of the weather (I've never had a garage to park in before!). The garage is keeping the foam for the outside of the house, drywall, doors, and lots of other things dry.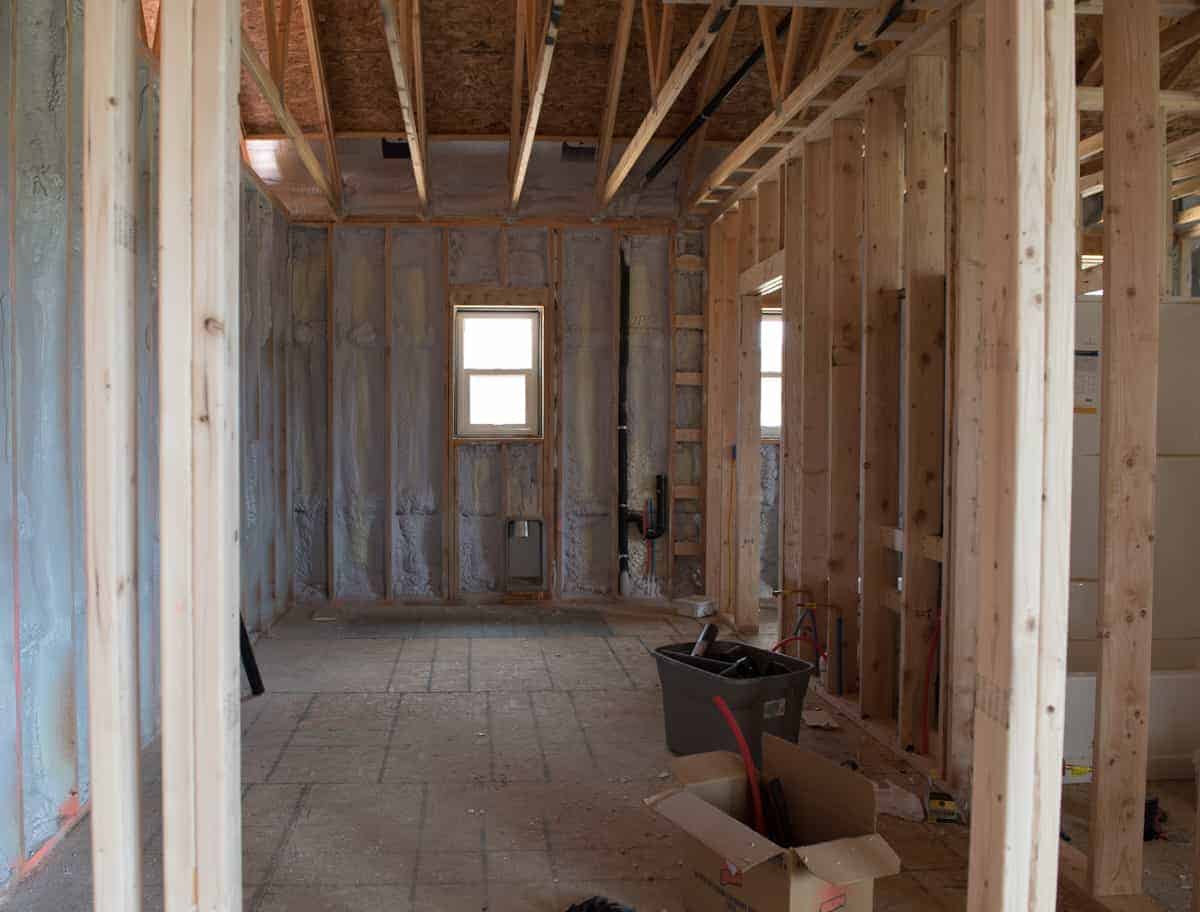 Here's the mud/laundry room in all it's beauty. I'm planning on a wall about half way down this room to cut it in half. The room closest to you will be the mud room. I'm planning on cubbies/shoe space/coat hangers on the right wall and built-in shelving/pantry space on the left. It'll be about 11 feet long. My kitchen doesn't have a huge pantry, so this is where some of that overflow will go. My washer and dryer go along that back wall. I'm planning on a folding table, somewhere to stack baskets of laundry, and a utility sink in that room. They'll be separated by a wall with a door; I thought it would be easier to keep it all clean/organized if they were their own space. The door into the mud room will have a hanging barn door on it that I can slide shut when company is coming but plan on leaving open most of the time. I'm not going to lie, I'm so excited to have space to do laundry, organize coats and shoes, and store canned goods. I'm a homemaker and this is the kind of stuff I've been dreaming of for years. Hooray for functional spaces!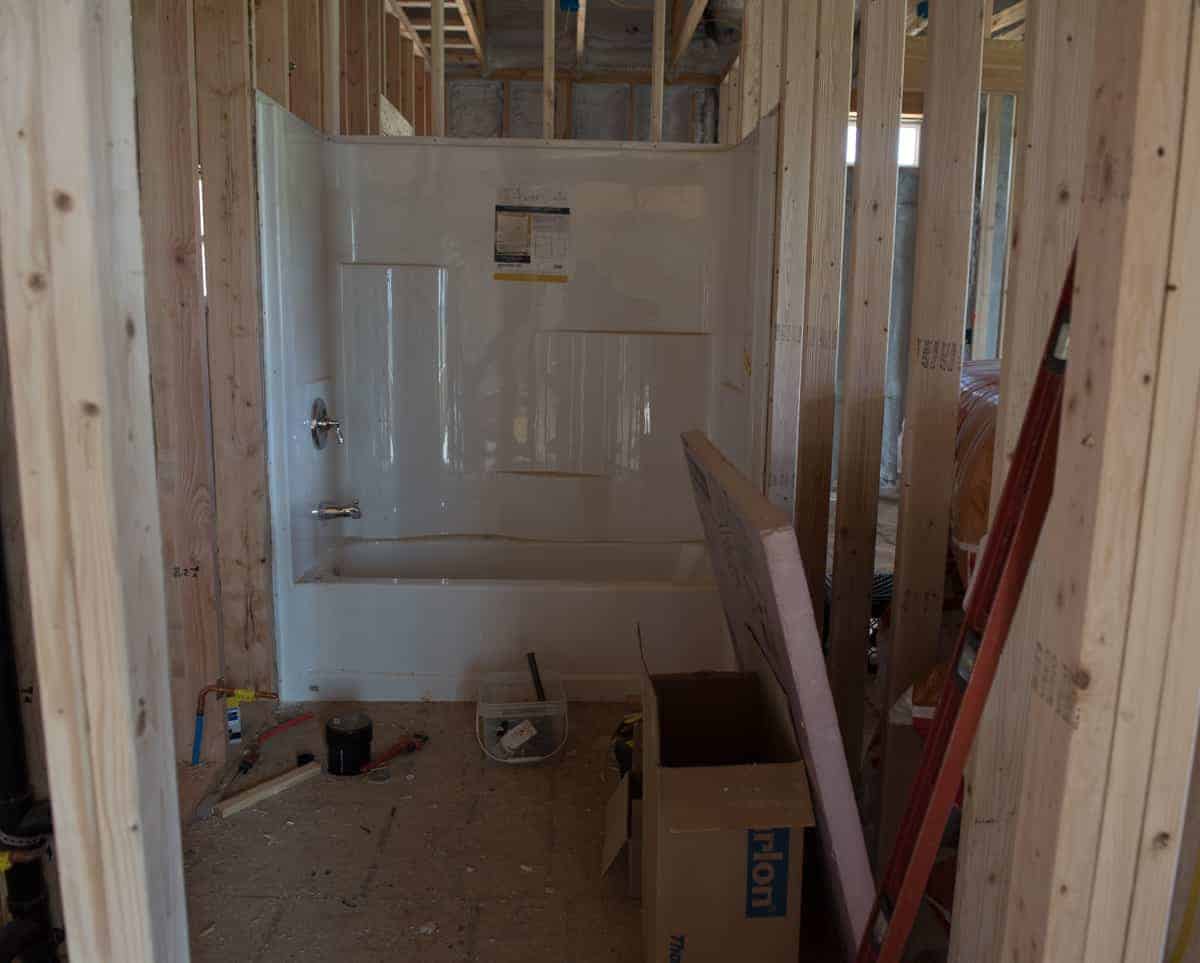 The door right past the mud room is the main level bath. It's not huge so I'm going to make it so pretty. I feel like this is my bathroom to kind of be "trendy" with. If I don't like it in a few years, I'll change it. I'm planning on a vessel sink on an open wood vanity, black and white tile on the floor (I'm looking for something that reminds me of a quilt), and maybe even some wallpaper.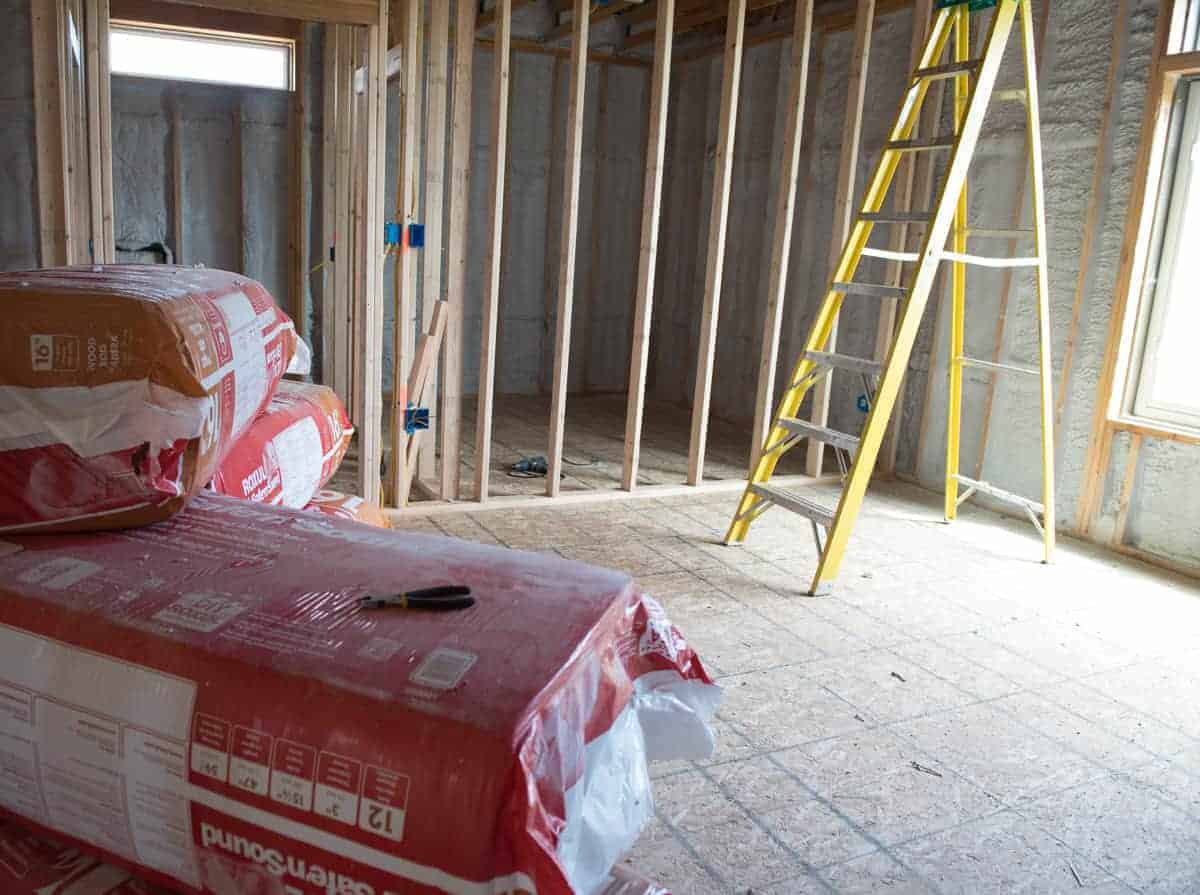 At the end of the hall from the bathroom is my bedroom. My bed will go against the wall that you can see and the window overlooks our field and the mountains; behind it is my closet (closet dreams do come true!). The ceiling is just a bit vaulted in the middle and I'm hoping to do some kind of rustic beam accent to it.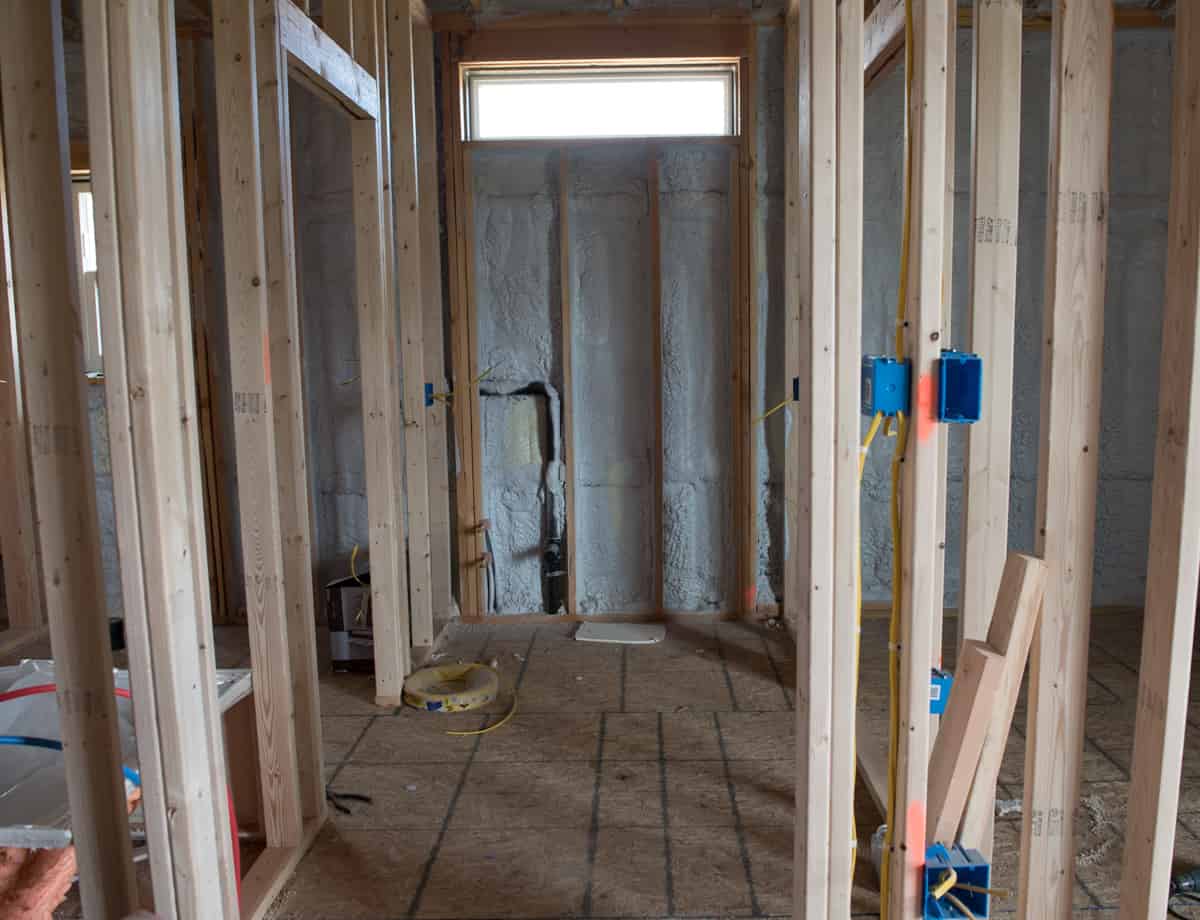 From my bedroom you go into my bathroom. This is where my vanity and mirror will be. The left is the tub/toilet room and to the right is my closest. This space is going to be light and white. I bought a white vanity and plan on small hexagon marble tiles for the floor. The feel I'm going for is clean and bright.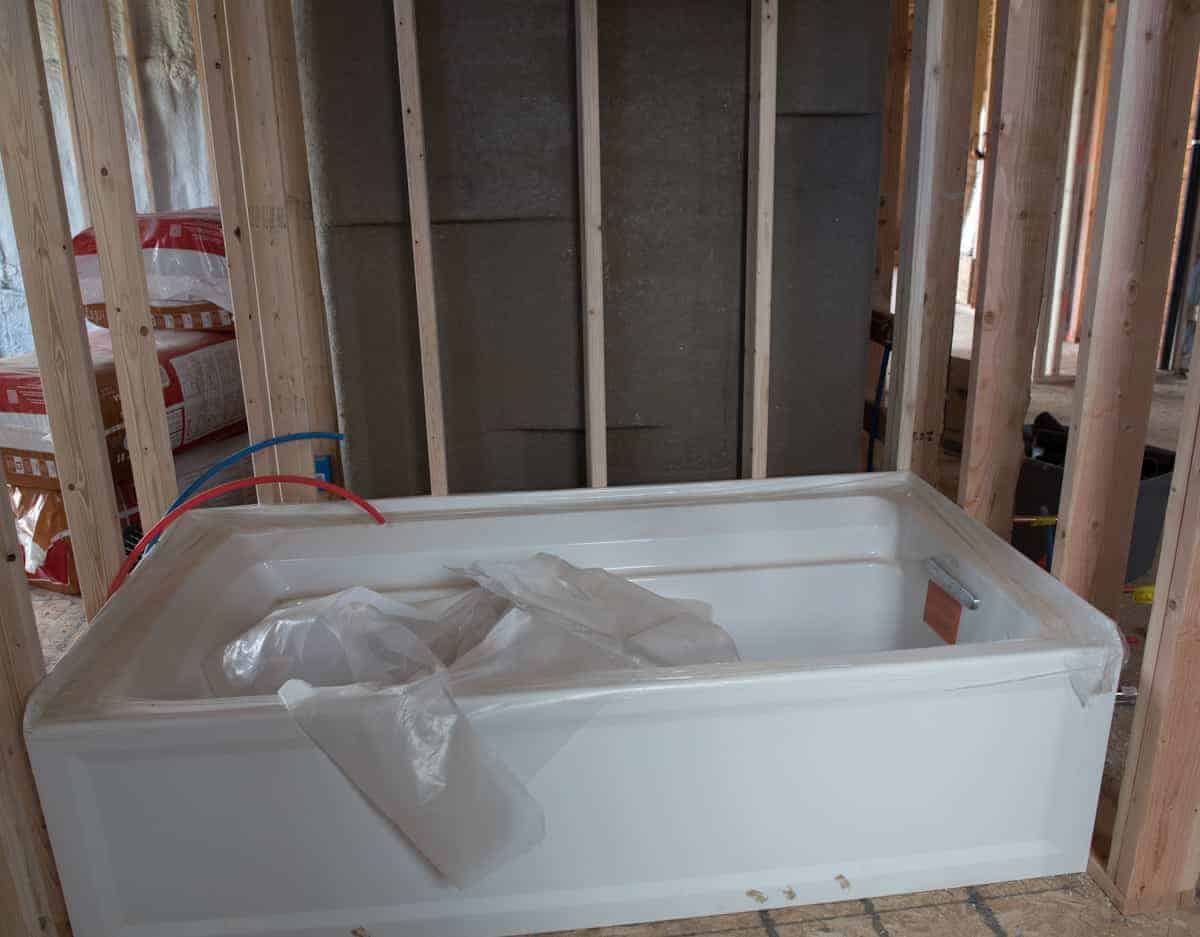 I got a bathtub that is 1 foot longer than normal and about 4 inches deeper, just what this 6 foot tall woman needs in her life. It's not fancy but I'm going to love it and use it often. We're doing a cultured marble shower surround here and a shower head on both ends of the tub. Perks of building a house yourself, you can do things that might not be traditional but you know you'll use and love. This bathtub backs up to the tub for the main level bathroom. Through this room I can enter my laundry room. So we just made a full loop through this end of the house.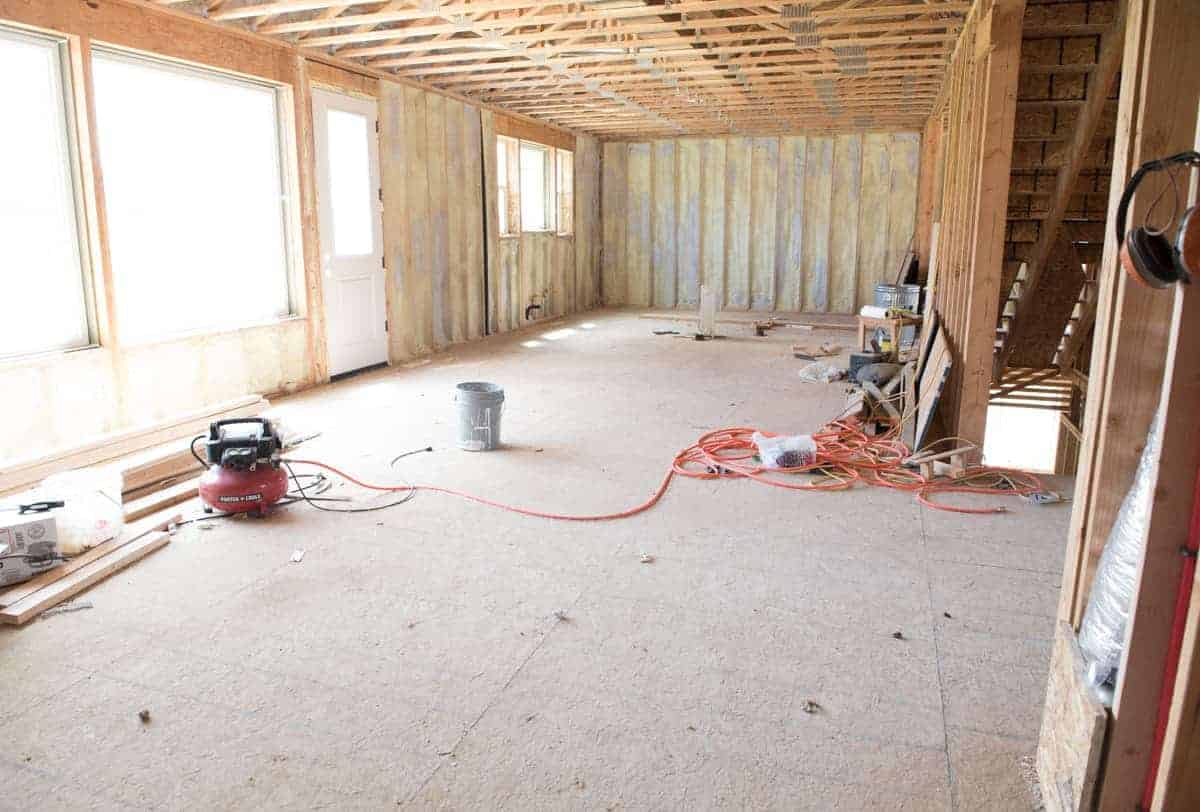 Opposite of the laundry room is the main part of the house. This if the living room leading into the kitchen. There will be a fireplace on the that very far left corner of the room that you can't quiet see (at the end of the windows). We just bought the fireplace insert and now have to decide what we want the rest to look like (one thing at a time, and that's not all that high on my list right now).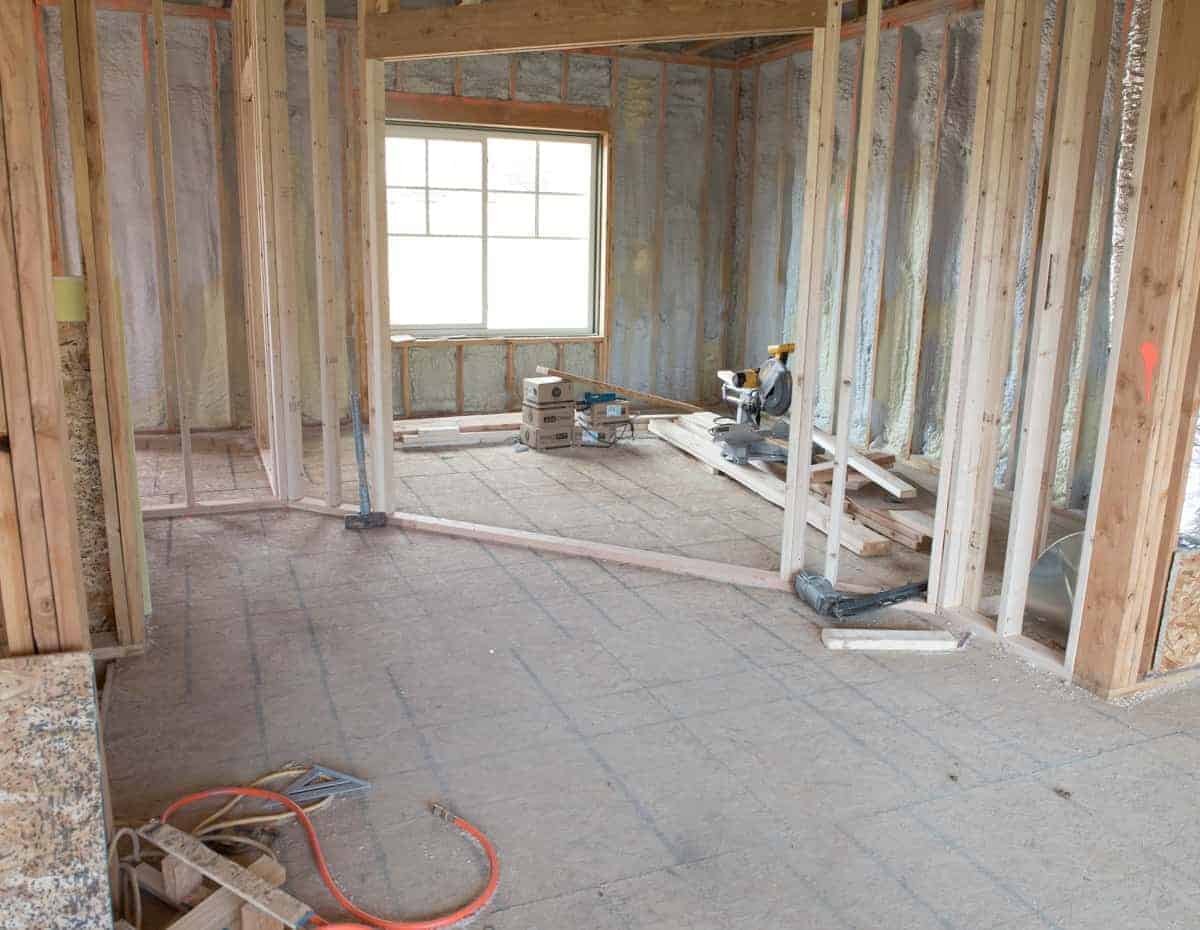 My office is framed! The more I think about it though, the less I'm sure this will be my office. I work so much in my kitchen that I might just store my equipment for video in the big closest and make this a toy room. I always said that I wanted a big toy room off the living room with double doors I could see through. That way the kids could play and we might even shut the doors, but I'll know what's going on. Right now I'm planning on a toy room in the basement. The baby is still pretty young (one) so my plan right now is to move in and see how we want to use the space. Maybe it'll be a toy room or maybe it'll be my office. I'm not sure yet!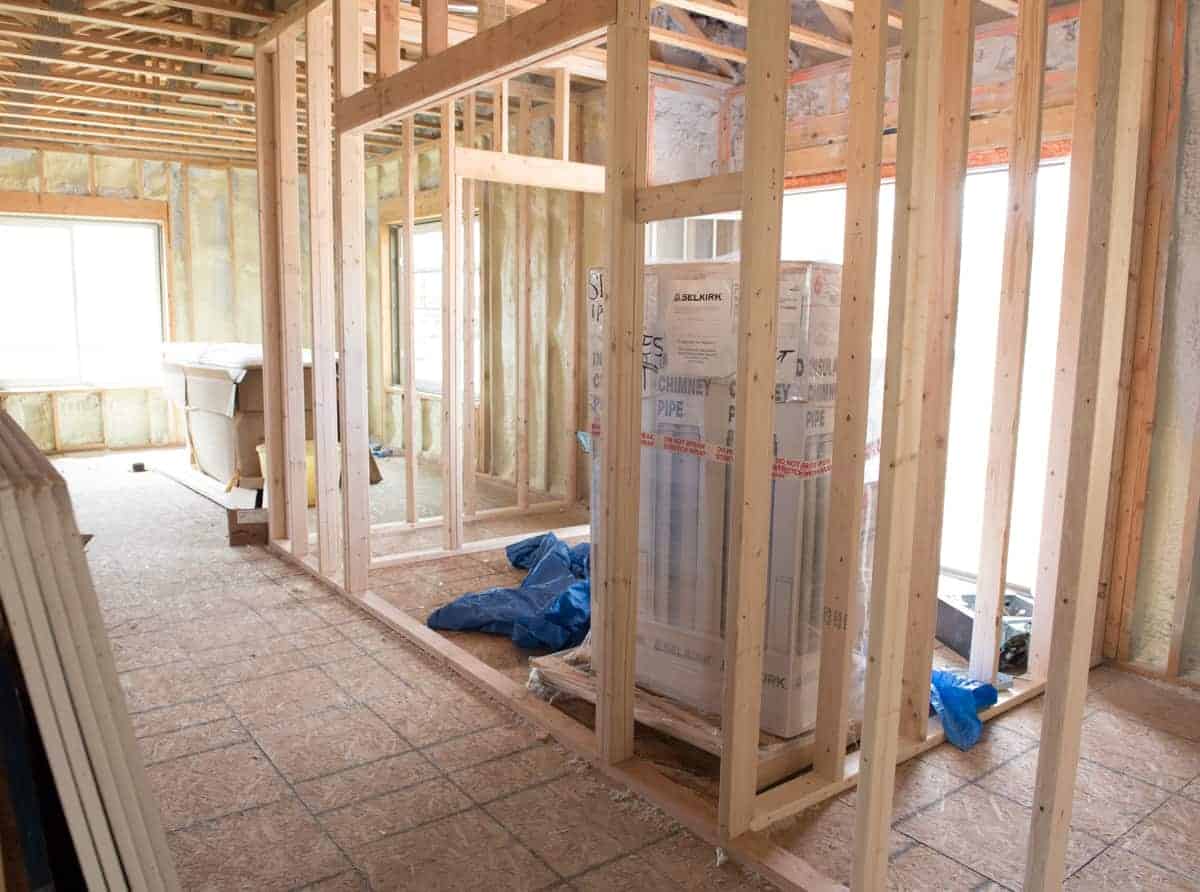 This is our front door. We decided we wanted a vestibule (entry way room) and I think I'm going to love it. It'll have a coat closest and double doors out of it. The idea (because we are into energy efficiency) is the set of doors to the house will hinge closed. So when you answer the front door and stop to talk, all of the hot/cold from outside won't come in. I also think I'll be nice to not walk right into my living room. The boxes are our chimney pipe and behind them is our ridiculously heavy fireplace that we need to slide into the living room.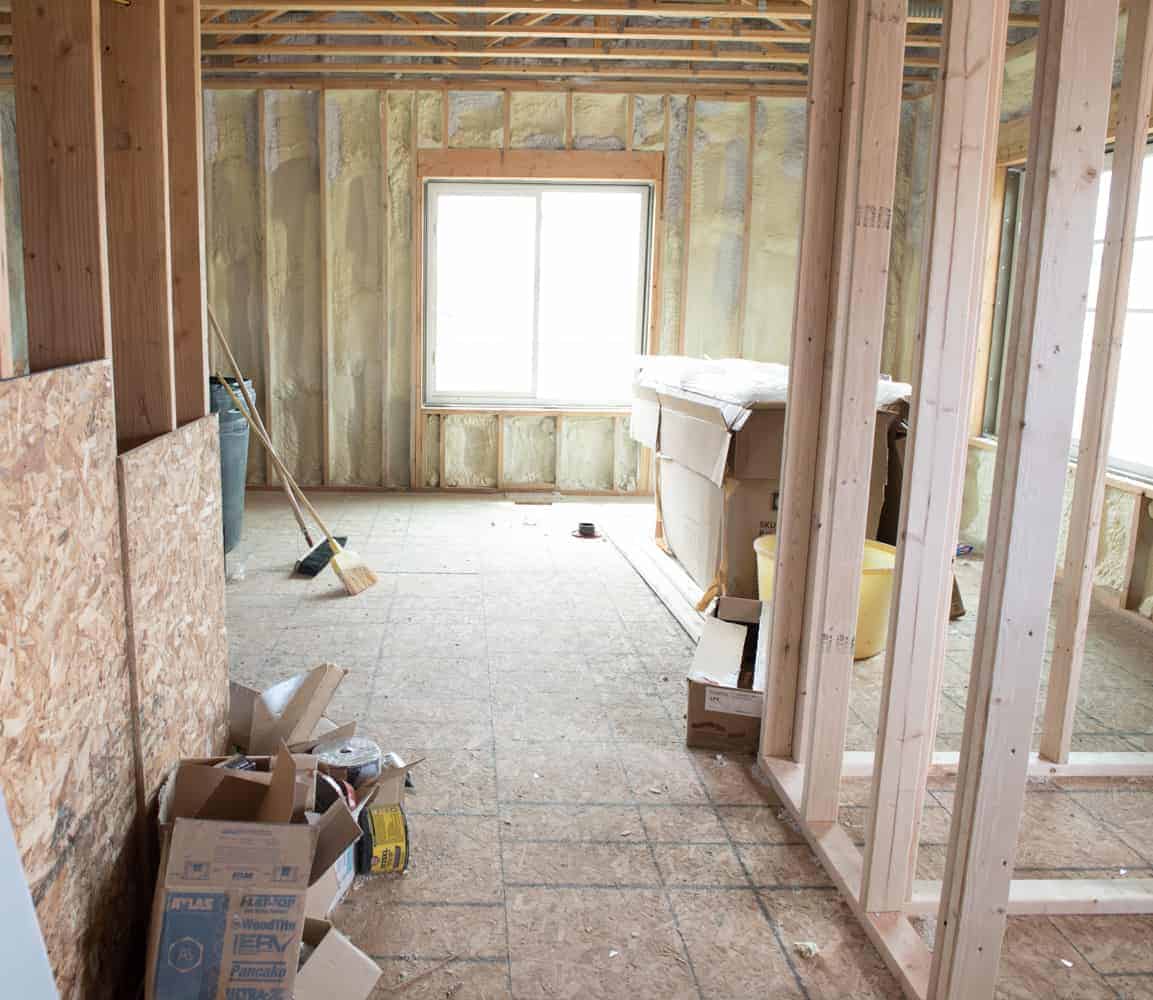 Dining room! It currently has the vanity for the kid's upstairs bathroom sitting in it. I saved wood from our 1898 Shanty and plan on making a nine foot by four and a half foot table in this space from the wood. I want it long and fat so that you can set all of the food down the middle of the table and still have room for lots of people to eat. I'm so excited for all the memories that are going to be made around that table. I'm planning on these cute light fixtures over my table and benches on one side of it.
From the dining room you circle back to the kitchen. My sink will go under that window. I'm planning on this vintage reproduction sink (SO excited). I liked the look of the old sink but it wasn't the same as the traditional farm house style sink. Now I just need to find a two hole faucet for it (harder than it sounds...). In the middle of the kitchen will be a ten foot island. On the right will be my range, a gorgeous copper hood that I just ordered from Coppertop Metals, and my fridge + pantry. I'm planning on white shaker cabinets around outer walls of the kitchen, no upper cabinets (but some open shelving in the corner), a white hexagon tile back splash, navy island cabinets and white counter tops. You guys, I. DIE. White, navy, copper, old sinks, warm floors... I told you Joanna Gaines would be proud. Holler if find bar stools for me (traditional counter height), I'm on the hunt.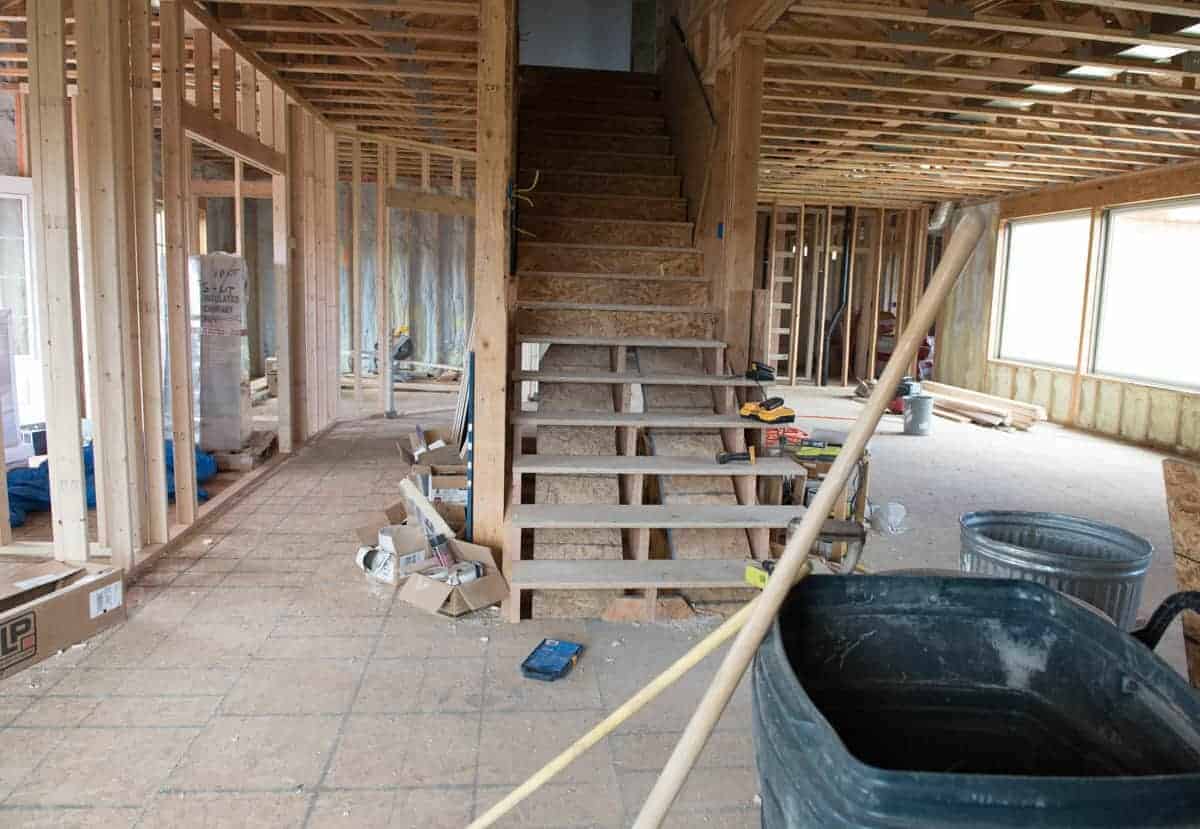 From there you can go upstairs. I'm taking this picture in the dining room, kitchen/living room to my right and entry way to my left. Getting the stairs finished made this feel like a house and not just a shell. They are so nice to have in and usable!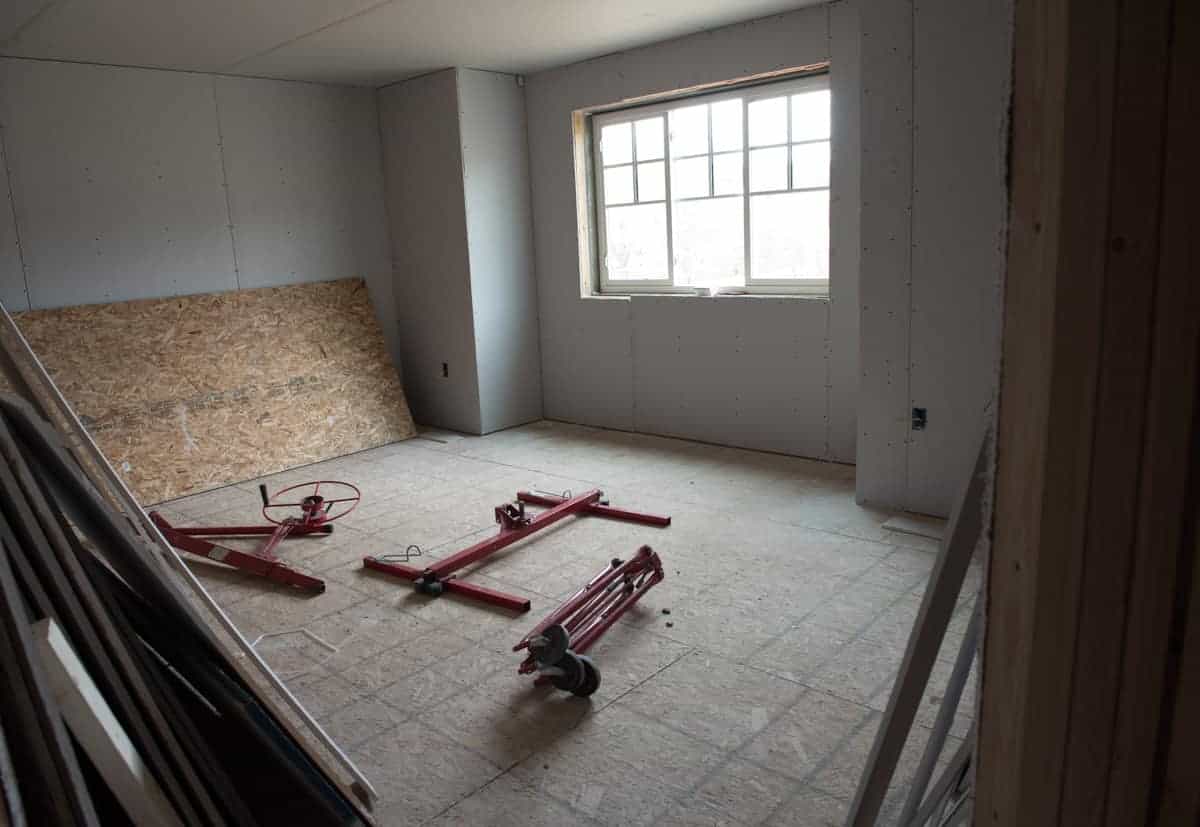 The upstairs is really looking like a house! This is our family room. I'm planning on doing a built-in seat under the window and some bookcases. This will be our book nook. I'm planning on having a couch or two up here and using this space to read scriptures at night as well as a guest room.
Some of the bedrooms are looking really good! We have 4 bedrooms up here plus that living room, a bathroom, and Thomas' office. I'm only planning on putting the kids in 3 of the bedrooms when we move in, so I can always use the other bedroom for an office if mine is a toy room. Assume as the kids get bigger, we'll use that room, but at the moment they are more than fine/able to share rooms.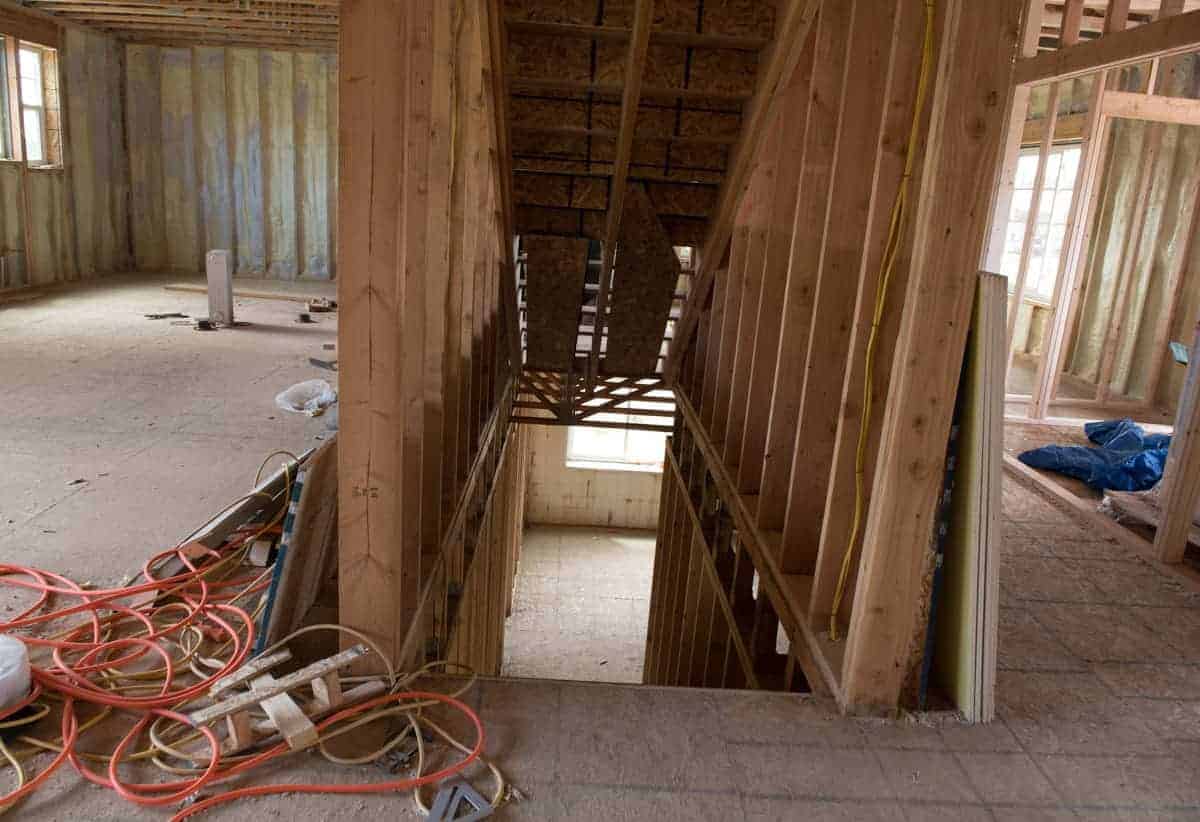 Then to the basement!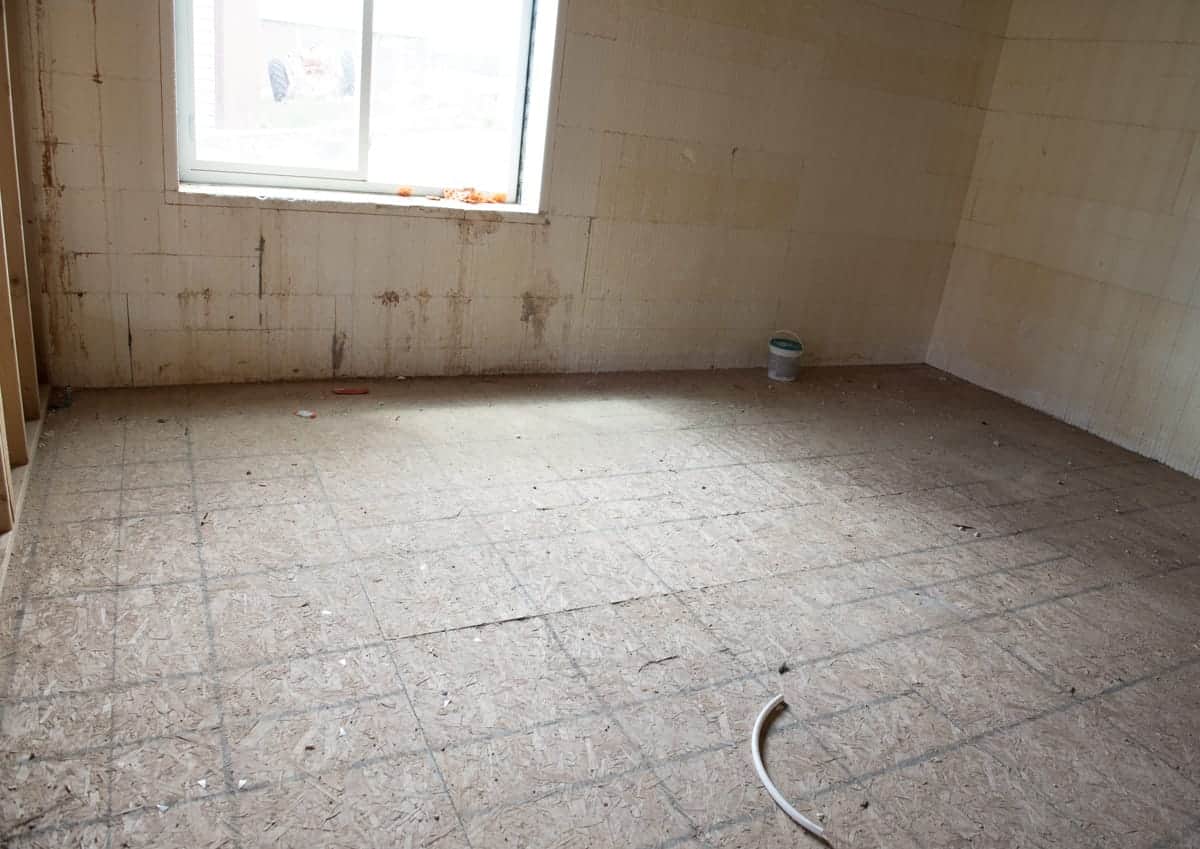 Future toy room?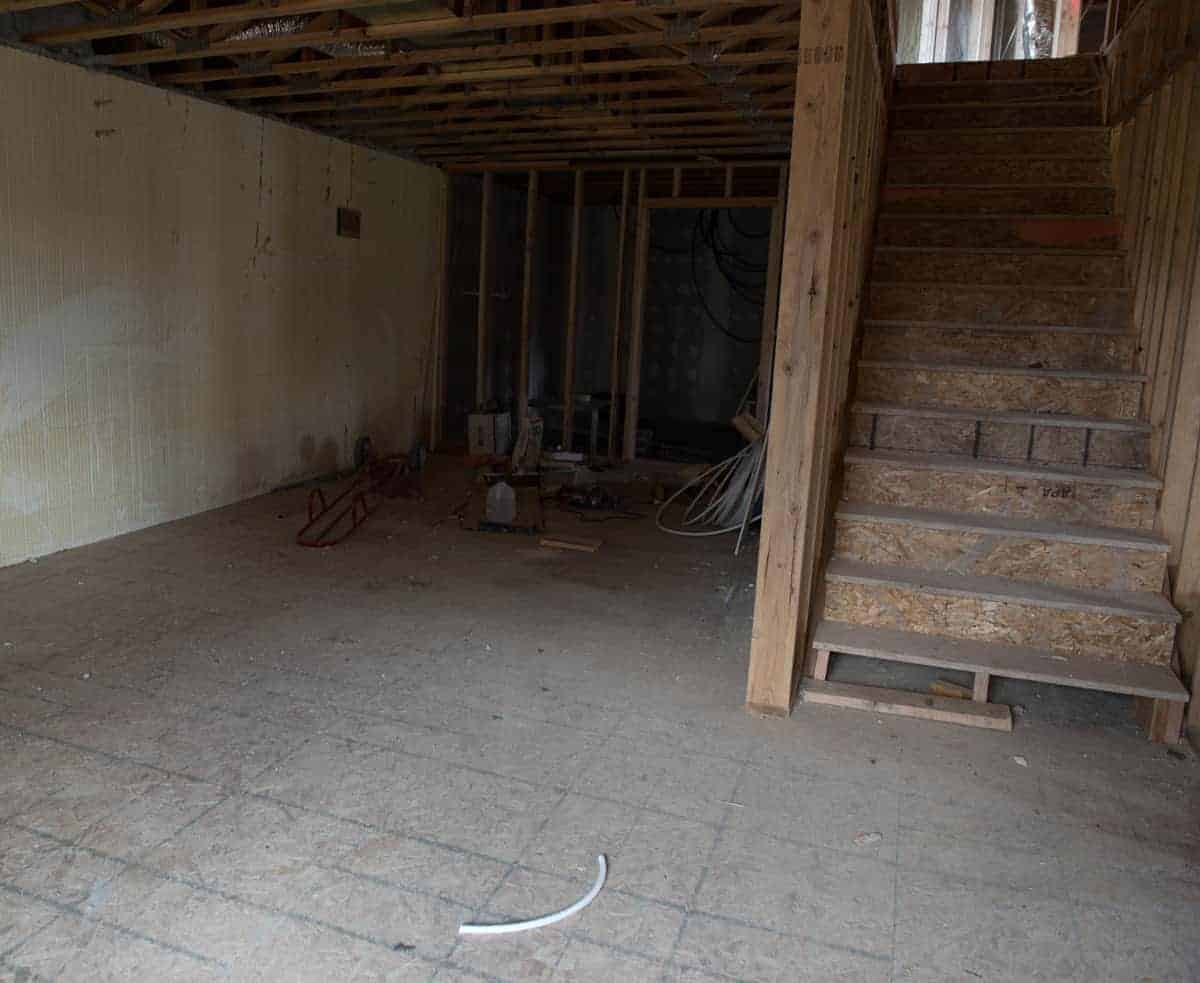 I'll have a storage room back in there and Thomas has his mechanical/utility room. It's painted and has flooring making it the most finished room in the house.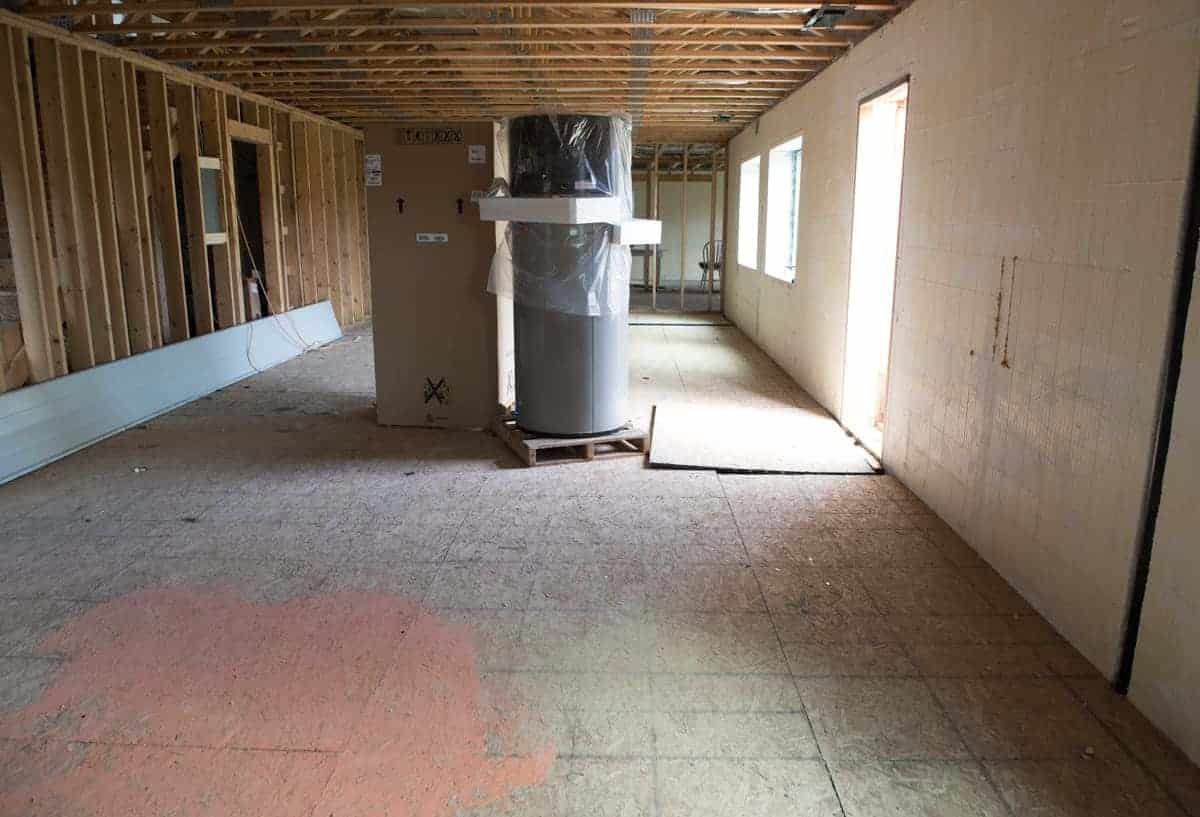 The downstairs is going to be an AirBnB apartment for us. Long-term we see lots of uses for this space, but once we move in and start to finish this space (I think it'll take us another year) we plan on using at as a vacation rental and place for friends and family to come and stay. I'm in the kitchen looking into the living room. This space is almost as large as the current house I'm in! And long term I can use this second kitchen as a studio if I like. I'd also like to host farm to table dinners or cooking classes in my home too. So many big plans for this house. Those big things are our two 80-gallon heat-pump water heaters. Never will we run out of hot water again!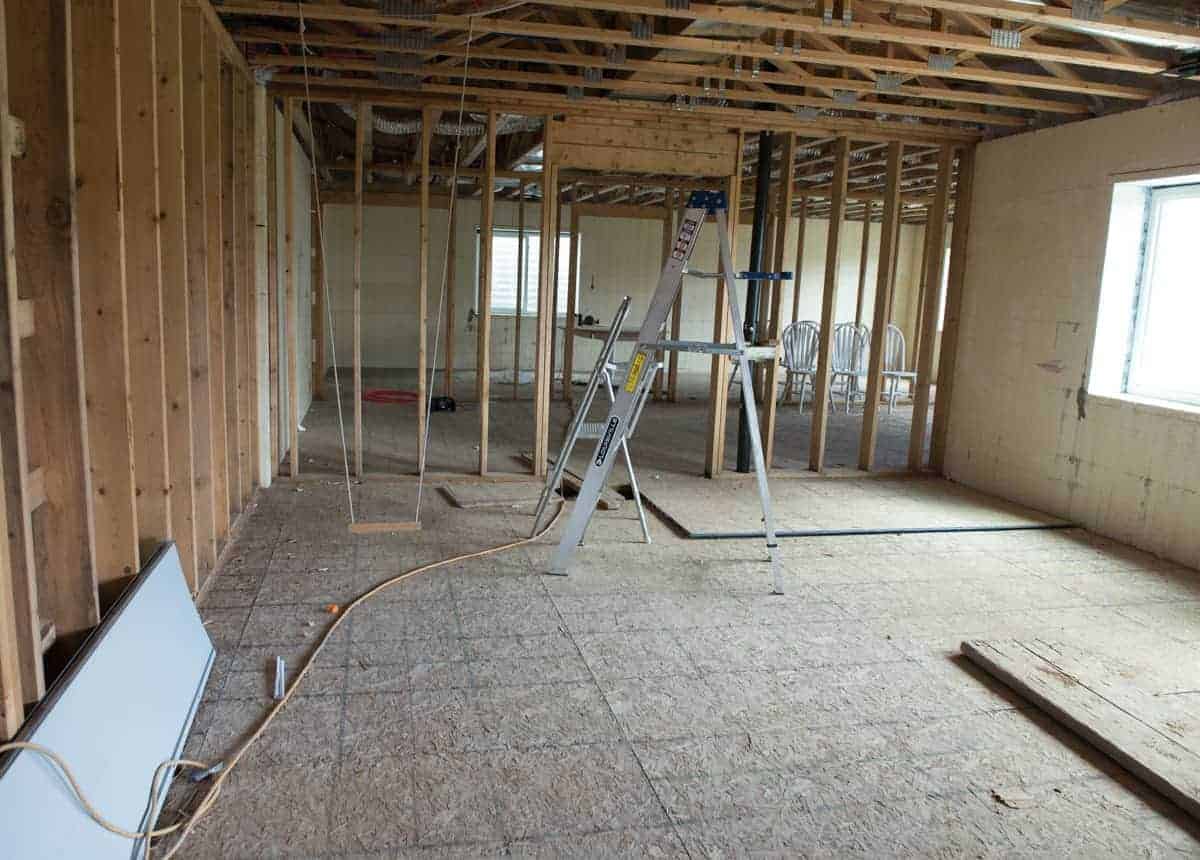 Looking from the living room to the bedrooms. We're planning on a bathroom, 3 bedrooms, and a laundry closest in there.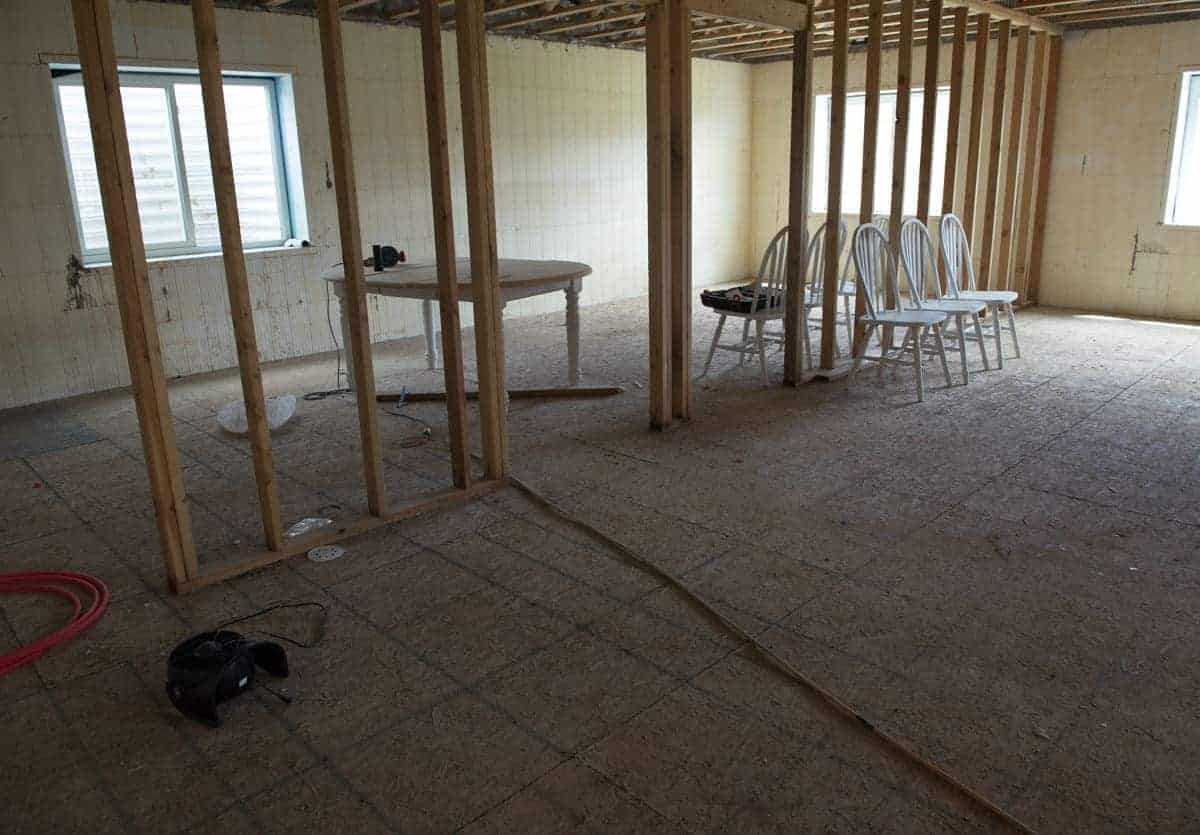 And because we aren't planning on using this space anytime soon, I've turned it into my workshop. I'm currently repainting a table and chairs. I'm not sure how long after we move in I'll get my big table built so I wanted something to use. When my big table is built I'll use these in the basement apartment. I'm thinking kelly green for the chairs! I have a few other pieces I want to paint down here too. The kids have a swing tied to the upstairs floor trusses and they ride their scooters down here too. It's nice to have somewhere out of the way that they can play.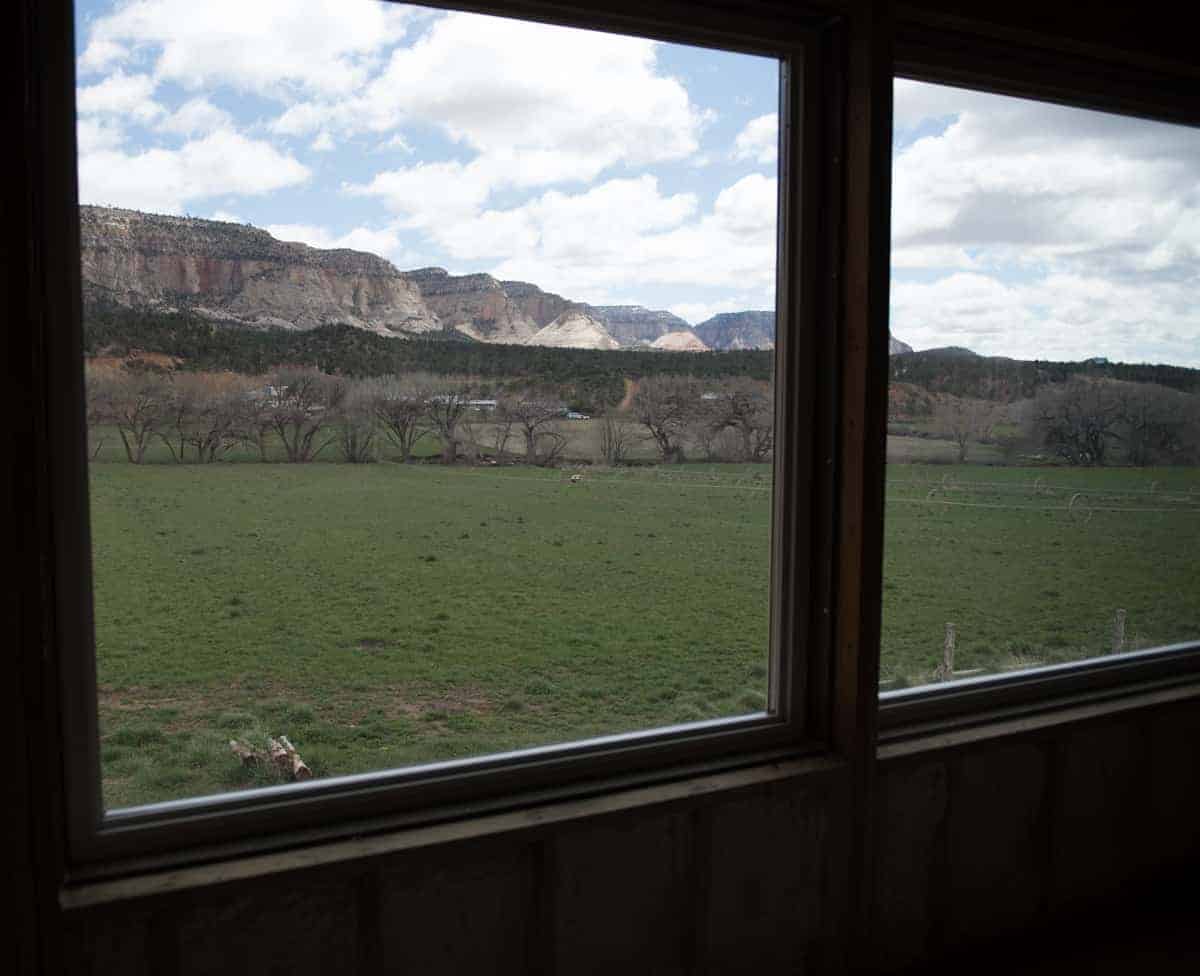 The view is still perfection if you were wondering.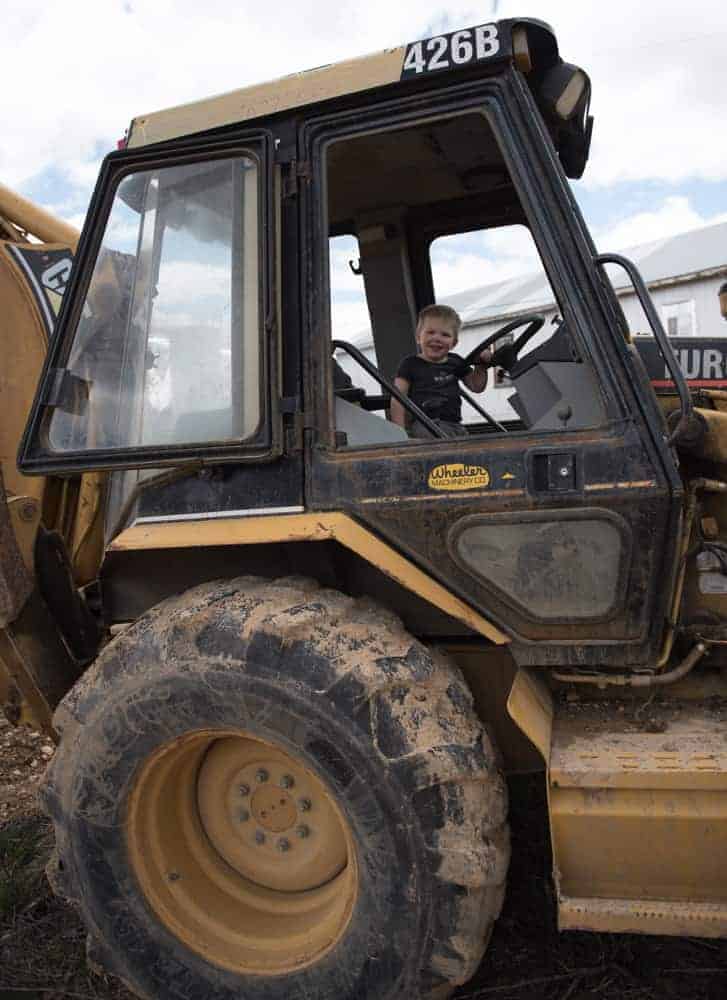 And the kids are having a blast on this adventure with their parents.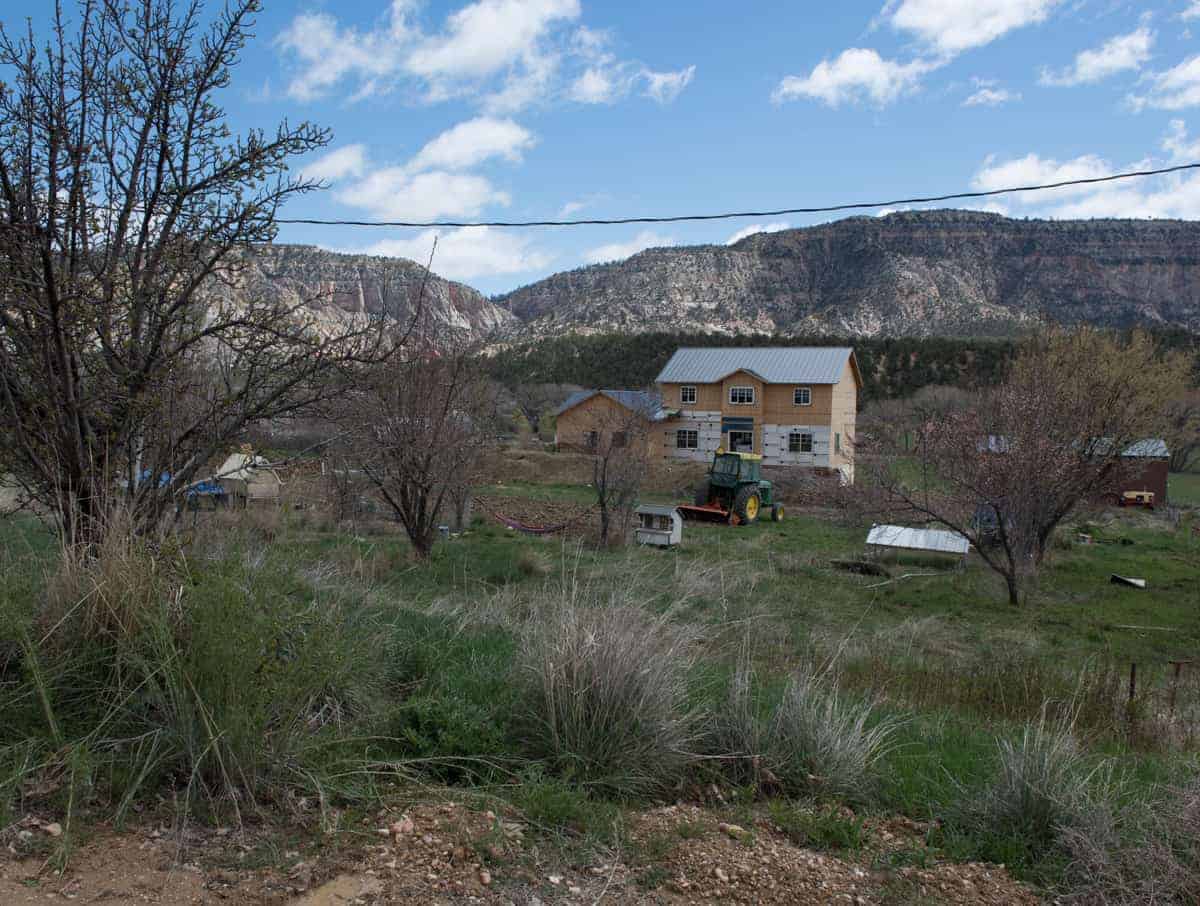 And there you have it, one long update on the biggest undertaking thus far in our lives.
Happy spring friends and thank you for enjoying this crazy journey with us!