Crock Pot Mac and Cheese is the ultimate comfort food that makes a great main dish or side and only takes a few minutes of prep time!
A great Mac and Cheese in the crockpot consists of milk, water and condensed cheese soup from a can. You even cook the noodles in the slow cooker. Super simple! Just add some cheese at the very end and you will be in Mac and cheese heaven.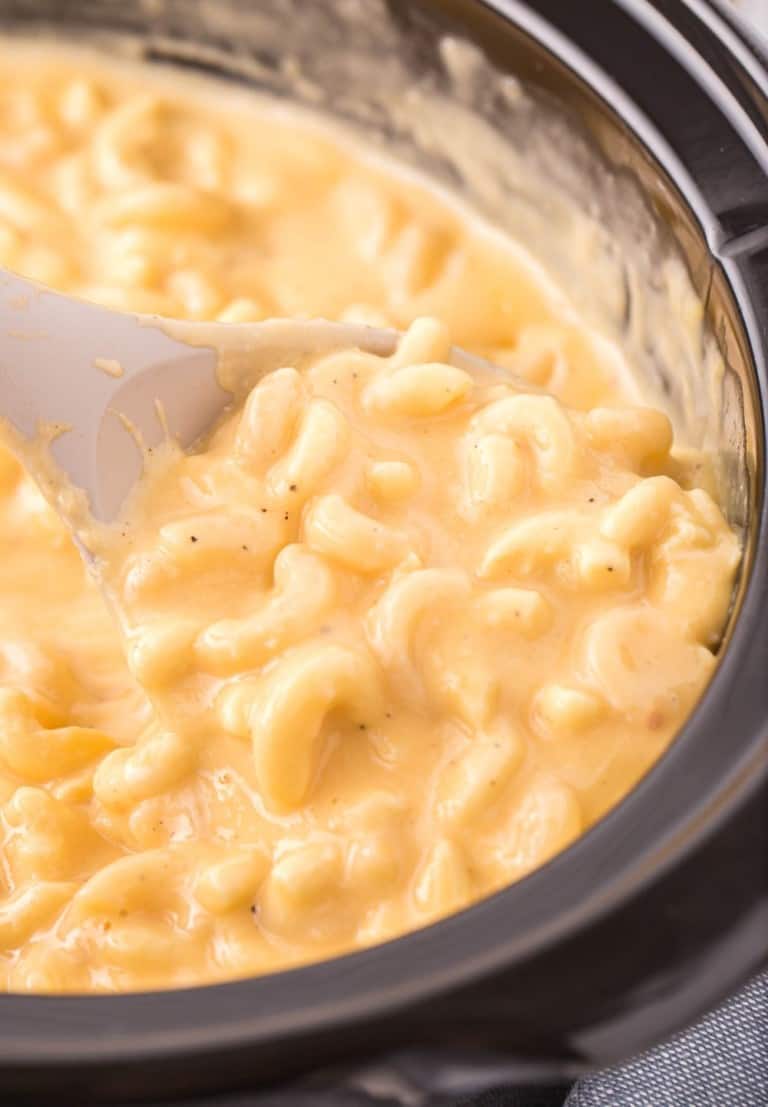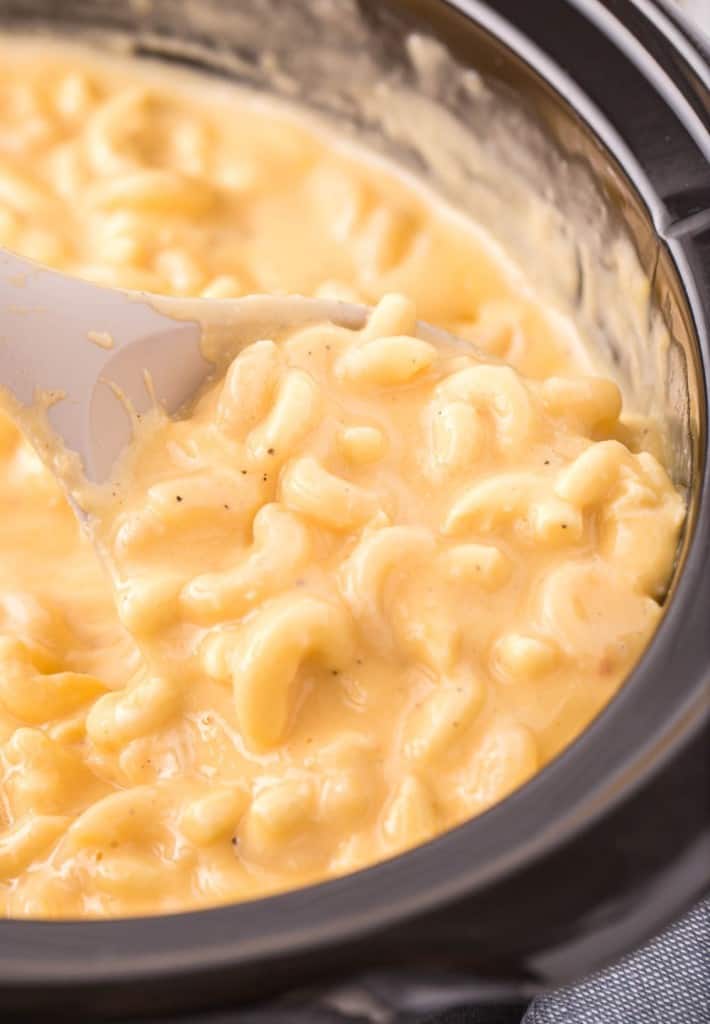 The flavor and texture of this Mac and Cheese is on point. It is so creamy and smooth. It will become your go-to recipe. I brought this Mac and Cheese to a party recently and it was the first dish gone! People love it.
I suggest shredding your own cheese to add to this recipe rather than using pre-shredded cheese. Using the pre-shredded stuff will result in an undesirable texture because it contains more cellulose and cornstarch in the cheese to prevent it from clumping up. Take the extra time to shared our own cheese because it will make a difference.
Table Of Contents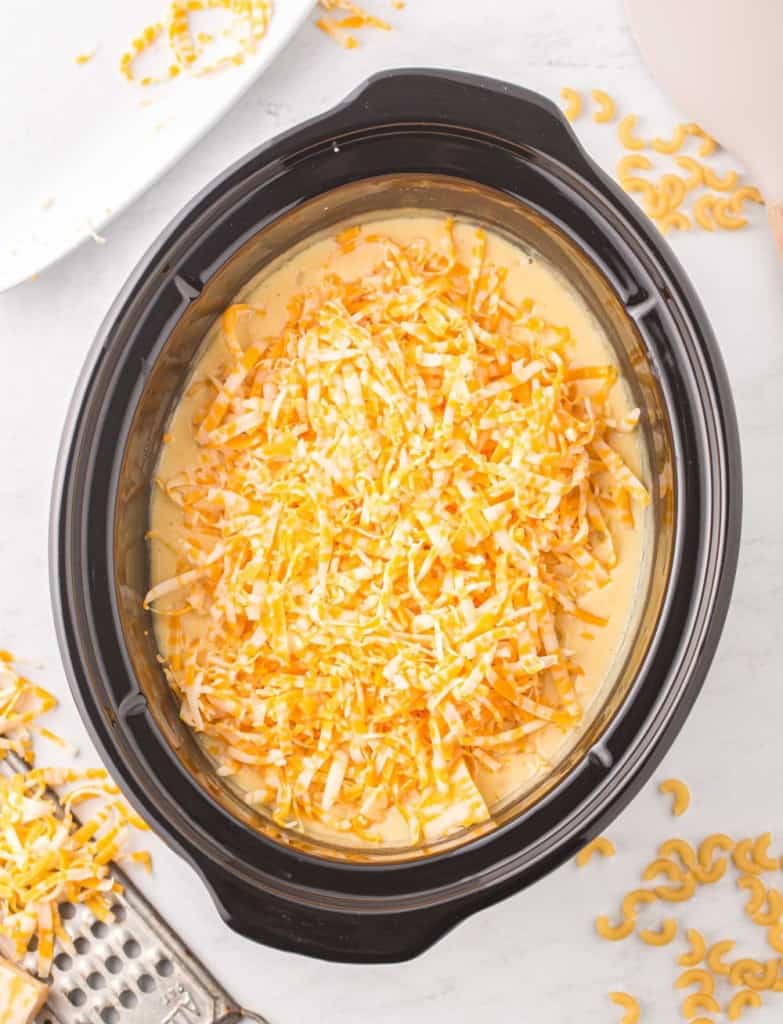 Ingredients
Elbow macaroni noodles: you can use another pasta of a similar size here if you'd like
Condensed cheddar cheese soup: this is the secret ingredient for great crock pot macaroni and cheese because it's very stable (won't curdle) and it adds lots of flavor
Milk: you are going to use a lower fat milk here so it doesn't curdle in the crock pot
Grated parmesan cheese
Colby jack cheese: this is a good one because it melts really nicely, you can use just about any other cheese you have on hand of a combination of cheeses
Keep scrolling to find a full, printable recipe with a detailed ingredient list.
Recipe Instructions
Prep the noodles by rinsing them in cold water, this is a trick for making pasta in the crock pot!
Add the macaroni, cheese soup, pepper, milk and parmesan to the slow cooker and stir them together.
Let this cook for an hour and then you are going to start stirring the dish at regular intervals. This will help you to know when the pasta is done and not over cook it. The time will vary a little depending your specfic slow cooker but once you make it once you'll have a good idea on how long it needs to cook.
Stir in the cheese and enjoy!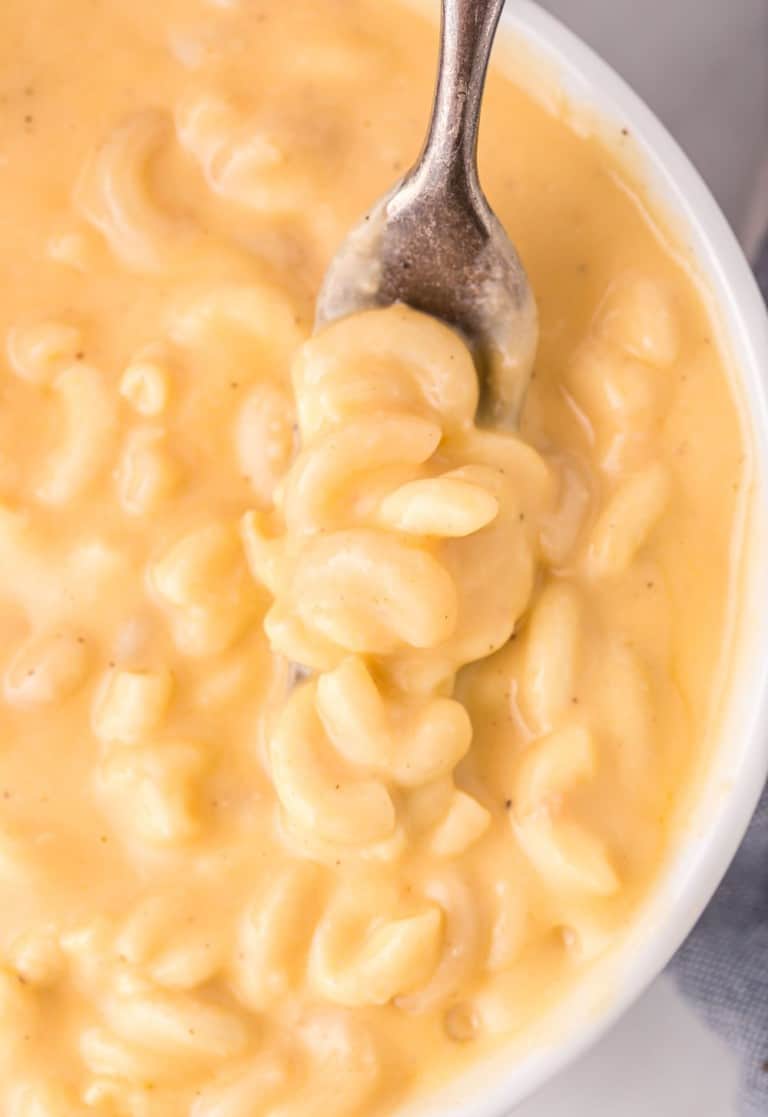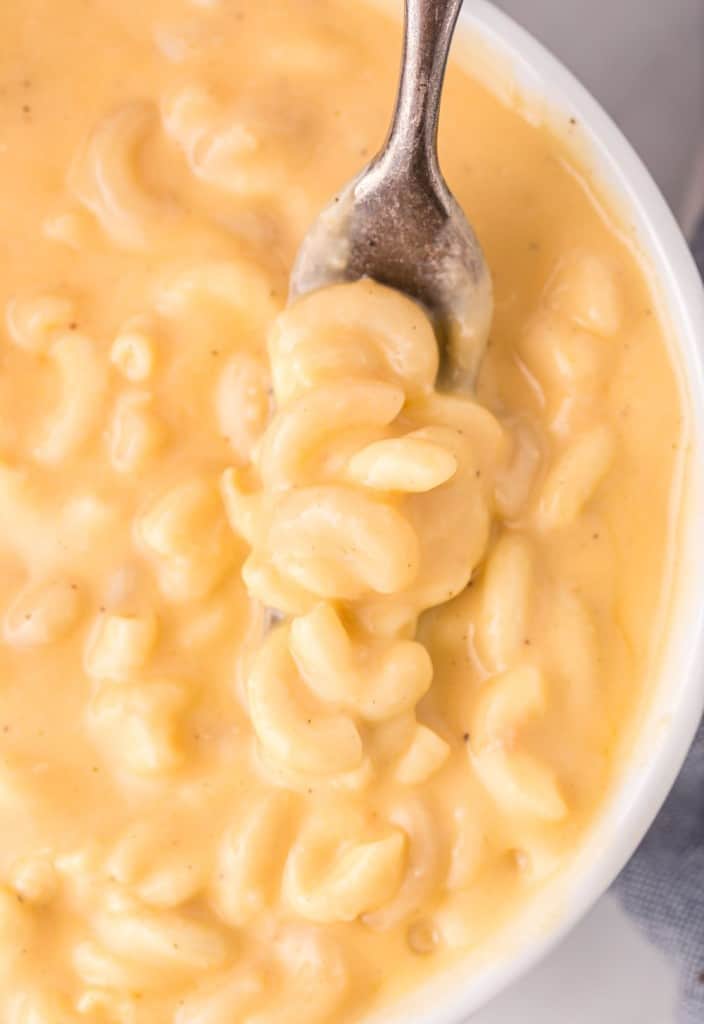 Frequently Asked Questions
What is best brand of macaroni noodles to use?
While there are many options out there, I have had the most success with Barilla noodles. The noodles hold up better and are thicker.
What goes well with Mac and Cheese?
I love to serve Mac and Cheese with a simple side salad or whatever vegetable I have on hand. Mac and Cheese would be great to bring to a potluck or BBQ too.
What if I can't stir this Mac and Cheese as frequently as the recipe says?
One of the benefits of using a Crockpot is that you can walk away from the recipe for longer periods of time and not have to worry about it burning. Unfortunately with Mac and Cheese stirring is usually very important so you can't completely leave this dish alone for the full cooking time.

However, if you do need to step away for longer than indicated, the dish will still work. You may just notice that some of the noodles cook faster than others so the end result may be varied. You will also notice that the sauce may thicken unevenly, especially around the edges. Finally, some of the noodles and sauce may stick and the dish is more likely to overcook if you don't stir it. Results will depend heavily on the quality of your crockpot, noodles and the amount of time that you leave it without stirring.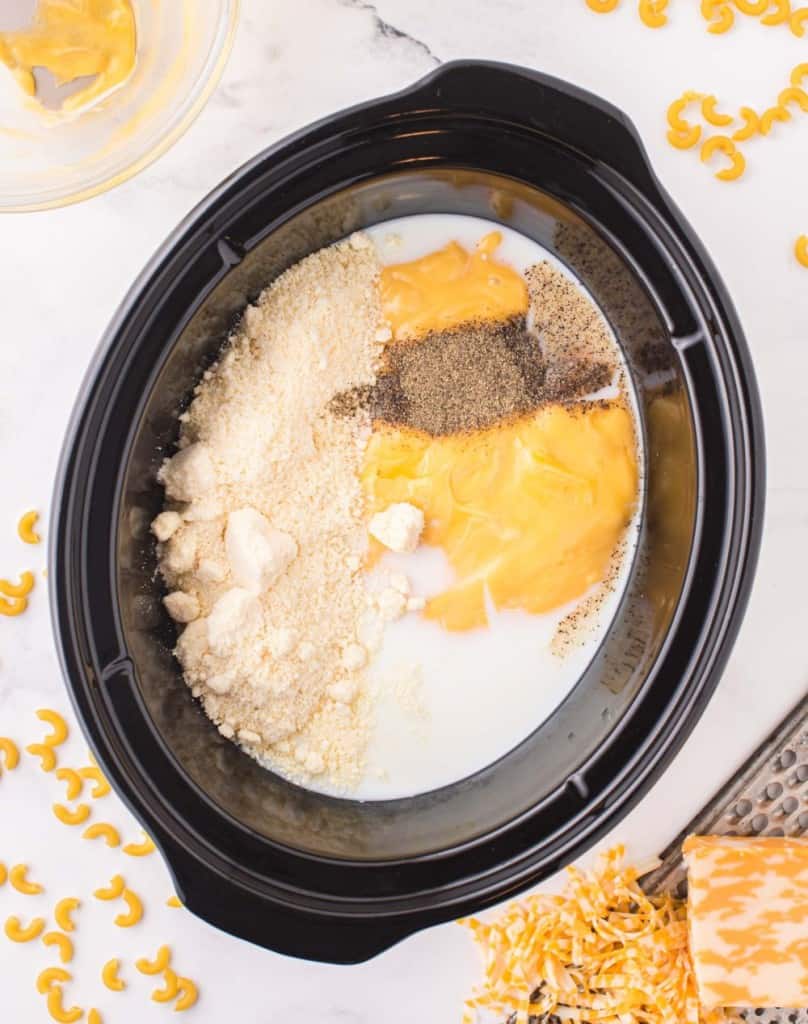 Can I make any changes to this Crockpot Mac and Cheese?
This Crockpot Mac and Cheese is easy to modify if you wish to do so. You can switch out the elbow noodles for any other thick pasta such as shells, rigatoni or bowties. You can also change one or both of the cans of soup for a condensed cream soup with another flavor such as cream of chicken, cream of mushroom or cream of celery. If you want to add protein and flavor to the dish you can add in some cooked, diced ham, cooked chicken or cooked ground beef. Feel free to change the type of cheese that you mix in or increase the amount if you like extra cheesy Mac and Cheese. You can also sprinkle extra cheese on the top after the dish has cooked for extra, cheesy gooeyness.
How should I store my Crockpot Mac and Cheese?
Once cooled this Crockpot Mac and Cheese should be stored in the refrigerator in an airtight container and be used within 3-4 days. It can be reheated in the crockpot, on the stove or in the microwave. However you choose to reheat it, be sure to stir frequently so that it warms evenly.
Using the microwave is most likely to result in areas that get overly hot and other areas that are still cold so this method requires the most stirring.
Crockpot Mac and Cheese can be frozen for 3 months and reheated from a frozen state or be thawed overnight in the refrigerator. If you wish to freeze this dish, I recommend under cooking the pasta just slightly so that it still has a bite to it as the thawing and reheating process tends to cause fully cooked pasta to get mushy.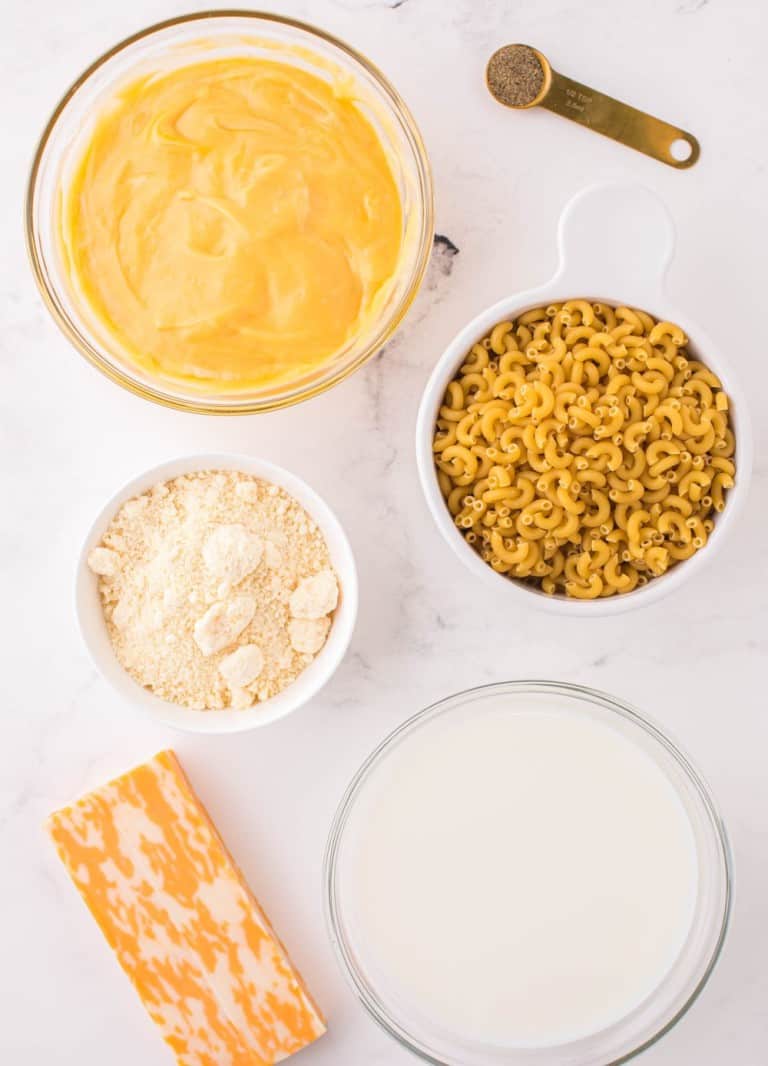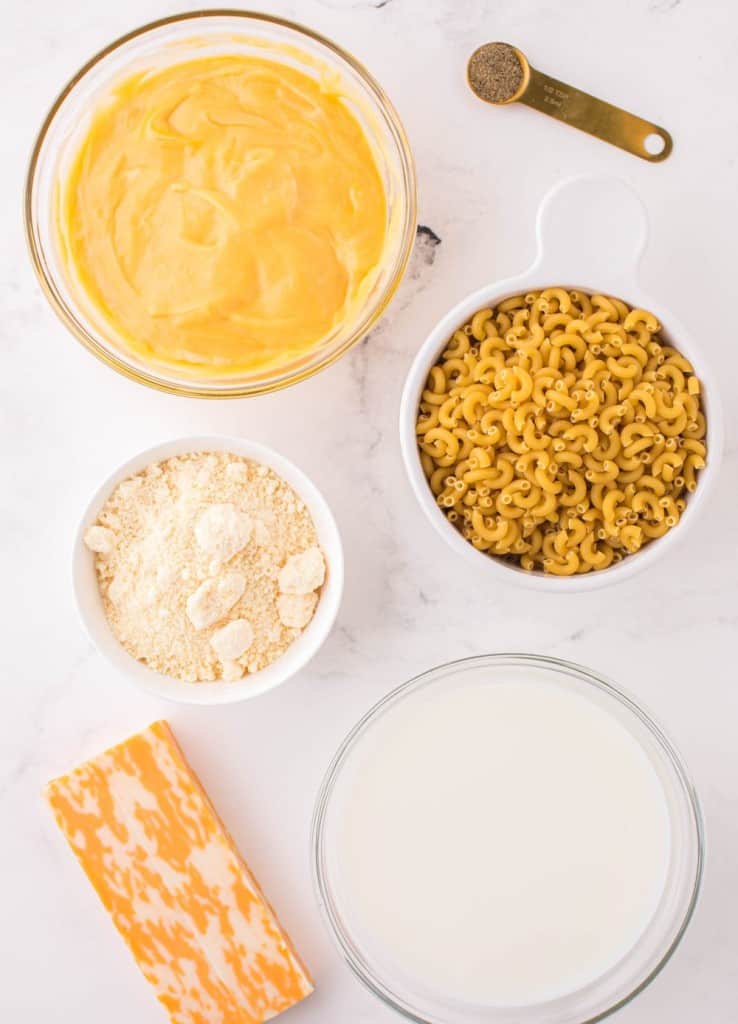 More Recipes
Did you try this recipe? Leave a ⭐️ rating below and share it on Instagram, Facebook, and Pinterest!
📖 Recipe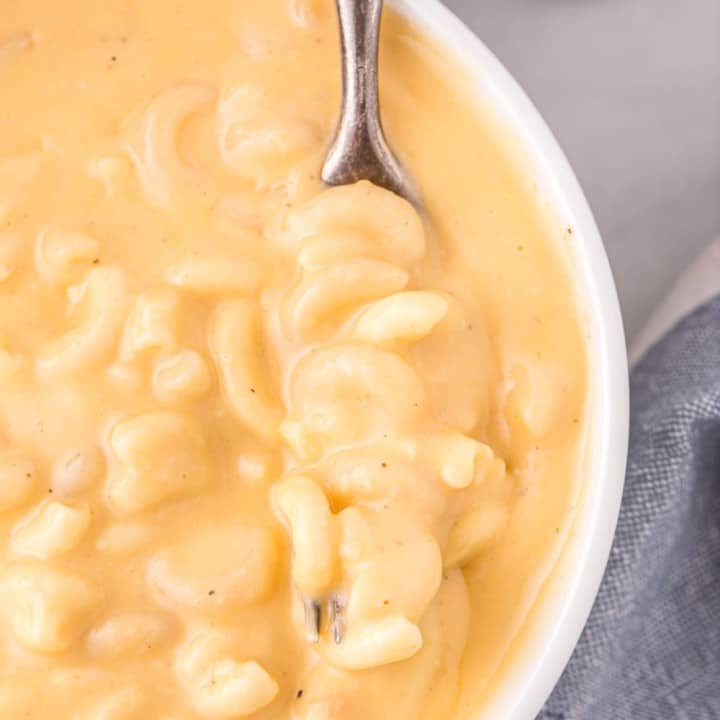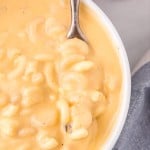 Print Recipe
Crock Pot Mac and Cheese
Crockpot Mac and Cheese is the ultimate comfort food that makes a great main dish or side and only takes a few minutes of prep time!
Ingredients
1

box

elbow macaroni noodles

16 ounces

2

cans

condensed cheddar cheese soup

10.5 ounce cans, do not dillute

3

cups

1% milk

1

cup

parmesan cheese

grated

½

teaspoon

black pepper

8

ounces

Colby jack cheese

shredded
Instructions
Place the macaroni noodles in a strainer and rinse with cold water, stirring well while rinsing, 2-3 times or until the water runs clear.

Place the noodles in a 6 quart or larger crockpot.

Stir in the cheddar cheese soup, milk, grated parmesan cheese and black pepper until well combined.

Place the lid on the crockpot and then turn it on to low and allow it to cook for 1 hour without touching it.

Stir the mac and cheese well and then replace the lid and allow to cook for another 30-45 minutes before stirring again.

Continue cooking, stirring every 20-30 minutes, until the mixture is smooth and creamy and the noodles are cooked through.

Depending on your crockpot the total cook time may take anywhere from 2.5 to 3.5 hours.

Once the noodles are cooked through but not mushy, turn the crockpot to warm and stir in the shredded cheese until all of the cheese is melted and smooth.

Serve hot.
Notes
You can use a similarly sized pasta as macaroni if you'd like. The cook time might vary a bit.
The cook time will vary a bit depending on your slow cooker, but once you make it once, you'll have a good idea on how long that cooking time will be for you and your kitchen!
You can use other types of cheese here or a combination of cheeses if you'd like. I always like a good sharp cheddar for this recipe.
Don't dilute the cheddar cheese soup mix before adding it, just add it straight out of the can.
Nutrition
Calories:
209
kcal
|
Carbohydrates:
10
g
|
Protein:
12
g
|
Fat:
13
g
|
Saturated Fat:
8
g
|
Polyunsaturated Fat:
1
g
|
Monounsaturated Fat:
3
g
|
Cholesterol:
34
mg
|
Sodium:
643
mg
|
Potassium:
427
mg
|
Fiber:
1
g
|
Sugar:
5
g
|
Vitamin A:
688
IU
|
Calcium:
383
mg
|
Iron:
0.3
mg
Crock Pot Mac and Cheese is a recipe that everyone will enjoy. It is thick, velvety and really tasty. Perfect to bring to your next party or family gathering.