When it comes to desserts that make us weak in the knees, German Chocolate Cake ranks pretty high on the list. It's rich, chocolaty layers, coupled with a luscious and nutty frosting, create a symphony of flavors that's hard to resist. And let's not beat around the bush – the star of the show here is none other than the delectable Coconut Pecan Frosting.
If you're expecting a smooth, creamy frosting, think again. Coconut Pecan Frosting breaks the mold, offering a delightful texture that's a cross between traditional frosting and a scrumptious topping. It's not the kind of frosting that's meant to be meticulously piped into intricate designs; it's more like a rustic work of edible art. The finely chopped pecans lend a satisfying crunch, while the shredded coconut provides a chewy sweetness that perfectly balances the chocolatey goodness of the cake layers.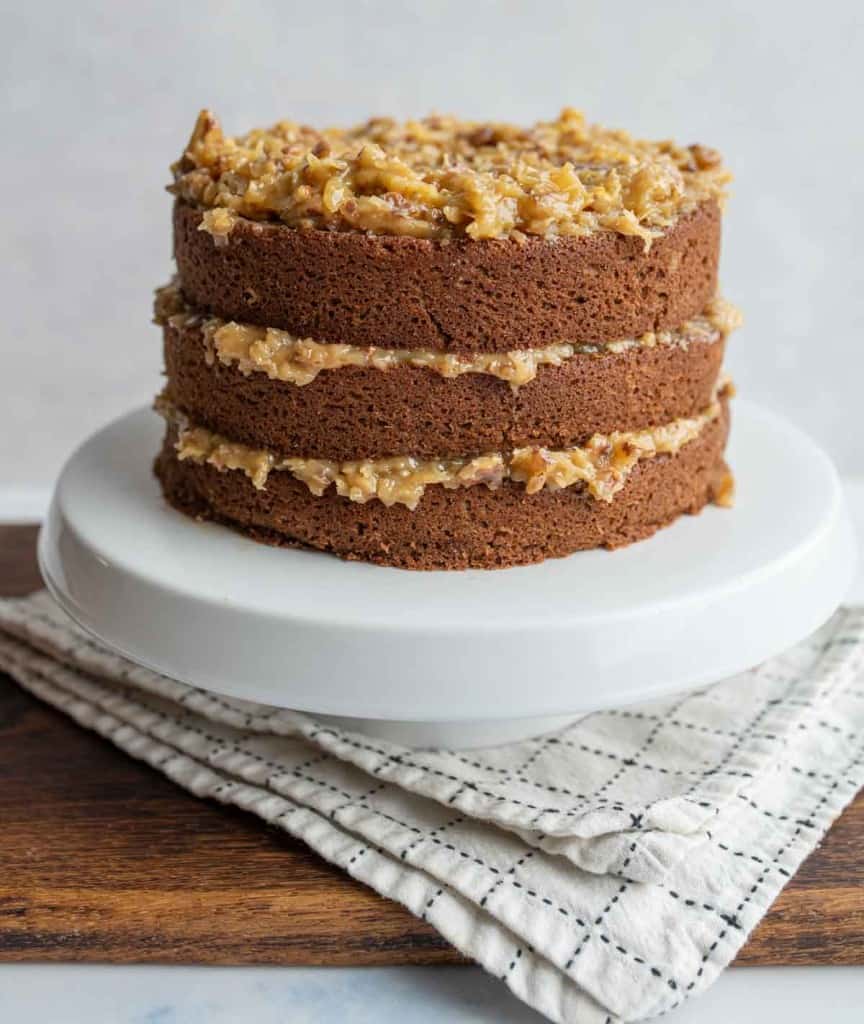 Coconut Pecan Frosting
One of the beautiful aspects of Coconut Pecan Frosting is its homemade charm. It's the kind of frosting that Grandma might have lovingly prepared in her cozy kitchen, filling the air with the comforting aroma of toasted pecans and fragrant coconut. Crafting this frosting from scratch gives you the freedom to adjust the sweetness and texture to your liking. Some folks prefer a bit more coconut, while others like their frosting on the nuttier side. It's your kitchen kingdom – you rule the frosting realm!
Creating this masterpiece isn't rocket science, but it does require a bit of love and attention. To whip up a batch of Coconut Pecan Frosting, you'll need butter, sugar, evaporated milk, egg yolks, vanilla, shredded coconut, and chopped pecans. The process involves simmering the butter, sugar, and evaporated milk until everything melds into a caramel-like concoction. Then, you gently stir in the egg yolks, vanilla, coconut, and pecans, watching as the mixture transforms into a tantalizing topping that's just begging to grace your cake layers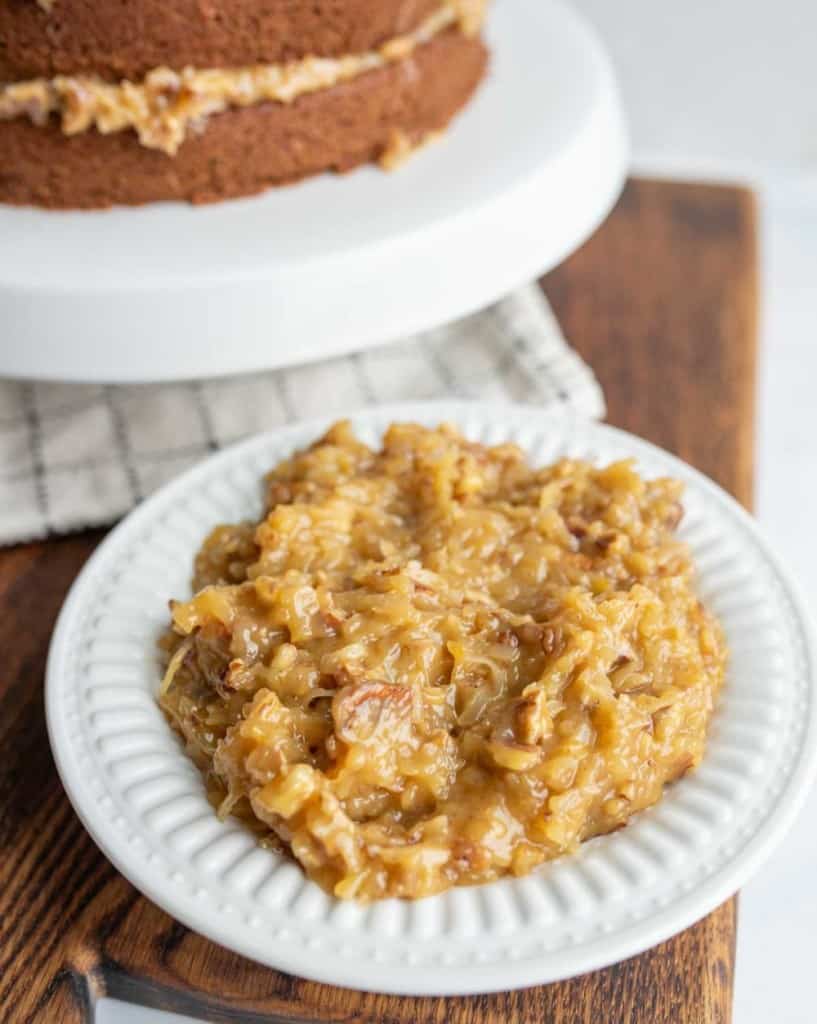 Ingredients
Evaporated milk
Sugar
Butter
Egg yolks
Vanilla
Shredded coconut
Pecans
Keep scrolling to find a full, printable recipe with a detailed ingredient list.
Recipe Instructions
Mix Ingredients: In a large saucepan, combine evaporated milk, sugar, butter, egg yolks, and vanilla extract. Make sure everything is well mixed and sugar is starting to dissolve.
Heat and Stir: Place the saucepan on the stove over medium heat. Stir constantly with a wooden spoon to prevent sticking and ensure even heating.
Gentle Boil: Allow the mixture to come to a gentle boil while stirring.
Thicken: Keep stirring for about 12 minutes as the mixture thickens to a custard-like consistency.
Remove from Heat: Take the saucepan off the heat.
Add Coconut and Pecans: Mix in shredded coconut and chopped pecans, distributing them evenly through the frosting. Adjust amounts according to your texture and flavor preference.
Cool Slightly: Let the frosting cool a bit. It will become thicker as it cools.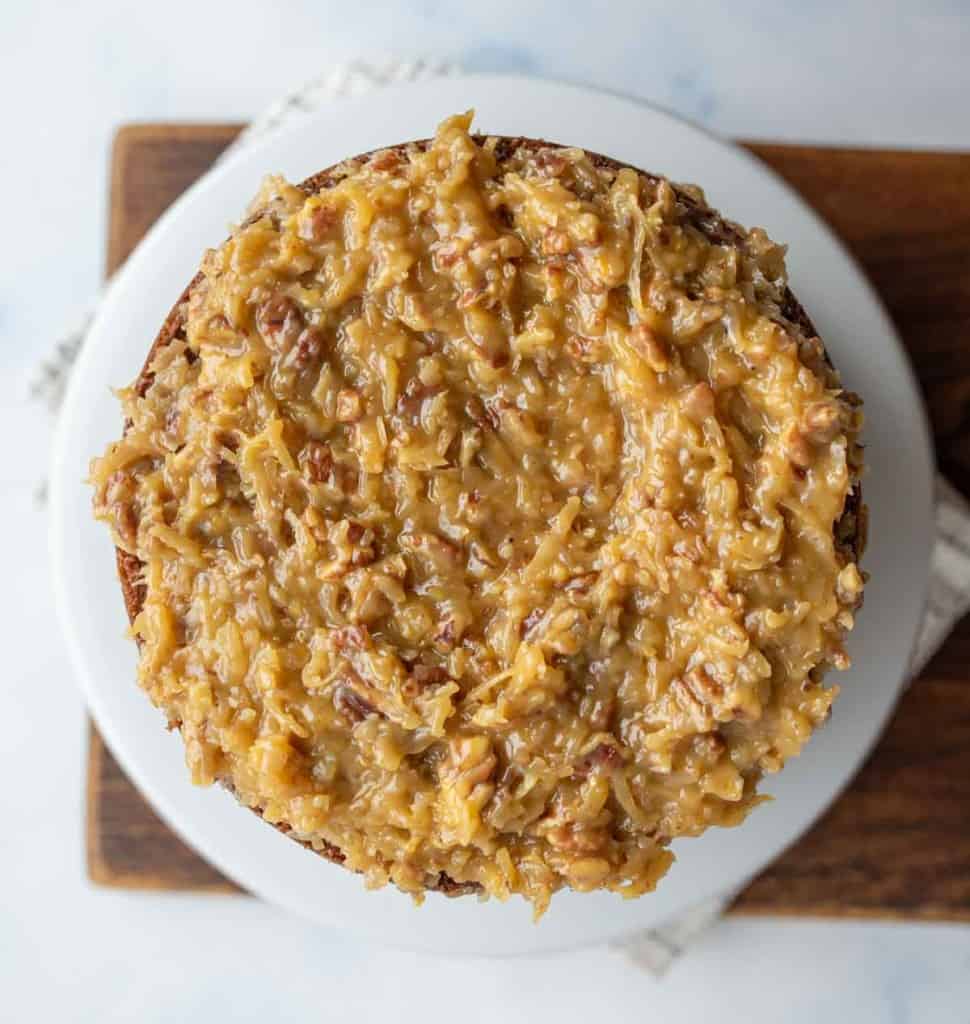 Frequently Asked Questions
Can I make the frosting ahead of time?
Absolutely! You can prepare the frosting ahead of time and store it in an airtight container in the refrigerator. When you're ready to use it, let it come to room temperature and give it a good stir before spreading it on your cake.
Can I substitute other nuts for pecans?
You can experiment with different nuts if you prefer. Walnuts or almonds could be good alternatives. Just make sure to chop them finely to maintain the desired texture.
How do I prevent the frosting from becoming too thick as it cools?
Coconut Pecan Frosting tends to thicken as it cools. To prevent it from becoming overly thick, you can warm it gently in the microwave or on the stovetop, stirring until it reaches a spreadable consistency.
Can I use this frosting for other types of cakes?
While Coconut Pecan Frosting is famously paired with German Chocolate Cake, it can also complement other cakes like chocolate cakes, carrot cakes, or even as a filling for cupcakes.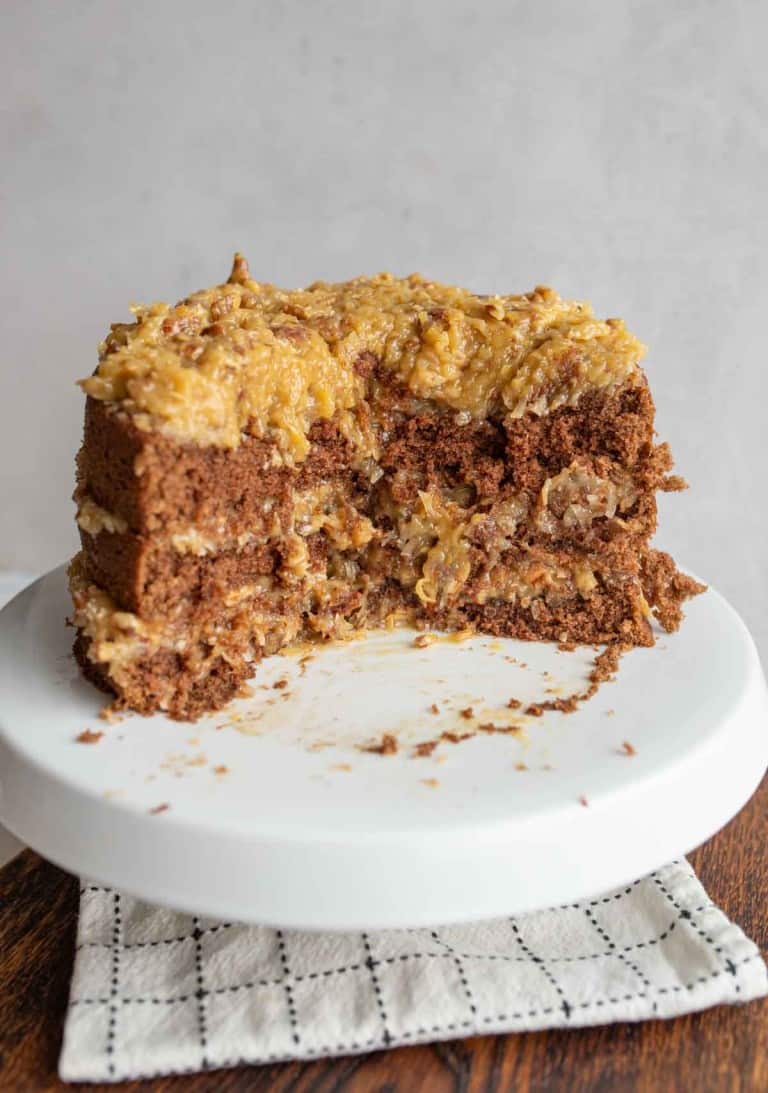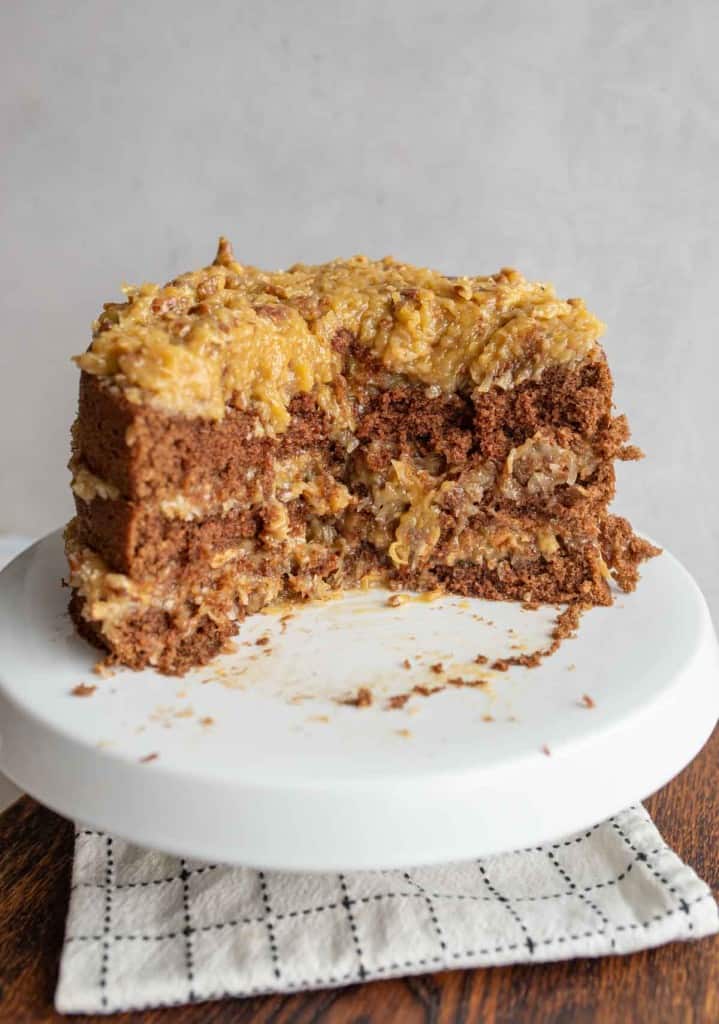 More Recipes
If you've tried this Coconut Pecan Frosting recipe or any other recipe on Bless This Mess, then don't forget to rate the recipe and leave me a comment below! I would love to hear about your experience making it. And if you snapped some pictures of it, share it with me on Instagram so I can repost on my stories.
📖 Recipe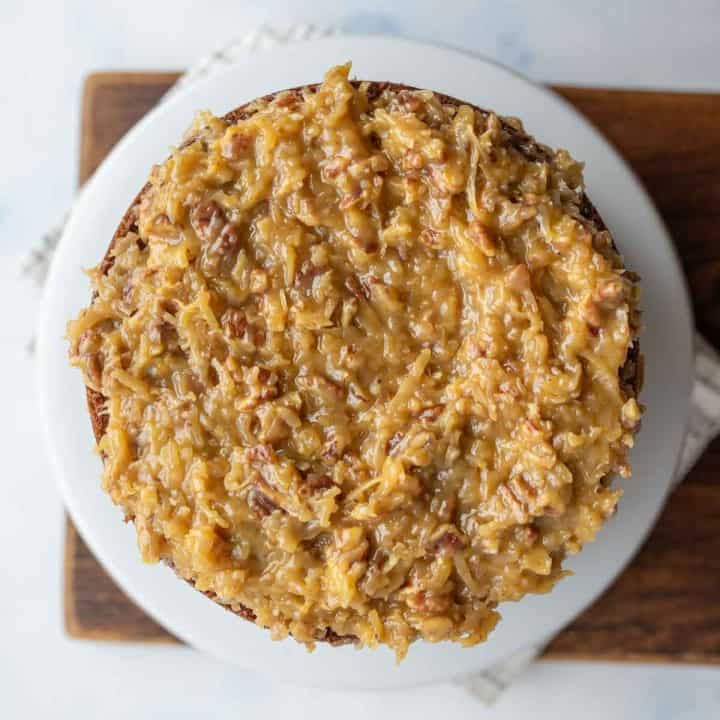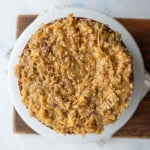 Print Recipe
Coconut Pecan Frosting
Coconut Pecan Frosting is a delightful blend of chewy coconut, crunchy pecans, and caramel-like sweetness that takes German Chocolate Cake to new heights of flavor and texture.
Ingredients
1

can

12 ounces evaporated milk

1 ½

cups

sugar

¾

cup

unsalted butter

4

large egg yolks

1 ½

teaspoon

pure vanilla extract

1

package

12 ounces of sweetened shredded coconut

2 ½

cups

pecans

chopped
Instructions
In a large, heavy-bottomed saucepan, combine evaporated milk, sugar, butter, egg yolks, and vanilla extract. Ensure all ingredients are well mixed and the sugar is beginning to dissolve.

Place the saucepan on the stove and heat over medium flame, stirring constantly with a wooden spoon to prevent any ingredients from sticking to the bottom of the pan and to ensure even heating.

Bring the mixture to a gentle boil. Once boiling, continue to cook while stirring constantly until the frosting thickens to a custard-like consistency, which should take approximately 12 minutes.

Remove the saucepan from the heat. Stir in the shredded coconut and chopped pecans, making sure they are well distributed throughout the frosting. Adjust the amount of coconut and pecans based on your preference for texture and flavor.

Allow the frosting to cool slightly before using, as it will thicken further upon standing.
Notes
This recipe is adapted from BAKERS GERMANS' sweet chocolate recipe.
You can adjust the amount of coconut and pecans to suit your preference. If you enjoy a chunkier frosting, feel free to add more pecans.
It's essential to constantly stir the mixture while it's cooking to prevent it from scorching or forming lumps.
Be sure to let the frosting cool a bit before applying it to your cake. If it's too hot, it can cause the cake to crumble or the frosting to run off the sides.
Store any leftover frosting in an airtight container in the refrigerator for up to a week.
You can reheat it gently in a saucepan or in the microwave when you're ready to use it again. Be sure to stir it well after reheating to ensure a smooth consistency.
Nutrition
Calories:
370
kcal
|
Carbohydrates:
30
g
|
Protein:
3
g
|
Fat:
28
g
|
Saturated Fat:
9
g
|
Polyunsaturated Fat:
5
g
|
Monounsaturated Fat:
12
g
|
Trans Fat:
0.5
g
|
Cholesterol:
95
mg
|
Sodium:
5
mg
|
Potassium:
101
mg
|
Fiber:
2
g
|
Sugar:
26
g
|
Vitamin A:
453
IU
|
Vitamin C:
0.2
mg
|
Calcium:
26
mg
|
Iron:
1
mg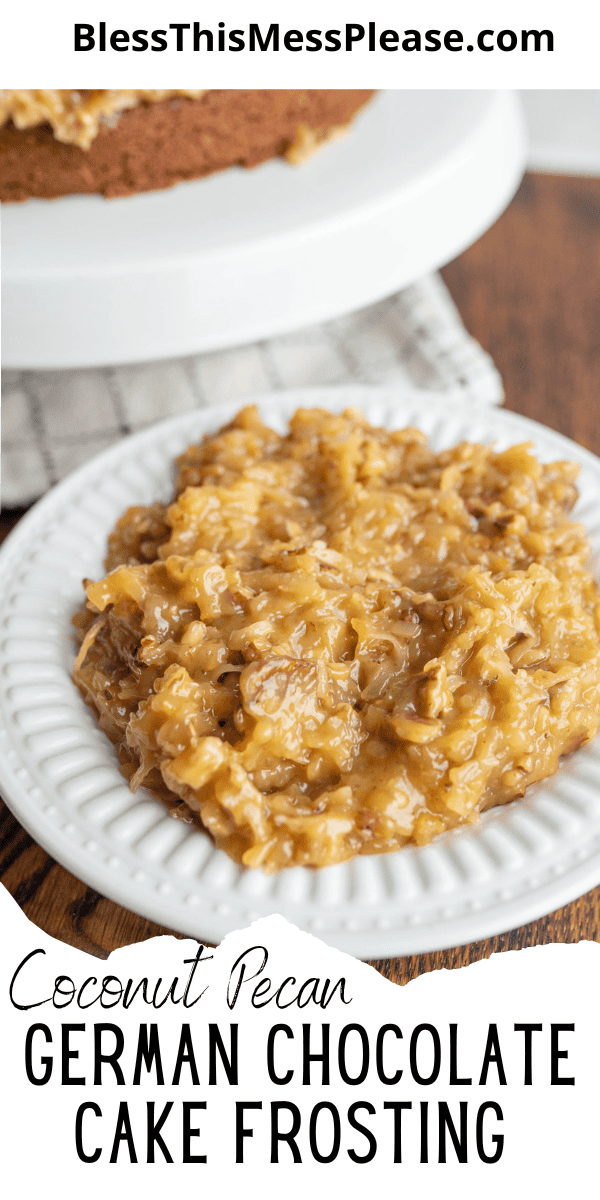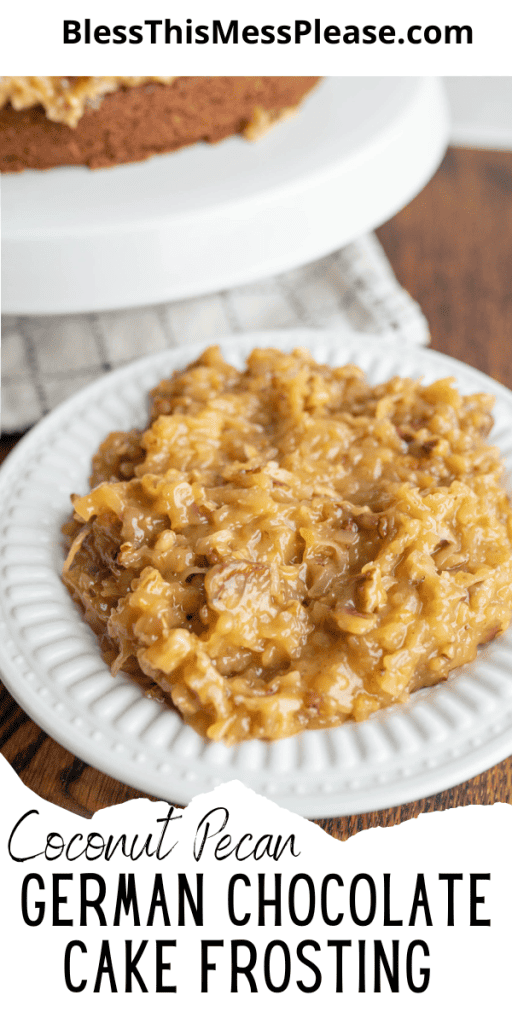 The irresistible combination of chewy coconut and crunchy pecans in Coconut Pecan Frosting for German Chocolate cake adds delicious taste and texture that's sure to satisfy any dessert lover's cravings.