Cinnamon Babka is a cousin to cinnamon rolls and brioche. It is full of flavor and will create the most delightful smells in your home.
The most commonly shaped babka is a rectangular loaf. It looks beautiful and is filled with delicious cinnamon swirls. It is sure to impress all of your taste testers.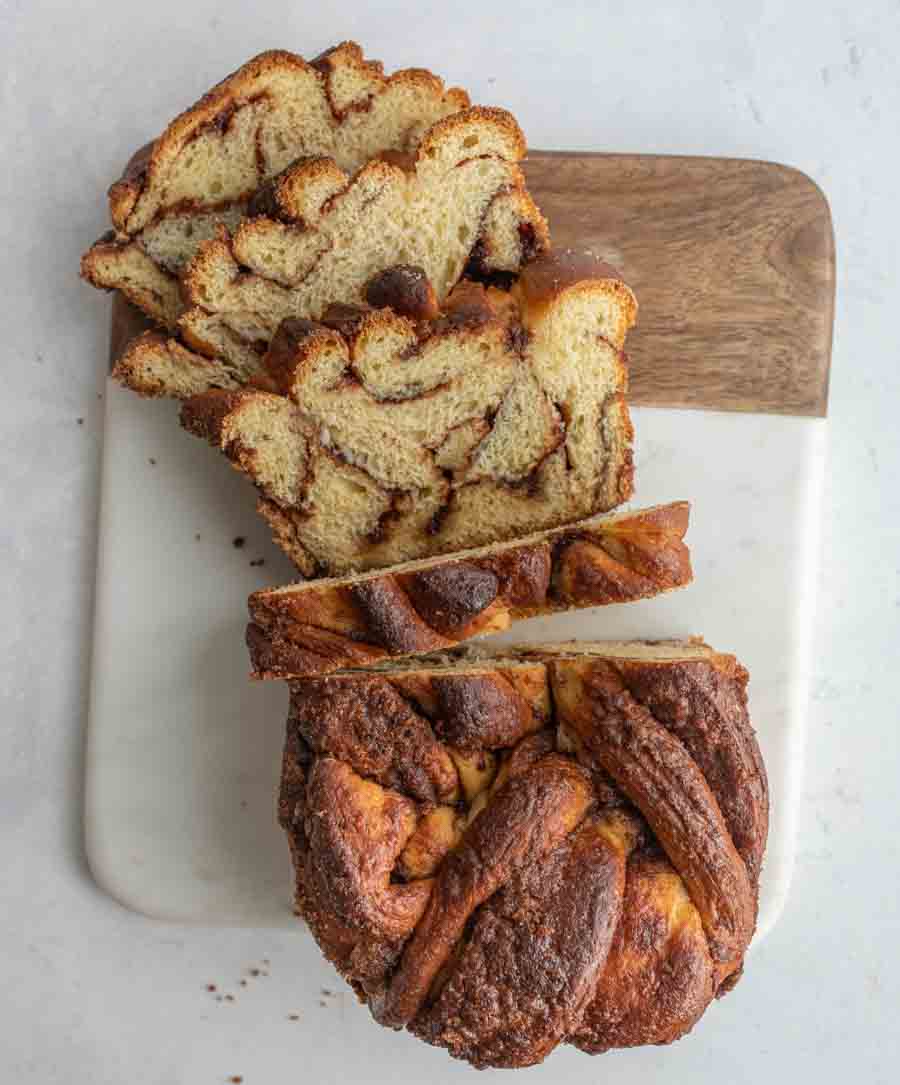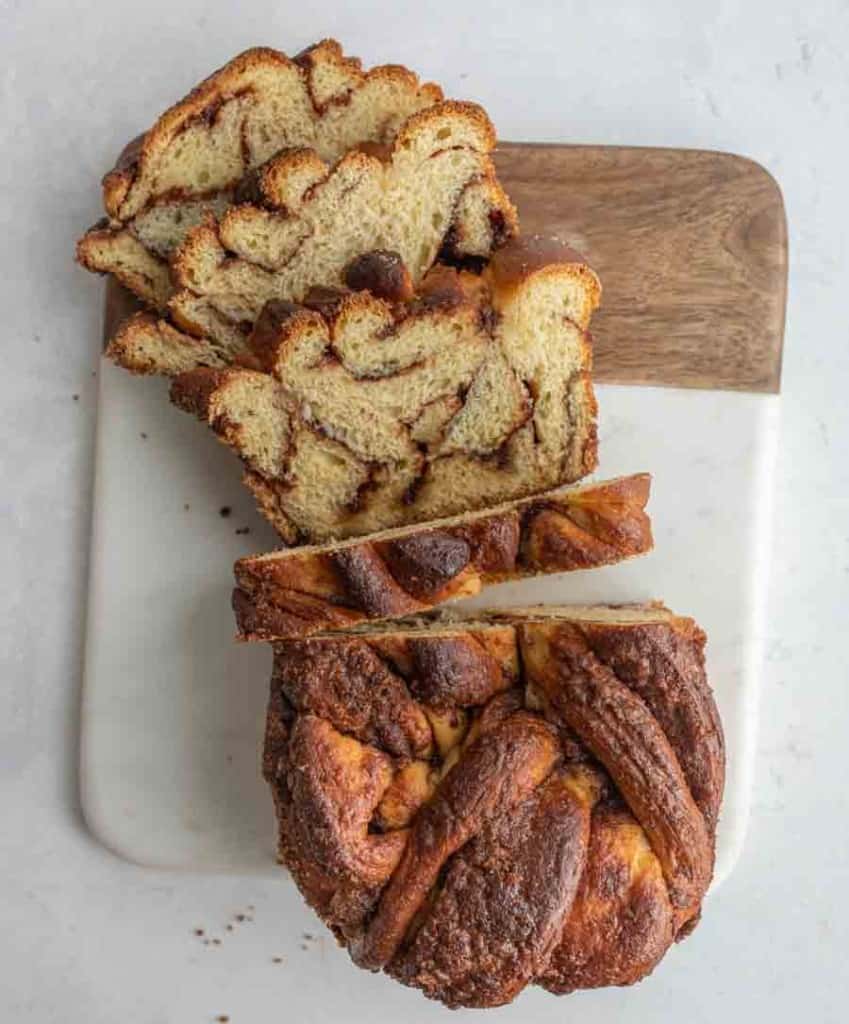 Cinnamon Babka
Babka is a a traditional Jewish bread that came from Eastern Europe. It was created as way to use leftover challah dough. Babka can have lots of different fillings including chocolate (find my chocolate babka recipe here), Nutella, jam or in this case cinnamon.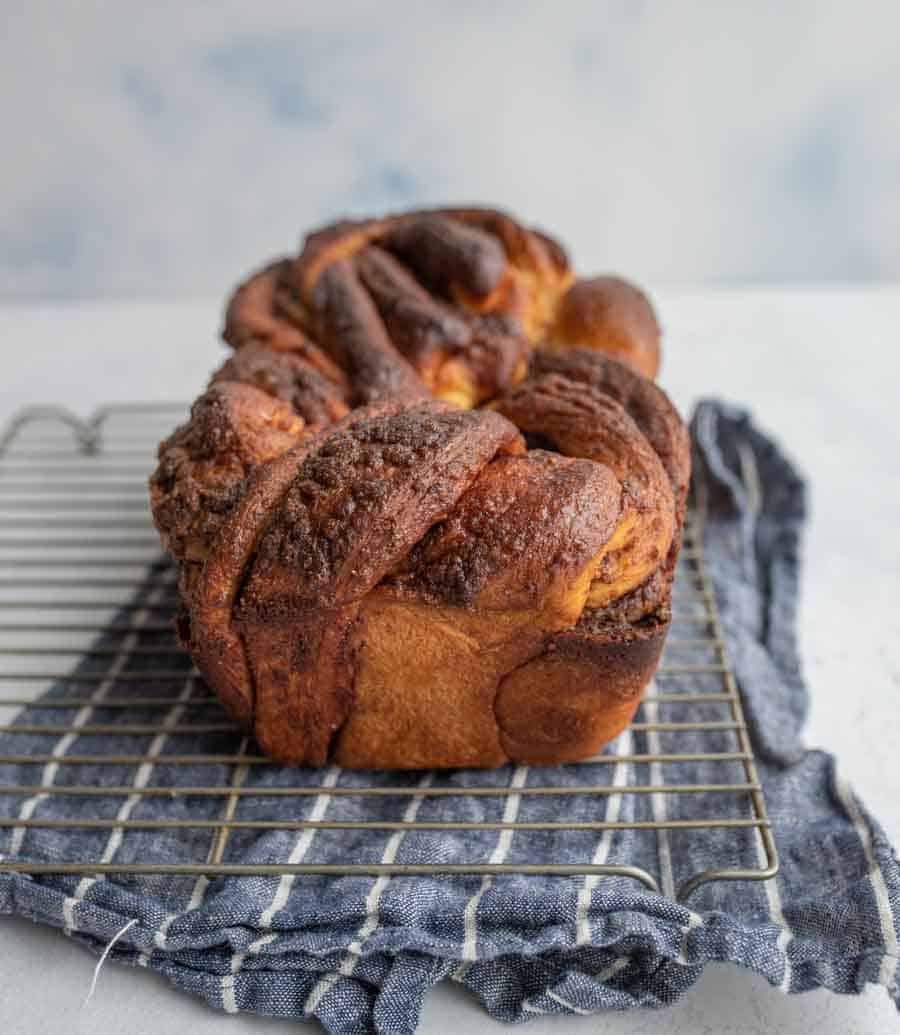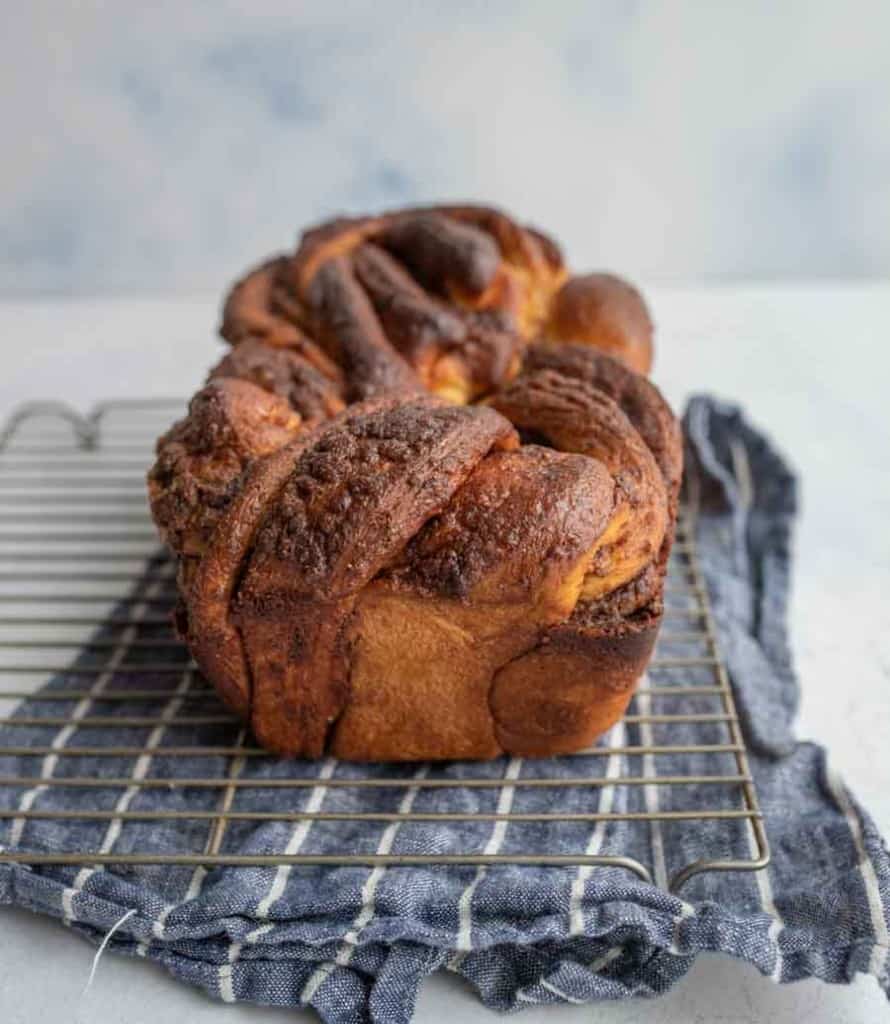 Ingredients
Yeast
Sugar
Milk
Butter
Flour
Eggs
Recipe Instructions
I think this recipe is easier to make then cinnamon rolls and it's so pretty too!
You make a basic enriched yeast dough recipe (it has milk and eggs in it so that it's extra tender and soft) and let it rise.
Roll the dough out into a large triangle and then spread out the cinnamon filling.
Roll up the dough like you would cinnamon rolls but then you are splitting the log down the middle instead of cutting it into rounds.
Twist the bread against itself and then pile it all into a well greased loaf pan.
Let it rise and then bake (this recipe makes two loaves of babka bread just FYI).
This is so good eaten warm and fresh the day it's make.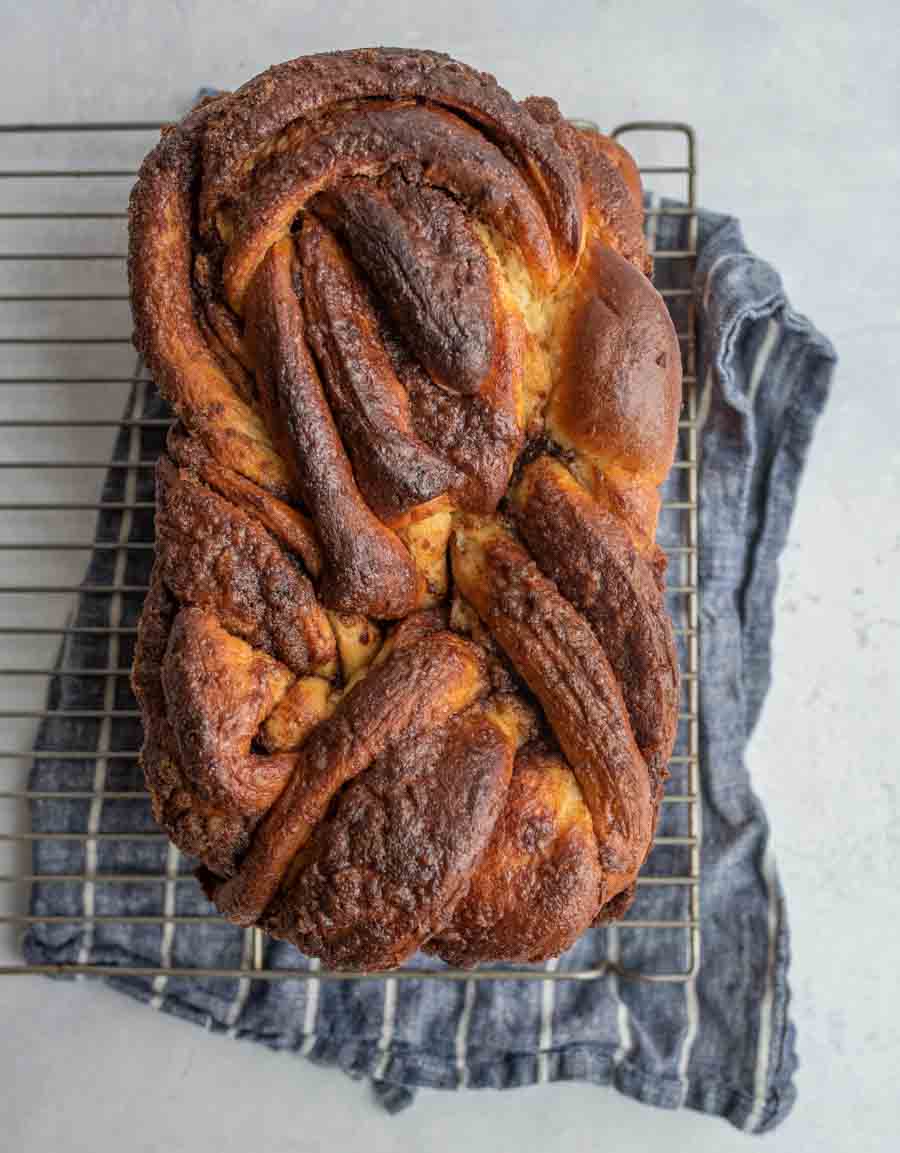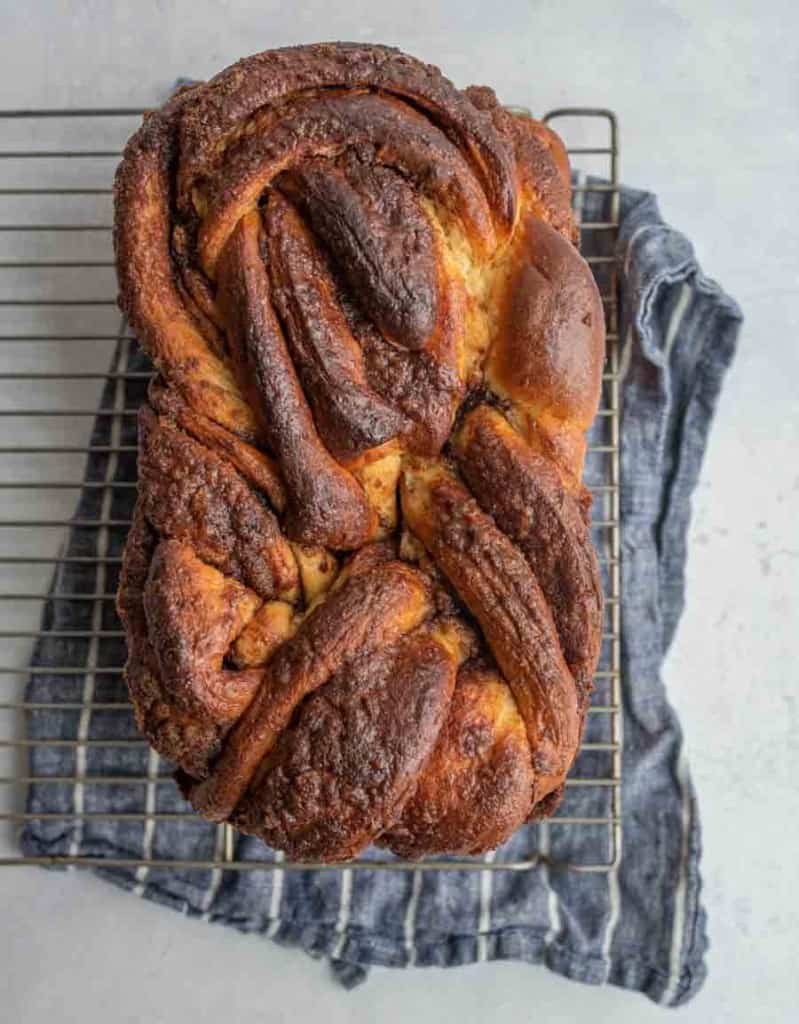 Frequently Asked Questions
How long does it take to make Cinnamon Babka?
How long does it take to make Cinnamon Babka?
Babka will need to rise 2 different times. The first rise is generally 30-45 minutes and the second can be up to an hour. The dough is heavier than other yeast breads so it will take some time.
Is babka served warm or cold?
You can enjoy babka served either at room temperature or warmed up. We like it warm the day that it's made.
How do you tell if babka is done?
Bake the babka until it is golden brown on top. If you tap the loaf and it sounds hollow, then it is most likely done baking. I like to use a thermometer and have it read 190 degrees F in the center of the bread. Because it has so much filling it's easy to under bake the bread.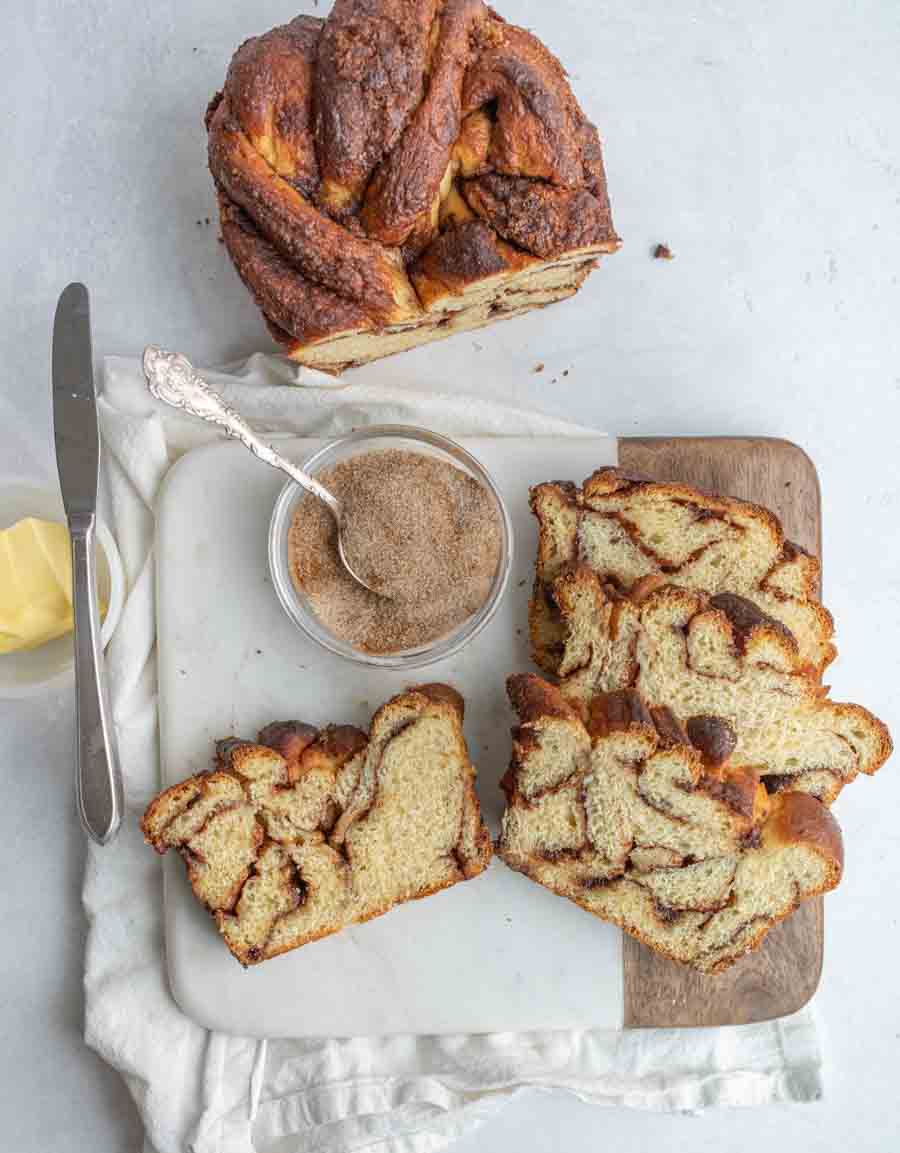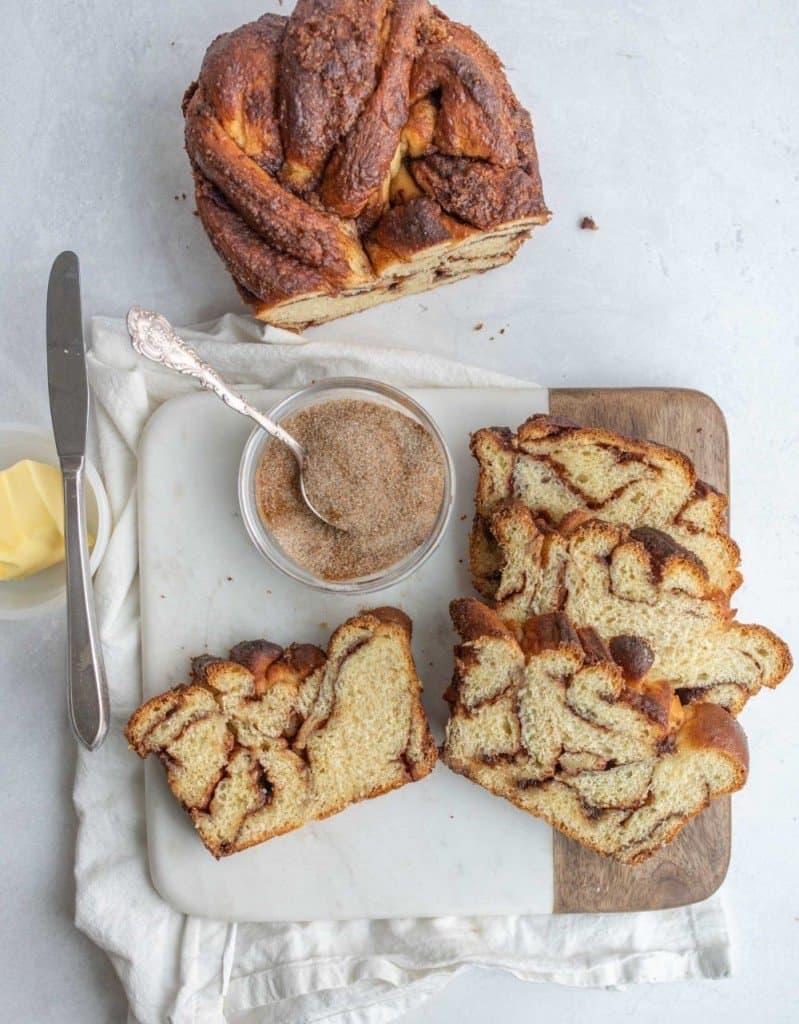 More Recipes
If you've tried this Cinnamon Babka or any other recipe on Bless this Mess, then don't forget to rate the recipe and leave me a comment below! I would love to hear about your experience making it. And if you snapped some pictures of it, share it with me on Instagram so I can repost on my stories.
Print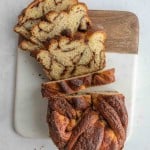 Cinnamon Babka
---
Author:

Total Time:

3 hours

Yield:

2

loaves

1

x
Description
Cinnamon Babka is a cousin to cinnamon rolls and brioche. It is full of cinnamon swirls and will create the most delightful smells in your home.
---
Dough
¼ cup

warm water

2 ½ teaspoon

yeast

1 tablespoon

sugar

1 ½ cups

milk

½ cup

butter

½ cup

granulated sugar

5 ½ cup

flour

2

eggs

1 teaspoon

salt
Cinnamon filling
½ cup

butter melted

½ cup

granulated sugar

1 cup

brown sugar

¼ cup

cinnamon
Glaze
---
Instructions
Stir warm water, yeast and 1 tablespoon sugar in a small bowl and set aside.
Microwave the milk and butter together in a microwave safe bowl just until the butter is just melted (milk should be warm, not hot! It should be about 100 degrees F, let it cool a minute if needed or you'll kill the yeast and the bread won't rise). You can also do this step on the stovetop if you prefer.
Put the warm milk and butter mixture and ½ cup sugar in a large bowl and add half the flour. Mix well to combine. This can be done in the stand mixer or by hand, just be sure to mix very well by hand.
Add eggs one at a time and mix well after each addition.
Add yeast mixture and mix well.
Add salt and remaining flour and mix until completely combined (mixture will be very sticky).
Cover bowl with tea towel and let rest until double, about 30-45 minutes.
Prepare two 9x5 inch bread pans by greasing them well with butter or shortening (cooking spray doesn't work as well here with the rich filling).
After the dough has risen, remove the dough from the bowl onto a lightly floured surface.
Dived the dough in half, and working with one half, roll the dough out into a large rectangle that is roughly 24 inches long and 12 inches wide. The dough will be quite thin, about ¼ of an inch. Add more flour as needed so that it doesn't stick too much to your work space. It's nice to have the dough be a little tacky though because it makes it easier to roll it out thinly, just be sure it isn't sticking very badly.
Mix the butter, brown sugar, granulated sugar, and cinnamon together in a small mixing bowl for the filling.
Spread half the filling evenly all over the rolled out rectangle of dough.
Roll the dough up tightly along the longest edge like you would cinnamon rolls.
Cut the log in half down the length of the log (opposite of how you would cut cinnamon rolls). I like to leave about 1 inch of my dough connected still at the top, it makes it a little easier to work with and twist together.
Twist the 2 cut halves together against each other, keeping the cut sides up.
Place the twisted log of dough into the well greased loaf pan by placing one end of the twist in the pan, layering it back on itself, and then fold it back on itself again. The whole log is still connected but you go back and forth in the pan (end to end) about three times so that it fills the pan in layers. This is a messy process but it's going to look great no matter how it goes in! Trust me...
Repeat with other half of the dough for a second loaf.
Let the loaves rise 30-60 minutes or until the dough has risen about an inch or so out of the pan.
Bake at 350 degrees F. for 45-55 minutes or until an instant thermometer reads 190 degrees F. The top of the bread will be very deep in color. I really like to use a thermometer for this bread because it's easy to under bake it.
While the bread is baking, bring the water and sugar for the glaze to a boil in a small saucepan and then remove it from the heat. You are dissolving the sugar and making a simple syrup, don't over cook it by boiling it for any period of time.
Once the bread has finished cooking and is out of oven, brush the top of the bread all over with the sugar syrup. It makes the tops very shiny.
Let the bread cool for 15 minutes in pan.
Remove from the pan and cool on cooling rack.
Serve warm or at room temperature. This bread is best the day it's made but leftovers are good sliced and toasted. You can also store the extra loaf in the freezer (see post for freezing instructions).
Notes
The glaze sometimes feels like an extra step to me and I don't always do it. It's more of a traditional babka step and I wanted to include it for you. It helps to make the top shiny and seals in some of the moisture in the bread. You can skip it if you want to. This bread is also good with 1 cup powdered sugar mixed with a tablespoon or so of milk or cream and drizzled with a more traditional sweet bread glaze.
It's a little messy to cut and wrap up the bread, just go for it, it looks great once cooked and sliced up.
Don't stress if you can't get your bread to roll out as thin as directed, it can be a little thicker, it'll just have less swirls in the finished product but still tastes great.
You can also roll out all of the dough for both loaves at the same time if you have a large enough work space. I'll often roll all of the dough about, about 48 inches long and still 12 wide. Then I'll spread all of the filling out over all of the dough and then I'll just use my knife to cut the two rectangles apart before I start rolling them up. It works well too.
Find my chocolate babka recipe here.
Prep Time:

1 hour

Cook Time:

45 min

Category:

breakfast

Method:

bake

Cuisine:

American
Keywords: cinnamon babka, babka bread, cinnamon babka bread, cinnamon babka recipe, how to make cinnamon babka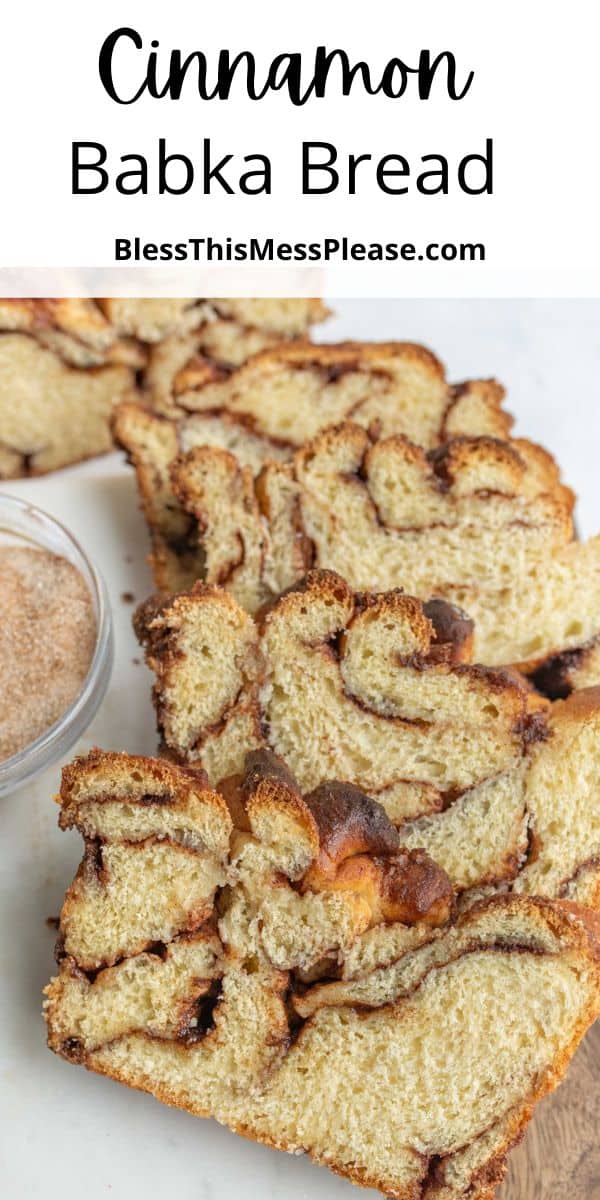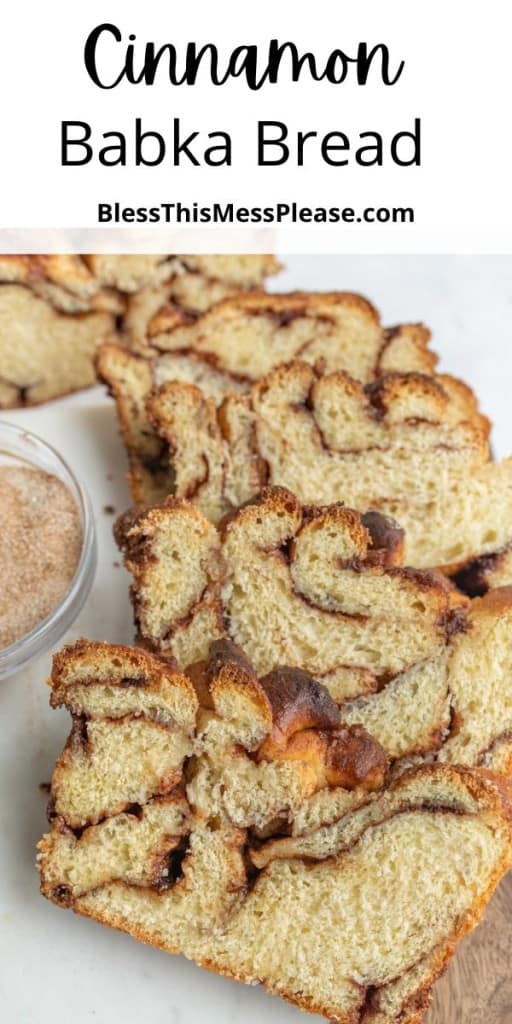 This recipe for Cinnamon Babka is a rich, sweet and soft bread filled with delicious cinnamon swirls. Perfect for breakfast or dessert.